Nepal is a true paradise for mountain trekking and one of the most unique adventures. This beautiful country has five seasons. Spring, summer, monsoon, autumn, and winter. Find out when is the best time to trek everest base camp below.
I will also share travel tips for Nepal and recommendations for the Everest Base Camp tours. It will be helpful, so keep an eye out! (I lived in Nepal for 10+ years and trekked Everest Base Camp in 2017. So, don't hesitate to ask if you have any other questions that haven't been covered here)
Nepal has eight of the top ten highest peaks of the world, some of which can only be reached on foot. The main one being the Everest Base Camp which sits at 6648m and elevation summit at 8848 m. EBC trek runs through the Khumbu region of Nepal, typically starting at Lukla and finishing up at the Everest Base Camp.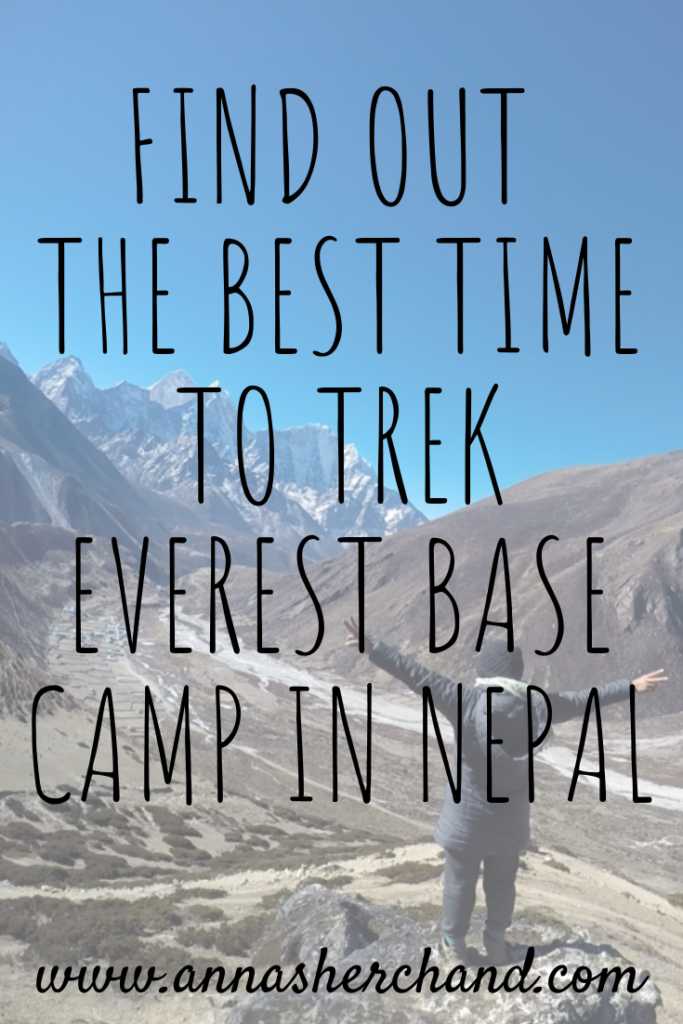 Find out the best time to trek Everest Base Camp
December, January, and February
These three months is winter season in Nepal so expect very cold days. Meaning -20C/-4F to – 30C/-22F. This type of weather can block the trail with snow and higher up with no visibility.
If you have no option but to trek to Everest Base Camp these months, set aside extra days for delays as the weather conditions can be more challenging.
March, April, and May
Nepal is in full Spring/Summer mode during these 3 months. This makes it the best time to trek Everest Base Camp (second best). Spring brings warm weather and spectacular rhododendron blooms as well.
Pre-monsoon season May is traditionally the warmest month to visit Everest Base Camp. Having said that though, nobody can 100% guarantee the weather in any month except this is the forecast based on science. It can be cloudier in May too and it can still snow in Everest Base Camp in May!
Based on my experience of trekking Everest Base Camp, I would say April is one of the best times to climb EBC. The reason being is April is right bang in the middle of the summer season (30 degrees), sunny and dry most of the time also. You can expect sunshine for 6 to 7 hours a day which makes trekking a lot easier.
Note: You can see Everest from far at the various trail stops but not from the Everest Base Camp itself! Make sure you trek up to Kala Patthar for that incredible close-up view of the Everest. I suggest waking up for sunrise trek/sunsets trek to Kala Patthar.
June, July, and August
These 3 months are called the Monsoon also knows as rainy seasons in Nepal. The monsoon rains (mostly at night) bring landslides, and clouds often obscure mountain views.
It also means it is the low season for trekking. Hence things should be cheaper but it is not the best time to trek Everest Base Camp.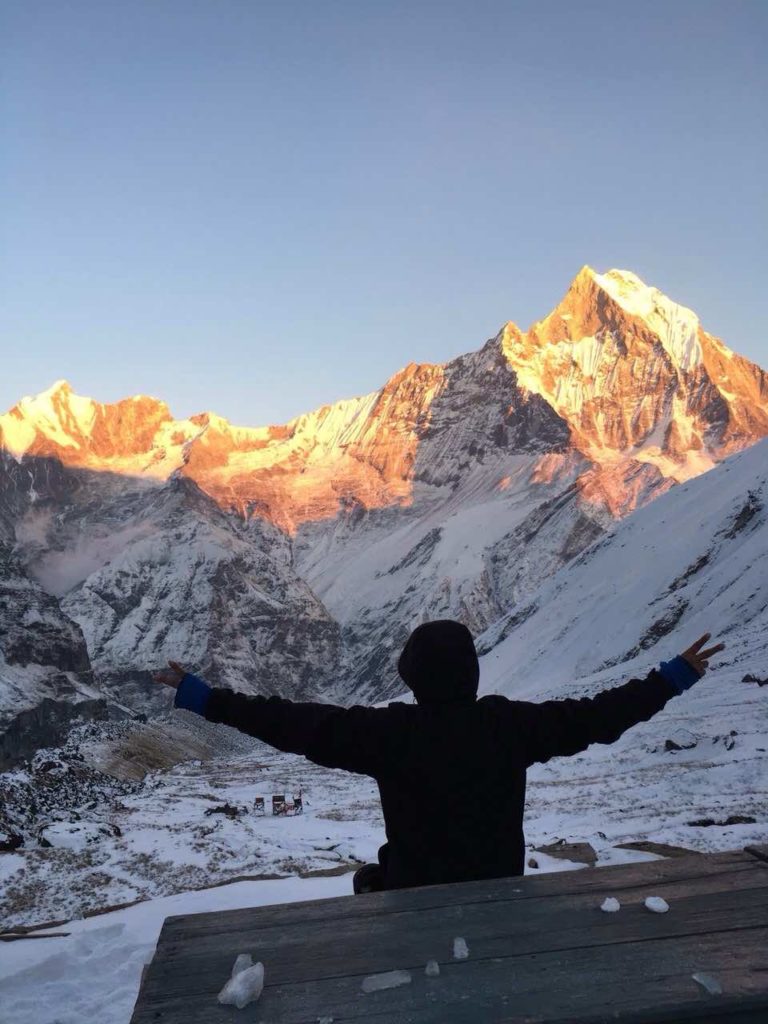 September, October, and November
Monsoon season cleans up the landscape with its rain and now in Autumn season things look particularly lush and vibrant. With this season you can expect clear blue skies, warm days, better and clearer views of the majestic mountains, less heat haze, and less cloud. It is not always the case but the weather trend usually follows this pattern.
These three months are the peak and best time to trek Everest Base Camp. The weather can be crisp, but with fairly stable conditions, good visibility, and temperature at Base Camp getting up to about -6°C you will have the best climate to climb EBC.
During these months, you may also meet many climbers on the trail starting Everest Expedition as the Everest summiting window is roughly from 1-20 October. You will also find Nepal's biggest festival Dashain also falls during late September and October. It is the 15-day long celebration with thousands of animals sacrifices when Durga the Goddess of Victory won over Evil. It is best to book your Everest Base Camp tour beforehand as locals may be heading to their families to celebrate.
Bonus Tips for Everest Base Camp
Recommended Everest Base Camp trek tours
From Kathmandu: 1-hour Panoramic Everest Flight
Most wanted Everest Base Camp Trek
Kathmandu: 14-Day Everest Base Camp Trek
Mount Everest: 15-Day Base Camp and Kalapathar Trek
Everest Base Camp with Helicopter
If you don't want to be restricted with seasons, a helicopter tour can be taken any time as long as the weather is good outside of the monsoon/rainy season. Meaning you can see Everest and all the mountains range on the rest of the three seasons. Layer your clothes, book in advance and you will be amazed by the crystal clear mountain views.
Helicopter or trekking on foot, you will never forget the mesmerizing view of the world's tallest mountain Mount Everest.
Recommended Everest Base Camp Helicopter Tours
Everest Base Camp: 3 Hour Helicopter Sightseeing Tour
From Kathmandu: Private Everest Base Camp Helicopter Tour
What is the best way to travel from airport to Airbnb/hostel/hotel?
I personally never have had any problem using the following service.
Where to stay in Nepal?
If you need to book accommodation, use this $76 discount for your first booking with Airbnb. Sign up with a new email and stay at some of the finest homes in Nepal!
Alternatively, you can check hotel prices and book it through trusted Agoda, or Booking.com
Want to save more money, read this travel resource.
Where to book cheap flights to Nepal?
Find the cheapest flights through most trusted sites such as Skyscanner or Momodo.
Few handy words
Hello – Namaste
How are you – K cha? (informal) , Tapailai Kasto cha? (formal), Sanchai (fine and well)
How much – Kati ho?
How many- Kati wota?
Food – Khana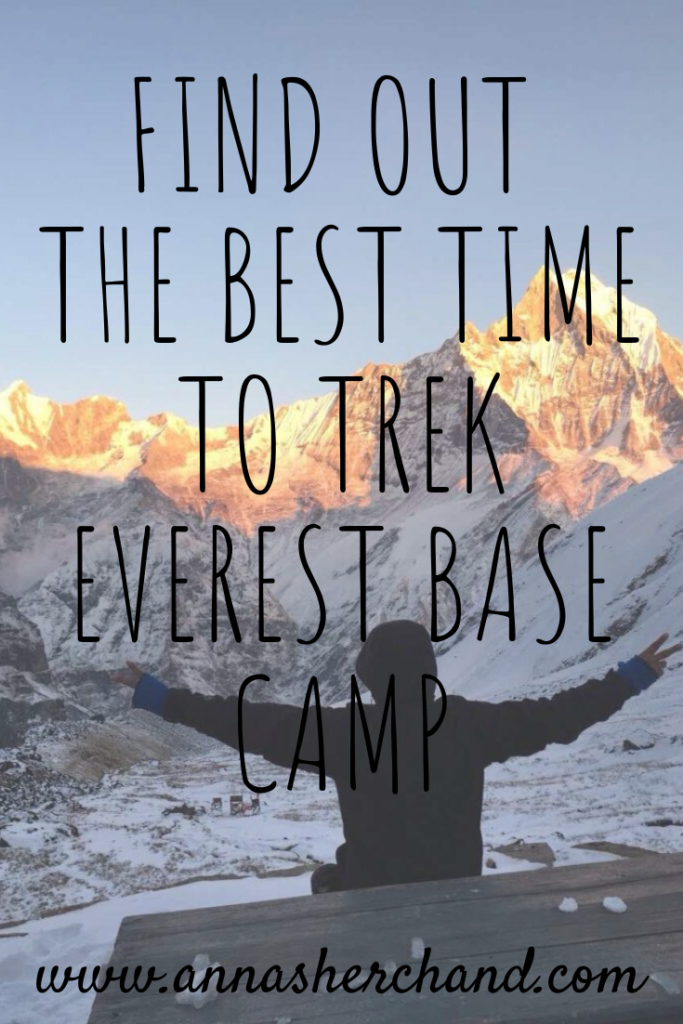 Let me know in the comments if you
If you like this article, follow my adventures on Instagram, Facebook, YouTube, Twitter, and Pinterest, but most importantly sign up to my e-mail list to keep up with updates and travel posts!
When is the best time to trek Everest base camp