Today I am going to share something I get asked a lot! Whether you are planning to celebrate major festivals in Nepal or simply interested to find out more read till the end to know what festivals are celebrated each month of the year. I will also be giving out some helpful travel tips to Nepal so, keep an eye out for them.
Nepal is known worldwide for its beautiful mountains but not so much for its festivals. So, let me help you. I was born in Nepal and still have my extended family live there. So, I am very much familiar with the festivals even if I don't get to celebrate them all that much now.
Do you know Nepal has over 50 festivals celebrated in a calendar year? Out of 50, 25 are public holidays and the rest either falls on an optional or local holiday or seasonal. Some of them are significant festivals to observe in Nepal, and others are uniquely celebrated among the different caste & subcaste. With more than 50 festivals, you are bound to bump into some festivals almost every day!
Note: Festivals in Nepal are announced as per the Nepali calendar, not English. Hence the dates and months may change from year to year but rest assured it won't be too far apart.
Best festivals in Nepal by English Calendar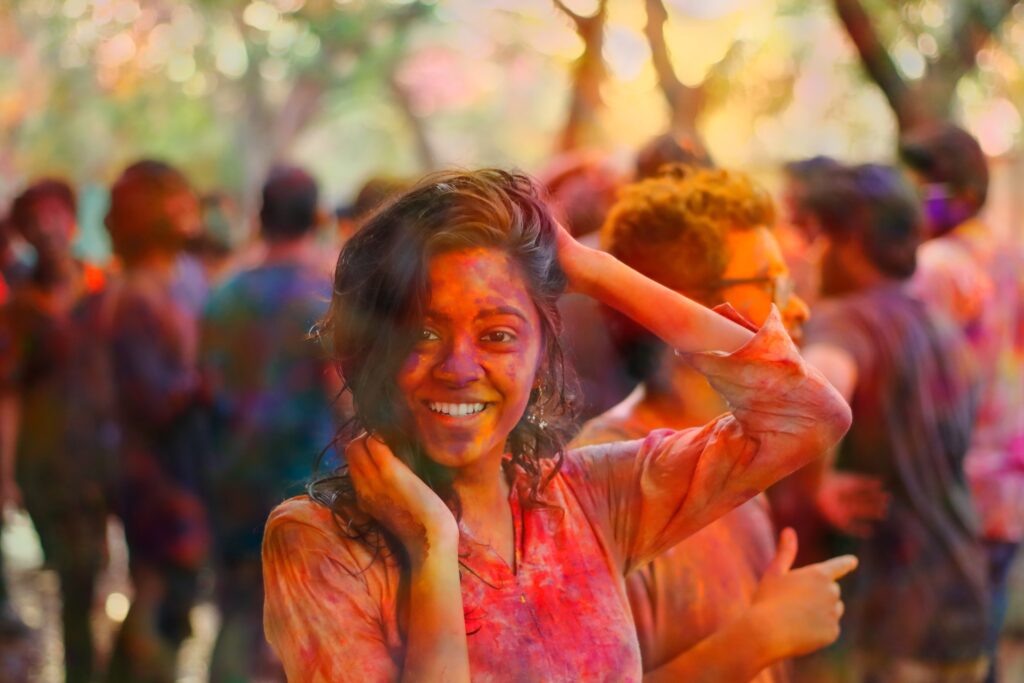 January
Maghe Sankranti
Maghe Sankranti is celebrated on the first day of Magh (around mid-January) This year it falls on 14th January 2021. On this day, families get together during the day and eat meals together. Sesame seed laddus, molasses, ghee, sweet potatoes, Wild Edible Yam, and Kichadi are included in the menu. People worship Lord Vishnu during the month by offering him pujas and reading the sacred Bhagwad Gita, also known as The Song of the Gods.
In the Terai region of Nepal, the Tharu community celebrate the first day of Magh as Maghi or their New Year. It goes on for a week by getting together as a family and friends, attending community gets together or mela, dressing up in the traditional Tharu wear, eating, and drinking.
Similarly, Tamang Community also celebrates its own New Year called Sonam Losar towards the end of Magh.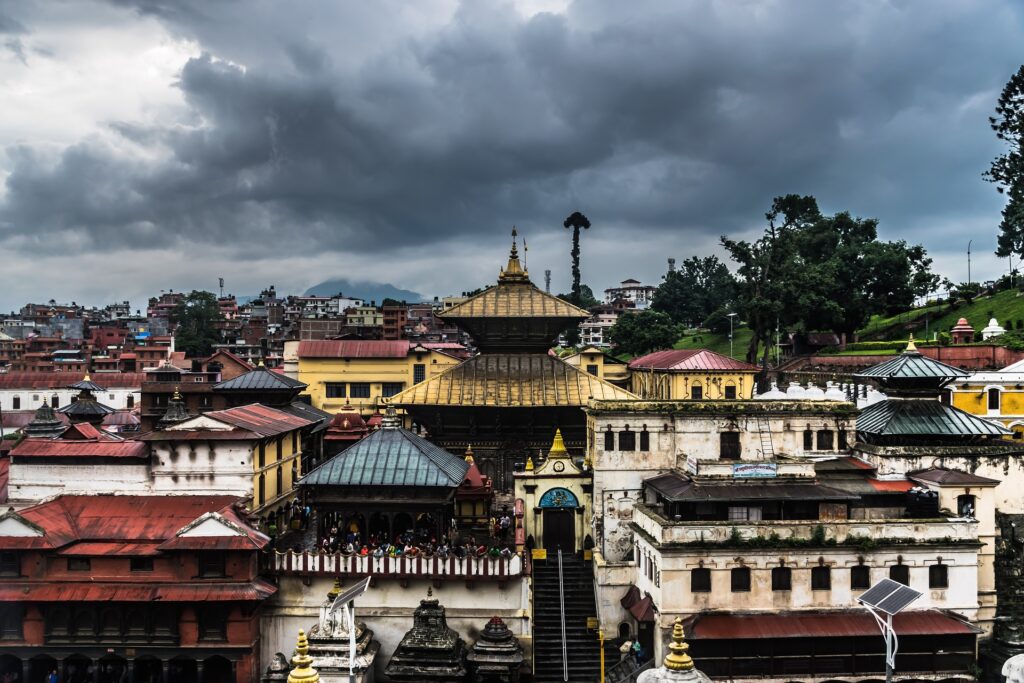 February -March
Maha Shivaratri is one of the massive festivals in Nepal which fell on the 21st Feb of 2020 and 11th March 2021. Devotees visit Pashupatinath temple in Kathmandu on the holy night of Maha Shivaratri and worship lord Shiva, some people smoke weed or have it on their drinks or sweets. It is said Shivratri is celebrated on the day when Lord Shiva saved the world by drinking poison that emerged from the ocean during Samudra Manthan. This poison got stored in his throat thus making it blue which is the reason that Lord Shiva is also known as Neelkanth (blue throat).
Another festival loved by both locals and visitors is Holi. It is also known as Fagu Purnima which essentially is the festival of colors, fun & water, friends, family, food & lots of laughter.
Everywhere in Nepal, the Thakali community is known to celebrate Fagu Purnima by gathering with families, wearing traditional attire, eating, drinking, dancing, and being merry!
Early March also celebrates Nari Dibas which means Women's day in Nepal and is a Public Holiday. You may see some events happening in the city for the occasion.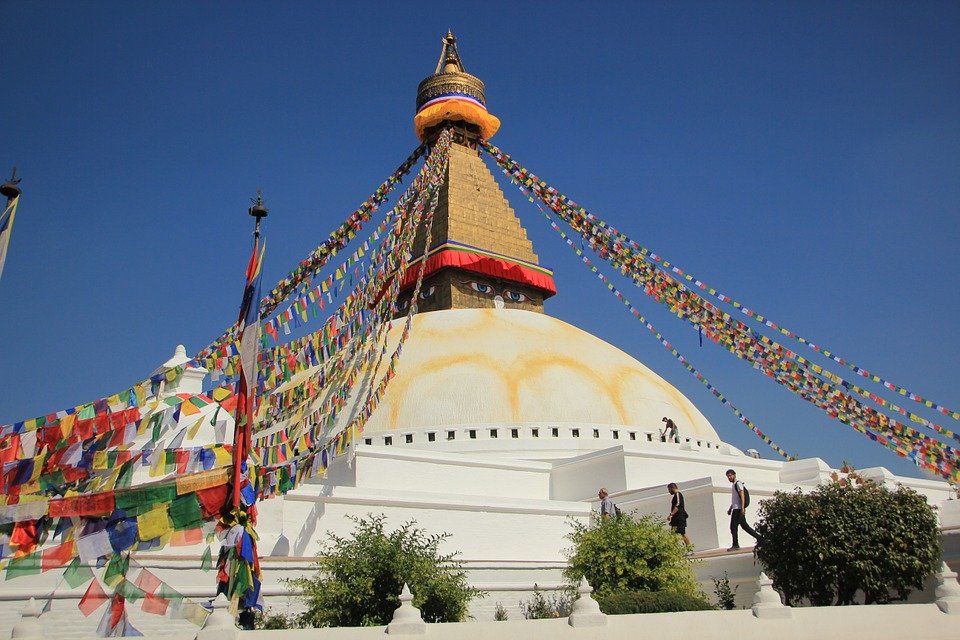 April
April is a month to celebrate Ghode Jatra. Think Melbourne Cup for Nepal minus the race dress or hats. Someone should organize that though! You can watch the grand horse parade at Tundikhel in the center of Kathmandu city on Ghode Jatra!
Followed by the Nepali New Year celebration which this year is on 14th April 2021. Keep an eye out on restaurants, bars, and hotels as they may have special deals on offer for the occasion.
Ram Navami is another Hindu festival in Nepal that falls in the month of April and celebrates the birthday of the Hindu God Lord Rama.
May
In May, we have Majdoor Divas (International works day), and Buddha Jayanti to celebrate the birthday of Lord buddha. During this day, many locals head to Swayambhu and Buddhanath to light candles and worship Lord Buddha.
The latter half of the month is Everest day. If you happen to be in Kathmandu or Namche, do observe the celebrations. There is also an adventurous event Everest Marathon which is the highest marathon that is held annually every May from the Everest Base Camp.
June-July
June and July is a monsoon (rainy season) so there aren't many festivals happening. That said, this is the time when farmers plant rice and have a feast afterward. If you have never done this before, I recommend you to befriend a local and go planting rice! It's a fun experience, so volunteer if you can.
August
Once the rain starts to slow down in August (Shrawan), festivals are back in everyone's life in Nepal. Starting with Janai Purnima. It is also known as Rakshya Bandhan and Janai is a cotton string that signifies puriety and security in some culture. Then there is local festival of Shree Krishna Janamashtami, Gai Jatra, Rishi Panchami. Teej & Gaura Parba optional holidays.
Septemeber
In September Nepali observe Constitution Day, Civil Service Day and celebrate Indra Jatra. It is the biggest religious street festival in Kathmandu where the roads are filled with devotees, pushing forward the carnival-like erection of The Linga (Yasingh), a ceremonial pole, accompanied by the rare display of Akash Bhairab, represented by a big mask spouting Jaad and raksi (Nepali local liquors).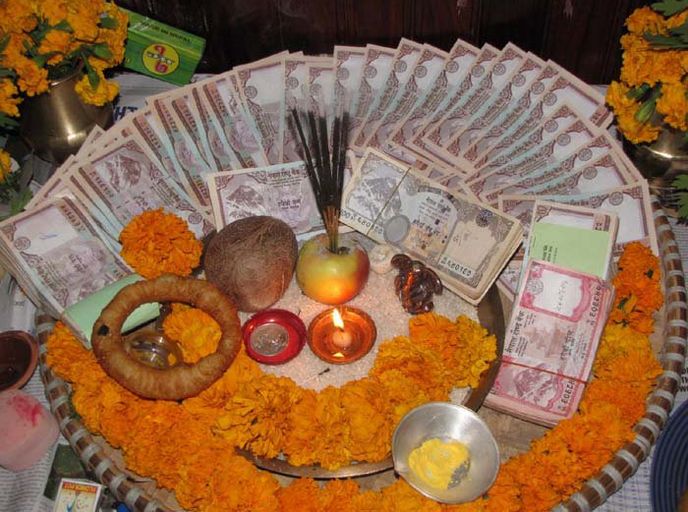 October -November
Dashain & Tihar are two most celebrated festivals in Nepal. Dashian goes on for 15 days and the most important days are the first, seventh, eighth, ninth, tenth and fifteenth. It usually falls somewhere between September to October.
These two festivals are probably the most important where family from far and wide come together, elders bless youngsters, delicious meals are cooked at home, new clothes are worn and the vibes is happy and bright all around the nation.
When it comes to why, Dashain is celebrated as Hindus to mark the victory good over the evil. According to Hindu Mythology, Dashain is celebrated because Goddess Durga brutally destroyed the demon Mahisasur who was creating havoc in the world and Ram the incarnation of Lord Vishnu killed the ten headed demon lord Ravana.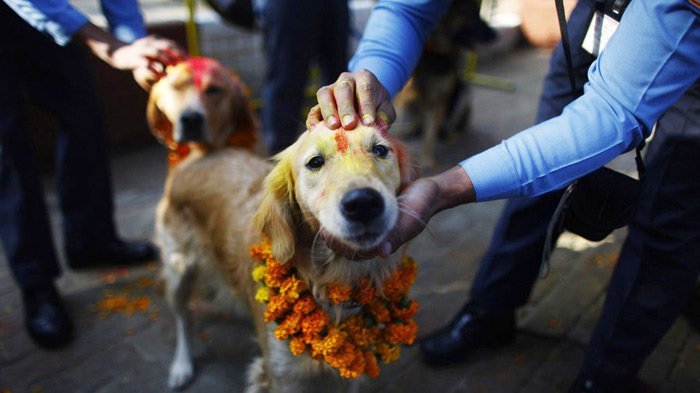 After Dashian, we have abt 2 weeks break followed by Tihar aka festivals of lights.
Tihar is celebrated for 5 days and there is different act of worships each day!
1st day is Kaag Tihar (the day of the crow) The reason is because the cawing of crows and ravens symbolises sadness and grief in Hinduism so devotees offer crows food to avert grief and death in their homes.
2nd day is Kukur Tihar (the day of the dog) where devotees offer mala, tika, food, and acknowledge the cherished relationship between humans and their dogs.
3rd day is Laxmi Puja/cows (worshipping goddess of wealth)
4th day there are 3 different pujas.(worshipping Goru (oxen) govardhan mountain and Mah puja (worship of self in majority of Newar community)
5th is Bhai Tika worshipping brothers and sisters to ensure long life and thanking them for the protection they provide.
Chhat Parwa Optional Holiday and Guru Nanak Jayanti also falls in November.
This is also a peak climbing season as the temperature is just perfect during Oct-Nov. Lot of international tourist visit Nepal for adventure tours to Annapurna base camp, Manaslu Circuit trek, MT Everest, and many other treks. You can hire a travel guide, trekking potter or do it all solo if you are up for it.
December
Finally, in December we celebrate two optional holidays which are Christmas Day and Udhauli Parva. The latter is celebrated by Kirat community as the birds and animals migrate towards the warmer climate in Terai region. In Kathmandu you will be in middle of the winter season and there won't be much festivals happening apart from Christmas. Although majority of people are either Hindu, Buddhaist or Muslimm there is a small 1.4% Christians, nonetheless Nepali like to celebrate Christmas too.
Travel Tips for Nepal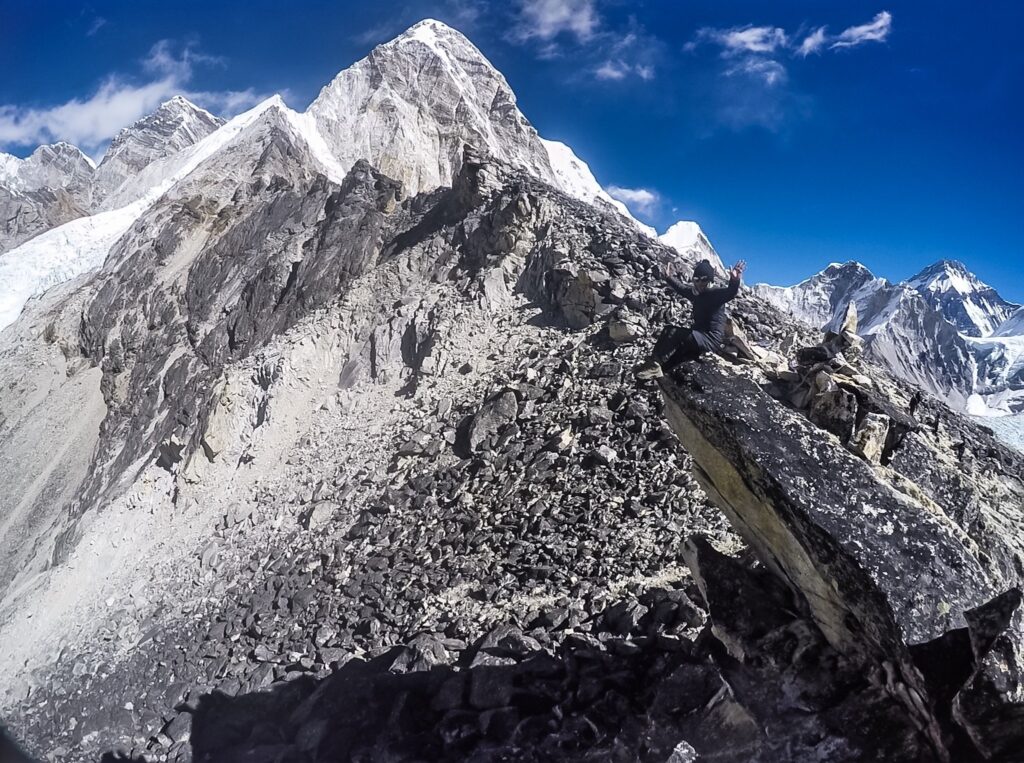 How to get to Nepal?
You can get to Nepal via Air or crossing different land borders checkpoints. There are regular flights that fly direct from Asia or domestic flights run regularly also and international flights that land in KTM. There is one international airport in Nepal which is in the capital city of Kathmandu (KTM). Recommend to check Skyscanner for cheap flights. Train option is only open to Nepali and Indians which run from Raxaul (India) and arrives in Sirsiya (Southern Nepal).
How to get around Nepal?
My recommendation is to walk around in a new place to get to know it better. You see so much more. That said, the best way to get around Nepal is by hiring or booking a tour. There is so much complexity with the language barrier, and lack of infrastructure say, you hired a car and it breaks down, it won't be surprising if that takes 3 days to get it fixed! With that said, you may find that some hotels in Kathmandu offer area shuttles, and the public transport covers the majority of the Kathmandu valley, but service is limited in other areas.
Alternatively, you can also hire ola cab, Meru cab, savaari taxi service to travel in and around Nepal, cost varying on the distance of course.
Where to stay in Nepal?
Solo travelers like myself will tell you that booking accommodation early works wonders. You can be certain where you will be sleeping and start planning your trip straight away.
I understand planning could be stressful especially when you have to think about not one but two, three, or more locations. So, if you are looking for the best place to stay in Nepal.
Alternatively, you can check hotel prices and book it through trusted Agoda, or Booking.com Needless to say, there are Airbnbs, Luxury Hotels, Mid-Range, and Budget Hotels in Nepal.
How many days is enough in Nepal?
It is a landlocked country that offers spectacular mountain views for days and you could easily spend months or years here but I would say 15 days is the absolute minimum. PS: most trekking are 10+ days anyway so, might as well take add that sick leave in there and make it a two weeks holiday.
Do I need a visa for Nepal?
As an Australian passport holder, yes you need a visa but it's on arrival so get one after landing. Price varies depending on how long you want to stay. Please check the Embassy website for your country's requirements.
When is the best time to visit Nepal?
Nepal has 4 seasons: December to February = Winter
March-May = Spring
June- August= Summer
September-November= Autumn
The one season might be better than the other but it doesn't mean you shouldn't visit in those less favorable times of the year. Anytime beside summer, the off-peak season maybe the best time to visit Nepal also because, during these months, you'll find the lowest airfares and hotel rates, with rooms often priced up to 50 percent lower than they are in the high season (especially during summer) If you are visiting during the high season expect a crowded trail but Nepali people are kind, am certain they will make room for everyone in the Himalayas!
Is Nepal safe for a solo female traveler?
People in Nepal are friendly regardless of where they live and the violent crime rate is low. Unless there is a drastic change in the country's political situation, pandemic, or some natural disaster it is safe to travel to Nepal. Just remember to apply a general rule of thumb i.e. Don't walk down that dark alleyway on your own, respect the culture, don't argue about religion, dress modestly, trust your instincts, don't be afraid but be cautious.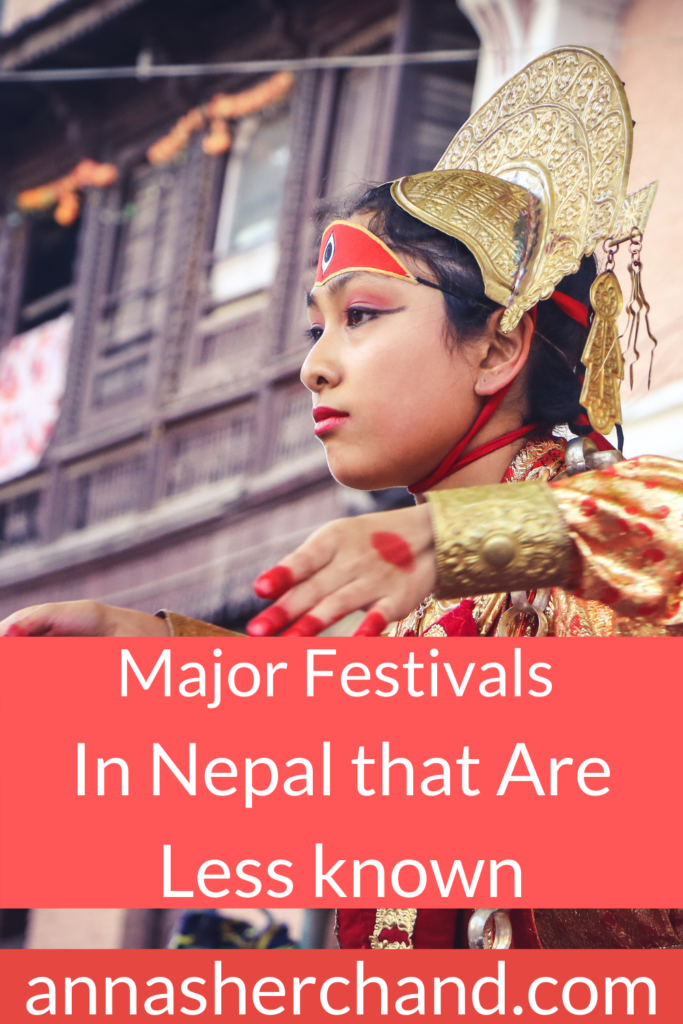 Let me know in the comments if you
Major Festivals in Nepal For Travellers