IF CLIMBING Mount Everest Base Camp is something you'd like to achieve in your life; here are 10 trekking to Everest base camp tips you should know before you go. Reflecting on my weaknesses when I first started planning, I came up with pieces of advice that I wish I had known. These tips will help not only with trip planning but in getting the most out of the unique experience.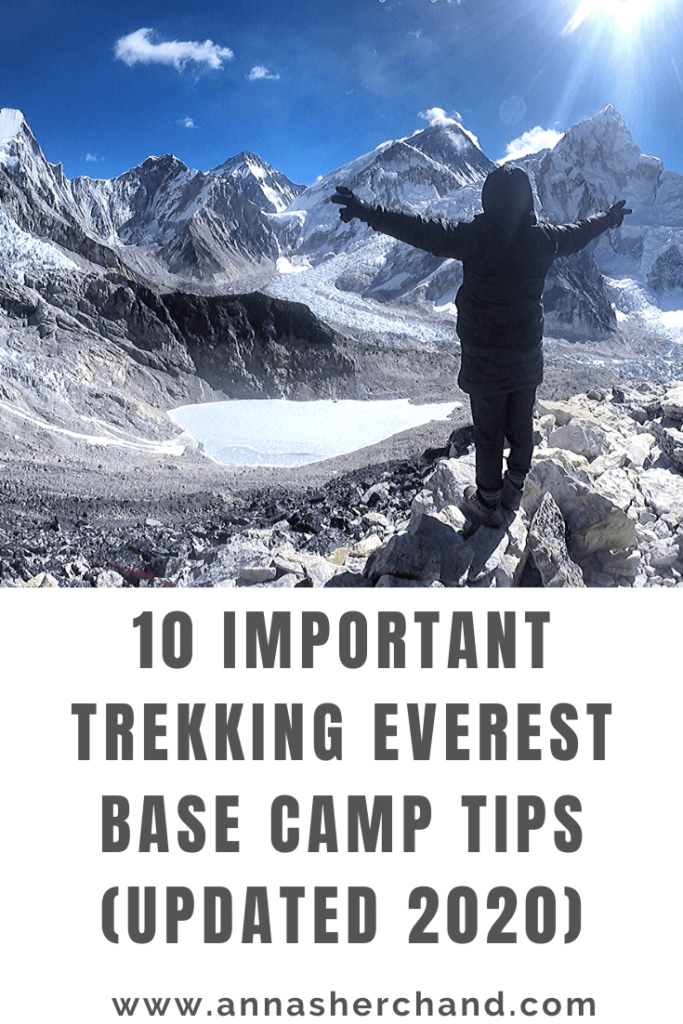 10 Important trekking tips to Everest base camp
1. Keep buffer days.
You may like to set your plans in stone, but Mother Nature doesn't work like that. Some people rock up to tackle Mount Everest Base Camp (EBC) on a tight timeline and fail to complete the trek, having to turn around halfway. Whether you are flying from Kathmandu or trekking from Jiri to Lukla, consider all the options, including where you want to start and end, depending on your other travel plans.
One great recommendation is to keep between 2-4 buffer days before and after the trek in case the plane doesn't fly because of bad visibility, it pours down, there's heavy snow, or you get sick; you would still have some time to complete the trek. If the first half of your trekking goes well, you can arrange to use your first buffer day camping overnight at Everest Base Camp. This can be arranged through trekking companies that also organize Mount Everest climbing expeditions.
It would be a taste of being on an Everest Expedition, enjoying a cup of tea or coffee while watching the first ray of the sun or twinkling stars at night surrounded by the world's tallest mountains.
2. Get insurance.
The biggest difference in buying common travel insurance compared to travel insurance for the Everest Base Camp is altitude. At the highest point of the trek, you will be standing at 5,644.5 m (18,519 ft) above sea level. Combine that with traveling to and from, as well as spending your time in, one of the most remote regions on Earth means that even small injuries, such as a sprained ankle, pulling a muscle, or cutting yourself on a rock can create a nightmare that proves to be quite costly.
In many regions, there is no road access, so helicopter evacuation is the only option, quite possibly preceded by a painful mule ride down the trail. High altitude-related illnesses, accidents, diarrhea, cough, and natural disasters like avalanches and rockfalls, are expected while trekking in Everest Base Camp. So, the best suggestion is to get the travel insurance that covers helicopter evacuation, repatriation, and independent trekking (if you are going solo) up to 6000 m (18,510 ft) and higher if you are doing side trips to Mt Lobuche or Island Peak. Plus, spending some time going over terms and conditions could ease the process should you need to claim it back.
3. Know whether to hire a guide, porter, or porter-guide.
Everest Base Camp trek is generally well-marked, so you don't need a guide to find the way, except when visibility is obscured in midwinter or monsoon or navigating the moraine at the end. In theory, tourists are legally required to have a guide, but this doesn't seem to be enforced and trekkers continue to make the trip independently. That said, the trip is more enjoyable and safer with a guide who can speak your language, Nepali, a bit of Sherpa, and understands the local culture and history. It is also arguably more pleasant if you're not carrying much. Hence, having the porter and/or the porter-guide makes the trip slightly easier.
If you want to take the porter with you, consider paying at least $10 (1000 NPR) per day and don't take more than 15kg, as they have their own stuff to carry as well (the legal limit in Nepal is a total of 35kg). They may or may not know the route or speak English.
On the other hand, guides will not carry anything (unless you're exhausted, and they need to get somewhere) but will look after all aspects of your trek, from arranging flights, rooms, meals, and camping gear, through to timing your arrival at a peak for sunrise, knowing the history of that village, monastery, etc. They speak fluent English and will handle porters they recruit. The larger the team they manage, the more a guide will cost. Expect to pay $40-$60 per day for the guide and from $20 for a porter-guide who does both jobs. Be mindful, they all pay their own accommodation. You can expect to end up at lodges that offer them good deals.
If you want a different lodge, the right thing to do is to cover your porter's increased costs. It is vital that you add a standard tip of 25% on your budget as well. I found my excellent porter-guide Dev Kumar through Pnm Thapa at Paradise Lodge, Lukla, who is rated as one of the best, with a great reputation. Payment is made upfront and you have someone to rely on who won't run away with your gear leaving you stranded, and everything's clear at the end of the trek. If you want to have a richer experience and contribute more to the Nepal economy, I recommend trekking with a guide, porter, or porter-guide.
4. Daily showers matter less than you think
Things that matter more than you think: the right clothes/shoes, food, and positivity. Apply the method of layering your clothes with thermal, cotton, waterproof, and/or windproof. A pair of good trekking boots, socks, gloves, trekking poles, and crampons are a good investment, too. You can hire and/or buy all that and -20°C sleeping bag from Kathmandu. You can also buy them in Namche Bazaar, but the reality is the higher the altitude you go, the more expensive things can get.
Last time you would have smelled and looked like a new car would be the day you leave your hotel in Kathmandu unless you decide to pay through the nose to spend each trekking night at the luxury hotels along the way. When you are in the high altitude and trekking to Everest Base Camp, you will quickly realize that being warm when cold outside, sleeping sound with a thousand things running through your mind, eating enough despite lack of appetite, breathing normal while having a headache, and waking up alive in the morning despite lack of oxygen is what matters the most. Then, when the opportunity to shower comes, take it.
The idea is to approach each climb knowing that there's a viewpoint so spectacular at the end that every excruciating last step is worth it. It really is. In the evenings, you get cozy by the fireplace reading a book, drying your dirty/dusty socks, and sharing tales with fellow trekkers in the basic tea houses. If you are in a group, separate yourself from people who feel a constant need to moan. Your own mental stability is an extremely important factor in getting you to the end goal.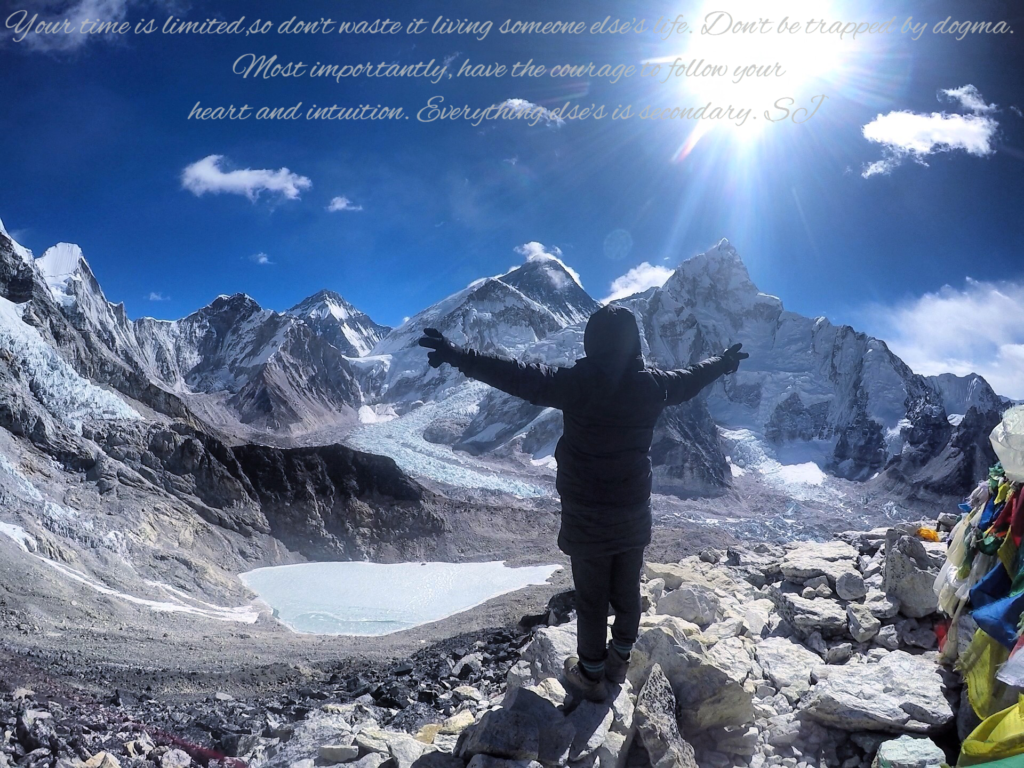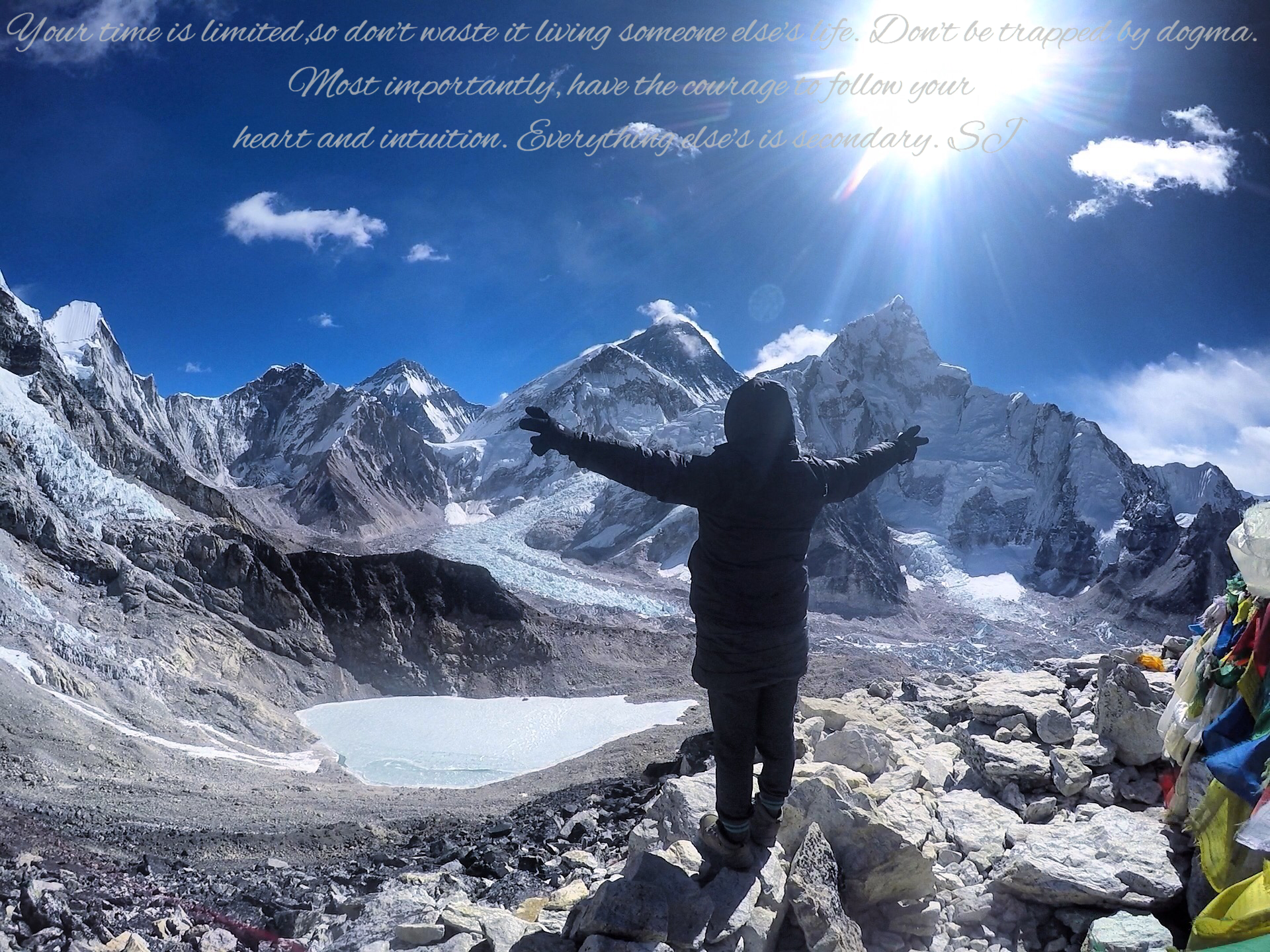 5. Forget luxuries and go back to basics.
It is a wise idea not to rely on WIFI for the duration of your trek. Either they won't have it, or even if they do it, will be spotty. Hence, you may struggle to check your GPS or Facebook. You can resolve that by downloading offline Maps via Google or Map.me Apps on your phone prior to the trek. Another tip is to print it out beforehand because if you are trekking in winter, maybe your phone won't even start or charge in the low temperatures higher up. In most of Everest region printing services are unheard of or rare and you never know when the emergency may occur.
Therefore, it is imperative that you are carrying a printed copy of your insurance and passport as well. If you need to be constantly online and/or addicted to Instagram like me, there is an option to buy a local Ncell SIM with 5gb of data for under $25 (3000 NPR) but do this in Kathmandu or Pokhara, not Lukla! However, battery charging options will be limited and priced between $2 to $6 (200 to 600 NPR) per hour and are only available where there is solar electricity to spare.
Another great recommendation is to leave your laptop at home or hotel's safety deposit as very quickly you will start to feel even the weight of a spare T-shirt while trekking at higher altitudes. Be prepared to experience/use squat toilets with just a hole on the ground, uncomfortable nights in the tea houses, where your room's wall will be made of thin plywood, not super clean blankets, bland foods, and ice-cold water. Nonetheless, do not worry as you can buy as much hot water as you like, with the price depending on the size of the thermos.
As you will be in the remote areas, snacks won't be available at every stop and/or they are too expensive. To minimize costs and prevent disappointment, it's best to stock up in Kathmandu. Pack water purification tablets or a water purification filter bottle, your antibiotics in case of food poisoning, Diamox for altitude sickness, Snickers bars for a little sugar push, hand sanitizer, a first aid kit, and 2 rolls of toilet paper.
6. It will be more physically demanding than you think
Reaching the lap of Mount Everest, the highest peak on Earth, is not an easy task achievable by all. However, children as young as five and adults of over 70 have walked Everest Base Camp, and the straight-in, straight-out trek is less demanding than you would think, provided you allow yourself the time to acclimatize to high altitude and listen to your body when it tells you to stop. It isn't recommended if you have knee problems or weak ankles because of steep ascents and descents, rocky paths, a lot of rock steps, and some moraine walking. Plus, people carrying significant extra weight are likely to struggle with this trek at altitude.
It is not only about how fit you are but also how well you prepare for it. Physical fitness is as important as a strong mental prep. Even though considered difficult, Everest Base Camp does not require technical knowledge or high-altitude experience. Having a basic exercise routine: strength, endurance, and cardiovascular training and/or multiple-day hiking experience is enough to establish how you feel about walking each day and being away from home comforts before you commit. If you do enjoy them, repetition will prepare you for the trek of your life with a dash of determination.
7. Carry cash
ATMs are rare and the bank in Lukla charges a fee of 5%. In Namche, there is a Visa ATM which sometimes works, plus moneychangers who will run Visa and Mastercard charge a fee of 8%. On the main Everest Base Camp route, a few of the more expensive lodges will take Mastercard, Visa, and will probably charge a higher rate for an emergency.
One good recommendation is to carry all the NPR cash you think you will need for your trek with you. Remember to consider tips to the guide, porter, that imported beer to celebrate your accomplishment, and comfort meals as well. Plus, a couple of hundred dollars in cash just in case you break a bone and need to be transported on a mule down to the nearest helicopter evacuation point. Certain things such as accommodation in tea houses, WIFI, and shower rates can be negotiable depending on the season. So, try your luck and you might be able to save some cash.
8. Prepare for altitude sickness
It is easier for people living at high altitudes to adapt to the high altitudes of EBC trek. For others, the oxygen masks and hikes to higher elevations can help the body adapt to the increasing altitudes. Altitude kills but in most cases, it just makes you feel extremely shitty. I chose not to take Diamox tablets as I wanted to rely 100% on myself. However, there is nothing that can fully prevent altitude sickness as many factors can lead to it. The best way to avoid this is to adopt a slow and steady pace that doesn't expend much energy, sleeping no more than 300 meters higher than you did the night before, taking an acclimatization day every 1000 meters, and being aware of the signs and symptoms. For example, I stayed in Pangboche 3985m an extra night because I had throbbing acute headaches, zero appetite, and my breathing was too fast. I had to take it easy, rest, and relax using one of my buffer days.
On the second day, I did a side trek to Ama Dablam Base Camp at 4570m and added 200m on top climbing on a hill nearby. The secret is to ascend in small increments, hike higher, and sleep in lower elevations. Other tips include drinking about 2-3 liters of water every day, avoid alcohol and smoking, take preventive medication as a precaution, trek with a reputed trek operator or guide who can assist you in case of emergencies, and know where and how to supply oxygen tank if needed. Go at your own pace and don't be intimidated by the strength of others or feel the need to "keep up." It's better to be an hour behind and reach your goal than falter at your own ruthless determination. Keeping calm and meditation helped me as well.
9. Expect traffic jams
During the EBC trek, you will see herds of animals carrying supplies on the trail. Horses, donkeys, mules, zos, dzomo, yaks, and naks are all huge (furry) beasts. Mules are the offspring of a donkey and a horse (strictly, a male donkey and a female horse). Dzo aka Zo is a crossbreed between a cow and a yak, some call them yattle! The females are called dzomo. Zos do the heavy lifting until 14,000 feet when the yaks take over. It is understood that the yaks overheat at lower altitudes and the Dzos can't handle the high altitude thus the hand-off. Step to the wall side when you meet a yak, mule train, or any of the above furry friends since otherwise you can be knocked off the edge.
The straight-in, straight-out route, though, is relatively danger-free: the path has been widened and, in many places, smoothed for trekkers, especially where it traces a sheer slope. You will also pass a handful of suspension bridges that will take courage to walk across. They're sturdy and well-guarded, with handrails and wire mesh below the rail, but they are high, and move with the motion of your feet and the feet of anyone else on them.
10. Encourage and reward yourself
If you are going to walk all that way, you might as well encourage, motivate and reward yourself. On the second night of my Everest Base Camp trek, I stayed in a beautiful, cozy Yeti Mountain Home in Namche Bazaar with a hot shower, super comfy bed, and the best view in town. It added happy energy, excitement to see more, and encouragement to my trek. Then, from the night at Deboche, it was time to rough it up to Everest Base Camp and back. However, on my return, I stayed at the luxurious Hotel Everest View to celebrate crossing off Everest Base Camp from my bucket list. Knowing the comfy bed, hot food, shower, and WIFI were waiting for me was one thing that kept me going when descending long hours on multiple days.
I feel it is important to encourage and motivate yourself to do the things you want to do and once you accomplish it, reward and enjoy yourself. While the excitement of trekking to Everest Base Camp is reaching the foot of Everest at the end of the trail, the entire experience of traveling the trail is the real fun part. There is something to admire about every turn. Monasteries, cultivated fields, grazing yaks, hot momos, Dal Bhat overlooking stunning mountains, the experience of trekking lodge-to-lodge, the view from Everest Base Camp, Kala Patthar, smiles from little local kids, to fellow trekkers.
It all adds up to what makes Everest Base Camp an incredible journey. Slow your pace now and again to look around and take in the mountains, gorge, river, shops, homes, and life that all happens right along the path. There is nowhere else in the world like it.
I hope these 10 trekking to Everest base camp tips helps you plan your trip to Nepal.
Bonus Tips for trekking Everest Base Camp
Recommended Everest Base Camp trek tours?
From Kathmandu: 1-hour Panoramic Everest Flight
Everest Base Camp: 3 Hour Helicopter Sightseeing Tour
From Kathmandu: Private Everest Base Camp Helicopter Tour
Most wanted Everest Base Camp Trek
Kathmandu: 14-Day Everest Base Camp Trek
Mount Everest: 15-Day Base Camp and Kalapathar Trek
When is the best time to trek Everest Base Camp?
If you are visiting Nepal in Winter ie December to February, expect cold days.
Nepal in Spring/Summer – March to May (is the second-best time to visit and trek Everest Base Camp. Spring brings warm weather and spectacular rhododendron blooms)

Nepal in Monsoon (Rainy) – June to August (The monsoon rains (mostly at night) bring landslides, and clouds often obscure mountain views) low season hence things should be cheaper

Nepal in Autumn (Fall) – September to November (Clear skies and warm days make autumn the peak season)
What is the best way to travel from airport to Airbnb/hostel/hotel?
I personally never have had any problem using the following service.
Where to stay in Nepal?
If you need to book accommodation, use this $76 discount for your first booking with Airbnb. Sign up with a new email and stay at some of the finest homes in Nepal!
Alternatively, you can check hotel prices and book it through trusted Agoda, or Booking.com
Want to save more money, read this travel resource.
Where to book cheap flights to Nepal?
Find the cheapest flights through most trusted sites such as Skyscanner or Momodo.
Few handy words
Hello – Namaste
How are you – K cha? (informal) , Tapailai Kasto cha? (formal), Sanchai (fine and well)
How much – Kati ho?
How many- Kati wota?
Food – Khana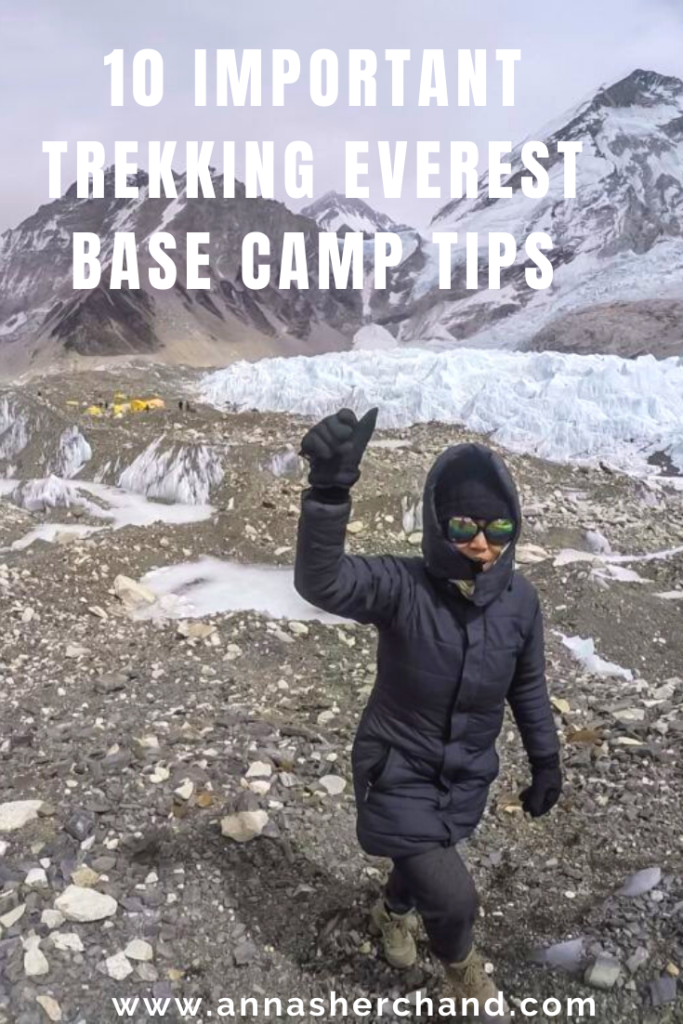 Let me know in the comments if you
If you like this article, follow my adventures on Instagram, Facebook, YouTube, Twitter, and Pinterest, but most importantly sign up to my e-mail list to keep up with updates and travel posts!
10 Trekking to Everest base camp tips