Mount Everest Base Camp – Day 1 and Mount Kailash Lodge Review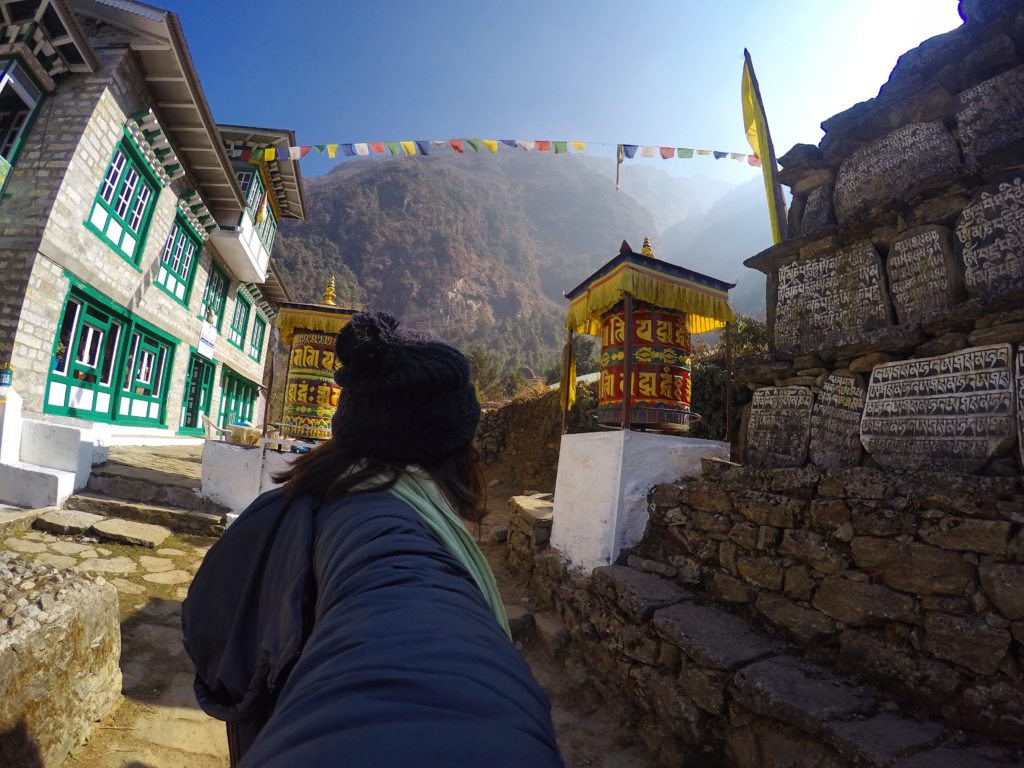 For many years, I kept wishing to trek Mount Everest Base Camp but never actually did anything about it. So while I was solo traveling the world, I stopped wishing and finally walked the talk! However, it wasn't easy to organize this trip not only because it was a last-minute decision but the trekking options are unlimited in Nepal. Such as Annapurna Base Camp, Gokyo Trek, Tamang Heritage Trail, and many others.
I happened to be going back to Nepal after 10 long years, so the feeling was scary and exciting at the same time. And after some thought, I decided to go for solo mount everest base camp trekking.
This series of posts will be journal like so, it'll be personal and hopefully enjoyable. So if you or know someone who wants to SOLO TREK EBC then you should subscribe to all the info that is coming your way including the most googled item – where to stay during those trekking days.
Without further ado, let's begin the adventure!
Day 1
26th Feb 2017
The flight was booked for 7 am from Kathmandu – Lukla. If you don't know- Lukla airport is one of the scariest airports in the whole world. I was staying around Ring road in Kathmandu where microbuses start running around 4 am. I got up at 4:30 am and managed to arrive at the domestic airport just in time.
Checked in and now anticipating the scary flight to Lukla. 7 am-8 am – no announcements!! I went to ask the officer and was told the flight has been canceled due to poor visibility. Great!
Day 2 Round 2
27th Feb 2017
Same story all over! Some people flew via helicopter to Lukla but I had a few days spare so thought I'll wait one more day then make a decision. Heli costs a couple hundred dollars on top of your existing flight costs.
Here's a top tip for you – include extra days if you are going trekking because you never know what's going to happen. Weather is unpredictable, flights get canceled for days on end, you might get sick or your guide or porter, etc
What a morning. It was frustrating walking up early two days in a row and not being able to fly.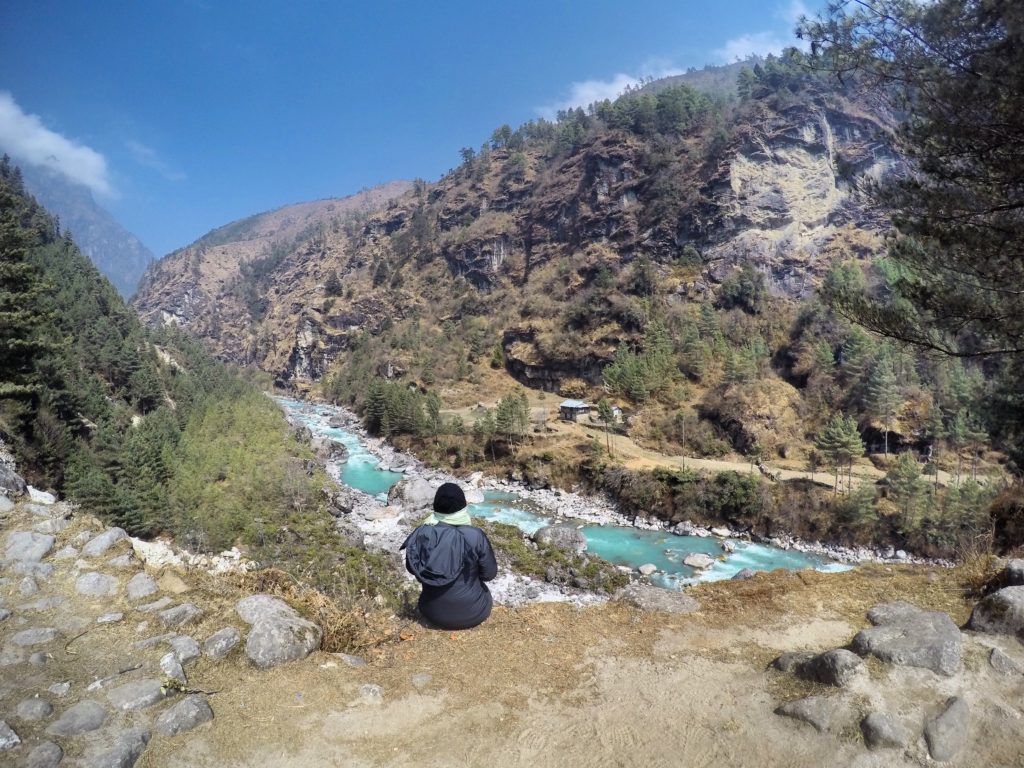 Day 3
Adventure DAY 1 
28th Feb 2017
By now, I have started seeing familiar faces in the airport from last 2 days. It was shocking when I was told, "if flights were to fly today.. people who have been waiting since last 2 days would be the last one to fly because people who have a flight today (28th) will be given priority" .. not sure if I liked the sound of that!
Luckily mother nature was in good mood today and with my friend's help, I was able to fly out on the first plane to Lukla with blue sky and great mountain range from my window.
Watch the youtube video for your enjoyment. Link below.
Landed safely in Lukla, now my eyes were looking for someone holding my name tag. No one but I found Starbucks!
I had organized the porter through my friend in Kathmandu. I knew it would be the best option and reliable choice as I have heard many horror stories. Like cold treatment between trekkers and porters and guides, workers leaving guests halfway in the Himalaya because of whatever reasons, trekkers not treating porters well etc.
If you or know someone who is a reliable porter let me know and I am more than happy to pass on the details.
Back to day 3, I was pretty stocked I was finally in Lukla about to start this once in a lifetime journey. Three times in airport, 6 bus rides and 1 flight later I was there. The excitement was an understatement.
Met my porter, half bald middle age Nepali man who had a friendly smile and backpack bigger than mine! Since I speak Nepali well; he was going to be my guide too. We got on okay as we started our trek towards Monjo.
We had lunch at Phakding at around 2 pm. If I wanted I could have stayed a night there but we still had about half a day left so we kept going. It took us about 6 hours to get from Lukla to Monjo.
Monjo is a small village in the Khumbu region of Nepal. It lies in the Dudh Kosi river valley just north of Phakding and south of Jorsale, at an altitude of 2,835 m.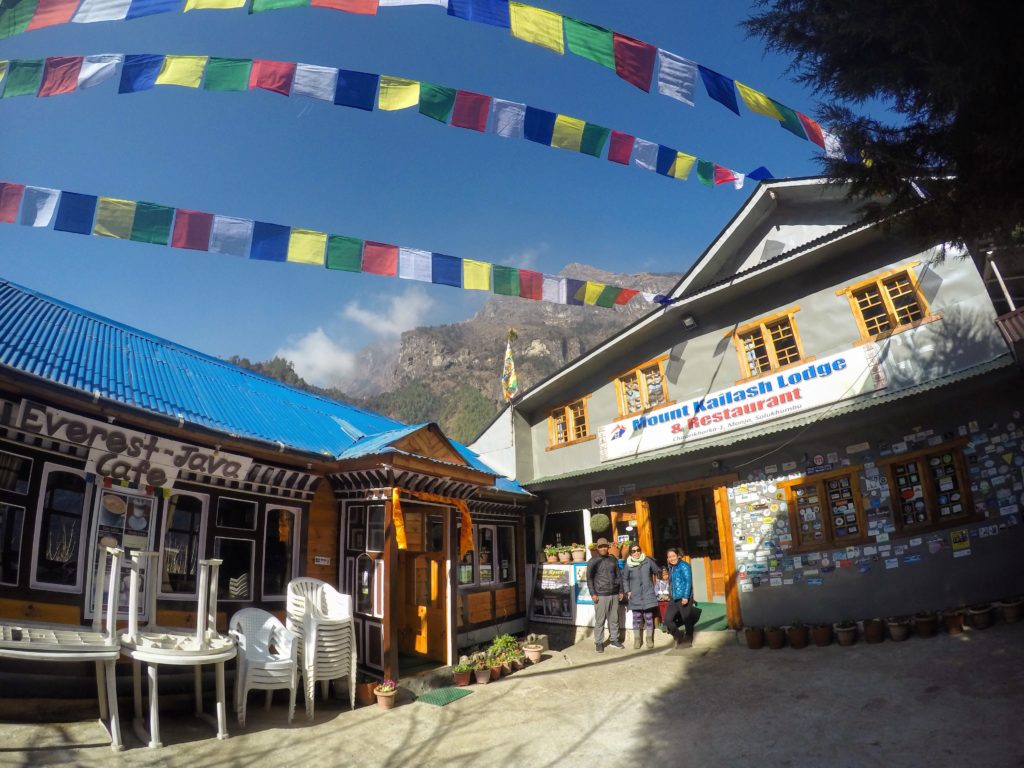 When we arrived there, we checked in at this family-friendly Mount Kailash Lodge.
Mount Kailash is a family run private lodge and restaurant. Owner Mr Pasang Sherpa and his wife were friendly and kind as I observed how they were helping guests and serving them. Oh and their cute little daughter is a sweetheart.
I got the twin bedroom with private bathroom and hot shower. Bed sheets were clean and the window had a view of the mountains. I was content to have the room to myself.
Too many things were coming out of my backpack on 1 bed and I was on the other. I almost felt like I was home!
Hot shower was great. Soothing after all that walking and sweating.
Internet was the Plus as I wasn't expecting it up in the Himalayas and it wasn't expensive either 500 NPR for 24 hours.
Not too sure about the bed though. Guess I was too tired to complain really. All in all, happy with the room and facilities.
Now comes food,
For dinner, I ordered the most famous meal in Nepal ….drum roll, please
DAL BHAT aka DB .. and also because seconds and thirds and even fourth are served without extra charge.
Then the warmth of the heater that runs from yaks dung made the evening cozier! I didn't smell the dung and was great being around other trekkers and enjoy the heater sharing some stories.
I figured this lodge has a cafe as well and went to bed thinking about ordering nice warm coffee the next morning.
Slept well. Ordered my coffee and had Tibetan breakfast in the morning.
Here's the breakdown of total cost since I arrived in Lukla.
Lunch at Phakding – 500 NPR for Vegetarian D.B.
Free orange juice.
Dinner at Mount Kailash Lodge – 500 NPR Vegetarian D.B.
Tibetan Breakfast- 350 NPR
Accommodation – 200 NPR
After breakfast,  I was excited to start my second day but it was pouring snow.
So, we waited an hour and around 11 am when it was drizzling, we started our trek from Monjo.
Subscribe to get a notification email when Day 2 is published.
And here's the youtube video. Enjoy and let me know if you have any questions on solo mount everest base camp trekking.
Solo mount everest base camp trekking