After living with the pandemic in Australia for 20 months, I wanted to travel away to see more of our beautiful world. That took me to Colombia and Peru but since Australia wasn't flying direct to South America at the time, I flew into LA solo first. So, today I will be sharing that travel experience with LA travel tips and if you are looking to do the same, hope it helps you too.
LA stands for Los Angeles aka City of Angles. It is the largest and most populous city in California and the second most populous city in the United States after New York City. Located in Southern California between the San Gabriel Mountains on the east and the west coast of the Pacific Ocean, LA is home to Hollywood stars, the TV & movie industries, beautiful beaches, and more.
I will start off by answering the most asked questions but if you want to check out the must-see places in LA right away, feel free to scroll further down.
LA solo travel guide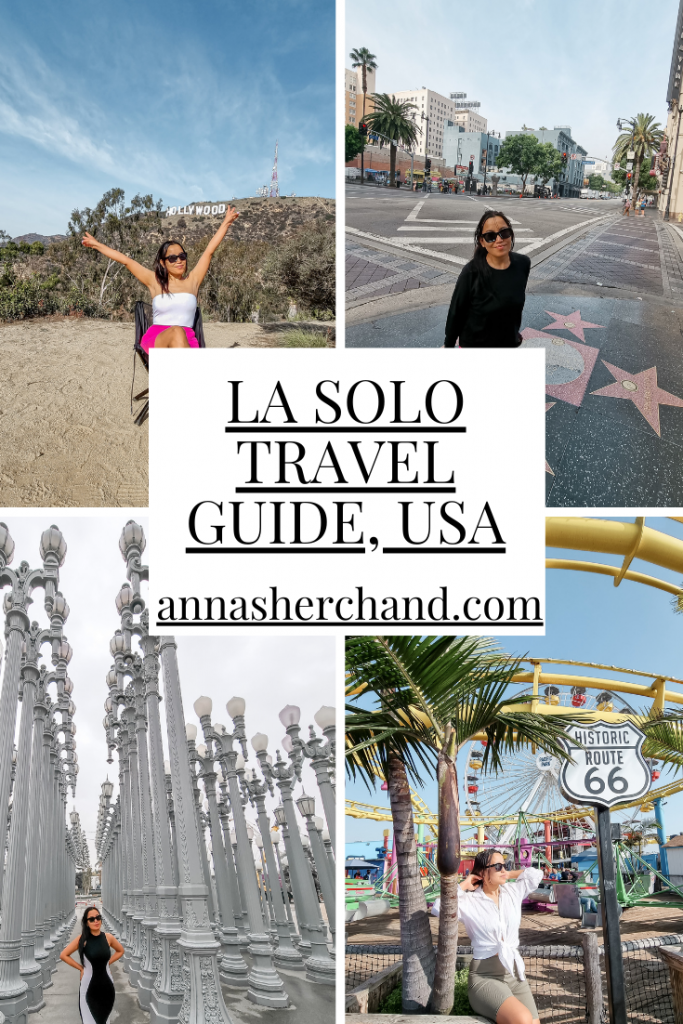 Is LA safe for a solo female traveler?
Yes and from my personal experience unless there is a drastic change in the country's political situation, pandemic, or some natural disaster it is safe to travel to LA. Just remember to apply a general rule of thumb i.e. Don't walk down that dark alleyway on your own, respect the culture, don't argue about religion, dress modestly, trust your instincts, and don't be afraid but be cautious.
Save this for later Arizona solo travel
Where is the best place/area to stay in LA?
If you are after the safest area to stay, I would say, Santa Monica. It's a coastal district of the city where you can walk without worry since it's quite safe. I stayed in HI Los Angeles – Santa Monica Hostel It was clean, coworking friendly, had a big kitchen, the staffs were great and were running a live comedy show! Also, plus point in staying here was it was 2 mins walk to Santa Monica beach, 15 to Venice Beach and the neighborhood was full of bars and restaurants.
A few other recommendations around the same area would be Venice Beach Hostel, or Banana Bungalow Hollywood Hotel & Hostel in LA. Note there are only a handful of 12 hostels in LA that I found in Booking.com at the time and HI is the one I recommend for a clean, safe stay.
Alternatively, there are other areas which come highly recommended too. Hollywood, West Hollywood, Beverly Hills, Downtown, Malibu, or Miracle Mile (Central LA).
If you want a fancy stay then luxury hotels are the best options or even Airbnb otherwise sticking with hostels would be your best bet for budget travels.
When is the best time to visit LA?
I would say anytime you can visit is best but if you want summer vibes with low prices then shoulder seasons are your best bet ie March to May and between September and November.
That said, I visited in December and didn't have to wear jackets or jumpers. It was still hot weather and wore summer clothes.
How many days do you need to explore LA?
If you are not sure how much time, you should spend in LA. I will begin by saying that LA is a HUGE city and there are public buses if you don't have private transport but the landmarks are spread apart from each other. Hence, I recommend at a minimum allocating 5-7 days if you don't want to be rushed and want to see everything.
How do I meet single travelers?
There are definitely pros to solo travel. You get to do WHAT and WHEN you want; you don't have to answer to anyone and you get to challenge yourself – and reap the rewards! Although as humans we are social beings, so on your LA solo trip, if you are after some quality company here are a few ways you can meet other solo travelers.
Stay in a hostel, so it is easy to meet others
Work from a coworking space
Attend a local event or ex-pat event
Use Social Media
Join a volunteering project
Join a day trip
What should I avoid in Los Angeles?
I would say stay away from these dangerous areas especially at night if you're by yourself.
Skid Row/Wholesale District where Greyhound buses arrive and depart
Fashion District
Watts
Downtown
Boyle Heights
South Park
Hyde Park
Must-Have travel apps for LA solo trip
Google Maps because it offers very good coverage of LA, including Street View.
Google Drive, Calendar for time management, and storing pictures.
Uber to order your taxi for immediate use.
Facebook events to keep an eye on any interesting events or meet up you may want to join
Google Translate for easy communication in the local language if English is new to you.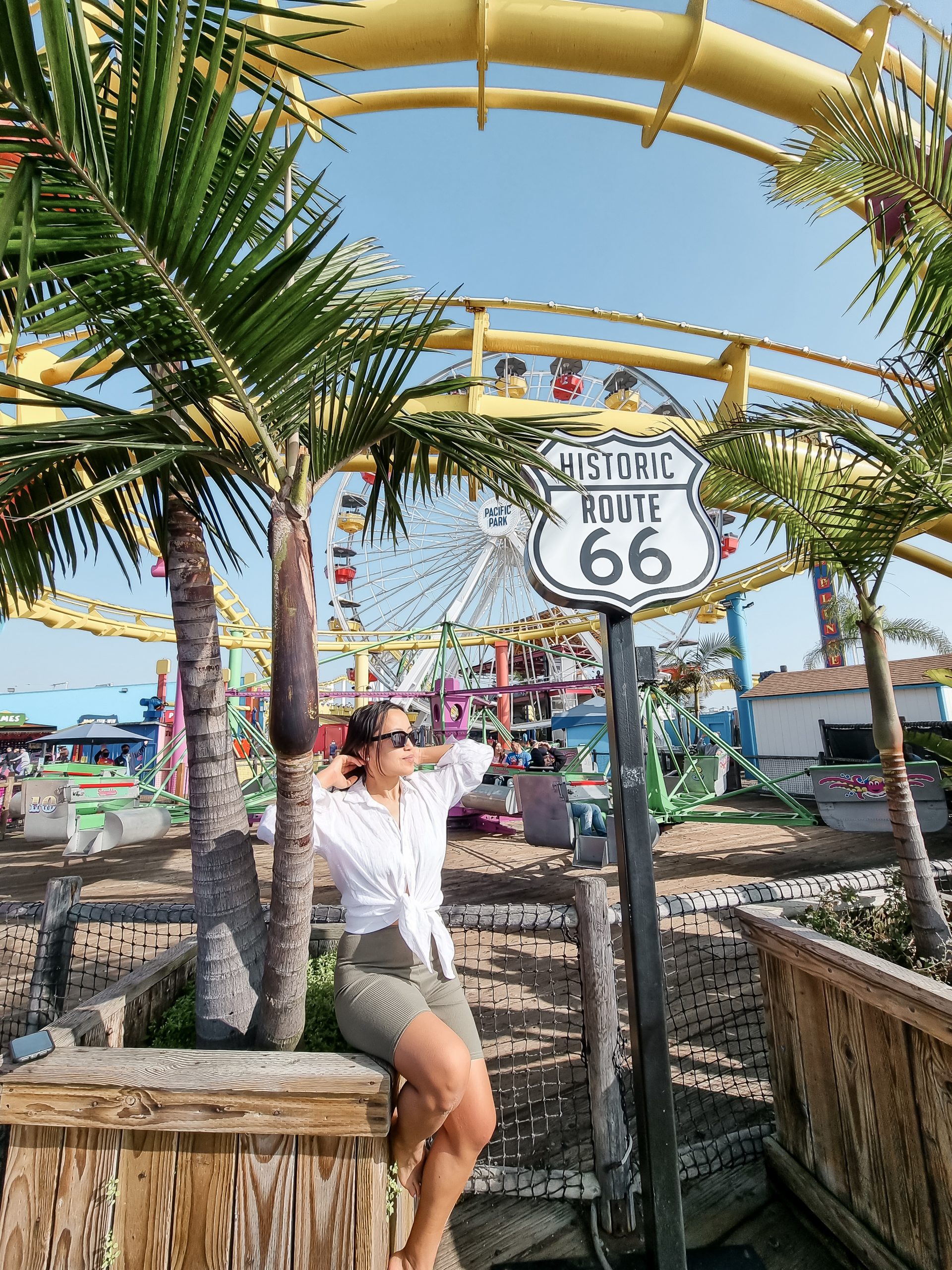 What to eat in LA?
LA solo travel tips wouldn't be complete without mentioning food! Highly recommend trying out some of these meals coming out from LA- Birria tacos in Birrieria San Marcos in North Hills, Ice cream sandwiches from Mashti Malone's in Hollywood, French dipped sandwiches in Philippe's in Downtown Los Angeles, Strawberry donuts at the Donut Man in Glendora, République, Bestia, Orsa & Winston and of course some meals at the Grand Central Market.
Best place to watch sunsets in LA?
Here are some different ways you can witness nature's beautiful creation of sunsets!
From the Parks – Echo Park Lake, Grand Park, Hilltop Park, Lake Hollywood Park or Baldwin Hills Scenic Overlook, or Topanga Lookout Trailhead
From the Beach – Santa Monica Pier/Beach, Venice Beach Boardwalk, Hermosa Beach, Malibu Beach, Manhatten Beach, El Matador Beach, or Point Dume State Beach
Another classic way to watch LA sunsets is at the Griffith Observatory or Hollywood sunset boulevard, or with some city views from the High Rooftop Lounge at Hotel Erwin
Alternatively, you can catch beautiful LA sunsets view with some of the best food, and drinks at Ciao Down, Get Busy Living, My 'Bu, London Calling, 71 Problems but a View Ain't One, Pico-Boo or Feeling Perched, or The Great Escape.
You can even book sunsets helicopter rides for that fancy sunsets over LA vibes.
What are the best places to watch Sunrise in Los Angeles?
If sunrise is more your thing, here are some options:
Griffith Park Observatory
Runyon Canyon Park
Mulholland Drive
Baldwin Hills Scenic Overlook
Cahuenga Peak
Palisades Park
Elysian Park
Hollywood Sign Hike
How to get around LA?
LA has an extensive public transport system served by metro subway and local buses. They are widely available which makes it easy to explore all corners of the county if you have a lot of time. I used buses a few times and they were on time and clean but also booked Uber for ease and faster transport. Another option is to hire a car so you can explore on your own time.
Uber to order your taxi for immediate use. Here is the $10 off your first ride on the Uber app. To accept, use code 'k7zapn' to sign up. Enjoy! Details: https://www.uber.com/invite/k7zapn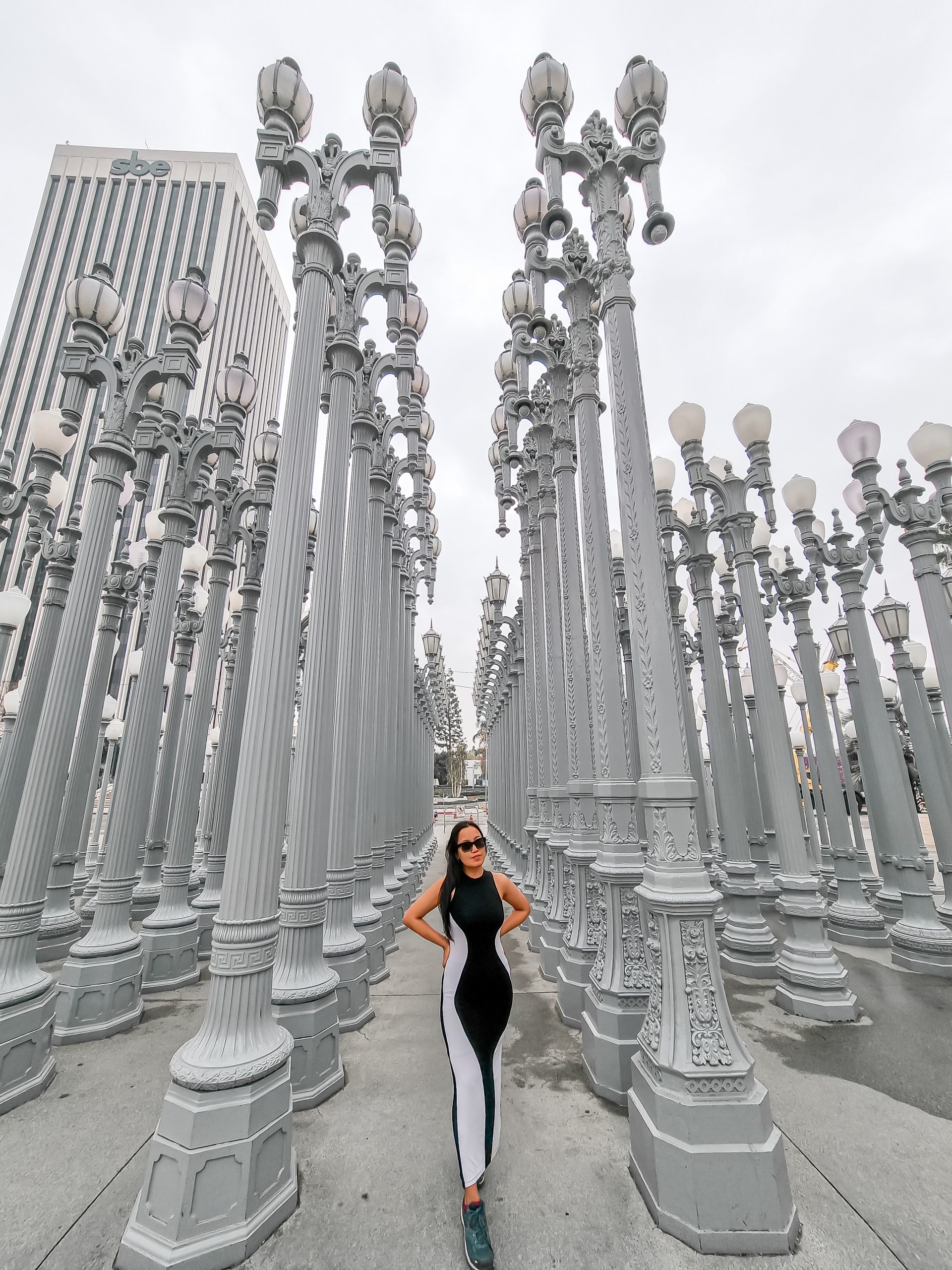 Best places to visit in LA solo trip
Santa Monica
Venice Beach
Malibu Beach
Beverly Hills
Griffith Observatory
Hollywood Sign
Hollywood Boulevard
The Urban Light Sculpture
Warner Bros Studio Tour
Universal Studios Hollywood
Day trips from LA
During your New York solo travels, if you have spare time, it is a perfect opportunity to get out of the city to see more of what LA has to offer.
Los Angeles County Museum of Art (35 min)
Seal Beach National Wildlife Refuge (50 min)
Anaheim (1 hour)
Malibu (1 hour)
Disneyland (1 hour)
Knott's Berry Farm (1 hour)
Laguna Beach (1 hour 30 min)
Fort Tejon state Historic Park (1 hour 25 min)
Palm Springs Aerial Tramway (1 hour 50 min)
Ojai (1 hour 50 min)
Big Bear Lake (2 hours)
Legoland California Resort (2 hours)
San Diego (2 hours 30 min)
Palm Springs (2 hours 35 min)
Santa Barbara (2 hours 20 min)
Joshua Tree National Park (2 hours 45 min)
Torrey Pines State Natural Reserve (2 hours 15 min)
Local currency
The official currency in LA is the USD. There are several 24-hour ATMs and currency exchanges in the airport arrivals hall and these days almost all establishments accept debit or credit cards. Just remember to consider bank fees fro
Do I need a visa for LA?
If your passport is from Australia, you do not need a visitor visa to enter the US and can stay up to 90 days per entry. The passport should be valid for at least six months beyond your stay and need to submit the US ESTA form online. Although the ESTA application can be approved in seconds, it's recommended to apply at least 72 hours before departure. In fact, you may want to apply as soon as you decide on travel dates, just in case your travel authorization is denied. That being said, the authorities may ask for the return air ticket. I highly recommend checking the US Consulate website for the most current visa information for you.
People, language, Simcard
Based on my experience I found American people to be open and respectful of others. English is the official language but many other languages are widely spoken among different immigrant communities.
You can pick up a sim card right at the International Airport arrival halls from a T-Mobile shop – Prepaid SIM with Unlimited Data or Three Prepaid, AT&T Prepaid, Aerobile Prepaid, or LycaMobile Prepaid SIM Card with 4GB Data. If not, you can buy it in shops downtown or even at Walmart too.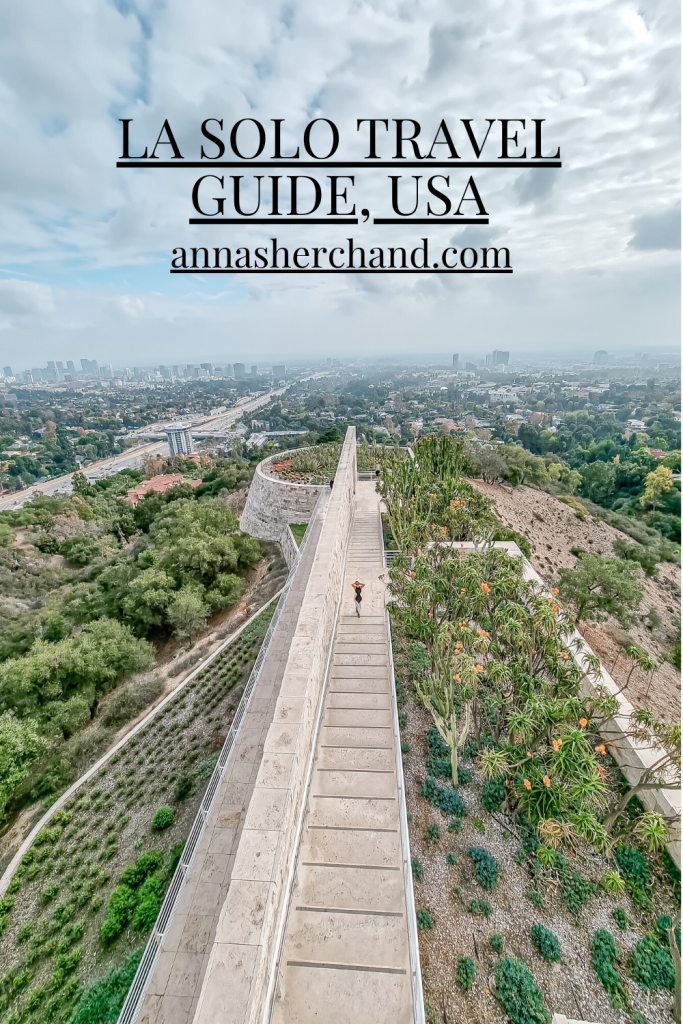 Next stop? Arizona Solo Travel
Solo trip to Phoenix, Arizona
Check out New York Solo travel guide too
Best places to take pictures in Dallas
Solo travel to Porto, Portugal
Solo trip to Helsinki, Finland
Check out what to do in Prague in September
Bruges in December travel guide for first-timers
Is Greece your next destination? Check out 14 days Greece itinerary
5 most beautiful cities in Morocco
One month in Italy guide is here
How about a weekend in Berlin?
Solo travel guide to Copenhagen Denmark
Wondering what to see in Sofia in one day?
Solo female travel to Andorra
Thinking about solo travel to Oslo, Norway?
99% of readers found must see on the east coast of Australia helpful.
Master Sydney travel guide
Solo travel guide to Brisbane (Gold coast and Insta worthy places included!
Exploring Adelaide the best way is a must-read
Important travel tips for Uluru trip
Melbourne day trips in winter
Perth solo itinerary
Top 5 must do in Darwin, Australia
How about a solo itinerary to Canberra– Australia's capital city?
Check out the Fiji Solo Travel Guide
Going to Vietnam after Australia? Check out the 7 days Hanoi travel guide.
Check hotel prices and book it through trusted Booking.com
I have detailed travel resources right here. Save money, learn what and how.
If you like this article, follow my adventures on Instagram, Facebook, YouTube, Twitter, and Pinterest, but most importantly sign up to my e-mail list to keep up with updates and travel posts!