I was lucky to visit New York before I left for my solo trip to Arizona. It was a short stay but a memorable one. So if you are looking for a New York solo travel guide you will find this article helpful because not only I am covering the best places to visit in New York but also the travel hacks for New York, food to try, the best time to visit, how many days is enough for New York City, where to stay, activities and day trips from NYC also. It is going to be jam-packed with all the information you may need before you travel to New York solo.
This busy-beautiful city served as the capital of the United States from January 11, 1785, to December 5, 1790, and since 1797, Albany has been the capital city of NY State. It is also home to One World Trade Center which is the tallest building in the United States at 1,776 feet. Something you may not know is NYC was named by the British in honor of the Duke of York, who later became King James II of England. And interestingly New York City alone has produced 45 Nobel Prize winners! What a vibe hey!
So as a solo female traveler it may be daunting to figure out New york solo, let me start with some tips and I will dive further into the new york solo itinerary.
Travel hacks for New York solo travel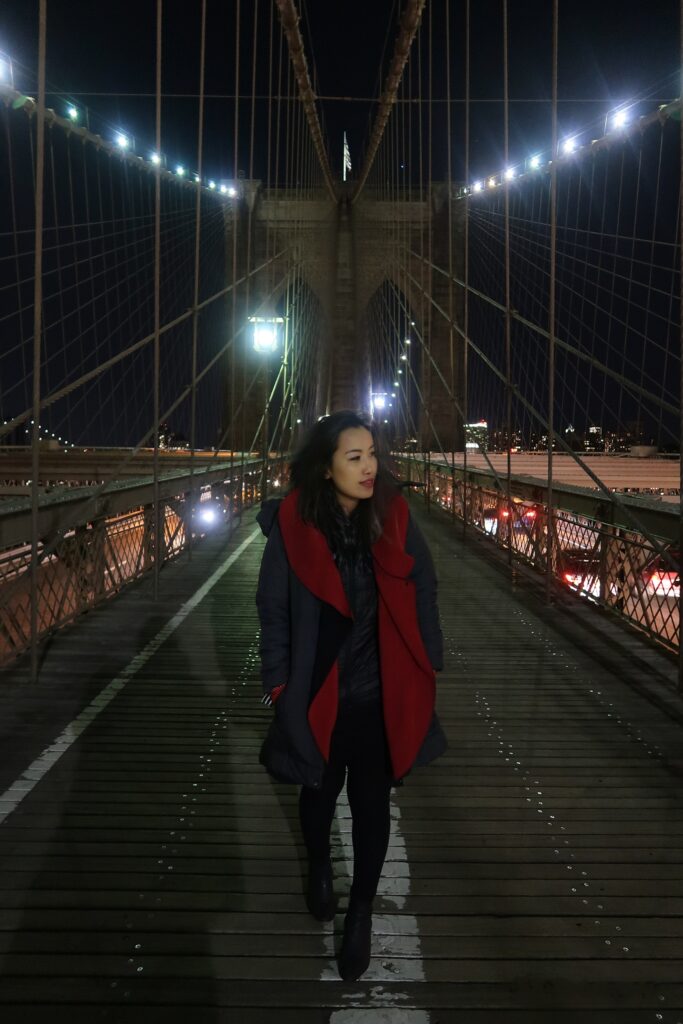 How to get to New York?
By Plane
The simplest way to get to New York solo is, of course, via plane. At the time I had just solo traveled in Singapore and I flew to New york. New York City is one of the largest cities in the world and it has three airports supporting the metropolitan area: John F. Kennedy International Airport (JFK), LaGuardia Airport (LGA), and Newark Liberty International Airport (EWR)
If you are time-poor or the flight is at night and you can store your luggage at the major train stations. There are plenty of lockers at the station.
By Train
If flying is not your style, IF you are in Canada for example you can take the Amtrak Maple Leaf train which is the one and only train line which connects New York, New York to Toronto, Ontario. Note, there is only one train per day, so you will have to plan your travel around this limited availability. Recommend checking out Amtrak for the booking.
By Car/Bus
Within the US moving around via car would be the ideal option.
By Ferry
Alternatively, you could take a ferry for example from Queens, Manhatten, New Jersey, etc recommend checking out the ferry dot com nyc website for tickets.
How to get around New York?
The city transportation system is easy to navigate for tourists. The MRT/metro/subway (same thing but locals say subway (metro is more like in Washington or EU whereas in Australia we say trains) lines are extensive so traveling is very convenient. The New York City Subway has 422 stations, making it the subway system with the most number of stations in the world and runs 24 hours a day, 7 days per week, 365 days a year. It really is an easy and safe way to get anywhere in New York City.
If you are traveling a lot on the subway buy a MetroCard which you can swipe every time you enter a subway. It costs $1 to purchase and an unlimited 7-Day MetroCard costs $33. They also have a 30-day pass and you can transfer for free between local bus routes and local buses and subways.
Cabs/taxis in New York are more expensive than riding the bus or train but they are easy to spot with their bright yellow color and 'Taxi' sign on the roof.
Alternatively, you can download Uber or check out Wanderu a resource for NY bus and train travel.
How many days in New York is enough?
I prefer visiting until my visa runs out in each country, but I would say 5 days is the minimum time to spend on your new york solo trip. You can start your journey in NY, explore major attractions in the city for 3 days then pay a visit to Brooklyn (the 4th largest city in the US), Queens or make a day trip or two. more on it below.
Where to stay in New York solo?
Queens if you are on a budget, Soho & lower east side for hipsters vibe and Upper east side for luxury, shopping, and museum lovers. Chelsea & Greenwich Village if you are looking for New York romantics and of course Midtown Manhattan for your first visit to New York. It is central & is home to iconic attractions like Times Square and the Museum of Modern Art, and architectural landmarks including the Chrysler Building, Grand Central Terminal, the Flatiron Building, and the Empire State Building. Concerts are held at Radio City Music Hall in Rockefeller Center, or Madison Square Garden, home of the New York Knicks and the New York Rangers
Whether it is hostels, Airbnbs, or hotels. You would be spoilt for choice in some of the best neighborhoods such as Tudor City, Carnegie Hill, Battery Park City, Beekman, Sutton Place, and Roosevelt Island.
Do I need a visa for New york?
If your passport is from the AUS, NZ, UK, and Ireland you can stay up to 90 days in NY with a valid ESTA. You should apply for an ESTA at least 3 days before traveling, but it's advisable to do it even further in advance. That said, the authorities may ask for the return air or ferry ticket. I also highly recommend checking the US Consulate website for the most current visa information for you.
When is the best time to visit New York solo?
The best times to visit New York solo are in the shoulder/spring seasons (April-June) when the weather is pleasant and tourists are fewer than usual which also means the best deals going on accommodation and travel tours than summer when it is peak season time followed by Fall (if you are into that Aug-October) and November to December. That is when New York is in its best festive mode with Thanksgiving followed by Christmas and New Year. Just don't rock up in January like I did and froze my tits off! I mean pack loads of warm windproof clothes if you have to go during the wintertime.
Is New York safe for a solo female traveler?
First of all, let's establish the understanding of solo traveling which is brutality! It forces you to trust strangers and to lose sight of all that familiar comfort of home and friends. You are constantly off balance. Nothing is yours except the essential things – air, sleep, dreams, the sea, the sky – all things tending towards the eternal or what we imagine of it. If you are okay with it, you will adapt, you will survive.
With that said, New Yorkers are generally busy bees going in and out of their office, but hopefully, you will meet some locals who aren't so time-poor. And the important thing is that book your accommodation close to the subway because that will take you around the city and must-see places conveniently. So unless there is a drastic change in the country's political situation, pandemic, or some natural disaster it is safe to travel to New York. Just remember to apply a general rule of thumb i.e. Don't walk down that dark alleyway on your own, respect the culture, don't argue about religion, dress modestly, trust your instincts, don't be afraid but be cautious.
Local currency
The local currency is the American dollar (USD). There are several 24-hour ATMs and currency exchanges in the airport arrivals hall and these days almost all establishments accept debit or credit cards. Remember to consider bank fees from your bank and the ATM withdrawal fee while you do your budgeting.
People, language, and more
I found New Yorkers to be hard workers who know how to have fun type of people. Totally my kind of vibe! American English is the language that is spoken and there's free Wi-Fi access all around NYC. Such as All branches of the New York Public Library, Several public spaces in Lower Manhattan, and LinkNYC kiosks across the City. If you'll be in New York solo for a while or think you'll use the internet a lot, maybe it's best to get the local Simcard with data.
You can pick up a sim card right at the International Airport arrival halls from a T-Mobile shop – Prepaid SIM with Unlimited Data or Three Prepaid, AT&T Prepaid, Aerobile Prepaid, or LycaMobile Prepaid SIM Card with 4GB Data. If not, you can buy it in shops downtown or even at Walmart too.
The United States country domain is .gov, and the country code is +1
Must-Have Travel Apps for traveling New York Solo
Google Maps for ease of finding routes, offline use,
Google Drive, Calendar for time management, and storing pictures.
Alternatively, you can download dropbox on your phone or use external SD cards.
New York Subway App
This official free app lets you look up train routes and schedules and book your tickets. You can even view train information in real-time!
What to eat in New York?
New York is an exciting place for foodies with its food diversity and fusion of cuisines available in countless buzzing eateries downtown and hotels to suit everyone's budget. Don't let traveling new york solo stop you from going into the restaurant. You deserve all the best things in life and the best food too. If it helps bring a notebook to journal or book to read. You got this.
Here are my recommendations on must-try food in New York starting with the classic NYC food trinity of New York-style pizza, bagels, and hot dogs, all great takeaway snacks that are widely available all around town. Other foodstuffs like NY burgers and sandwiches are pretty
Another local favorite is Italian cuisine so be sure to track down some cannoli or pasta in neighborhoods like Little Italy and the Upper West Side.
NYC also does food trucks where you can find diverse ethnic eats, from Ramen, and Burmese noodles to Middle Eastern falafel to Belgian waffles. Other foodstuffs like knishes (a dough-filled pastry), tacos, Korean barbeque, and soup dumplings also offer tasty samples of the city's rich Jewish, Mexican, and Chinese heritages.
Feeling something fancy? Here are some options for Michelin Stars restaurants: Blue Hill, Barbuto, Hearth, Gato, Ai Fiori, or french Le Coucou.
New York Solo Guide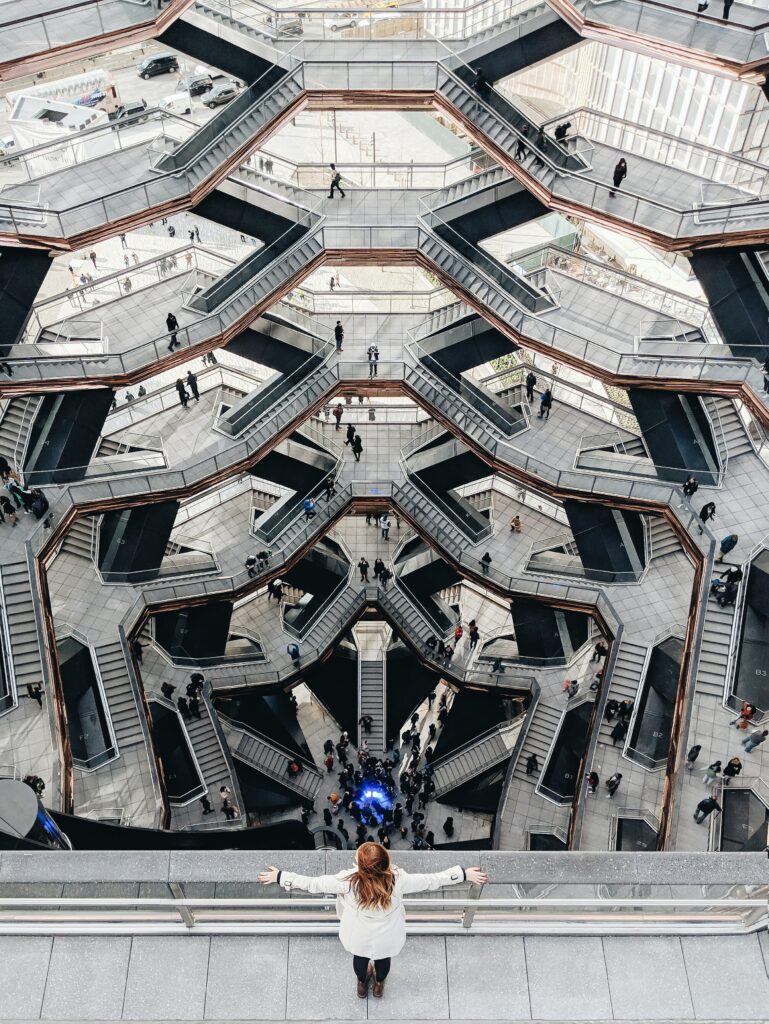 Now that we got the practical tips out of the way, let's get into the best places to visit during your new york solo trip
Best places to visit in New York solo
MUSEUMS AND GALLERIES

Click the links below to learn more.
• American Museum of Natural History
• The Museum of Modern Art (MoMA)
• The MET Museum
• 9/11 Memorial and Museum
• Intrepid Sea, Air & Space Museum, and Space Shuttle
• Guggenheim Museum
• Museum of Sex
• NewYork Historical Society Museum
• The Whitney Museum of American Art
• Brooklyn Museum and Botanic Garden Combo
• The Met Cloisters
• Museum of the City of New York
• Museum of Ice Cream
• Museum of Jewish Heritage
• Fotografiska New York

EXPERIENCES

• Top of the Rock Observatory
• Empire State Building
• Edge
• One World Observatory
• The Vessel at Hudson Yards
• Hop-On Hop-Off Big Bus New York
• Statue of Liberty Ferry and Ellis Island Immigration Museum
• Central Park Bike Rental
• The Downtown Experience by The RIDE
• Ripley's Believe It or Not! Times Square
• Ground Zero Museum Workshop: Hands-On 9/11 Tour
• New York Botanical Garden
• Madame Tussauds Times Square New York
• Spyscape
• LEGOLAND Discovery Center Westchester
• Harlem Gospel Holiday Celebration Concert
• Brewing in Queens Walking Tour
• RiseNY
• Masters of the Camera NYC Rooftop Photoshoot
• Brooklyn Graffiti Tour
• SEA LIFE at American Dream

TOURS

• 9/11 Tribute Center and Walking Tour
• Central Park Walking Tour
• Day Tour Bus
• NYC Empire Building and Ellis Island Tour
• Rockefeller Center Tour
• Radio City Stage Door Tour
• Central Park Bike Tour
• Brooklyn Bridge Bike Tour
• Madison Square Garden: All Access Tour
• VIP Central Park Private House Carriage Ride Tour
• When Harry Met Seinfeld Bus Tour
• NYC Guided Bus Tour
• Gossip Girl Sites Bus Tour/ Gossip Girl locations
• Brooklyn Bridge and DUMBO Walking Tour
• 4 Hours Harlem Gospel Tour
• High Line, Chelsea, Meatpacking District Neighborhood Walking Tour
• Holiday Market & Christmas Lights Walking Tour
• NYC: Speakeasy Drinks and Prohibition History Tour
• NYC Private Walking Tour
• Ghosts of Greenwich Village Tour
• NYC: SUMMIT One Vanderbilt Experience Ticket
• NYC: Empire State Building Tickets & Skip-the-Line
• Pride Walking Tour
• NYC Slavery & Underground Railroad Walking Tour
• St. Patrick's Cathedral Tour with Express Entry
• Best of Brooklyn Walking Tour in Williamsburg
• Broadway & Times Square Walking Tour
• Graffiti & Street Art Walking Tour
• The Statue of Liberty and Ellis Island – Walking Tour
• SoHo – Little Italy – Chinatown Neighborhood Walking Tour
• From Manhattan: Full-Day NYC Boroughs and Coney Island Tour

FOOD AND DRINK

• NYC Food Tour
• New York City: Brunch, Lunch, or Dinner Buffet River Cruise
• NYC: Luxury Brunch, Lunch or Dinner Harbor Cruise
• NYC: Manhattan Skyline Buffet Dinner Cruise with Live DJ

CRUISES

• Lady Liberty Cruise: Circle Line Sightseeing
• Harbor Lights Cruise: Circle Line Sightseeing
• Best of NYC Cruise: Circle Line Sightseeing
• Landmarks Cruise: Circle Line Sightseeing
• Clipper City Tall Ship Sail – Daytime Statue or Harbor Lights
If you want to save the hassle of using the bus, train, metro, or taxi I recommend getting a New York Go City card. Sightseeing in NYC has never been easier with this card because it offers you all of the above selection of over 95 must-see NYC attractions, museums, and tours for one low pre-paid price. Joining these types of tours is probably also one of the best ways to meet fellow solo travelers.
There's no need to decide in advance, and you can take up to 60 days after using the pass to make your first visit. Your Explorer Pass also features special perks including gift shop discounts or a free audio guide at selected attractions, helping you make the most of your New York trip and save even more along the way.
Plan your day and visit the sites that you wish to see, from National landmarks, and museums to heritage sites, to glamorous shopping areas, or explore NY's famous nightlife when it suits you best.
For a breath of fresh air in New York head to any of these parks. Central Park, Prospect Park, The High Line, Bryant Park, Washington Square Park, Hudson River Park, Brooklyn Bridge Park, or Flushing Meadows–Corona Park
Best place to watch sunsets in New York?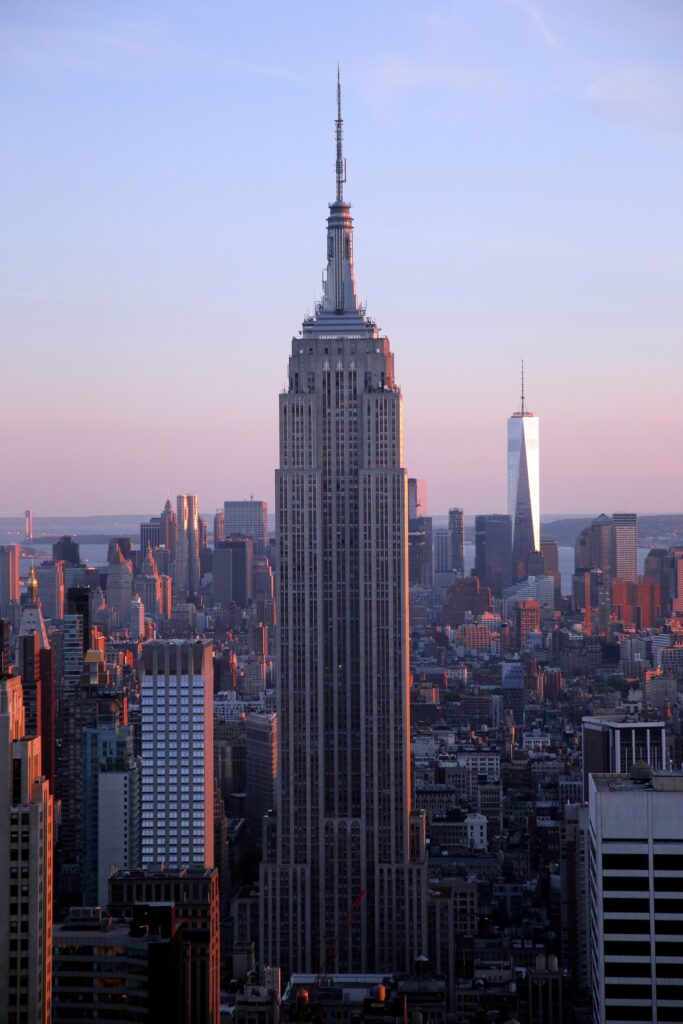 There are many places you can watch the sunsets in New York.
From the Parks – Hunters Point South Park or sunsets park in Queens, High Line Park – Chelsea, Belvedere Castle – Central Park, Astoria Park, North cove – Battery Park, Wave Hill in Brooklyn, Shore road Park sunsets – Bay Ridge with the view of Verrazano-Narrows Bridge or Brooklyn Bridge Park – Dumbo.
Another classic way to watch NY sunsets is with some city views from the Top of the Rock Observation Deck, or the Empire State building.
Sunsets with fine dining at The Marriott Marquis Hotel, or Iris & B Gerald Cantor Roof Garden.
You can even book sunsets helicopter rides for that fancy sunsets over NYC vibes.
NYC sunsets also look pretty good from the Hudson River, Valentino Pier – Red Hook, or Staten Island Ferry.
Alternatively, with the Roosevelt tram (gondola) if you time it right, you can watch the NYC sunsets or even sunrise over the East River, connecting Midtown with Roosevelt island.
Day trips for new york solo travels
During your New York solo travels, if you have spare time, it is a perfect opportunity to get out of the city to see more of what New York state has to offer. There are 62 cities within NY state but here are the ones most talked about Buffalo, Rochester, Yonkers, Syracuse, the capital city Albany, or New Rochelle all of which can be reached with subways.
New York is one of the most thrilling, and most accessible solo travel destinations in the world. It is easy to navigate, with endless sights and countless buzzing eateries and hotels to suit everyone's budget. This city just makes you feel alive.
If you don't feel like exploring alone, you can join any of the private or group tours below.
Washington day trip from New York
2 days Niagara Falls and shopping trip from New York
Boston and the freedom trail from New York
One day tour to Niagara Falls, Washington and Philadelphia
From NYC: 2-Day Niagara Falls Tour with Shopping Trip
In case you want to continue to travel further, New York has the bordering states with Connecticut, Massachusetts, New Jersey, Pennsylvania, Rhode Island (water border), and Vermont.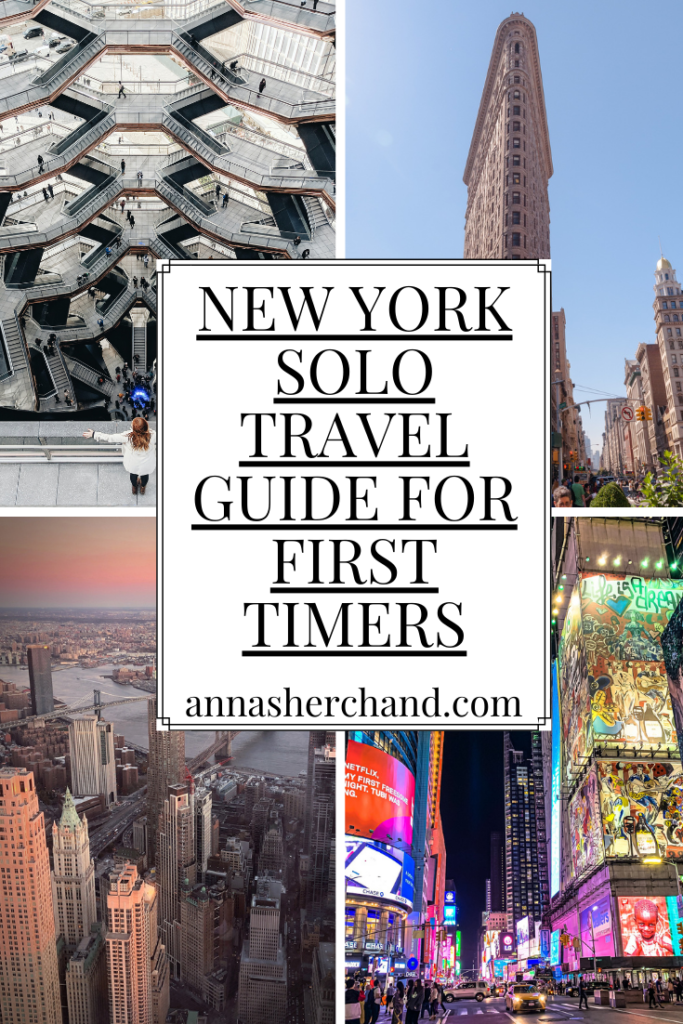 Let me know in the comments:
New York Solo Travel Guide For First-Timers