Australia is a vast and diverse country, home to some of the world's most iconic landmarks and breathtaking natural wonders. But beyond the popular tourist attractions lies a world of hidden gems, waiting to be discovered by adventurous travelers. From secluded beaches to hidden waterfalls, and from secret bushwalks to remote outback towns, Australia is a treasure trove of hidden gems just waiting to be explored.
The beauty of these hidden gems lies in their mystery and obscurity. Many of these places are off the beaten track and require a sense of adventure and curiosity to seek them out. But the reward is well worth the effort, as these hidden gems offer a glimpse into the unspoiled beauty of Australia, far away from the crowds and tourist hotspots.
In this article, we'll be delving into the world of hidden gems in Australia, uncovering some of the country's best-kept secrets and lesser-known destinations. We'll be exploring everything from hidden beaches and secret hiking trails to hidden waterfalls and remote outback towns. Whether you're a seasoned traveler or a first-time visitor to Australia, we're sure you'll find plenty of inspiration and ideas for your next adventure.
So join us on a journey of discovery as we explore the hidden gems of Australia, from the rugged beauty of the Outback to the stunning coastline and everything in between. It's time to step off the beaten track and discover a whole new world of hidden treasures in this incredible country.
Australia contains six states—New South Wales, Victoria, Queensland, Western Australia, South Australia, and Tasmania—and two internal territories—the Northern Territory and the Australian Capital Territory, which contains Canberra. This blog starts from hidden gems on the west coast, Northern Territory, South Australia, Victoria, ACT, New South Wales, Queensland & Tasmania.
Hidden Gems in Australia/secret places in Australia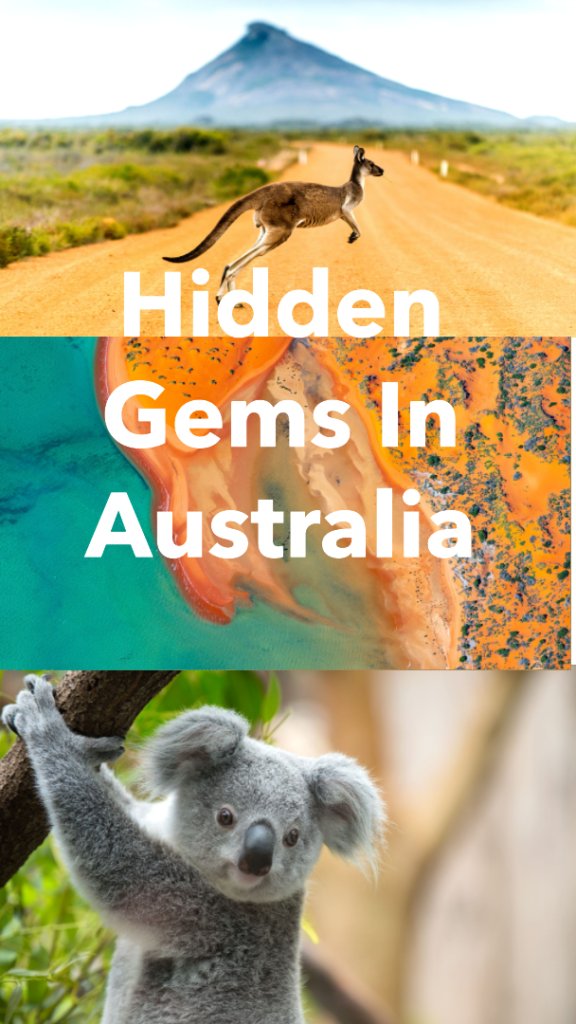 Western Australia
Looking for secret places in Australia? Look no further! If you're in Perth and on the hunt for secret photography spots, we've got you covered too.
1. Dirk Hartog Island
Western Australia is full of hidden gems waiting to be discovered. One such gem is Dirk Hartog Island, located in the UNESCO World Heritage-listed Shark Bay area. This island is rich in history, natural beauty, and spectacular landscapes. Visitors can spot a variety of marine life, including sharks, turtles, dolphins, whales, and dugongs on the boat ride from Denham, ten hour's drive north of Perth, or take a scenic flight from nearby Monkey Mia. Once there, visitors can explore secluded beaches, rugged coastlines, rock pools, thundering blowholes, and brightly colored Rose Lake. Ocean Park Aquarium offers day trips to the island, or visitors can choose to camp or stay at the rustic Dirk Hartog Island Eco Lodge.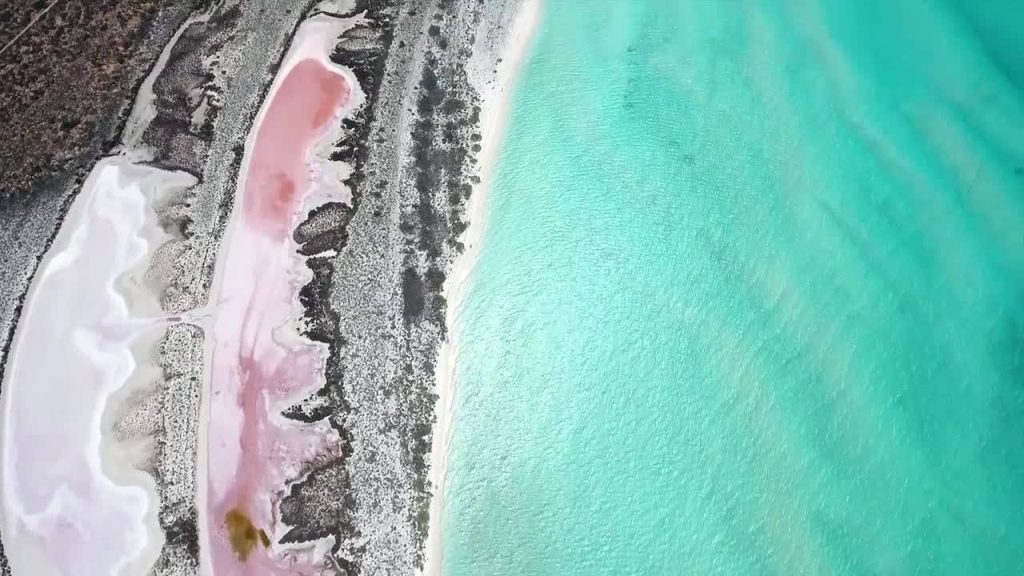 Looking for a place to stay, I recommend using booking.com and sorting with price, then consider the ones with the highest reviews just in case.
For tours, I recommend using get your guide and walking tours available in most places
2. Fitzgerald River National Park
Another hidden gem is Fitzgerald River National Park, located between Albany and Esperance, and you will need your own vehicle to get there – the south coast of Western Australia. This park boasts stunning beauty and serenity, with camping sites that are far from each other. You can enjoy hiking, beachcombing, swimming, and snorkeling, all while experiencing the tranquillity of the park.
3. Hellfire Bay, Cape Le Grand National Park
Head to Hellfire Bay in Cape Le Grand National Park for a stunning beach experience. With its white sand beaches, granite peaks, and colorful wildflowers, this is one of the most beautiful beaches in Western Australia. Only a 45-minute drive from Esperance, this beach is perfect for picnics and swimming when the water is calm. And, if you're lucky, you might even spot some western grey kangaroos and pygmy possums!
4. Kooljaman at Cape Leveque
The next secret aussie getaways on the list is Kooljaman at Cape Leveque in the Kimberley. Owned and operated by the Bardi Jawi communities, this remote wilderness camp offers a unique opportunity to learn about Indigenous culture. Stay in a safari tent or cabin on native title land and take tours to learn about bush tucker, attend ranger talks, go whale watching or fishing, or book a scenic flight over Horizontal Falls.
5. Karijini National Park
Welcome to the rugged landscapes of Western Australia, where natural wonders and breathtaking vistas await. In Karijini National Park, you'll find the awe-inspiring Hamersley Gorge, a true sight to behold. The gorge features swirling bands of colored ancient rock, and stepped waterfalls that cascade down into crystal-clear pools. This remote corner of the park is accessible via a 400-meter walk down roughly hewn steps from the trailhead. Once you reach the gorge floor, you can take a refreshing swim in the tranquil pool, surrounded by the peaceful sounds of nature.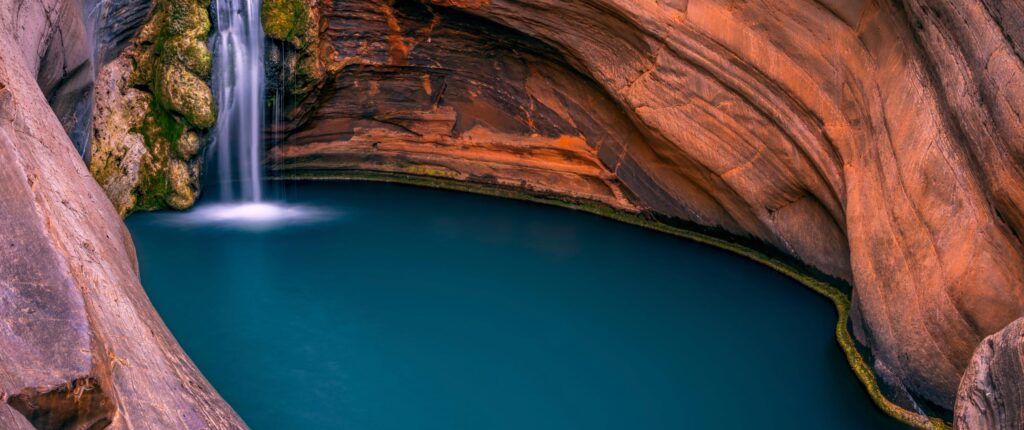 6. Hamersley Gorge
Another hidden gem is Hamersley Gorge in Karijini National Park. This remote destination offers an awe-inspiring landscape that is hard to find anywhere else. Hamersley Gorge is surrounded by towering cliffs that are over two billion years old. The crystal-clear river that flows through it features cascading waterfalls and picture-perfect pools, perfect for a refreshing swim. The stunning views and remote location offer the perfect escape from the hustle and bustle of day-to-day life. It's also a hiking enthusiast's paradise, with plenty of trails for all fitness levels. The Weano Gorge Trail is a more challenging trail, but the views from the top are well worth it. And despite its remote location, Hamersley Gorge is pretty accessible. It's about a 3.5-hour drive from the town of Karratha, and there are several accommodation options available in the area, including campsites and lodges. Don't miss out on these hidden places in Australia and add them to your must-see list!
7. Kalbarri National Park
Another must-see destination in the region is the stunning Nature's Window, located in Kalbarri National Park. This natural rock arch, formed from sandstone layers, is a popular spot for photographers and nature enthusiasts alike. From this vantage point, you'll enjoy sweeping panoramic views over Kalbarri National Park, which is situated around 500km north of Perth. The arch perfectly frames the Murchison River, providing an unforgettable backdrop for your photos. To reach the arch, simply take The Loop Walk, an easy 1km return hike from the car park. Whether you're exploring Western Australia's rugged landscapes or simply taking a leisurely stroll, Nature's Window is a must-visit destination.
8. Lake Ballard
If you're looking to escape the crowds and experience the true beauty of Western Australia, Lake Ballard is an absolute must-visit. Located in the southern half of the state near the town of Menzies, this untouched locale is a sacred site to the Wongi and Wangkatha tribes and provides a stunning backdrop for refreshing walks, camping, and Instagram-worthy photos. Don't miss the outdoor gallery featuring incredible art installations by Sir Antony Gormley, which are sure to leave you in awe.
9. Dave Evans Bicentennial Tree
For those seeking a more exhilarating adventure, the Dave Evans Bicentennial Tree is not for the faint-hearted. This giant 75-meter-high karri tree in Warren National Park offers visitors the chance to climb to the top and enjoy impressive views of the surrounding forest from a platform used to spot bushfires. It's an unforgettable experience, but if you're scared of heights, you may want to sit this one out. And for a truly unforgettable stay, check out the Mudstone Spa Retreat in Pemberton, which offers cozy chalets surrounded by nature. So what are you waiting for? Book your trip to Australia and discover these offbeat locations in addition to the iconic landmarks!
10. El Questro Wilderness Park
Another hidden gems south west wa is this park, an awe-inspiring destination nestled in the heart of the untouched Kimberley region in Western Australia. The El Questro cattle station offers a breathtaking landscape spread over 700,000 acres of land, most of which remains undiscovered. It is a haven for nature lovers, with its pristine swimming holes, majestic mountain ranges, and stunning vistas. This hidden gem is a must-visit destination for those seeking to explore one of the world's last frontiers.
11. Elephant Rocks
If you're looking for an extraordinary geological wonder, then Elephant Rocks in Western Australia should be at the top of your list. This incredible natural attraction is located in the picturesque town of Denmark and is a true marvel of nature. The giant granite boulders are shaped like elephants and are perfect for exploring or simply admiring from afar. It's a popular destination for hikers, rock climbers, and families looking for a fun day out in the great outdoors. Don't miss the chance to visit this unique destination and witness the fascinating beauty of Elephant Rocks.
12. Coral Bay
Australia is full of hidden gems waiting to be explored! One such gem is Coral Bay, a tiny town on the coast, located 1,200 kilometers north of Perth. Coral Bay is renowned for its abundance of marine life. Between March and June, you can swim alongside whale sharks, and from June to October, witness the migration of Humpback Whales. This laid-back town may not have a lot of restaurants and cafes, but it's the perfect place to relax and appreciate the stunning nature around you.
13. Rockingham
If you're looking for another hidden spot in Australia, Rockingham is a must-visit. Here, you can swim with wild dolphins! No pools, no touching, no trained animals – just you and these beautiful creatures in their natural habitat. Head out to sea, jump in the water, and watch them play. It's an experience you'll never forget. So, whether you're searching for beautiful hidden places in NSW, secret places in Australia, or hidden gems Australia-wide, make sure to add Coral Bay and Rockingham to your list.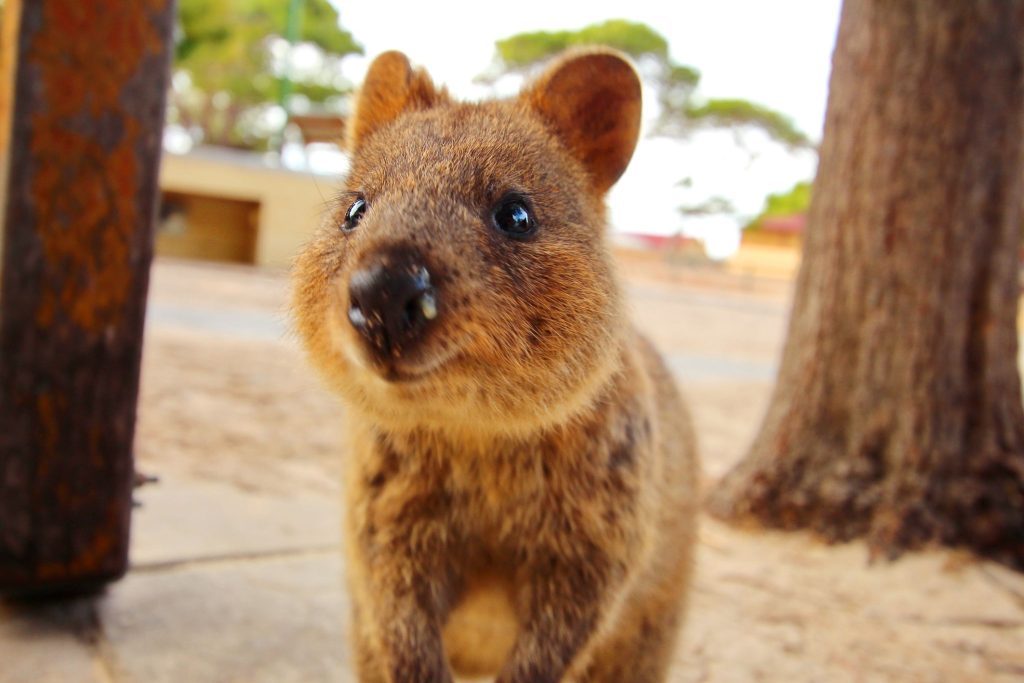 14. Rottnest Island
Australia is full of hidden gems, and Rottnest Island is one of them. This small island located just off the coast of Perth is a must-visit for those seeking beautiful beaches and stunning marine life. Spend your days snorkeling, swimming, or simply basking in the sun. You can even rent a bungalow for the night and explore the small center. And don't forget to keep an eye out for the island's famous resident, the quokka, a small wallaby-like marsupial that's sure to steal your heart.
15. Dunsborough
Another hidden spot in Australia is Dunsborough, a small town that boasts some of the most beautiful hidden places in NSW. Make sure to visit Castle Rock for breathtaking views of the coastline and the Indian Ocean. It's a great spot for hiking, picnicking, and taking in the stunning natural scenery. Whether you're looking for secret places in Australia or simply want to get off the beaten path, Dunsborough is a must-visit destination.
16. Little Beach in Albany
Another unknown places to visit in Australia is Little Beach in Albany, WA. Tucked away within the Two Peoples Bay Nature Reserve, this hidden gem boasts pristine turquoise waters, white sand, and rocky hills that line the bay. Take a walk on the Two Peoples Bay Heritage Trail to experience stunning views from the headland over the beach and the waters to the north. Enjoy a relaxing Australia Day by the beach, without the city crowds.
17. Gantheaume Point in Broome
For an off-the-beaten-path experience, and yet other hidden gems western Australia is Gantheaume Point in Broome, Western Australia. This lesser-known destination offers breathtaking views of the Indian Ocean and is home to an array of fascinating wildlife, including bottlenose dolphins, manta rays, and dugongs. Take a walk along the beach or snorkel to spot sea turtles and reef sharks, or wait until sunset for a picturesque view of the dramatic, red-toned cliffs.
Broome itself is a must-visit destination, combining culture and nature with stunning sunsets, Indigenous heritage, and beautiful beaches. Accessible by direct flight from Perth in just 2 hours and 30 minutes, with seasonal flights from Sydney, Melbourne, and Brisbane, Broome is the perfect starting point for your adventure. A short 10-minute drive from Broome will take you to Gantheaume Point, where your exploration of Australia's best hidden places can begin.
18. Ningaloo Reef
Hidden gems of Western Australia are waiting to be explored, and Ningaloo Reef is one of the most amazing secret spots in Australia. This stunning reef, located off the coast of Western Australia, is a must-see destination for anyone looking for the best coral reefs in Australia. It's home to a huge variety of marine life, including whale sharks, manta rays, sea turtles, and dolphins. Ningaloo Reef is one of Australia's top UNESCO World Heritage Sites and remains largely untouched by tourism, making it one of the best-hidden gems of Australia.
If you're interested in swimming with whale sharks, Ningaloo Reef is the perfect spot to do so. The reef is easily reached from Exmouth, a small town on Western Australia's North West Cape. You can also enjoy fishing and boat tours, as well as relaxing on the beach.
19. Purnululu National Park
Another must-visit hidden gem in Western Australia is Purnululu National Park. This remote park boasts stunning landscapes and fantastic cultural experiences. The Bungles Bungles are one of the most famous spots in the park and are definitely worth the visit. While it's quite remote, it's easily accessible by car, and you can book tours to visit the best places in the park. Check out the Bungle Bungle Savannah Lodge and the Bungle Bungle Wilderness Lodge for your stay in the park.
20. Wave Rock
Located about 300 km southeast of Perth in Western Australia, is a unique rock formation that looks like a giant breaking wave. Towering at 15 meters high and stretching 110 meters long, it's a popular spot for both the world's wealthiest skateboarders and regular visitors looking for a unique skateboarding experience. While you can't surf on it, the rock formation provides a stunning backdrop for a range of other outdoor activities, including hiking and photography.
Secret photography spots perth
Looking for a place to stay, I recommend using booking.com and sorting with price, then consider the ones with the highest reviews just in case.
For tours, I recommend using get your guide and walking tours available in most places
Hidden Gems in Northern Territory, Australia
The Northern Territory is a must-visit destination for those seeking an authentic Australian experience. This vast and sparsely populated region offers endless roads with little to no human presence except for occasional kangaroos. While Uluru is the region's most famous attraction, there are plenty of hidden gems to discover.
1. Devil's Marbles
One such gem is the Devil's Marbles, which are often overlooked by visitors to the Northern Territory. These round stone formations are a unique sight and hold significant spiritual importance to the local Aboriginal community. The marbles have been shaped by millions of years of erosion and have turned into massive boulders that resemble giant balls. It's definitely worth a visit to witness this natural wonder and learn about its cultural significance.
2. Kings Canyon Rim Walk
Discover Australia's hidden gems by visiting Kings Canyon in the Northern Territory. While Uluru is a top attraction in the Red Centre, Kings Canyon Rim Walk offers spectacular 360-degree views and stunning landscapes without crowds. You can fly into Alice Springs or Uluru airport, or join tours leaving from Alice Springs. Accommodation options include camping at Kings Canyon Resort or staying in a room with a spa and nature views.
3. Nitmiluk National Park
When it comes to must see in Australia's Northern Territory, popular spots like Darwin, Litchfield National Park, Kakadu National Park, and Uluru usually come to mind. However, Nitmiluk National Park is one of the hidden gems in Australia that should not be missed. The park offers beautiful waterfalls and kayaking opportunities in Katherine Gorge, with fewer crowds compared to other popular destinations.
To get to Nitmiluk National Park, you will need a car as it's a three-hour drive from Darwin. Alternatively, you can join a tour from Darwin. Accommodations can be found in nearby Katherine.
4. Gunlom Falls
Another hidden gem in Australia is Gunlom Falls in Kakadu National Park. The climb to the top of the waterfall and billabong system rewards visitors with an infinity pool that overlooks the southern region of the national park. The hike is worth it for the stunning view.
5. Lonely Beach
In East Arnhem Land, Lonely Beach is a secret spot where two beautiful beaches meet on a rocky island. This location is a 1.5-hour drive from Nhulunbuy and is teeming with marine life. You can experience traditional spear fishing and crab hunting through the Lirrwi Tourism Bawaka day tour.
6. Barramundi Gorge
Discover the hidden gems of Australia's National Parks with Barramundi Gorge in Kakadu and Ellery Creek Big Hole in West MacDonnell.
Barramundi Gorge, also known as Maguk, is a natural waterfall and plunge pool surrounded by steep gorge walls. It's a pristine spot to swim with black bream and spot rainbow pittas in the nearby rainforest. You can access this lesser-known attraction with a 14km 4WD track from the Kakadu Highway followed by a 1km walk through the monsoon forests, crossing Barramundi Creek.
7. Ellery Creek Big Hole
Ellery Creek Big Hole in West MacDonnell National Park is another hidden gem worth exploring. It's a waterhole carved out by massive floods over thousands of years, fed by the West MacDonnell Ranges. The site is a significant geological spot, recognized internationally, and it has historical importance as a special meeting place for the Aranda people on their fish and honey ant dreaming trails. You can take the 3km Dolomite walk to view the surrounding formations and appreciate the stunning red cliffs and sandy Ellery Creek.
8. Redbank Gorge
Located around 160km west of Alice Springs, this stunning gorge and chasm at the base of Mt Sonder is a refuge for many threatened plant and animal species. Take the 2km return walk from the car park along the creek bed to the gorge to swim in the cold, deep water of the near-permanent waterhole. Basic camping facilities are available at the Woodland and Ridgetop campgrounds.
9. Mount Conner
If you're looking for another amazing destination in the Red Centre, check out Mount Conner, a 300m-high flat-topped, sandstone-capped sand and rock mountain around 100km east of Ayers Rock Resort. It is arguably just as impressive as Uluru and Kata Tjuta but is often overlooked. Since it lies on the privately-owned Curtin Springs Station cattle property, it can only be accessed on a private tour with SEIT Outback Australia. Children must be at least six years old.
10. Cobourg Coastal Camp
For a unique coastal adventure, head to Cobourg Coastal Camp located in the Northern Territory. This nature-based glamping destination offers a truly authentic wilderness experience. Enjoy fishing in the pristine waters of Cobourg Marine Park or take a hike through the savannah bushlands. And when it's time to unwind, retreat to one of their cozy safari tents and fall asleep to the sounds of nature.
Looking for a place to stay, I recommend using booking.com and sorting with price, then consider the ones with the highest reviews just in case.
For tours, I recommend using get your guide and walking tours available in most places
Hidden spots in Adelaide, South Australia
If you're looking for unusual places to visit in South Australia, beyond the well-known wine regions and cities, there are a few hidden treasures that are worth exploring.
1. Coober Pedy
It is known as Australia's opal capital and is a unique town where homes, hotels, shops, and churches are built underground to escape the scorching heat. Plan a visit between May and August to avoid extreme temperatures. Explore the hidden beauty of Australia's best-kept secrets with these must-visit places in Australia.
2. Flinders Ranges
One such place is the Wilpena Pound at the Flinders Ranges. The 50-hectare area is rich in wildlife, with kangaroos hopping around and eagles soaring overhead. Take a walk in the area to see some fascinating Aboriginal rock art and impressive geological formations. The campground is an ideal base to set up camp while you explore the area.
Another hidden gem is the Kanyaka Waterhole in the Flinders Ranges, a permanent spring-fed waterhole that lies beside a large quartzite rock formation known as Death Rock. Walking to the waterhole, you can also see the ruins of an old pioneering station.
3. Great Wall of China, South Australia
Tucked just outside Flinders Ranges National Park, the Great Wall of China is a breathtaking rocky ridgeline that few tourists know about. This hidden gem offers spectacular views of the surrounding ranges and is a prime location to watch a beautiful sunset, with the red earth glowing in the golden hour. Don't mistake this for the Walls of China in Mungo National Park, as the Great Wall of China in Flinders Ranges is a different, yet equally mesmerizing experience.
4. Lake Bumbunga
Another must-visit location is Lake Bumbunga, located in a lesser-known area of Australia. This Instagram-worthy pink lake is a unique and off-the-beaten-path destination that will make your jaw drop. The lake turns bright pink due to the concentration of salt in the water and the amount of sunlight reflecting off it, caused by a type of algae that thrives in salty environments and produces a red pigment. During the warmer months, the lake dries up, and you can walk on the salt, making it feel like walking on another planet.
However, it can be challenging to take photos or even see what you're doing because of how bright it is, so make sure to wear sunglasses and sunscreen. It's a photographer's dream come true, with the contrasting pink against the blue sky and the white salt crusts on the lake's edges creating an otherworldly landscape. To get to Lake Bumbunga, it's a 1.5-hour drive from Adelaide, making it both beautiful and easily accessible.
5. Baird Bay
It's a hidden gem that many tourists are yet to discover. One of the best experiences you can have is swimming with the sea lions at Baird Bay. These playful creatures follow you and even introduce their babies if they like you. And if you're lucky enough, you might spot some bottlenose dolphins too! It's the perfect destination for camping, fishing, bushwalking, and enjoying the beach.
To reach Baird Bay, it takes around 8 hours to drive from Adelaide. If you're looking for accommodations with sea views, you can find apartments in Streaky Bay.
6. Umpherston Sinkhole
Discover Australia's hidden gems by visiting Umpherston Sinkhole, a natural wonder located in Mount Gambier, South Australia. This limestone cave was formed by seawater erosion and later transformed into a breathtaking sinkhole when its roof collapsed. The Sunken Garden, with hanging vines cascading over its sides, is now a beautiful oasis that you can explore. At dusk, the possums venture into the floodlit gardens to feed, making it a unique experience.
7. Lake Gairdner
Lake Gairdner, located in the Gawler Ranges of South Australia, is a hidden gem that is often missed by tourists. The large salt lake, set against the backdrop of red soil, is a stunning sight that is definitely worth the long detour. It is so remote that we were surprised to find ourselves the only ones there! Its glistening white salt surface, dotted with over 200 islands, makes it an otherworldly landscape that's perfect for camping under the stars.
To get to Lake Gairdner, it takes about 3.5 hours to drive from Port Augusta on a beautiful dry day. However, if the track has been damaged by rain, it can take much longer. Accommodation options are limited in this remote area, but Mt Ive Sheep Station is only half an hour's drive away from the lake and provides basic yet comfortable lodging. It is also a great spot for spotting many kangaroos and emus.
8. William Creek sand dunes,
It's one of Australia's hidden gems, located halfway along the Oodnadatta Track, where you'll find windswept red sand dunes set against bright blue skies, alongside Kati Thanda-Lake Eyre and the colorful Anna Creek Painted Hills.
9. Little Blue Lake
Little Blue Lake in South Australia, is a beautiful sinkhole located in the Kanawinka volcanic area between two dormant volcanoes, Mount Schank and Mount Gambier. It's a popular spot for locals to swim and dive, even though the waters are now more green than blue due to algae.
10. Vivonne Bay
A stunning beach located on Kangaroo Island in South Australia. This secluded bay boasts crystal-clear waters and white sand, making it perfect for swimming, surfing, kayaking, snorkeling, fishing, and hiking. You might even spot kangaroos, wallabies, echidnas, and koalas in the area. Vivonne Bay is easily accessible from Adelaide, with a 30-minute flight or 45-minute ferry ride to Kangaroo Island and an hour's drive from the main town of Kingscote.
11. Whyalla
Another hidden gem in Australia worth exploring is Whyalla, a city in the Eyre Peninsula region of South Australia. Although factories and mines are present on the beach, Whyalla is famous for being the world's capital of giant cuttlefish during winter. It is the only known place on Earth where they aggregate by thousands to reproduce. If you're interested in learning more about giant cuttlefish and how to see them, Whyalla is definitely worth a visit. To get there, you'll need a vehicle and can drive for five hours from Adelaide or 2.5 hours from the closest airport, Port Lincoln. Stay within your budget by checking out the Whyalla Caravan Park.
Looking for a place to stay, I recommend using booking.com and sorting with price, then consider the ones with the highest reviews just in case.
For tours, I recommend using get your guide and walking tours available in most places
Hidden Gems in Victoria
1. Squeaky Beach, Wilsons Promontory National Park
Looking for a unique beach experience? Look no further than Squeaky Beach at Wilsons Promontory National Park! This stunning beach is named after the rounded grains of quartz that make a squeaking sound as you walk, adding an extra element of excitement to your beach adventure.

As you make your way through the coastal scrub from the car park, you'll come across a little stream that you'll have to jump over before reaching the sand. Once you're on the beach, take in the views of distant islands and granite-studded headlands. You will have a blast exploring the maze of passages created by the large boulders at the northern end of the beach.
2. Raymond Island, Gippsland Lakes
Another non touristy places in Australia is Raymond Island in Gippsland Lakes, VIC. Want to see some of the cutest animals in Australia? Take a ferry from Paynesville to Raymond Island and keep your eyes peeled for koalas! Raymond Island offers some of the best koala-spotting opportunities in the country, thanks to its clearly marked path along the Koala Trail. Walk the trail in just 20 minutes and follow it up with a scenic picnic lunch. The island's peaceful atmosphere is sure to make for a relaxing day trip away from the hustle and bustle of the city.
3. Bunurong Coastal Drive, Inverloch
For a scenic drive with a historical twist, the Bunurong Coastal Drive is a must-see attraction. Running for 14km from Cape Paterson to Inverloch, this coastal route offers magnificent views of rugged sandstone cliffs, sandy coves, rock pools, and caves. The Caves and Flat Rocks area, located near Inverloch, houses the Dinosaur Dreaming Fossil Site.

This site was where the first dinosaur bone ever discovered in Australia, the 'Cape Paterson Claw', was found in 1903. Today, visitors can go fossicking here at low tide and may discover thousands of bones, teeth, and footprints from small dinosaurs. Apart from dinosaur fossils, this area is also home to native flora and fauna that are worth exploring.
4. Tarra Bulga National Park, Gippsland
Escape into nature at the Tarra Bulga National Park, one of Victoria's four major areas of cool temperate rainforest. The park offers a lush gully, giant mountain ash trees, and tree ferns that make for a breathtaking view. After enjoying a picnic lunch at the Tarra Bulga or Tarra Valley picnic area, venture out onto one of the many adjoining walking tracks.
5. The Buchan Caves
One of the other australia hidden gems is the Buchan Caves, located in Victoria which offers a unique experience for nature lovers. With stunning limestone formations, calcite sculptures, and tapering calcium deposits, the Fairy Cave and Royal Cave at Buchan Caves Reserve are an absolute delight. Enjoy activities like hiking, rock climbing, or mountain biking, or backpack through the natural forest area for an unforgettable experience.
6. ACDC Lane
For music enthusiasts, ACDC Lane in Melbourne, Victoria, is a must-visit hidden gem that pays homage to one of the greatest rock bands in the world. The lane is adorned with colorful graffiti and is home to restaurants and watering holes like the infamous Cherry Bar.
7. Point Hicks
Another great hidden gem in Victoria is Point Hicks, situated on a rocky outcrop in the Croajingolong National Park. Visitors can stay in the lighthouse keepers' cottages or camp in the national park and enjoy exploring the massive sand dunes, bushwalking, canoeing, fishing, or surfing along the pristine coastline.
8. Murray Sunset National Park's Pink Lakes
If you're looking for a unique experience, head to the northwest corner of Victoria to witness the vibrant hues of the Pink Lakes. The four lakes in the Murray Sunset National Park get their color from the red algae that grow in them. You'll find crystal-clear water with beds made up of solid salt.

Take a stroll along the walking trails, including the Lake Becking Nature Walk, Kline Nature Walk, and Lake Hardy Nature Walk. Keep an eye out for kangaroos, wallabies, emus, and echidnas as you explore. You can pitch your tent at the campgrounds at Lake Crosbie or Lake Becking, cycle along Pioneer Drive, or visit in springtime to see thousands of wildflowers in bloom.
9. The Fern Gully Nature Walk
This walk includes a suspension bridge and the chance to spot native wildlife like lyrebirds, wombats, swamp wallabies, and platypuses. Camping is not allowed within the national park, but visitors can choose from these accommodation options for an immersive experience. The Tarra Valley offers a variety of accommodations, including a guesthouse, tearooms, country houses, Swiss-style chalets, and a holiday park with cabins.
Hidden Gems in the Australian Capital Territory
1. Tidbinbilla Nature Reserve
Tidbinbilla Nature Reserve is one of Canberra's hidden gems, located just a 45-minute drive from the CBD. This protected area is home to a range of Australian wildlife, including koalas, kangaroos, and emus. With 22 marked trails available, visitors can choose from short strolls to full-day hikes. Families with children can enjoy the Nature Discovery Playground, which has plenty of picnic spots and barbecue areas for a fun day out in nature.
2. Uriarra Loop Walk
This Walk offers a unique perspective of Canberra. Take a 3.5km walk along the Murrumbidgee and Molonglo Rivers, and discover a different side of the city. You'll encounter a forest of large river oaks, where ducks and white-faced herons can be spotted. There are also picnic tables and wood-fired barbecues at Uriarra East and West recreation areas.
3. Mulligans Flat Woodland Sanctuary
Discover the unique and rare wildlife of Canberra's northeast at Mulligans Flat Woodland Sanctuary, a predator-proof sanctuary that protects endangered species such as the eastern bettong and eastern quoll. Take the guided Twilight Tour for a chance to spot sugar gliders and wallabies in their natural habitat.
4. Majura Nature Reserve
Hike to the summit of Mt Majura, the highest peak in Canberra Nature Park, and enjoy breathtaking views of the city below. The Casuarina Trail, a 3.8km walk through woodland and open forest, is a great option for families and offers stunning views from the Mt Majura ridge. The walk takes about two hours and is a hidden gem for nature lovers.
5. Hidden Gem wineries in the ACT region
The ACT region is home to several hidden gem wineries that are worth exploring. One such winery is Lark Hill, located in Bungendore, which specializes in biodynamic and organic wines. Another great option is Shaw Vineyard Estate, located in Murrumbateman, which produces award-winning wines and offers beautiful views of the surrounding countryside. If you're looking for something unique, consider visiting Mount Majura Vineyard, where you can enjoy a tasting of cool-climate wines while taking in the stunning views of Mount Majura. Finally, don't miss Four Winds Vineyard in Murrumbateman, which offers a relaxed and friendly atmosphere, delicious wines, and a picturesque setting that's perfect for a lazy afternoon.
Looking for a place to stay, I recommend using booking.com and sorting with price, then consider the ones with the highest reviews just in case.
For tours, I recommend using get your guide and walking tours available in most places
Hidden Gems in New South Wales
If you're in search of hidden gem holidays
Looking for a place to stay, I recommend using booking.com and sorting with price, then consider the ones with the highest reviews just in case.
For tours, I recommend using get your guide and walking tours available in most places

Hidden Gems in Tasmania
Liffey Falls Reserve
Tucked within the cool temperate rainforest and part of the Tasmanian World Heritage Wilderness Area, Liffey Falls Reserve is a 30-minute drive from Deloraine near Launceston. The reserve is adorned with cascading waterfalls, towering trees, and wildlife.

The 45-minute return walk from the picnic ground downhill to the majestic Victoria Falls (also known as Liffey Falls) boasts four sets of falls, all of which can be viewed from sturdy observation decks. The river in the area exposes the sandstone steps of the waterfall, revealing the region's geological history. Keep your eyes peeled for tiny marine fossils among the river stones.
Gordon River, Strahan, Tasmania Escape into the tranquility of the Tasmanian Wilderness World Heritage Area by taking a cruise along the Gordon River. This 172 km-long waterway flows through some of Tasmania's most pristine wilderness. Cruise boats from Strahan take you on a journey through several kilometers of the river's wide, calm lower reaches, offering reflections of the surrounding riverside rainforest. Disembark at Heritage Landing and follow a short boardwalk track to see the ancient and majestic Huon pines that are several thousand years old.
Leven Canyon, Ulverstone, Tasmania Experience the sheer power of nature at this breathtaking canyon, carved out by the flowing Leven River, located near Ulverstone. Two lookouts, Cruickshanks and Edge, can be accessed on the 1.2 km circuit track, offering stunning views of the canyon and its surroundings. Take a leisurely walk along the ferny trail and keep an eye out for colorful fungi and wildlife. Enjoy a picnic or barbecue while you're there, or explore other tracks like the Forest Stairs, Fern Walk and Canyon Floor Walk.
Rathmore Farm, Central Highlands, Tasmania Get a taste of authentic country life at this historic sheep property in Tasmania's Central Highlands. Established in 1878, Rathmore Farm offers a unique opportunity to stay in the shearer's quarters or the heritage homestead on the property and see sheep, cows and ducks up close. Take a relaxing row on the dam to spot platypi, take a tour of the shearing shed, and enjoy a delicious dinner under the stars. It's an unforgettable experience that will leave you feeling truly immersed in the beauty of Tasmania's rural countryside.
Friendly Beaches Reserve If you're searching for non-touristy places in Australia, you'll love Friendly Beaches Reserve, situated 26km north of Coles Bay on Tasmania's east coast. This hidden gem lies just beside the famous Freycinet National Park. You'll be mesmerized by crystal clear waters, white sandy beaches, and soaring granite lookouts.


Whether you're looking for hidden gems travel, hidden gems movie locations, or just want to get away from the usual tourist spots, these hidden Australian getaways offer something for everyone.
Let me know in the comments:
If you have any questions on this hidden gems in australia
Backpacking in Melbourne, Australia
Digital nomad guide to Melbourne
Sydney byron bay road trip
10 hidden beaches and bays in Sydney
99% of readers found must see on the east coast of Australia helpful.
Sydney bucketlist things
Sydney itinerary for 5 days
Secret Sydney walks
Best places to take photos in Sydney
Pros and cons of living in Australia
Queenstown solo travel
Auckland solo travel tips
What to do in Tucson in December
Solo trip to Phoenix
Arizona solo travel guide
LA solo travel guide
New York solo travel guide
10 best places to take pictures in Dallas
Best day trips from Hobart, Tasmania
Day trip to Stradbroke Island, Queensland
Weekend in Brisbane
Best places to visit in autumn in Australia
Sydney itinerary 5 days
Best places to see autumn leaves in Adelaide
Exploring Adelaide the best way
All Adelaide travel blogs
where to stay in Sydney
Hidden beaches and bays
most instagrammable cafes in Sydney
where to eat in Sydney
most Instagrammable places in Sydney, Australia
Most beautiful places in New Zealand North Island
Check out the most beautiful places in New Zealand South Island
Going to Vietnam after Australia? Check out the 7 days Hanoi travel guide.
One month in Central America itinerary
How about Colombia? Check out how to get from Medellin to guatape
Check out where to stay in Medellin, Colombia
Check hotel prices and book it through booking.com
Read the most wanted travel resource here.
If you like this article, follow my adventures on Instagram, Facebook, YouTube, Twitter, and Pinterest, but most importantly sign up for my e-mail list to keep up with updates and travel posts!