I am on a mission to travel to all 193 countries in the world (but not in a race, more like in a slow and steady fashion) and so far have traveled to 76 countries on 5 continents solo! Crossing 76 was a big milestone I achieved this year because I worked hard, saved, and did these trips, and feel the joy of sharing my travel tips here. I would appreciate it if you share this blog post or repin it. Today I'm writing about the Philippines itinerary for 10 days requested by some of my IG fam.
I solo travelled to the Philippines in 2016 before Instagram highlights came out which is why you can't see it on my gram and my phone with all the pictures from that trip got stolen when I finished working holiday in Banff and was on my way to living in Laos. I had saved a few pictures in the cloud though so sharing them today along with how I spent 10 days in the Philippines. Now let's get into it.
Philippines itinerary for 10 days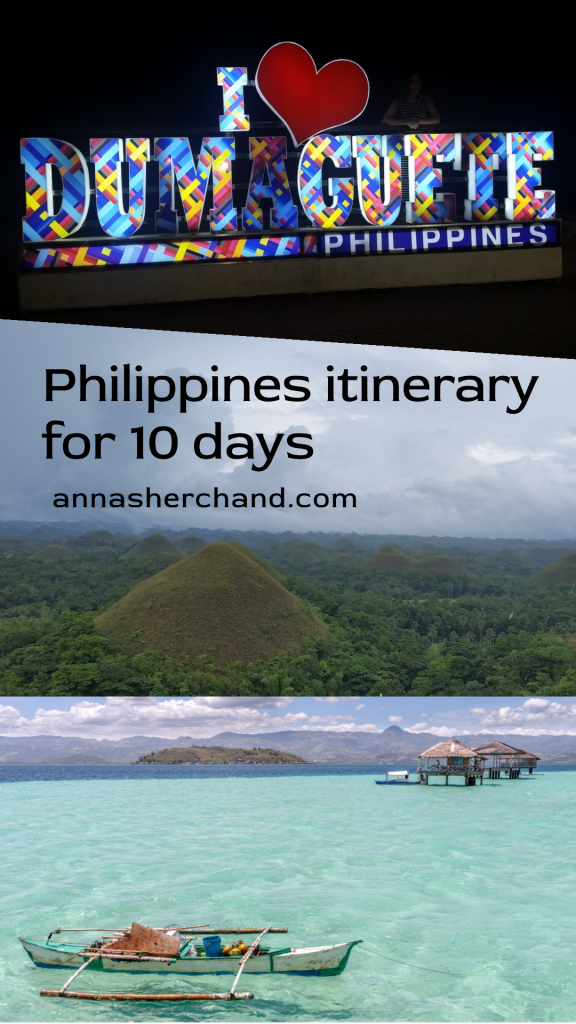 The Philippines, situated in Southeast Asia, is a country that welcomes travelers with its stunning diversity. Comprising 7,641 islands, the country's geography is a showcase of natural wonders, featuring everything from lush forests and towering mountains to pristine beaches and vibrant coral reefs. Among its iconic destinations are the Chocolate Hills in Bohol, the white sandy paradise of Boracay, and the awe-inspiring encounters with gentle giants in Oslob, where you can swim with whale sharks. Moreover, the Philippines is home to numerous volcanoes, with the active Mayon Volcano adding a touch of adventure to its scenic landscape.
It is also a cultural melting pot, offering a rich tapestry of traditions, warm hospitality, and influences from Spanish colonial rule and American governance. With over 175 spoken languages and dialects, the Filipino people are known for their warmth and strong family values. This cultural diversity is reflected in the country's cuisine, which is a delightful fusion of flavors. From the internationally renowned adobo and sinigang to mouthwatering street food delights.
Throughout the year, this country bursts with colorful celebrations, such as the Sinulog in Cebu, Ati-Atihan in Kalibo, and Pahiyas in Lucban. These festivals provide unique opportunities for travelers to immerse themselves in Filipino culture and traditions. The country also offers a wide array of outdoor adventures, from thrilling water sports like diving and surfing to trekking through pristine jungles and exploring enchanting underground rivers. Nature enthusiasts will find the Philippines to be a paradise for birdwatching and wildlife encounters.
With a rich historical heritage influenced by indigenous cultures, Spanish colonialism, and American governance, the Philippines is a destination for history enthusiasts as well. Sites like Intramuros in Manila offer glimpses into the country's past. Its remarkable biodiversity, making it one of the world's most biodiverse countries, also positions the Philippines as an ideal destination for nature lovers and ecotourism. With a tropical climate, the Philippines offers year-round sunshine, though travelers should be mindful of typhoons during the wet season. Most notably, the country's enduring charm lies in the genuine warmth and friendliness of its people, ensuring that every traveler feels welcomed and cherished.
10 Days Philippines itinerary
Day 1 and 2 – Manila, Discover the Heart of the Philippines
For the first 2 days, I spent in the capital city of Manila, known for its rich history, contemporary culture, and warm hospitality. I landed mid-day so below is what I did.
Day 1:
Afternoon: Started exploration by diving into the heart of Manila's history in Intramuros, the old walled city. Wandered through cobblestone streets, where Spanish colonial architecture and centuries-old churches tell tales of the past. Don't miss visiting Fort Santiago, a historic citadel that played a significant role during the Spanish and American colonial periods. It's not just a place of history; it's a place of ambiance and stories whispered by the aged walls.
Evening: For a memorable dining experience, hop on a Manila Bay sunset cruise. As the sun dips below the horizon, enjoy a feast of local cuisine while gazing out over the stunning views of Manila's skyline. It's a perfect way to savor Filipino flavors and the city's coastal beauty.
Day 2:
Morning: Dive into the cultural heart of Manila by visiting the National Museum. It's a treasure trove of Philippine art, history, and culture. The museum houses an extensive collection of artworks, historical artifacts, and archaeological finds. It's an enlightening journey through the Philippines' diverse heritage.
Mid-Day: Right next to the museum is Rizal Park, a sprawling urban green space dedicated to the national hero, Jose Rizal. The park features monuments, gardens, and even a relief map of the Philippine islands. It's a peaceful retreat in the heart of the bustling city.
Afternoon: Head to Divisoria, one of the city's bustling markets open till 11 pm! Here, you can shop for souvenirs, trinkets, and local products at bargain prices. From clothing and accessories to handicrafts and street food, Divisoria offers a taste of Manila's vibrant street life. Be prepared for crowds and haggling – it's all part of the adventure! You'll need to catch a jeepny from the LRT line to get there and this was half the fun.
Where to stay in the Philippiness?
I recommend booking accommodation at reputable places or atleast at a place with highest postitive reviews and near the center so it is easier for you to walk around and explore. I booked my hostel in Manila with booking.com, Moalboal, Oslob, Dumaguete, Siquijor, Bohol, Camotes Island and Cebu City.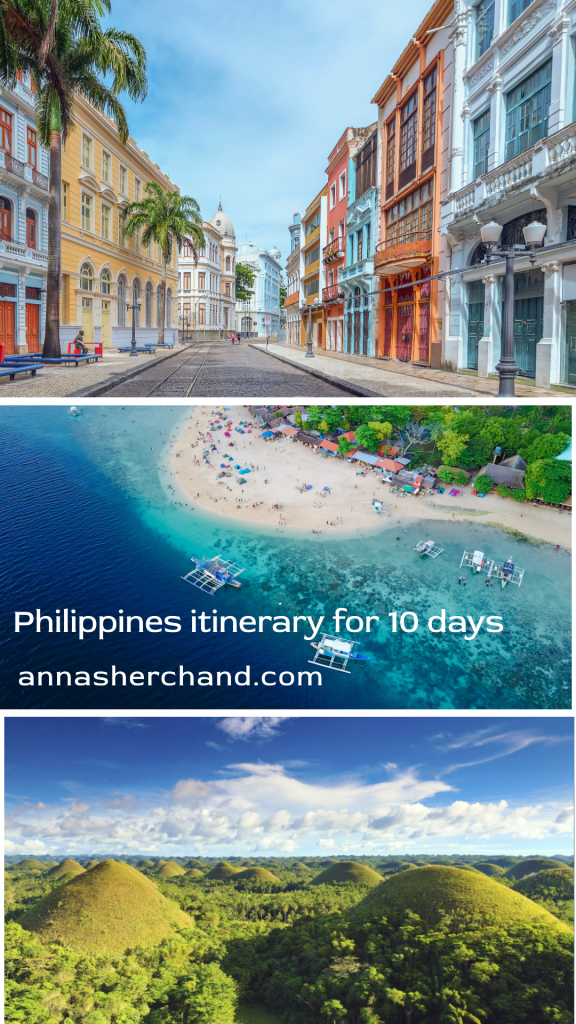 Day 3 – Embarking on Cebu's Tropical Paradise
On Day 3 of the Philippines itinerary for 10 days I was excited to explore the pristine shores of Mactan in Cebu. Started with a flight to Mactan, on to Moalboal, an island famous for its breathtaking beaches and vibrant culture.
Navigating the Journey from Mactan Airport to Moalboal
If you're wondering about the best way to make your way from Mactan Airport to Moalboal, there are a couple of options to choose from:
1. Cebu Airport Taxi: The quickest and most direct choice is to hop into a Cebu airport taxi. This efficient mode of transportation will have you in Moalboal in just 2 hours and 30 minutes. While it's a speedy option, keep in mind that it does come with a slightly higher price tag, averaging around $80 AUD (PHP 3,000).
2. Taxi and Bus Combo: For those looking to keep travel expenses in check, you can opt for a combination of taxi and bus. This alternative will take a bit more time, approximately 4 hours to reach Moalboal. However, it's a budget-friendly choice, costing just around $15 AUD (PHP 580) per traveler.
These options provide the flexibility to select the one that best fits your schedule and budget, ensuring a smooth transition from Mactan Airport to the coastal charm of Moalboal.
When arrived in Moalboal, I quickly felt the tropical beachy vibes and the warm, welcoming spirit of the locals. It was time to check into my hotel in Moalboal, a charming coastal town that's become a favorite among travelers for its stunning beaches and underwater wonders.
As I arrive at my accommodation in Moalboal, the scenic beauty of the island unfolds before us. The crystal-clear waters and the fine, powdery sand invite us to unwind and soak up the sun. Moalboal is renowned for its clean and beautiful beaches, with Panagsama Beach and White Beach being popular choices. The serene atmosphere is perfect for relaxation, whether it's lounging by the water's edge with a good book or taking a leisurely walk along the shore.
With the sound of the waves as my backdrop, I savor the peace and tranquility of this coastal paradise. As the sun dips below the horizon, Moalboal's beautiful beaches offer a perfect introduction to the natural beauty that the Philippines is known for.
Day 4 and 5 – Moalboal and Oslob Adventure
As we enter the heart of our Philippines exploration, Days 4 and 5 promise extraordinary experiences amidst the natural wonders of Moalboal and Oslob.
Day 4:
Morning in Moalboal: The day kicks off in Moalboal, renowned for its pristine beaches and captivating marine life. I begin with an exhilarating snorkeling adventure. I am not a diver and not a huge fan of being underwater for a long period of time but if you are then, FYI Moalboal is celebrated for the famous sardine run, a mesmerizing display of millions of sardines moving in harmonious unison. This underwater spectacle is a unique and awe-inspiring experience that leaves you breathless. The clear waters and vibrant marine life add to the enchantment.
Afternoon in Badian: In the afternoon, my adventurous spirits led me to Badian, where I embraced the thrill of canyoneering. Badian is famed for its canyons and waterfalls, offering an adrenaline-pumping journey through cascading waters, lush greenery, and steep cliffs. With the guides, we navigate the rugged terrain, jump into natural pools, and rappel down waterfalls. It's an adventure that connects us intimately with the region's stunning landscape.

Getting from Moalboal to Oslob:
To make the transition from Moalboal to Oslob, there are a few travel options. One of the most convenient methods is to book an island hopping tour from Moalboal so all the logistics are taken care of. Another is to arrange for a local transfer, take a bus or hire a car, which typically takes around 1.5 to 2 hours, ensuring a seamless journey between these two destinations. With each day of our adventure, the Philippines continues to reveal its remarkable beauty and the many wonders it holds for travelers.
Day 5:
Morning in Oslob: On the morning of Day 5, I went to Oslob, an idyllic coastal town famous for its natural beauty. My first stop was checking into a hostel then breakfast.
In the morning, most people embark on an unforgettable encounter with the ocean's gentle giants. Oslob is renowned for its Whale Shark Watching, allowing you to swim with these magnificent creatures. I understand it's a humbling experience to be in the presence of these enormous yet gentle beings but I wasn't feeling it so I skipped that and just chillled.

The next stop was, Tumalog Falls which is a sight to behold. Cascading gracefully like a delicate veil, the falls create a serene ambiance. We explore the area, take photos, and bask in the refreshing mist of the falls.
Day 6 – Discovering Dumaguete, The City of Gentle People
On the Philippines itinerary for 10 days today, my journey takes us to Dumaguete, a city known for its welcoming atmosphere and cultural riches. Dumaguete with a tranquil charm that's perfectly encapsulated by its nickname, "The City of Gentle People."
Morning – Setting Sail to Dumaguete:
My day began with a ferry ride to Dumaguete, a city on Negros Island. The journey across the open waters of the Visayan Sea offers glimpses of nearby islands and coastal scenery. As we approach Dumaguete, the city's serene ambiance becomes evident, setting the tone for a relaxed and welcoming experience.
Getting from Oslob to Dumaguete:
To make the journey from Oslob to Dumaguete, can opt for a ferry ride. The ferry ride is a scenic and convenient mode of travel, typically taking around 30-45 minutes to cross the Tanon Strait. The well-maintained ferry services provide a smooth transition between these two charming destinations.
Afternoon – The Charm of Dumaguete:
Upon our arrival in Dumaguete, I found ourselves in a city where the pace of life is unhurried, and the people are exceptionally friendly. My first stop is Silliman University, an institution with a rich history and a beautiful campus. The sprawling grounds are dotted with century-old acacia trees, making it a serene place for a leisurely stroll and a chance to appreciate the academic heritage of the city.
My exploration continues to Rizal Boulevard, a scenic promenade along the waterfront. Strolling along this picturesque avenue, I soak in the sea breeze and enjoy the view of the Tañon Strait. Numerous cafes and eateries line the boulevard, inviting me to savor local delicacies with a view of the tranquil sea.
The day's adventure concludes with a visit to Dumaguete Cathedral, also known as St. Catherine of Alexandria Cathedral. This architectural gem boasts a blend of Gothic and Romanesque styles, creating a tranquil and spiritual atmosphere.
Day 7 – Exploring the Mystical Wonders of Siquijor
On this Day 7 of 10 day Philippines itinerary, it was time to go on a fascinating journey to the mystical island of Siquijor, a place steeped in folklore and natural beauty. Siquijor is not just an island; it's an experience that encompasses pretty beaches, cascading waterfalls, and an aura of supernatural charm.
Morning – Crossing to Siquijor:
I began my day by taking a ferry from Dumaguete to Siquijor. As we set sail across the azure waters of the Bohol Sea, the island of Siquijor gradually comes into view. The ferry ride itself offers serene views of the sea and distant islands, building anticipation for the adventures that await.
Getting from Dumaguete to Siquijor:
To travel from Dumaguete to Siquijor, you can take a ferry. Dumaguete is conveniently located for ferry connections to Siquijor. The ferry journey is relatively short, typically lasting around 30-45 minutes, providing a smooth transition to the enchanting island of Siquijor.
Afternoon – The Island of Siquijor:
Upon reaching Siquijor, my journey of discovery begins with a tour of the island's mystical and natural wonders. My first stop is Salagdoong Beach, known for its vibrant turquoise waters, fine white sand, and cliffs perfect for cliff diving and adrenaline-pumping jumps. Soak up the sun, swim in the clear waters, and perhaps even partake in some cliffside adventures.
The next destination is Cambugahay Falls, a series of cascading waterfalls surrounded by lush greenery. Here, we can cool off with a refreshing swim in the natural pools or indulge in a thrilling Tarzan swing. The falls provide an idyllic setting for relaxation and exploration.
Before the day concluded, I visited St. Isidore de Labrador Church, an architectural gem with a history dating back to the Spanish colonial period. The church's rustic charm and tranquil ambiance invite us to appreciate its historical and spiritual significance.
Siquijor's Mystical Aura:
As we traverse the island, we cannot help but notice the air of mystique that surrounds Siquijor. The island is known for its supernatural charm, with traditional healers and spiritual rituals still playing a significant role in the local culture. The ancient folklore and tales of mystical experiences add to the unique character of Siquijor.
Day 8 – Bohol Adventure
My Philippines itinerary for 10 days continues as I set sail to the famous island of Bohol. This day promises an immersive experience, from the world-famous Chocolate Hills to the cultural heritage of the island.
Morning – Crossing to Bohol
Kicked off the day by taking a ferry from Siquijor to Bohol. The ferry journey offers scenic views of the Visayan Sea, and as we approach Bohol, the iconic Chocolate Hills become visible on the horizon, building anticipation for the adventures to come.
Getting from Siquijor to Bohol
To travel from Siquijor to Bohol, I took a ferry. The ferry ride is a convenient and common mode of transportation, usually lasting around 1.5 to 2 hours. This mode of travel ensures a smooth transition from the mystical island of Siquijor to the interesting wonders of Bohol.
Afternoon – The Chocolate Hills and Beyond
My first stop in Bohol is the world-renowned Chocolate Hills. These unique geological formations, shaped like chocolate drops, create a mesmerizing landscape that has captured the imagination of travelers for generations. We climb to one of the viewing decks to soak in panoramic vistas of these incredible hills, particularly awe-inspiring during the dry season when they turn a rich brown color.
Next, I made our way to the Tarsier Sanctuary, where I encountered one of the world's smallest primates, the Philippine tarsier. These tiny and elusive creatures are a highlight of Bohol's biodiversity. I had the opportunity to observe them in their natural habitat and learn more about their conservation.
The day continues with a relaxing river cruise along the Loboc River. As we drift along the peaceful waters, we're treated to serene views of lush forested banks and traditional Filipino songs from local performers. It's a wonderful opportunity to savor a delightful meal while immersing ourselves in Bohol's natural beauty.
Evening – Cultural Heritage
Before the day drew to a close, I went to the historic Baclayon Church, one of the oldest churches in the Philippines. The church's well-preserved Baroque architecture and centuries-old artifacts offer insights into the country's Spanish colonial past. Nearby, we explore the Blood Compact Shrine, commemorating the first international treaty of friendship between the Spanish explorer Miguel López de Legazpi and the Filipino chieftain Sikatuna.
Day 9 – Camotes Island Tour, A Tropical Oasis
On Day 9 of the Philippines itinerary for 10 days, my journey took me from the interesting island of Bohol to the serene beauty of Camotes Island. The Philippines, renowned for its over 7000 islands, continues to unveil its diverse treasures.
Morning – Sailing to Camotes Island
Begin my day by taking a ferry from Bohol to Camotes Island. This island-to-island journey showcases the vast expanse of the Philippine archipelago, where each island holds its own unique charm. As I approached Camotes, the sight of clear waters and lush landscapes welcomed me to this tranquil destination.
Afternoon – Beach Bliss and Cave Exploration
My adventure on Camotes Island begins with a visit to Santiago Bay. This pristine beach is a postcard-perfect setting with powdery white sands and crystal clear waters. The morning was spent swimming, sunbathing, and relishing the idyllic tropical atmosphere.
In the afternoon, I went on an exploration of the island's natural wonders. My first stop was Bukilat Cave, an underground cavern known for its stunning stalactites and stalagmites. The cave's intriguing formations and the echoes of our footsteps add to the sense of adventure.
Next, I visited Lake Danao Park, a serene natural sanctuary surrounded by lush forests. I took a relaxing boat ride on the lake, with the emerald waters mirroring the vibrant greenery. The park is also home to various wildlife, making it a nature lover's paradise.
Getting from Bohol to Camotes Island:
To make the journey from Bohol to Camotes Island, I took a ferry. The Philippines' archipelagic nature means that island-hopping via ferries is a common and practical way to explore its diverse destinations. The ferry ride to Camotes Island typically takes about 2 to 2.5 hours, connecting people seamlessly to this hidden gem.
Camotes Island is a tranquil haven, known for its unspoiled beaches and natural wonders. You could probably join one of the island hopping tours, hire a travel guide, buy a day tour, or go on a day trip. Either way, I think this is one of the must-see during the Philippines travel.
Day 10 – Cebu City Tour 
As this Philippines itinerary for 10 days nears its end, I return to Cebu City for a day filled with historical treasures, cultural discoveries, and a final taste of Filipino hospitality.
Morning – Return to Cebu City
My day begins with a hassle-free and comfortable ferry ride from Camotes Island back to Cebu City. I had chosen to travel with OceanJet, one of the most reputable fast ferry operators in the Philippines. With their fast and efficient service, the voyage was not only smooth but also enjoyable. The journey offers a chance to appreciate the sea's vastness and the diverse landscapes of the Philippines. Arriving in Cebu City, I was greeted with the familiarity of its vibrant urban atmosphere.
Historical and Cultural Exploration
I started day 10 off the Philippines itinerary for 10 days with a visit to Cebu city Magellan's Cross, a historical symbol of the city's rich past. The cross, planted by Ferdinand Magellan in 1521, marks the arrival of Christianity in the Philippines. Nearby, I explored the Basilica Minore del Santo Niño, a church that houses the revered Santo Niño statue, one of the country's oldest religious relics.
My next destination was Fort San Pedro, a well-preserved military fortress that bears witness to Cebu's role in the Spanish colonial era. The fort's ancient walls and lush gardens provide a glimpse into Cebu's historical significance.

Continuing my cultural journey with a visit to Casa Gorordo Museum, a heritage house that showcases the lifestyle and history of affluent Cebuano families during the Spanish colonial period. The museum's well-preserved antiques and architecture transport us back in time.
Afternoon – Souvenir Shopping and Culinary Delights
For some last-minute mementos, I went to the bustling Carbon Market, one of Cebu's largest and most vibrant markets. It's the perfect place to shop for souvenirs, local crafts, and tropical fruits to take home as reminders of Philippine adventure.
Evening – Reflecting on the Journey
As evening descended, it was my final night in Cebu City. The city's diverse culinary scene offers a wealth of choices, from street food to fine dining. It's a time to relish local cuisine and reflect on the unforgettable experiences and memories from my journey through the Philippines.
This Philippines itinerary for 10 days, traversing Manila, Mactan, Oslob, Dumaguete, Siquijor, Bohol, Camotes Island, and Cebu City, has been an adventure of natural wonders, rich culture, and warm hospitality. As I prepare to bid farewell to the Philippines, we do so with hearts full of gratitude and a deep appreciation for the beauty and diversity this tropical paradise has to offer.
At the time Boracay was under maintenance and I left Coron Palawan for my next visit but both places come highly recommended. I hope my Philippines itinerary for 10 days gave you an insight and encouraged you to visit the Philippiness. Safe travels!
Let me know in the comments:
If you have any questions about Philippines itinerary for 10 days
Southern Laos Itinerary
7 days itinerary in Georgia
4 days in Azerbaijan itinerary
9 days in Guatemala
Solo border crossing from Guatemala to Punta Gorda Belize
2 Days in Punta Gorda, Belize
How to cross the border from Belize to Honduras
Solo female travel to Copan Ruins Honduras
Solo border crossing from Honduras to El Salvador
3 Days in El Salvador
Border crossing from El Tunco El Salvador to Leon Nicaragua
7 days in Nicaragua solo travel
Granada Nicaragua to San Jose Costa Rica border crossing
3 Days in Costa Rica Travel Guide
Puerto Viejo Costa Rica to Bocas Del Toro Panama Border Crossing
7 days in Nicaragua solo travel
Granada Nicaragua to San Jose Costa Rica bus
7 days backpacking in Ecuador itinerary
5 days in Oaxaca itinerary
2 days in Mexico City itinerary
Best places to visit from Split
2 days in Split, Croatia
Solo traveling to Mostar
Solo female travel to Kotor
Best places to visit from Split
2 days in Split, Croatia
Solo traveling to Mostar
Solo female travel to Kotor
Solo female travel to Budva
Solo female travel Albania
Warsaw by Train covers warsaw travel tips
Check out One day in Luxembourg, western Europe
Day trip from Zurich to Liechtenstein
Travel tips to South America
Fiji solo travel guide
Australia east coast must-see
Backpacking in Melbourne, Australia
Digital nomad guide to Melbourne
14 best area to stay in Melbourne CBD
Master Sydney travel guide
Solo travel guide to Brisbane
Exploring Adelaide the best way is a must-read
Important travel tips for Uluru trip
Melbourne day trips in winter
Day Hikes in Melbourne
Weekend getaway? Check out things to do in Ballarat
Perth solo itinerary
Top 5 must do in Darwin, Australia
How to go from Dublin to Howth
Solo female travel Romania
Read a recent day trip to Zaanse Schans from Amsterdam
How about a solo itinerary to Canberra– Australia's capital city?
Solo trip to Peru, travel tips to South America
Alternatively, book another accommodation through a trusted site such as booking.com
I have handy travel resources right here. Save money, learn what and how.
If you like this article, feel free to read about me – a Nepali Australian travel blogger, follow my adventures on Instagram, Facebook, YouTube, Twitter, and Pinterest, but most importantly sign up to my e-mail list to keep up with updates and travel posts.
Philippines itinerary for 10 days