The last few weeks have been really hectic! Myanmar has blown my mind! And my last stop in Myanmar was Mandalay. So today I am sharing with you the top 10 places to visit in Mandalay.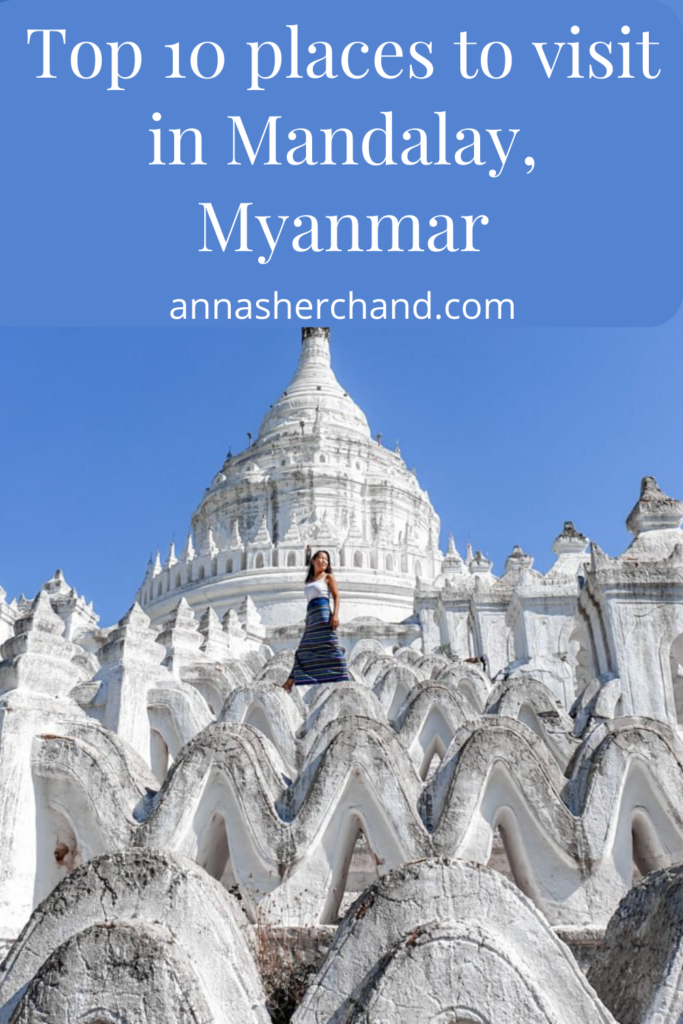 Top 10 places to visit in Mandalay
If you are looking for things to do and see in Mandalay Myanmar, I got you! This travel guide covers where to stay, eat, do and more about Mandalay. Without further ado, let's start with FAQ!
How to get to Mandalay from Bagan?
There are 3 types of buses available from Bagan to Mandalay. Apex, Ok and JJ. Since Apex was fully booked for 8 am, I booked the Ok express for 8:30 am. The price included the door to door service (pick up at the hotel and drop off at the hotel)
Where to stay in Mandalay?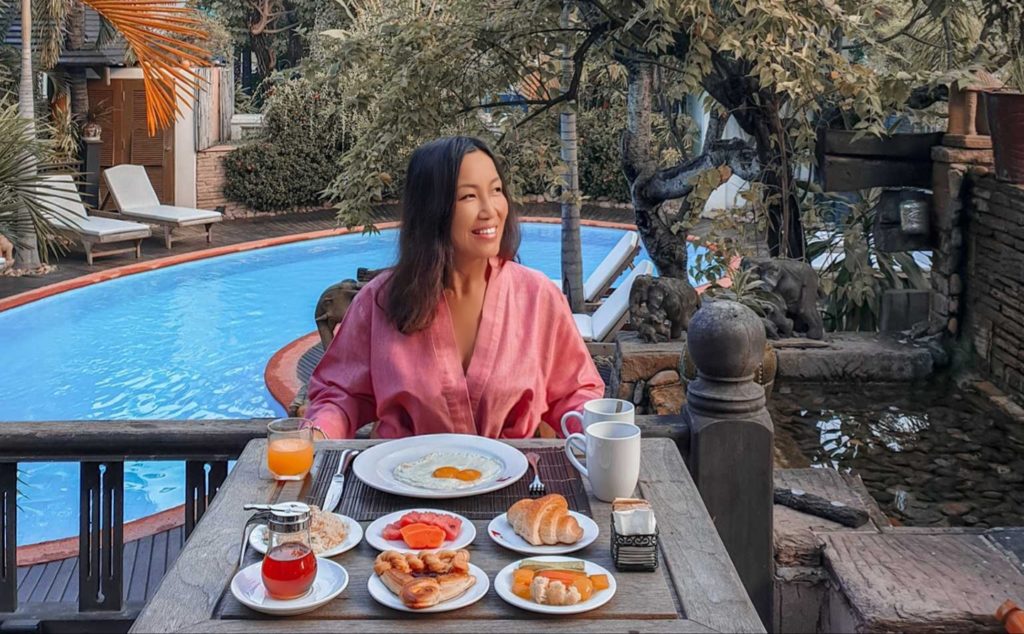 Read more about my suggestions for Mandalay accommodation here. Now we got that out of the way, let's start with the top 10 places to visit in Mandalay.
1. See the world's largest book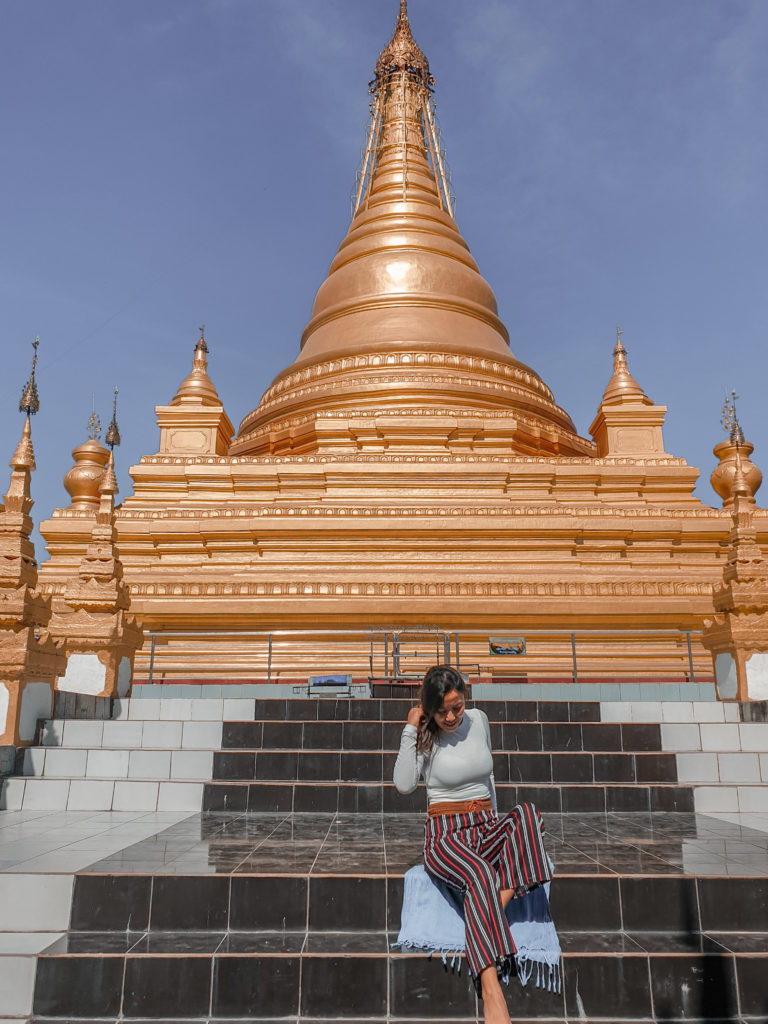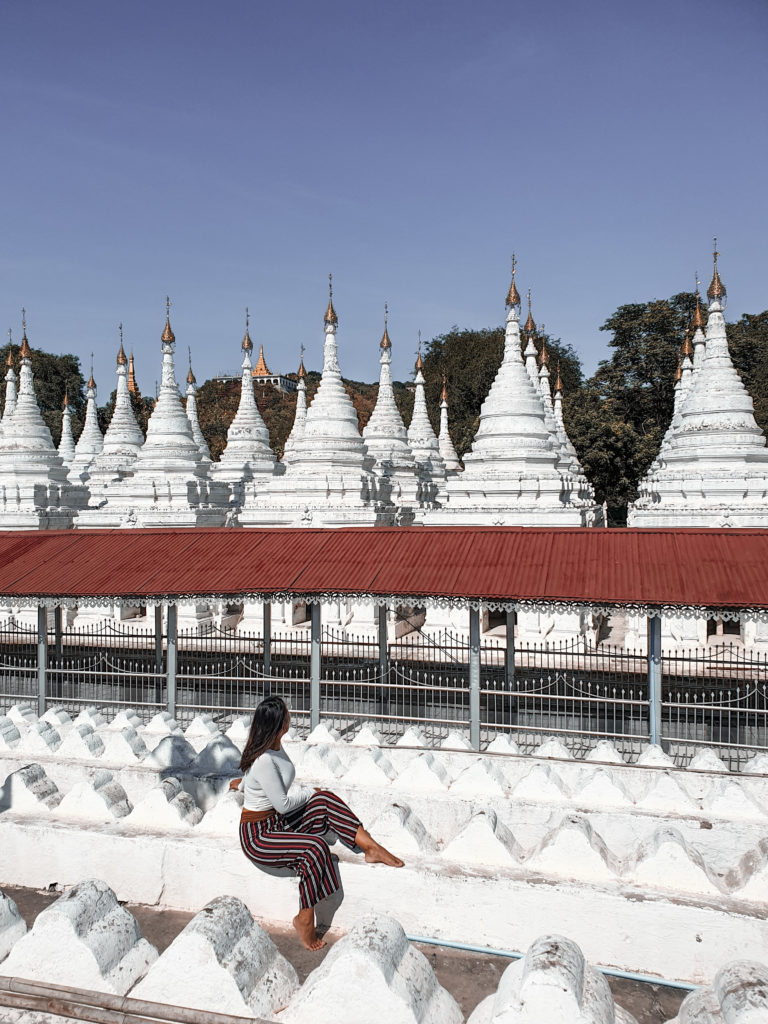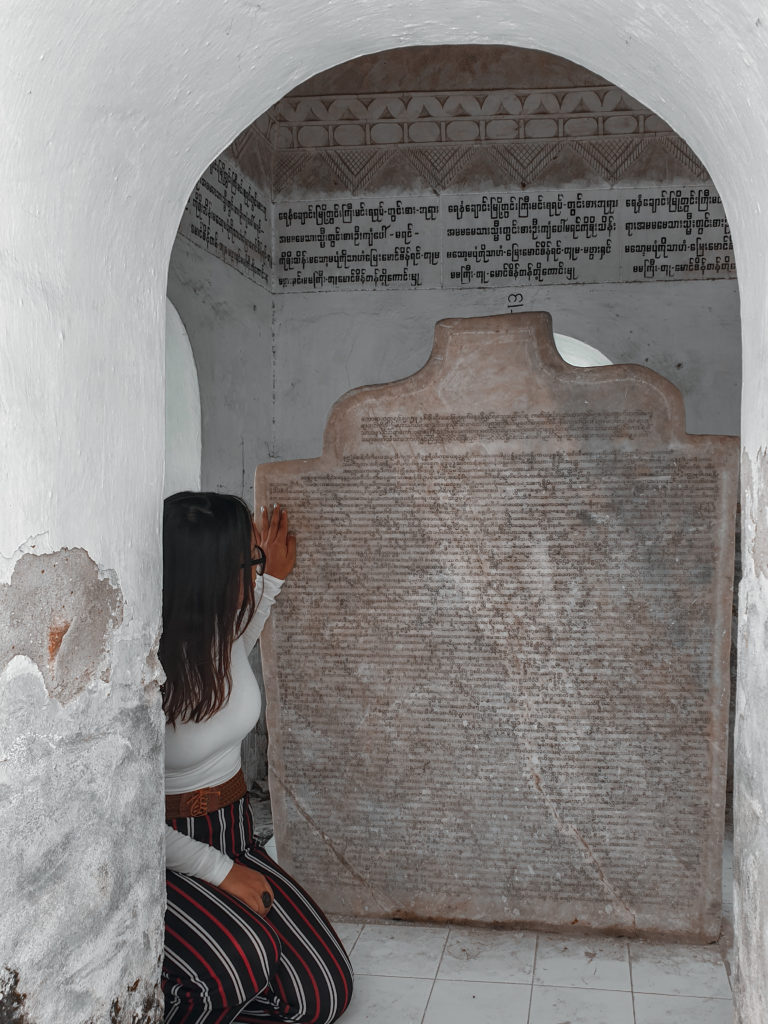 I decided to walk to Kuthodaw Pagoda from my hotel but not even halfway there, the sun was getting to me. I don't ride a motorbike and for some reason, grab didn't work that day. (If you don't know grab is a taxi-hailing app, in S E Asia you can also order motorbikes and big SUVs.) Around the same time, a local motorbiker started talking to me and we settled for 500 kyats to Kuthodaw Pagoda.
Kuthodaw Pagoda is a golden pagoda surrounded by many organized white stupas in a row. It is the home to "world's largest book". This "book" is made up of 729 standing stone "pages" with individual stupas known as a kyauksa gu. They are filled with sacred teachings of Buddha but not in the local Burmese language. It can only be understood by Monks who can read that particular language. Overall, it is a pleasant place to visit and one of the must-see places in Mandalay. Recommend getting there 10 am just after the morning devotee rush and before evening crowd.
2. Check out the largest iron Buddha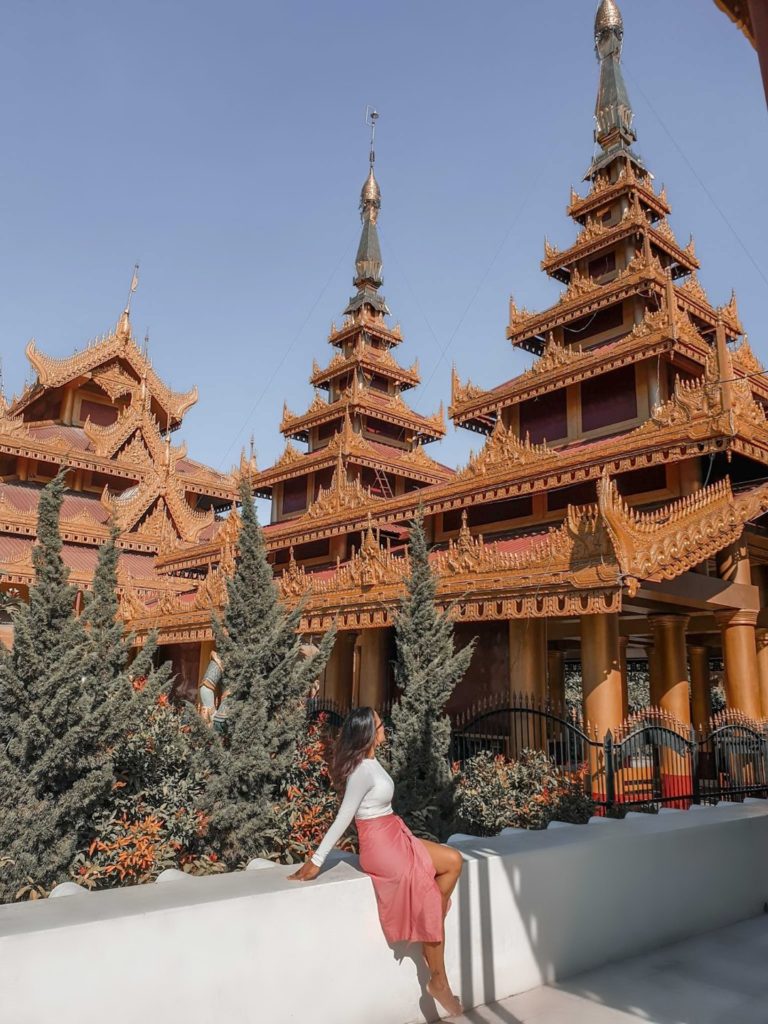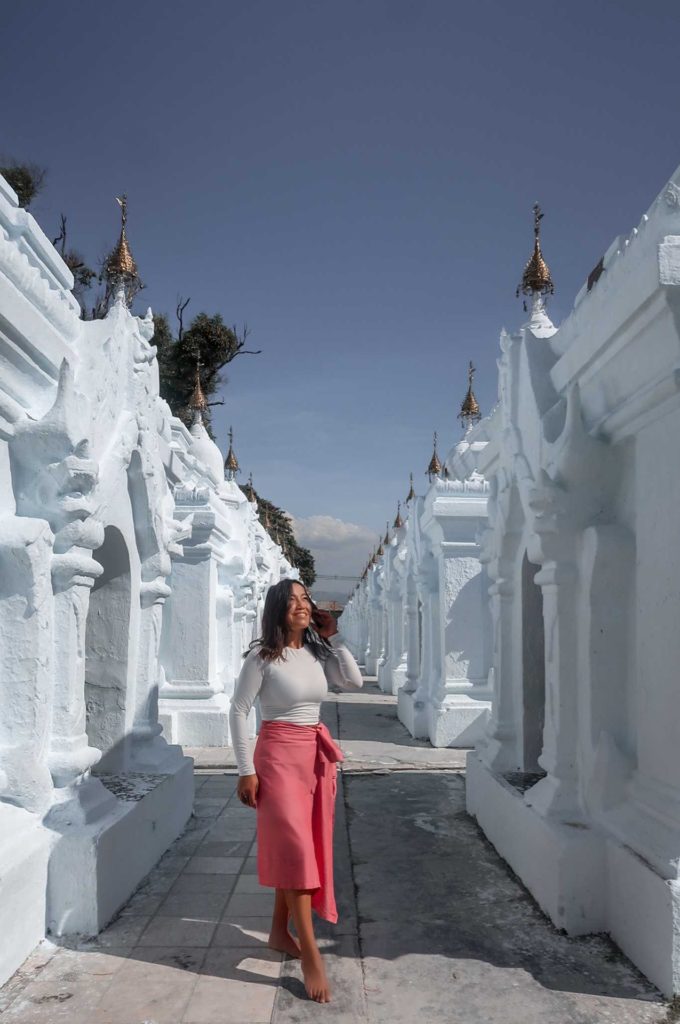 When you get out of Kuthodaw Pagoda, head straight and around the corner is Sandamuni Pagoda. Here you can see the largest iron Buddha made up of over 41,000 pounds of iron. Like Kuthodaw Pagoda, there are also many white stupas and shrines containing inscribed marble slabs. Some stupas looked brand new with the fresh coat of white paint. The huge golden pagoda with tons of white stupas surrounding it make for great photo ops. There is no entrance fee into the Kuthodaw and Sandamuni Pagoda.
3. Eat at these Mandalay restaurants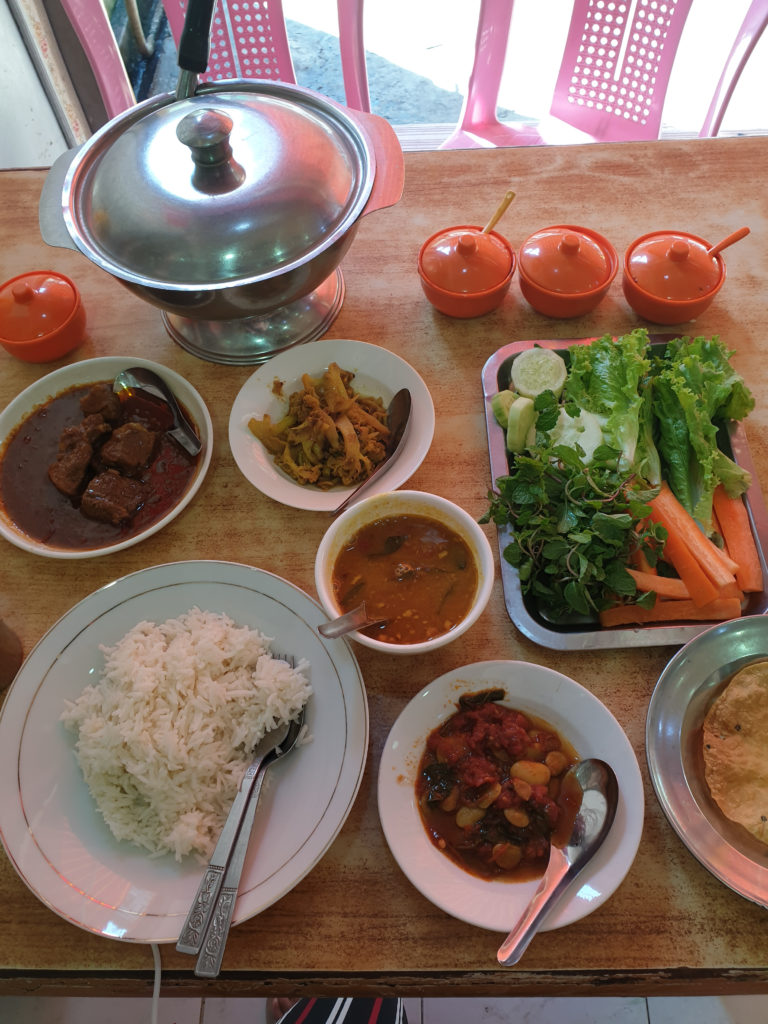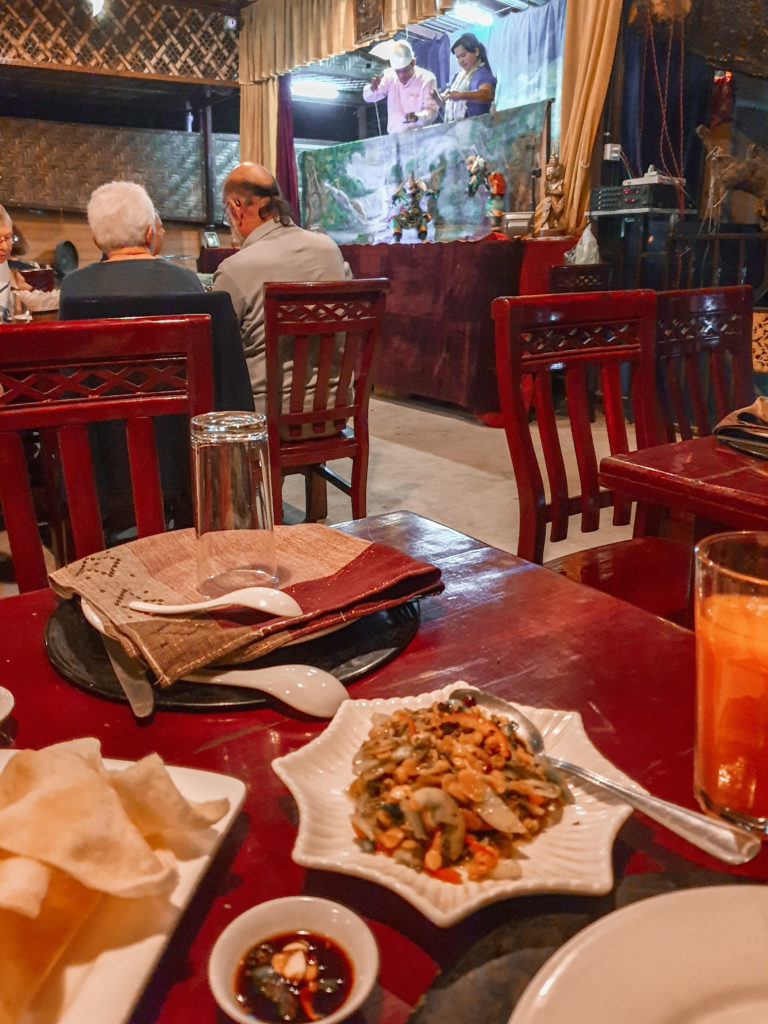 I have put this in here because I think these restaurants deserve to be on the top 10 places to visit in Mandalay list. During my 2 day trip to Mandalay, I had the chance to eat at 2 different local restaurants. The first one was lunch at Pan Cherry restaurant. Don't get it mixed up with Pan cheery noodle. Pan Cherry restaurant I am talking about is an Indian restaurant located near the Hindu temple. I wanted to eat where locals eat. So, this was a good fit. I ordered a standard rice/curry set. The curry was good and you get unlimited rice, daal, and vegetable salads.
Another place I went to was the Unique Myanmar restaurant. It is located at the corner of 27 X 65 street, Mandalay, Myanmar. Initially, I was there just for dinner but the manager advised they also do puppet and dance show. There is no extra charge for that. So, he sat me upstairs and my food came just as the show started. Food was okay but the ambiance made up for it. It was fun to watch the puppet and dance show. There was no rush of any sort and nobody tried to sell me anything as it is often done after dinner shows. It is a busy restaurant with tour groups but they will be happy to arrange a table for you. Try tea leaf salad but not the Papaya juice.
4. See a huge Buddha carved from a single block of marble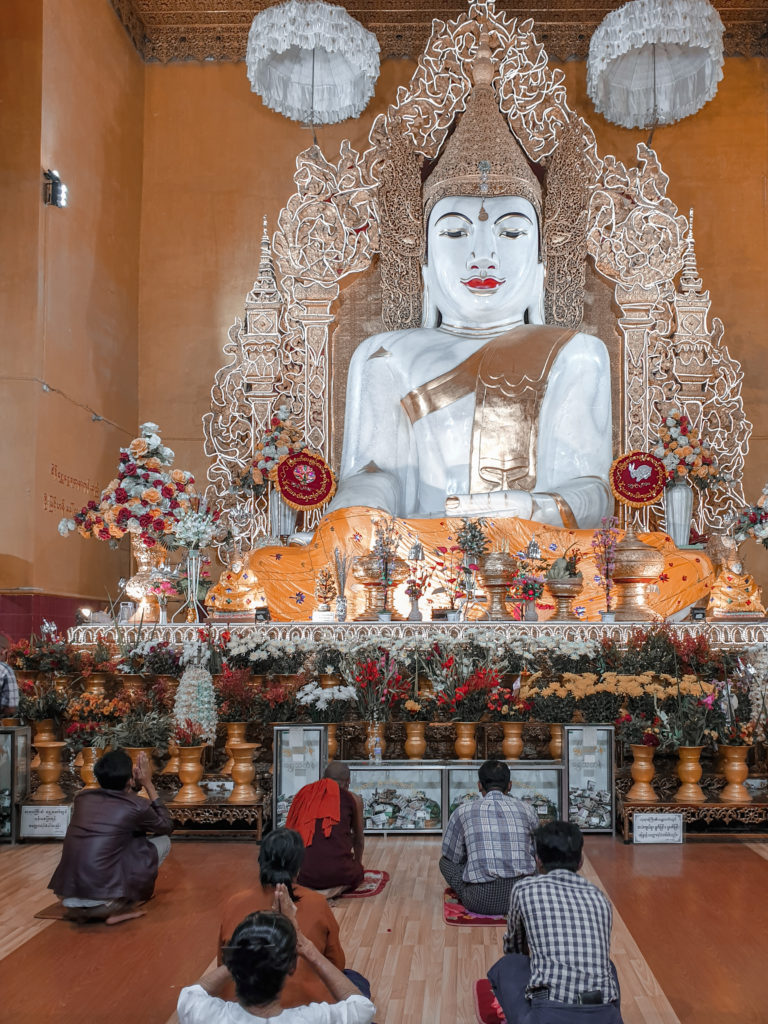 Not that far from Sandamuni Pagoda is Kyauktawgyi Buddha Temple. It is a well known local temple. There are a nice courtyard and quite large grounds. When I entered the temple, it gave me the palace vibes with its gilded decorated pillars, beautiful roof and sculptures that looked quite grand and picturesque. It reminded me of Thai temples in Bangkok. There was also a red carpet lay on the passageway leading to the prayer hall. At the heart of the complex, there is a huge Buddha which is said being carved from a single block of marble. Devotees were gathering in front of it for prayers. Again, no entrance fee here. Recommend going there at night for a lit-up scene but daytime was beautiful too.
5. Visit the Nan Shay Market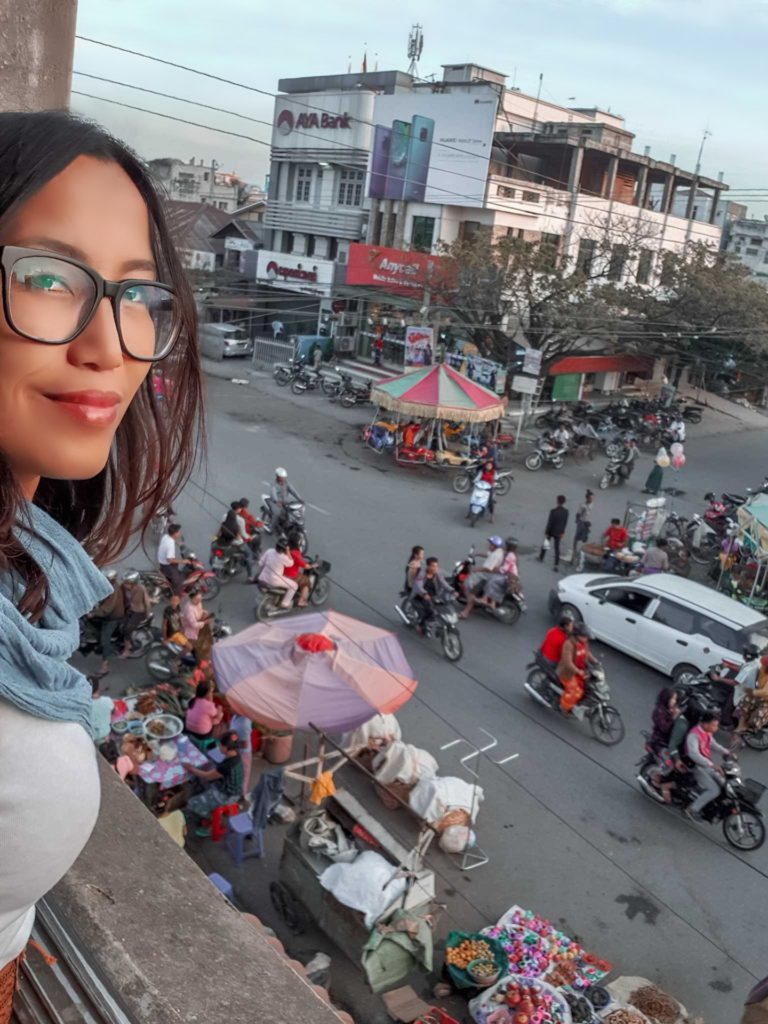 From my hotel it was only 10 mins walk and as I guessed it was packed with locals and kids. It is a big building with 2 floors (3rd floor was locked when I was there) The shop owners and vendors sell fresh vegetables, rice, cooking oil, dried food, meat, fishes, fruits, flowers, etc. You can get goods for the kitchen, clothes, and Myanmar traditional foods. There are two man-made Ferris wheel-like rides for kids.
6. Must-try local Burmese street food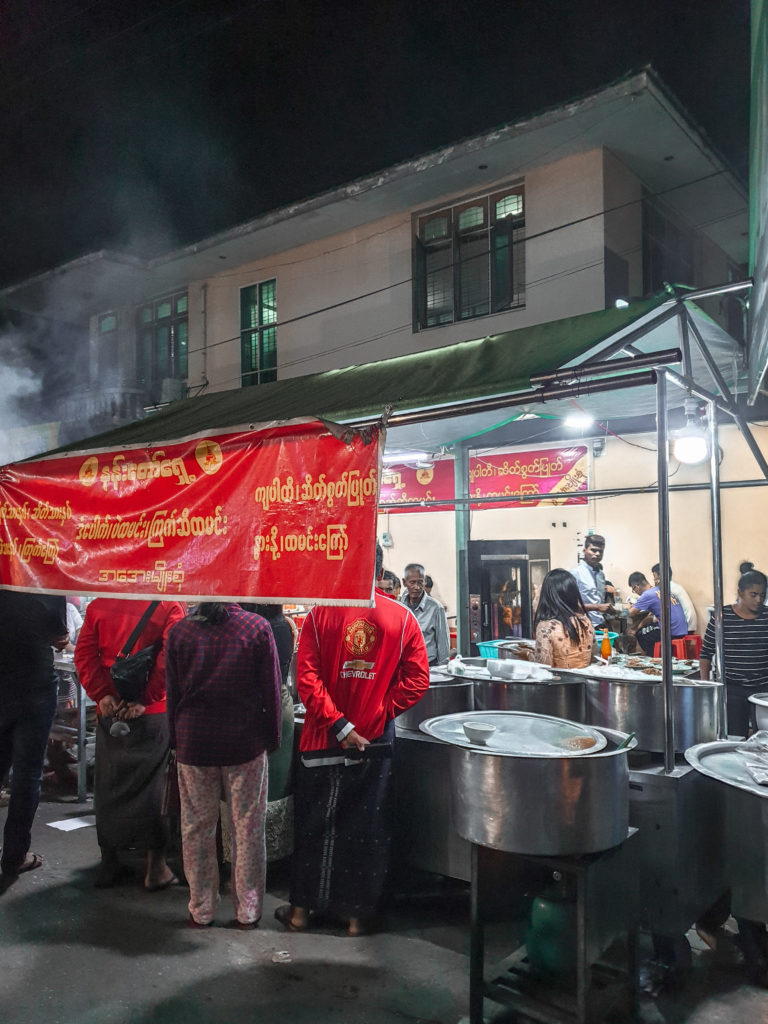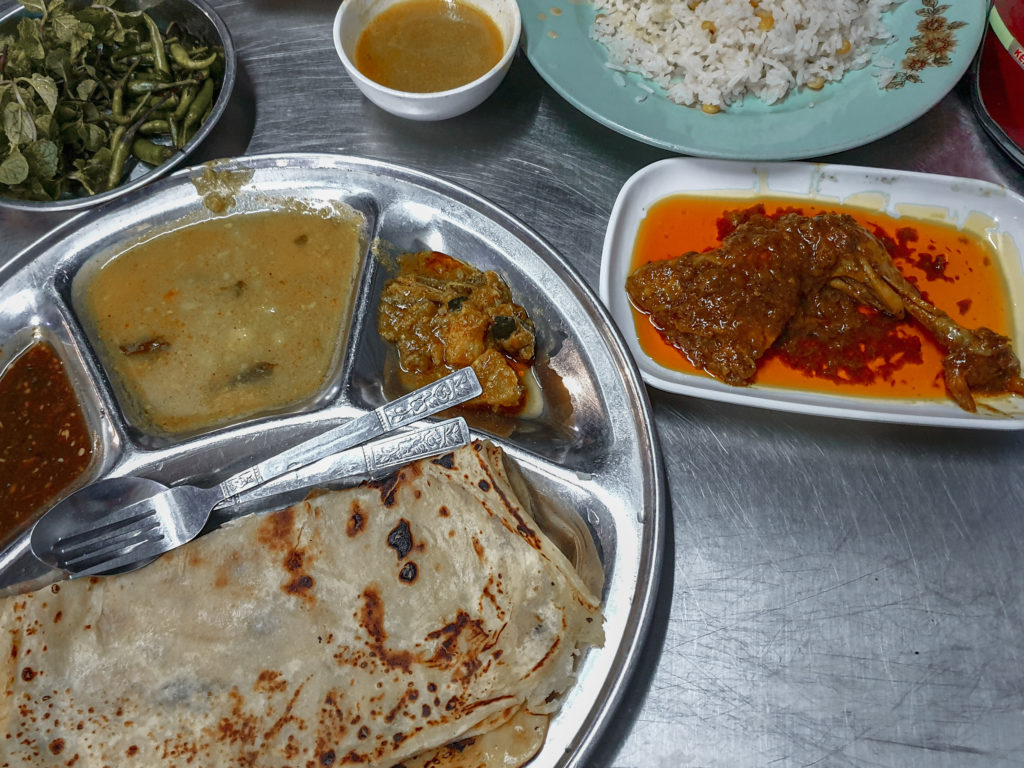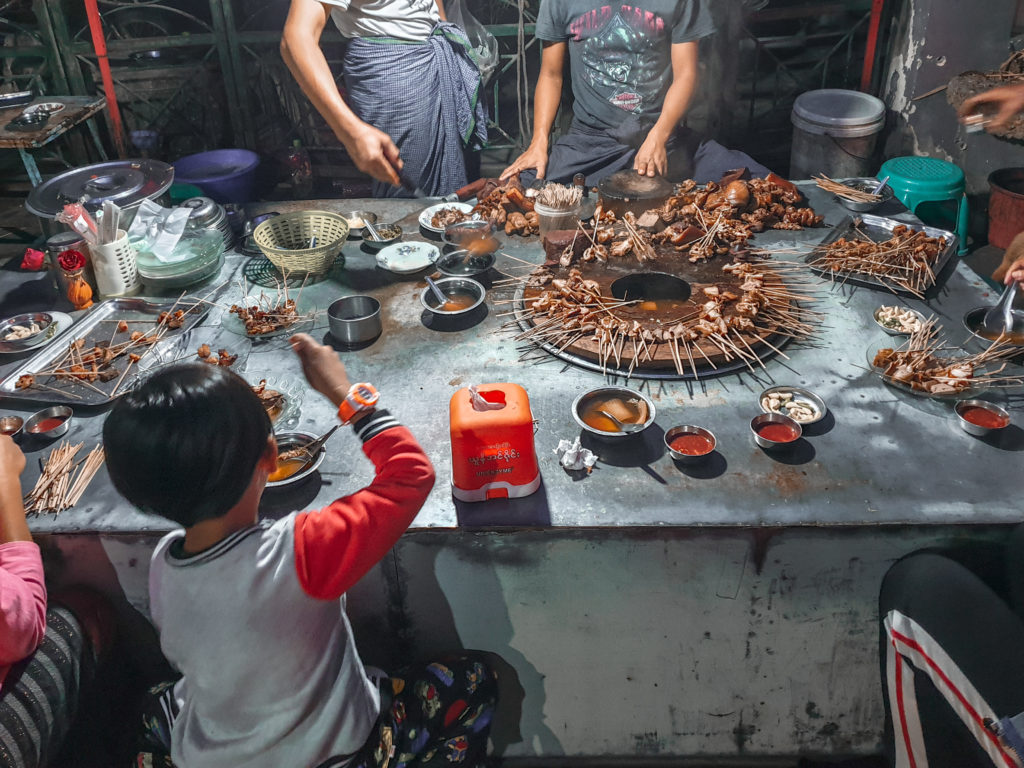 Once you are outside the Nan Shay Market, turn right and head East towards the moat. Even before you see Hotel United on the left side of the street, you should see the busiest street restaurant in the area. They do fresh Chapati-curry, rice and chicken and more. I shared my table with two local Burmesemese ladies and ordered what they ordered! Chapati with chicken. It was yummy!
7. Hike and watch sunsets at Mandalay Hill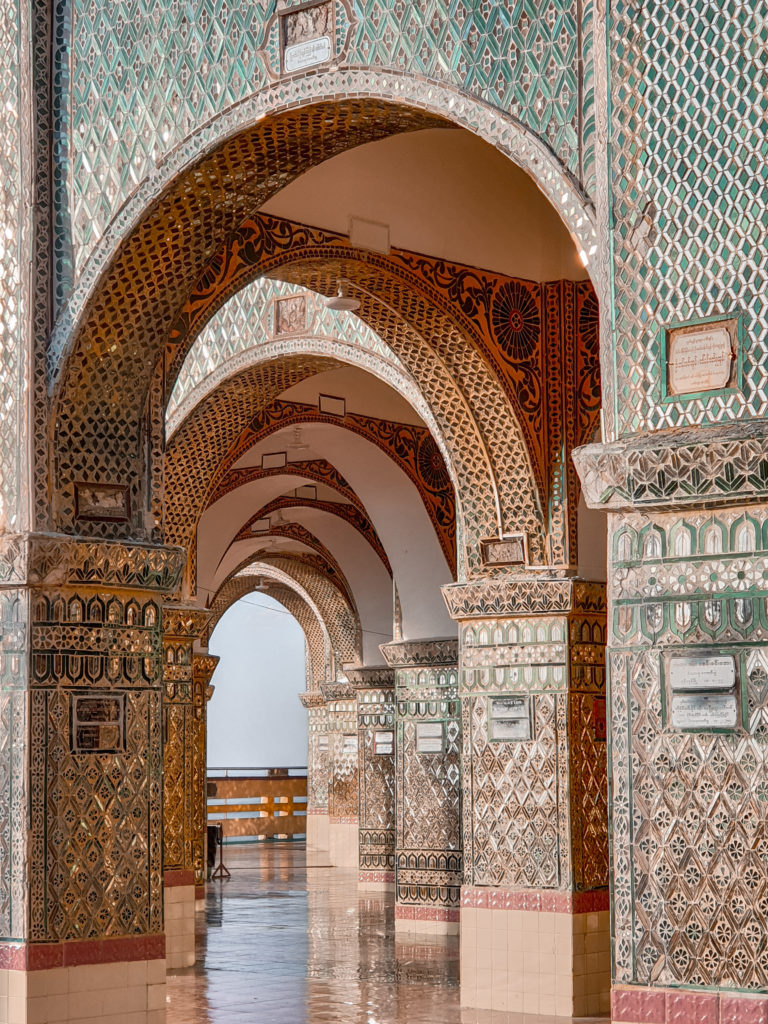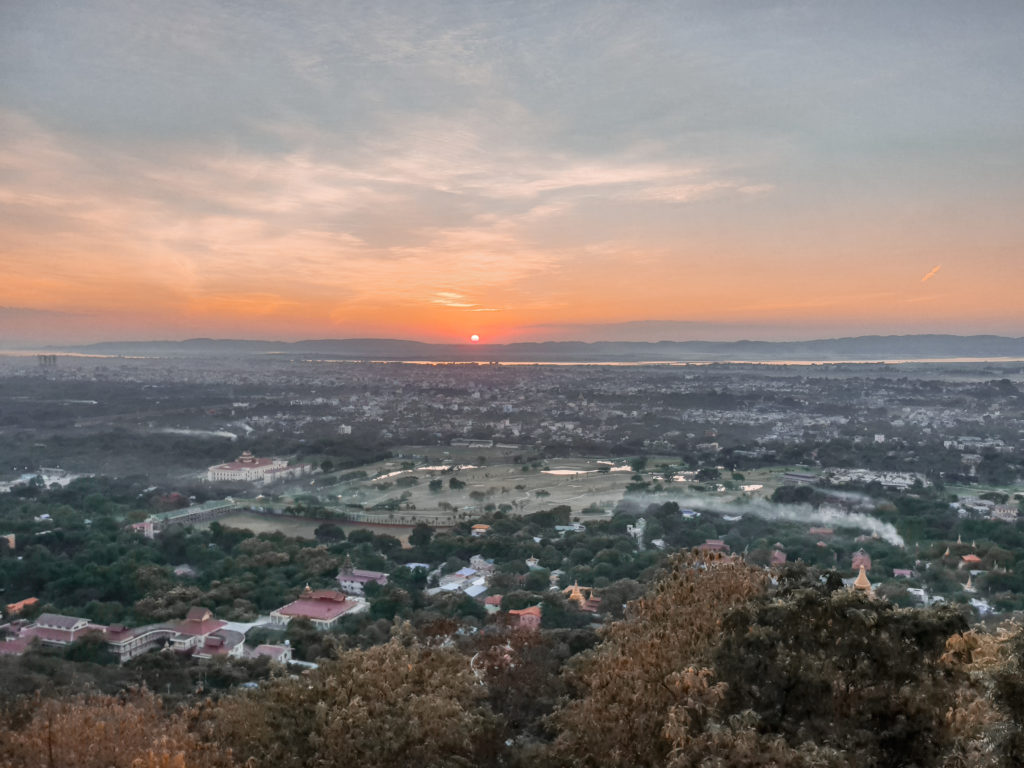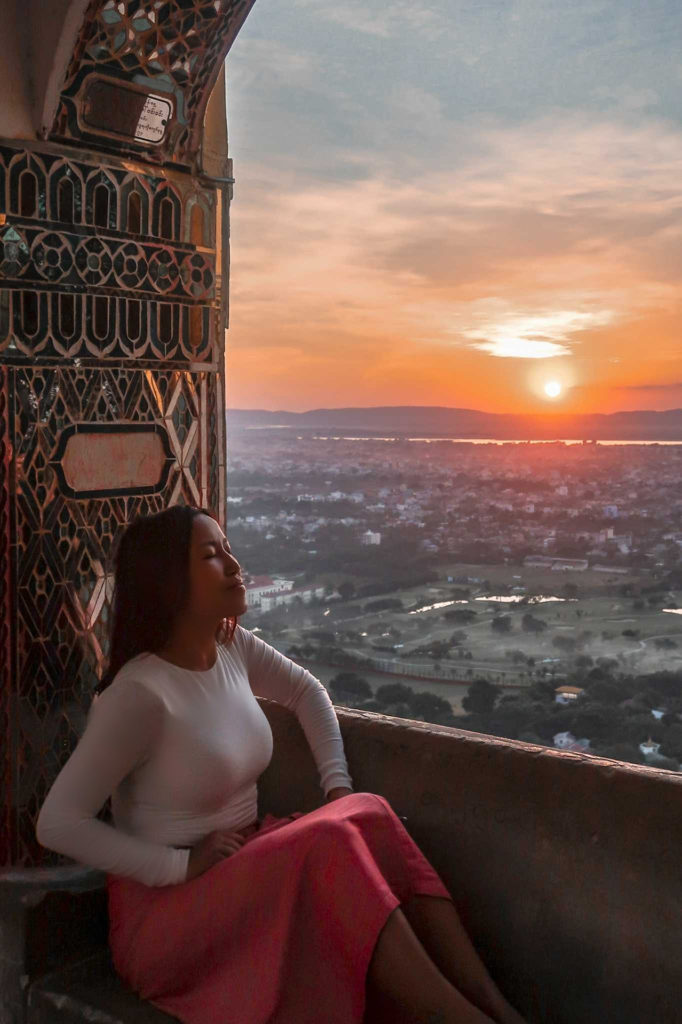 No better way to end the day than watching sunsets overlooking the entire city. Only 1 question you would want to answer is – Hike or Bike? The hike takes about 45 minutes one way and bike, you can hire from the town. Or if you are tech-savvy, order a grab for 2000 Kyats and you can skip the whole hiking part. I decided to hike and after 20 mins, I figured the path is not well marked. Asking locals along the way for direction is the best bet. Something worth mentioning is, you are not allowed to wear any shoes or flip-flops. You can either leave them on the bottom of the hill at your own risk or carry it with you as I did.
Once you are at the top of the hill, the entrance is 1000 Kyats. But just one level/floor below is free and the view is the same. So, I decided to stay there and to my advantage, there were far fewer people than at the top level. Watching sunsets from this hill was almost magical surrounded with colorful tiles on the walls, fellow travelers and some monks too. Towards the end of sunsets, we chatted about Buddha, Myanmar, and meditation. It was an interesting conversation and a pleasant evening with stunning sunsets. Don't forget to take water and sunscreen with you!
8. Walk on the U-Bein Bridge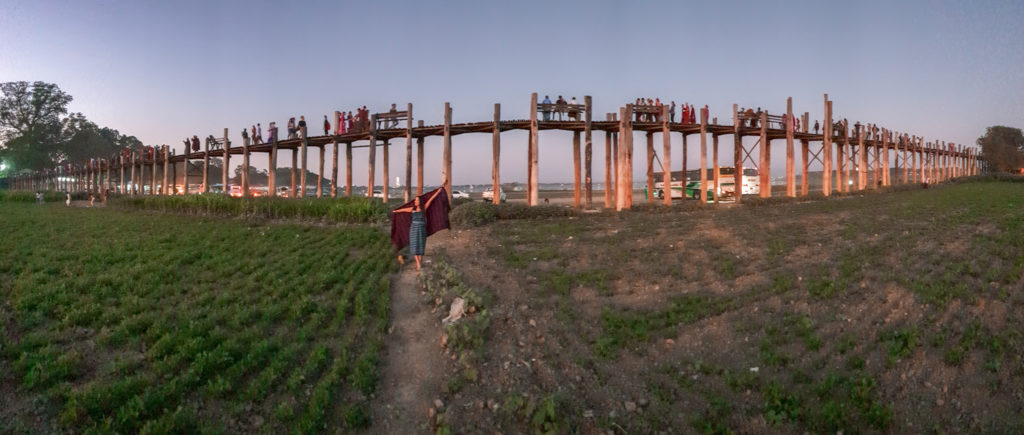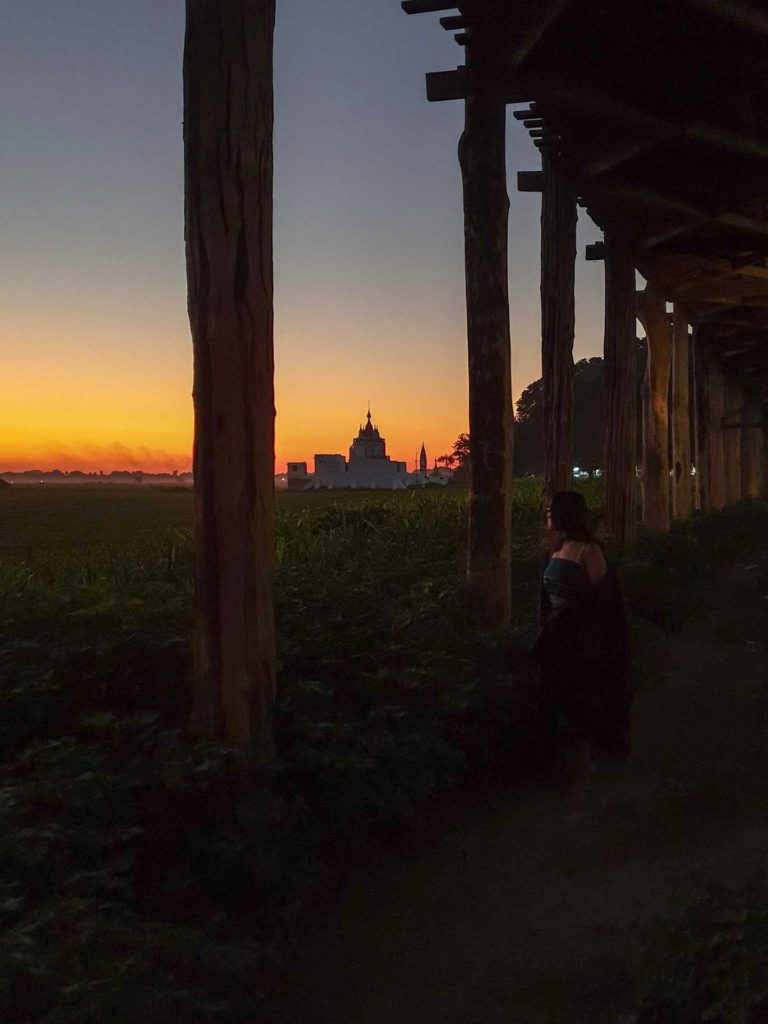 Sunrise and Sunsets are one of life's simplest pleasures enjoyed by everyone around the globe. If you would like to see more of Burmese sunsets, I recommend heading to U-Bein Bridge. It is located outside of Mandalay town but worth the 45 mins ride. You can either call grab or drive a rented bike. If you can, avoid the weekends and festivals though. Otherwise, it should be nice and quiet and easier to get dropped off and picked up from grab as well.
U – Bein Bridge is the world's largest teak footbridge, it is 1.2km long, and it twists its way across Taungthaman Lake. It was built in the 1850s with salvaged teak wood from the palace of Amarapura. There are over 1,000 columns, and it is amazing how they have lasted, although there is a constant process of repairing the teak columns. A triumph of engineering. This is one of the most iconic and photographed spots in Myanmar—and for good reason. The sunset, pretty lake and the Kyuk Taw Gyi temple are all that makes this place beautiful and one you don't want to miss. There is no entrance fee to see the bridge.
9. Visit the Mingun Pagoda and Mingun Bell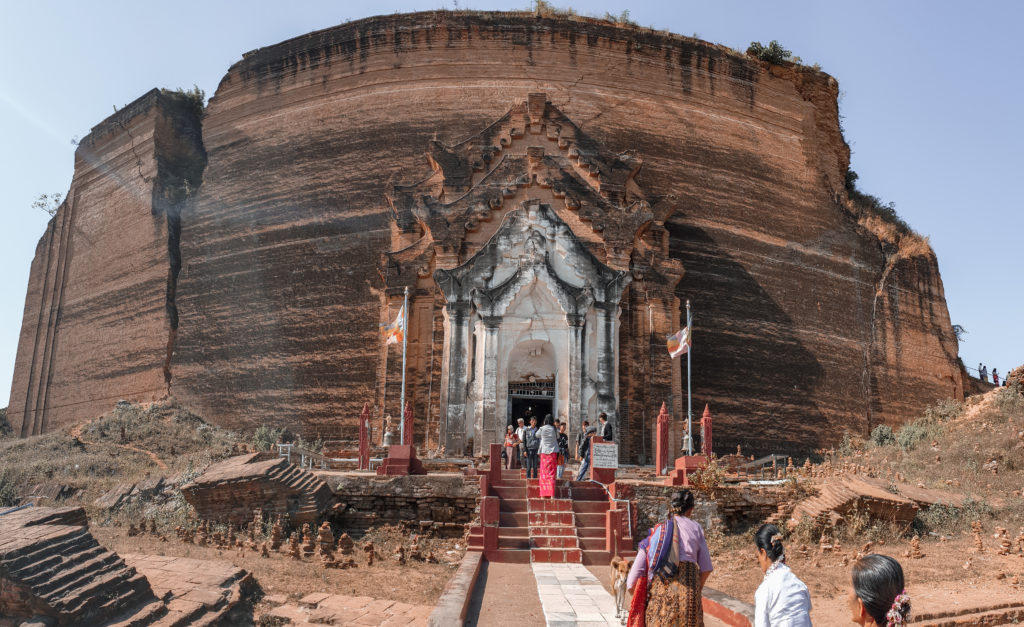 Mingun Pagoda is a massive unfinished Buddhist pagoda built at the end of the 18thcentury which was meant to be the largest pagoda in the country.
The iconic Mingun Pagoda is also known as the Mantara Gyi Pagoda, the Mingun Pahtodawgyi and the Great Royal Stupa. It is an impressive sight on the banks of the Irrawaddy River just North of Mandalay. The best way to experience Mingun Pagoda from Mandalay is either on a full or half-day trip. I a did half day trip and it was sufficient time for me to visit Mingun Pagoda, the Big Bell, and even the Hsinbyme or MyaThein Dan Pagoda.
You can get a grab from your hotel and head to the Myan Gyan Jetty in Mandalay (at the western end of 26th Street) at least half an hour before, the boat leaves at 9 am. The journey takes one hour; the return boat leaves at 1 pm and takes 45 minutes (downstream is faster). From the pier, you can either walk to the Pagoda or take an ox cart marked as a taxi.
Once you are there, don't miss the two giant lions guarding the pagoda, and it is also possible to climb to the top of the pagoda using a stairway to the right of the structure.
After the Mingun pagoda, if you keep walking up north. You will see an enormous bell, that was meant to be installed at the top of the giant stupa. It is almost 4 meters high, weighs 90 tons and is the largest working bell in the world. I even rung the bell by striking its exterior with a wood log. The pagoda opens daily during daylight hours. And don't forget to get a ticket for the Sagaing – Mingun archeological zone US$ 4. This ticket is valid for the Mingun Pagoda and for other monuments in the area like the nearby Hsinbyume Pagoda.
10. Admire the Hsinbyme/ MyaThein Dan Pagoda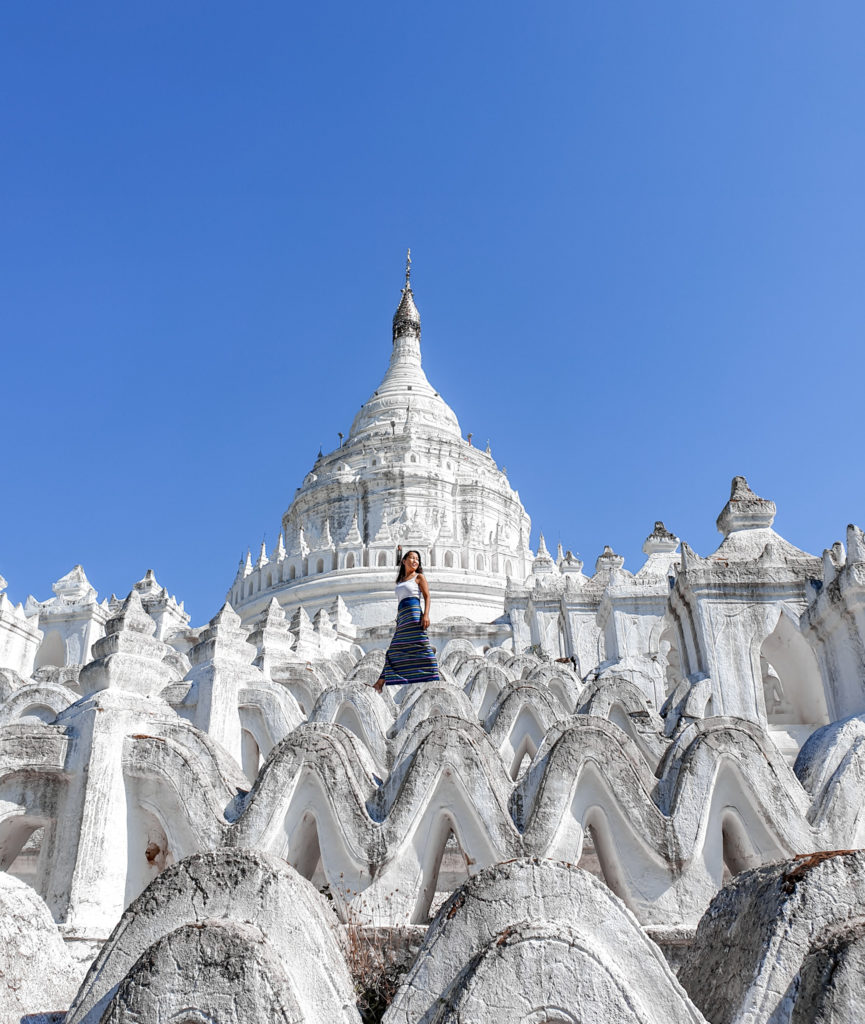 In the same area, if you walked past the Big Bell and few 100 meters down the road, you will see Hsinbyme or MyaThein Dan Pagoda. It is a beautiful all-white pagoda. Legend has it one of the Burmese kings dedicated the structure to his beloved first wife, Princess Hsinbyume, which literally translates to White Elephant Princess, who died during childbirth.
After admiring the work on this structure, you can take the stairs to go to the top of the pagoda. From the top, you will have great views off of the Irrawaddy River, greenery and the nearby Mingun Pagoda.
The temple complex is completely walled with a large gate providing access to the grounds. Local Buddhists and devotees come to the Hsinbyume pagoda to pay homage, make offerings, and light incense sticks.
I hope these Top 10 places to visit in Mandalay helped you.
Check out the "Myanmar" stories on Instagram for everything on video.
What equipments I used to take these photos:
Canon PowerShot G7 X Mark II Digital Camera
This has been my favourite Camera so far. I love how my pictures come out crisp and colourful. It also has a screen which is useful when vblogging. You can check out what I meant on my Instagram which is here.
Accessories For Canon GX7 Mark || Check it out here
This is the good old Go pro that I take with me everywhere. I recommend it because it is small, lightweight and waterproof. I have had made many memories with this trusted item and looking forward to more.
Accessories For Go Pro Hero 4 Check it out here
I have been using SanDisk since my first camera which was back in 2009. They build quality memory cards. I recommend getting at least two, just in case something happens to one of them.
Do you think it's a hassle of plugging your camera into your computer? This memory card reader will fit cards of all sizes and make an easy transfer to your computer. The reader supports all popular SD memory card formats, including SD™/SDHC™/SDXC™ memory cards, UHS-I SDHC/SDXC memory cards, and microSDHC™/microSDXC™ memory cards. It is also compatible with the latest UDMA 7-enabled CompactFlash cards.
Let me know in the comments:
Top 10 places to visit in Mandalay