You may have heard the terms digital nomad and remote work before but if you are wondering what is the difference, I have got the answer for you!
As a person who lives and breathes working from home all year, today I will share the core difference between digital nomad and remote worker.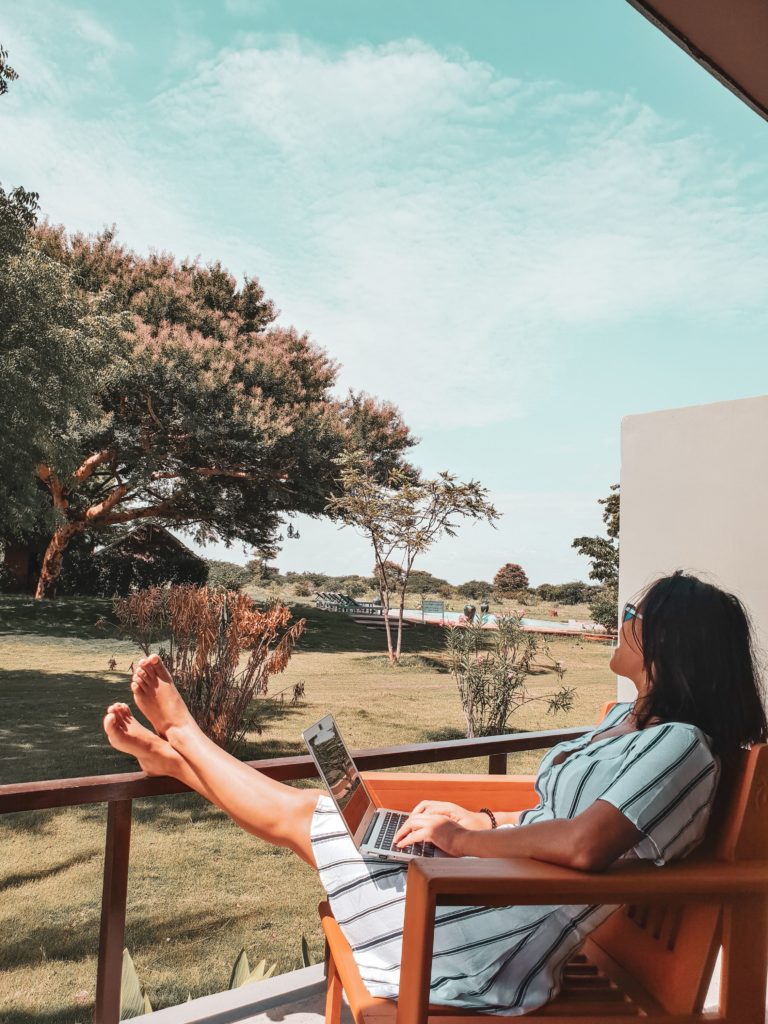 Digital nomad:
In simple terms, you can call yourself a digital nomad if you have a job/work that you can do from anywhere in the world. Basically, you are location independent and all you need to earn an income is a laptop and an internet connection.
If we were to break the two words down, digital = online and nomad = someone who wanders/travels around with no base.
So a digital nomad is a certain type of remote worker who lives and works while traveling the world. If you are a digital nomad, you will most likely move frequently to experience life in many different cities and countries. That being said, you can be a slow-moving digital nomad like me! A digital nomad is actually a lifestyle now than just a term to describe a person.
Remote worker:
You can call yourself a remote worker if you are working remotely for yourself or for someone else. But there is a certain restriction that comes with it. Such as you are required to be in the same country where the office is but you are allowed to work from home.
Remote workers usually have a home base and the convenience of having their family and friends around.
Although both types of people work a lot on their own and face alone times, digital nomads maybe get it harder because usually, they are in a foreign land where they don't understand the language, locked in a room in front of a computer working away alone!
If I were to give one piece of advice here, it would be to stay closer to hostels so you can meet people or work from coworking spaces where other like-minded people may be working too.
Not all remote workers are digital nomads but all digital nomads can be remote workers.
I hope that clears the difference between digital nomad and remote worker for you.
Finding a remote job was my dream for the longest time and it has only been a few years now I am remotely working with my blog, and social media, and living this digital nomadism life! These types of remote jobs are not consistent as well as home office jobs or freelancing, copywriting jobs unless you are absolutely killing it!
So let me start from my humble beginnings. To date, I have solo traveled 47 and lived in 8 countries each for 3 different reasons
1. Hanoi, Vietnam 2015-2016
I'd my first travel blog when I arrived in Vietnam, the only problem was it wasn't making me any money. The initial plan was to travel from north to south of Vietnam for 1 month but in the end, I ended up living there for just over 6 months! I started as a volunteer English teacher at an NGO for a good month and found out kids actually liked me and I enjoyed teaching. So, after that first month, I started applying for paid teaching roles and got hired at various institutes. Money was coming in, and life was good!
I taught from primary level to high school then to students who were applying for overseas universities and had to pass IELTS and TOFEL with at least 7 or higher marks. I had gone through those tests myself when I moved from Nepal to Sydney. So, I was all into it, and being on both sides of the table, I was fit for teaching IELTS. Then probably for about 1 month, I was teaching one and one Business English to CEO/ CFO/ Country managers. Those professionals were heads of companies in Hanoi but their HQ was somewhere else. They were absolutely killing at their job but wanted to polish their business English and I was more than happy to help!
2. Banff, Canada 2016
I entered Candana on a working holiday visa and traveled from the west coast to almost the east. I shared the details with the pros and cons of a working holiday in Banff, the beautiful national park of Canada. Back in 2016, I was not the digital nomad I am today but I experienced living and working in Banff closely. I was freelancing as a writer but mostly working in hospitality.
3. Vientiane, Laos 2016
Now, this is where I got serious with the digital nomad thing. I was living in Vientiane, Laos at the time and I didn't want it to end EVER. I started to redesign a new travel website (actually this one you are on right now!), then started putting my energy and time into the blog. On the side, I was also designing my first e-commerce store. I wanted both of them to work so badly. I was losing sleep!
I had already traveled non-stop for 1.5 years by that time and had a lot to share but not enough time! I would start writing at 9 pm and finish at 2-3 am then wake up and continue building the e-commerce store all day. If you're interested, check out the pros and cons of living and working as a digital nomad in Vientiane, Laos.
4. Kathmandu, Nepal 2017
If you read about me, you know Nepal is my motherland. But I have been living in Sydney for a long time, and Nepal feels like a second home now. When I visited Nepal more than a decade later, I saw it with new eyes, and new perspectives, and lived there for a little while as a digital nomad.
All the hard work I put in the year before came to use when I went trekking the world's tallest mountain Everest Base Camp because I had the opportunity to collaborate with not 1 but 2 first five-star luxury hotels! I was also slowly starting to make money through my Instagram and blog. So, I can say I was starting to like this digital nomad life.
5. Bagan, Myanmar 2018
By the time I was living in Bagan, Myanmar. I had been writing my travel experiences into words for 2 years. Such as this 3 weeks Myanmar itinerary. I had also started to work directly or through an agency with brands strategizing and helping them to provide exposure on my social media channels and I also worked for a software company on the side again. So, in 2018 my personal experience as a digital nomad was mostly writing/blogging, social media, and IT work.
6. Bangkok, Thailand 2019
One of my goals in life has always been to complete a slow meaningful journey to all the countries in the world. Having done my share of fast traveling, now I am a fan of slow travel.
I aim to stay at least until my visa runs out in each country I visit which is normally a month. So, on this journey, I ended up living in Bangkok for 4 weeks last year. I actually have lived in Bangkok way back in 2014 but I wasn't a digital nomad then. So, I will include my recent experience which was basically working from coworking spaces in Bangkok. The ones I recommend are the Metropolitan hotel coworking space, the Hubba in Sathorn also multiple locations, and Hive in Thonglor. Personally, 2019 was a hard year for me although I was traveling a lot. So, I was finding it terribly hard to focus but these spaces were perfect to just put my head down and work.
7. Bali, Indonesia 2019
Bali is a beautiful place if you want that semi-quiet town to just focus on your work online or offline, whether that be to write your daily blogs, novel, the next book, or code. Internet connection is decent with your sim card, the food is great, and plenty of inspiring sunrises and sunsets to watch from your stunning cheap villas!
In Bali, I was also working as a digital nomad putting out valuable guides such as Bali itineraries, earning money from my blog, social media channels, and sponsorships.
8. Sydney, Australia 2020
Sydney is an expensive city to live in as a digital nomad but it is worth it for the experience. Imagine working from some of the best beaches in the world although the time zone could be a pain. This now brings us to my present state which I am proud to say is still a digital nomad lifestyle. (But due to we know what, it is starting to look more like remote worker)
Well, I am actually happy I still get to do what makes me happy even though I seriously hope we will be able to travel soon. We all have to do our part to continue to flatten the curve though.
Most read Sydney travel tips
Digital nomads Sydney Tips
9. Melbourne, Australia 2021
I moved from Sydney to Melbourne in the last Quarter of 2020 and worked remotely. Here are some more tips and guides on digital nomading in Melbourne, Australia.
Melbourne travel guide for first timers
Fun things to do at night in Melbourne
More Melbourne travel tips
Melbourne day trips in winter
Day Hikes in Mvelbourne
10. Port Villa, Vanuatu 2022
This year I took my nomad journey to Vanuatu and wrote the below article which may help other digital nomads and ex-pats too.

Vanuatu itinerary for one week
11. Central America 2023
First Quarter of this year, I worked remotely from central America!

Check this one month in Central America itinerary for more.
If you have any questions at all about my slow digital nomad life or about the difference between a digital nomad and a remote worker, drop them in the comments.
Thanks!
Let me know in the comments:
Difference between digital nomad and remote worker