Recently I was grateful to travel 3 weeks in Myanmar and my last stop was Mandalay. Today I am sharing the hotel review of the red canal Mandalay. There are lots of hotels in Mandalay from the budget ones, mid-tier to the boutique luxury ones. Choices are unlimited. So, after some research, I chose to stay at the hotel by the Red Canal. It looked great online and it seemed to be closer to the top 10 places to visit in Mandalay too. Below is the real review of how it went.
Hotel by the Red Canal Mandalay, Myanmar
Hotel by the Red Canal Mandalay
Address: No 417, Corner of 63rd & 22nd Street, Aung Myay Tha Zan Township, Mandalay, Myanmar (Burma)
Room Type: Rakhine
Total Room: 25
How to get here: It takes approx 1 hour by taxi from Mandalay International Airport, 4 hours by minivan from Bagan, and 25 mins by taxi from Mandalay bus stop. I recommend installing the Grab app to get a taxi where the price is set before you start your journey to the hotel.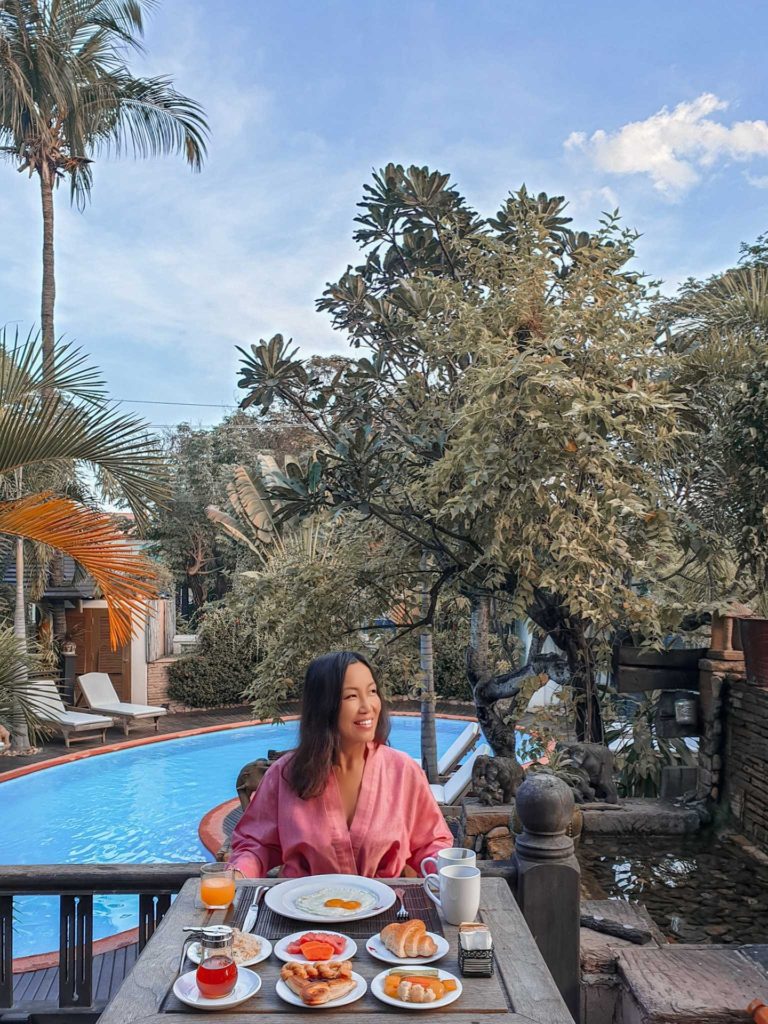 Check-in
Because I had a door-to-door service included in my bus ticket from Bagan; I was dropped off right at the door of the hotel by the Red Canal. It was scoring heat around 1:30 pm but it was refreshing to be welcomed with a cold towel and delicious lemongrass and rosella water. A few moments later I was sitting at the check-in desk. Check-in was quick and staffs were organized and spoke English fluently.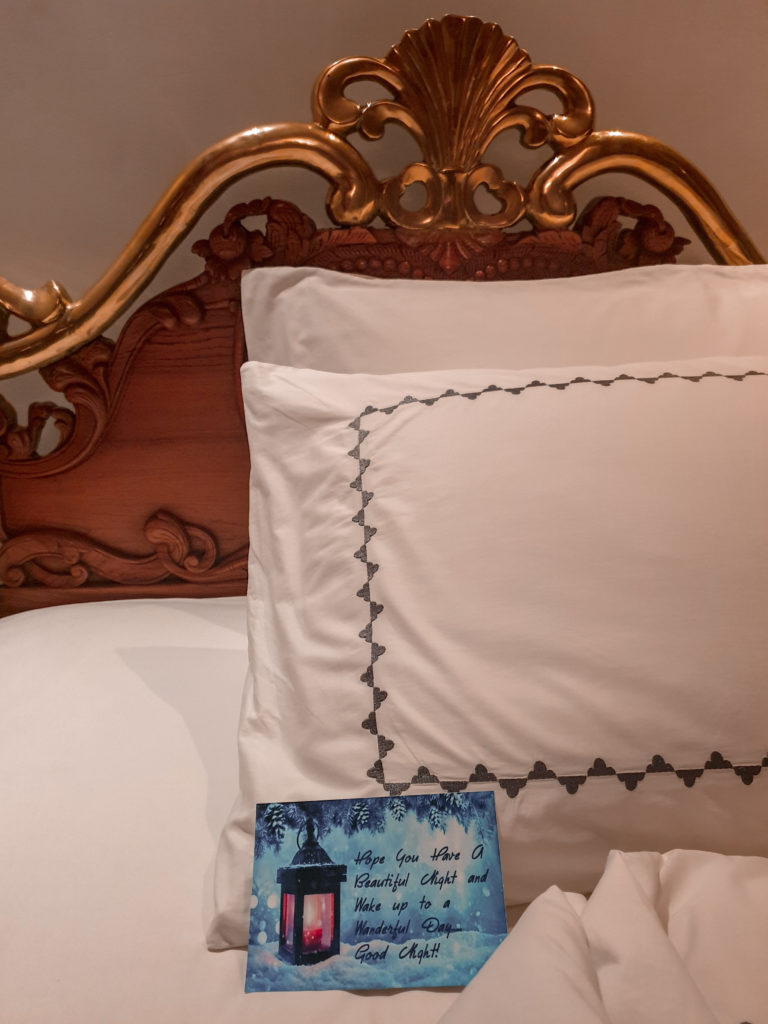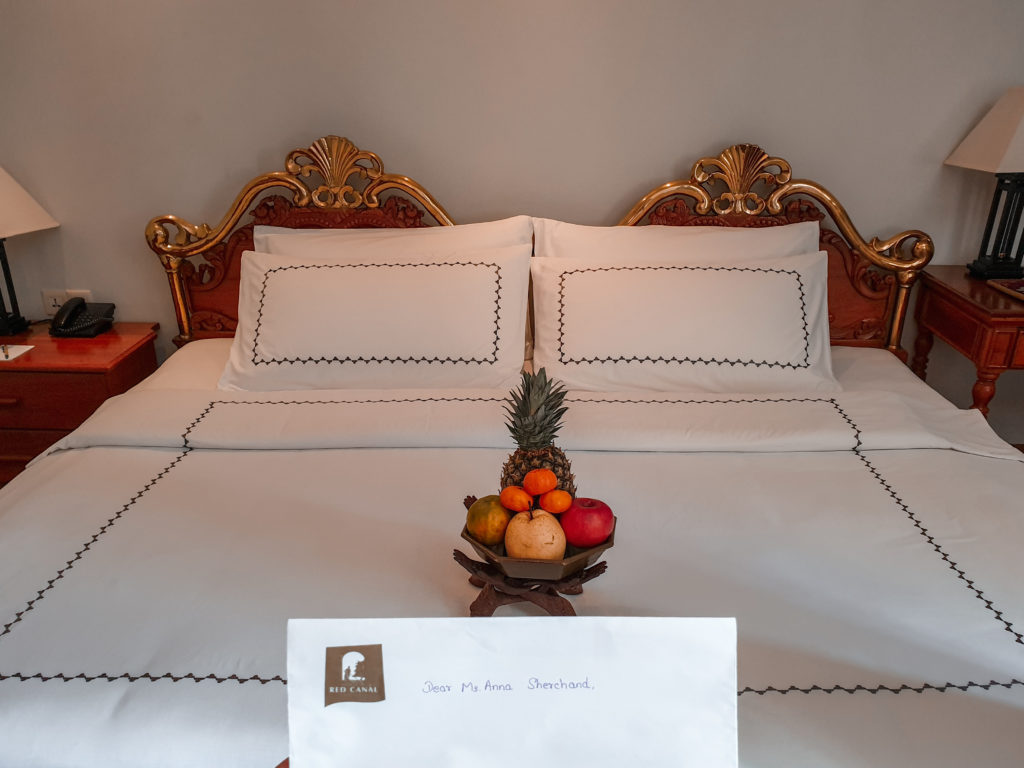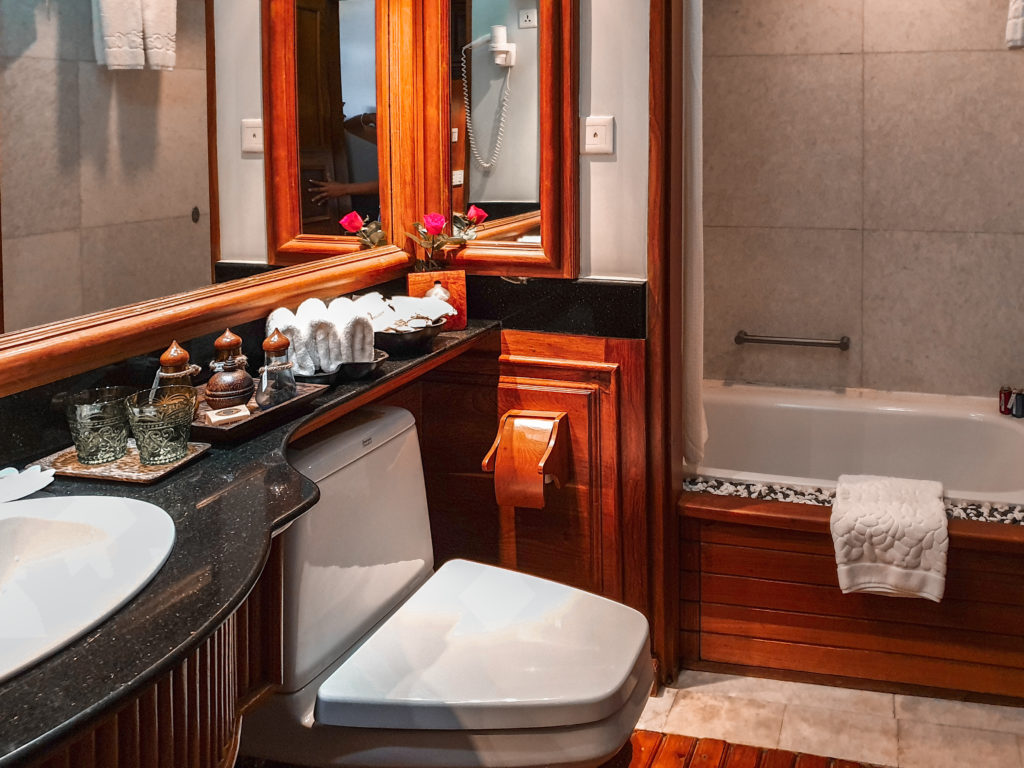 Private Ensuite Room
Hotel by the Red Canal offers 25 uniquely designed rooms that are named under 4 categories. The cultural adornments of the 4 major ethnic groups in Myanmar- Chin, Kachin, Rakhine, and Shan. My room was Rakhine. It came with the beautiful brass bed with clean sheets, fruit basket, FREE WIFI, TV with a selection of over 100 satellite channels, air conditioning, hot and cold bath/shower, coffee & tea making facility.
I liked that my room also had a desk where I could work and sofa to relax, alarm clock, room safe and room service. Also, enjoy the soft music playing on the corridors of the hotel which I initially thought was strange but I grew to like it by the time I was leaving.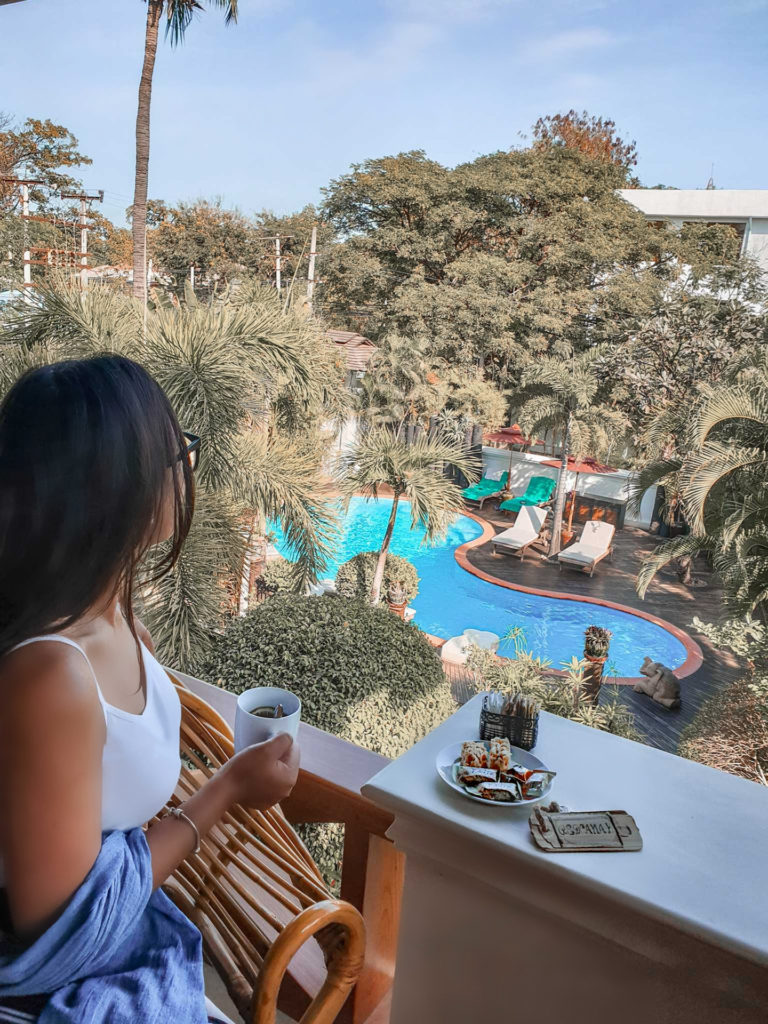 Afternoon Tea
After settling into my room, it was just the right time for complimentary afternoon tea. Every day it runs from 2-4pm on first-floor canopy bar. The hotel offers a free flow of coffee, tea, some snacks, and fruits. You can also sit outside on the balcony and enjoy the afternoon tea. In case you missed the afternoon tea, you can always enjoy drinking water full of apple slices, fruits and herbs that sits on the canopy bar 24/7.
After afternoon tea, I went out to town for a stroll and tried some local street food. Read about it here.
If you are feeling lazy to go around, you can try delicious Indian food at the in-house spice garden restaurant. Hotel states they are the only Indian-Myanmar fine dining restaurant in Mandalay.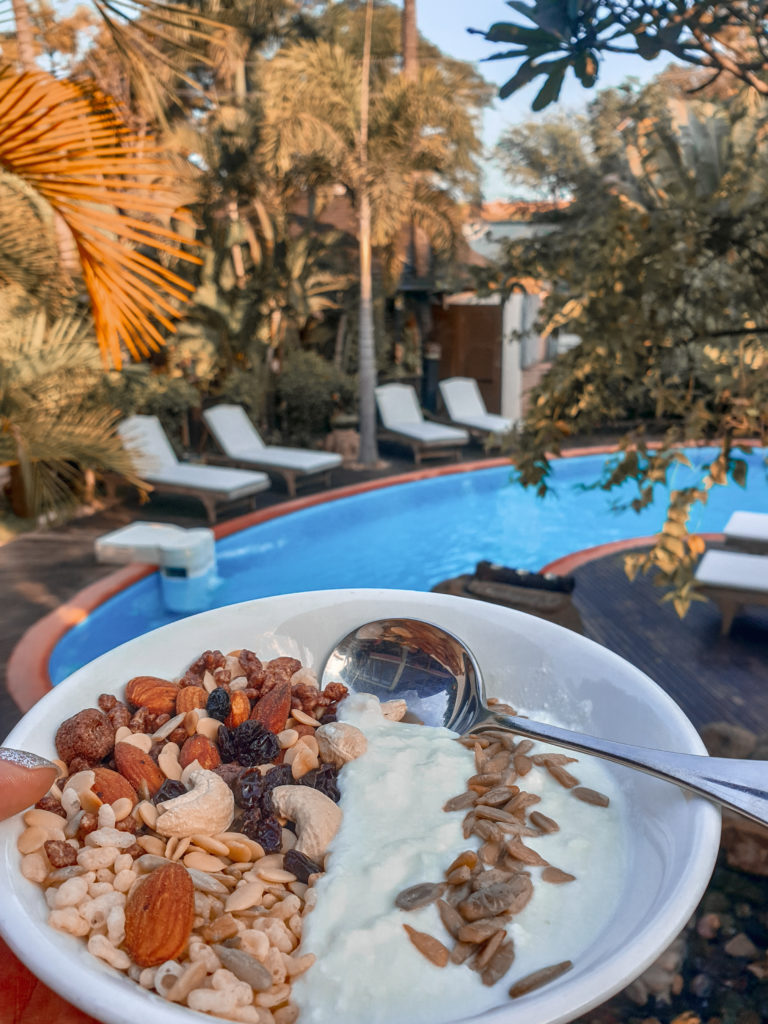 Breakfast
Next morning, it was breakfast time. It was a buffet-style continental breakfast, fresh juice, tea/coffee, freshly baked goodies as well as Asian dishes. On the first morning, I had some baked goodies, fried rice, eggs, fruits and coffee. The second morning, as you can see in the picture above, I made myself a super good bowl full of good healthy things. It was a great way to start the morning in this beautiful place.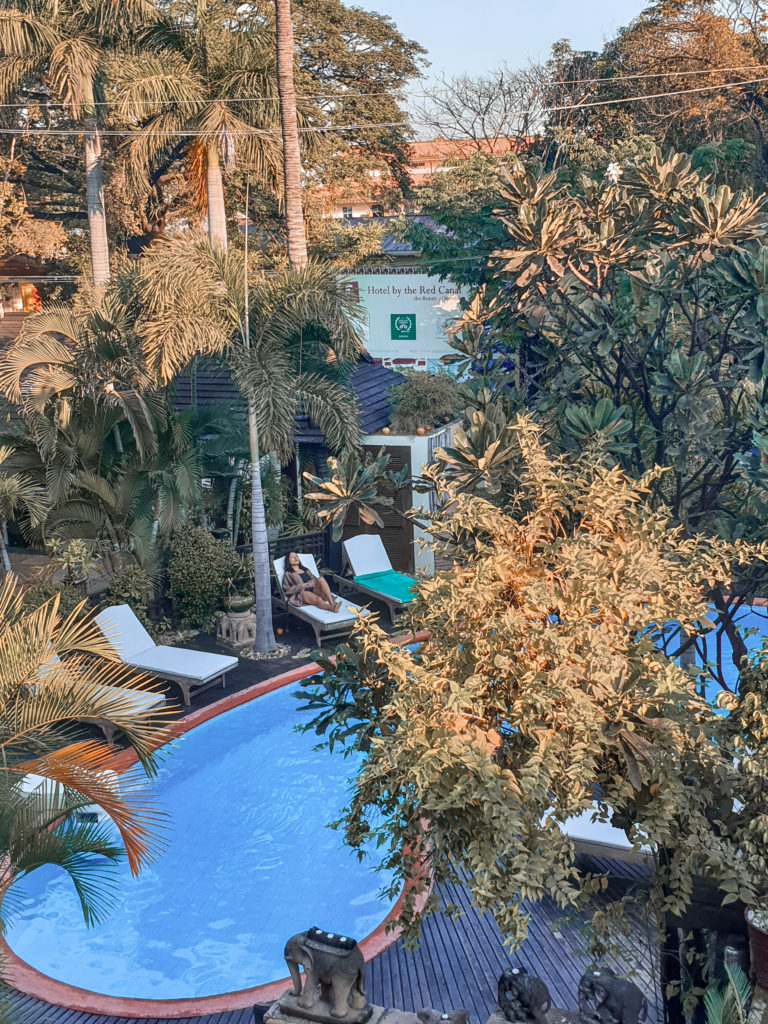 Swimming Pool
Walking around and exploring Mandalay all day in the heat, I was exhausted and sweaty. It was a perfect way to end the day relaxing by the pool. Though it is smaller in size, it was surrounded by lush tropical greenery and calming water features. And because it is around the city centre, as just 10 mins from Mandalay Palace and other attractions. It isn't a hassle to pop back in the hotel for a dip and go out again if you wish. Such a great spot in the middle of the hustle and bustle of Mandalay.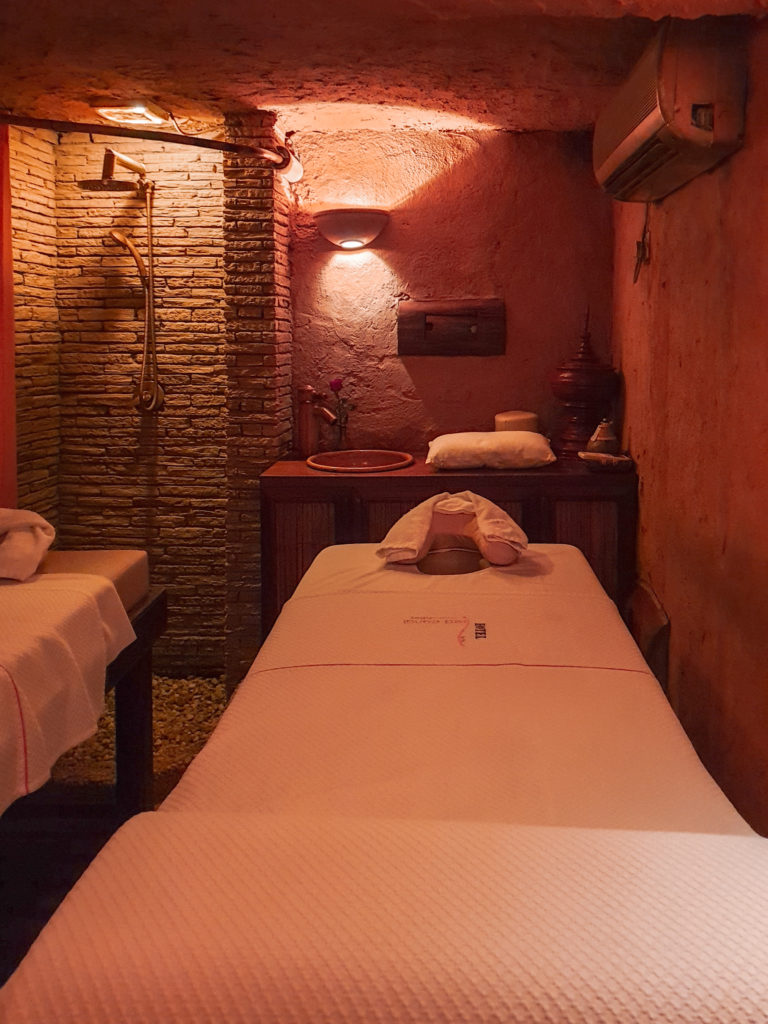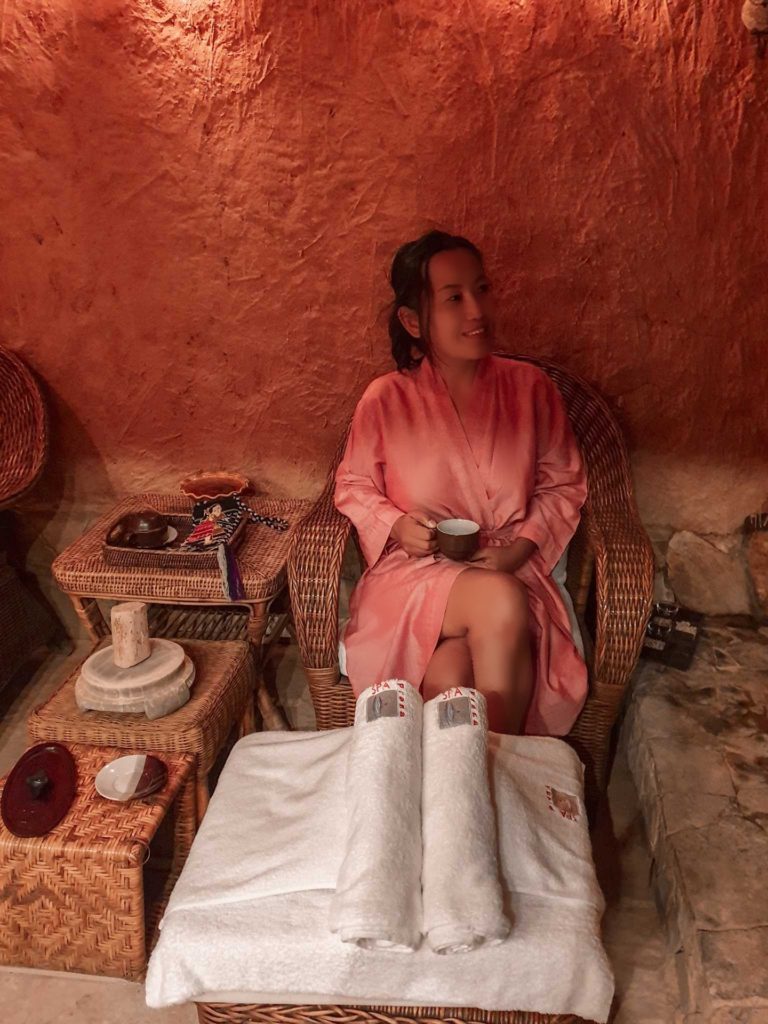 Massage & Spa
I was tired after hiking to and back Mandalay Hill, and my legs were in need of some TLC. I was glad to find out I could have a massage at the hotel. It is named Prana Spa. Initially, I thought it would be somewhere inside the hotel building but was pleasantly surprised to find out, it is actually underground. It gave the feeling of a private cave and an exclusive sanctuary. The massage was a therapeutic experience and interior looked like a rural house in Myanmar. It opens daily, just inform the staff 30 mins prior and enjoy your pampering.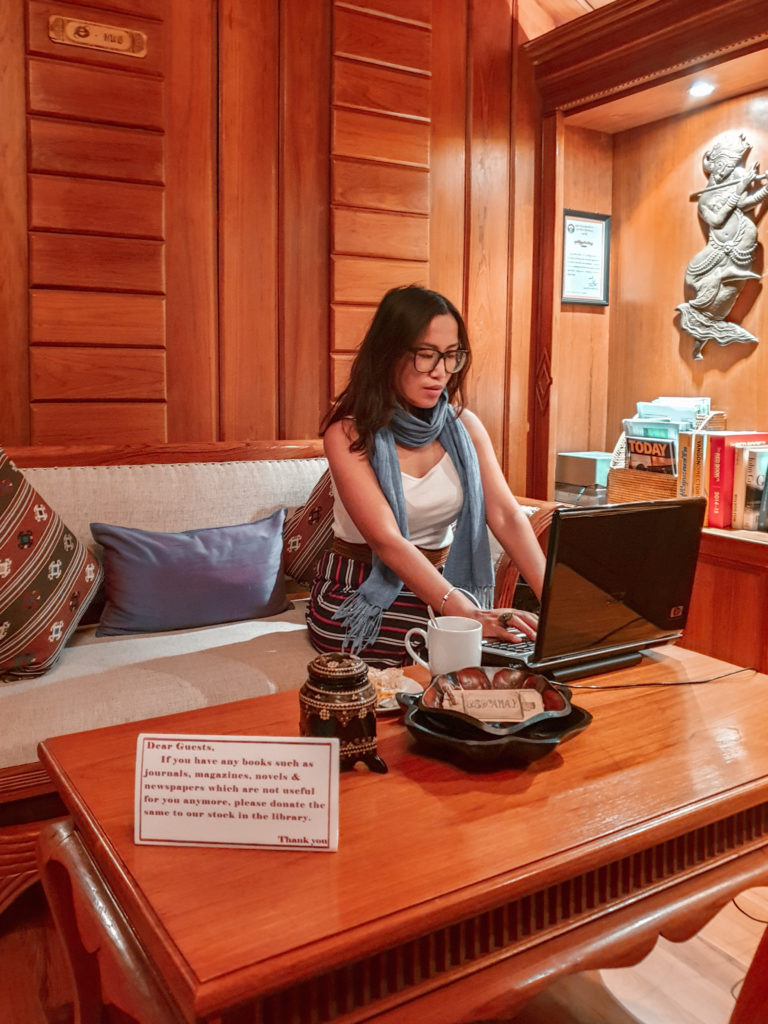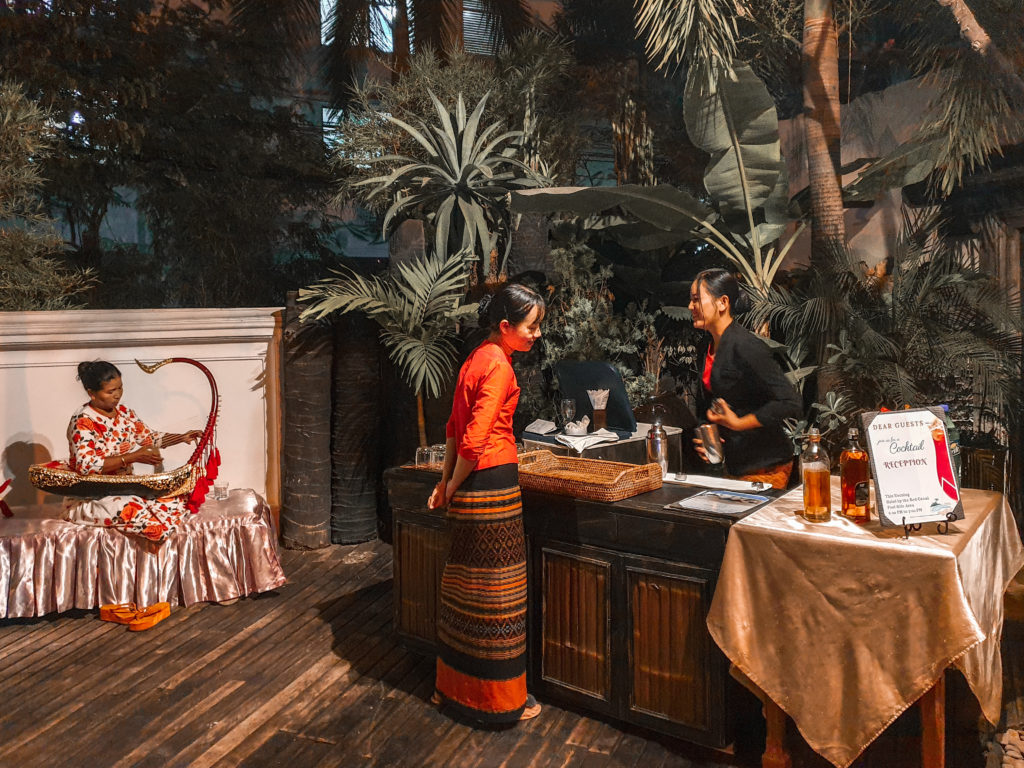 Facilities and Services
What I liked the most in regards to facilities and services was the E-hub. It is a quiet business lounge where you can work without anyone bothering you. WIFI is free and strong and if you forget to bring your essentials like Laptop, it also has a few laptops that you can use. There is a little reading corner too where you can borrow books for your stay or donate your own if you like.
Another great facility in the hotel by the Red Canal is the gym. It was equipped with the basic pieces of gym equipment and not crowded at all. So, it was like your own home gym! Something worth mentioning in terms of services is Pets aren't allowed. But the evening happy hour was a nice touch to the evening. You can enjoy complimentary snacks and buy 1 get 1 free drinks. There was also a local lady playing the Myanmar musical instrument which was super cool!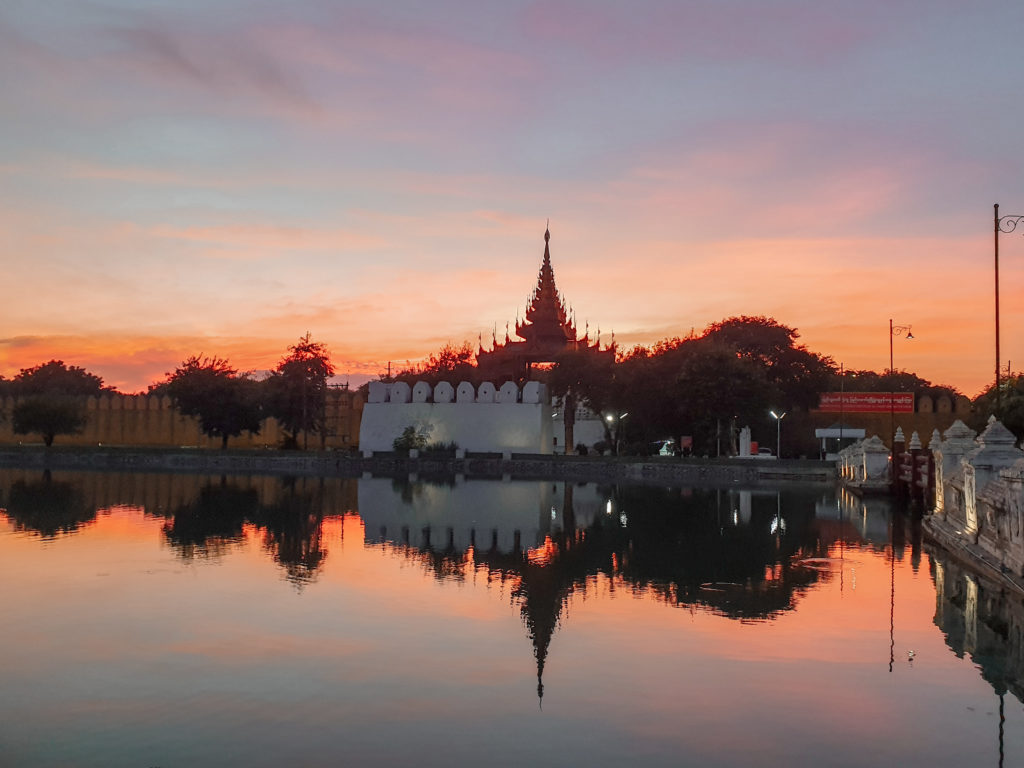 Final Thoughts
All that to say, I found the hotel by the Red Canal fully equipped with modern facilities and services. If you are looking for a hotel in Mandalay that is closer to the attractions, a swimming pool, spa, business lounge, and good restaurant. You have hit the jackpot! I hope this review was of help.
Thank you for an amazing stay hotel by the Red Canal. I hope to be back soon!
Check out the "Myanmar" stories on Instagram.
What equipments I used to take these photos:
Canon PowerShot G7 X Mark II Digital Camera
This has been my favourite Camera so far. I love how my pictures come out crisp and colourful. It also has a screen which is useful when vblogging. You can check out what I meant on my Instagram which is here.
Accessories For Canon GX7 Mark || Check it out here
This is the good old Go pro that I take with me everywhere. I recommend it because it is small, lightweight and waterproof. I have had made many memories with this trusted item and looking forward to more.
Accessories For Go Pro Hero 4 Check it out here
I have been using SanDisk since my first camera which was back in 2009. They build quality memory cards. I recommend getting at least two, just in case something happens to one of them.
Do you think it's a hassle of plugging your camera into your computer? This memory card reader will fit cards of all sizes and make an easy transfer to your computer. The reader supports all popular SD memory card formats, including SD™/SDHC™/SDXC™ memory cards, UHS-I SDHC/SDXC memory cards, and microSDHC™/microSDXC™ memory cards. It is also compatible with the latest UDMA 7-enabled CompactFlash cards.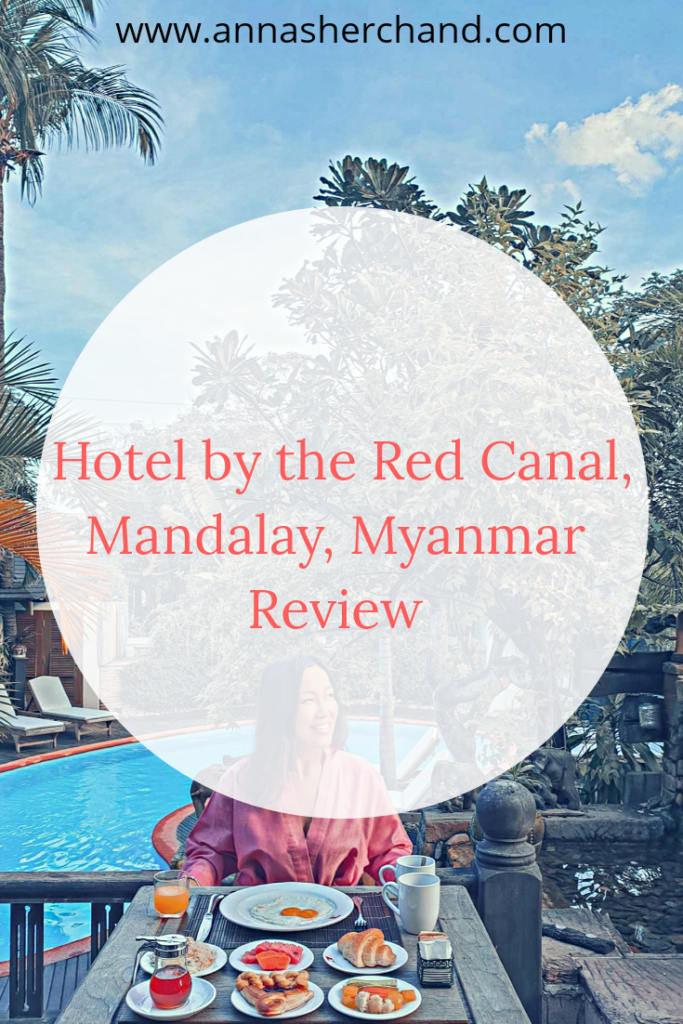 Let me know in the comments:
The Red Canal Mandalay Hotel Review