Day 7
Left Dingboche for Lobuche after breakfast around 8 am. I was happy with the food and the weather was looking promising as well.
Few hours into the trek, had to cross one massive hill that nearly got me in tears! Shortly after, I arrived at a memorial dedicated to Everest climbers who'd passed away. You can see it in the youtube video which I will post this weekend.
So in less than 6 hours, I'd arrived in Lobuche 4940 meters. My room was the size of a shoebox but still had a decent view of Himalayas from the window. Dal Bhat for lunch and during the afternoon I went to check out the O2 restaurant, had my green tea, and browse through some books. These are a few great lines I remember.
– Why climb? Because it's there!
– Realize better climbers than you've failed in it. Realize worse climbers than you've made it.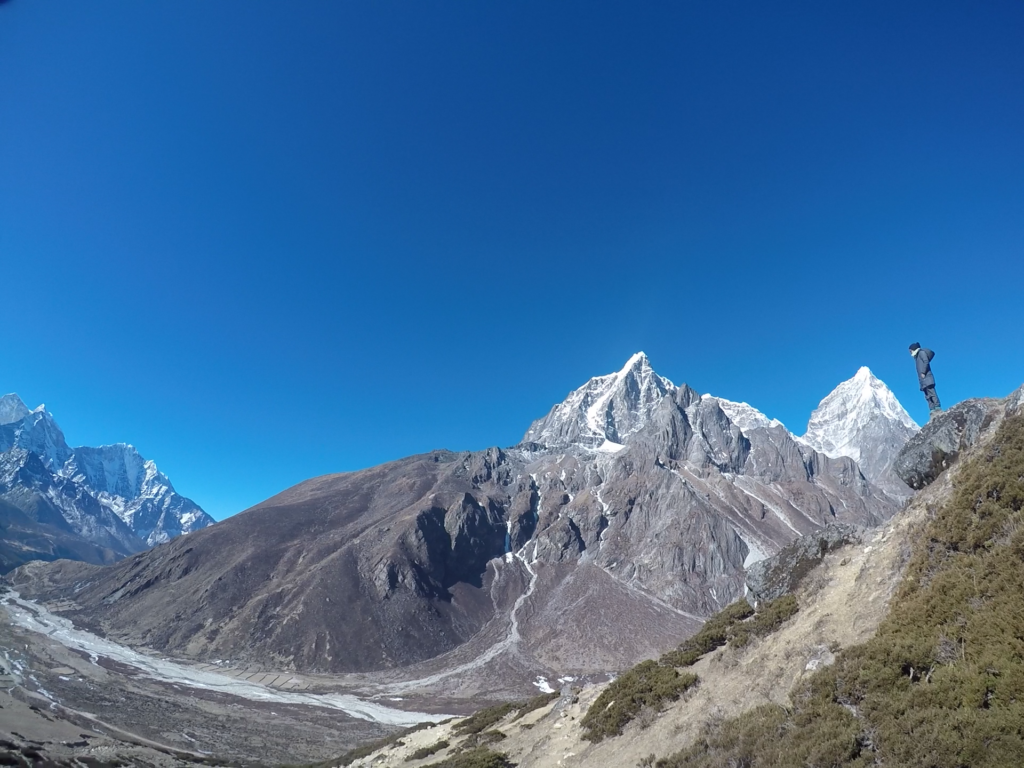 I ordered MoMo for dinner …never again! Just stick with trusted and reliable Dal Baht. and sat near the fire all evening reading my book, writing on the diary, and playing cards with a group of people from GAdventure who were occupying the whole lodge.
Bed around 10 pm but I was finding it hard to breathe! I was at 4940 meters above sea level for the first time in my life and my body was fighting a bit. It was a bit hard to stop panicking and this is where meditation came in handy. I remained calm, applied the same technique as the night in Pangboche and after some time I slept like a baby in a warm bed.
Day 8
Woke up at the wee hours with an amazing view of mountains. Had breakfast talking life with a cool couple from Colorado, they were returning from EBC. so, did our goodbyes and it was time for Gorakshep.  I was looking forward to getting there before lunch and then Mt Everest Base Camp right after! Today was going to be the day I will cross off EBC from my bucket list!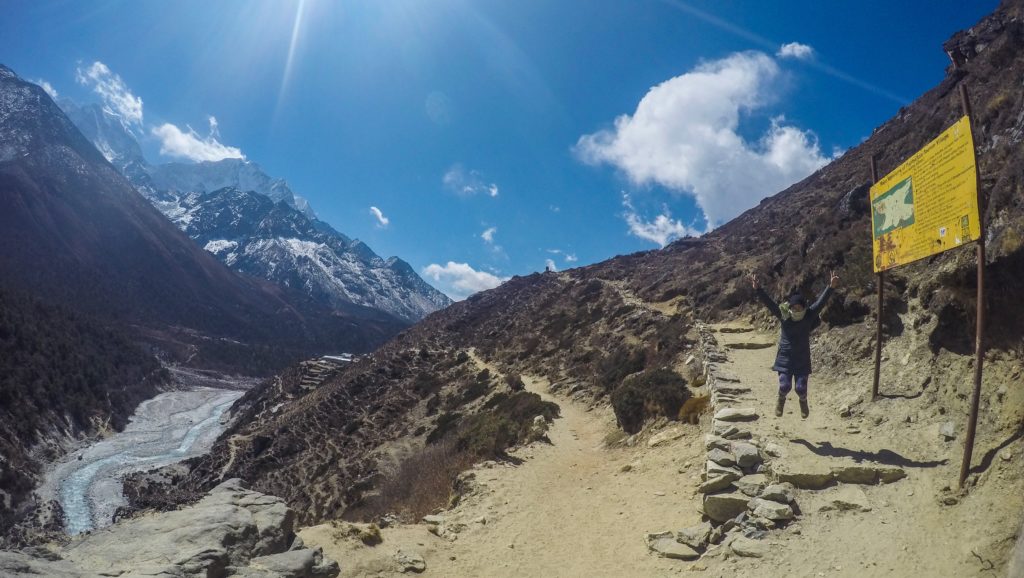 There were many obstacles to get to Gorakshep but today's trek was nothing compared to those scary ruthless stairs in Lobuche. I didn't mind the trek and was content to be surrounded by stunning landscapes and giant mountains with every step.
While I was trekking I bumped into the same French girl from Pangboche! She had completed one of the passes and was on the way to Gorekshep as well. But because we have a different style of trekking we decided to go our own ways and see each other at the lodge later.
After a few hours finally, I arrived at Gorekshep 5164 meters. As soon as I checked into the hotel and sat for hot water; I figured the same group from gadventure were there too and one of the guys decided to share with everybody the message his mother had sent – a warning about death in EBC a few days ago. While I felt was feeling good about heading to EBC, hearing that message made me slightly anxious.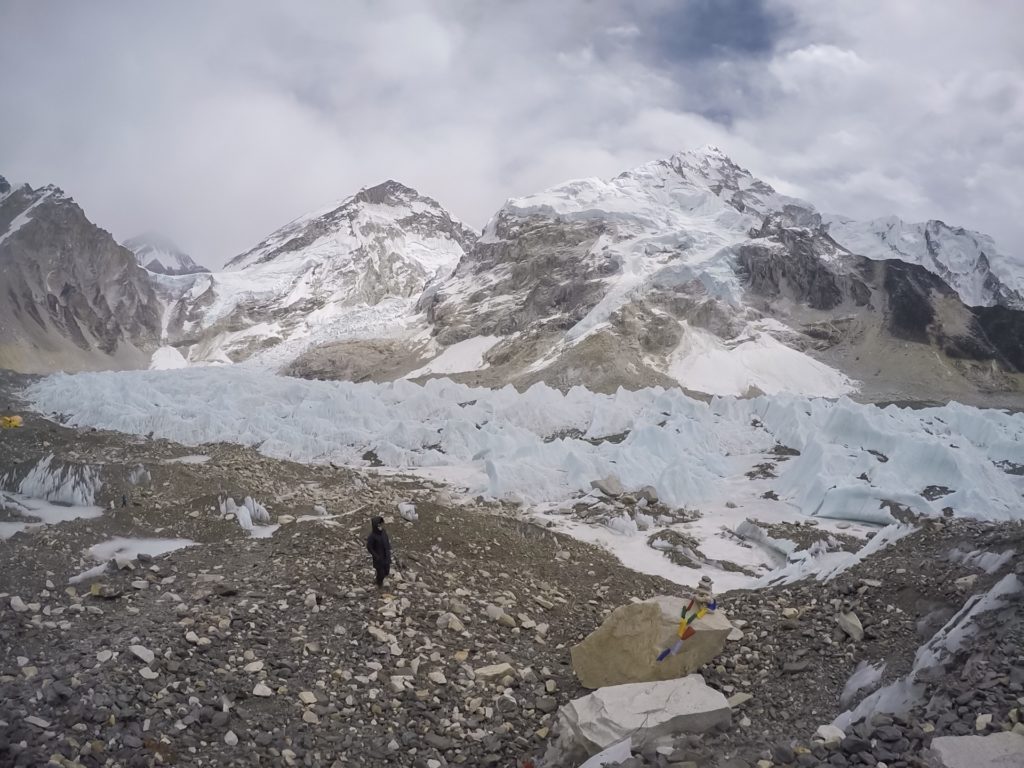 Anyway, first thing first food and rest. I ate Dal Bhat for lunch ( it was priced 700 NPR here and as expected things were expensive as you go up and far from Namche), laid down for a while with thoughts running through my head, and then finally it was time to go! I was stocked knowing I was only a few km away from EBC!
Gorekshep to Mount Everest basecamp was all about huffing and puffing through the flat land, steep uphill and downhill, landslides, crossing the scary ice cracks between mountains, encounters with fellow trekkers, agitation of bitter wind, light, zigzag trail surrounded with an amazing view and low oxygen. I was beginning to wonder about the distance covered and the next thing I know..Boom! I was in front of Mt. Everest Base Camp. 5364 m!! The excitement was an understatement!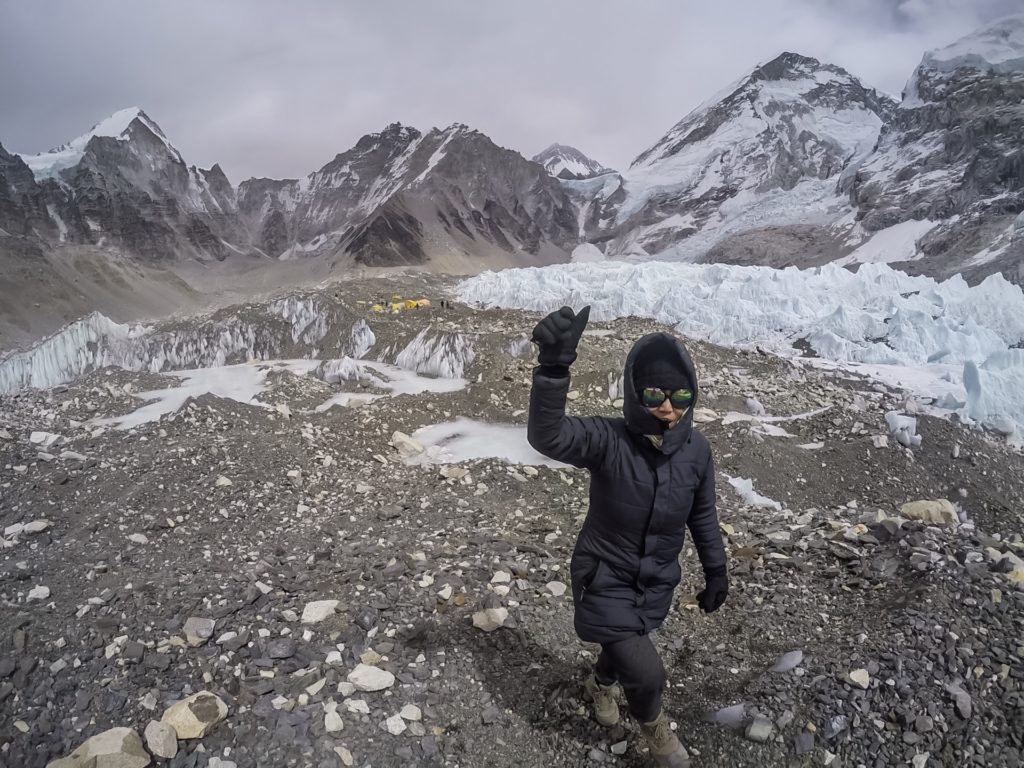 I just stood there admiring those beautiful mountains thinking about the courage and journey it took to get there and my friends who helped. I can't thank them enough. All in all, majestic feeling just being at the Base Camp even though you can't see Mount Everest from here! It is a historic place, after all, the beginning of another wild ride to the Summit.
Full with the happiness of amazing experience, I didn't need a break when going down to Gorekshep. The evening was well spent by the warm fire, decent Dal Bhat., chats with fellow trekkers, and a good book.
Now I was looking forward to the next day and Luxury hotel stay as a treat to myself. My plan was to wake up at 5 am for sunrise at Kala Patthar. This was where I was going see Mt Everest up close but also the place with a lot less oxygen than EBC itself. Trekking to Everest Base Camp was definitely worth the wait and something I would never forget.
Subscribe for more & read about the previous trek here.
and for more amazing pictures, check out Instagram @annasherchand
twitter @annasherchand
YouTube @annasherchand
Thanks to everyone who helped me make it happen x
Annnnnd here's the most awaited video. Enjoy!
Mount Everest Base Camp – Day 7-8