If you follow me on Instagram you would probably remember I lived and worked remotely from Bagan, Myanmar for good 4 months in 2018! I realized I hadn't written about that experience yet. So, today I am sharing Digital nomad guide to Bagan – what it is like to live in Bagan, Myanmar as an ex-pat and a digital nomad.
I will cover things from the initial impression to the living environment in Bagan, to WIFI, and cafes to work. If you are someone looking to take the plunge to live and work from Myanmar especially Bagan, you will find this article helpful.
For some context, my work involves writing my travel experiences and sharing travel tips here in the blog. So, readers like yourself can use this information to plan your own travels.
I also work with brands strategizing and helping them with exposure through my social media channels as well as work remotely for a software company. All of this digitally and I also ran an eCommerce store on my earlier digital nomad days. So, I think it's fair to say my personal experience as a digital nomad is mostly digital marketing, blogging, social media, drop shipping, and IT consulting work.
My primary goal in life is to complete a slow meaningful journey to all the countries in the world. And on this journey, I ended up living in Bagan for 4 months last year.
Bagan is a peaceful town in Myanmar, a country in Southeast Asia that used to be known as Burma. Now let me start this digital nomad guide to Bagan, Myanmar with some FAQs.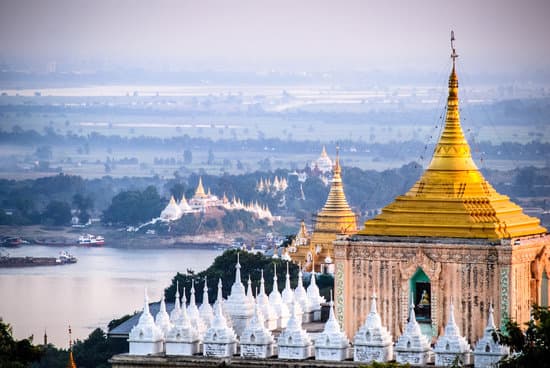 How to apply for a Myanmar visa?
You can directly apply for the Myanmar visa here- https://evisa.moip.gov.mm/
This is the Myanmar e Visa (Official Government Website)
You will need one color photograph (4.8cm x 3.8cm) taken within the past 3 months. Also get a credit card handy to pay the US $50 application fee for the standard tourist visa, $70 for the business visa, and tourist Express Visa $56. You can then fill in the secure online e Visa form, confirm, and pay which gets you an approval letter within 3 days. Then once you land you get visa stamped upon arrival.
Impressions of Bagan
First, I visited Bagan for 2 weeks and I absolutely loved the quietness, vast land touching the sky, stunning sunrises, and sunsets from pagodas and temples, and the Burmese tea leaf salad!
Then I returned after a few weeks to stay for a longer-term. I fell in love with the place as I figured the internet speed was decent (more on that below), cafes, and restaurants were good and the weather in Bagan was just perfect towards the end of the year. Plus, I could wake up to a picture-perfect view of the hot air balloons every morning! So, living in Bagan was a dream in some ways with 2000+ temples to explore, delicious Burmese food to eat, and kind people to meet.
Something worth mentioning is perhaps it is not for everyone though especially if you like meeting new people all the time. I mean you can still meet other travellers who pass by Bagan but not in those very hot summer months when it is low season and even locals go to Yangon/other places to beat the heat! So, if you are looking for a place to connect with fellow digital nomads, the chance is slim.
That being said, if you are someone who doesn't mind being on their own most times and happy to hang with a small ex-pat group or your local new Burmese friends, Bagan could be for you!
House hunting in Bagan
When I arrived to live long term in Bagan, I realized it was difficult to find the place to live! (Initial weeks were spent living in a hotel room)
There are two reasons I found it hard to find a house in Bagan because there was not 1 FB group for finding apartments or houses like in Bangkok or other Asian countries and not many people speak English except the hotel staff, cafe owners, and the ex-pat group.
As a digital nomad or ex-pat, you really have to brush up on your communication skills here. Whether to make friends and get some hints on where to rent a house/flat or speak to all the cafes and restaurant owners!
I even explained my house hunting situation to a local printer and clothing store owners!
Public Transportation in Bagan
There is no set public transportation available in Bagan. You either have to be riding a scooter, cycle, drive a car, or call a cab. Luckily, I had kept a name card from my driver from the airport so, I called him to go grocery shopping! I tried learning how to ride a cycle but let's just say I am best at other things 🙂
Wifi in Bagan
This digital nomad guide to Bagan wouldn't be complete without talking about the most important thing – WIFI/ internet speed.
So, when it came to WIFI it was available but patchy throughout my hotel and even in the cafes and restaurants except for some very good days! Cafes all gave the WIFI password as soon I sat down, sometimes even without asking! If I compared the internet speed between Sim card and Wi-Fi speeds, the sim card is 100% a winner in my books. (Usually sitting between 43-50 Mbps download and 35.7-40 Mbps upload)
There are three sim care providers in Myanmar. MPT for near-nationwide coverage, Ooredoo for the fastest internet in the cities and Telenor for the cheapest sim card.
When you land at an international airport in Myanmar, I suggest grabbing a local sim card there. Personally I used MPT and Ooredoo which you can buy from any mom's and pop's store to a convenient store. I also received a free 5 GB with Ooredoo and took like 5 minutes to set up (the network staff will do this for you) and pay extra a few dollars for data access. Ooredoo also gave great coverage and speed.
Co-working spaces in Bagan
Perhaps you will see a business opportunity, there are no coworking spaces in Bagan as of 2019! But if you want to sample a digital nomad life in Bagan cafes and restaurants will welcome you with open arms. Having said that most days I worked from home but a good amount of time I worked from cafes in Bagan also. So, here are 5 cafes/restaurants I highly recommend.
Sharky's Bagan deli and café
I love their Pizza and sandwiches, and coffee the most. It was my go-to place whenever I missed western food, although prices are high for Bagan it wasn't every day I would eat here. And yes, I mostly went there to eat than work, but it is a big restaurant with loads of space and usually quiet. If you want to work, I recommend heading upstairs as there are AC and great tables that can easily turn into work desk too.
Date Cafe & Bakery
okay, this one was basically my workstation every morning. So yes, they have plugs, fan going, WIFI is good and great coffee also. Usually, I would also get their toasts or breakfast items that are reasonably priced. It is not on the main road, so noise is minimum but not that far from it either. If you ever make it here, and if they still have that wall where you can write what you want, try to find my name! Conveniently next door runs a laundry, so if you got some washing done you can leave it here, works by the kilo, and pick it up when you are leaving or the next day.
Cafe Friends
Cafe Friends is inspired by the TV sitcom Friends! I was amazed to find this inspired cafe in the middle of centuries-old temples in Bagan! It was my alternate cafe to work in Bagan as they had plugs, good WIFI, and good food. Although a bit noisy as it is right across the road, but the traffic wasn't too bad in the mornings. I recommend their lunch menu, club sandwiches, and juices.
Leo Restaurant
This restaurant is located right in front of the Date cafe. It is usually quiet during the day so, after my morning work hours, I would cross the street to have my lunch and start working from there. It was super easy to go from breakfast to lunch in this area! I highly recommend tea leaf salad, avocado smoothie, and other Burmese meals on the menu.
I also recommend wonderful tasty for a dash of Burmese Nepalese meals or a harmony restaurant for typical Burmese BBQ. Lastly, head to fantasia garden for a sundowner as locals and travellers gather to see the beauty of mother nature together.
Final conclusion
Bagan is a beautiful place if you want that semi-quiet town to just focus on your work online or offline, whether that be to write your daily blogs, novel, or the next book.
Be inspired by the stunning sunrises and sunsets from the top of centuries-old temples and enjoy the delicious Burmese food. There is no better time than now to visit which is obviously after all the current world situation settles! I hope this digital nomad guide to Bagan gave you an insight into what it's like to live and work from Bagan.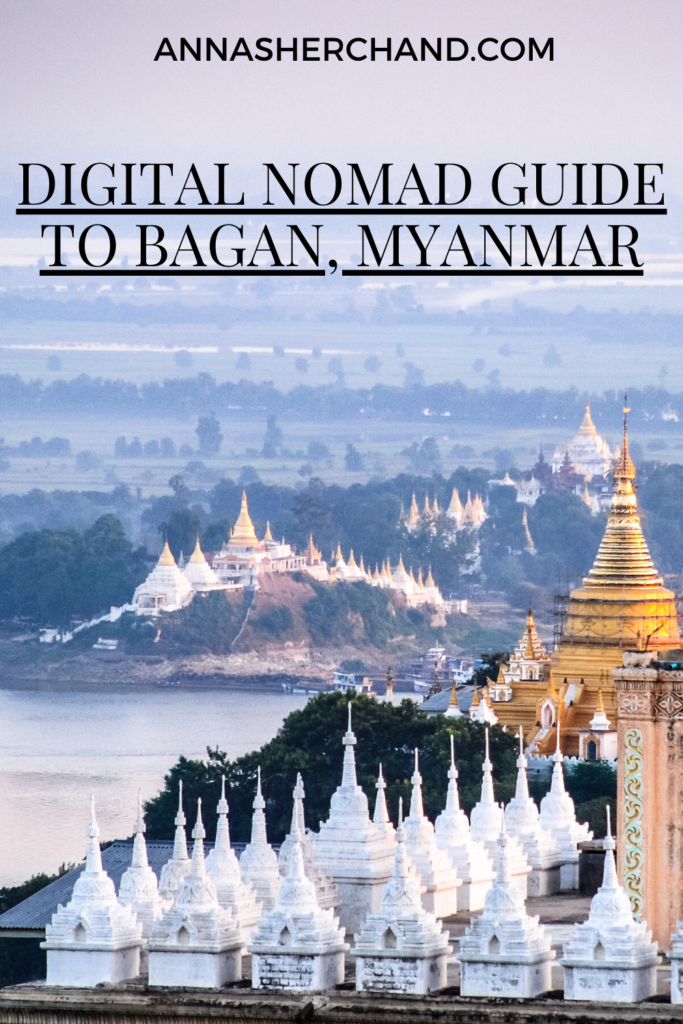 Let me know in the comments:
Digital nomad guide to Bagan, Myanmar