Today I am going to share with you where to go and what to do in southern Laos. Share it, save it as you use this southern Laos itinerary. Though I had lived in Vientiane, Lao before, and had been to the south of Lao as well. It was great to explore deeper this time around.
From my experience living and traveling in Lao, I can say you can easily spend a week or a month in Laos. Many travelers go to Vientiane, Vang Vieng, UNESCO world heritage site (Luang Prabang) but for some reason skip south of Lao. Hence it has remained one of the least visited places in South East Asia. Let's change that, shall we?!
South of Lao is rich in refreshing nature, cultural treasure, unique traditions, and tourist attractions. From the renowned world heritage site to the ancient village, quaint islands to stunning waterfalls and landscape. I hope you will use this southern Laos itinerary and see the untouched beauty this part of Lao has to offer!
On the other hand, If you have never heard of Laos, it is a neighboring country next to Thailand and Vietnam in Asia. Laos is a pretty quiet, laid-back mountainous country that wasn't visited by many until the last few years.
Transportation from Pakse to the following places is limited. I recommend catching a local bus to 1 place and use that as a base to explore surrounding areas or hire private transport, either renting a bike, car or using tourist mini-bus day tours. From Pakse, bus ticket can start from 30,000 Kip, motorbike hire can start from 60,000 Kip for the full day, and day trip from travel agents can start from 120,000 Kip.
If you need to book accommodation, use this $76 discount for your first booking with Airbnb Click -> here.
Find the cheapest flights through most trusted sites such as Skyscanner or Momodo.
Now without further ado, let's begin
Southern Laos Itinerary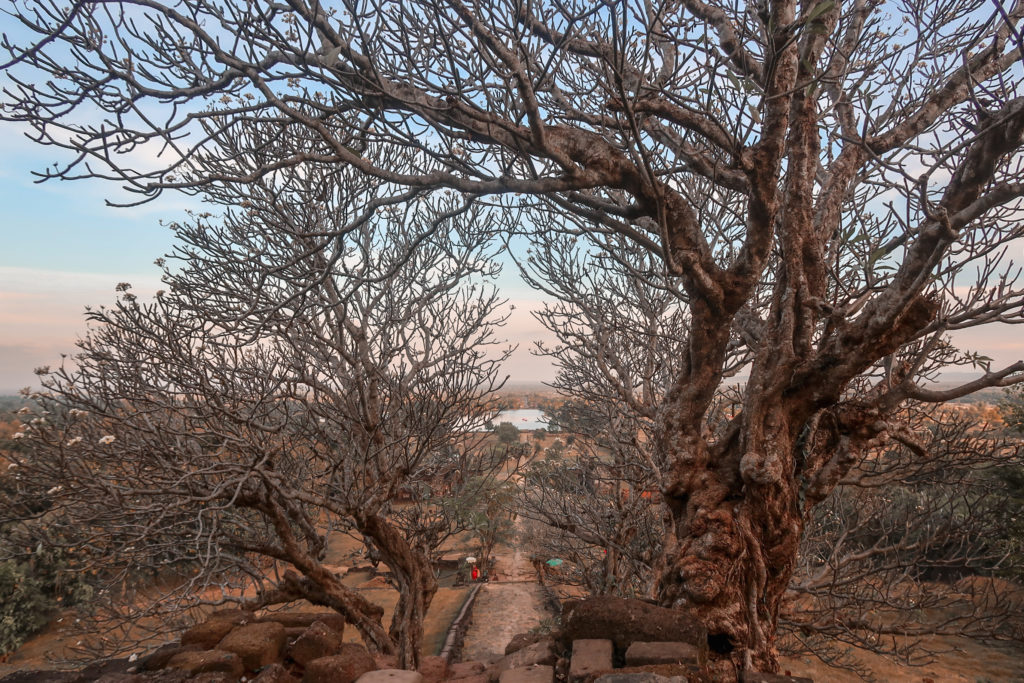 Pakse
Pakse is one of the biggest cities in Laos and the main gateway hub for southern Laos. This is where you can start your waterfalls chasing journey. You can either take the plane or day/night bus from Vientiane to Pakse. Pakse boasts an international airport also. So, you can book your international flight directly to Pakse and completely skip the bus trip. There is not much to do in the town itself besides visiting some quaint temples. Such as Wat Luang and meet monks or enjoy yourself in one of the restaurants eating local dishes. However, it is worth to stay for 1 night.
Find out where to stay in Pakse here

Vat Phou World Heritage Site
As the next day, you can visit Vat Phou in Champasak province. It is a pre-Angkorian temple complex which means temples here are way older (imagine the fifth century) than the Angkor Wat in Cambodia.
The main temple is perched at the top of a hill. The stairs are made up old stones and chunky! So, it is a bit of a hike to get there but the view makes up for it. There is a story about that temple, I urge you to find it out through some locals there. The temple area is well maintained with not 1 but 2 man-made lakes (locals say it's regarded as a male and female lake!). I couldn't help myself imagining how long it must have taken for the people to build this beautiful temple complex. I recommend spending the afternoon at Vat Phou (skip the heat too) and visiting the Setthapura ancient city along the way. There is also a restaurant on site where the food was great and the price reasonable! Hours of the Vat Phou temple are 08:00–18:00, and the entrance fee is 50.000 Kip.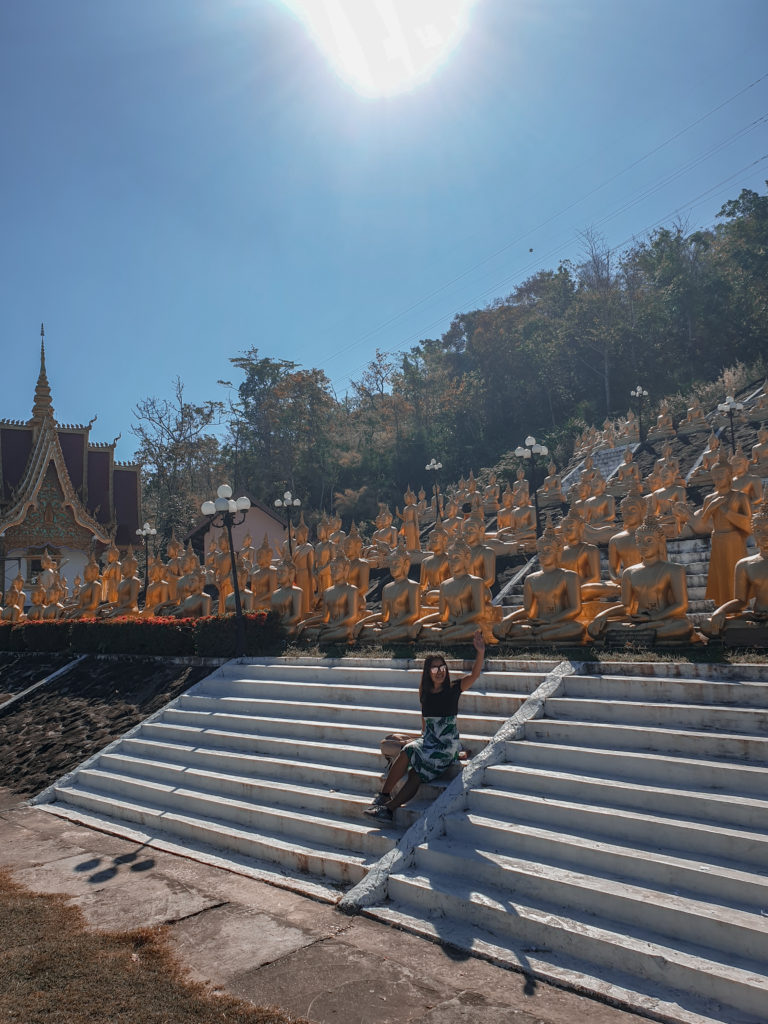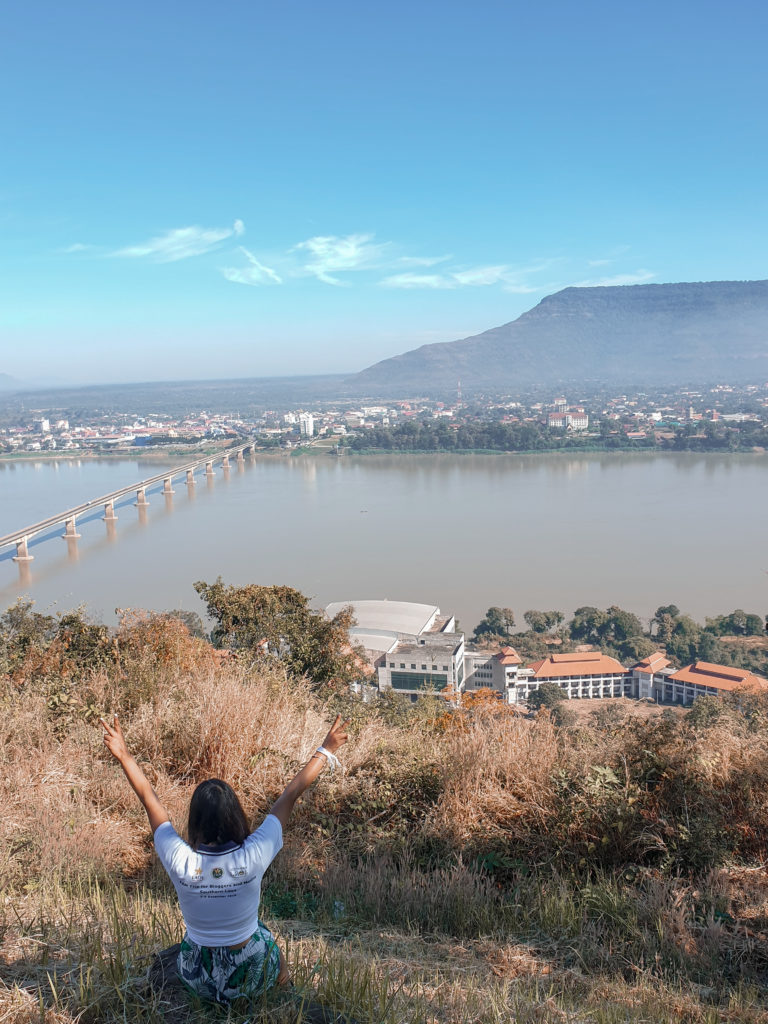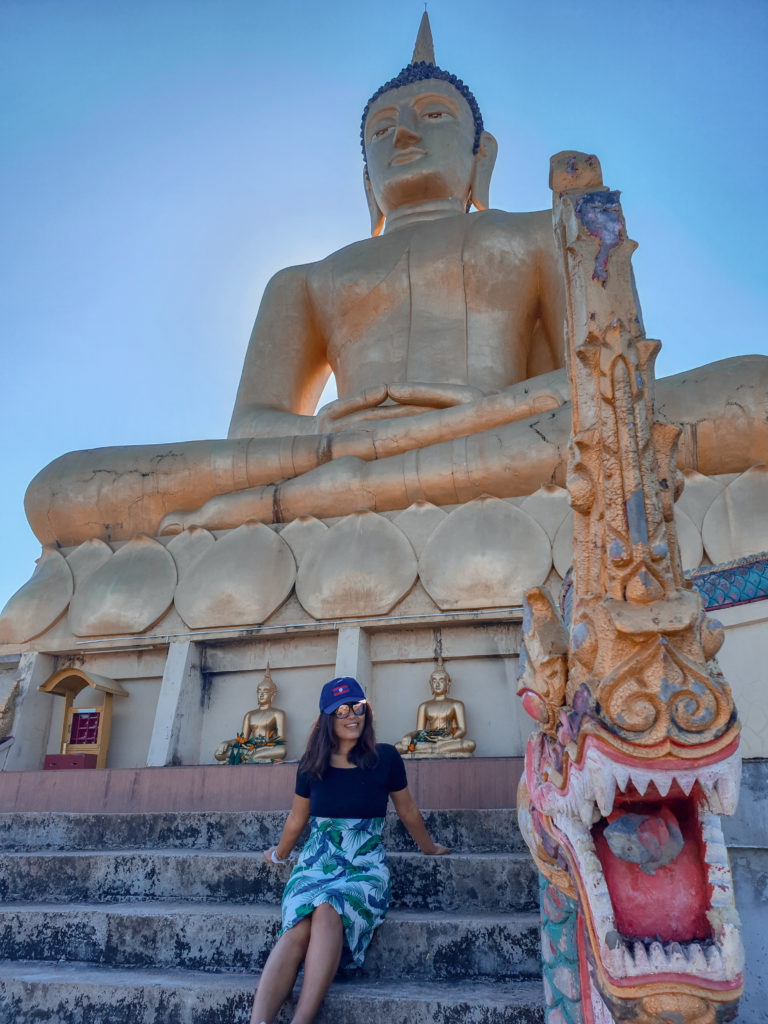 Vat Phou Salao
If you love viewpoints as I do, then Vat Phou Salao is the place to go. Vat Phou Salao is the Golden Buddha viewpoint with one big Buddha as well as many Buddhas in a group too! It is a temple sitting on top of a mountain with a pretty cool view of Pakse city overlooking the Mekong river and the Lao-Japan friendship bridge. Lots of photos ops here. There is no entrance fee here and you can get some food in the parking area at the bottom of the temple or along the road as you do in Asia. I recommend visiting either in the mornings or in the afternoon for the best views.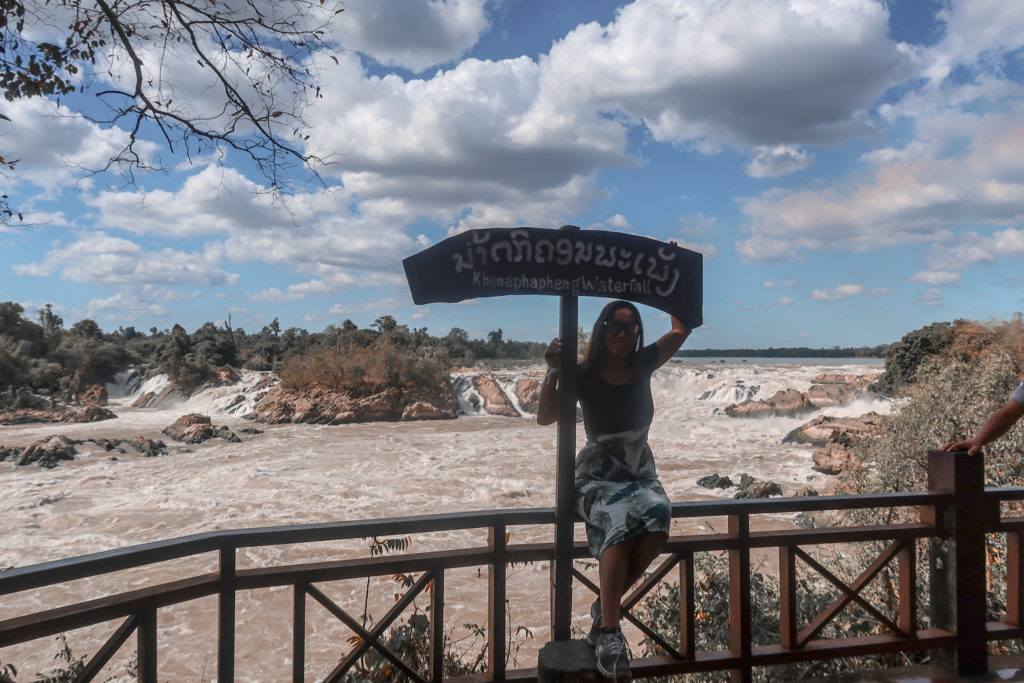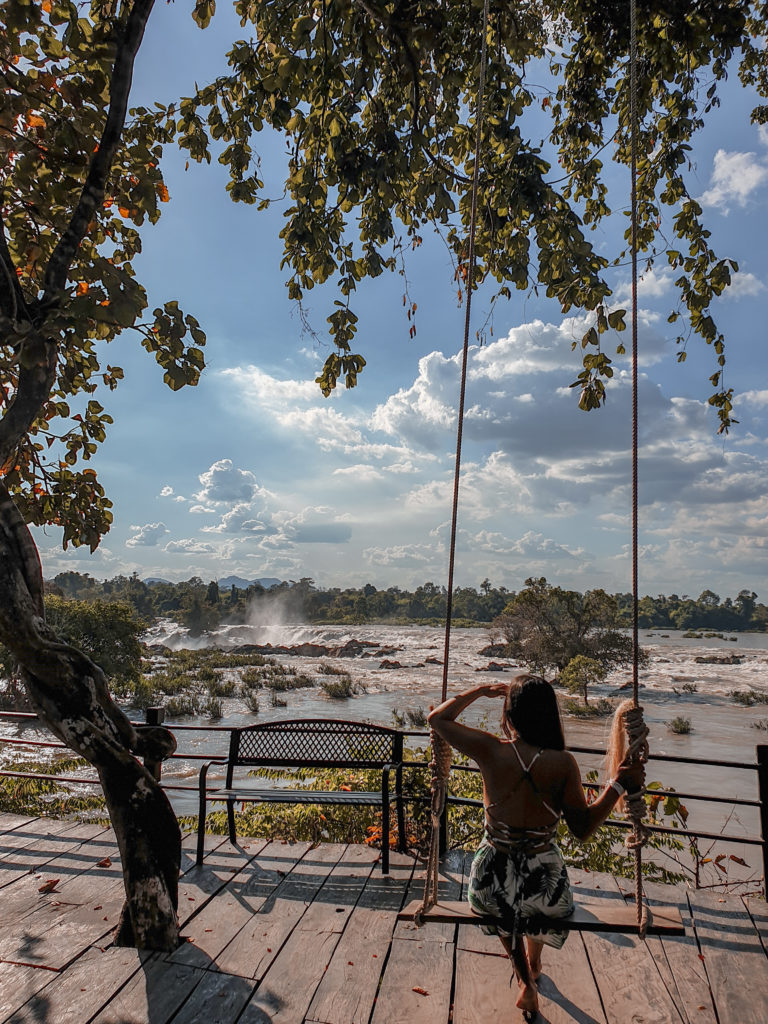 Khone Phapheng Waterfalls
The next must-see is one of the widest and wildest waterfalls. Let me introduce you to Khone Phapheng Waterfalls. It is the largest waterfall in Southeast Asia. People call it the Niagara Falls of Asia. It is spread out so massively if you count individual waterfalls, it would be 9 or was it 10? Lmk how many you end up seeing in the comments! It is open from 08:00 to 18:00 and the entrance ticket is 55,000 kip. Recommend visiting in the mornings for the best photos.
When I was here 3 years ago, there was no other person on sight and no places to eat around here. But happy to report, they have now built a really good restaurant on site. It is called Khone Pha Pheng restaurant, the best place I ate in southern Lao. Fish dishes were seriously amazing. Perhaps because of the daily fresh fish from the Mekong river in the backyard!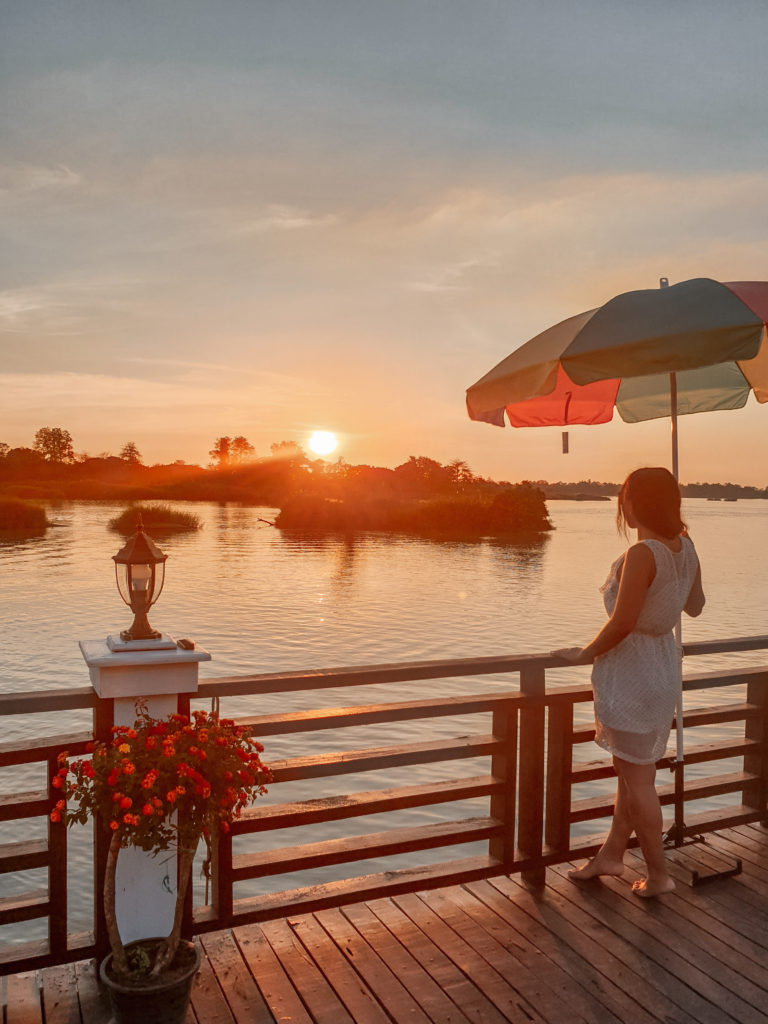 Don Det, 4000 Islands
After having a delicious lunch here, you can go to the Nakasang pier. This is where you can get a boat to reach a beautiful Don Det island in Si Phan Don aka 4000 islands.
Out of 4000 islands in southern Laos, there are only a few islands we can visit. One of them is Don Det. It is a little island, which can be explored in a couple of hours if you wish to. But what is really off the beaten path travel experience, if you don't even stay a night in the remote island right?
Check out where to stay in Don Det here.
You can also make Don Det your base, and explore in and out of the island easily. Although it is now considered a tourist attraction if you look, you shall find your silence of stillness and peace.
While you are there, don't miss the old historic bridge in Don Det. It is the best place to be for sunsets around here. Also, the sandwich shop close to that bridge on Don Det island side is the best sandwich shop on the island. Run by the western and Thai couple, they really know what it is about! Get your munchies from there and sit on the bridge for that Instagram worthy sunset picnic!
Then if you want to venture on the other side of the bridge, at least know the name. It is called Don Khone island. That bridge is also the only physical link between called Don Khone and Don Det.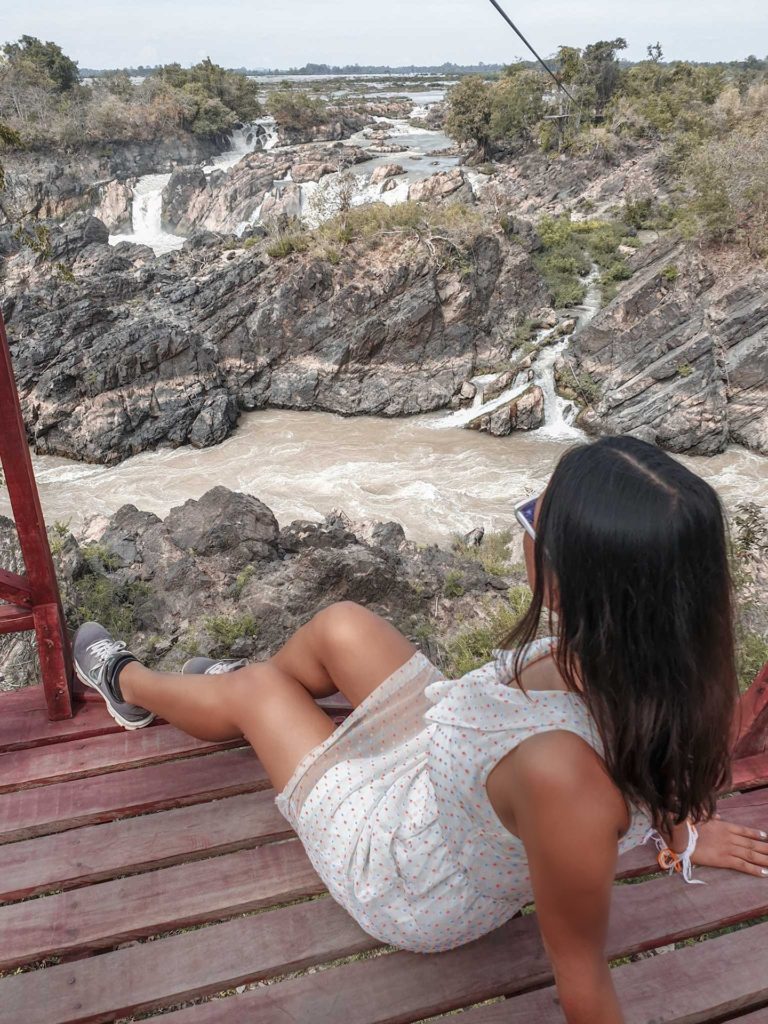 Don Khone (Somphamith Waterfalls)
Another must-see attraction that you should add in your southern Laos itinerary is Somphamith Waterfalls. It is also known as Li Phi Falls. Quite similar to Khong Phapheng Waterfalls but it has its own beauty. You can walk along the waterfall for approx. 1 km, sit down, chill along the way and enjoy the view. And at the end of the path is a cafe/bar with a tiny, lovely beach.
The place does decent juice, sells bottled water and has a pool table that is unstable. The whole area is well arranged with several viewpoints, benches, and a restaurant on site. The entry fee to the falls is 35000 Kip and is open every day of the week from 08:00 to 17:00 hours uninterruptedly.
Ps: If you continue exploring further north from the cafe, after 20-30mins ish stroll, you should see a little blue lagoon. It was a rare find and I loved it there! There is also Ziplining available if you are feeling a bit adventurous to fly above the waterfalls but I recommend another waterfall for Ziplining. More on that below.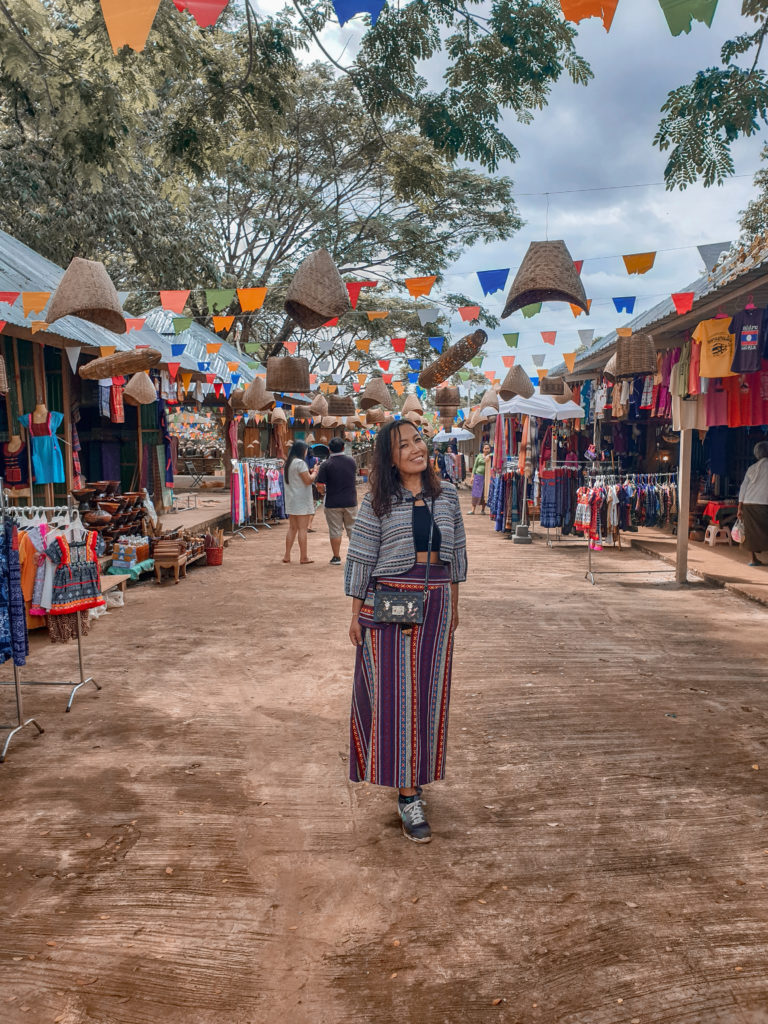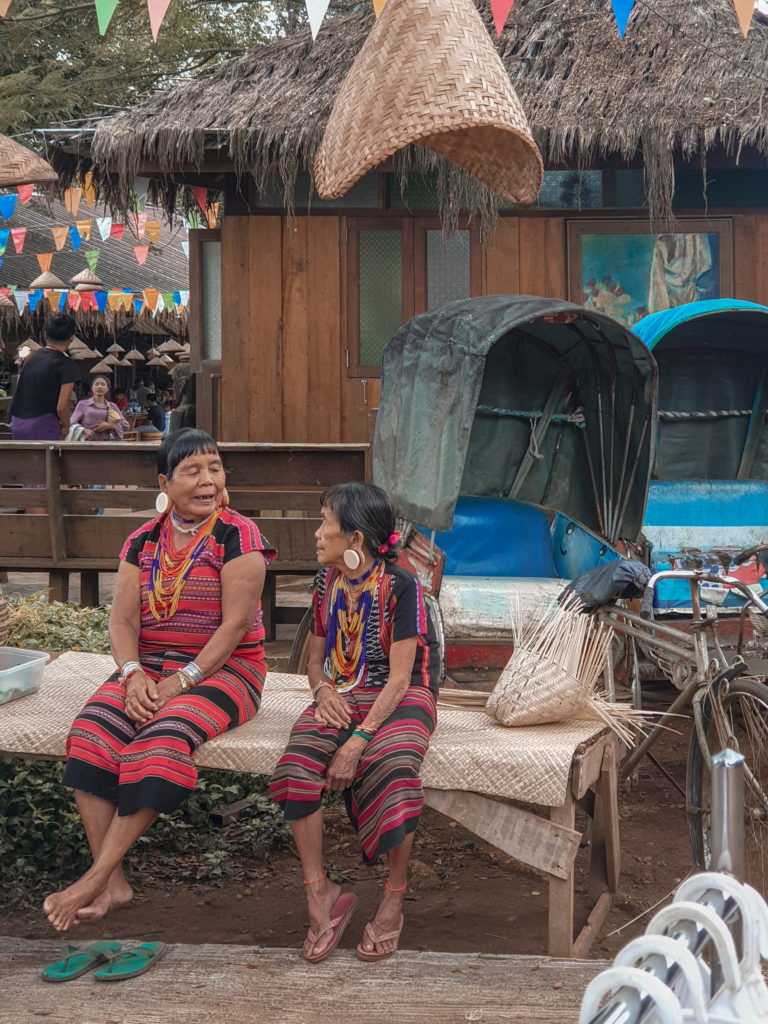 Hang Khone Village
On the other side of that French-built bridge, you can view an old French colonial train engine and a white sand Mekong beach!
If one is not enough, you can continue to Hang Khone village to see the second colonial train engine. What interested me more in this place though was the boat landing, and how French used to deliver goods on the side of giant Mekong.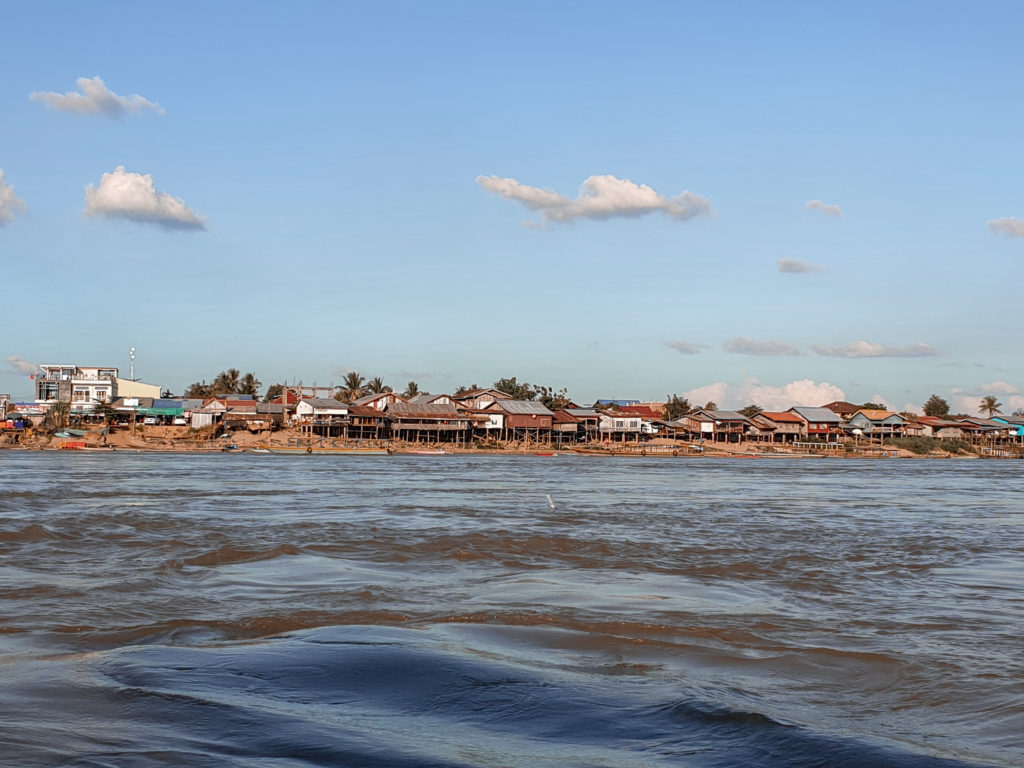 Mekong Dolphin Watching
This is where you can get on a slow boat to go Dolphin Watching!
What makes it interesting is not only the Dolphins but where you will be watching them from! The boat will take you to an area in the wide Mekong river on the border between Laos and Cambodia. You can literally cross the border by water and you are in a new country!
There may be standard boats that you can sit on but my boat had chairs! I have fear of deep water so, when it got a bit windy I wasn't comfortable sitting on it!
It took a good 30mins to spot a fin of Dolphin swimming on the Mekong. I wasn't expecting a full-on Dolphin Dance show but a little more than a fin would have been amazing. But maybe you will have more luck than me?!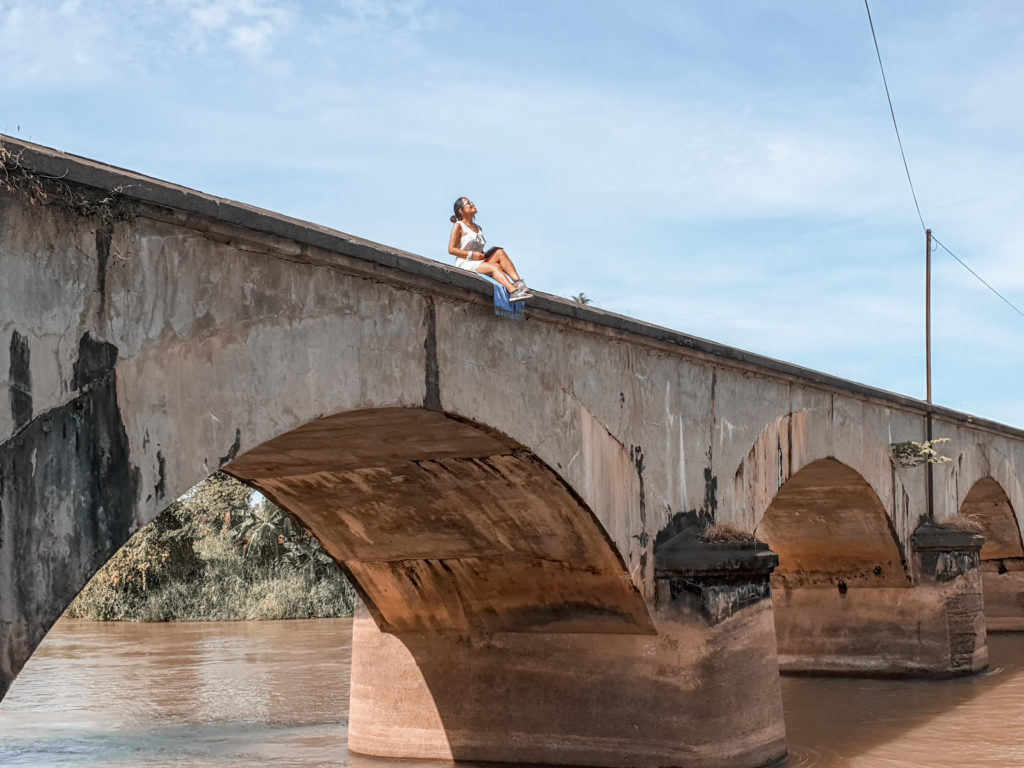 Bolaven Plateau (Blacksmith village)
Bolaven plateau is one of the most beautiful places in the south of Lao. It is the region with stunning waterfalls, tribal villages, and traditional coffee and tea plantation. If you think Khone Phapheng or Li phi was the best, wait till you see the waterfalls in this region!
While you are on your way to the first waterfall of the day, you can make a stopover along the way at KM 18. It is a blacksmith village. Here you can watch and learn how these expert Lao men make machetes. It is the bread and butter for local people. I have recorded a hyper-lapse of machetes making, you can watch it in my "Lao highlight" on Instagram.
Tad Fan- Tad Nyeuang Waterfalls
Then continue on to see the beautiful Tad Fan and Tad Nyeuang waterfalls. If you were to choose 2 waterfalls out of all in southern Laos itinerary, I recommend you to chose these two. They are close to each other at KM 38 and KM 40 respectively)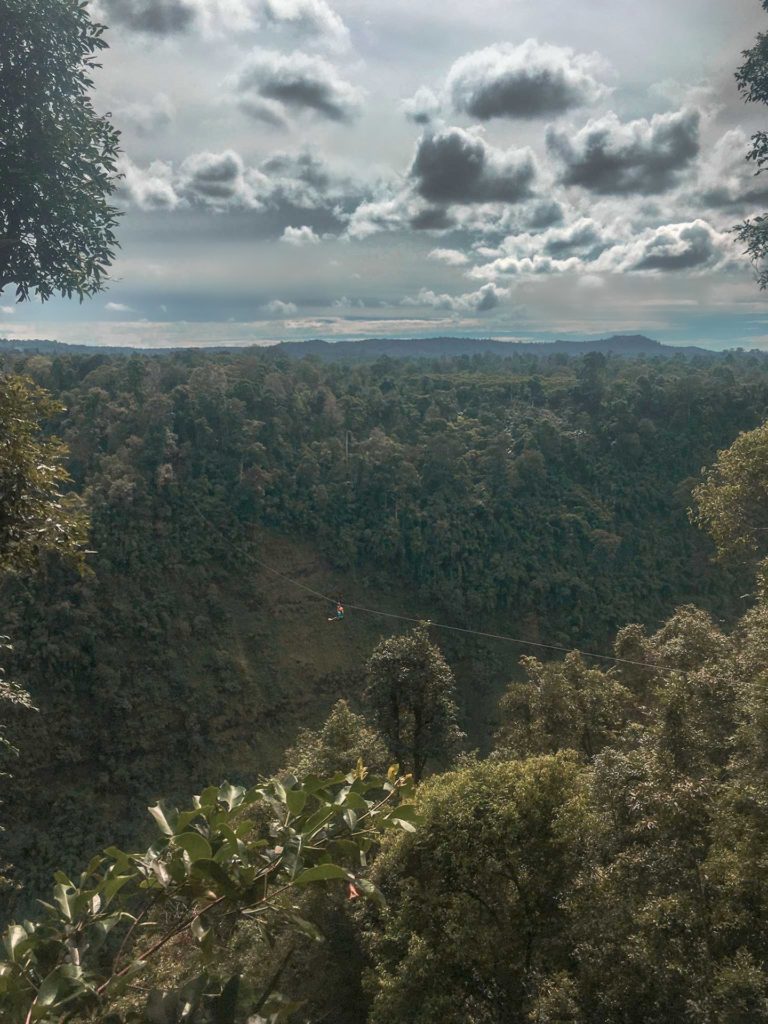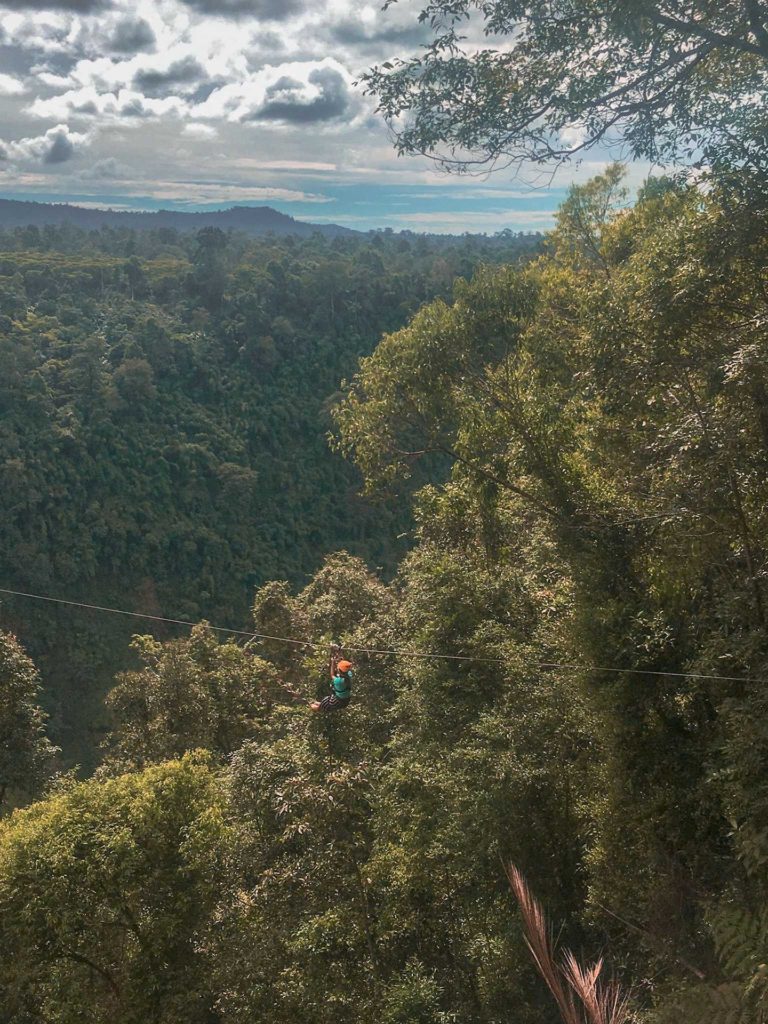 Zipline over two stunning waterfalls
If watching waterfalls is starting to bore you by now, I challenge you to get some nerves, put on your safety helmet and Zipline over those stunning waterfalls. I mean I have done the skydive, and the bungee jump but I was still scared shitless!
Don't worry if its not your cup of tea, how about the coffee though? Yes, you can have a coffee with or without anyone on a ZIPlINE! how cool is that!
Yes, that is me on the photo above Ziplining. I ticked it off my bucket list but came back with another one – sip coffee in Zipline!
Lmk your experiences if any of you have done the coffee over Zipline thing.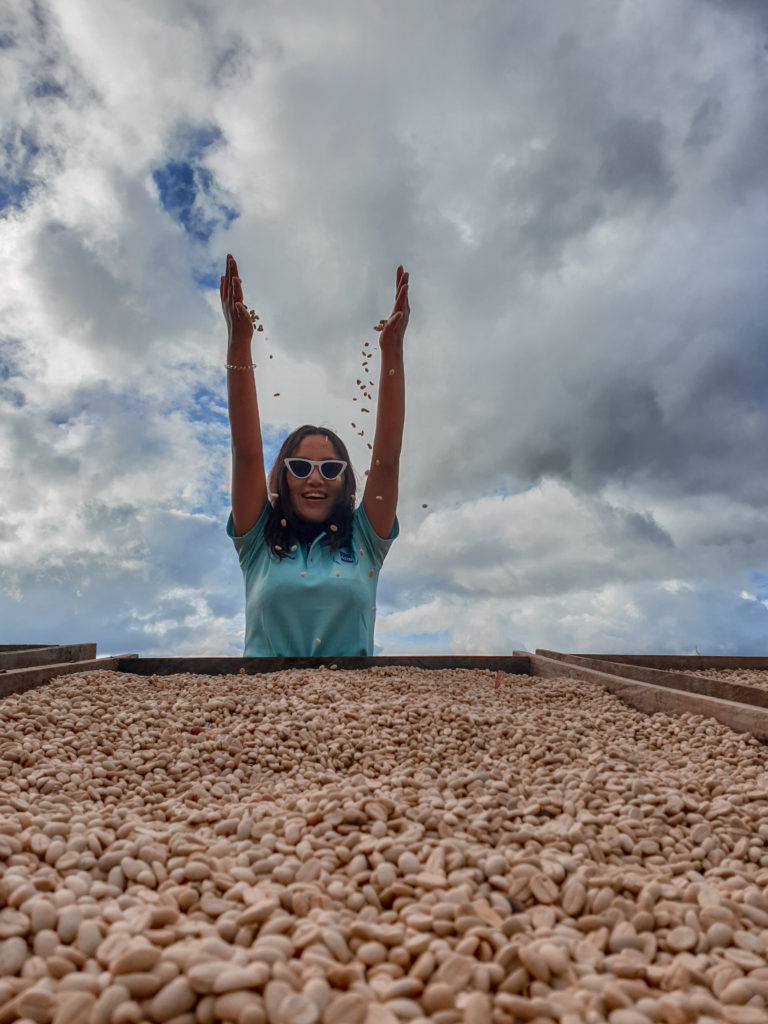 Coffee Plantation
So, after all the fun in the waterfalls, you can go to the Sinouk Coffee Resort for lunch. The food was good there but the coffee was great! You can also walk around the property coffee farm to get the feel of the coffee plantation.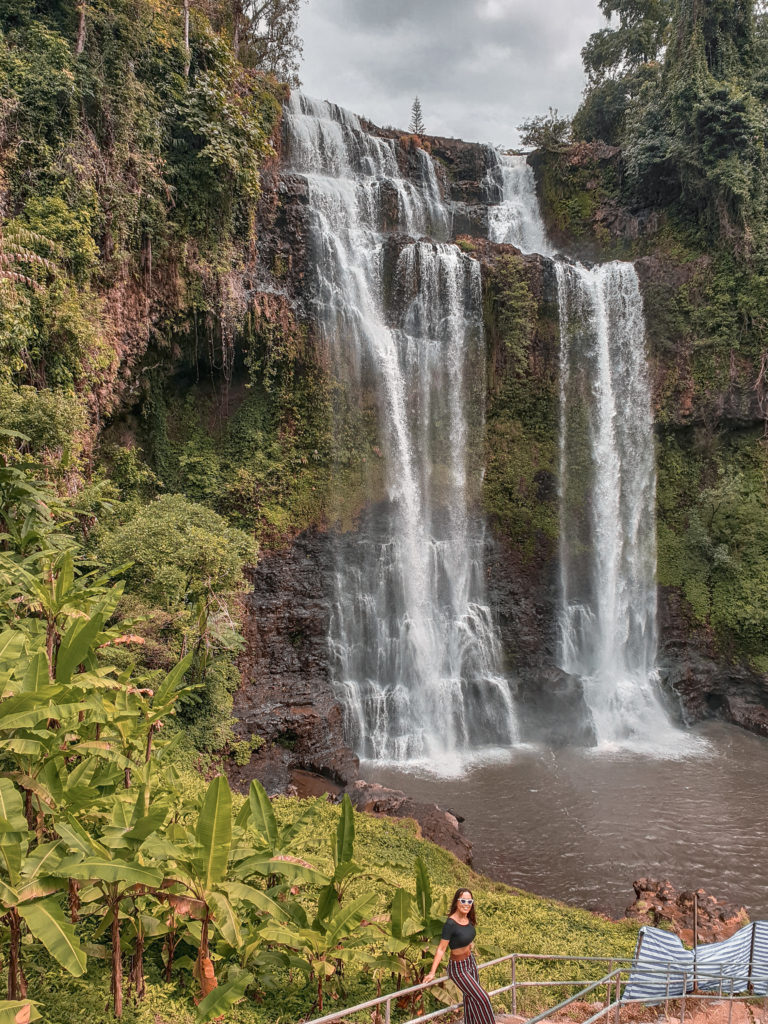 Tad Lo Waterfalls
You can travel to Tad Lo National Park via the Teng district. Once there, pass the market at the front and head to the stairs at the end of the path. It may be slippery so, remember to wear good shoes.
Tad Lo waterfall is approx. 80KM out of Pakse city. It is located in the Tad Lo village which is famous for its three beautiful waterfalls. Tad Lo, Tad Hung and Tad Suong Falls.
Tad Lo Waterfalls looks beautiful from the top and from the bottom as well. It flows 500 meters tall and is a picture-perfect setting for a picnic as well. Definitely an Instagram worthy spot.
And to wrap it up, what better way to end this waterfall chasing trip than to visit one final waterfall.
Let me introduce you to,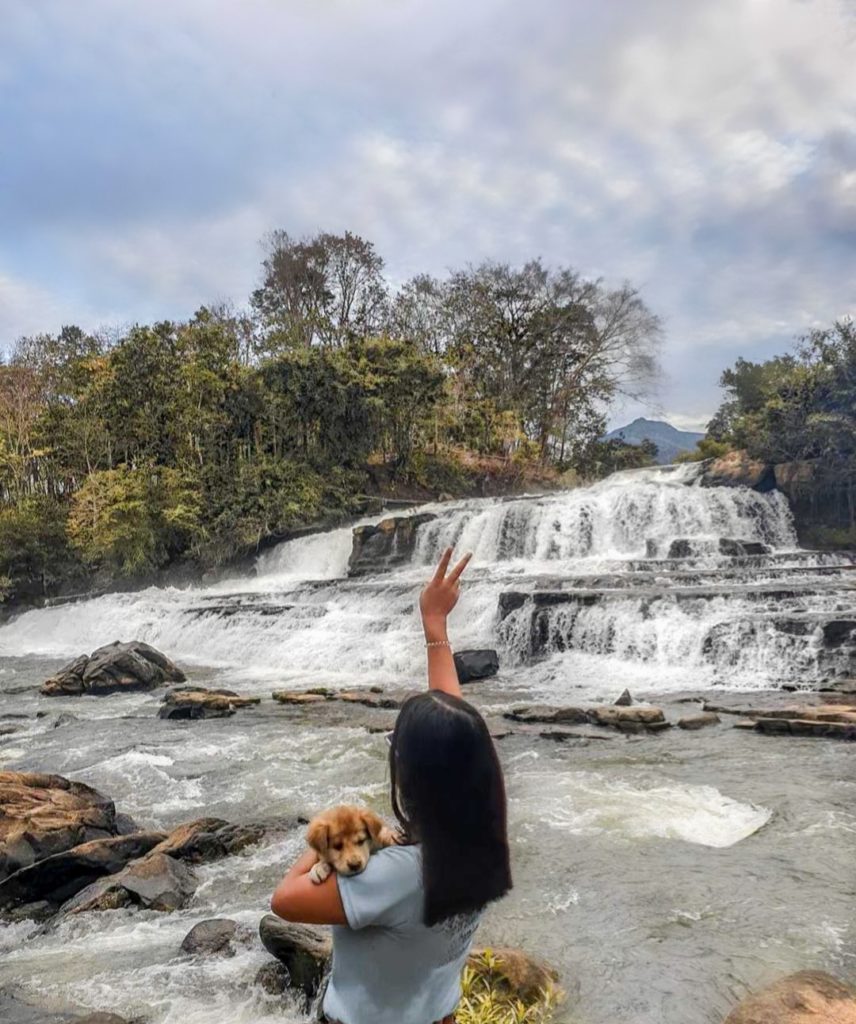 Tad Hung Waterfalls
Tad Hung is located just outside of Paske, in the Tad Lo village. It is spread out but not quite like Li Phi. However, it still has its charms and is a perfect place to just sit, chill, eat and dip in the water. Little far to get to but once you are there, you will be greeted with gorgeous waterfalls and welcomed by the cute little puppy! (depends on your luck on the latter)
For the adventurous one and time-rich, you can spend your days right in front of the Tad Hung waterfalls by staying at one of the few bungalows that face the Tad Hang Stream. This accommodation is backpacker-oriented, their prices are not expensive and the facilities are ok. But the view and the environment around the Bungalows are what makes it worth it. To reach Tad Hung bungalows just follow the stone path that starts at the bridge to Tad Lo and Tad Hung waterfalls.
As the Lao saying goes, please don't rush and enjoy the relaxing environment southern Laos has to offer.
I hope this southern Laos itinerary is of use to you.
What I used to take these photos
Canon PowerShot G7 X Mark II Digital Camera
This has been my favorite Camera so far. I love how my pictures come out crisp and colorful. It also has a screen which is useful when vblogging. You can check out what I meant on my Instagram which is here.
Accessories For Canon GX7 Mark || Check it out here
This is the good old Go pro that I take with me everywhere. I recommend it because it is small, lightweight and waterproof. I have had made many memories with this trusted item and looking forward to more.
Accessories For Go Pro Hero 4 Check it out here
I have been using SanDisk since my first camera which was back in 2009. They build quality memory cards. I recommend getting at least two, just in case something happens to one of them.
Do you think it's a hassle of plugging your camera into your computer? This memory card reader will fit cards of all sizes and make an easy transfer to your computer. The reader supports all popular SD memory card formats, including SD™/SDHC™/SDXC™ memory cards, UHS-I SDHC/SDXC memory cards, and microSDHC™/microSDXC™ memory cards. It is also compatible with the latest UDMA 7-enabled CompactFlash cards.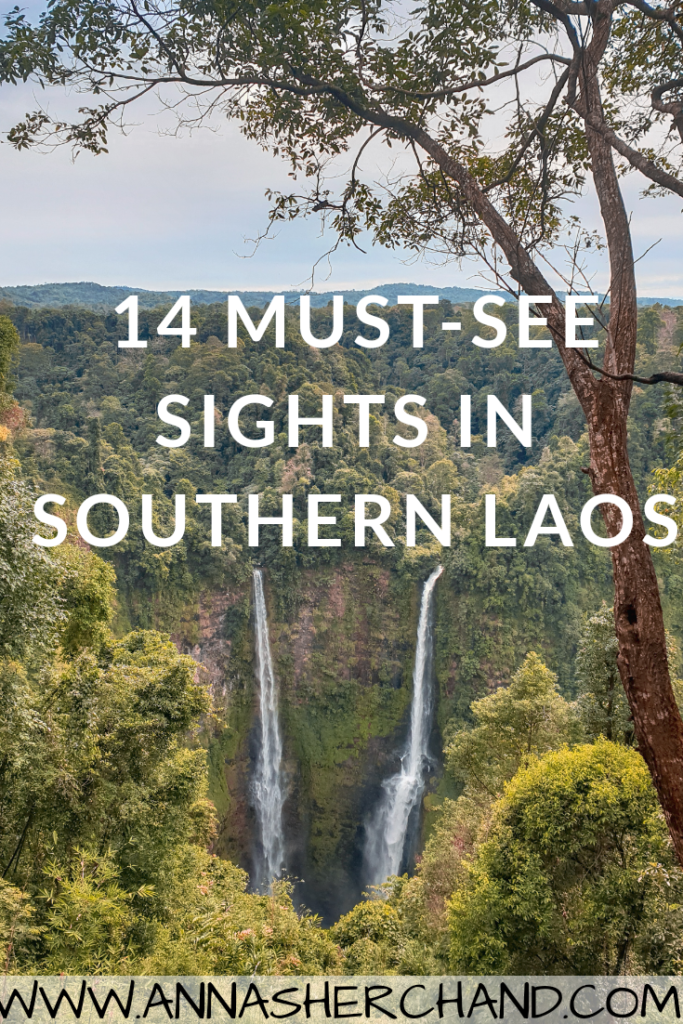 14 must see places for Southern Laos itinerary