Tasmania is one of the 6 states in Australia, with Hobart being the capital city. When I first landed in Hobart, I spent the entire day exploring and got hot tips from the locals about the best beaches in Hobart. So if whether you are visiting from interstates or overseas, if the beach is your flavor, read on.
I am also sharing more Hobart tips towards the end, so that will also be useful if you are planning a visit soon. Now let's begin,
Top 12 Beaches in Hobart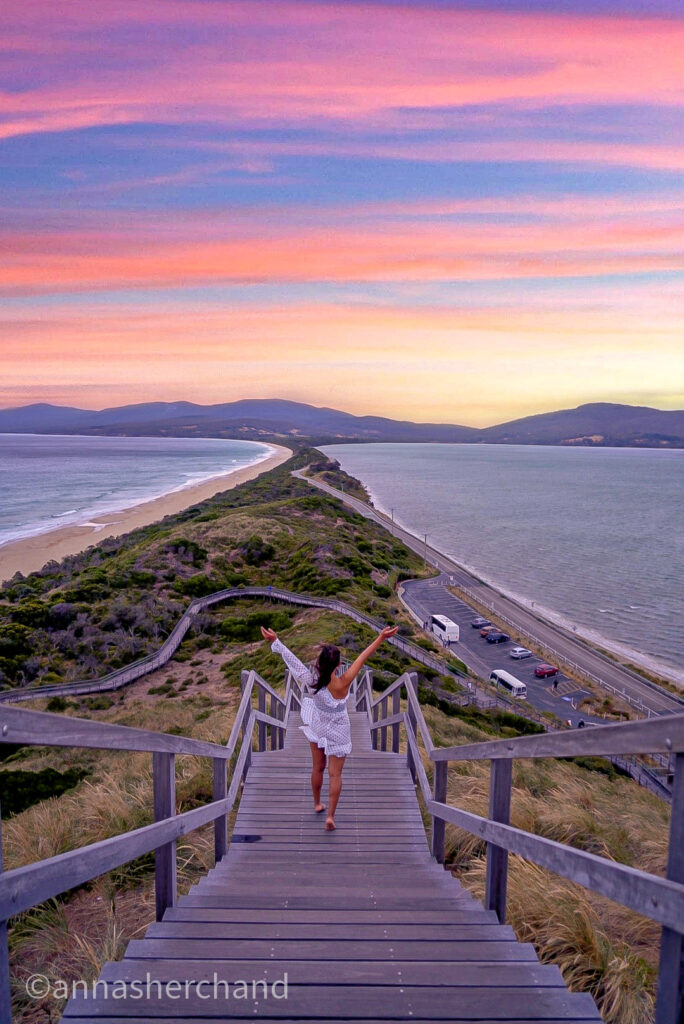 Western shore (Hobart side)
1. Long Beach
Long Beach is located in Lower Sandy Bay beach and is one of the closest beaches in Hobart as it approx 8 mins drive (5.2km) from Hobart city but still feels remote and beautiful. Beach itself is 150m long and there are toilets and a playground at the entrance. Swimming is allowed and even if you're not a great swimmer this is a perfect spot to take a dip without going in deep unexpectedly. It is a go-to beach for locals because of its calm waters, a diving pontoon, changing pavilions and cafes,
2. Kingston Beach
Kingston is a busy suburb about 15 mins drive (12.8km) from Hobart city which has several small sheltered beaches and bays, for both surf and estuary swimming. There are walking tracks heading into the bush at both ends of the beach, perfect for stretching your legs and finding some shade.
If you are after that Instagram-worthy shot, look for the beach swings on Kingston Beach. Follow the Boronia Beach Track to Boronia Beach to spot sea dragons, and check out the rock pools, then at Tinderbox Beach try the underwater snorkeling route, or visit the blowhole at Blackmans Bay.
And don't miss the Piersons Point, there is an old colonial fort from which there are awesome views across D'Entrecasteaux Channel and across to Bruny Island.
3. Taroona Beach
Taroona Beach is roughly 15 minutes drive (10.4 km) south of Hobart center, on the scenic route between Hobart and Kingston. Nearby is Taroona Park or go for a stroll from Taroona boat ramp east towards the beautiful Alum cliffs and you may well find an assortment of beautiful seashells.
Taroona means seashell (or more specifically chiton) in the local Aboriginal language. In case you feel like swim or kayaking, there are change rooms and a cold water shower as well as picnic facilities.
4. Coningham Beach
Coningham Beach takes an estimated 30mins drive (29.7km) from the center of Hobart. It's also on the east coast of the town and 30mins travel time is definitely worth it for its photogenic beach with clear waters and bush-covered low cliffs. However, this beach still feels relatively undiscovered and has pastel-colored boat sheds that add a touch of fun to the secluded beachfront.
If this beach was in another Australian city like near Sydney or Melbourne, it would be a struggle to find an inch of spare sand to lay your towel down on a sunny day, but Coningham remains unspoiled and, for the time being, still a very hidden gem.
Eastern shore (airport side)
5. Seven Mile Beach
Seven Mile Beach is located on the eastern shore, if you were driving it takes about 19 mins (21.3km) from Hobart city. The beach itself is 10km (7 miles) long overlooking Frederick Henry Bay which offers one of the best 'walking' beaches in the Hobart area. There is a general store at the western end of the beach, day-use areas with picnic facilities, showers and toilets, a children's playground, and a range of holiday accommodation. Seven Mile Beach beach is picturesque and pristine. If you want to stay close, consider booking at the Ramada Resort which is just across the road.
6. Clifton Beach
Clifton Beach is situated nearly 30 mins drive from Hobart city (29.3 km) and is one of the most popular beaches in Hobart. One side of the Clifton Beach peninsula faces across Pipe Clay Lagoon towards Cremorne and the other looks onto Frederick Henry Bay. It is also great for that sunset walk and to taking this amazing place in! It is so beautiful with stunning views of the side cliffs.
7. Opossum Bay Beach
Another recommended beaches in Hobart are Opossum Bay. It takes about a 40-minute drive (or car hire 43.5 km) from the city center. Located at the mouth of the Derwent River, you can expect expansive views across the Derwent River to Kingston, Taroona, and Mount Wellington.
Here you can enjoy a sandy beach, calm waters, a relaxing vibe, and all the amenities (think ice cream/ fish and chips!) from the general store are highly recommended after a day on the sand.
8 & 9. Bellerive Beach and Howrah Beach
Just over the Tasman Bridge from Hobart are the suburbs of Bellerive and Howrah and both have beaches on their doorstep. It takes about 18mins drive (11.5 km) to get to Bellerive Beach from the city center which is situated between Kangaroo Bluff and Second Bluff alongside Alexandra Esplanade. And Howrah Beach is about 24 mins drive (15km) from the Hobart center and is situated to the east of Second Bluff. Apart from the beaches, this spot is also best for cycle trails and history.
Once you are at the Kangaroo Bluff, enjoy the Bellerive Beach as well as the wonderful views of Mount Wellington and the Derwent to the west. Then extend the trip to continue over second Bluff to the equally beautiful Howrah Beach.
10. Carlton Beach
If you want a nice park beach, Carlton Beach is around a 40-minute drive (46 km) away just around the Dodges Ferry. It is also called Park Beach because as you imagine there is a nice park there, and also a great beach to learn to surf or to ride a wave when surf conditions are too big elsewhere. ​
11. Motts Beach
Now if you want to be away from the city center then Motts Beach is for you. This area of Hobart isn't much known by tourists but it should be. So many amazing beaches that are perfect spots to catch a sunrise/sunset.
It takes about 2 hours drive (123 km) from the Hobart city center but once you get there you will be greeted with a quiet white sandy beach making all your worries disappear! It is one of the best-hidden beaches in Hobart situated northwest of Cockle Creek, close to Pearl Rock.
There are also following beaches nearby if you have more time. Sayers Beach (400 meters), Reynards Beach, Planter Beach, Lancasters Beach, Jones Beach, Finns Beach, Gillams Beach, Little Lagoon Beach, Big Lagoon Beach, or Elliott Beach.
12. The Neck Beach, Bruny Island
Last but not least, one of the most visited beaches in Tasmania is The Neck Beach in Bruny Island. I get it, this is not right inside Hobart but it is for you guys out there, who would like to make it a day trip.
It takes about 30 mins drive (32 km) from Hobart city centre to Kettering. From there the passenger-vehicle ferry which departs regularly takes you to Bruny Island, the ferry crossing takes about 20 minutes.
While you are there, don't miss the Neck lookout and the wildlife. You can easily spend a day here exploring what this little island has to offer from the very scenic drive to get here, to Cape Bruny, fresh oysters, cheese, wineries, in-season cherries, and of course windswept coastlines, wild birds, rolling hills, and wide beaches.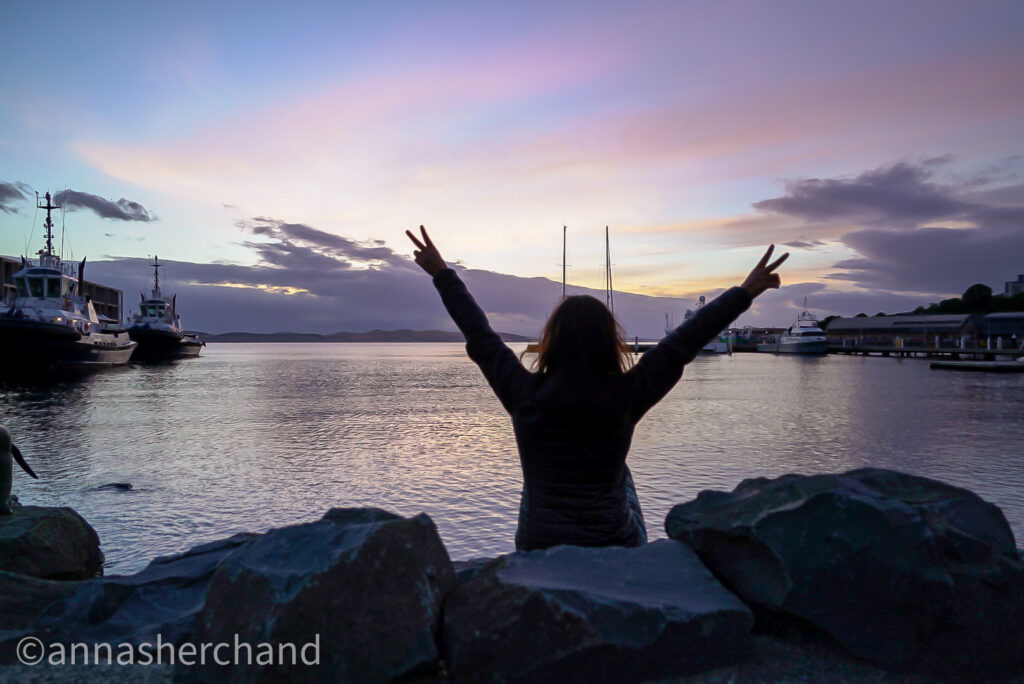 Hobart Tips:
Tasmania, as locals like to call it "Tassi", is the only island state in Australia. IMHO it is underrated and should be visited more often because of its stunning landscapes, nice beaches, rugged wilderness, fascinating art scene, great hiking, clean air with lush greenery, and equally fabulous food and wine.
Check out the 10 days in Tasmania itinerary
In Hobart, apart from beaches, I went up to Kunanyi/Mt Wellington (the highest point in Hobart to enjoy the view). It has a weatherproof observation deck, a boardwalk, plenty of carpark spaces, lots of hiking tracks for hikers of different levels of experience, and most importantly, a perfect spot to admire the Vistas without going too far.
If you would like to hike- Type Fern Tree on google maps and take the metro bus. Takes about 35 minutes from the city. Once you are at the Fern tree, you can hike the Pinnacle track to the summit for incredible views of Hobart and beyond. If you still have energy left, you can hike back to Fern tree or loopback via Zig zag and Organ pipe track, or take the explorer bus from the summit to the city.
In the city, recommend strolling through Salamanca market and walking up to Kelly's steps. Once you are in Kelly street you can explore the historical Battery Point which includes some of Australia's oldest houses and some cool cafes/bars ie Machine laundry, Preachers, Hobart Brewing Co, The Whaler, walk a bit further to North Hobart Pub or Republic Bar & Cafe (live music 7 nights)
Must-Have Travel Apps for Tasmania
Google Maps or maps.me
Self-explanatory but you will need this.

Nature Apps
The 60 Great Walks is helpful (free on iTunes), but the same information is available in a booklet from tourist information centers, and having the actual booklet could be more useful.
Field Guide to Tasmanian Fauna app is available for free from Tasmanian Museum and Art Gallery – it has photos and information about fauna and wildlife.
Wi-Fi finder
If you can't upload your Insta perfect photo then did you even went on a vacation to prove it?! Jokes aside, it is super important to let your fam and friends know your whereabouts also.
Open the browser and go to https://freewifi.tas.gov .au/ then follow the prompts for 30mins free WIFI. Or Just buy a sim card with data in the phone stores. It may not work in all places though.
AppNgo
This app is useful as it is updated by each Visitor Centre to provide the latest, most reliable, and accurate travel information. It includes details on all Visitor Centres, accommodation, restaurants, and attractions.
Download for iOS: free from Apple iTunes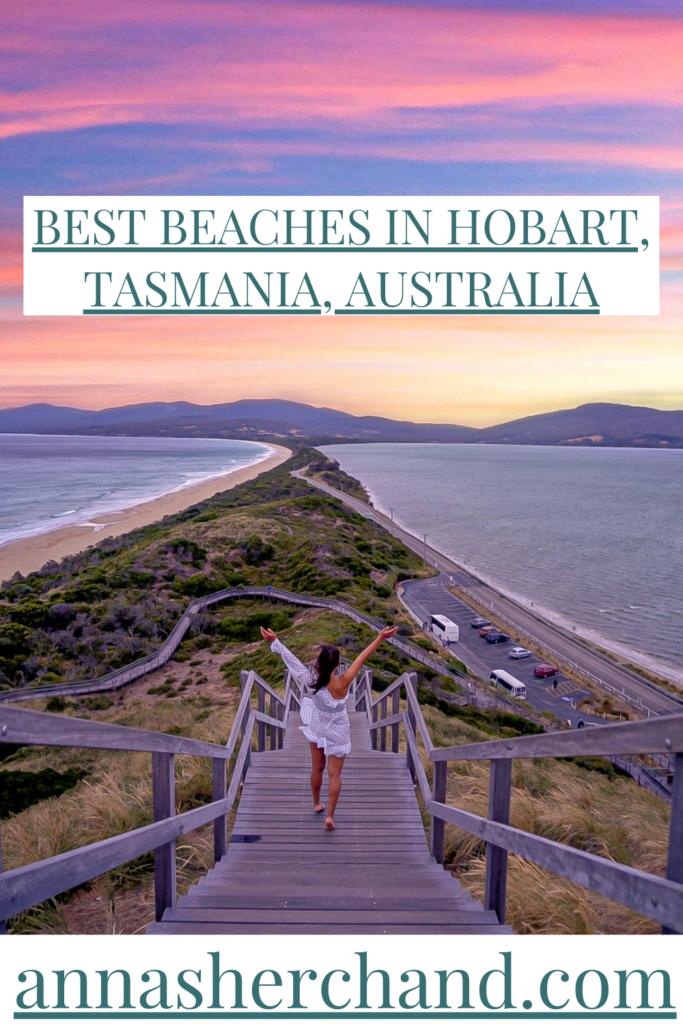 Suggested posts:
Best beaches in Hobart (Hidden one included)