Last month I travelled all over Pakistan and I shared a lot on my Instagram. (If you use the app, I would appreciate the follow 🙂 And now it is time to share it on the blog! Today I am showing you the best places to visit in Sindh Pakistan.
Put the press aside, apply for that difficult-to-get visa and save for a potentially very expensive flight. But once you arrive, let nature, adventure and friendly smiles blow you away. Yes, I still recommend visiting Pakistan even after a terrible incident that happened on my last day.
Just avoid @pakistaninternationalairlinepk and you should be good.
I mean can you believe an airline has NOT operated a route for 6 months but still selling flight tickets online!!! And when you figure that flight doesn't exist, you have to pay $600 for the new flight on the same day just so you can leave the country! That is any and all traveller's nightmare. And it's not just about the money, it's the inconvenience and difficult situation I was in at 3 in the morning with no help! I have sent a message to the airline but no response. Been 4 days, no refund, no compensation no answers. How do you think this should be resolved?

Pakistan is not on everyone's bucket list but I can see that slowly changing in the coming years. I suggest putting the negative press aside, paying for perhaps hard to get a visa, saving up for that potentially expensive flight and seeing for yourself. Let the jaw-dropping views, interesting culture, history and friendly people blow you away!
Pakistan has 4 provinces Sindh, Balochistan, Punjab and Khyber Pakhtunkhwa; two autonomous territories (Azad Jammu and Kashmir and Gilgit Baltistan) and one federal territory (Islamabad Capital Territory). Sindh is the third largest province of Pakistan by area, the second largest province by population after Punjab and its capital city is called Karachi.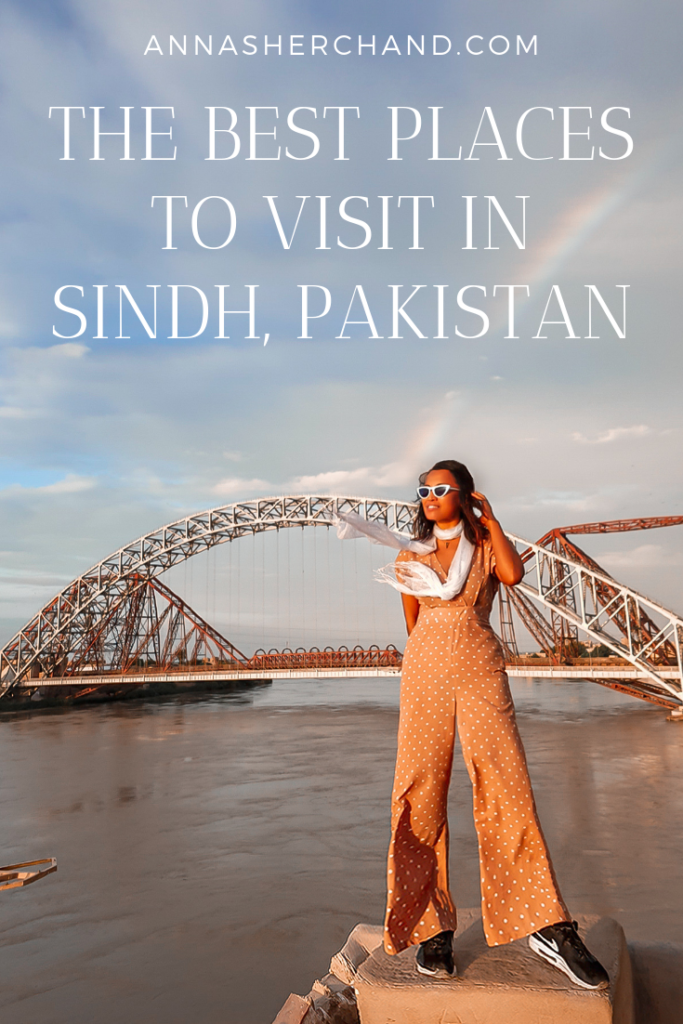 Below you will find the most beautiful and historical places in Sindh province of Pakistan.
But before I start sharing all of that, I have put together some important things to make your Lahore, Pakistan travels easier and more enjoyable.
1. Install the Uber App
First thing first, download the Uber app for going around in Sydney. Better than waiting for taxis and trains, get the reliable and fast door-to-door Uber service. For my readers, I'm giving you $10 off your first ride on the Uber app. To accept, use code 'k7zapn' to sign up. Enjoy! Details: https://www.uber.com/invite/k7zapn
2. Accommodation 
Book accommodation through trusted Booking.com
3. Book Cheap Flights
Lastly, find the cheapest flights through the most trusted sites such as Skyscanner or Momodo.
I have detailed travel resources right here. Save money, learn what and how.
Few handy Urdu words
Hello – Salaam walekum
Thank you – Shukeriya
Okay – Theek Hai
Yes/No – Jee Han/ Jee Nahi
How are you – Aap kaise (for male)/ kaisi (for female) hou?
I want to go to______ (place) – Muje _ (place) jana hai.
Pardon me/ Excuse me/ Sorry – Maaf Kijea
Good Bye- Khuda Hafiz
The 10 Best Places To Visit In Sindh Pakistan
1. Makli Graveyard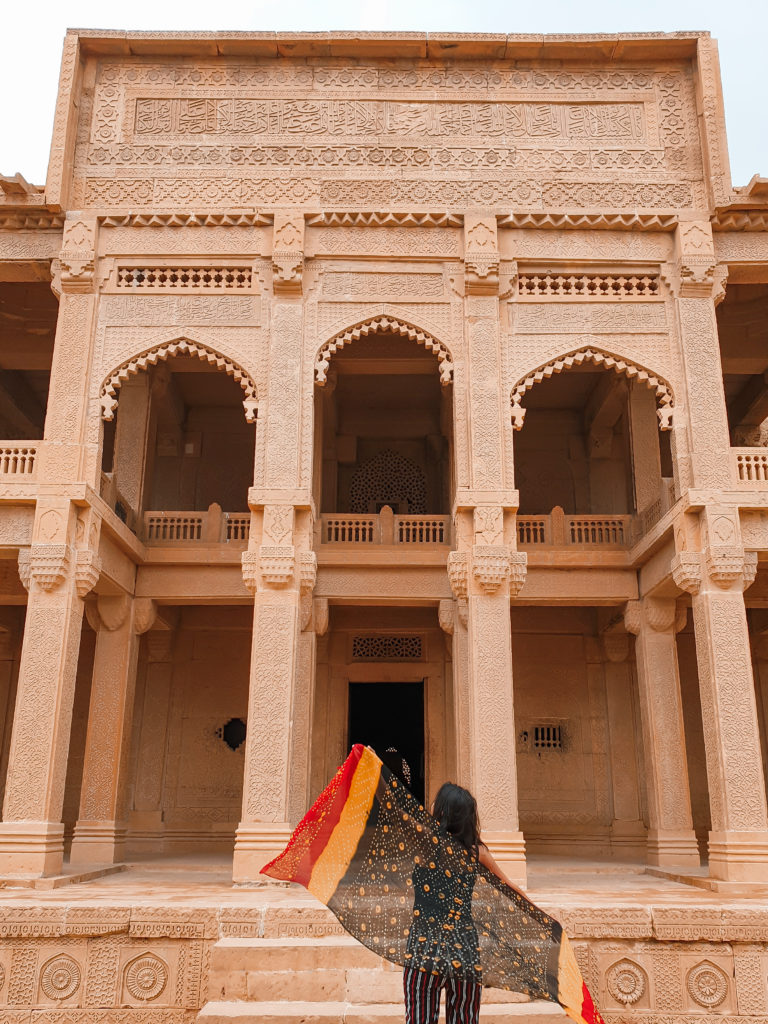 Makli Graveyard is the burial place of about 125,000 local rulers, Sufi saints and others. Makli is located on the outskirts of Thatta, Sindh Pakistan. It was inscribed on the World Heritage List in 1981 under the name of Historical Monuments of Thatta.
Even if you have a whole day you can't see all tombs and buildings on the graveyard of 8 km square. different ages, different styles. Just impressive!
Bring a picnic and plenty of water. No wheelchair access. Some of the remarkable architecture in Makli Graveyard are Mirza Jani Beg Tomb, Mirza Isa Khan Tomb, Jan Baba Tomb and Devan Shurfa Khan Tomb.
2. Shah Jahan Mosque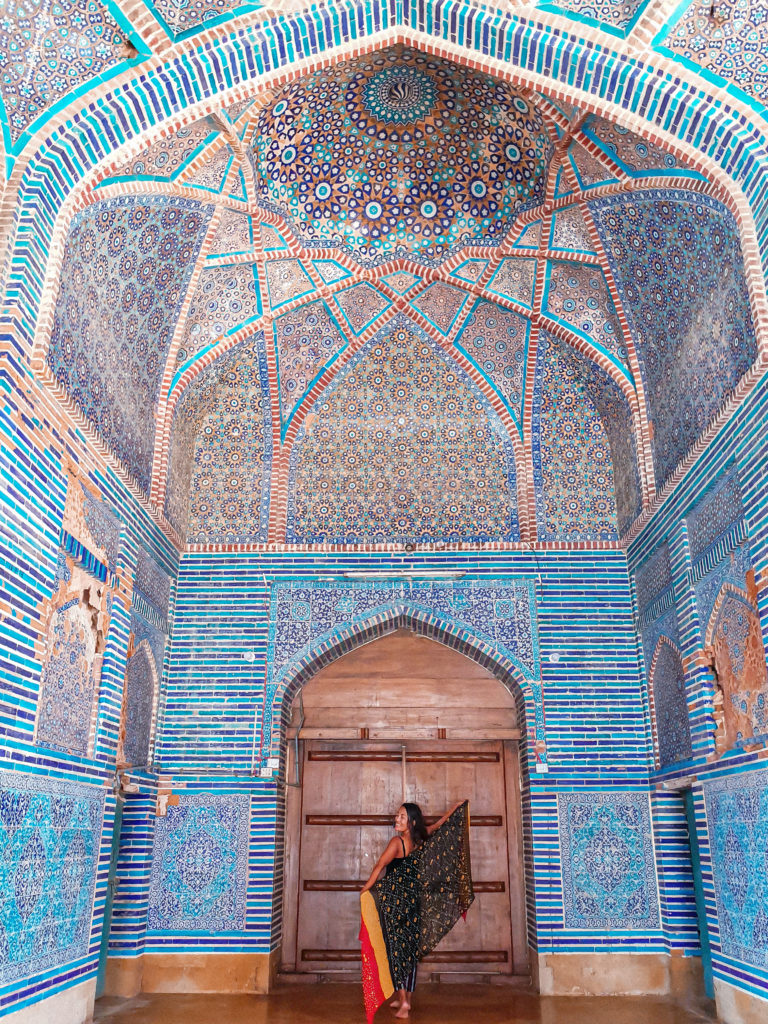 Shah Jahan Mosque is a famous 17th-century building known for its architecture with red bricks and blue-coloured glazed tiles. It serves as the central mosque for the city of Thatta district, in the Pakistani province of Sindh. It has been on the tentative UNESCO World Heritage list since 1993.
You can easily get here from Karachi or Hyderabad on a day trip. The mosque is well maintained and mostly in original construction and colours. There were some people sleeping on the floor because it is cooler inside. Recommend for a visit during the day at any time but bear in mind it is closed for prayers, 15-20 mins before and after prayers.
3. Keenjhar Lake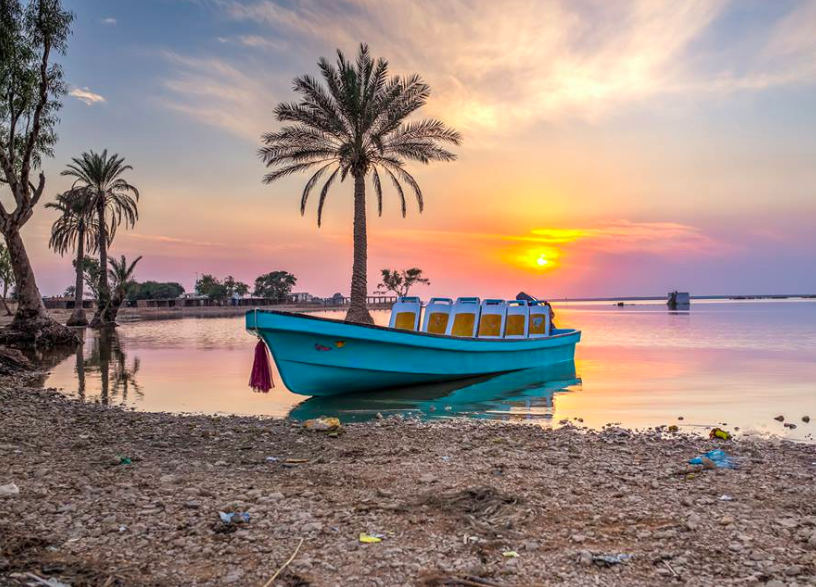 Keenjhar Lake is the second-largest freshwater lake in Pakistan and an important source of drinking water for Thatta District and Karachi city. It is so big that you cannot see the end of the lake anywhere while standing at the shore. It looks almost like a sea!
I would not recommend visiting the lake on a weekend as many people come to take bath in the lake and have their meals there with families, mostly in temporary tent-like structures. There are tyres and life jackets available for those who cannot swim. Plenty of boats are there to take you to the middle of the lake or to Noor's shrine.
4. Lansdown Bridge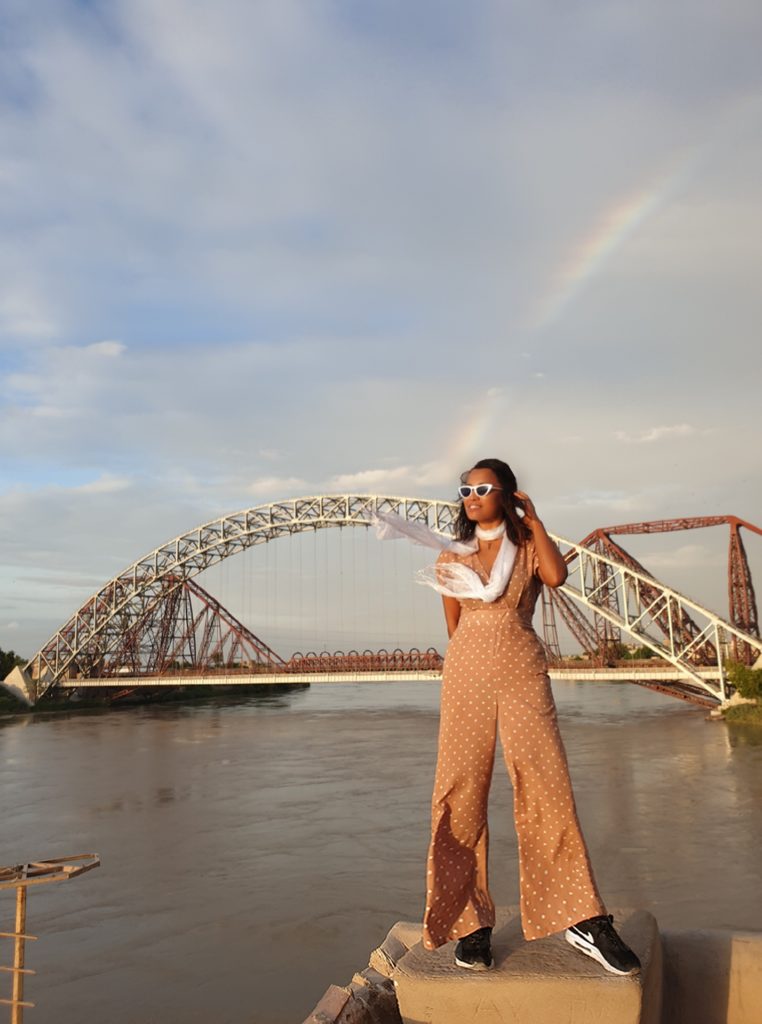 Do you know when the Lansdowne Bridge was completed in 1889, it was the longest rigid girder bridge in the world.

It was built in the 19th century and connects the cities of Sukkur and Rohri with the Indus River below it. A lot of traffic on the Bridge but if you view it from a boat, that would give a magnificent look at the Bridge. Alternatively, you can see it from across the tomb of seven sisters. (more on that below)
5. Kot Diji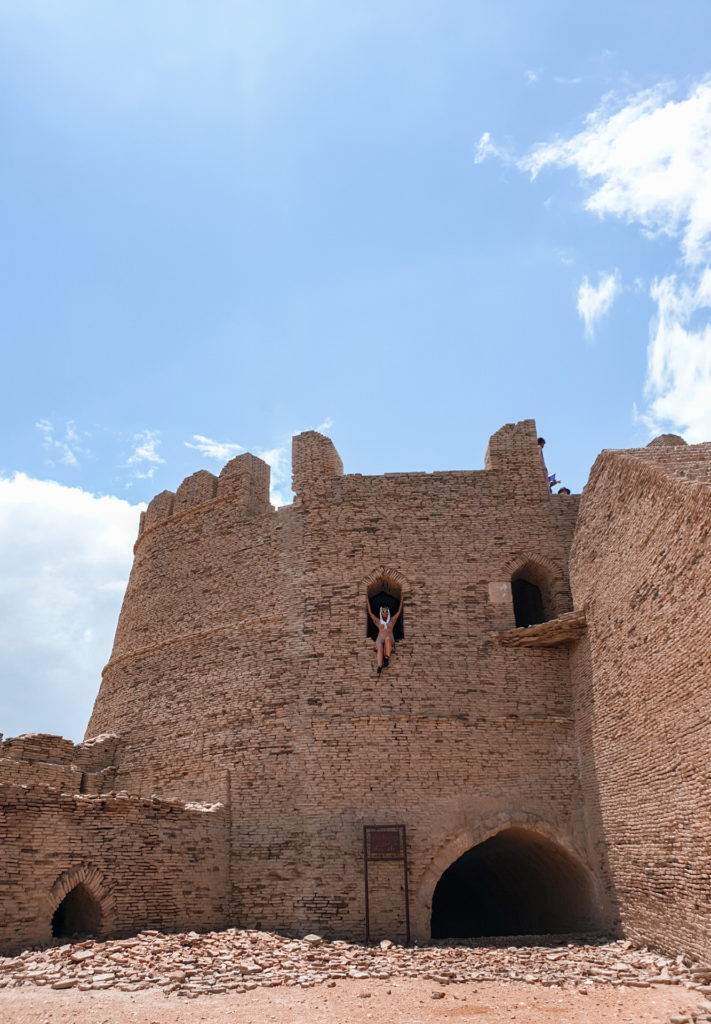 Kot Diji is known as Fort Ahmadabad, built on a 19th-century Talpur-era. It is located in the town of Kot Diji in Khairpur District, in Sindh Province of Pakistan. It takes approximately eight hours to reach Khairpur district from Karachi. and on the way, there are plenty of places pitstops for tea and food.
The fort sits at a 110-foot tall high hill that rises above the city of Kot Diji. It also has 30-foot tall walls encircling the uppermost portion of the fort, giving it a narrow-width fortress with a perimeter of 1.8 kilometers. Don't miss the three strategically placed towers that are each 50 feet tall.
6. Faiz Mahal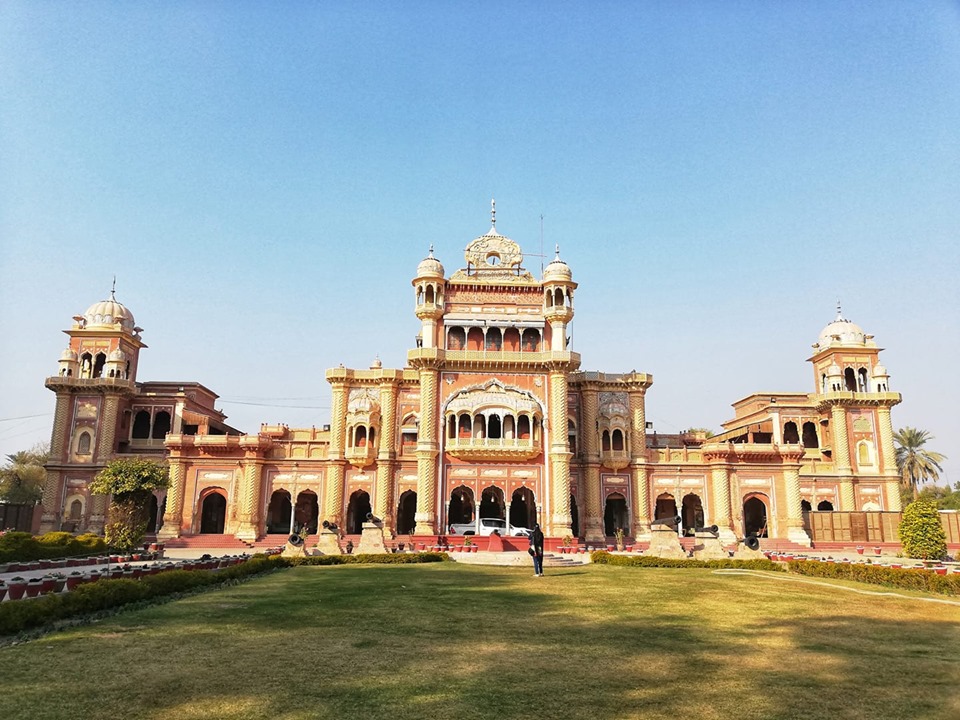 Faiz Mahal was built by Mir Sohrab Khan in 1798. It is a pretty palace located in Khairpur, Sindh, Pakistan. When you enter the palace, you can see the portraits of Maharajas and Princes in the center of the Mahal giving the impression of sheer royalty in addition to the usual comfort and luxury of palaces. The palace is also famous as 'Lakhi Bangla' as it cost the owners Rs.100,000 (one lakh) at that time.

Recommend the following timetable according to the season. Summer: 8:00 AM to 7:00 PM. Winter: 9:00 AM to 7 PM.
7. Sukkur Barrage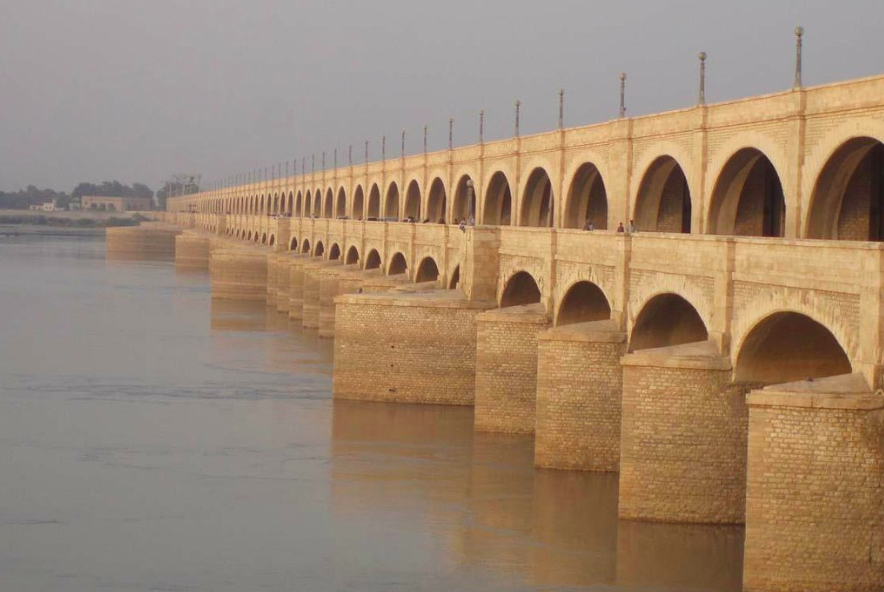 Sukkar Barrage is a colonial architecture masterpiece built during the British colonial era from 1923 to 1932. It was named Lloyd Barrage which connects the city of Sukkur through a road built on the barrage. When you are there, pay a visit to a small museum which highlights the history of this barrage.
8. Tomb of Seven Sisters
Tomb of seven sisters is also known as "Satiyan JO Asthan" believed by locals as innocent seven sisters having supernatural powers. The graves are on the left bank of the mighty Indus River, just near Lansdowne Bridge on Rohri side. You can also watch a beautiful sunset from here with the view of Lansdowne Bridge.
9. Ranikot Fort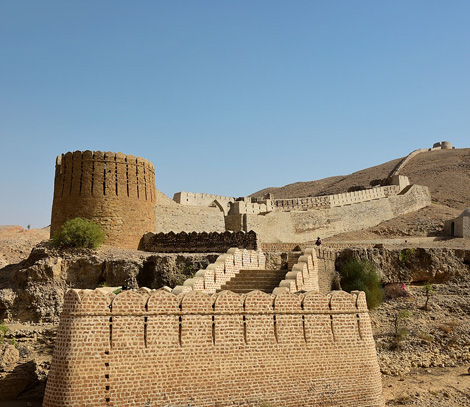 Ranikot Fort is a historical fort near Sann, Jamshoro District, Sindh. Ranikot Fort is also known as The Great Wall of Sindh and is believed to be the world's largest fort with a circumference of approximately 35 km.
The best time to explore is during daylight. And it's a lot of walking so don't forget to wear comfortable shoes.
10. Moen Jo Daro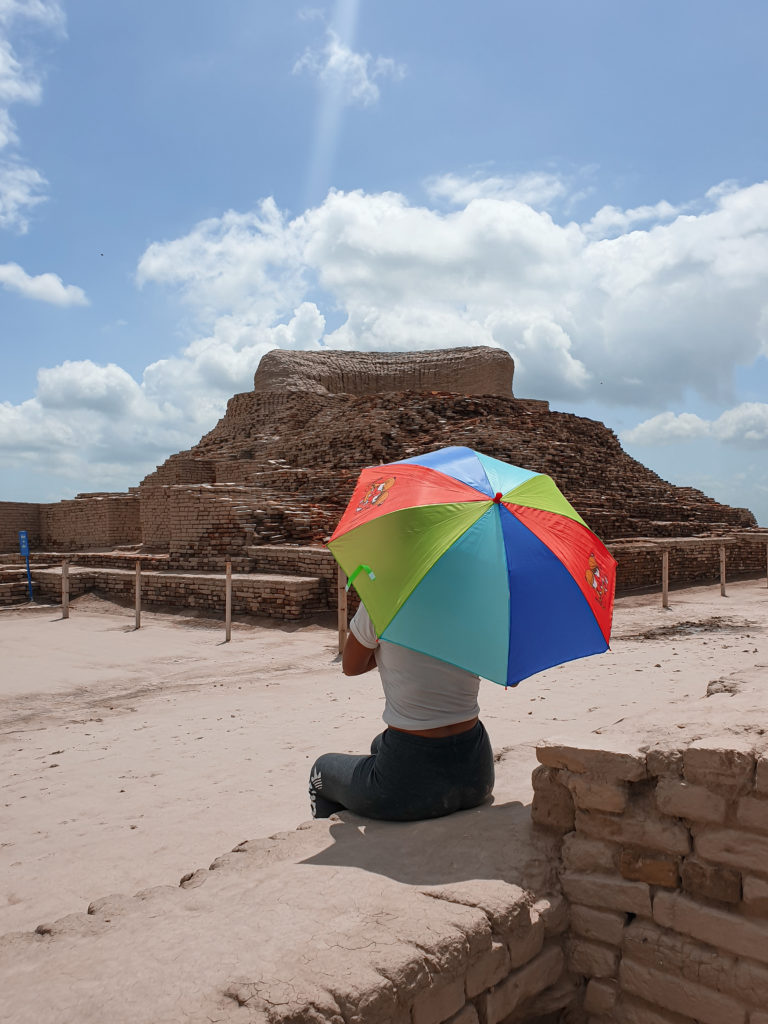 Mohenjo-daro is an archaeological site built around 2500 BC and located in the province of Sindh, Pakistan. 5000-year-old civilization was buried here that was discovered in the 20th century.
The most notable thing about the ancient city of Mohenjo-Daro is that it was one of the most developed cities of the era. Historians reported that there was some incredible urban planning and outclass civil engineering done. All of which makes this one of the best places to see in Sindh, Pakistan.
It is amazing to see how well the people were civilized back then and knew how to plan and build a city.
Karachi the former capital city
Check out the must-see famous places in Karachi, Pakistan.
Lahore, Pakistan beautiful city
Read this for the best places to visit in Lahore, Pakistan. You will love this one!
Let me know in the comments- 
Which beautiful places in Sindh Province Pakistan do you want to see first?
How about the most beautiful places in Pakistan? You won't regret opening this one.
Check out the must-see famous places in Karachi, Pakistan.
Heading to Lahore next? Read the best places to visit in Lahore Pakistan.
24 hours in Baku, Azerbaijan
Heading to Vietnam soon? Read everything you need to know about Hanoi itinerary here and the most wanted Instragramable cafes in Hanoi here.
Is Bangkok your next stop? Read the Bangkok itinerary now.
What about the beautiful Bali? Check out another most-read Bali itinerary.
9 days in Guatemala
Solo border crossing from Guatemala to Punta Gorda Belize
2 Days in Punta Gorda, Belize
How to cross the border from Belize to Honduras
Solo female travel to Copan Ruins Honduras
Solo border crossing from Honduras to El Salvador
3 Days in El Salvador
Border crossing from El Tunco El Salvador to Leon Nicaragua
7 days in Nicaragua solo travel
Granada Nicaragua to San Jose Costa Rica border crossing
3 Days in Costa Rica Travel Guide
Puerto Viejo Costa Rica to Bocas Del Toro Panama Border Crossing
7 days in Nicaragua solo travel
Granada Nicaragua to San Jose Costa Rica bus
7 days backpacking in Ecuador itinerary
5 days in Oaxaca itinerary
2 days in Mexico City itinerary
Best places to visit from Split
2 days in Split, Croatia
Solo traveling to Mostar
Solo female travel to Kotor
Best places to visit from Split
2 days in Split, Croatia
Solo traveling to Mostar
Solo female travel to Kotor
Solo female travel to Budva
Solo female travel Albania
Warsaw by Train covers warsaw travel tips
Check out One day in Luxembourg, western Europe
Day trip from Zurich to Liechtenstein
Travel tips to South America
Fiji solo travel guide
Australia east coast must-see
Backpacking in Melbourne, Australia
Digital nomad guide to Melbourne
14 best area to stay in Melbourne CBD
Master Sydney travel guide
Solo travel guide to Brisbane
Exploring Adelaide the best way is a must-read
Important travel tips for Uluru trip
Melbourne day trips in winter
Day Hikes in Melbourne
Weekend getaway? Check out things to do in Ballarat
Perth solo itinerary
Top 5 must do in Darwin, Australia
How to go from Dublin to Howth
Solo female travel Romania
Read a recent day trip to Zaanse Schans from Amsterdam
How about a solo itinerary to Canberra– Australia's capital city?
Solo trip to Peru, travel tips to South America
Check out the 7 days Hanoi travel guide.
Book accommodation through trusted Booking.com
I have detailed travel resources right here. Save money, learn what and how.
If you like this article, feel free to follow my adventures on Instagram, Facebook, YouTube, Twitter, and Pinterest, but most importantly sign up to my e-mail list to keep up with updates and travel posts.
The Best Places To Visit In Sindh Pakistan