The exciting 2 weeks Bali itinerary is here! You can use this Bali trip itinerary as you see fit according to your schedule. Meaning, some of the places below can be seen in one day (and of course some can be spent longer). So, whether you have only 5 or 14 days in Bali, you can still use this itinerary. This article is also a Bali travel guide for first-timers as I cover all the tips I wish I had known before I went to Bali.
If you think Bali is the capital city of Indonesia, it is actually Jakarta! Bali is the most well-known island holiday destination in Indonesia. It has been visited from the likes of Paul McCartney to Paris Hilton and many more celebrities. But don't worry, you don't have to be a millionaire to enjoy what this island has to offer! Just plan smartly with the help of this 2 weeks in Bali itinerary below.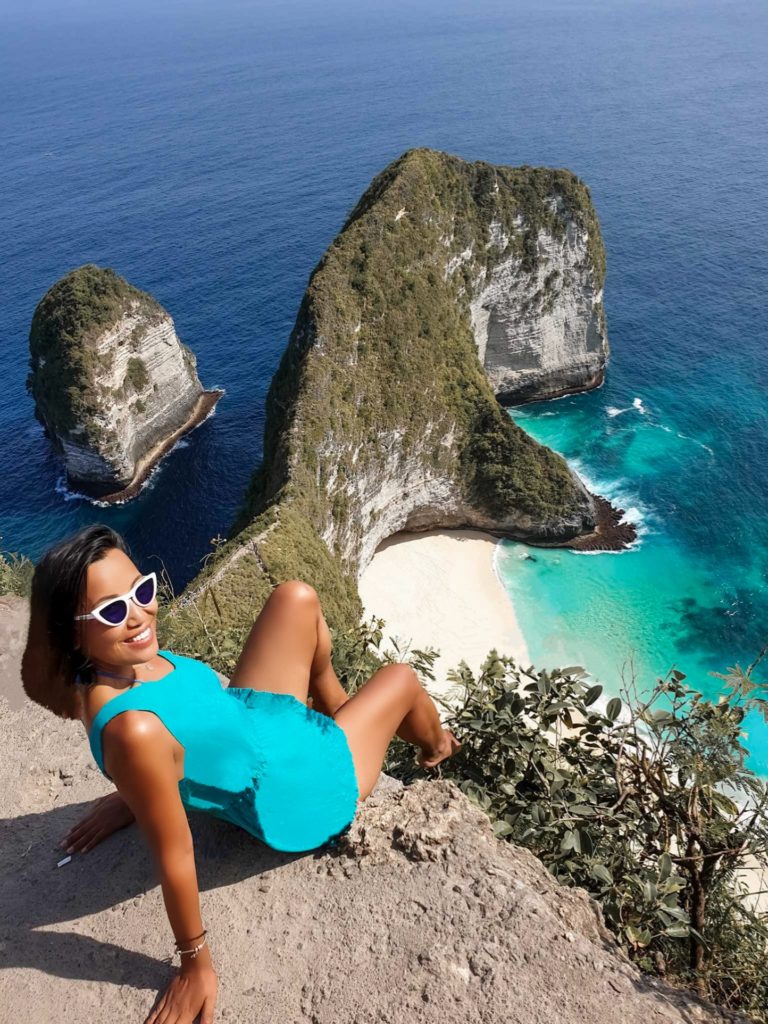 2 weeks Bali itinerary for first timers
I am going to divide Bali into 3 areas. Ubud, Canguu/Seminyak and Uluwatu. So, depending on the area of your accommodation, it would be easier to explore that area first.
If you are short of time, make sure to pick a couple of things from these three places and check them out.
A. Ubud
Ubud is full of greenery and spiritual. There are loads of places that offer yoga, meditation and Reiki as well.
If you are staying around Ubud, I recommend checking out the following places first.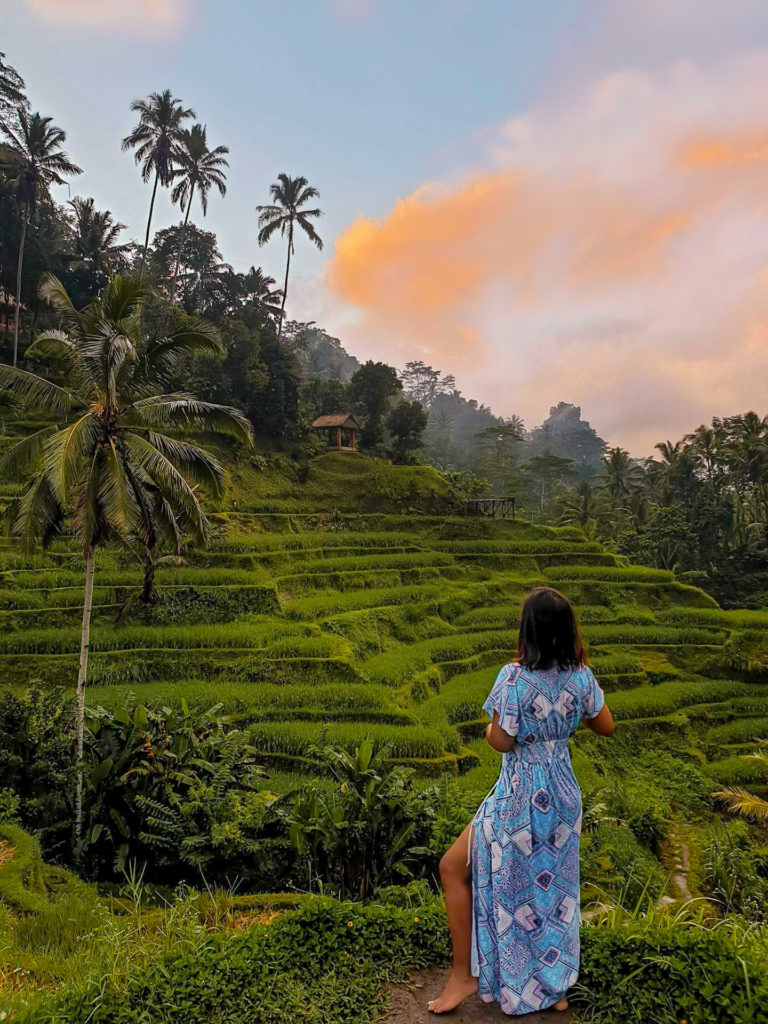 1. Tegalalang Rice Terraces
Did you even go to Bali if you didn't take a pic at the Tegalalang rice terrace? I guess not! This is a stunning area covered with rice terraces, even Julia Roberts from Eat Pary Love admired it! Put your alarm bell for 5 am to watch the magical morning unfold in front of you. The crowd starts arriving around 7 Amish so best to get there earlier if you want some photos at the rice paddies without a hundred other people.
You can also buy this tour for Bali and Nusa Penida Instagram worthy places. This covers the most scenic and Instagram-worthy sights around Bali and Nusa Penida. You can experience the beauty of both islands as you immerse yourself in nature and Balinese culture. Loads of Photo opp for sure!
2. Ubud Grand Palace
You can go to Ubud Grand Palace easily as it is in the centre. There is a free entry in the day time. The architecture is stunning and I really liked the animal carving in stone, that was amazing! There is something very fascinating about the little double doorways which are very elaborately decorated – I think they are incredible and I adore how beautiful they are. It gets very busy around this area of Ubud so be careful of the traffic.
3. Ubud Market
If you are after some reasonably priced items, (pretty dresses, jewelry, and souvenirs) check out the Ubud market. It is 3 minutes' walking distance from the Ubud Grand Palace. You may want to try some local food at the market, but I recommend getting a Falafel wrap and a glass-bottled coconut water! I didn't expect to find Mediterranean food in the middle of the Indonesian market but it was awesome! There is only one Falafel shop in the Ubud market, you won't miss it. Just keep looking for it until you find it. 100% worth the price.
Also, you can't miss the little Luwak coffee shop in the Ubud market. You can take photos with the Luwak and try the organic Luwak coffee.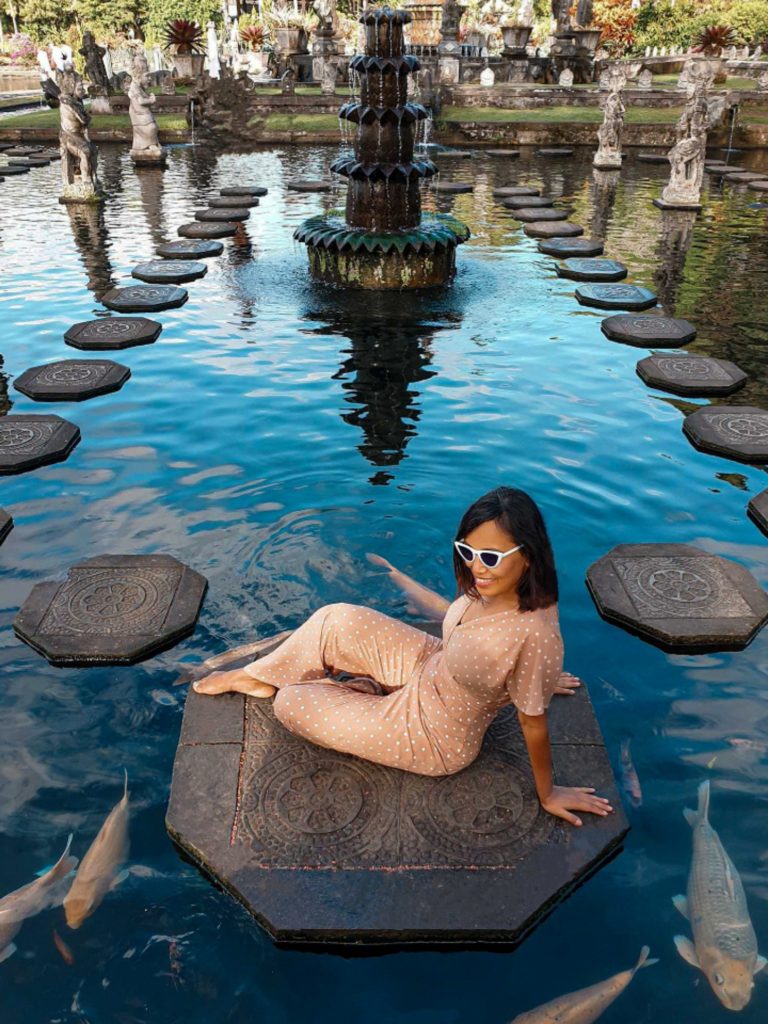 4. Tirta Ganga Temple
This is one of the places in Bali where I had zero expectation but enjoyed a lot! Taman Tirta Ganga temple is very pretty surrounded by water, trees, flowers, fishes and sculptures. Bali has loads of temples. so, if there is one temple you want to visit. Consider Tirta Ganga as not only you get to visit the Balinese Hindu temple but also swim there! They offer two public swimming pools and you can also give food to the fishes (you have to buy the fish food outside the gate) The entrance fee is 40,000 IDR.
If you walk all the way to the end of the garden, there is a couple of see-saws and iron swings! The peaceful water garden and goldfish combo go well which makes it an awesome place for photo and video shooting. I recommend going early in the morning to avoid the crowd and once you are done visiting, there are restaurants inside and outside as well.
5. Scared Monkey Forest Sanctuary Ubud
One of the places to go here is the Ubud monkey forest. It is a lovely unusual place of worship, full of lush greenery and very well maintained (watch out for all the monkey poo on the ground though). It is nice to see the monkeys free and roaming through the trees! Beautiful place to walk through. In the middle of the market area, so can step out and do shopping as well.
Make sure your bag is all zipped up, even though they may try and unzip it (clever things!). Also, DO NOT TAKE FOOD with you. They are super keen and they can smell it from a mile away. Might seem like a fun idea but trust me. When they crawl all over you trying to get it you won't be having fun!
Having said that, there are lots of staff around, handy if you need anything or need to report something.
The monkeys aren't dangerous. They're barely interested in people. Just follow the rules and that means to not touch the monkeys or tease them and you will be fine!
6. Campuhan Ridge Walk
Campuhan ridge walk was the first activity I did when I arrived in Ubud. It is a pleasant walk. You can enjoy nice scenery with rice fields, and lush green as you burn your calories. The track is well maintained so it's not exactly a trek but more of a stroll/hike. You will also spot a few structures which show the Balinese architecture and there are a few stores that sell authentic Balinese nib paintings on wood as well as on canvas.
There are also some local shops and restaurants on the way but be warned, food in the local restaurants take a long time to come to the table. Like a long time, due to making it fresh to order for almost everything. Which is good but make sure you have enough time.
If you don't want to get burn use suncream and a cap/hat. Also, don't forget to take a bottle of water and wear comfy shoes!
7. Aling Aling Waterfalls
When you arrive, you have to stop at a small office/shop that sells tickets! Just to see the waterfalls you have to pay the minimum (20,000 IDR) and if you plan on swimming and jumping/diving in the waterfalls, you can choose from different packages. They offer a short tour or long tour which comes with your personal local guide!
It was my first time coming across something like this – Out of 38 countries I have traveled to and countless waterfalls I have seen, there was never an entrance fee to waterfalls! I think nobody should own nature, nature is for everyone on this planet to enjoy! But on the local's defense, they collect the fee to keep the place nice and clean as more and more people visit the waterfalls and leave the rubbish everywhere. It needs tidying up and track maintenance too. I am interested to know your thoughts on this topic. Leave it on the comments.
So, out of curiosity, I bought "just to see ticket" which doesn't come with the guide and to my surprise, the path was well marked! So, the guide package is not necessary unless you prefer the company at all times!
After a 10 minutes walk, you reach the tallest waterfall called Aling Aling Waterfalls which is magnificent and powerful! (can you see the rainbow?) Water was clean and fresh and there was a small queue for photos. I could have sat there all day! Quite a sight! You can't swim around this specific waterfall because the rocks are very slippery and the water pressure is high, but it is a refreshing and beautiful place to be.
After that, you walk down to the next waterfalls first one called, Korara Waterfalls where you can jump, dive and swim. You start with the five, then ten and finish off with 15 meter falls. Something for any level of adventure! Water is fresh and clean everywhere. Recommend to do it in the morning and go for a very nice lunch at the hotel 1 km down the road on the right, called Shanti. They do good food and very nice views over the valley and some smaller waterfalls.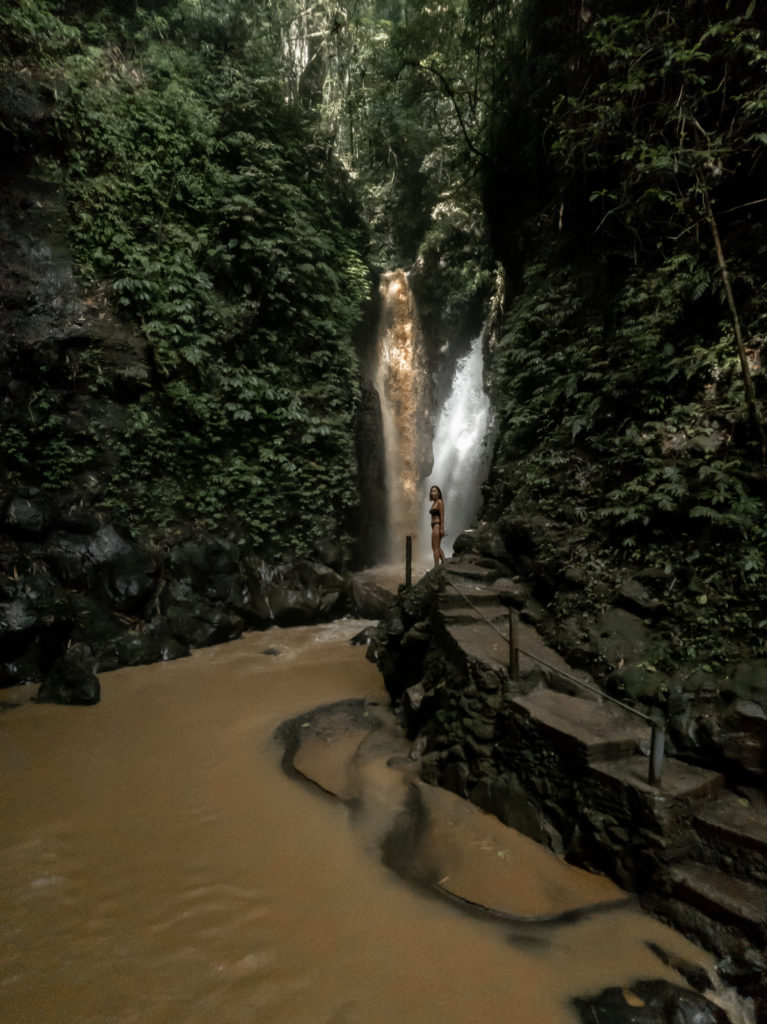 8. Git Git Waterfalls
It takes about 2 hours to get to Git Git waterfalls from Ubud. It is the highest waterfall in Bali, less known and remote too. The location on google maps is wrong though! It's on the other side of the street. Parking was 5,000 IDR and a guy wanted to be a guide but you can easily walk alone. Just over the street and down. The entrance fee here was 20,000 also.
Recommend mid-mornings for visit as half the shops will still be closed and the number of visitors will be less so you can see the beauty and capture it well. Also, heads up not to visit the waterfalls the day after the big rain as the rain brought all the mud on to the waterfalls unless you find the above image quite unique!
9. Sekumpul Waterfall
Another gorgeous waterfall is Sekimpol waterfalls. I would say it is the most touristic but equally beautiful as other falls. There is also a 20,000 IDR entrance fee to see it from the first viewpoint, and if you want to go down, and swim price goes up to 125,000 IDR!
If you pay only 20k thinking later you can still go down, don't. Just where the stairs start, they put the iron gates, and some men sit there, asking you to show your ticket of 125k and prove that you're going with a guide. After this, they let you in.
If you are someone who doesn't like going with guides anywhere and likes to take your own paths, you would not like visiting waterfalls in Bali especially the Sekumpul waterfalls!
Having said that, I put these two waterfalls on this list because the waterfalls itself are stunning. Definitely Instagram worthy too.
If you don't ride motorbikes and are a solo traveler like myself. You can buy this Bali waterfall tour for convenience. Bear in mind, it covers a different set of waterfalls than I have mentioned it here but they are equally spectacular.
10. Mount Batur Volcano Viewpoint
If you aren't interested in breaking sweats but still want to have the pleasure of seeing Mount Batur. Here is the tip. Head down to Kintamani Highland which is a village located at the western edge of Mount Batur. It is reachable by any means of transportation and there is no entrance fee.
The view from this area is breathtaking especially when the weather is good. You can clearly see mount Abang, Mount Batur and Batur lake next to each other. You could also see the leftover of Mount Batur eruption and don't forget to visit the museum near this viewpoint! There are also several restaurants lined on the road. They do buffet-style meals, 1 price for lunch roughly around 200k-300k IDR excluding drinks. These restaurants will have views of Mount Batur & Lake Batur at various angles also.
In case you fancy Mount Batur sunrise, have breakfast atop and witness the sun over the clouds at Bali's sacred Mount Batur. I recommend this tour.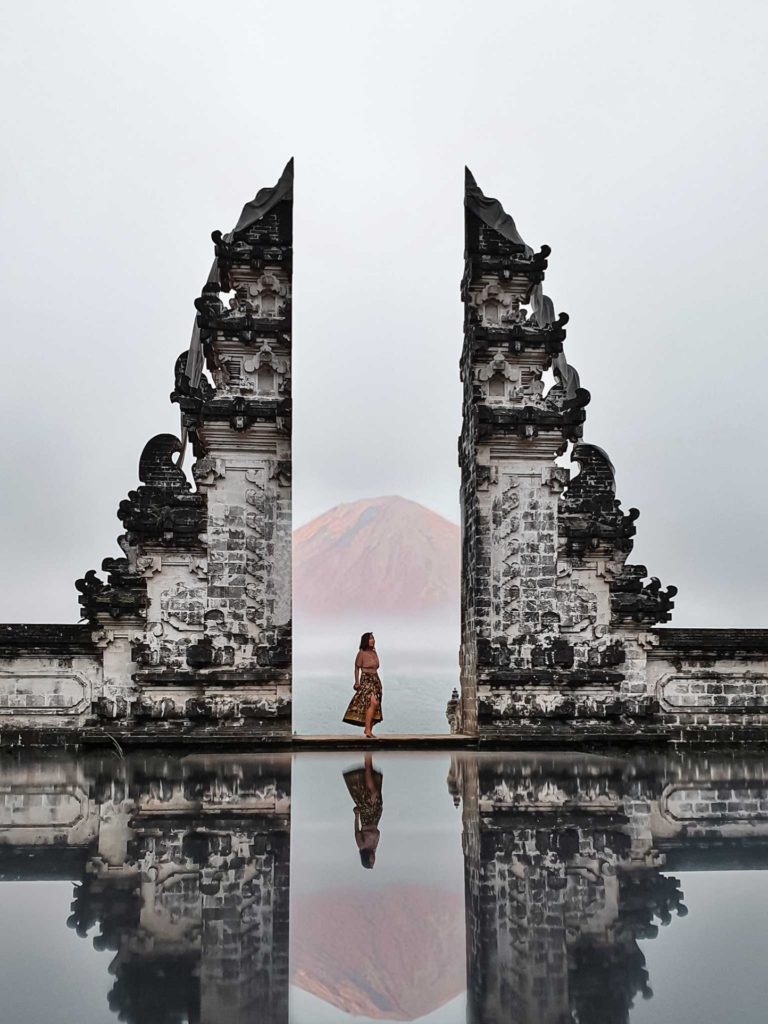 11. Go see Gates of Heaven
Take some magical shots of the Gates of Heaven at Pura Lempuyang with the clouds and the majestic Mount Agung in the background. The view from Heaven's gate is stunning and definitely Instagram worthy!
But I must warn you, there is no lake there! It is actually a local guy sitting with a mirror on his hand, who will take your camera and align with his mirror and will take photos for you. He will also yell what type of poses to do which I ignored obviously! So, yes it is up to you if you still want to visit this temple.
I didn't know this was happening before I went. So, yes I was surprised and little disappointed when I witnessed the whole situation as it seemed like they are creating a fake representation of a place online. But on the other hand, hats off to whoever started this mad trick! It has definitely worked as people queue for 3-4 hours to get 1 photo at Gates of Heaven!
When you arrive you are asked to make a donation to the temple (amount of your choice) then if you haven't brought your own sarong you need to hire one 10,000 IDR. There is no charge for photos (amount of your choice on donation/tips)
From Ubud, it takes 2 hours to get here. I woke up at 3:30 am to arrive here at 6 am and there were already 25 people before me! I recommend arriving at least at 6 AM to skip waiting in line.
But let me also add, the place is beautiful without water too because Mount Agung in the background is still the real thing!
B. Canggu/ Seminyak
Next up we have Canguu (think hipster vibes/ Instagrammable cafes) and Seminyak (imagine bit posh/trendy)
So, if you are staying around here below are the best places in the area to visit.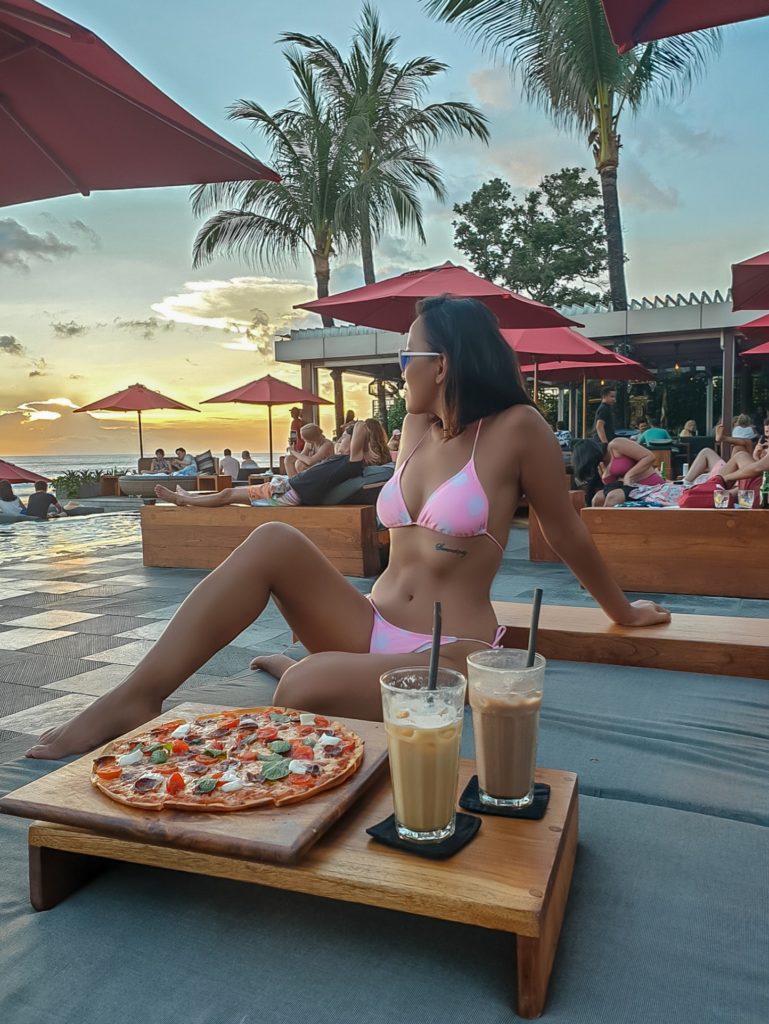 1. Watch Sunsets from the Ku De Ta

Bali is famous for its beach clubs and there are too many to choose from. If there is one beach club you want to taste, go to Ku De ta. It is Bali's most iconic all-day dining & party destination (but chill vibes during the day and sunsets). The food at Ku de ta was some of the best in Seminyak that I tried and had one of the best sunsets in Bali with cool tunes.
What I love the most is the service. Staff were attentive and always made sure I got anything I need, really helpful too. It's a bit similar to Potato Head but more upscale and cozy.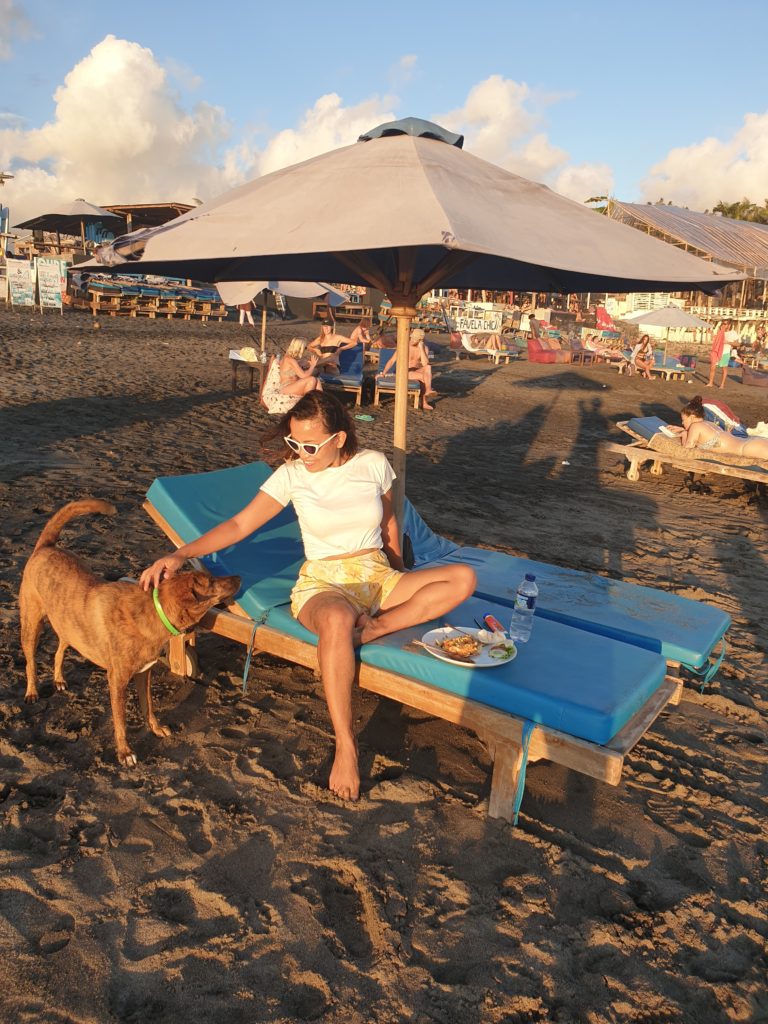 2. Relax at the Echo Beach
Echo Beach is one of Bali's recent happening surf spots. The nickname overshadows its local name 'Pantai Batu Mejan' though.
A few weeks earlier I was in Queensland, Australia checking out one of the whitest sand beaches in the world. So, I wasn't ready for the black sand beach yet! But the black sand was twinkling like little diamonds, also the vibes, the food, and the cute dog made it a good day out in the sun!
If you are like me and get bored at the beach in an hour, you can take some surfing lessons also.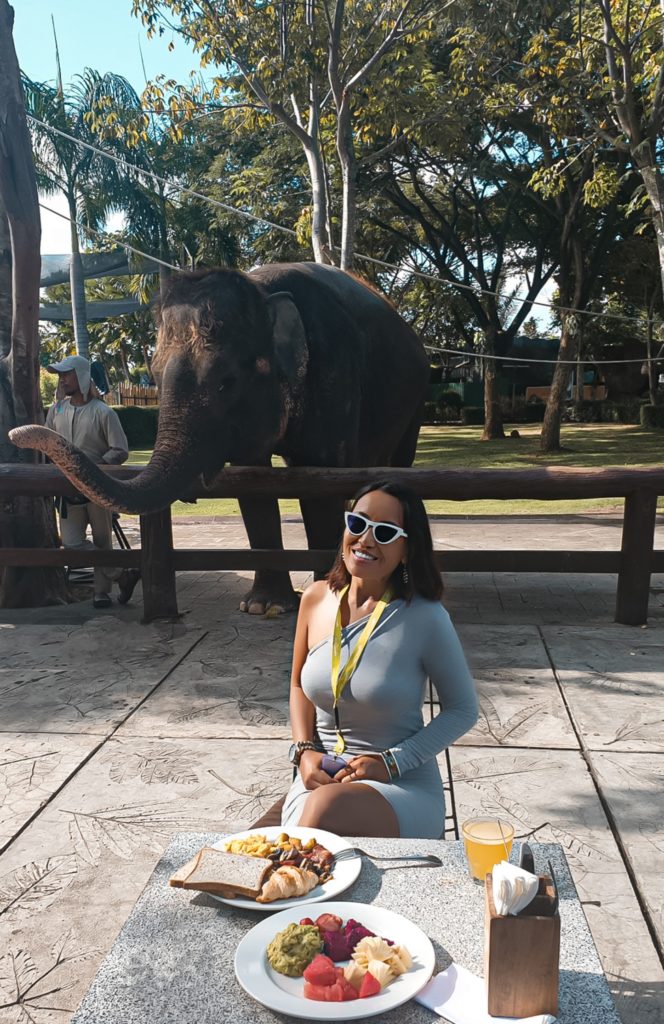 3. Have breakfast with the elephants and Orangutans
I am not a zoo-goer but breakfast with elephants and Orangutans? I am there! It was nearly 2.5 hours from Canguu but highly recommended. As you pay your visit around the zoo, you could tell animals are well-taken care of here. Personally, the highlight in Bali zoo was breakfast with elephants, lunch with lions and seeing lemurs!
You can also have private sessions with elephant mud activity where you apply mud all over the elephant, help them shower/ brush off the mud and wash them off. I had never been so close to an elephant before. so, it was my first time, recommended as it was a pleasant and fun experience. Interestingly you can also visit the Bali zoo at night to savor a delicious Brazilian dinner before you watch a fire and animals at night!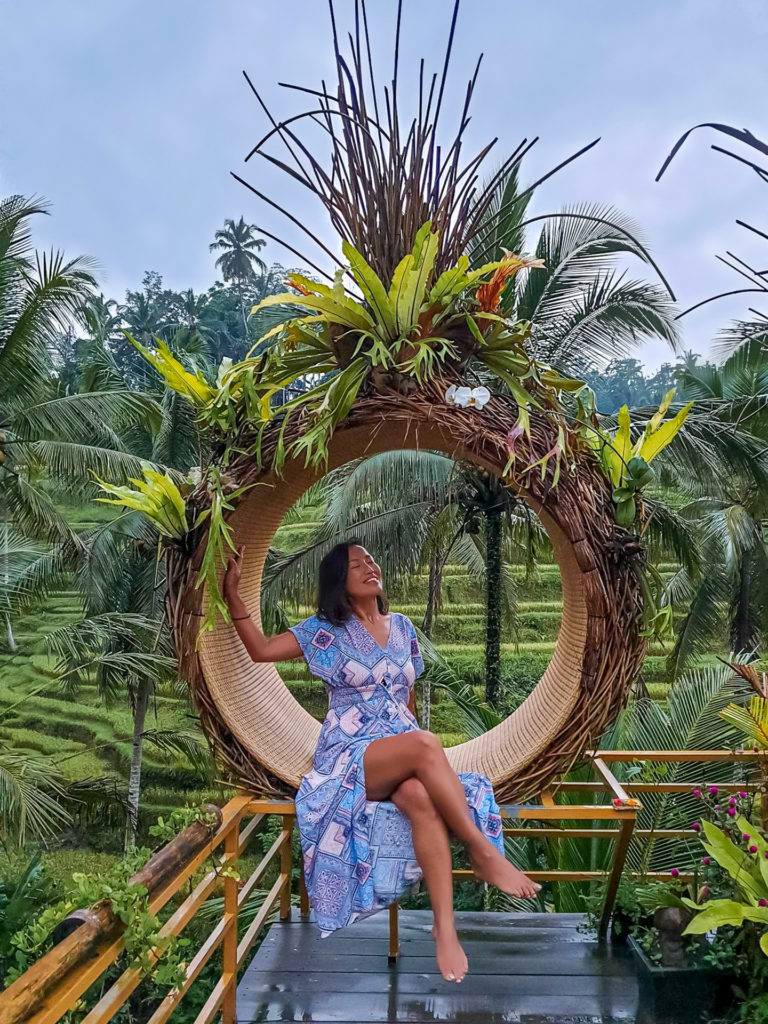 4. Enjoy Swings in Bali
Let me tell you, there are hundreds of swings in Bali! So, no need to rush into the first one you see! For the purpose of this article, I am going to mention the most popular Bali Swing. They have 12 single swings (from 10 to 78meter!), old-school tandem swing, 6 cute nests, helicopter and heart rock in the jungle and huge stone over the edge above the valley with an amazing view on the canyon and waterfall. Best thing? Swinging time is not limited and the amount of use neither!
This one is overly touristic though but most places in Bali are. After all, who doesn't like to chill in big swings right! Having said that though, I quite enjoyed my time on this bird nest instead! I went super early and almost felt like a bird with the crack of dawn and lush greenery around.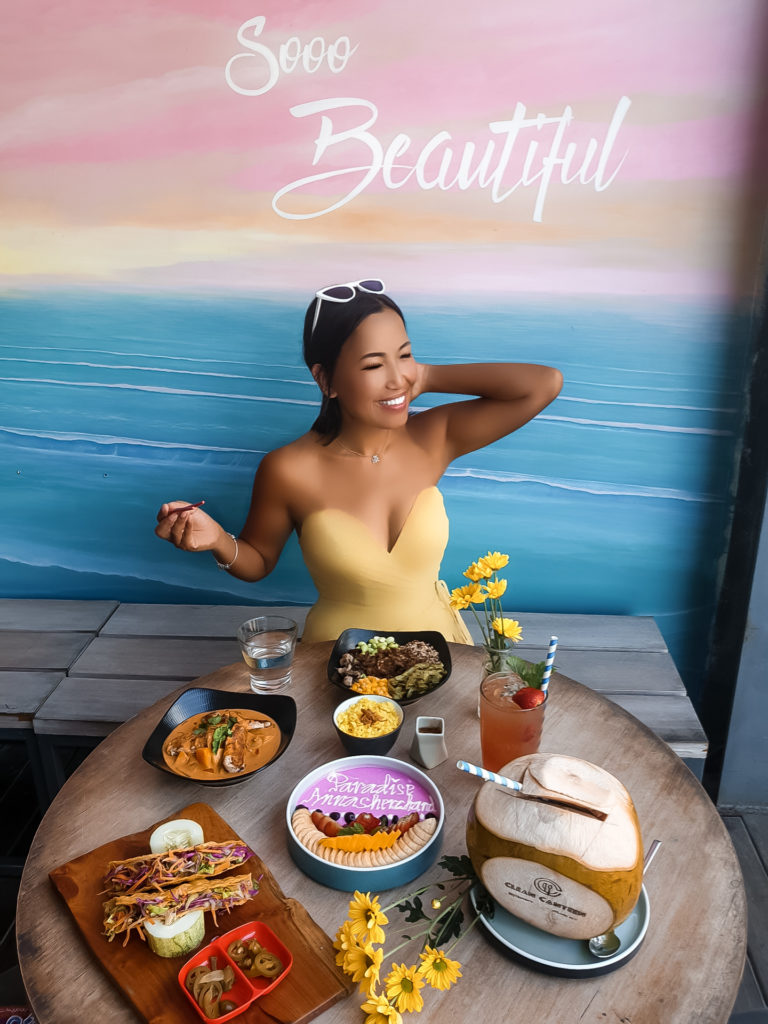 5. Eat all good food
Canguu and Seminyak offer loads of Instagram worthy cafes. I recommend Clean Canteen, On the Juice, Sea salt and Settimo Cielo for fine dining. Old man, the lawn and sand bar is where most people end up after 12 am! Also, if you prefer to try some local food, look out for Warung Nia or Warung Indonesia.
C. Uluwatu
And the final area we have on this 2- week Bali itinerary is Uluwatu on south Bali.
1. Watch sunsets at Nyang Nyang beach
Nyang Nyang beach is my favorite spot in Uluwatu. It's like hiking downhill and after 20 minutes you will be greeted with a creamy sands beach view! It is still a secret gem as I only saw some locals and the wave is perfect for surfing! Just be ready to hike up 500 stairs to exist!
2. Visit the Uluwatu Temple or Pura Luhur Uluwatu
This is another most visited temple in Bali. A unique Temple, located at the edge of a cliff! It is within a large park with a lot of beautiful scenery, but also plenty of "naughty" (could be dangerous) monkeys, be careful with them. Leave your glasses, hats, jewelry at the hotel or in the car.
There is plenty of parking spaces and good eateries too. Recommend to get there around 4 pm so you will have enough time to visit the temple, take some photos and watch a beautiful sunset. There is an entry fee of around 30,000 IDR.
While you are there, check out the view from the Uluwatu cliff as well. It offers the best view of the Indian Ocean. A nice place to see the sunset in Bali. The panorama is magnificent with the wave smashing the cliff.
3. Watch the Kecak and Fire Dance
After you explore the Uluwatu temple, head to watch the Kecak and Fire dance show. It starts at 6 pm but seats start filling fast! They run it only once a day – at night. It is an excellent show in wonderful settings. You will love it especially if you're into the culture.
Try & get inside the auditorium early and get a seat way up top facing the temple where you can overlook the sea, along with the dance and sunset! It is a different experience altogether. And at the end choose you can choose if you want to have a selfie with Hanuman, Sita, Jatayu or Kechak!
Recommend to buy tickets beforehand to get seats especially in high season.
4. Try all the awesome food
Uluwatu offers some of the best eateries in Bali. I recommend smoothie bowls at Nalu bowls., Single Fin, (loved their beetroot dips), and Uluwatu Cliffhouse for cool cocktails and music. Great spot to end the day too!
If you are staying longer in Bali, this article can also be used as 3 weeks Bali itinerary.
Nusa Penida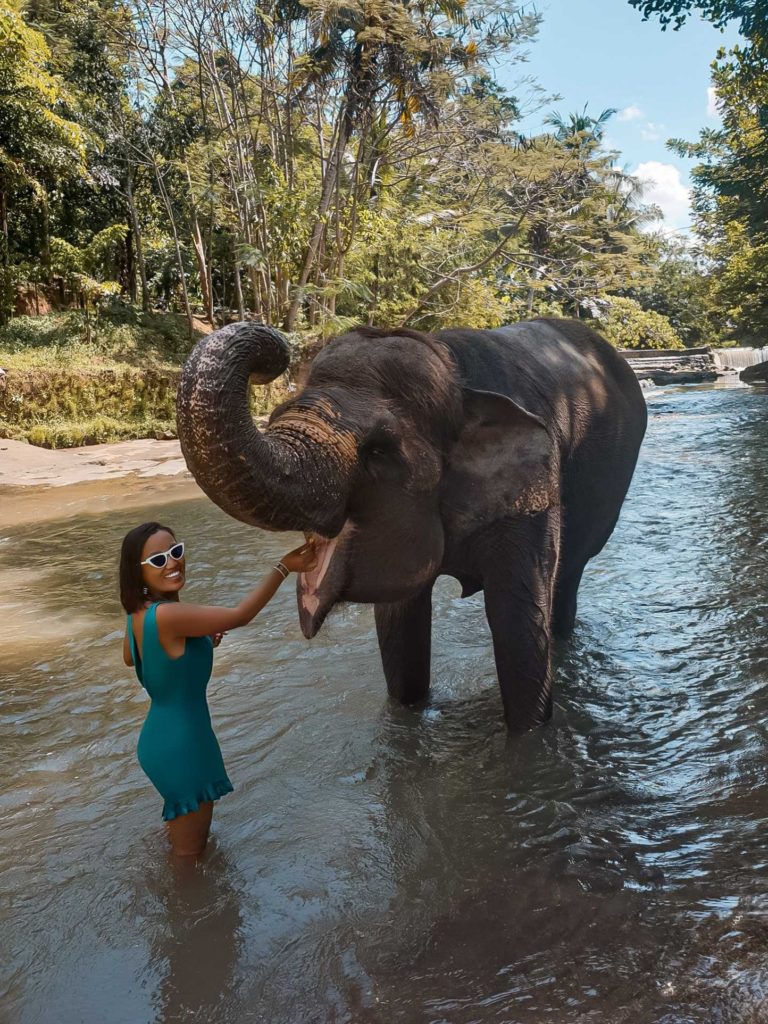 There are more about 18,000 islands in Indonesia! So, if you have to pick one island to explore I recommend Nusa Penida. You can visit here as a day trip from Bali or stay multiple nights. There are many stunning sights all around the island and if I had time, I would have easily stayed here for two weeks!
I also liked this island better than Nusa Lembongan, Nusa Dua or Nusa Ceningan. Just look at the pics below! I didn't have enough time to go Gili Islands on this trip but I am glad I made it to Nisa Penida and highly recommend it.
From Bali, you have to get on a boat at Sanur pier to get to Nusa Penida. And then either hire a bike yourselves or go on a tour. Be warned, all the roads are not easy to ride on, there are bumps and holes most part of it.
I did a private tour of the island and it was just me and one other female guest plus our driver and a guide. Pick up and drop off the hotel was included and language was no barrier. It was stress-free and we didn't have to wait for anybody. Best part? We arrived at the locations earlier than other people and had the places to ourselves expect the last one. It was great to be able to experience an island on our own little private tour! It was worth every cent!
Book the private Nusa Penida and hassle -free day tour, book it here.
Below I cover the best places to visit in this magnificent Island – Nusa Penida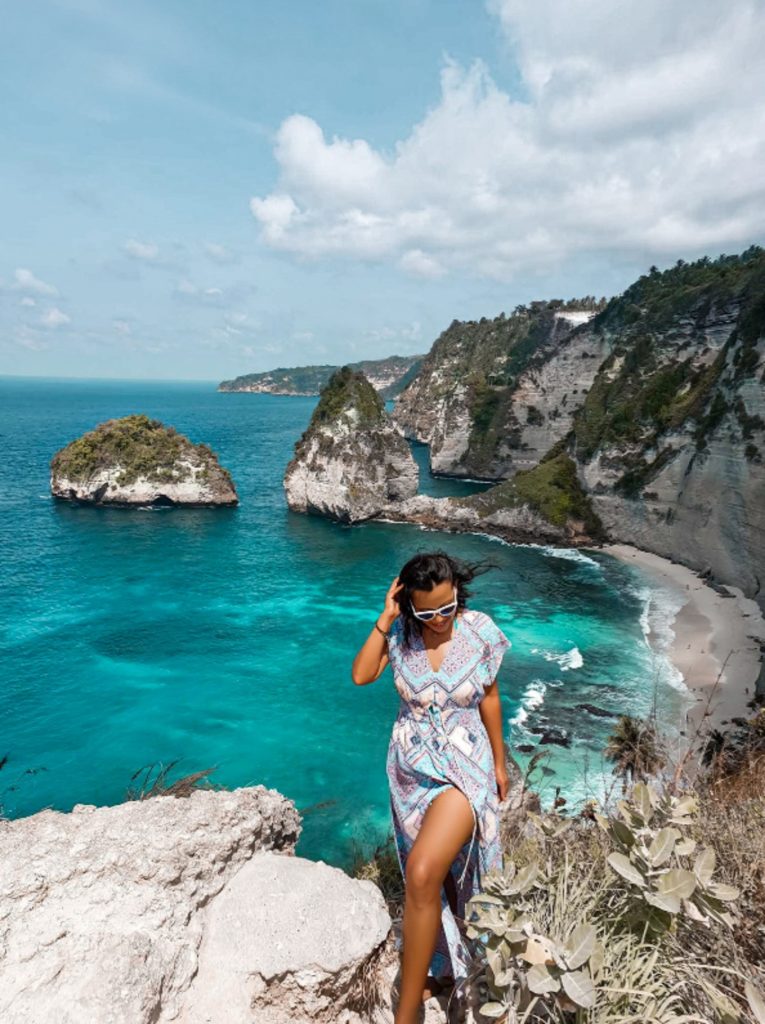 1. Diamond Beach
Just wow! Diamond beach is my absolute favorite beach in Bali. Road to get here was okay but be careful with the steps leading to the beach as it might be slippery. In the middle of the stairs to the beach, there is a spot where you can take pictures on the wooden swing and/or birds nest. I loved the view from above though – It is amazing but once you go down, it is equally scenic as well. Be mindful of currents when swimming as there are no signs at all!
On the other side of Diamond beach is Atuh beach. If you have to choose between Atuh and Diamond – go for Diamond! It is the most beautiful beach in Bali as it is both: beautiful and quiet.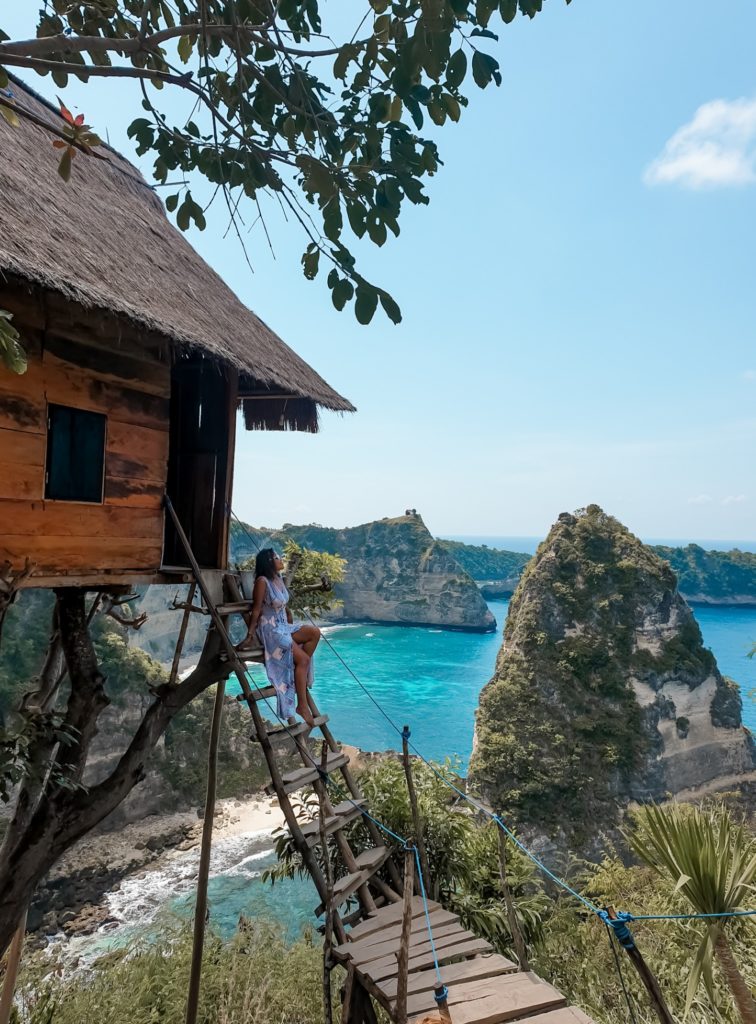 2. Rumah Pohon
In Balinese, Rumah Pohon means treehouse. It is only a 5 minutes drive after Diamond beach and 20 mins hike down if you are fit, if not, maybe 45 mins longer.
It is a great place to visit for an hour but would be even better to say the night. Can you imagine watching the sunrise, sunsets, waves at the diamond beach and millions of starts all from your own little cute treehouse?
Luckily, you can rent this beautiful treehouse in Airbnb. Use this $76 Airbnb credit for your first booking and enjoy this view.
3. Keling King beach
Kelingking Beach is also known as Dino Beach. The road to this place is not good but it is worth the view! It is an Instagram-able place with a stunning view. If you are fit or love challenges, you can also hike down and enjoy the nice beach. But if you are not, you can relax and admire the view from the top of the cliff.
In Nusa Penida, it's one of the best spots for pics. Recommend going early in the morning to the beach as it's very hot and humid. The access is a bit rough (doable in flip flop, but better with shoes), but easy steps at the beginning. Just don't forget your camera, sunscreen, and hats!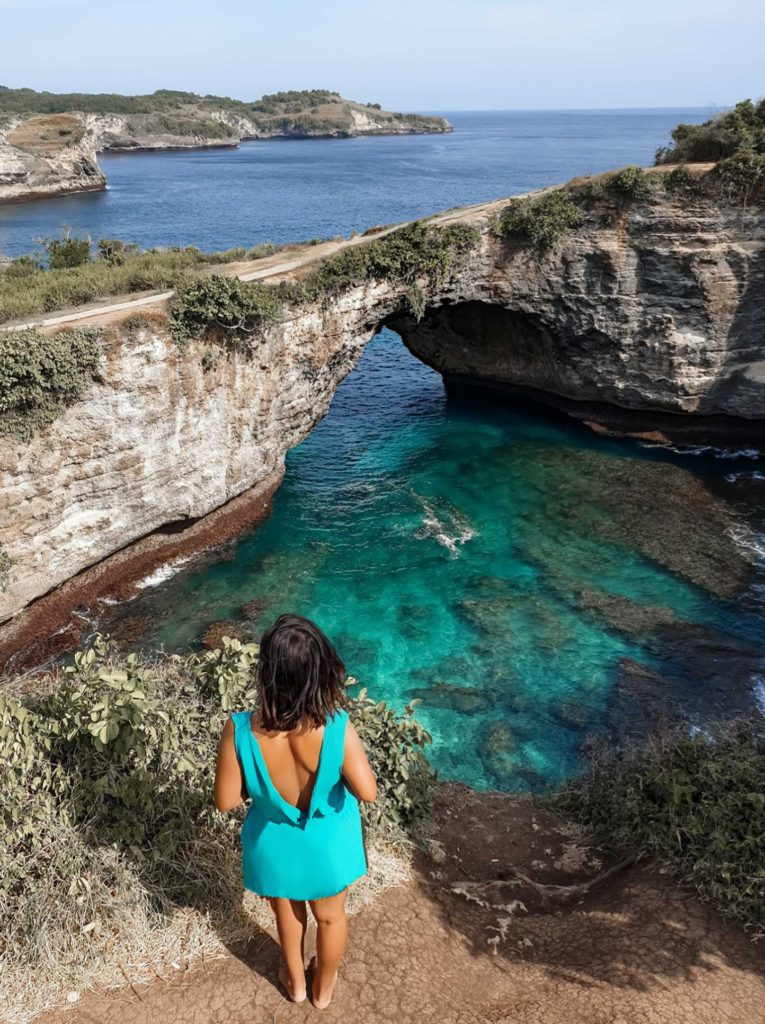 4. Broken Beach
What a sight! The broken beach looks ethereal. That blue water will blow your mind and the landscape is just perfect. Perfect.
Broken Beach is so beautiful and a natural phenomenon. But the road to get here is very rough. I wouldn't recommend trying on a scooter, instead, organize a private tour or hire a driver, way easier.
Once you arrive, you can take it easy as there are many viewpoints to get that perfect picture and it's easy to navigate your way around the broken beach. Touristic but a must-see!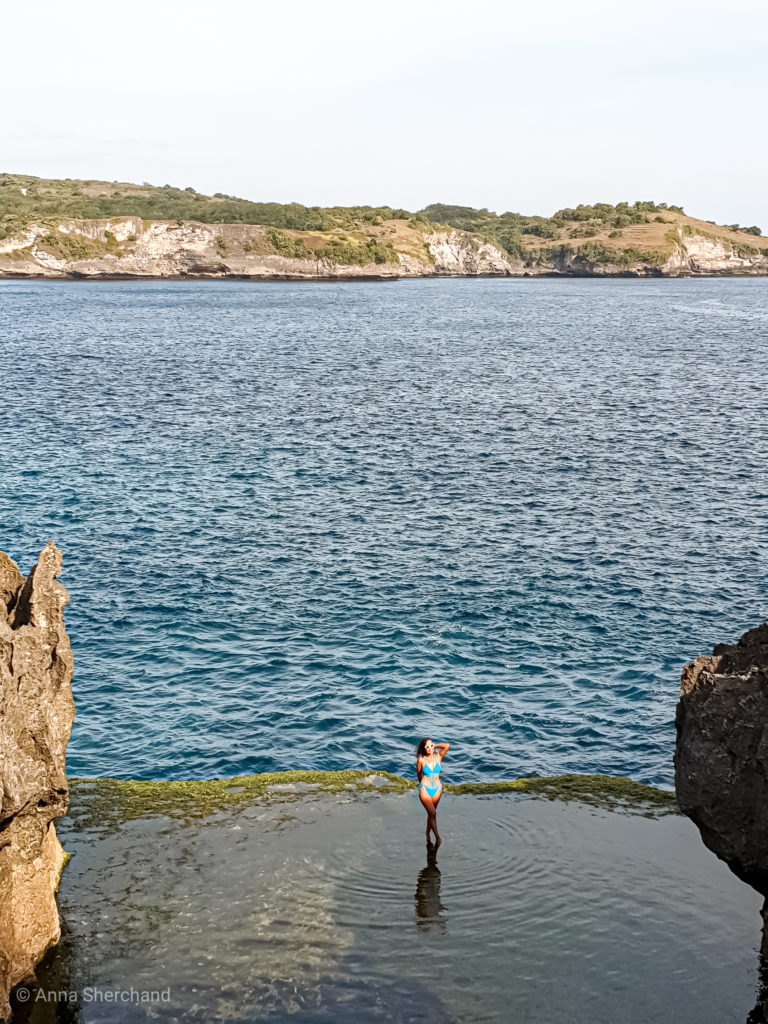 5. Angel BillaBong
As a bonus to visiting Broken Beach, you get to see Angels billabong which is also beautiful and shouldn't be missed. 5 minutes' walk from the broken beach and you are there!
It is safe to enter this hidden gem if the tides are low as the natural infinity pool leads to the ocean. If you aren't fit, going down there is a bit of challenge though. There are only a couple of stairs, then it's only natural footholds or probably a part of the boulder you can hold tightly to.
Make sure you already have your swimsuit on when you visit this place. Water is refreshing especially if you've traveled in the sun for the most part of the day. Just be extra cautious of the waves, it may be shallow but the strong waves will not only throw you off balance, but it can also eat you up and take you down!
Nonetheless, it is one of the gorgeous and must-see places in Nusa Penida.
If you still have some time left, the following places are highly recommended as well.
Ps: If you have some more time, I recommend swimming with Manta Rays in Nusa Penida.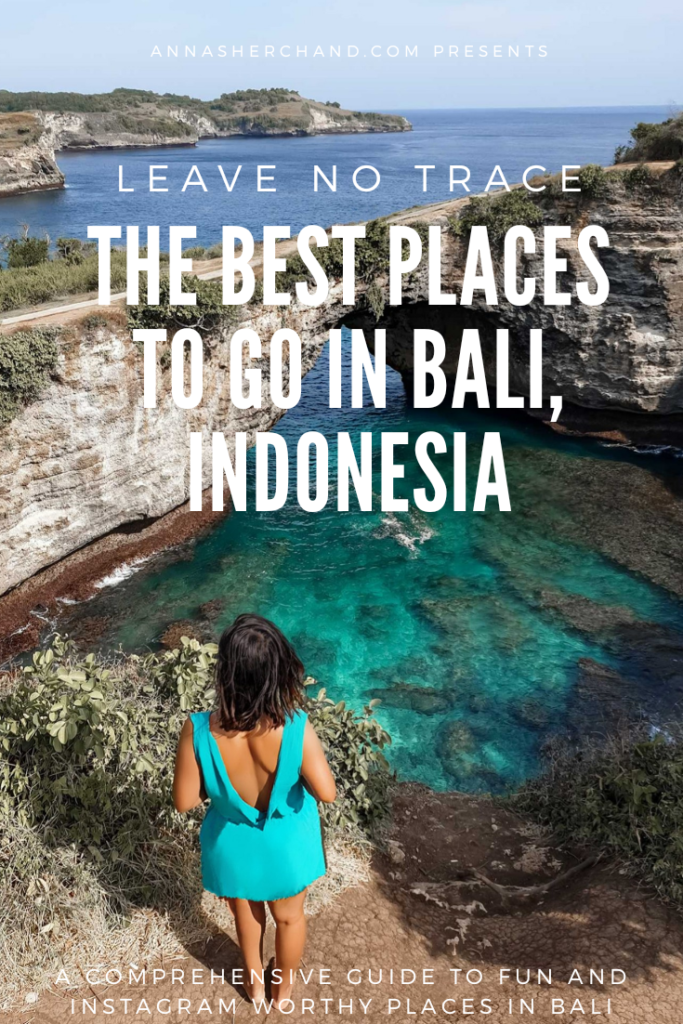 Let me know in comments:
Which activity do you want to do/see first in from this 2 week Bali itinerary?
Going to Thailand next? Here's the handy Thailand 2 weeks itinerary.
Heading down to Darwin, Australia after Bali? Read about the must do in Darwin.
In case you are thinking about going to Sydney, read the Master Travel Guide to Sydney– everything from visa, wifi, food and all are covered.
If you need to book accommodations for your next travels, get a $ 76 discount with Airbnb here. It is available only for my readers.
Alternatively, you can check hotel prices and book it through trusted Agoda, or Booking.com
If you don't have your flights yet, check out ways to book the cheapest fares here, or here, but if planning and booking your trip is a hassle, let me help! Contact me now.
2 weeks Bali itinerary for first timers