Are you looking for the best places to visit in Lahore Pakistan? Look no further! I have written down all the best places to visit in Lahore. As a bonus, I have also thrown in some travel tips, you may want to continue reading till the end. If you are traveling to Lahore, you will find this post covered with information to prepare you for an adventure that you won't forget!
Pakistan is one of the least traveled countries out there and you can go for days without seeing a single foreign tourist. Having said that though, the country is opening its door more and more and with such beautiful nature, history, culture, and friendly people, there is no better time to visit the country than now.
Last month when I traveled for a month in Pakistan, Lahore was my last stop. So, I had a couple of extra days to roam around and get to know the city better.
Lahore is the capital of the north-eastern Punjab province and the second-largest city in Pakistan after Karachi. It is well known for its centuries-old historical background and beautiful places in and around the city. Not only I am sharing the best places to visit in Lahore but also each location!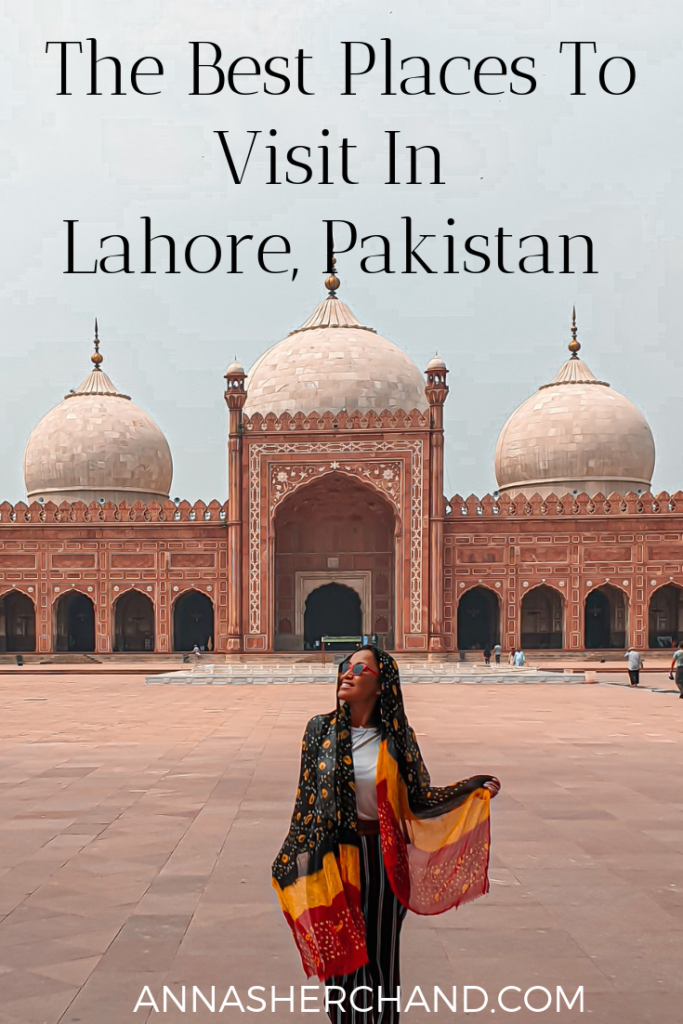 But before I start sharing all of that, I have put together some important things to make your Lahore, Pakistan travels easier and more enjoyable.
1. Install the Uber App
First thing first, download the Uber app for going around in Sydney. Better than waiting for taxis and trains, get the reliable and fast door-to-door Uber service. For my readers, I'm giving you $10 off your first ride on the Uber app. To accept, use code 'k7zapn' to sign up. Enjoy! Details: https://www.uber.com/invite/k7zapn
2. Accommodation 
No matter which area you stay, I recommend using booking.com and sorting with price, then consider the ones with the highest reviews plus within 1km of the center/old town in order to be between all the actions. For tours, I recommend using get your guide and walking tours available in most places.
3. Book Cheap Flights
And lastly, find the cheapest flights through the most trusted sites such as Skyscanner or Momodo.
I have detailed travel resources right here. Save money, learn what and how.
Few handy Urdu words
Hello – Salaam walekum
Thank you – Shukeriya
Okay – Theek Hai
Yes/No – Jee Han/ Jee Nahi
How are you – Aap kaise (for male)/ kaisi (for female) hou?
I want to go to______ (place) – Muje _ (place) jana hai.
Pardon me/ Excuse me/ Sorry – Maaf Kijea
Good Bye- Khuda Hafiz
Find out about the most beautiful places in Pakistan! You won't regret opening this one.
16 exciting places to visit in Lahore
Click on the name of the places and it should take you straight to the google maps.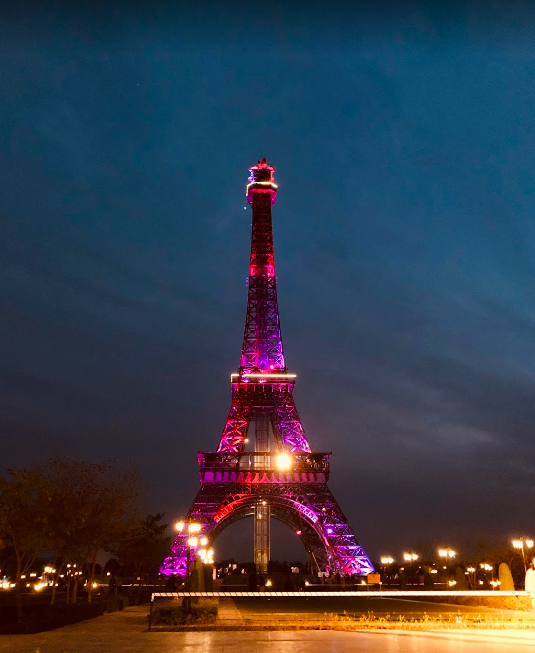 I have been to Paris 4 years ago and visited the Eiffel Tower there. However, these days one does not need to go all the way to Paris just to see the Eiffel Tower. Researchers claim that there are 130 reproductions exists all over the world! One of them is this one in Lahore, a replica built by Bahria Town.
This replica is little out of town so, I am mentioning it first as the rest of the places are next to each other and easier for you to plan.
Well I mean it isn't the real Eiffel Tower but it's the third-largest copy of the Eiffel Tower monument in the world. One of the perfect places for picnics in Lahore and if not, visiting alone is one of the top 5 things to do in Lahore for Pakistanis and visitors. Its height is 80 meters (262 feet) and it offers L'Eiffel Coffee Shop on the 1st floor, Fine Dine Restaurant on 2nd, and a beautiful Viewing Deck on the top. When I found out about it, I had to go see it for myself!
The ticket to use the lift is a bit expensive but worth to use once. I recommend going on a clear day to see the Bahria Town and South West of Lahore. There is also parking available and it is open 7 days a week 7 am – 12 am
How about the most beautiful places in Pakistan? You won't regret opening this one.
2. Badshahi Mosque – One of the must see places to visit in Lahore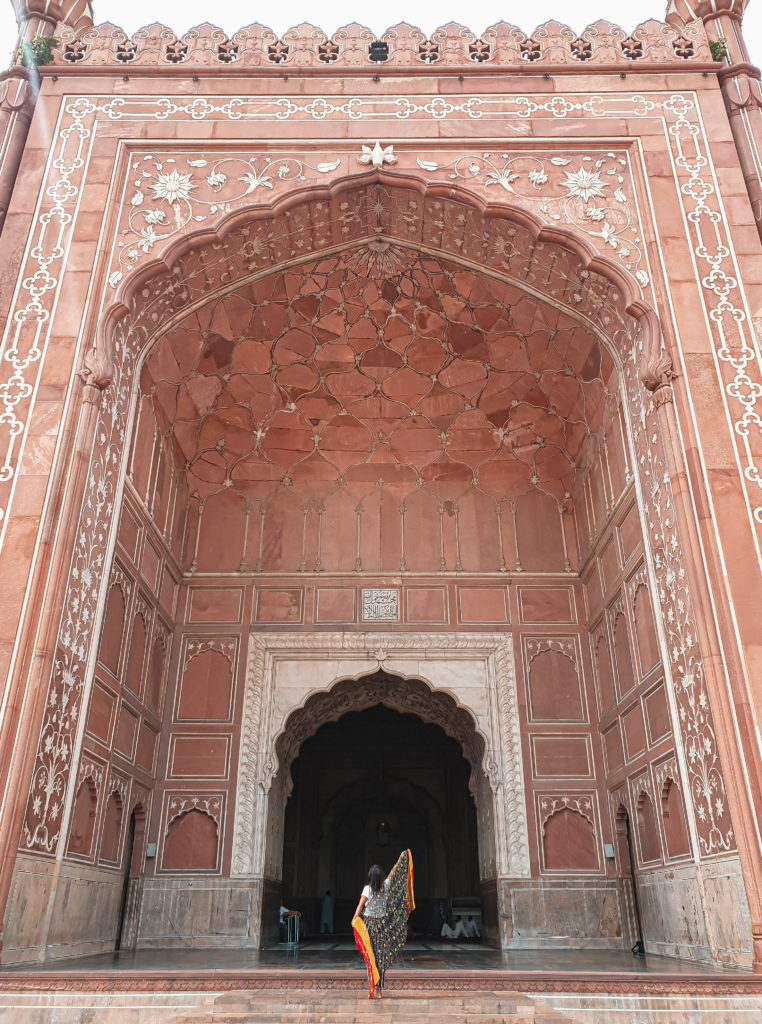 The Badshahi Mosque or "Emperor's Mosque" was built in 1673 by the Mughal Emperor Aurangzeb. It is one of the city's best-known landmarks and a major tourist attraction epitomizing the beauty and grandeur of the Mughal era. The building, a shining example of Mughal-era architecture, is made of red stone.
When I was there in August, the main square inside the first wall was blistering hot despite the carpets they put for people to walk. Not sure if water was sprayed on the carpet to make it cool but it was wet which didn't help as I was still wearing socks! (you have to leave your shoes outside before entering the Mosque) But once you are inside the Mosque it is quiet and inspiring. Wall art and tile work are beautiful and carry a long history. You could sit there for hours just admiring the craftsmanship. Hence it is one of the top places to visit in Lahore. While there you can also visit the Tomb of Iqbal beside the Mosque.
Pro travel tip: The view from the Haveli Restaurant rooftop across the road is out of this world!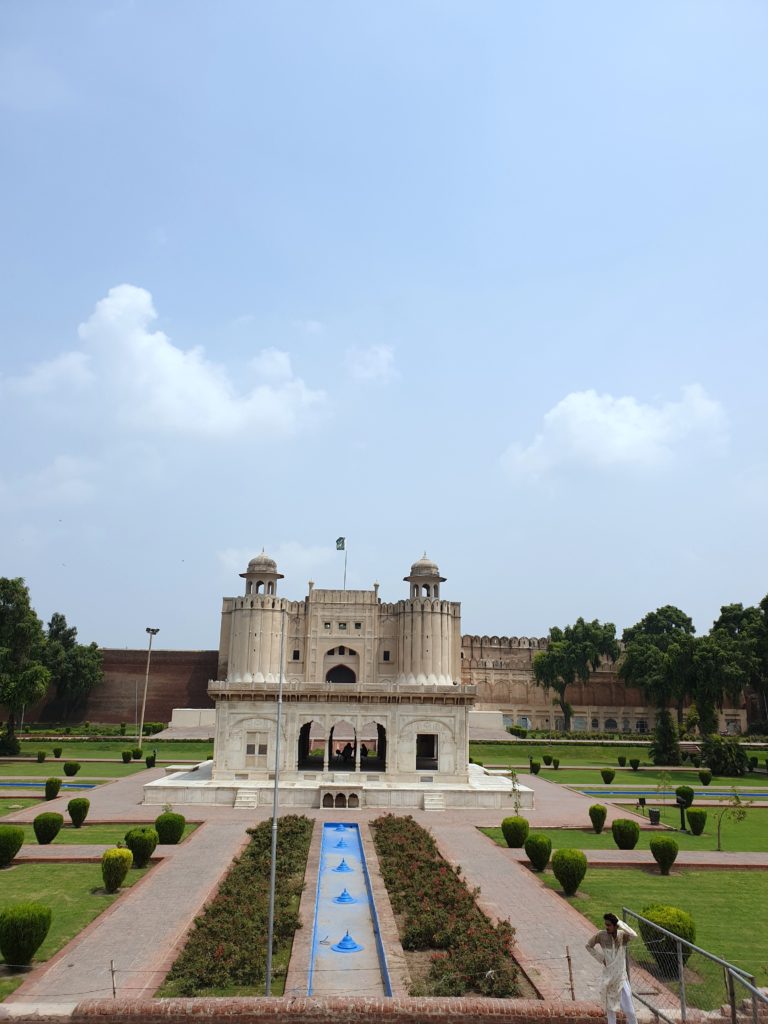 As you step out of the Badshahi mosque, right at the front you would see the Lahore fort. Take left and go around the wall and exist to enter Lahore Fort. If you don't want to walk around the fort, you can pay for the golf cart. (it's an easy walk so unless it's pouring down or too hot, I would suggest walking the fort)
Inside the Lahore Fort are royal palaces, gardens, fountains, baths, and many great pieces of art and architecture from the Mughal period. The fort was the capital for the Mughal Emporer Akbar in the 1580s. The area itself has been occupied since the 1100s. You can also hire government registered guides who give you proper information and interesting narratives. Just bring plenty of water and wear comfortable footwear.
Lahore Fort is open 7 days a week 8:30 am – 5 pm.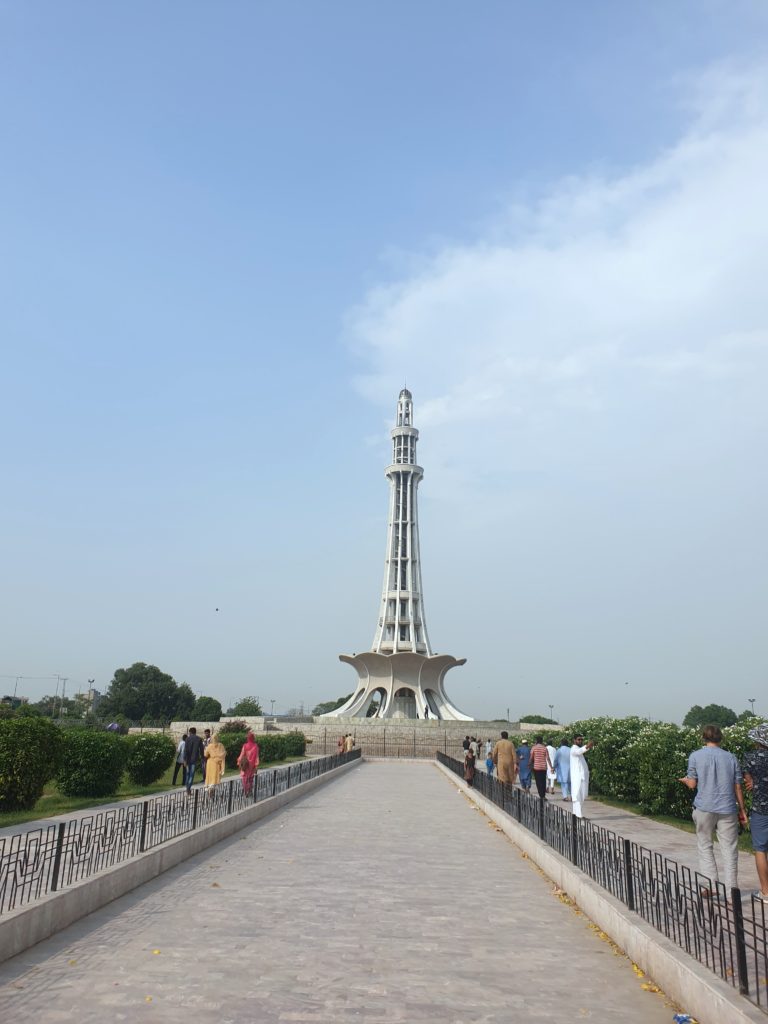 Minar-e-Pakistan used to call Manto Park and it stands 70m tall in the middle of what looks like a Park garden. It is situated on the opposite side of famous Badshahi Mosque, is a modern 'Eiffel Tower' on the spot where on 23 March 1940 the Muslim League Party Of British India passed the resolution for the creation of the Independent Muslim country of Pakistan.
You can climb or take the lift to the top for an excellent view of the Lahore fort, Badshahi Mosque. the Tomb of Ranjit Singh etc. The dancing fountains are exceptional, there are golf cart rides, a Pakistan History museum, and a good place to just sit around and enjoy the scenery. It is easy to reach and with Badshahi Mosque, Lahore Fort and the Walled City of Lahore in the vicinity make it one of the places to visit in Lahore.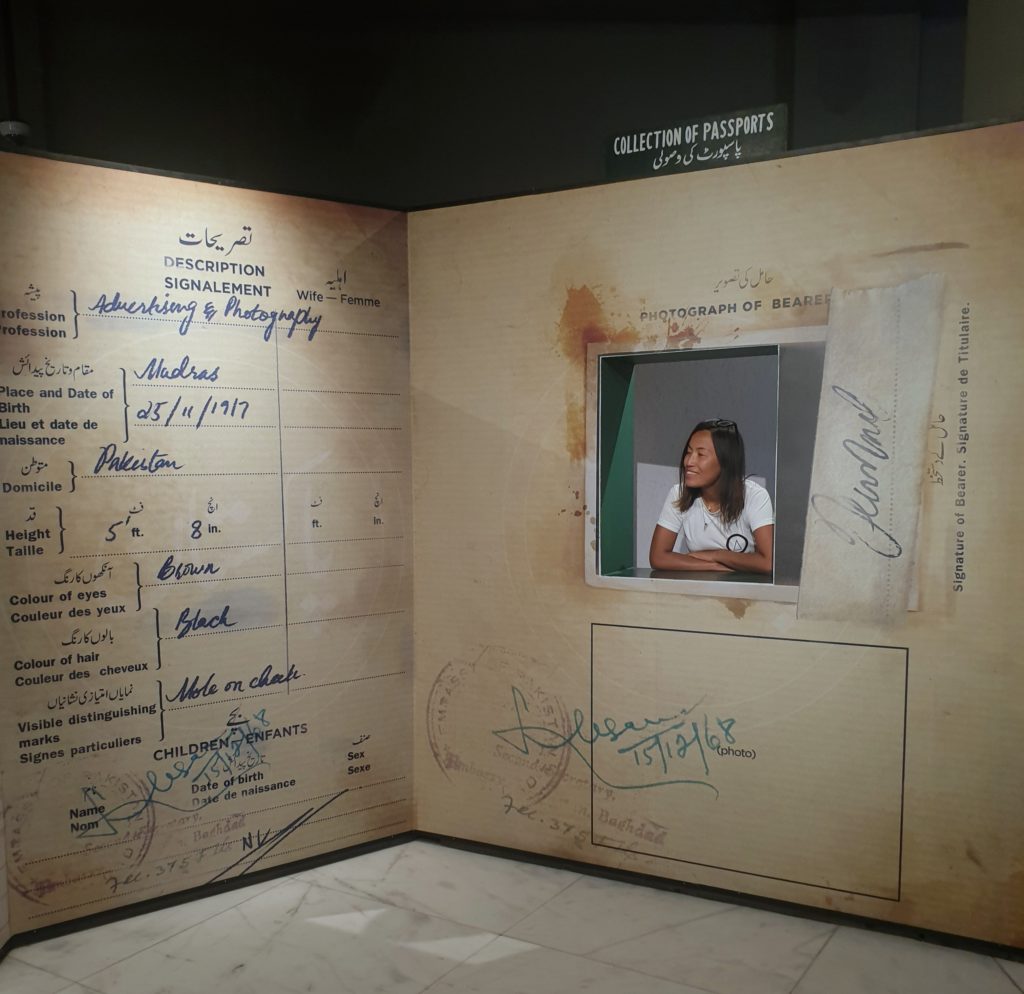 2 minutes walk from the Minar e Pakistan, passing through the garden you can arrive at the National History Museum which is in Iqbal Park (one of the most visited parks in Lahore) The exhibits are well displayed and interactive, which is one thing that I believe very few museums in Pakistan have. You can learn about the history of Pakistan through audio and visuals. I enjoyed watching and listening to the history of Pakistani passports. \
I also took a virtual reality trip through the Partition, and listened to various stories of Pakistani leading women and there are other videos as well. Truly wonderful and highly recommended!
No food and drink are allowed (not even water). Bags are also not allowed. However, they can be kept with the security guards outside of the museum.
It is closed on Monday but open Tuesday to Sunday 10 am – 4:30 pm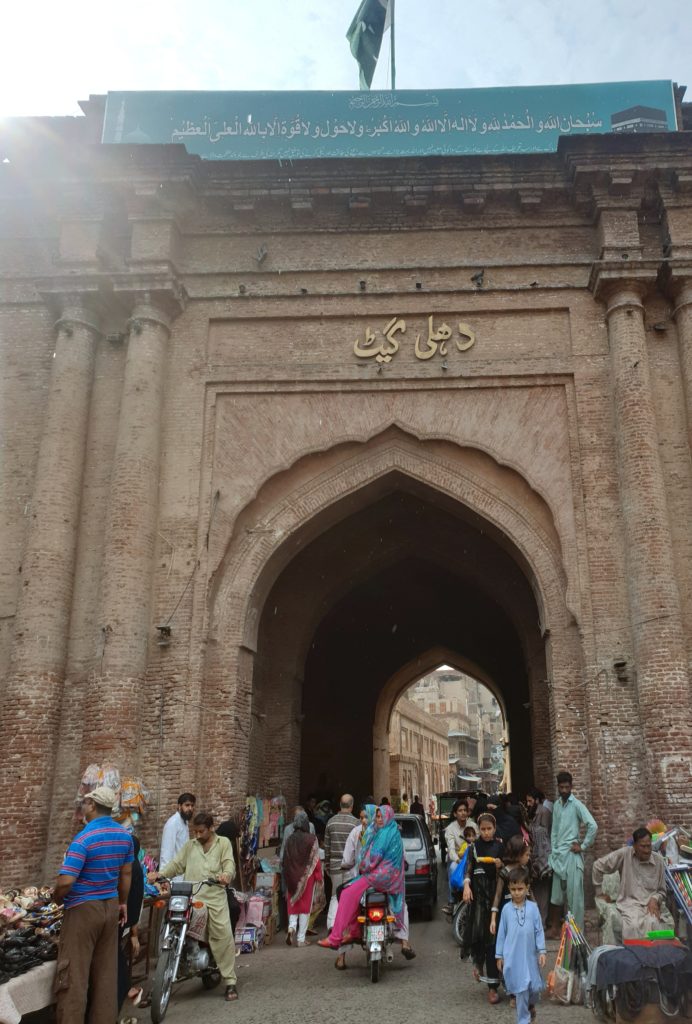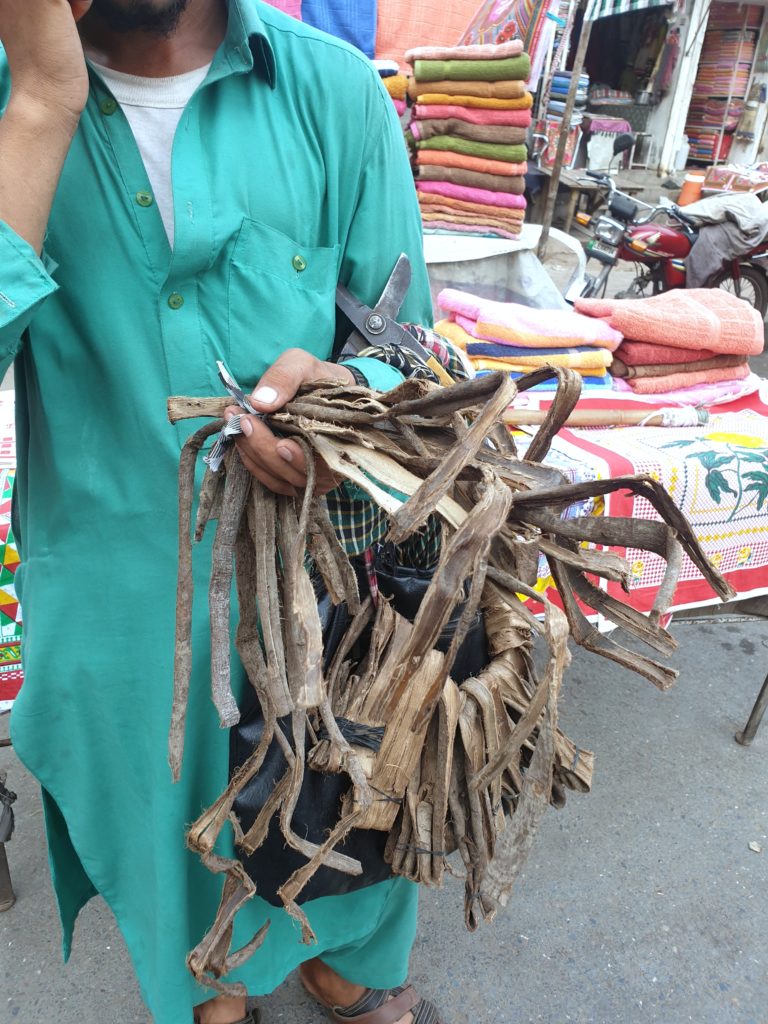 It was originally built during the Mughal period, and now it is a historical landmark. Most known for the small market around it. Dehli gate market is one of the oldest bazaars in Lahore. The original structure of the old gate is also renovated and maintained. You can find all sorts of shops there. The road is small inside the gate. So cars cannot enter beyond the gate. It is best to venture on foot beyond the gate.
As you walk around inside the gate, check out the dark narrow streets with interlinked houses.
Pro travel tip: There is a very narrow street called Patli Gali (tiny alley), in this street, only one person can walk at one time which is one of the best and secret attractions in Lahore, Pakistan.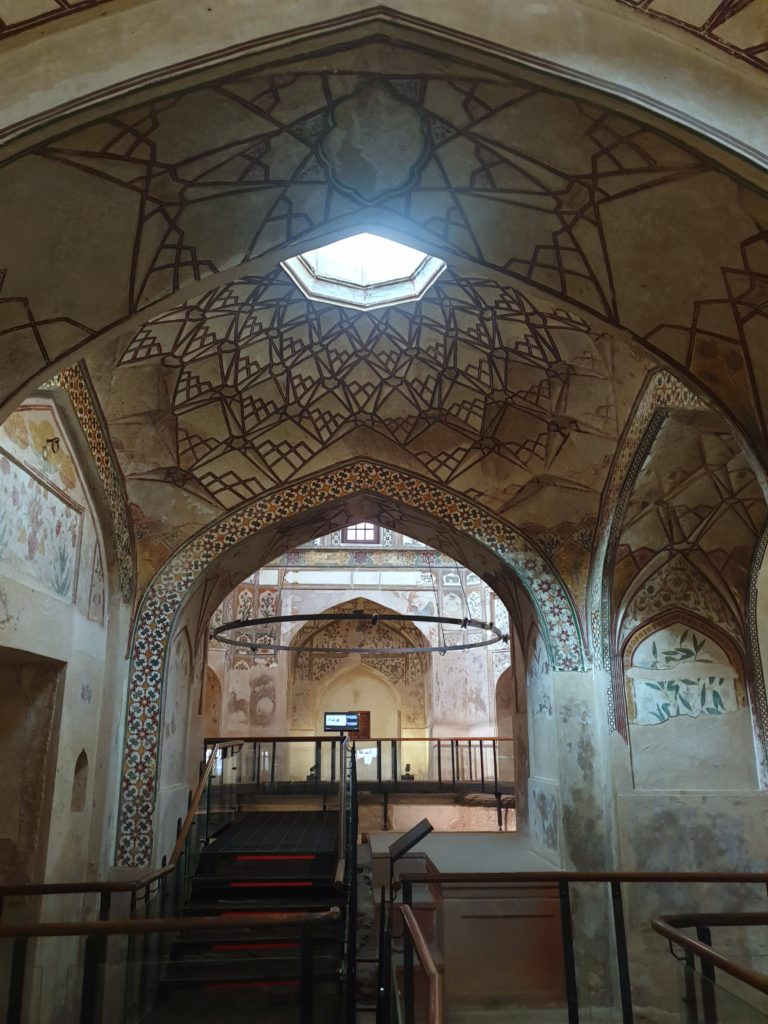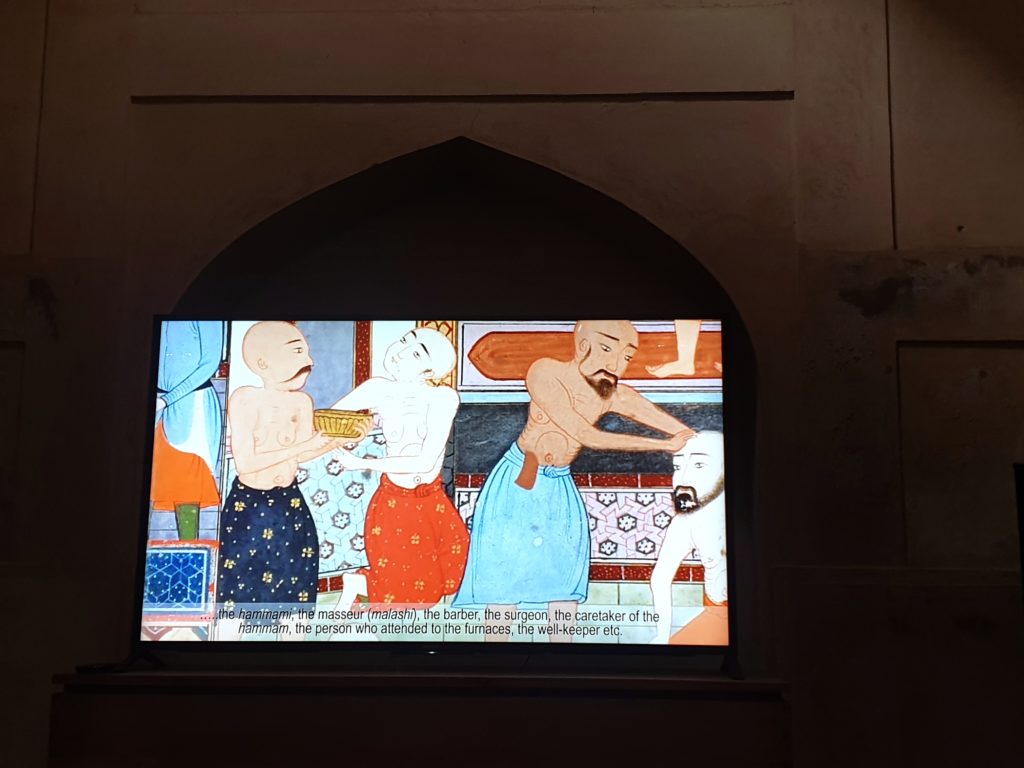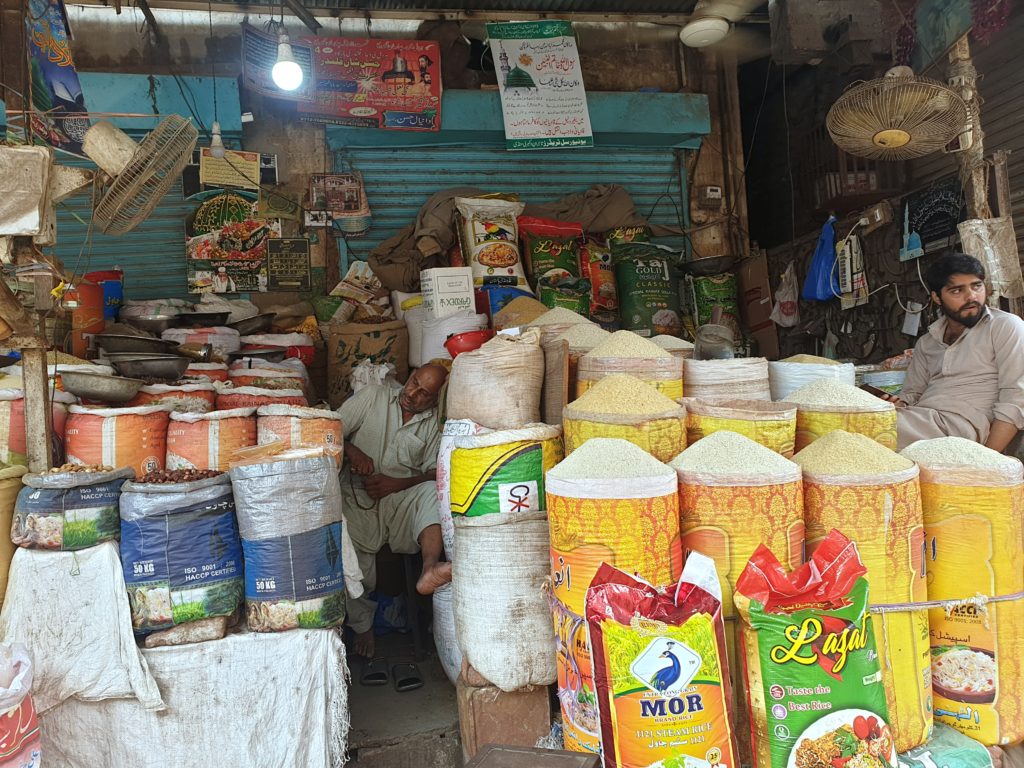 Shahi Hammam is aka Royal Bath, which is located on your left as you enter the Delhi Gate. It was fully destroyed during war times but there is a continuous restoration with attractive Fresco work. It was also recently recognized by UNESCO as an international world heritage site, and since then many efforts have been made and are still being made to keep it intact and preserved.
Although it was souring hot inside, I recommend watching the documentary they play there to understand how the restoration work was carried out. Then enjoy a nice cafe right outside.
Pro travel tip- Try speaking facing one corner of the wall, another person can actually hear what you say from another corner! It reminds me of my childhood days when I and my brother used to make a telephone with matchboxes and thread and speak to each other from different rooms! ha I mean it's nothing like that but it is still funny how this works!
It is open every day from 9-5 pm and the entrance fee for foreigners is 400 Rs. and a local visitor is 50 Rs.

Once out of the gate, you can find the biggest wholesale clothes market and Delhi gate market.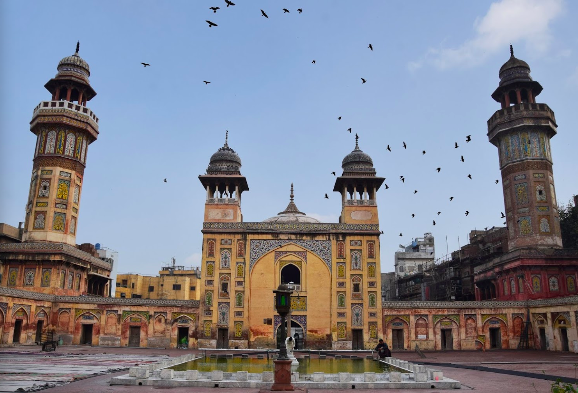 Little further from the Shahi Hammam, you can see the Wazir Khan Mosque which is the 17th-century mosque. The journey there adds to its charm as entering the walled city from Delhi gate takes you slightly back in time.
Foreigners are not allowed to stay during prayer timings. But before prayers, you'll see families sitting in the prayer hall and lots of interesting architectural features. You need someone with the knowledge to point them out. There were many guides in the area telling stories. So not a problem to hire one.
It is truly a work of art inside out. Hence it is on this list of places to visit in Lahore.
Unlike other attractions, this mosque is open every day from 5 am – 8 pm. Pro travel tip: The guy watching the shoes will let you up the minaret for a small fee if you ask.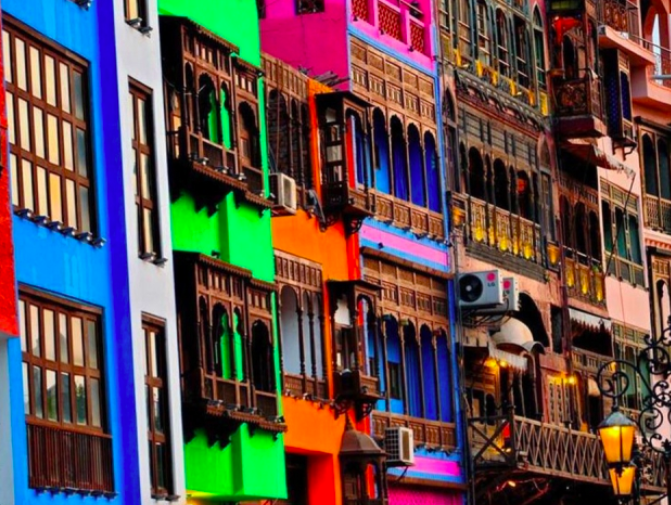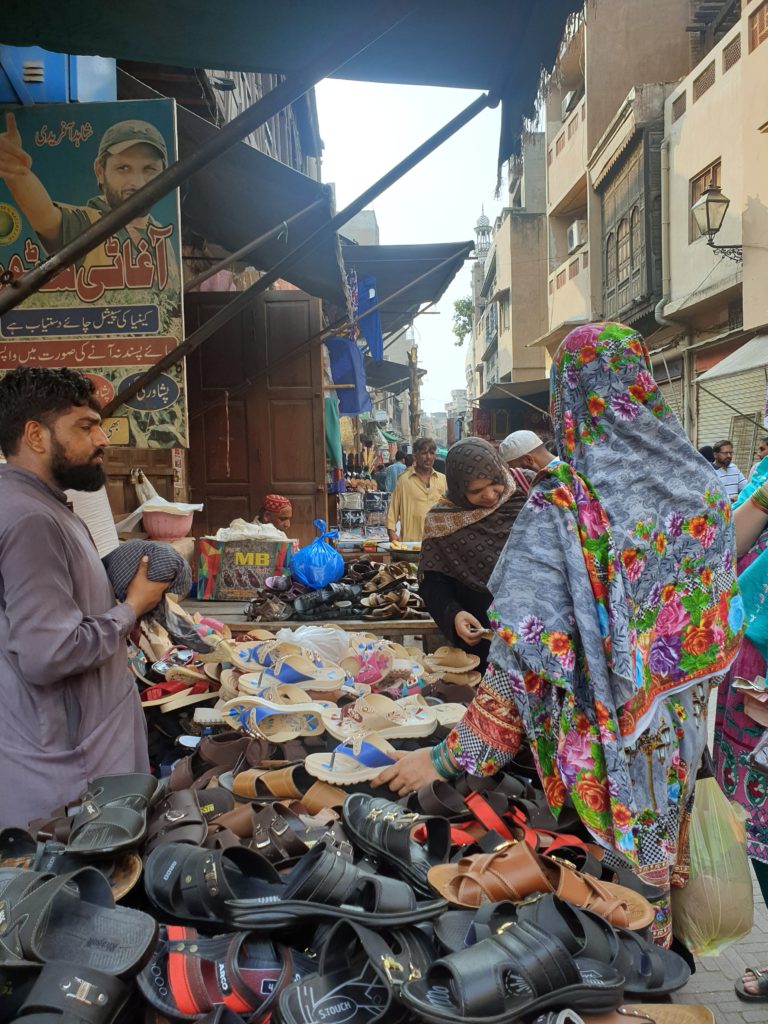 Anarkali Bazaar is named after a slave girl who, according to legend, was immured by Mogul Emperor Akbar for having an affair with his son Salim. The bazaar is located in central Lahore, has its own distinct character. and is renowned for its architectural heritage from the Mogul and British colonial eras.
The bazaar has two parts: Old Anarkali and New Anarkali. Old Anarkali is well known for its traditional foods but you will find the shops in New Anarkali are more interesting. They sell a variety of items, including traditional dresses. If you're looking to buy some traditional stuff and got bargaining skills, then Anarkali bazar is the place for you. It has a wide variety of formal embroidered and embellished stuff, and you can also find cool casual clothes for everyday wear. They are also selling shoes, jewelry, bangles, sweets, sports goods, and handicrafts. Within New Anarkali, there are individual market areas such as Bano Bazaar, Dhoni Ram Lane and Paan Gali.
Most things to buy in Lahore can be found in this market. It is also one of the best places in Lahore for photography, especially street and portraits.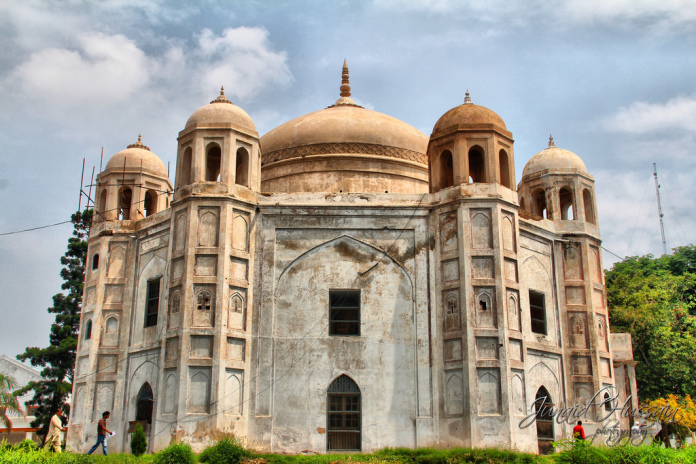 If you like love stories, this is a must-visit place in Lahore. According to legend Anarkali was accused of having an illicit love affair with Prince Salim and was executed in 1599! The history portrays the tomb was built by the Mughal Emperor Jehangir at the time known as Price Sallim for his love Anarkali, who was caught by Emperor Akbar for exchanging glances with Jehangir!
It is considered to be one of the earliest Mughal tombs still in existence and known to be one of the most significant buildings of the early Mughal period. The building is currently used as the Punjab Archives, and public access is limited.
Tomb of Anarkali is the octagonal shape and one of the interesting places to visit in Lahore Pakistan.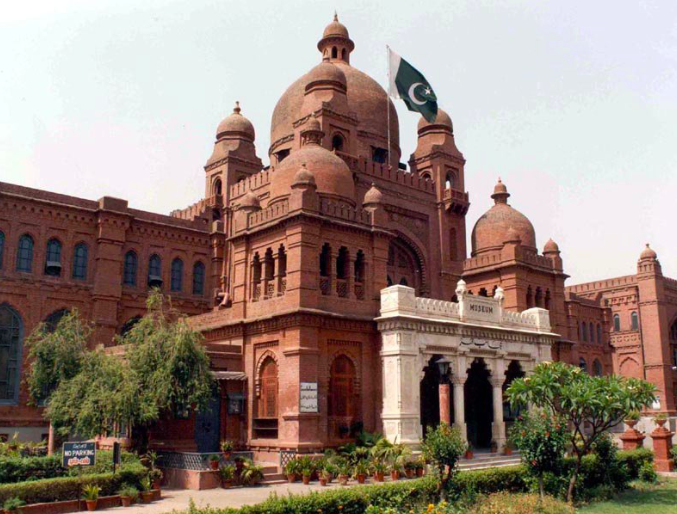 Lahore museum is the largest museum in Lahore and one of Pakistan's most visited and highly regarded museums. It was founded in 1865 during the British colonial period. You can see the detailed insight into the historical perspective of Pakistan, from the war era to the freedom revolution to currency to stamps to honor medals. The visit to Lahore is incomplete without the visit to this Museum.
Note: You have to pay a certain fee to take the professional camera inside the museum.
It is open except Friday, Monday to Thursday from 9 am – 4:30 pm.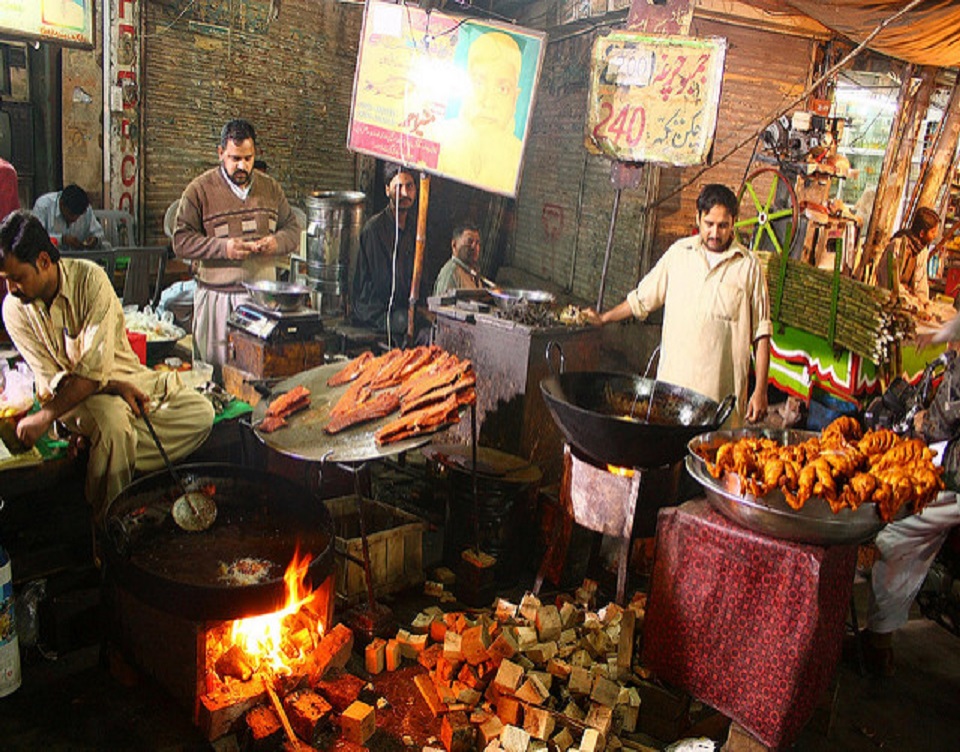 You can't come to Lahore and not try the Pakistani street food. Fort Food Street is one of the locals' favorite spots to eat and also considered one of the best places to eat in Lahore. Whether it be late at night or wee hours of the morning. You will find hundreds of variety and mouth-watering dishes from different vendors just waiting for you to come and eat.
I recommend trying out Pani poori, Bhel Poori, different types of chat and Gulab Jamun for dessert. There is a reason why locals call it the city of food! Food ranges to different prices but is affordable and the ambiance, as well as the view, is worth experiencing. The area is well lit and security arrangements are adequately adding up to make this place a great point for hangout, for family, friends, and visitors.
The Sheesh Mahal is located within the Shah Burj block in the north-west corner of Lahore Fort. Do you know the reason behind why this mahal was made of glass? Legends say in ancient days the queen was not allowed to sleep in the open air but she loved to see the stars while sleeping? So the king ordered his architects to make that kind of mahal which could solve the problem. And the architects built Sheesh mahal which was built with stones and glass and in the night the reflection of two candles in the glass looks like stars in the whole room. Relationship goals!
Another reason locals told me is, since there was no electricity in those ancient days, the mirrors were used to reflect light. Also, Sheesh Mahal bedrooms wherein no direct light so, the mirrors reflections created the heavenly ambiance.
It is magical and well worth a look.
It is open every day 10 am – 12 am.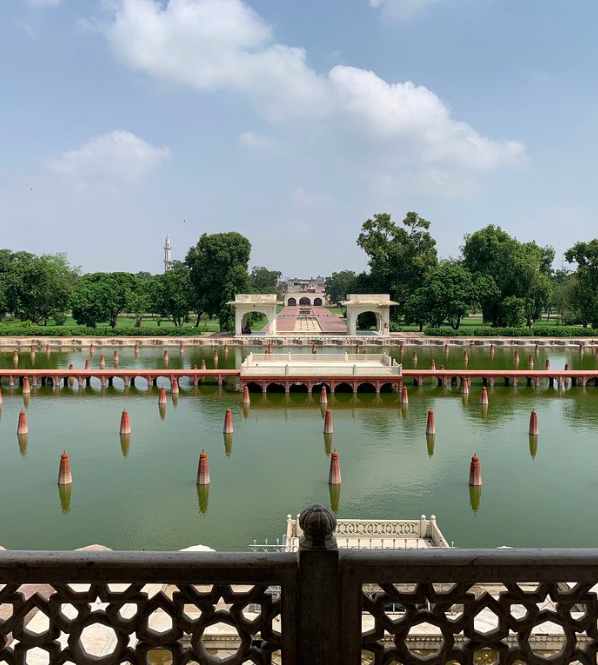 Shalimar garden is a historical landmark in the city of Lahore, built around the Mughal Empire. The artwork, the layout of the garden, fountains, is all great to look at. But the best part I liked was the daily walk and Jogging path. Many locals also visit Shalimar gardens as it is considered one of the family entertainment places in Lahore.
There were men selling water and some snacks. so if you forget to bring, easy to buy it here. Good spot to relax in between the greenery and on the way to our next stop Wagah Border. (See below)
It is also considered one of the best places to visit in Lahore, Pakistan. It is open every day 8 am – 10 pm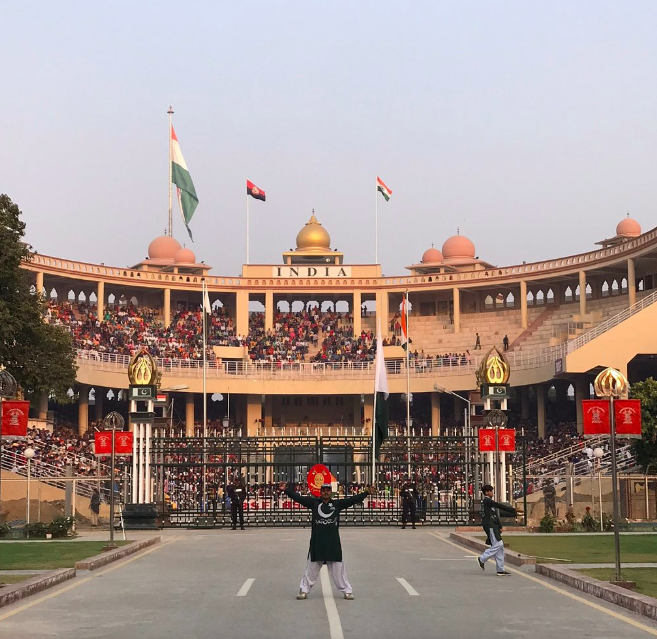 The Wagah border, located in Lahore, Punjab, is often called the "Berlin wall of Asia". It is a border crossing on the India–Pakistan Border where each evening there is a retreat ceremony called 'lowering of the flags'.
You can feel and see the incredible power of patriotism and the whole show lasts for 45 minutes.
And Wahga is a village located in the Wahga Zone of Lahore, Punjab, Pakistan. This is where the famous Wagah border ceremony happens. The parade and flag-lowering ceremony run daily with soldiers taking part in each side of the India/Pakistan border! During summertime, the parade starts at 5:15 PM while during winters it starts at 4:15 PM. The whole show lasts for 45 minutes. However, the Wagah attari border entrance is open from 10:00 AM to 4:00 PM, so its best to visit the place at least 1 hour before the parade starts.
Wagah border ceremony is considered one of the top Lahore attractions and even though it is a little bit out of town, the ceremony makes it worth to visit at least once.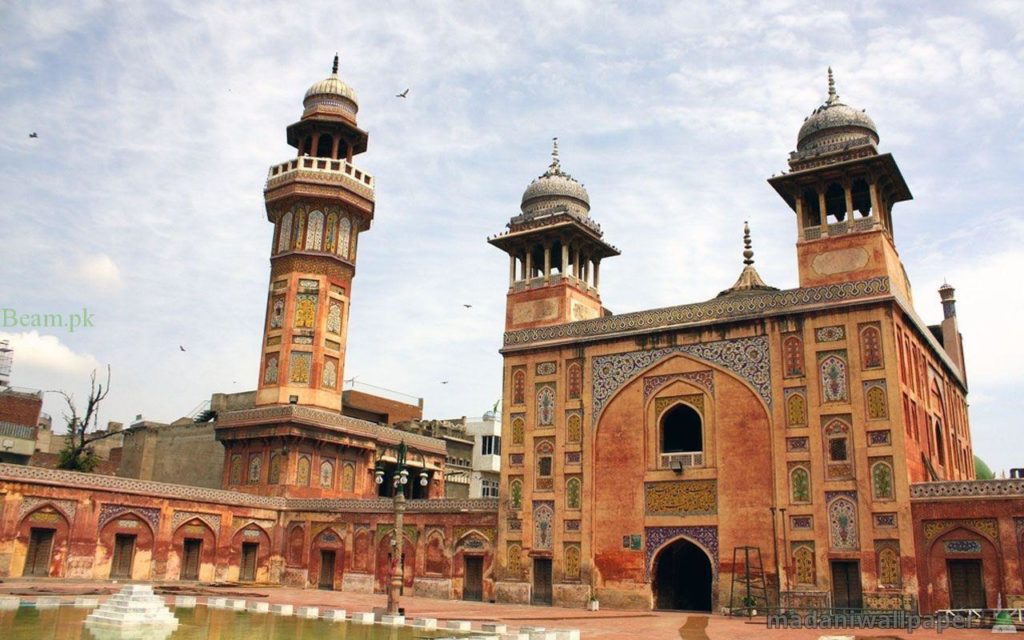 The walled city of Lahore, a heritage city is almost 4000 years old. It is a popular tourist destination having International Heritage Sites and other Landmarks of Mughal, Sikh and British Era.
As you enter the Delhi Gate and Shahi Hamman and walked through the Lahore Fort, the Badshahi Mosque in the old city. The restoration of the city after the war is very impressive. Recommend to allocate at least the good part of a day to wandering this part of the city on your visit!

I hope this article makes you want to visit Lahore and helps you plan your travels.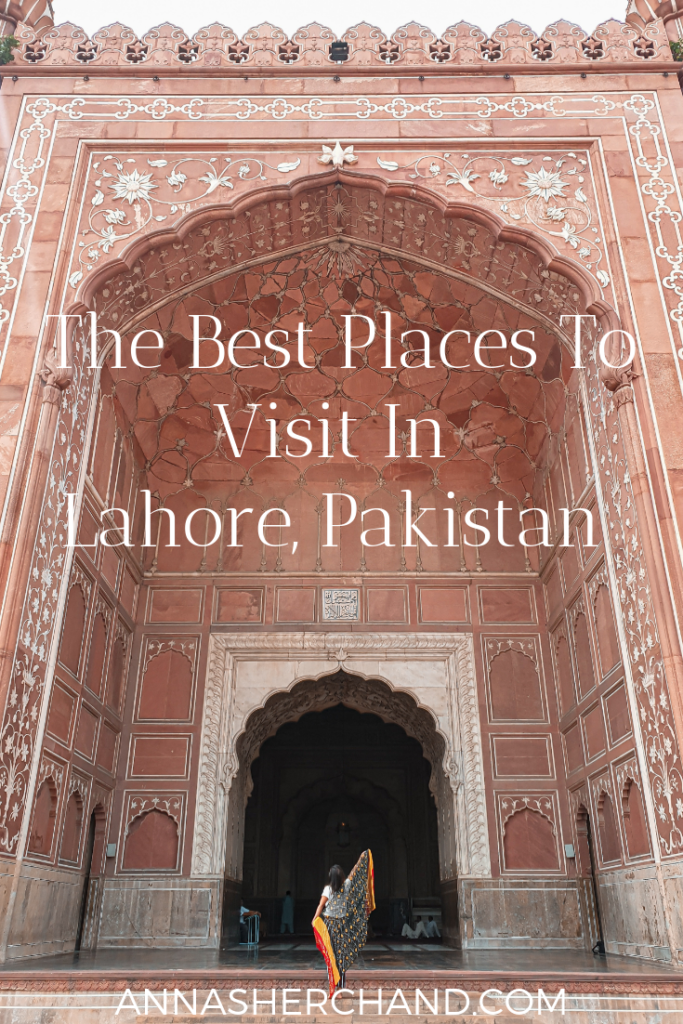 Let me know in comments-
Which beautiful places in Lahore Pakistan do you want to see first?
Check out the must-see famous places in Karachi, Pakistan.
I'll publish a new article about Pakistan soon. Subscribe to know when it's out. here.
Heading to Vietnam soon? Read everything you need to know about Hanoi itinerary here and the most wanted Instragramable cafes in Hanoi here.
Is Bangkok your next stop? Read the Bangkok itinerary now. I've also written about the tours in Bangkok and more here.
What about the beautiful Bali? Check out another most-read Bali itinerary.
If you need to book accommodations for your next travels, use this $76 discount with Airbnb here.
Alternatively, you can check hotel prices and book it through trusted Agoda, or Booking.com
Read Master Travel Guide to Sydney– everything you need to know before you go from visa, wifi, food, travel tips and all are covered.
If you don't have your flights yet, check out ways to book the cheapest fares here, or here, but if planning and booking your trip is a hassle, let me help! Contact me now.
If this article helped you, follow my adventures on Instagram, Facebook, YouTube, Twitter and Pinterest, but most importantly sign up to my e-mail list to keep up with updates and travel posts!
Discover 16 best places to visit in Lahore Pakistan