Let me start the Pakistan blogs with 10 famous places in Karachi, Pakistan that you MUST see. Karachi is the capital city of the Pakistani province of Sindh. If you have been following my travel adventure on Instagram, you know I was in Pakistan just a couple of weeks ago. So, everything is fresh off the oven here.
Below is the list of 10 historical and must-see places in Karachi. And if you are after Instagrammable places in Karachi, these places tick the boxes too!
But first, here are some important things to make your Karachi city travels easier and more enjoyable.
Find out which are the beautiful places in Pakistan you must see.
1. Install the Uber App
First thing first, download the Uber app for going around in Sydney. Better than waiting for taxis and trains, get the reliable and fast door-to-door Uber service. For my readers, I'm giving you $10 off your first ride on the Uber app. To accept, use code 'k7zapn' to sign up. Enjoy! Details: https://www.uber.com/invite/k7zapn
2. Accommodation
No matter which area you stay, I recommend using booking.com and sorting with price, then consider the ones with the highest reviews plus within 1km of the center/old town in order to be between all the actions.
3. Tours
For tours, I recommend using get your guide and walking tours available in most places
3. Book Cheap Flights
And lastly, find the cheapest flights through the most trusted sites such as Skyscanner or Momodo.
I have detailed travel resources right here. Save money, learn what and how.
Few handy Urdu words
Hello – Salaam walekum
Thank you – Shukeriya
Okay – Theek Hai
Yes/No – Jee Han/ Jee Nahi
How are you – Aap kaise (for male)/ kaisi (for female) hou?
I want to go to______ (place) – Muje _____ (place) jana hai.
Pardon me/ Excuse me/ Sorry – Maaf Kijea
Good Bye- Khuda Hafiz

10 famous places in Karachi, Pakistan
1. Qaid e Azam Tomb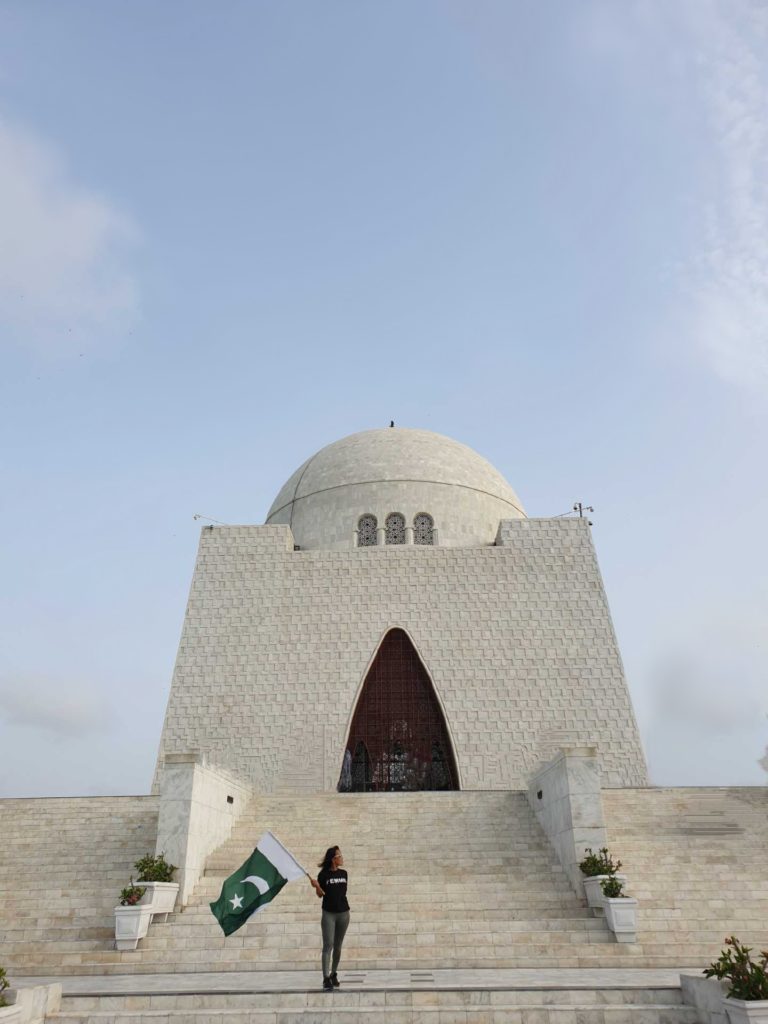 Quaid-e-Azam ("Great Leader") Muhammad Ali Jinnah was the founding father of Pakistan. In 1948 he was buried at the Mazar-e-Quaid which is also known as Jinnah Mausoleum or the National Mausoleum. It is located in the heart of the megacity of Karachi. People who came to Karachi from all over the country and travelers like to visit this place and pay their respects to this great leader of Pakistan. Hence making it one of the most famous places in Karachi Pakistan.

The architectural icon is both simple and striking, and it's no wonder it's become a symbol of the city. The stoic white marble structure commands attention even from afar. Lines of bubbling fountains lead toward the building, which is a pleasingly simple and striking architectural beauty. Also, don't forget to check out the gold chandelier inside the tomb which was a gift from China to Pakistan.
The mausoleum also holds the tombs of his sister Fatima Jinnah, the Māder-e Millat ("Mother of the Nation"), and Liaquat Ali Khan, Pakistan's first Prime Minister.
It is open 24 hours but I recommend going in the morning to skip the crowd. Eid al-Adha (Observed) might affect these hours
Read this for the best places to visit in Lahore, Pakistan. You will love this one!
2. TDF Ghar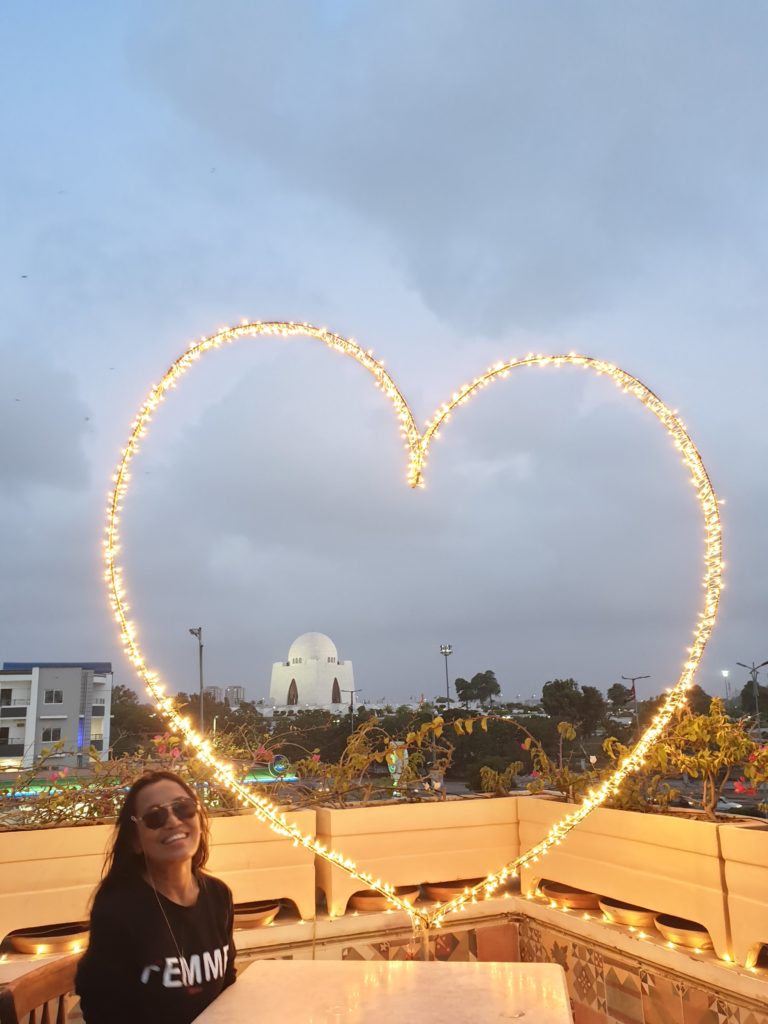 Only 6 mins walk away from the Quaid e Azam's tomb above, you can arrive at the TDF Ghar. This restored bungalow from the 1930s is a little oasis of calm located right in the middle of one of Karachi's most chaotic traffic junctions.
Entry charge is Rs.50 only and you can enjoy the best views of Jinnah's final resting spot, drink some chai, display old furniture on the ground floor and you can also witness how Karachi used to be back in the day, the furniture the antiques everything is a good demonstration of the early '90s.

Having said that, TDF is also a multi-purpose place where you can get food, play card games, board games, chess, Ludu, or Caram board. A good place to hang out with your friends. This can also be the place to do some work on your laptop as it is relatively quiet inside and read/borrow or donate books at a small in-house library.

It is open daily from 10 am to 10 pm.
3. Mohatta Palace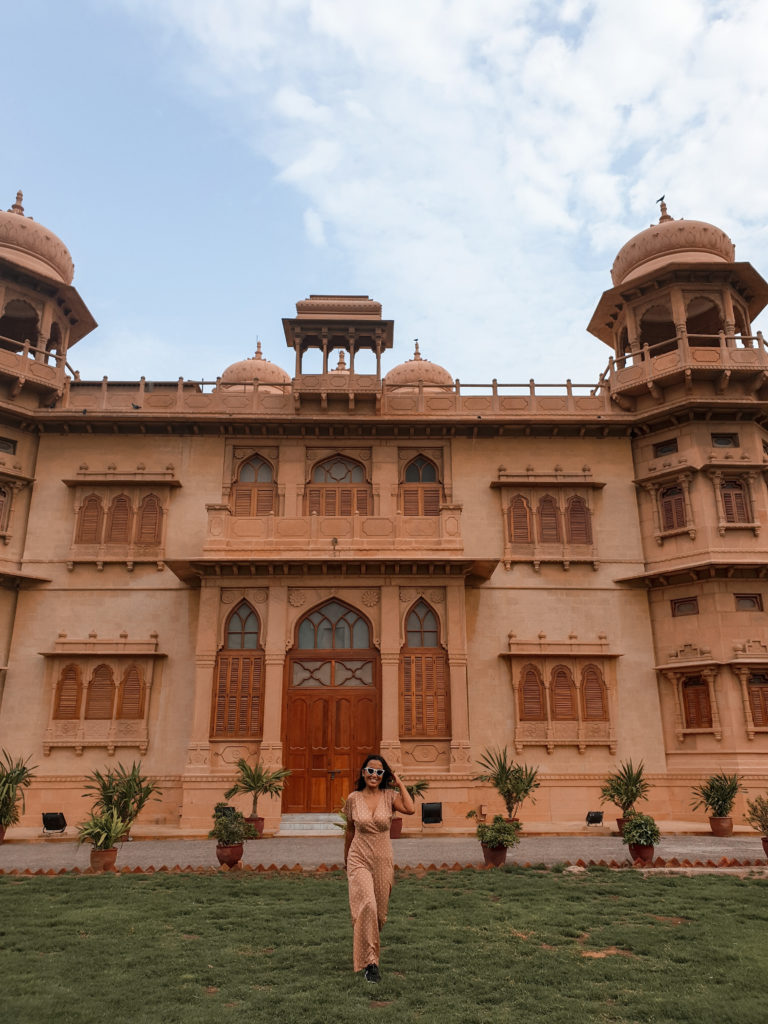 Mohatta Palace was built during the colonial days (1927) by Shivratan Chandratan Mohatta, a Marwari Hindu businessman from the Indian state of Rajasthan. He built the palace for his wife as his summer home but unfortunately, he could only enjoy it for another two decades. After partition, it became the residence of Fatima Jinnah, Quaid e Azam's sister.
Locals say there is a secret passage underground that leads to a temple 1km away but I wasn't allowed to try it. Let me know if you get lucky though! Oh, and locals also told me, this place is haunted!
Entrance is only 30cents but cameras aren't allowed inside however you're free to photograph the stunning exterior of the building. Today it is used as an art gallery and museum. There are always thought-provoking exhibitions happening at this grand building surrounded by trees and a nice garden.

The museum is open from 11 am to 6 pm Tuesday to Sunday. It's closed on Mondays. So plan your trip accordingly.

4. Masjid e Tooba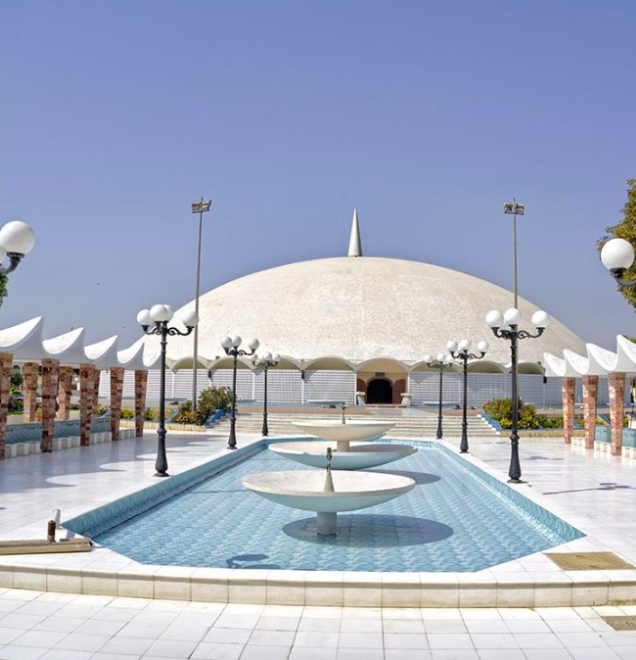 Masjid e Tooba is a great masterpiece of architects, located adjacent to the DHA Phase I commercial area and built in 1969 keeping acoustics in mind. So that a person speaking inside at one end of the dome can be heard at the other end! This makes it special.

A mosque (without even a single pillar) gives a spectacular view both inside and out. It is one of the tourist attractions that are worth seeing in Karachi.
It is also known as Gol Masjid and is claimed to be the largest single-dome mosque in the world. 5000 people can pray in the central prayer hall.
5. French Beach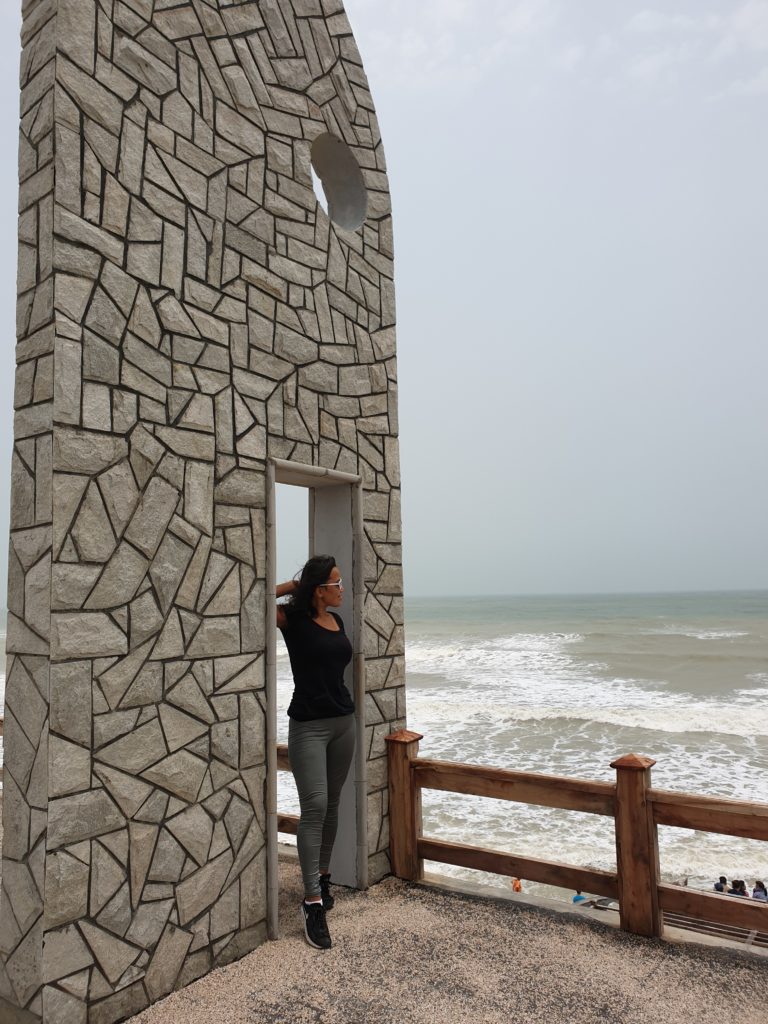 French Beach is an excellent place to get rest and peace of mind if you want to escape from the hustle and bustle of Karachi. It is considered one of the best places to visit in Karachi and used to be a small fishing village frequented by Karachi's elite. It is also known to the locals as Haji Ismill Goth.
Going to the beach has a different meaning in Pakistan. I recommend respecting their culture and cover-up. Not to the extreme but at least your body, shoulders, and knees.
You can also rent the huts there as there are over 50 of them and don't forget to bring extra clothes to change if you end up swimming with your clothes on. The ocean must look welcoming with blue water on a sunny day. Bringing your own food is a good idea too as there is no shops or restaurants around the beach. Alternatively, you can also visit Clifton Beach.
6. Frere Hall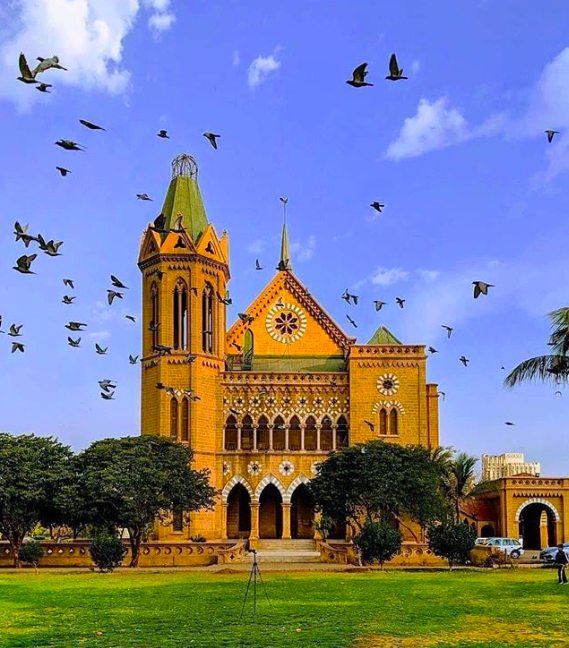 Frere Hall is an iconic building from colonial times as the local town hall and still is currently hosting city festivals like the "Karachi Food Festival" amongst others. The inauguration of this building placed in 1865 and maintained by the Sindh Government.
The ground floor has a big library with books and archives dating back to pre-Pakistan years! Their Sunday book bazaar is a must-go-to-place for any and all book lovers. The quality and range of books are amazing. The sellers present there have their own bookshops so they offer a wide range of books of different genres. Frere Hall also has a museum in it, and an amazing art gallery to die for.
It is open M-S 9 am to 5 pm except for Sunday.
7. Karachi Street food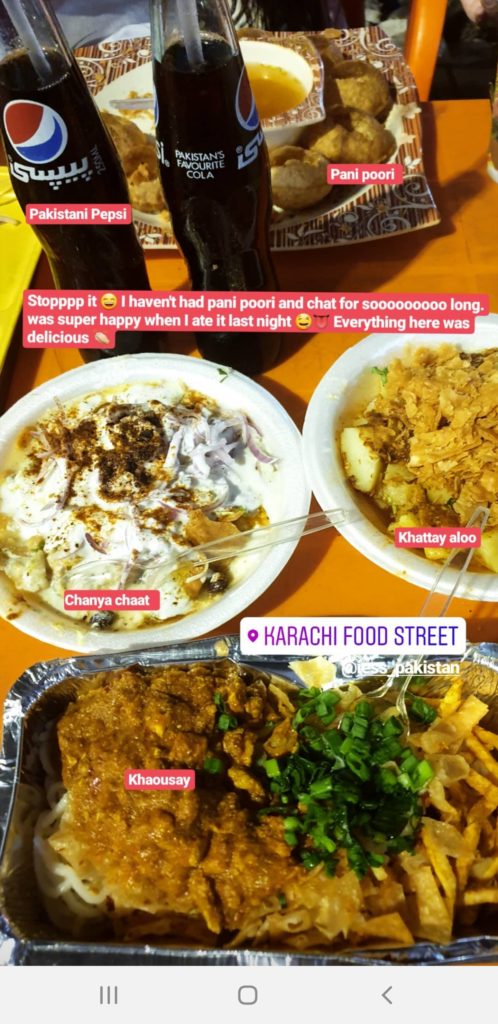 Karachi is called the City of Lights (even from my Hotel window at 1 am there was still traffic and cars on the road) but I feel it can also be called the city of food! If you don't believe me, witness it yourself by visiting Burns Road, which is a food street in the former part of Karachi and is popular for its traditional, mouth-watering, appetizing items such as bun Kebabs, Haleem, Nihari, fried fish, and sweet things such as Rabri and traditional beverages such as Lassi.

If you prefer watching videos to reading a blog post then follow me on Instagram for all the fresh stories from Australia and around the world.
Burns Road is the epicenter of all Karachiites foodies whole year round and especially in Ramadan. Every local in Karachi knows of Burns Road and its delicious traditional food. Even if you happen to come by it at 2 am or 3 am at night, the street is still buzzing with the sounds of searing oils and delectable aromas all around. And that reason alone makes Karachi Street Food on this list of famous places in Karachi Pakistan. No better way to know a country than through their food.
Alternatively, you can also try Bohra Food Street.
8. Saint Patrick's Cathedral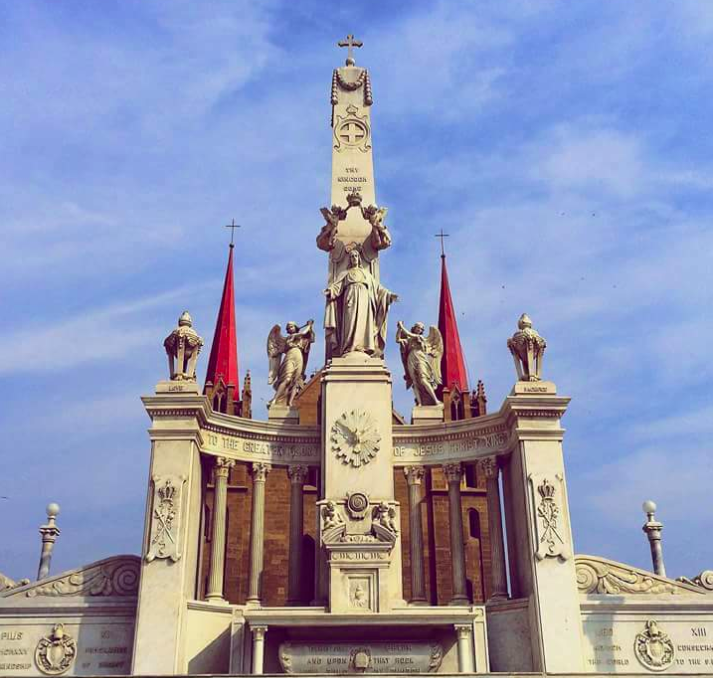 St. Patrick's Cathedral was built in 1881 and stands tall at 52 meters, in one of the most congested areas of Karachi. Even though 96.4% of the population is Muslim in Karachi, Christians come second with 2.42%, Hindu (0.86%), Ahmadis (0.17%), and other (0.10%) which makes Christians one of the two largest (non-Muslim) religious minorities in Pakistan, along with Hindus. (This data is correct according to a 1998 census of Pakistan) couldn't find the new one!
This Catholic Cathedral is full of beautiful architecture and history. You can also attend Sunday's English language mass in the evening. It can fit 1000+ devotees inside the church and after the visit, it is worth walking around all the way towards the historic Empress Market nearby.
9. State Bank Museum
Behind me is the founder of Pakistan Muhammad Ali Jinnah and sideboards filled with unsung heroes who fought for freedom.
State Bank of Pakistan Museum & Art Gallery is one of the national museums which was established in 2004 to introduce the first Monetary Museum of Pakistan. The entire premises has multiple galleries of coins, notes, machinery, art, and stamps for visitors. The best part is every group is offered a guided tour by the team explaining each and every detail about the past n present related to the currency and beyond.
You can learn here about the history of money in Pakistan and also how to tell fake notes from a real one. Watch my "Pakistan highlight" on Instagram for video stories.
The whole tour is cost-free and I also got shredded money in a little bag as a souvenir! It is open M-S 9:30 – 5 pm except for Sunday.
10. Jodia Bazaar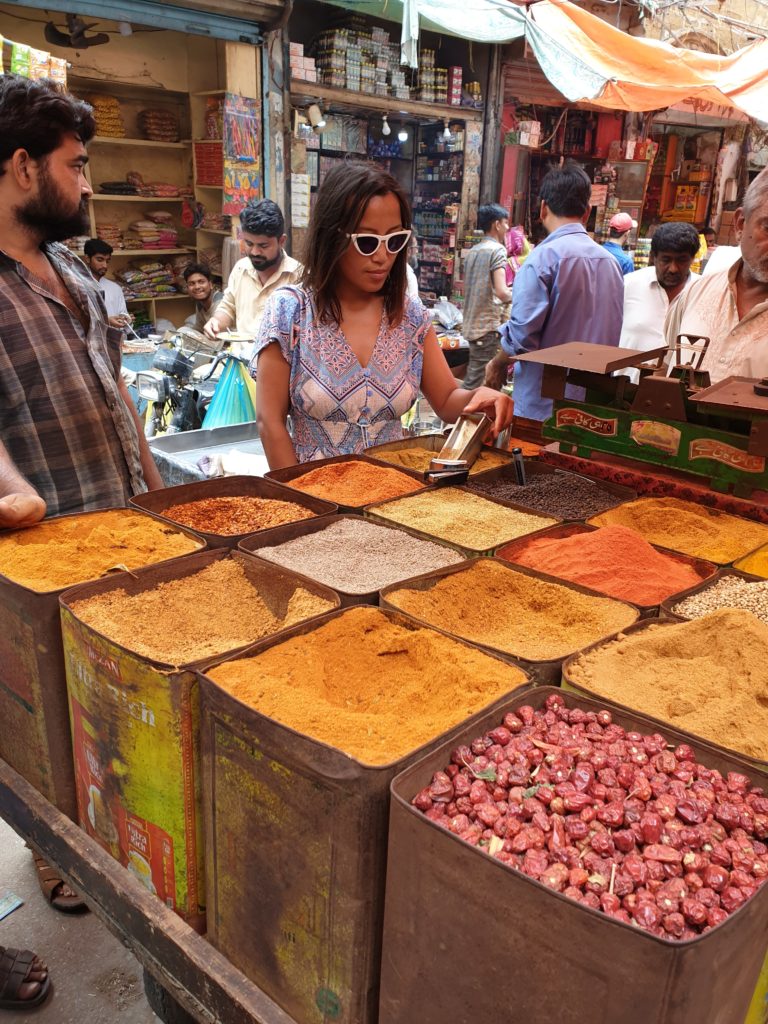 Jodia bazar is the oldest market in Karachi, Pakistan. Located in the port city of Karachi, this market symbolizes the heart of the trading business in Pakistan. It is one of the famous places in Karachi Pakistan for locals and visitors mainly for shopping and/or photographing. There are many streets for spices, food, homeware, steel, jewelry, clothes, and everything else. You can buy it in bulk at wholesale prices or separately.
In 1947 soon after the independence of Pakistan, the Jodia market played a vital role in the economic development of the newly born state. It is one of the must-see markets in Karachi, just make sure to arrive early as it gets super crowded as the day goes on.
I hope some of these famous places in Karachi Pakistan inspire you to visit and create that Instagrammable pictures!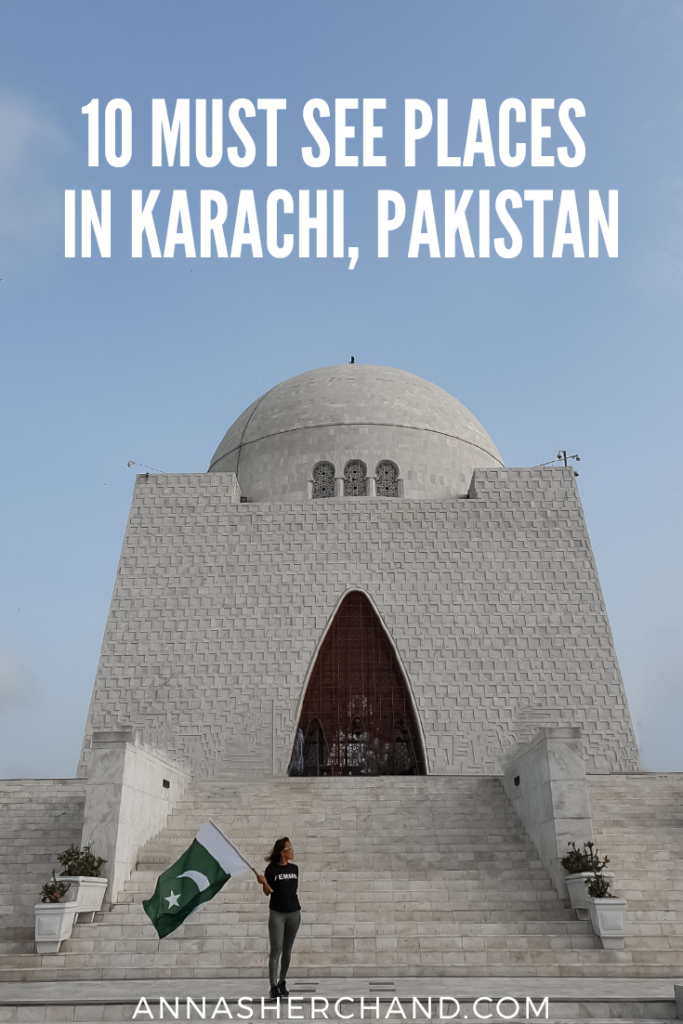 Let me know in the comments-
Which famous places in Karachi Pakistan do you want to see?
Do you know of any other Karachi attractions that I should add here?
See all the most beautiful places in Pakistan in this blog post.
Read this for the best places to visit in Lahore, Pakistan. You will love this one!
99% of readers found must see on the east coast of Australia helpful.
7 days Hanoi travel guide.
One month in Central America itinerary
instragramable cafes in Hanoi here
Bangkok itinerary, I've also written about the tours in Bangkok and more here.
What about beautiful Bali? Check out another most-read Bali itinerary.
Master Travel Guide to Sydney
10 hidden beaches and bays in Sydney
Sydney bucketlist things
Sydney itinerary for 5 days
Secret Sydney walks
Best places to take photos in Sydney
Pros and cons of living in Australia
where to stay in Sydney
Hidden beaches and bays
Most instagrammable cafes in Sydney
where to eat in Sydney
most Instagrammable places in Sydney, Australia
Most beautiful places in New Zealand North Island
Check out the most beautiful places in New Zealand South Island
How about Colombia? Check out how to get from Medellin to guatape
Check out where to stay in Medellin, Colombia
Check hotel prices and book it through booking.com
Read the most wanted travel resource here.
If you like this article, follow my adventures on Instagram, Facebook, YouTube, Twitter, and Pinterest, but most importantly sign up for my e-mail list to keep up with updates and travel posts!
10 famous places in Karachi, Pakistan that you MUST see