I am on a mission to travel to all 193 countries in the world (but not in a race, more like in a slow and steady fashion) and so far traveled to 73 countries in 5 continents SOLO! Crossing 70 was a big milestone I achieved in January because I work hard, save, and do these trips and I get excited to be able to share what I know here. No one funds me, I do the funding except sometimes when I get to work with brands, I'm always grateful though. Today, I am writing about how I spent 24 hours in Baku, Azerbaijan. The reason for only 24 hours is because I was heading to other parts of Azerbaijan which I covered on this 4 days in Azerbaijan itinerary travel guide.
First of all, Azerbaijan is situated at the crossroads of Eastern Europe and Southwestern Asia, bordered by Armenia and Turkey to the west, Iran to the south, and Russia and Georgia to the north. The nation's eastern boundary is defined by the Caspian Sea.
Baku, the capital of Azerbaijan, is a city that effortlessly blends the old and the new. It's a scientific, cultural, and industrial center. After the second oil boom in 2006, the city turned into a modern one with unique extraordinary jaw-dropping masterpieces. Its rich history is interwoven with modern innovation, making it a captivating destination for travelers of all kinds. The allure of Baku lies in its striking contrasts – from the ancient walled city's timeless charm to the awe-inspiring Flame Towers illuminating the night sky. This city is a treasure trove of culture, history, and natural beauty waiting to be discovered.
As the sun rises over the Caspian Sea, I can't help but feel the anticipation of an exhilarating 24-hour adventure. With its rich cultural tapestry, diverse cuisine, and welcoming locals, Baku promises a day of exploration, immersion, and unforgettable experiences. So, fasten your seatbelt, fellow adventurers, as we dive headfirst into 24 hours in Baku, Azerbaijan – a journey you won't soon forget.
24 hours in Baku travel itinerary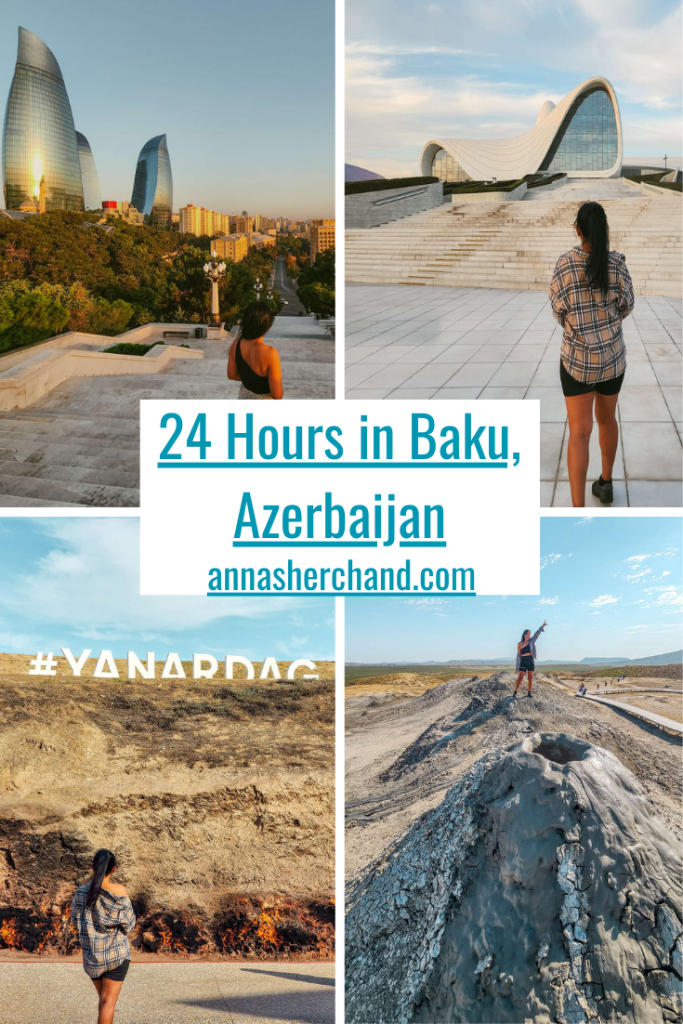 First important Baku travel tips:
1. How to get to Baku, Azerbaijan
I flew business class with Qantas to Singapore then Eithad Airlines from Singapore to Abu Dhabi and finally Wizz Air from Abu Dhabi to Baku. It took almost 30 hours to get there from Australia. You may have a shorter flight time depending on your tickets and where you are coming from. Either way, I suggest checking flight costs through the most trusted sites such as Google Flights or Skyscanner, and booking it directly with the airline.

Another option is to cross the land border. Nope, it is not possible because you can fly into Azerbaijan without restrictions, and exit via land or sea. But you cannot enter via a land or sea border and it is unlikely this will change anytime soon.
Visa:
Australian passport holders need to apply for a tourist visa beforehand, It took 5 mins online on their official website, and charged 26 USD for a Single entry 30 days visa. The amount paid for the e-Visa is non-refundable under any conditions. Please ensure to check your visa responsibilities before booking flights, activities, and accommodation.
2. Get a local SIM card
At first, I thought I could use Australian Vodafone roaming for $5 per day but found out it is charged per minute in Azerbaijan. So that option wasn't used. Besides when traveling sometimes I like to be away from my phone as much as I can so I just did the whole Azerbaijan trip without any local SIM card and only used the WIFI provided at the accommodations. Also, in Baku's old town, Starbucks and most restaurants offer free wifi, just buy something of course.

That being said, you may not want to rely on public wifi for your banking, etc so when it comes to getting a prepaid SIM card in Azerbaijan, you have a few options. You can purchase one in person at international airports, mobile provider shops, convenience stores, or online. It's important to note that airport SIM cards often come with higher costs and limited data, so they're not the most recommended choice. However, not all airports may have SIM card shops or free airport wifi. Buying from a mobile provider store in town is advisable, although it might mean a delay in getting data upon arrival. If you prefer immediate connectivity, consider using roaming from your home country or an eSIM or ordering a prepaid SIM card online.
Various data plans are offered by the three main Azerbaijani providers: Azercell, Bakcell, and Nar. Anywhere from 1GB to 60 GB from $3 AUD onwards & up.
Among these options, Azercell is considered the top choice for in-person purchases. However, any of these providers will suffice if you can't locate a specific store. If you'd like to have your SIM card ready upon arrival, you can order one online. Amazon offers a range of plans, such as OneSimCard, which works in over 200 countries, including Azerbaijan, offering data at $0.01 per MB. Alternatively, you can explore prepaid SIM card options on websites like SimOptions, which currently offers a plan for Azerbaijan. Make sure to check for coverage in the countries you plan to visit when selecting an online option.
3. How to get around Baku
Getting around Baku, the capital of Azerbaijan, is relatively straightforward and offers several transportation options. Here's a guide on how to navigate the city:
Walking: Baku's city center, including the Old City (Icherisheher), is compact and pedestrian-friendly. Many of the city's attractions, restaurants, and shops are within walking distance of each other. Exploring on foot is a great way to soak in the city's ambiance and architecture.
Strolling on foot is perfect for reaching most downtown destinations, but relying on public transportation can broaden your scope of sightseeing experiences.
Metro: Baku has a modern and efficient metro system with three lines. The metro is a cost-effective way to move around the city, and signs and announcements are typically in Azerbaijani and Russian. You can purchase single tickets or multi-ride cards at the station. The metro operates from early morning until late evening.

However, first, you have to get a metro top-up card which costs 2AZN (1.20USD). Alternatively, you can buy a single-use metro card, which you can only top-up once and costs 0.20AZN (12¢)
Bus: Baku has a comprehensive bus network that covers most areas of the city. Bus stops are clearly marked, and routes are typically in Azerbaijani, but some buses display route numbers in Latin script. Fares are affordable, and you can pay the fare directly to the driver when boarding.
Taxi: Taxis are readily available in Baku. You can hail one on the street or use ride-sharing apps like Uber and Bolt. Ensure the taxi has a working meter, or agree on a fare before starting your journey. Taxis are generally affordable and convenient for getting around the city, especially if you're traveling with others.
Marshrutkas: These are small, shared minibusses that follow fixed routes and are an excellent way to navigate the city. Marshrutkas are easy to spot and are commonly used by locals. Pay the fare directly to the driver when you board. They can be crowded but are a cost-effective option.
Cycling: Baku is gradually becoming more bike-friendly with dedicated bike lanes and bike-sharing services. You can rent a bike from various locations within the city if you prefer exploring on two wheels.
Renting a Car: While renting a car is an option, traffic in Baku can be congested, and parking can be challenging. If you plan to explore areas outside the city, a rental car may be more convenient.
4. Useful Apps
Consider using mobile apps like Yandex. Taxi, Uber, or Bolt for ride-hailing services, as well as public transportation apps that provide information on routes and schedules.

Uber did not work for me so, I was advised to download Bolt. The app will send a code on your phone to verify so if you are not buying a sim card in Azerbaijan, download it before you leave your country.
Google Maps – Download offline maps beforehand
Google Translator – For ease of communication with the locals who don't speak English if required
5. Is Baku Safe for solo female travelers?
Based on my recent travel experience, I would say I felt safe in Baku, the capital of Azerbaijan. It is generally considered safe for solo travelers and is a welcoming and friendly city. However, it's essential to keep in mind some general safety precautions.
Stay Aware: Like in any city, stay aware of your surroundings, especially in crowded areas and public transportation. Be cautious with your belongings, such as bags and personal items.
Avoid Unlicensed Taxis: Stick to registered and licensed taxi services or use reputable ride-sharing apps like Uber and Bolt. Avoid hailing taxis off the street, as unlicensed services can be less safe.
Use Reputable Accommodation: Choose well-reviewed hotels and accommodations. Read reviews from other solo travelers to get a sense of safety and service quality.
Respect Local Customs: Be respectful of the local culture and dress modestly, especially when visiting religious sites.
Language: Learning a few basic phrases in Azerbaijani or Russian can be helpful for communication, but many people in Baku, especially in the service industry, may speak some English.
Emergency Contact Information: Keep a list of emergency contact numbers, including the local police and your country's embassy or consulate in Azerbaijan.
Travel Insurance: Consider purchasing travel insurance that covers health and emergency situations, as well as trip cancellations or disruptions.
Please keep in mind that the situation can change, and it's essential to stay updated on travel advisories and local news, especially if you are planning to visit soon. Always check the latest information from reliable sources before your trip to ensure a safe and enjoyable experience.
Remember that Baku, Azerbaijan experience can vary in terms of language support, so having a basic understanding of Azerbaijani or Russian phrases can be helpful.
6. Good to know
Currency = Manat/ AZN
Capital City = Baku
Official Language = Azerbaijani
Population = 10.14 Million (2021)
Time zone = GMT+4
Driving side = right
Calling code = +994
In Azerbaijani language

Hi/Hello = Salam
Yes = He/ Ha
No = Yox/Yok
Or use the Russian Da or Nyet.
Where is … ? = Name of place then say haradadır? (pronunciation hardadi)
How much does it cost? = Neçəyədir? (pronunciation necheyedir)
Thank you = Çox sağ olun! (say it like choh sa-lo)
You are welcome – Buyur (Bu-yur)
See you = Hələlik! (say it like helelik)
Good morning = Sabahınız xeyir! (say it like sabahiniz heyir)
Good evening/good night = Gecəniz xeyrə! (say it like gejeniz heyre)
7. Where to stay in Baku?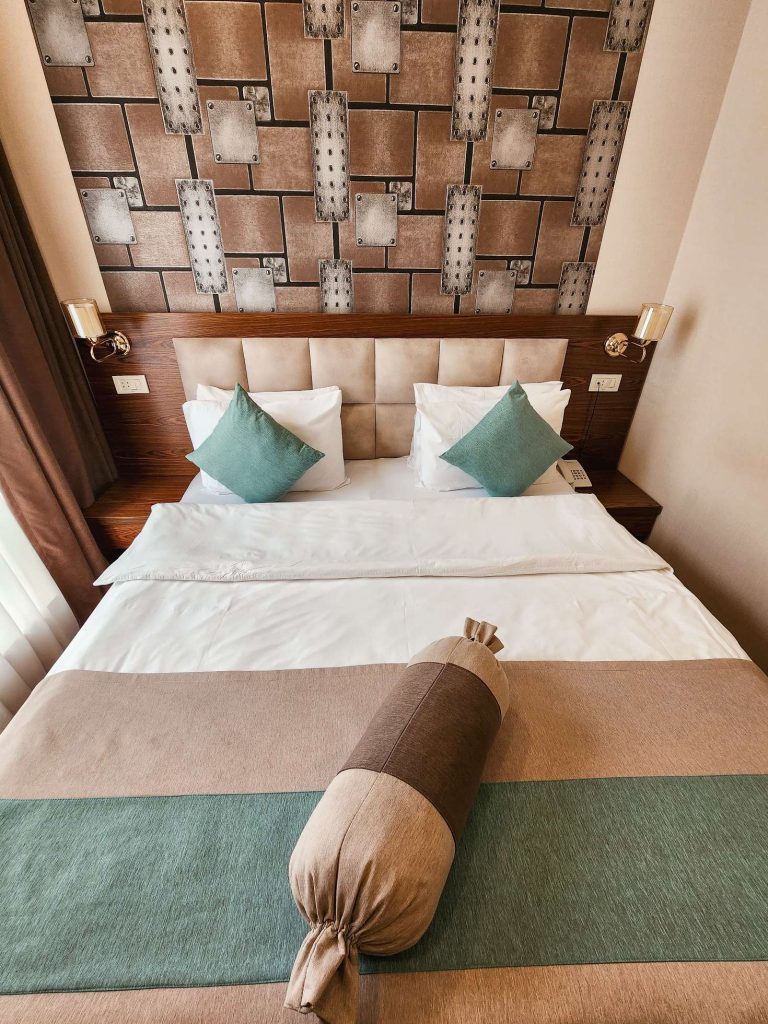 I stayed at the AuRoom Hotel in Baku. It was about a 30-minute drive from the airport and only a 10-minute taxi from the must-see places in town as well. The hotel also offers an airport shuttle (available 24 hours) for AZN 40 per vehicle one-way.
In my luxury suite, there was a lot of space ie Huge King-size bed, a nice comfortable couch, 2 TVs, and a dining table-chair that could be used as a work desk, daily housekeeping with water, breakfast, and free wifi!
Buffet breakfast was fresh, mostly a variety of traditional bread, jams, and cheese but there was hot food too and fruits, cereals, bread, tea, and coffee. Staff at the reception desk were helpful and warm which made my stay great. So overall, I liked this hotel, enjoyed my stay here, and highly recommend it to you on your visit to Baku.
Alternatively, I suggest the following accommodations if you are under or over budget: (all within 1-2 km from the center & good reviews too)

Hostels: SAHIL Hostel & Hotel, Hostel Old Town Guest, Cth-Baku-Hostel
Mid-Tier Options: Eleven Hotel Baku, VIP Apartment MARRIOTT, Pera Hotel Baku
5-Star Luxury: JW Marriott Absheron Baku Hotel, InterContinental Baku, an IHG Hotel, Fairmont Baku – Flame Towers
8. When is the best time to visit Baku
The best time to visit Baku, Azerbaijan, largely depends on your preferences and the type of experience you're seeking. Baku experiences a range of seasons, each with its own unique charm. Here's a breakdown of the different seasons and the best times to visit:
Spring (March to May):
Best for Mild Weather: Spring is an excellent time to visit Baku if you prefer pleasant weather with temperatures ranging from 10°C to 20°C (50°F to 68°F).
The city's parks and gardens come to life with colorful blooms, making it a beautiful time for sightseeing and outdoor activities.
Lower tourist crowds compared to the summer months.

Summer (June to August):
Best for Festivals and Outdoor Activities: Summer is the high tourist season in Baku. The weather is warm to hot, with temperatures averaging 25°C to 35°C (77°F to 95°F).
This is when many outdoor festivals, events, and concerts take place in the city.
The Caspian Sea is inviting for beachgoers, and the beach clubs are in full swing.

Autumn (September to November):
Best for Mild Weather and Lower Crowds: Autumn offers comfortable weather, with temperatures ranging from 15°C to 25°C (59°F to 77°F).
This season is an excellent time to explore the city's attractions, as the weather is generally pleasant, and there are fewer tourists than in the summer.
Ideal for cultural and historical exploration.

Winter (December to February):
Best for Budget Travel: Winter in Baku is cold, with temperatures ranging from 2°C to 8°C (36°F to 46°F). It's the low tourist season.

If you don't mind the cold and prefer a quieter experience, this can be a budget-friendly time to visit.
The city is beautifully decorated during the holiday season, and you can experience a unique winter ambiance.

In summary, the best time to visit Baku is during the spring and autumn when the weather is mild, and there are fewer crowds. However, if you enjoy summer festivals and beach activities, then the summer months are the best for you. Winter is suitable for budget travelers, but you'll need to be prepared for cold weather. Regardless of the season you choose, Baku offers a rich cultural and historical experience, along with stunning architecture and a unique blend of modernity and tradition.
24 hours in Baku itinerary
Morning Exploration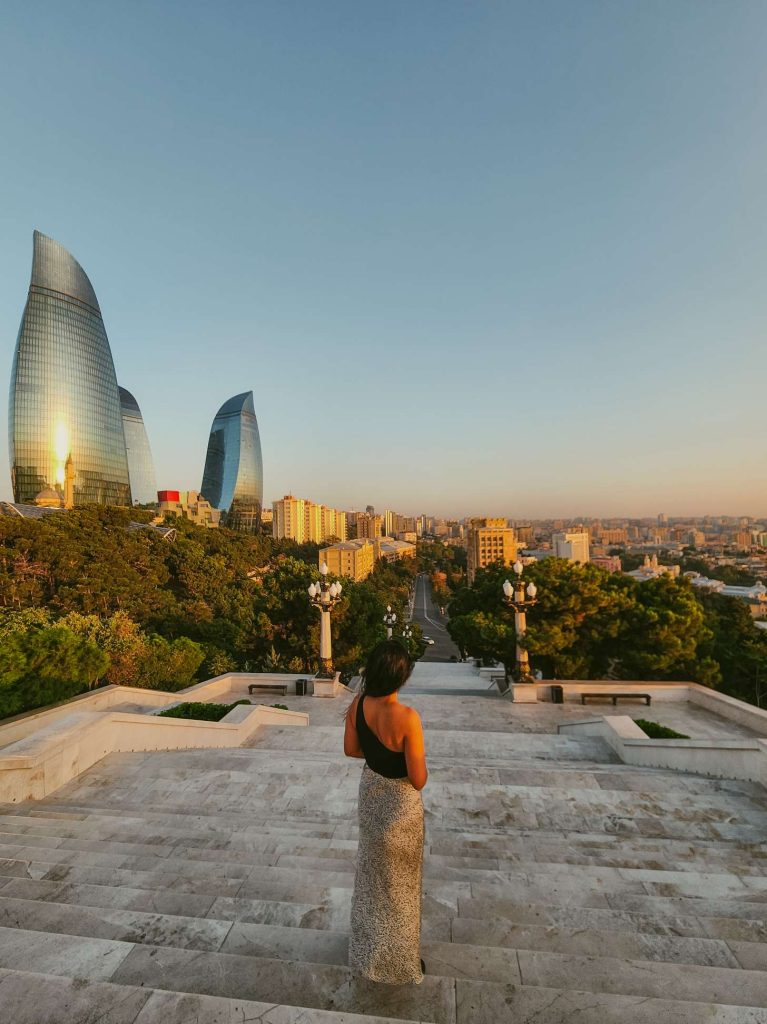 Start your one day in Baku adventure by waking up early to take full advantage of your time in this vibrant city. After spending one month in Central America, I have become a fan of watching sunrises as previously I was more of a sunset person. So I ordered a bolt taxi from my hotel to Highland Park cost only $2.30 AUD and started my day with a breathtaking sunrise view from the top of Highland Park. The serene moment as the sun peeks over the Caspian Sea is a truly magical experience and you can spot Baku's landmarks along with iconic flame towers.
I ended up talking with a local person who had also come for sunrise. I won't mention the name for her privacy but don't you love it when you meet like-minded people? We talked about each other, and life in general, and had a nice conversation. She was going to Uzbekistan for work in the next few days! I hope to see her again when I go there maybe next year?! She then drove us to Baku Boulevard / Promenade, we walked a bit there, talked more, and had breakfast together. It warms my heart when I meet such sweet souls.
I chose to include this brief story because it highlights an important aspect of solo travel: it doesn't have to be a solitary experience; you can encounter wonderful people when you radiate positivity and openness.

In terms of traditional Azerbaijani morning dishes try "Pərəndə," a type of omelet, and "Çörək," the local bread. These dishes offer a delightful blend of flavors and are the perfect way to start your day but of course, the hotel had many other varieties too.
Mud Volcanoes, Qobustan, Caspian Sea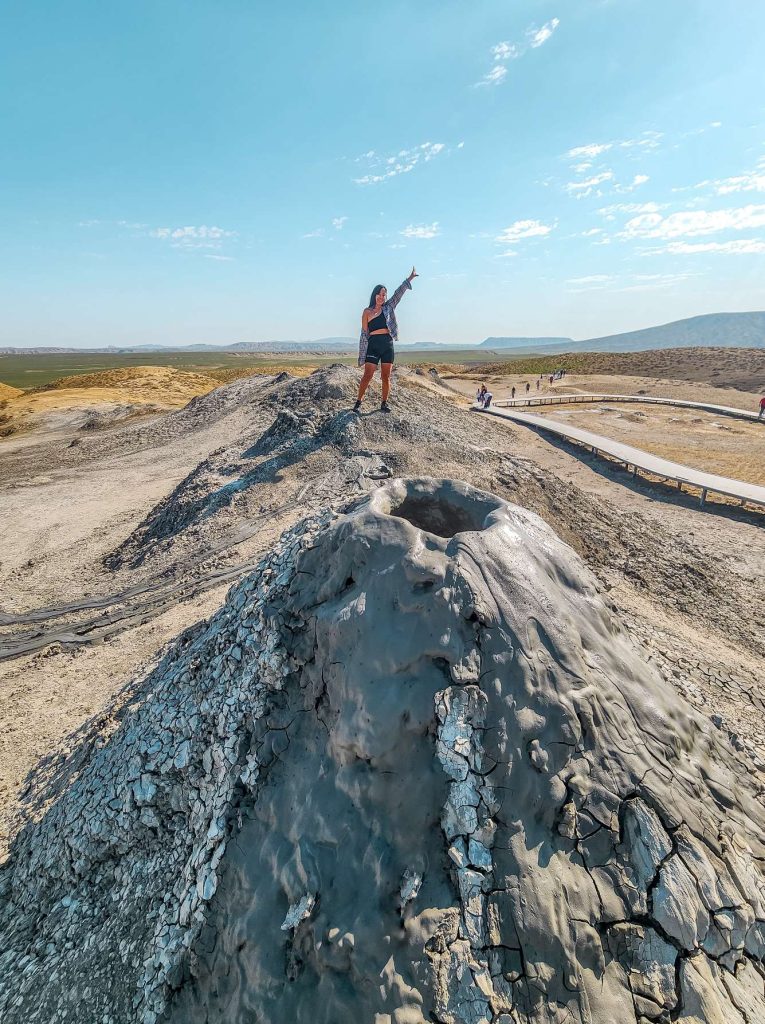 I planned to visit the old town before my dinner so after breakfast, I joined a day trip to explore the world's unique Gobustan National Reserve. The area is known for its petroglyphs, mud volcanoes, and gas stones. The mud here is supposed to have some medical properties. One of the crazy things to do in Baku would be to get all this mud on my body but it isn't allowed atm but they are building a resort in the area so that might be possible in the near future. These mud volcanoes reminded me of the mud bath experience I had in Vietnam!

After that, we went to Qobustan or Gobustan State Historical and Cultural Reserve. Its exceptional significance lies in its remarkable rock art engravings rock, or petroglyphs, which exhibit outstanding universal value due to the richness and density of these depictions. These rock art images provide substantial evidence of prehistoric hunting, wildlife, plant life, and lifestyles. Moreover, Gobustan illustrates the cultural continuity between prehistoric and medieval eras, making it a site of extraordinary historical and archaeological importance. There's also an interactive museum you can check out after the site.

On the way, we stopped to touch the Caspian Sea which was a refreshing small break, and another stop at a Bibi-Heybat mosque which was beautiful inside with all the glittery green tiles and colorful window glasses. It's a historical mosque rebuilt in the 1990s that provided scarves and coveralls.

In the Republic of Azerbaijan (excluding the Nakhchivan Autonomous Republic and the occupied regions), there are a total of 2,166 mosques. Remarkably, it's estimated that there are approximately 120 mosques within Baku alone. So it made sense to visit at least one.
On the way, I also noticed all the gas pipes raised on the streets and we stopped to check out the World's first oil well which is still producing 1 ton of oil per day!
Mid Day Fire
We were back in the old town for lunch, I knew where I was having it so I walked straight to Xezer – recommended by another local, let's call it one of the hidden gems in Baku. A plate full of tasty chicken with bread for $5 AUD followed by an iced coffee at Starbucks with a dash of free wifi!
Land of Fire, Fire Temple of Baku, Heydar Aliyev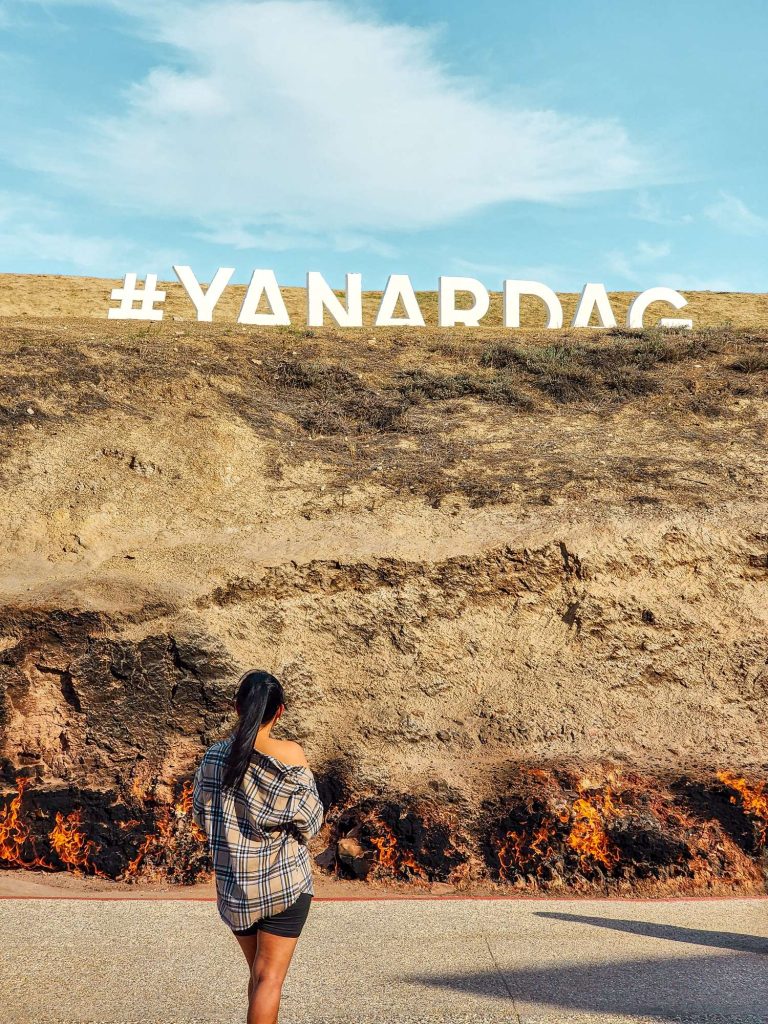 I was excited to check out the next stop during my adventure in Baku which was Yanar Dag or "burning mountain". It is a natural gas fire in Azerbaijan that has been continuously burning for decades. Apparently, the whole mountain used to be on fire but now there was only a small section on fire.

This unique geological phenomenon is a popular tourist attraction due to its perpetual flames, which are a result of natural gas escaping from beneath the earth's surface and igniting upon contact with the air.

Clearly, Azerbaijan is called the "land of fire" due to such amazing natural phenomena.

We then went to the temple of Ateshgah, also called the "Fire Temple of Baku" It is a historical and religious site in Baku, Azerbaijan, known for its unique pentagonal structure and history as a place of Zoroastrian worship. It is an important cultural and architectural landmark, representing the ancient Zoroastrian heritage of the region.

In the afternoon itinerary Baku, I met the modern Baku's face, Heydar Aliyev. It is projected as a complex and futuristic structure that includes the auditorium (convention center), a museum, exhibition halls, and administrative offices. The design of the building is also notable for the fact that neither the interior nor exterior of the building has any angles. The project of the center was designed by the winner of the Pritzker prize and internationally recognized architect Zaha Hadid.
Evening Magic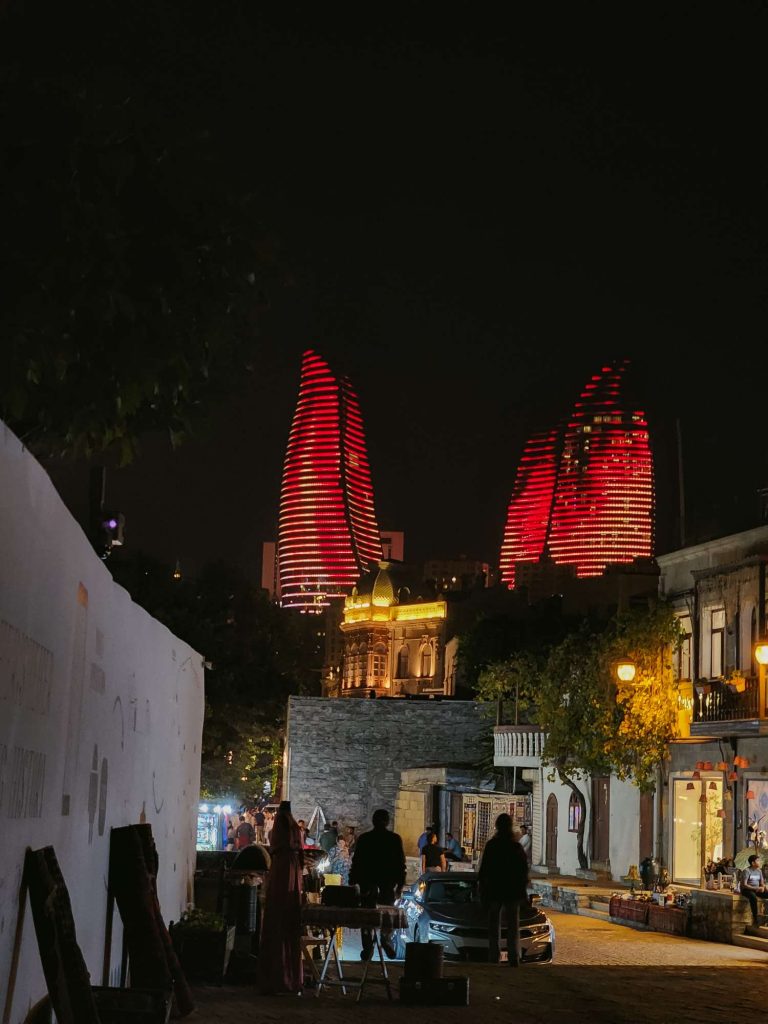 Back in the old town and the old city that has preserved its ancient architecture, and narrow cobbled streets till today. I walked around the historic Old City, known as Icherisheher. This part of Baku is a UNESCO World Heritage site, and it's rich in history and charm. I then went to the Palace of the Shirvan Shahs (XV cent), and the Miniature Book Museum was still open, the symbol of the city – Maiden Tower (IX cent), Karvansarays, and Nizami Street (shopping and street food options). Don't worry if you don't make it here in the daytime because even nighttime exploration of Baku's illuminated landmarks was great especially the flame towers light show. And that would be the things to do in Baku at night.
I asked some locals for dinner recommendations nearby and they mentioned Old Garden. This restaurant has outdoor and indoor seating areas and although pretty full, the attention and food were awesome. I had my first ever Azerbaijani meal called Coban Qovuima (chicken, potatoes) for 17 Mantas and Corak which is bread for 2 Mantas.

After dinner, I ordered a bolt back to my hotel (the restaurant had free wifi) at 2.50 Mantas. language barrier but the driver was happy to drive by the Flame Towers which was cool to see it so up close!

Happy with my 24 hours in Baku, I was off to dreamland ready for the next few days in Azerbaijan.

During my 24 hours in Baku, I missed the following places which also come highly recommended so if you can, consider visiting the Carpet Museum, the House of Government, the Philharmonic Theatre named after M. Magomayev. and the Baku Mayor's office.
so the age-old question,
Is Baku worth visiting
Based on my recent personal experience that I shared above, Baku is absolutely worth visiting. It offers a captivating blend of rich history, stunning modern architecture, diverse culture, and delectable cuisine. The city's safety and warm hospitality make it a compelling destination for all types of travelers.
Please keep in mind that the situation can change, and it's essential to stay updated on travel advisories and local news, especially if you are planning to visit soon. Always check the latest information from reliable sources before your trip to ensure a safe and enjoyable experience.
I hope this 24 hours in Baku travel guide/ itinerary helps you plan your time in Baku. Lmk in the comments if you have any questions.
Let me know in the comments:
If you have any questions about 24 hours in Baku
7 days itinerary in Georgia
Solo travel to Armenia
9 days in Guatemala
Solo border crossing from Guatemala to Punta Gorda Belize
2 Days in Punta Gorda, Belize
How to cross the border from Belize to Honduras
Solo female travel to Copan Ruins Honduras
Solo border crossing from Honduras to El Salvador
3 Days in El Salvador
Border crossing from El Tunco El Salvador to Leon Nicaragua
7 days in Nicaragua solo travel
Granada Nicaragua to San Jose Costa Rica border crossing
3 Days in Costa Rica Travel Guide
Puerto Viejo Costa Rica to Bocas Del Toro Panama Border Crossing
7 days in Nicaragua solo travel
Granada Nicaragua to San Jose Costa Rica bus
7 days backpacking in Ecuador itinerary
5 days in Oaxaca itinerary
2 days in Mexico City itinerary
Best places to visit from Split
2 days in Split, Croatia
Solo traveling to Mostar
Solo female travel to Kotor
Best places to visit from Split
2 days in Split, Croatia
Solo traveling to Mostar
Solo female travel to Kotor
Solo female travel to Budva
Solo female travel Albania
Warsaw by Train covers warsaw travel tips
Check out One day in Luxembourg, western Europe
Day trip from Zurich to Liechtenstein
Travel tips to South America
Fiji solo travel guide
Australia east coast must-see
Backpacking in Melbourne, Australia
Digital nomad guide to Melbourne
14 best area to stay in Melbourne CBD
Master Sydney travel guide
Solo travel guide to Brisbane
Exploring Adelaide the best way is a must-read
Important travel tips for Uluru trip
Melbourne day trips in winter
Day Hikes in Melbourne
Weekend getaway? Check out things to do in Ballarat
Perth solo itinerary
Top 5 must do in Darwin, Australia
How to go from Dublin to Howth
Solo female travel Romania
Read a recent day trip to Zaanse Schans from Amsterdam
How about a solo itinerary to Canberra– Australia's capital city?
Solo trip to Peru, travel tips to South America
Check out the 7 days Hanoi travel guide.
Book accommodation through trusted Booking.com
I have detailed travel resources right here. Save money, learn what and how.
If you like this article, feel free to follow my adventures on Instagram, Facebook, YouTube, Twitter, and Pinterest, but most importantly sign up to my e-mail list to keep up with updates and travel posts.
24 hours in Baku itinerary