Finally, the last country in this backpacking one month Central America itinerary was Panama. I stayed 5 Days in Panama and it was amazing! Today I'm writing about Puerto Viejo Costa Rica to Bocas Del Toro Panama border crossing and if Panama is safe for solo travelers.
Panama is a Central American country situated between Costa Rica to the north and Colombia to the south. It is best known for the Panama Canal, which connects the Atlantic and Pacific Oceans and is a vital shipping route for global commerce. The country's official language is Spanish, and Panama City is the capital city.
In addition to the Panama Canal, Panama is home to a diverse range of natural landscapes, from rainforests to beaches to mountains. The country also has a rich cultural heritage, with indigenous populations, Afro-Caribbean communities, and Spanish colonial influences all contributing to its unique identity. Overall, Panama offers visitors a blend of natural beauty, cultural richness, and modern amenities that make it a fascinating destination to explore.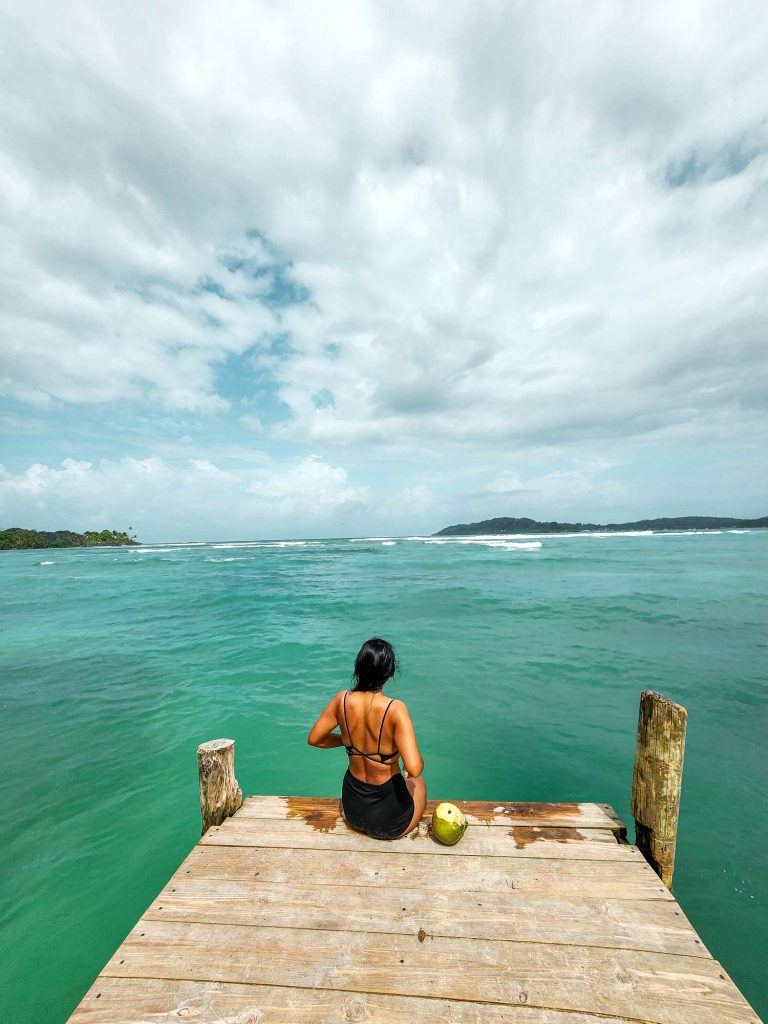 Puerto Viejo Costa Rica to Bocas Del Toro Panama Border Crossing
How to border cross from Puerto Viejo, Costa Rica to Bocas Del Toro, Panama?
To travel from Puerto Viejo, Costa Rica to Bocas del Toro, Panama, you will need to take a combination of land and water transportation.
Before I share how to do it, I want to give you a heads-up that Costa Rica immigration will most likely ask for your exit plan. So, while waiting in the queue I bought a shuttle ticket from Costa Rica to Panama online because I knew my exact dates so that helped. Shuttle transport was a door-to-door service but it was around 50 USD! I met another traveler who had bought a cheaper shuttle but not sure if that went ahead as she mentioned they never got the confirmation email, mine came through and the company was very responsive however. ( I did have a second thought afterward that I may want to stay longer in Costa Rica but they were welcoming me changing dates- if you are interested the company is called Caribe Shuttle.

This is something to consider or buy a first-class plane flight and cancel WITHIN 24 hours for a full refund. I never used the other services online that provide fake. plane tickets so can't advise on that.

With that said here's an overview of the journey:
Take a bus from Puerto Viejo to Sixaola: From Puerto Viejo, you can take a local bus (Autotransportes MEPE) to the town of Sixaola, which is located on the border between Costa Rica and Panama. The journey takes about 1.5 to 2 hours, depending on traffic and road conditions.

Recommend starting your day early & catch an earlier enough bus because the border is only open until 5 pm daily. Stamp out of Costa Rica

Cross the border: Walk across the bridge to the Panamanian side of the border. Be sure to have your passport and any necessary travel documents on hand to stamp In Panama

Take a shared taxi to Almirante: After crossing the border, you can take a shared taxi to the town of Almirante, which is located on the coast of Panama. The journey takes about 30 to 45 minutes.

Take a boat to Bocas del Toro: From Almirante, you can take a water taxi to the town of Bocas del Toro, which is located on the Isla Colón. The journey takes about 30 to 45 minutes, depending on the weather and sea conditions.
Overall, the journey from Puerto Viejo to Bocas del Toro can take several hours, and it's important to plan ahead and make sure you have all the necessary travel documents and arrangements in place.
Is Panama safe for solo travellers?
Panama is generally considered a safe destination for solo travelers. While it has a relatively low crime rate, it's still important to take appropriate safety precautions as you would when traveling to any destination. It's recommended to be aware of your surroundings, especially in tourist areas, and to avoid carrying large sums of cash or wearing expensive jewelry. It's also a good idea to keep your pas
For all the safety tips read this blog below –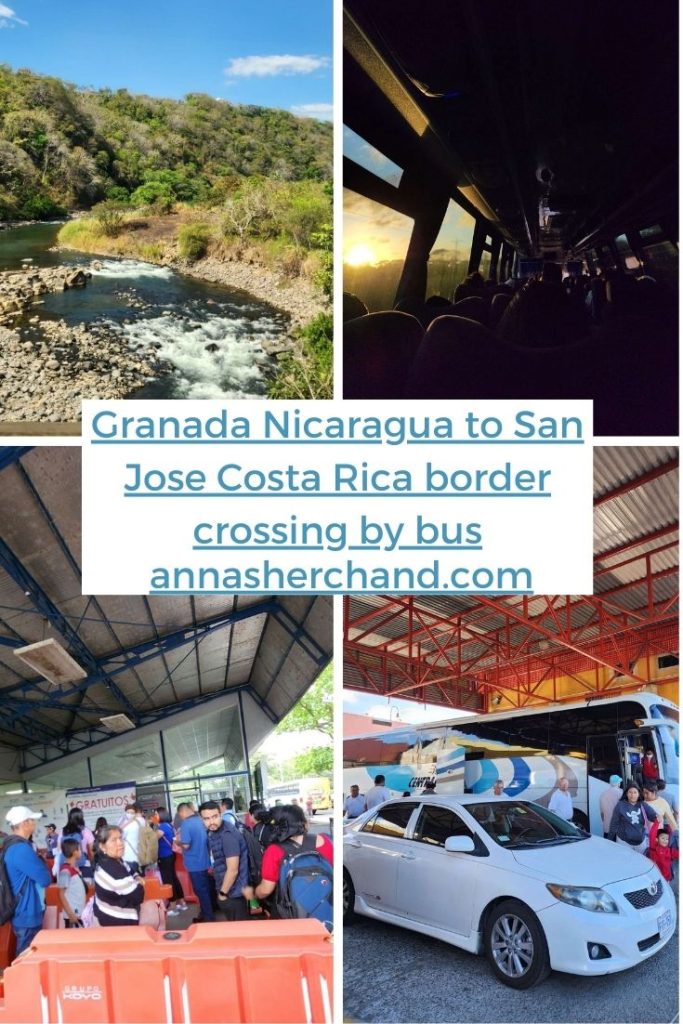 Let me know in the comments:
If you have any questions about Granada Nicaragua to San Jose Costa Rica border crossing
9 days in Guatemala
Solo border crossing from Guatemala to Punta Gorda Belize
2 Days in Punta Gorda, Belize
How to cross the border from Belize to Honduras
Solo female travel to Copan Ruins Honduras
Solo border crossing from Honduras to El Salvador
3 Days in El Salvador
Border crossing from El Tunco El Salvador to Leon Nicaragua
7 days in Nicaragua solo travel
Granada Nicaragua to San Jose Costa Rica
3 Days in Costa Rica Travel Guide
5 Days in Panama
7 days backpacking in Ecuador itinerary
5 days in Oaxaca itinerary
2 days in Mexico City itinerary
Best places to visit from Split
2 days in Split, Croatia
Solo traveling to Mostar
Solo female travel to Kotor
Best places to visit from Split
2 days in Split, Croatia
Solo traveling to Mostar
Solo female travel to Kotor
Solo female travel to Budva
Solo female travel Albania
Warsaw by Train covers warsaw travel tips
Check out One day in Luxembourg, western Europe
Day trip from Zurich to Liechtenstein
Travel tips to South America
Fiji solo travel guide
Australia east coast must-see
Backpacking in Melbourne, Australia
Digital nomad guide to Melbourne
14 best area to stay in Melbourne CBD
Master Sydney travel guide
Solo travel guide to Brisbane
Exploring Adelaide the best way is a must-read
Important travel tips for Uluru trip
Melbourne day trips in winter
Day Hikes in Melbourne
Weekend getaway? Check out things to do in Ballarat
Perth solo itinerary
Top 5 must do in Darwin, Australia
How to go from Dublin to Howth
Solo female travel Romania
Read a recent day trip to Zaanse Schans from Amsterdam
How about a solo itinerary to Canberra– Australia's capital city?
Solo trip to Peru, travel tips to South America
Check out the 7 days Hanoi travel guide.
Book accommodation through trusted Booking.com
I have detailed travel resources right here. Save money, learn what and how.
If you like this article, feel free to follow my adventures on Instagram, Facebook, YouTube, Twitter, and Pinterest, but most importantly sign up to my e-mail list to keep up with updates and travel posts.
Puerto Viejo Costa Rica to Bocas Del Toro Panama