Today I am sharing the most beautiful places in Pakistan that you can't miss. So I just completed my 1-month visa and travels in Pakistan, which means I did not drink any alcohol for a month, wore clothes that covered my shoulders, knee, legs, and body for a whole month, ate loads of Briyani and saw A LOT OF stunning places!
Pakistan is one of the least travelled countries out there and you can go for days without seeing a single foreign tourist. Having said that though, the country is opening its door more and more, and with such beautiful nature, history, culture, and friendly people, there is no better time to visit the country than now.
It is a country that is not on everyone's bucket list but I can see that slowly changing. I suggest putting the negative press aside, paying for the visa, saving up for that potentially expensive flight, and seeing for yourself. Let the jaw-dropping views, interesting culture, history, and friendly people blow you away!
It is also one of the cheapest and most beautiful country to travel to in South Asia. But make sure your visa is arranged beforehand and always double-check your flights even if you've received a confirmation in your email.
Did you know that it was Mughal Emperor Jahan who ruled over Pakistan was the one who built the Taj Mahal?
Below are my recommended best places to visit in Pakistan.
But first, here are some important things to make your Pakistan travels easier and more enjoyable.
1. Install the Uber App
First thing first, download the Uber app for going around in Sydney. Better than waiting for taxis and trains, get the reliable and fast door-to-door Uber service. For my readers, I'm giving you $10 off your first ride on the Uber app. To accept, use code 'k7zapn' to sign up. Enjoy! Details: https://www.uber.com/invite/k7zapn
2. Accommodation 
No matter which area you stay, I recommend using booking.com and sorting with price, then consider the ones with the highest reviews plus within 1km of the center/old town in order to be between all the actions.
3. Tours
For tours, I recommend using get your guide and walking tours available in most places
4. Book Cheap Flights
And lastly, find the cheapest flights through the most trusted sites such as Skyscanner or Momodo.
I have detailed travel resources right here. Save money, learn what and how.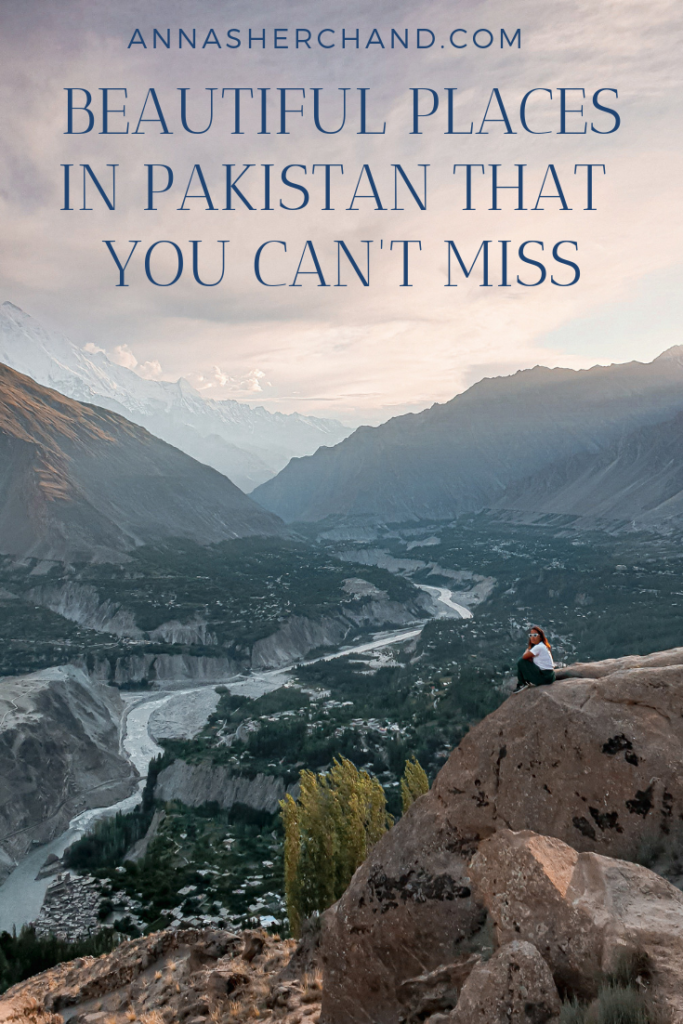 Few handy Urdu words

Hello – Salaam walekum
Thank you – Shukeriya
Okay – Theek Hai
Yes/No – Jee Han/ Jee Nahi
How are you – Aap kaise (for male)/ kaisi (for female) hou?
I want to go to______ (place) – Muje _ (place) jana hai.
Pardon me/ Excuse me/ Sorry – Maaf Kijea
Good Bye- Khuda Hafiz
Most beautiful places in Pakistan that you MUST see
Pakistan has 4 provinces Sindh, Balochistan, Punjab, and Khyber Pakhtunkhwa; two autonomous territories (Azad Jammu and Kashmir and Gilgit Baltistan) and one federal territory (Islamabad Capital Territory). So I have divided the most beautiful places in Pakistan by the names below – Hunza Valley in Gilgit-Baltistan, Karachi the former capital city, Sindh Province, and Lahore city in Punjab Province.
Without ado, let's begin
Hunza Valley in the Gilgit- Baltistan
Even before I arrived in Pakistan, Hunza Valley was on top of my list to see, and glad to report it didn't disappoint. Hunza is a mountainous valley located in the extreme north part of the Gilgit-Baltistan region of Pakistan. Gilgit-Baltistan formerly known as the Northern Areas is the northernmost administrative territory in Pakistan.
Hunza Valley is divided into 3 areas, 1. Upper Hunza, 2. Middle Hunza and 3. Lower Hunza. I have written the most beautiful places in Pakistan below in order as you leave Naran to Hunza Valley. So you can stop at all these stops along the way. Let the beautiful landscapes of Pakistan leave you breathless!
– Lulusaar Lake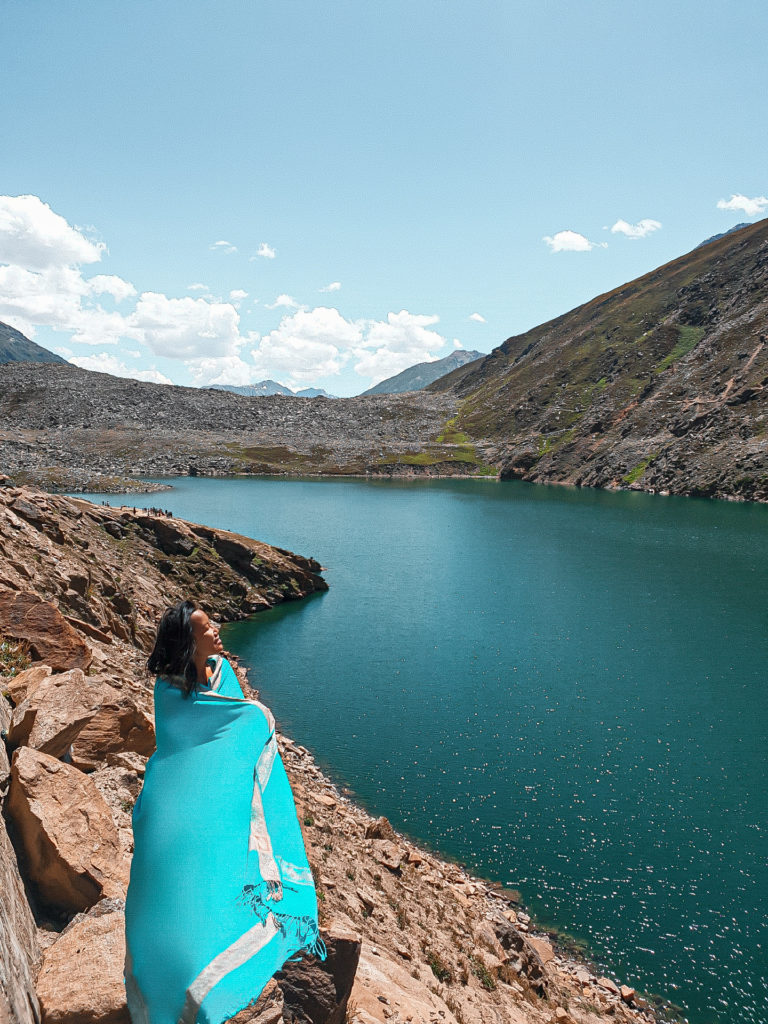 Lulusar Lake offers a refreshing view after an arduous journey of about 48 km from Naran. It is the biggest lake in the Kaghan Valley at a height of 3,410m (11,200 ft) from sea level and is located on the way to Babusar Pass in Lulusar-Dudipatser National Park.
I recommend going there early in the morning, the roads will be clear from traffic and there would be no one at the lake also. It is a brilliant turquoise lake with captivating scenery and pristine beauty.
Read this for the best places to visit in Lahore, Pakistan. You will love this one!
– Babusaar Pass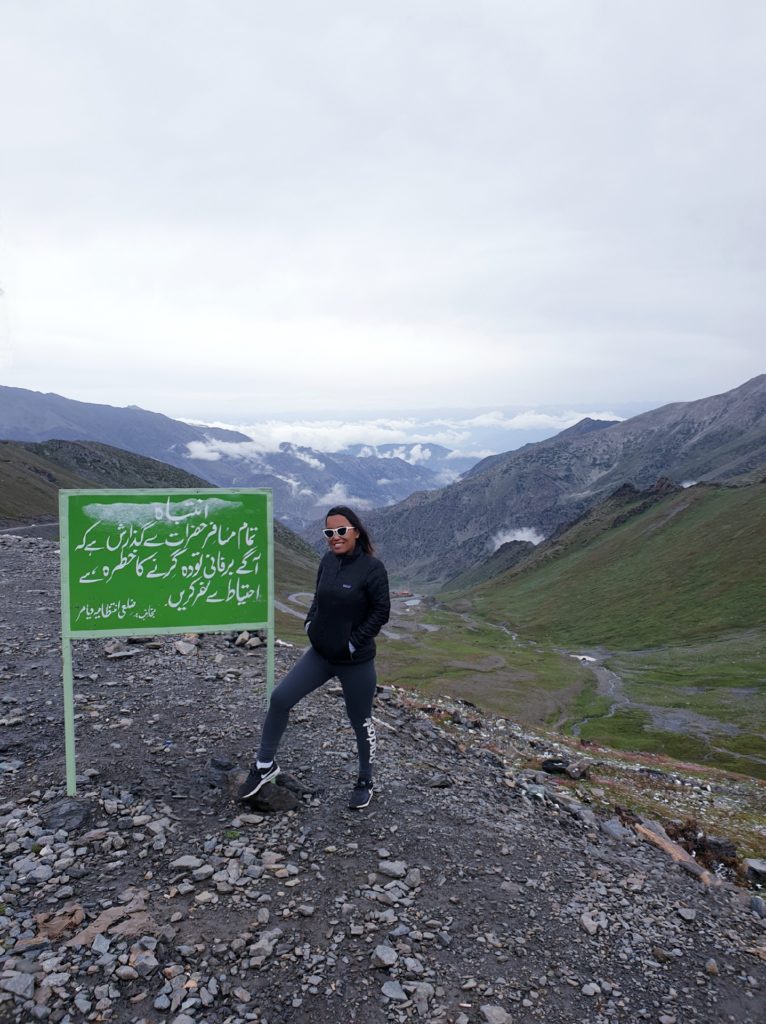 Babusar Top is the highest point in the Kaghan Valley and is the entry point to Gilgit- Baltistan (Chilas district). It is basically a peak of a mountain with a height of 4173m (13,700 ft) and no houses or hotels, just clear ground with lovely wildflowers. It is 65 km from Naran and can be easily accessed by cars but the road is quite windy, so it will take around 2 hours and 30 minutes to drive along the beautiful Naran Valley and river Kunhar.
Note: During winter, because of the snow the road is closed and is open from May till October.
I highly recommend visiting in the hot summer months ie June till mid or late August before it starts heavy snowing. But of course, sometimes you can expect a snowfall even in June too! Either way, whenever you decide to go Babusaae Pass is beautiful and serene.
– Tattu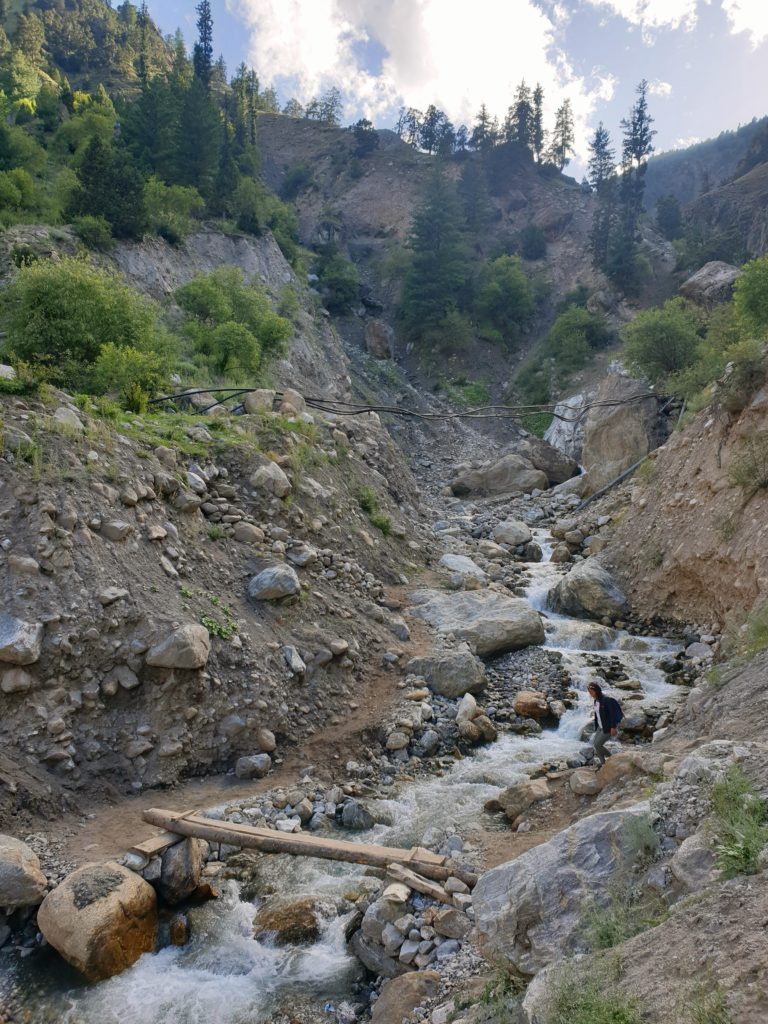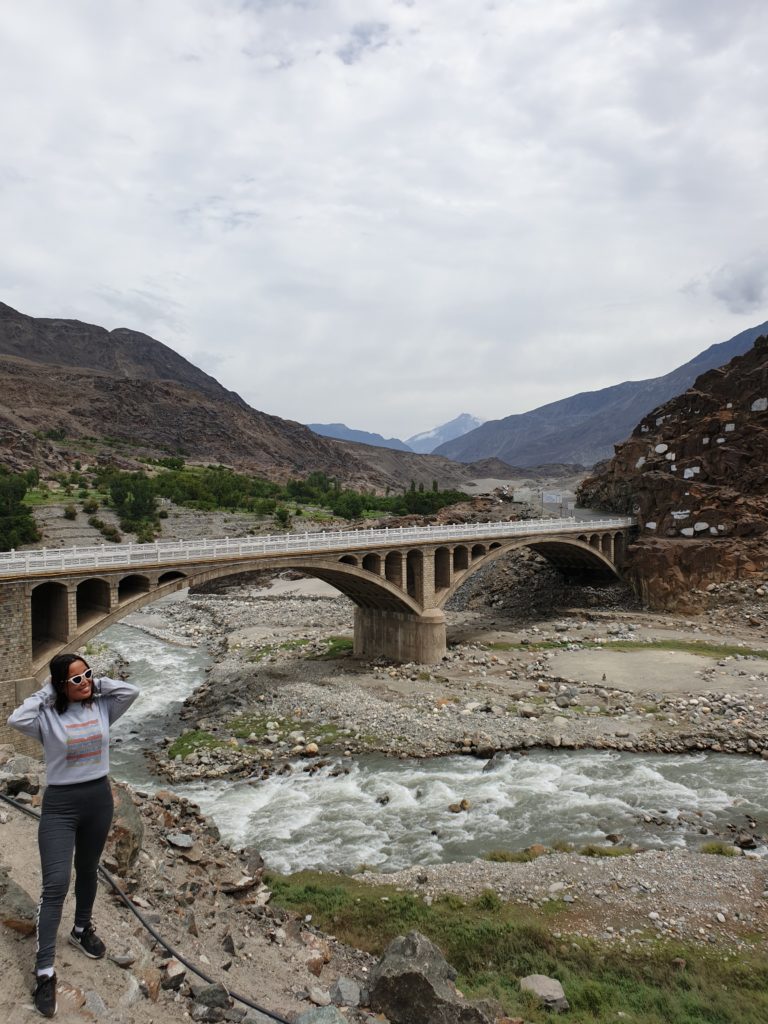 Tattu is a place in the middle of nowhere! Basically, it is where you arrive after an epic adventurous Jeep ride from Raikot Bridge (the bridge is ok to look at but not worth spending too much time on)!
Tattu is a perfect place to calm your nerves, have lunch, and enjoy the quietness and nature around you. It has only a few local places that offer accommodation for the night so don't forget to check that beforehand. Besides that, Tattu is the first point where you can see the mighty Pakistani mountains from your bedroom window!
– Fairy Meadows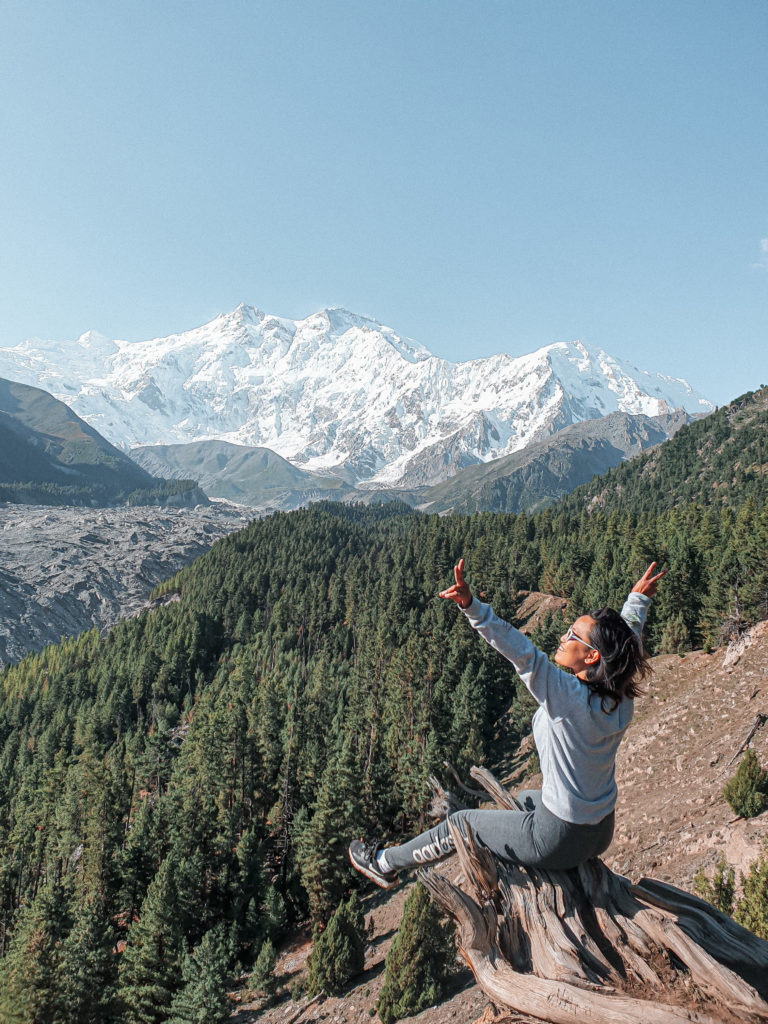 Fairy Meadows is full of lush greenery near one of the base campsites of the Nanga Parbat which is the 9th highest mountain in the world. It was named by some German climbers and is locally known as Joot. It is a local's and tourist's favorite spot in Hunza Valley.
Usually, the trek from Tattu is said to be 3-5 hours to arrive in Fairy Meadows but it really depends on your fitness. I did it in 1:45 minutes and also met people who did it in 5 hours. Either way, taking your time, and enjoying nature along the way is the best way I think. If you wish you can also hire a horse instead of walking the whole way or get one halfway. You will meet the horse people along the way, it's just a little expensive to hire halfway though.
– Beyal Camp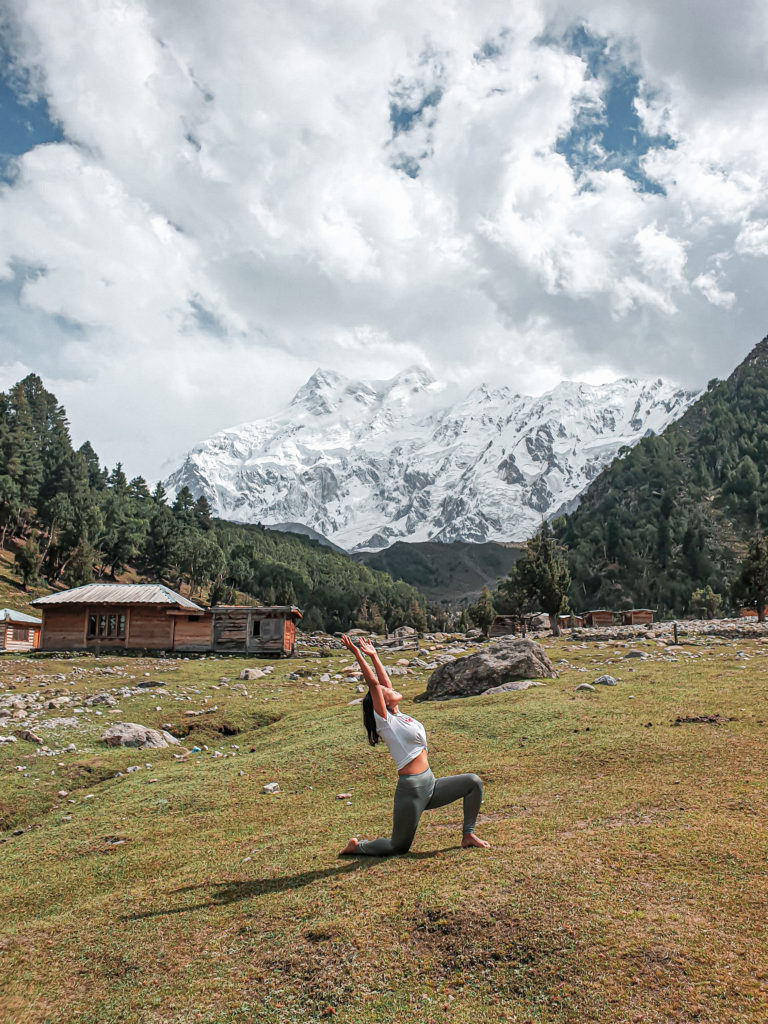 Beyal Camp was where I totally wanted to live for at least a week! You can do yoga, meditate or trek toward the base camp from here. Tourism is booming and loads of cabins are being built around here.
It took about 1.5 hours to get to Beyal camp from Fairy Meadows and was an easy hike. If you are a beginner for the Nanga Parbat Base Camp attempt, this is a fine place to take some rest and gird up your back for the hike towards Pakistani View Point and German View Point and the Base Camp of Nanga Parbat. It has so long meadows in this valley.
– Pakistani View Point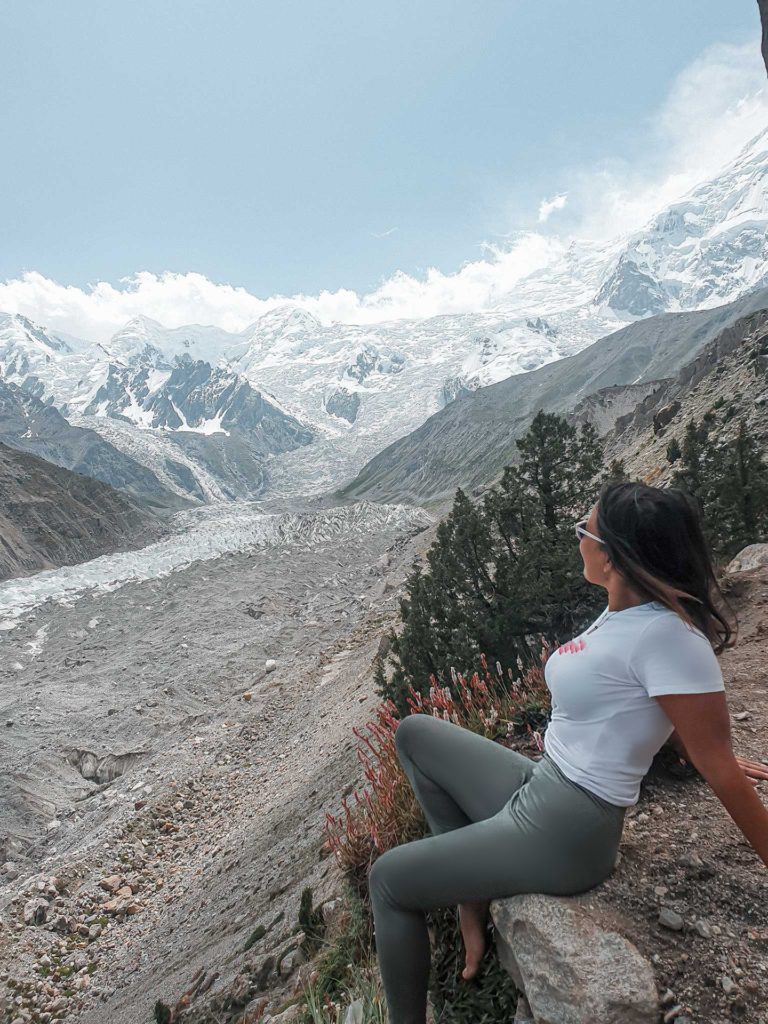 This is a perfect spot to have a break on your journey to the base camp of Nanga Parbat. Just look at that view! Well maybe I make the trek look easy but the truth is it wasn't. At some point, I was scrambling with all 4 (the path was full of loose rocks between the Pakistani viewpoint and the base camp)! but I love the adventure so there's that. I have shared all the video stories on my Instagram with "Pakistan" and "North Pakistan" highlight. Go check them out!
These shots were taken at the Pakistani viewpoint, on the way to Nanga Parbat base camp.
– Nanga Parbat base camp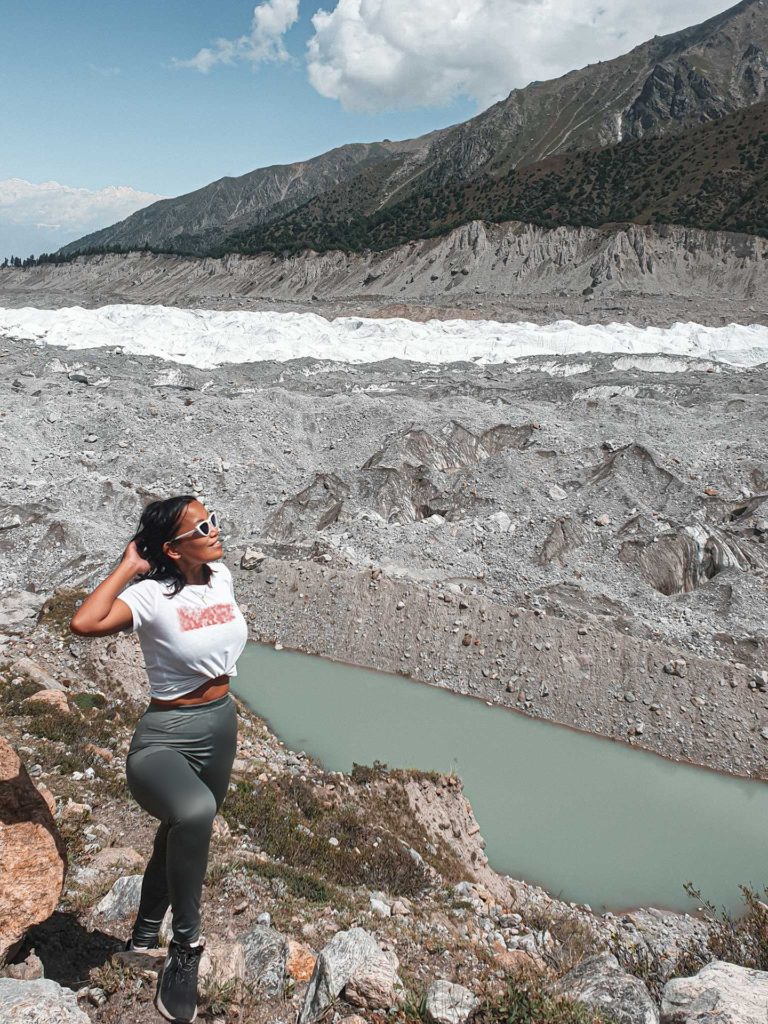 Nanga Parbat is the 9th highest mountain (8126m above sea level) in the world and the 2nd highest in Pakistan after K2. It is also called the killer mountain because of the number of death it has claimed. So trekking up to Nanga Parbat base camp is an achievement in itself. Just make sure to start super early in the morning otherwise the glacier in the mountain starts to melt down and becomes a massive river in front of you. It happened to me and was impossible to cross it as the current was strong and the water was too deep! But hope you will make it out there because it is one of the must-see and most beautiful places in Pakistan.
– Reflection Lake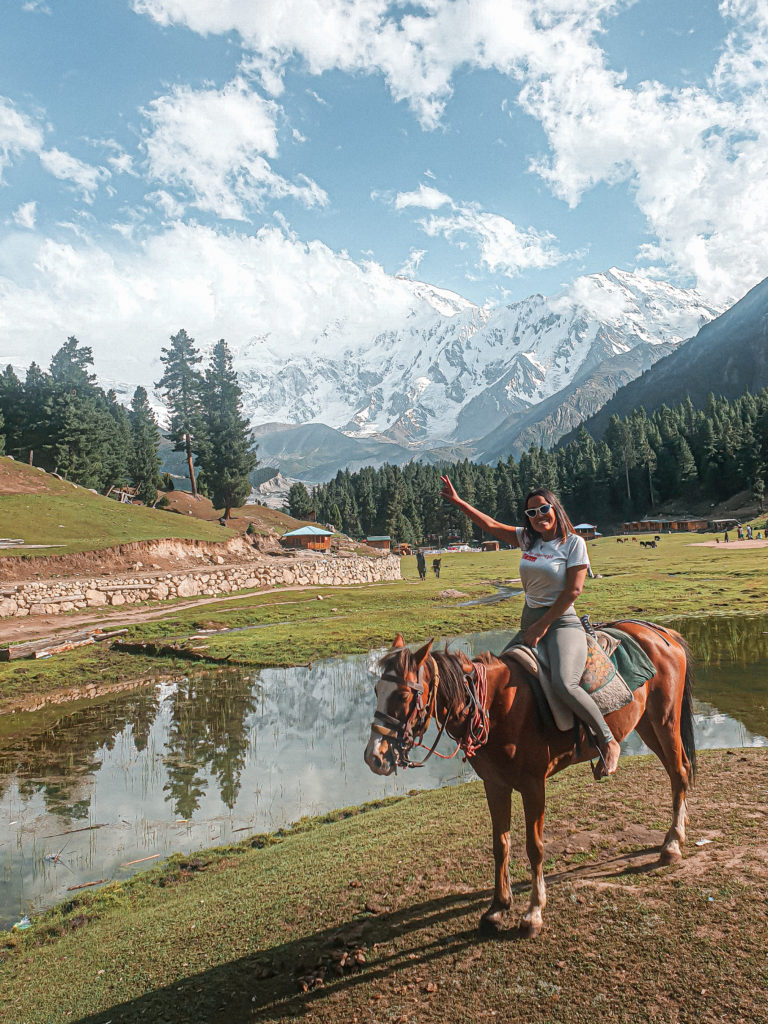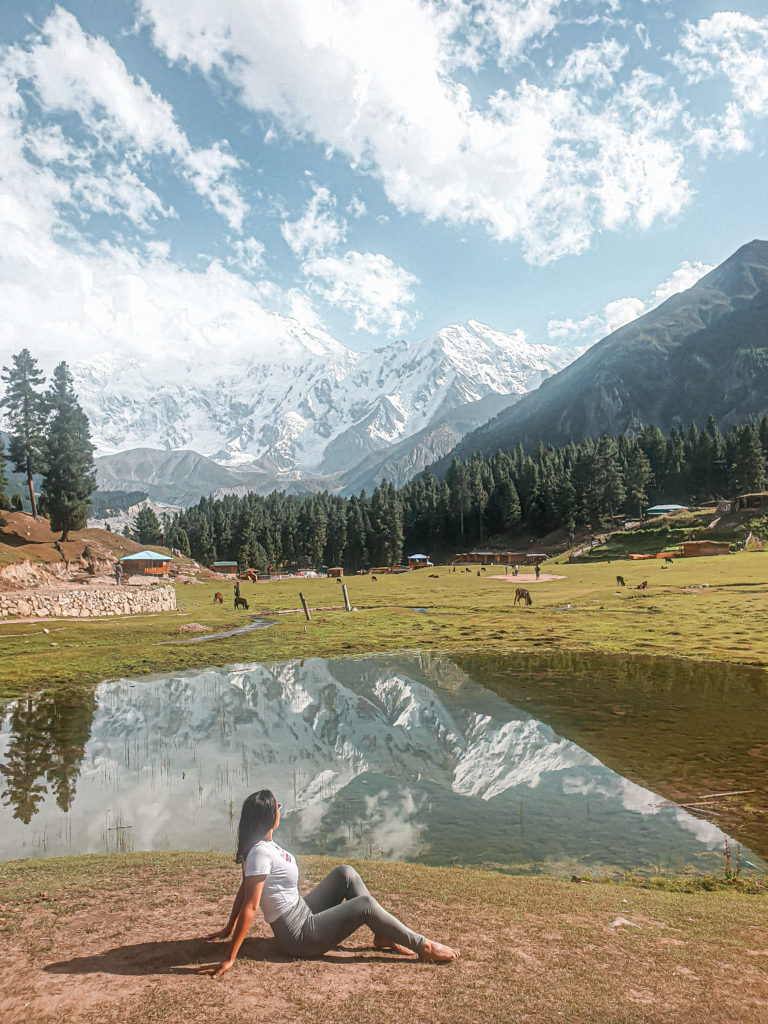 Back in the fairy meadow, get excited to see this gorgeous lake aka reflection lake. Spoiler alert- it is not a big lake, more like a pond but you can clearly see the reflection of Nanga Parbat on the water. So, it is worth it and it's not far from the fairy meadows.
This is a perfect spot to relax, read a book, or if you are lucky play a game of polo!
– Signal Mountain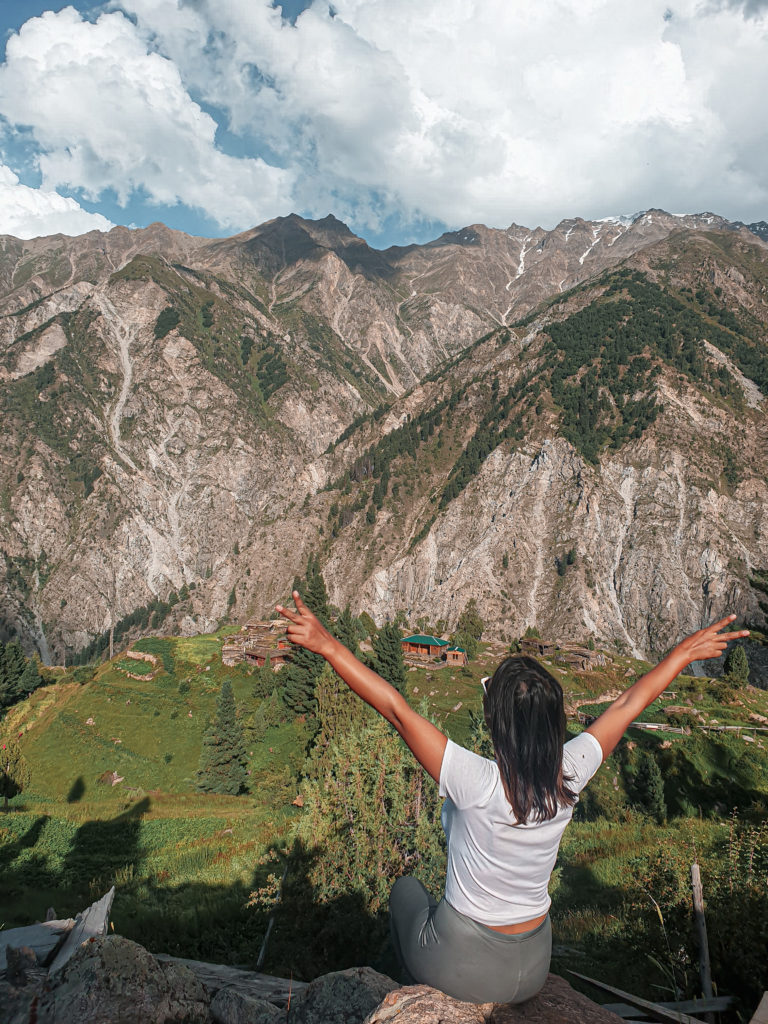 Now you can't find this particular place in any guidebook because it is a local's hidden gem! From the fairy meadow, it is about 10 minute's walk and has a wonderful view of the village and northern areas of the valley. The view is so beautiful you may want to sit here for hours or wander around.
This is the only place you can get a phone signal around here. Hence the name. (Although I wasn't lucky with my Telenor phone reception, I was happy with the views)
– Passu Cones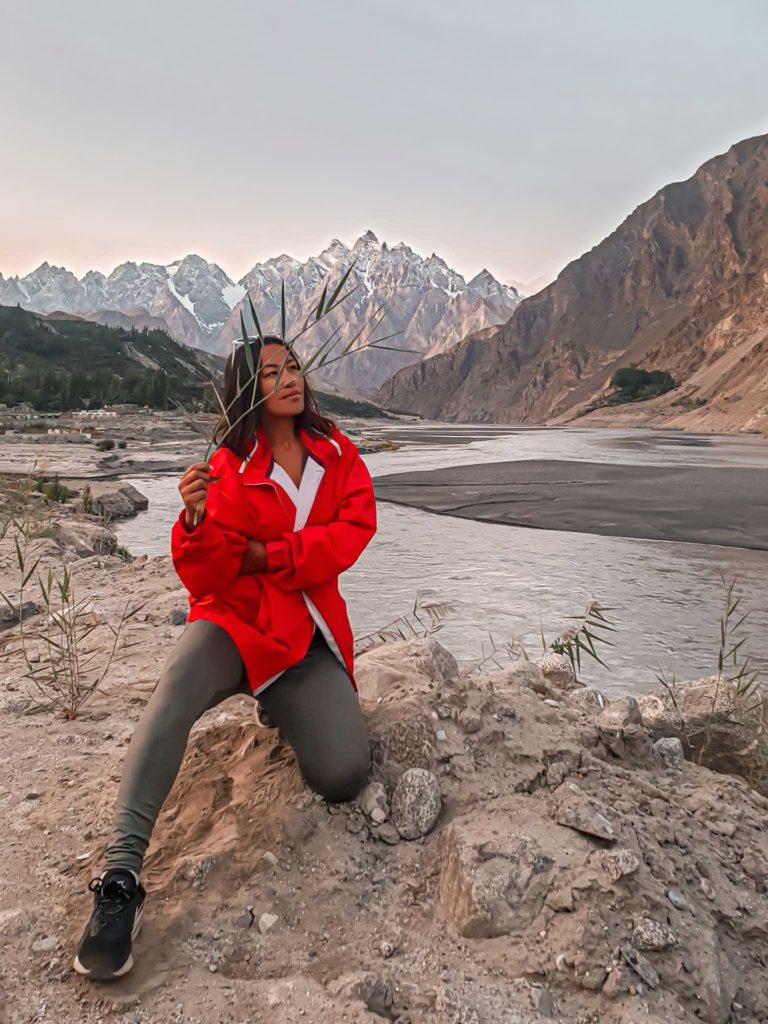 Passu is located along the Hunza River, about 15 kilometers from Gulmit, along the Karakoram Highway in the Tehsil headquarters of Gojal (Upper Hunza), in the Gilgit-Baltistan region of Pakistan. It is almost 150 kilometers upriver from Gilgit.
The Cathedral Range, also known as the "Passu Cones" is one of the most striking landmarks on the Karakoram Highway. Passu is one of the dreamiest places in Hunza Valley. Passu Cones is a famous tourist destination because of its easily accessible sweeping landscapes, and incredible views of the 7,478 m (24,534 ft) tall Passu Sar mountain, the Passu Glacier, and Passu Cones. It is one of the most amazing places in Pakistan for all good reasons.
– Khunjerab Pass, Upper Hunza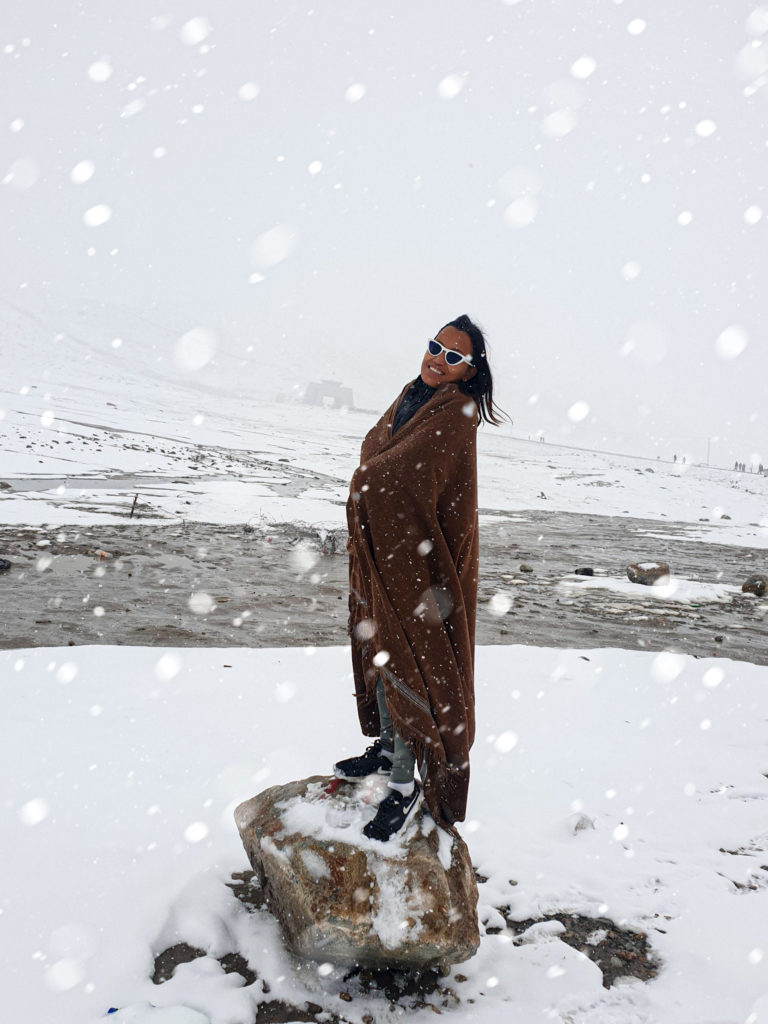 Khunjerab Pass the highest border crossing of the world, lies between Pakistan's Gilgit-Baltistan on the South and China's Xinjiang province on the North. At 4733 m, it is the highest point on the Karakorum Highway and the highest paves international border crossing in the world. There is also the highest ATM in Pakistan!
This place is beautiful and also important as thousands of people cross the border every day,
– Attabad Lake
If you were here before 2010 you wouldn't have found this lake because it didn't exist then! In January 2010 massive landslide occurred at Attabad Village located in Hunza Valley and this mesmerizing lake was created as a result of that disaster! Attabad Lake begins from Garnish Village and its length is about 29.3 kilometers.
Located in the Gojal Hunza Valley, Gilgit Baltistan, Pakistan, the maximum depth of the lake is said to be around 358 feet. It is a must-see in Hunza Valley and easily makes it to the list of beautiful places in Pakistan essay.
– Hussaini Bridge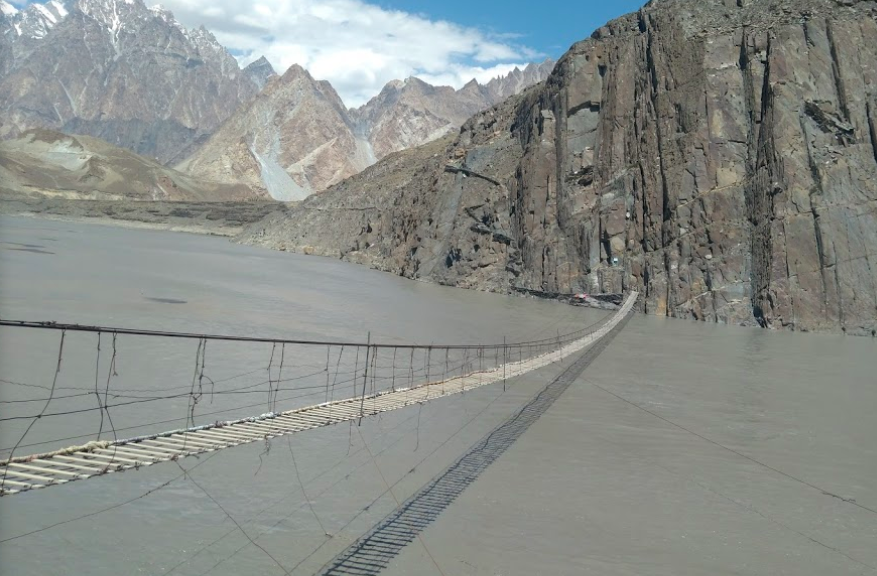 You can find another beautiful scenery of Pakistan at the Hussaini Bridge. It sits over the Hunza River and connects Zarabad hamlet to Hussaini village. Hussaini village is located about 45 km from Aliabad Hunza and 132 km from Gilgit.
It is a thrill to walk on it and is a photographer's paradise and Instagrammers' dream! The enchanting view of the River with Passu Cones in the backdrop will leave you in awe!
– Baltit Fort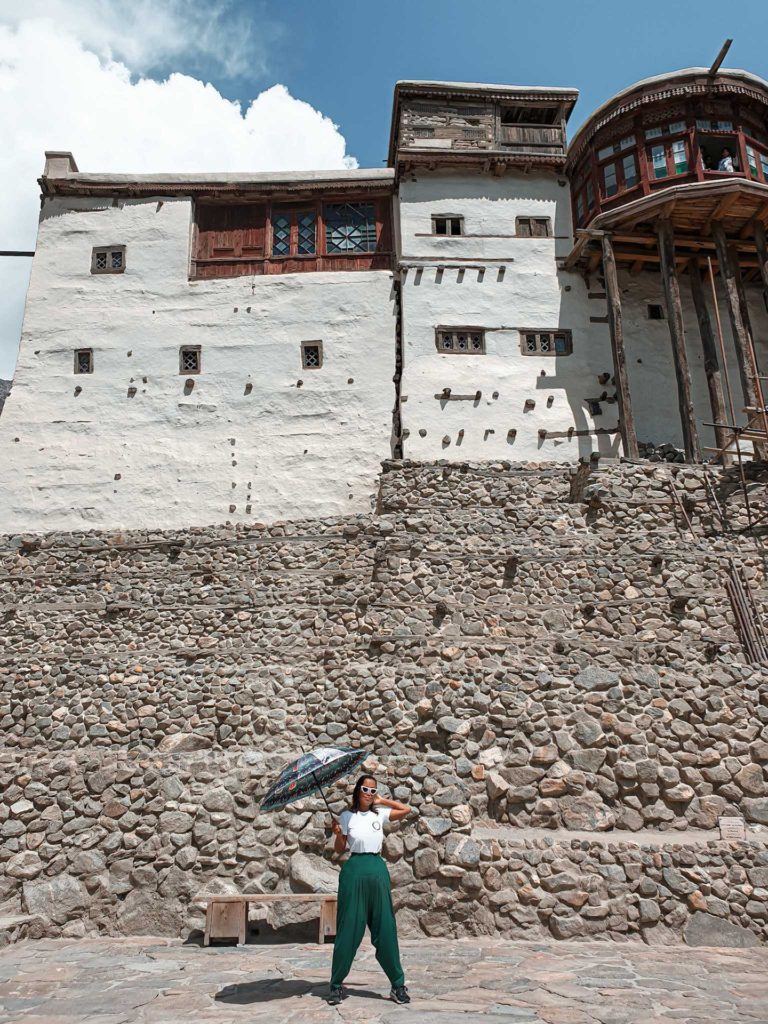 Baltit Fort or Balti Fort an almost 700 years old fort located in the Hunza Valley is one of the most visited attractions in Hunza Valley. It has been waiting to be a UNESCO World Heritage site since 2004. (tentative list)
This historical place has a very beautiful tale to tell as this is not just about history it's also about the enchanted beauty of its surroundings. The fort itself is a wonder as it's been located at the peak of a mountain for so many centuries. From the top window of the Fort, you can see the entire Hunza Valley welcoming you with its unmatched serene beauty. Then from the top, you can also see the beautiful mountain range landscape. On a clear day, you can see 6 mighty peaks of Pakistan, making it one of the most amazing places in Pakistan.
Entrance ticket costs 400 PKR applied to everyone and you have to walk around 10-15 minutes before actually reaching the fort (easy hike or hire a jeep). You will get to see various shops and majestic views on the way.
Tour guides are available every 10 minutes. They do a great job of describing the history of the fort.
Do you know why it's called Nanga Parbat? It is a Kashmiri word that translates to "Naked mountain" because its sides are too steep to allow snow to cover it completely! And Diamir is its Pakistani name.
– Eagle's Nest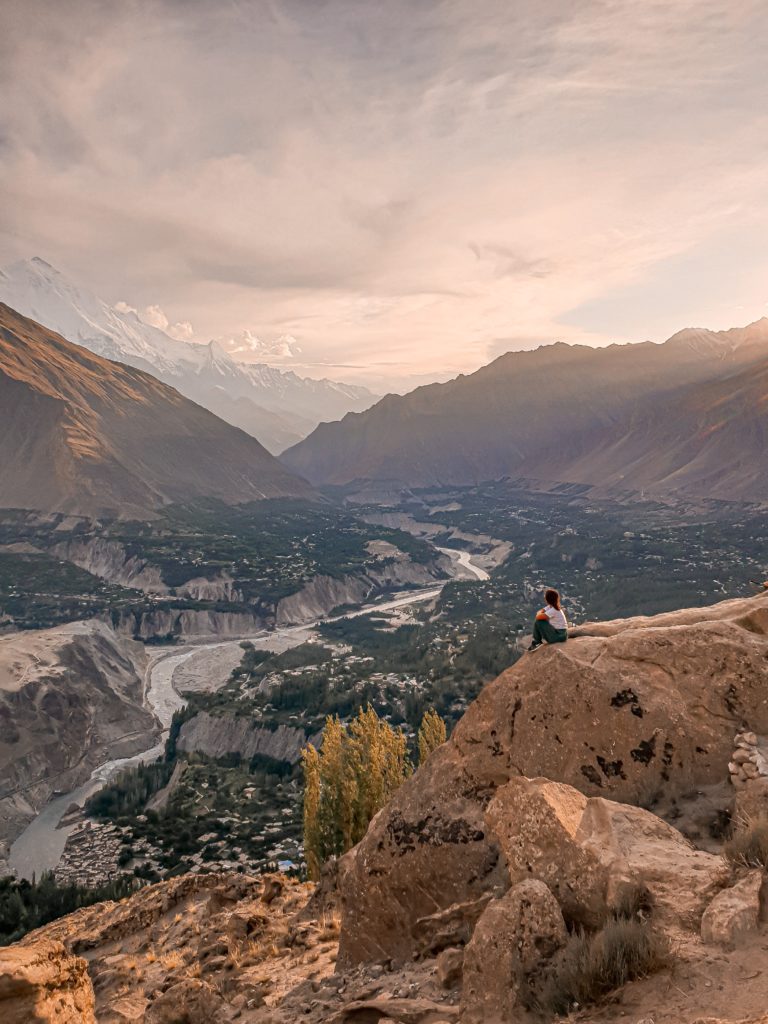 Hunza Valley describes the Beauty of Pakistan like no other place. To admire the stunning sunsets head to Eagle's Nest. This spot offers a gorgeous panoramic view of the Hunza Valley as well as the majestic view of the surrounding mountains.
Do you know why it's called Eagle's Nest? Locals said that is because there is a hotel named Eagle's nest with a big eagle's nest in their front yard! And that makes it one of the most interesting places in Pakistan. Guess the name stuck with the time and now it's locals' and travellers must-see.
I would say it is one of the best picnic points in Pakistan as well. And arguably one of the most beautiful places in Pakistan.
– Kunhar River, Naran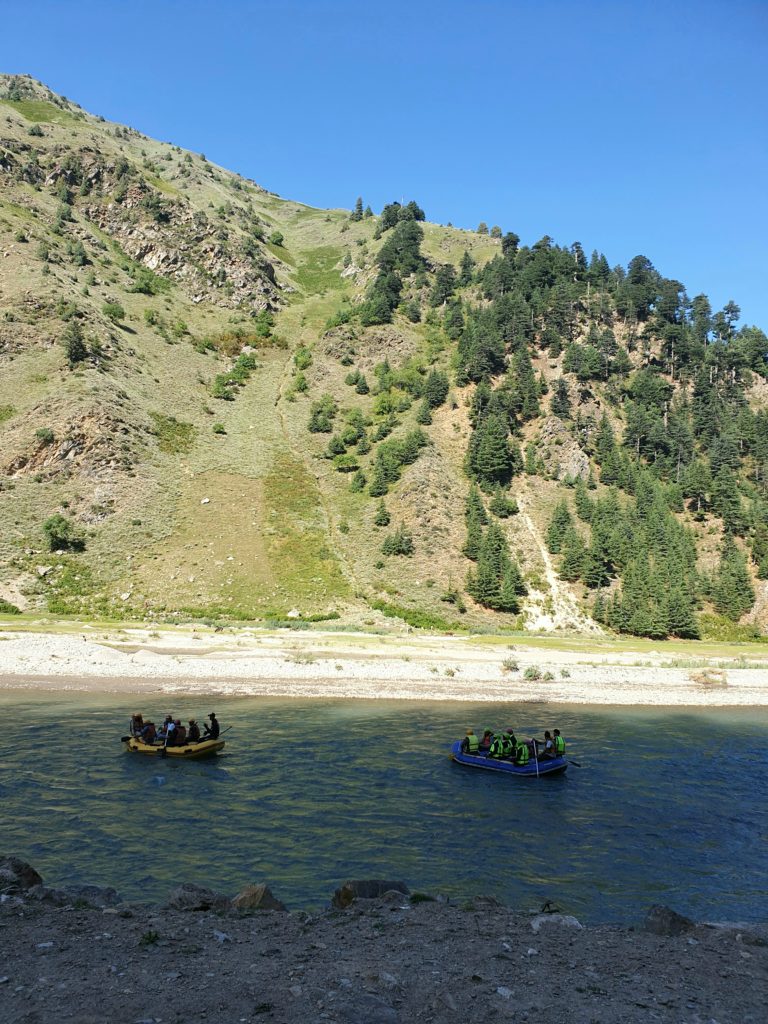 On the way to and back from Hunza Valley, most people stop overnight in Naran. It is a town with a bazaar where you can warm clothes and souvenirs to take back home. The best place to have dinner is Naran – Moon restaurant. I recommend their curry and Biryani!
Coming back to why it is one of the most beautiful places in Pakistan it's because of the river Kunhar. You could sit by the river all day and won't want to move. It's peaceful, calming, and even perfect for some adventure like rafting. I love the little colorful houses on the riverside, the greenery, and the natural beauty of Kunhar River.
Karachi the former capital city
Check out the must-see famous places in Karachi, Pakistan.
Lahore, Pakistan beautiful city
Read this for the best places to visit in Lahore, Pakistan. You will love this one!
Best places to visit in Sindh, Pakistan
Here I have put together the best places to visit in Sindh, Pakistan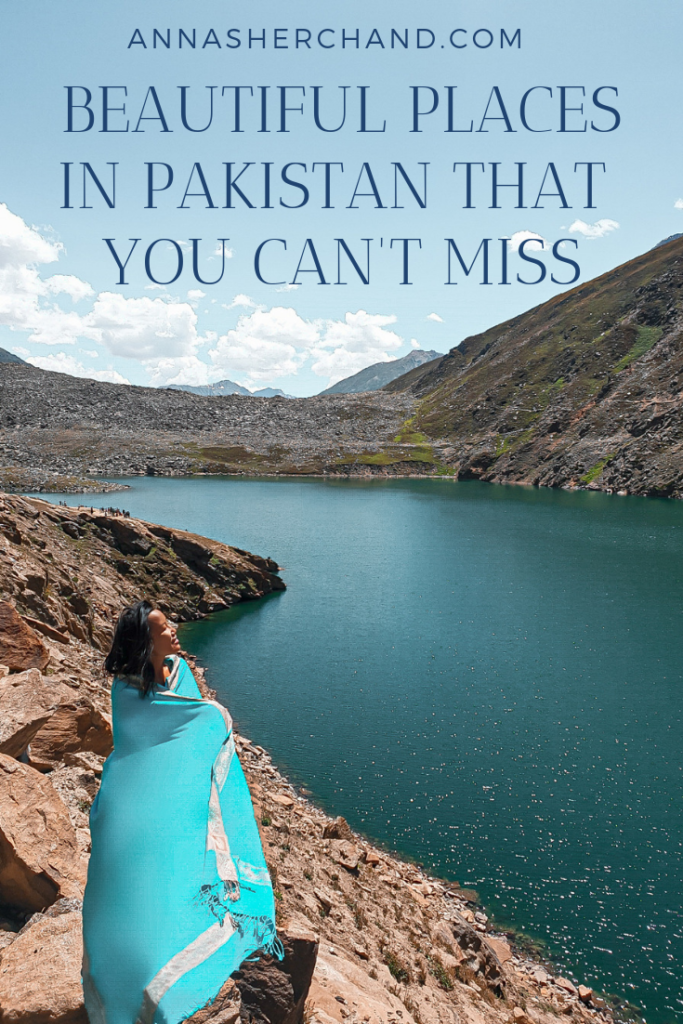 Let me know in the comments- 
Which beautiful places in Pakistan do you want to see first?
Famous places in Karachi Pakistan to visit
Read this for the best places to visit in Lahore, Pakistan. You will love this one!
99% of readers found must see on the east coast of Australia helpful.
One month in Italy
7 days Hanoi travel guide
One month in Central America itinerary
instragramable cafes in Hanoi here
Bangkok itinerary, I've also written about the tours in Bangkok and more here.
What about beautiful Bali? Check out another most-read Bali itinerary.
Master Travel Guide to Sydney
10 hidden beaches and bays in Sydney
Sydney bucketlist things
Sydney itinerary for 5 days
Secret Sydney walks
Best places to take photos in Sydney
Pros and cons of living in Australia
where to stay in Sydney
Hidden beaches and bays
Most instagrammable cafes in Sydney
where to eat in Sydney
most Instagrammable places in Sydney, Australia
Most beautiful places in New Zealand North Island
Check out the most beautiful places in New Zealand South Island
How about Colombia? Check out how to get from Medellin to guatape
Check out where to stay in Medellin, Colombia
Check hotel prices and book it through booking.com
Read the most wanted travel resource here.
If you like this article, follow my adventures on Instagram, Facebook, YouTube, Twitter, and Pinterest, but most importantly sign up for my e-mail list to keep up with updates and travel posts!
Beautiful places in Pakistan that you CANNOT miss