Today I am sharing the 30 most Instagrammable places in Sydney, Australia. As a local Sydneysider and lover of beautiful places, I seek and find Insta worthy places in every corner of my backyard. This post is unlike any other where the author may not have been to these places and just collected all the names of the places and pictures from the Internet. I actually invested my own time to visit these places because I love sharing these spots with my readers = you all 🙂 Ps: Click on the blue link of the name of the places, and it will take you straight to the google maps of each location.
If you are looking for Sydney's most instagrammable locations, you may want to bookmark this page for your reference. I have included my secret aesthetic places in Sydney, great outside-the-city spots, and loads more.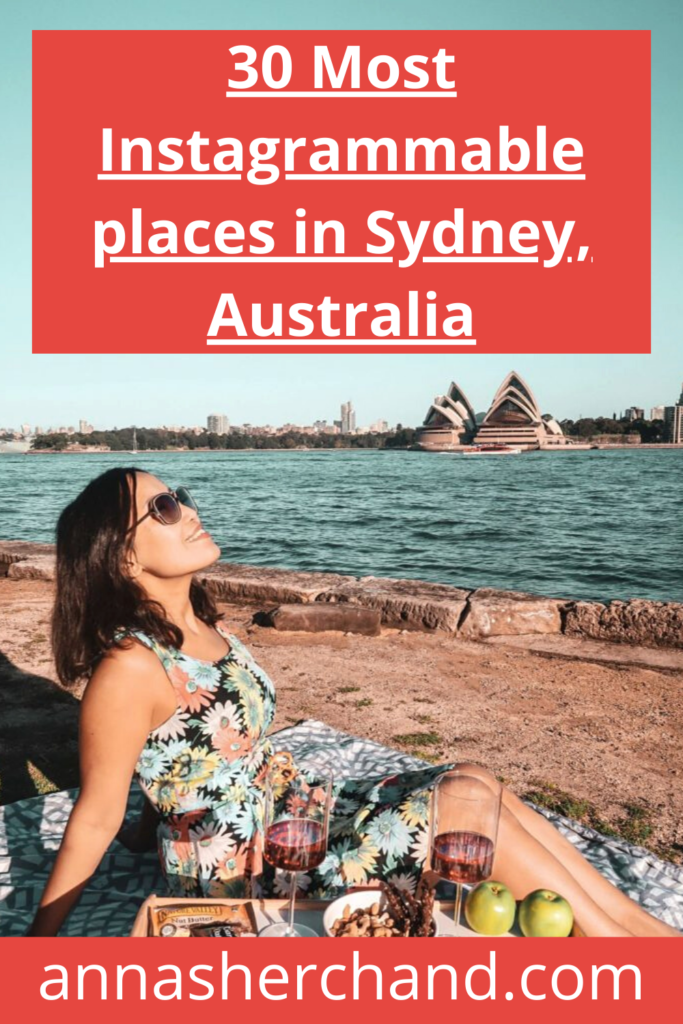 30 most Instagrammable places in Sydney, Australia
One of Sydney's most instagrammable locations is hidden away in between Pitt and George Street and it is called Angel Place. Chances are maybe you will miss it if you don't know where you going. So, keep an eye out for it! If you are there during the weekdays, there is a cafe next door which should be open and you can enjoy coffee/tea or breakfast and lunch while you take your Insta pictures. If you want to enjoy the birdcages in quietness, the mornings on the weekend are the best time to go.
Bondi Beach needs no introduction! It is one of the popular beaches in Australia and the world and hence one of the instagram worthy places in Sydney. You may say this is so touristic but trust me, the first time you see it with your own eyes, you wouldn't want to do anything but take pictures for your Instagram! Anytime is a good time to go here but I especially love the sunrises and sunsets views, also the beach itself, graffiti and surfing pictures come out great too!
As you stroll around the Newtown area and its colorful alleyways, you will discover fences, parking lots, and side walls covered with incredible art! However, If you prefer to stay on the main street (King Street) there are also some art walls you can find easily. If this isn't the new hip Sydney Instagram spots, Idk what is!
I am so happy to share with you one of my favorite instagrammable places in Sydney! As you can see North Sydney Olympic pool is photogenic with the harbor bridge view and, the giant pool at the front. If you're a swimmer and visiting Sydney this is a MUST. Not only for Instagram photos but it is also a great spot to relax for a day. It is super clean, close to Sydney CBD, costs less than $5 for a visit and there's Lunk park next door to enjoy afterwards. Again, click on the name above, so you can see it on google maps.
I keep saying Bradfield Park offers the best view of the Sydney harbor bridge and the Opera house and it sure does! It is a perfect spot for a picnic or just reading a book too. IMO, it passes all the criteria to be an Instagram-worthy place.
Sydney Harbour Bridge is one of the most instagrammable places in australia. If you didn't know, not only you can climb but you can also walk on the Sydney harbor bridge. And if you stop and look around you can see beautiful scenery like in the pic above. It looks like it was taken from a drone but instead, it was just my Samsung phone! Recommend strolling along the harbor bridge from either end of the bridge and take in all the view!
Hornsby Lighthouse lookout is one of the cute places in Sydney that I always recommend to visitors. It is only a ferry ride away from the city, once you are there you can grab a bite at one of many cafes and restaurants or bring your own and spend a day around this iconic lighthouse, walking, sightseeing, or even fishing and taking in the beautiful sunsets.
Head to Cahill's Look out for the magnificent sunsets and some peace and quietness. This gorgeous spot has sufficient parking around but I recommend starting early if you're travelling by public transport/train. And on the journey back to Sydney, you can stop at the nearby town of Leura. You can also walk around the blue mountains or take the hop-on-hop-off bus. Don't visit Sydney without visiting this gem Cahill's lookout in the Blue Mountains. It is one of my favorite places for some tranquility in nature and also for the reason why it's on the first 10 places for the most instgrammable places in Sydney as well as best instagrammable places in NSW.
This is one of my secret instagrammable places in Sydney. Hidden among the residential area, one bus ride away from the city and peaceful and quaint. If you like the cute photogenic aqua place but not a crowded space, and a hidden gem this is it.
One of the cool things to do when in Sydney is to visit the rock pools! There's a reason why even us the locals love it, especially catching those first rays of the sunrise! Ross Jones Rockpool is located on the southern end of the Coogee beach, also like number 9 a bus ride away from the city. If you are after a bit of adventure, recommend the sunrise here then breakky by the Coogee beach, and then walk up to the Bondi beach. But no matter what you end up doing, every hour of the day is beautiful here though which easily makes it one of the best instagrammable places in sydney.
Bronte Baths is one of sydney's most instagrammable locations. You can find this pretty ocean salt water rock pool only a few meters down from Bronte Beach. Usually crowded but if you go during the weekdays, likely you will find it all to yourself and take as many Instagram pictures as you want and nobody would be rolling their eyes at you.
If you appreciate awesome Art weather in the form of installation or handmade, Carriageworks is the place to go in Sydney. It is the largest and most significant contemporary multi-arts center of its kind in Australia. Usually, it's free and for an extra experience visit, Saturday morning Farmer's Market nearby, or night Food market held throughout the year. Just look at all those hanging mirrors def one of the cool Instagram worthy places in sydney.
While you are in Bondi Beach, you may want to stroll around and have lunch, drink or perhaps a dip in Bondi Icebergs. This place is photogenic inside out.
This is a beautiful library just a couple of minutes from the Opera house and Botanical Garden. Just be mindful of students and other guests, keep your camera on silent! I bet the photo would come out great from the second floor but the stairs were locked when I went. Lmk in comments if you get lucky!
Day trip or multiple days camping, if you want to get away from the hustle and bustle of the city, Blue mountain is a great choice. You can also go rock climbing, abseiling, hiking in the blue mountains and chill in the serene environment. There are many walking paths /lookouts you can choose from, my image is just an example in Sublime Point. I have also got some other places in Blue Mountain on my Instagram. The best thing is, this place offers spectacular Insta worthy sights all around you!
I mean look at that view! Tucked away in the northern beaches region of Sydney. Palm Beach can be a day trip or weekend getaway but for that exact Instagram shot, you have to hike to the top. It is not a tough hike though, a beginner grade so most people should be able to do it even if they have a normal fitness level. With that view, it can be considered one of the most instagrammable places in Australia!
16-most-instagrammable-places-in-sydney-australia
Hyde Park is a large city park, located right in the heart of Sydney city. I would say anywhere around the foundation is great for the Instagram photo unless you prefer just trees and plants in your photo, then there are heaps too. The background of skyscrapers from Hyde Park is also a great Insta worthy angle.
Mrs Macquari's chair is one of my favourite spot for watching sunsets in Sydney. Also, a great spot for Instagram Photos/runs/jogs and picnics. During the afternoon you will find many joggers, tourists, backpackers, locals, photographers, videographers doing their best to capture nature's beauty. You won't be disappointed, it's one of the most instagrammable places in Sydney for sure!
Now this one is a bit far from Sydney city. 3.5 hours by car, 6 hours by train and bus but once you get there, you will be so pleased with the views, colors, lake, trees, sunsets and the beach as well. Camping is available and so is parking. if you have some extra days left in Sydney, pack your bags, arrange transportation and go camping. Everywhere I looked in Booti Booti National Park, it was Instagram worthy!
Sydney Opera House is probably one of Sydney's most instagrammable locations. I am on a cruise here in the picture, but the Opera house looks great from any angle. It automatically adds class to your Instagram photos, so why not!
This is another of my best-kept local secrets, so don't tell anyone! 🙂 Diamond Bay Reserve is an absolutely stunning boardwalk that comes with a lookout. Really beautiful breathtaking views. Usually not very busy as it is not a well-known tourist attraction. So, it feels like off the beaten path. It is located nearby Watson's Bay which is also worth visiting.
You may want to read this article secret Sydney walks where I mentioned how to get to this hidden spot and how to easily make it a daily walk because it is not easy to get to by public transportation. Free street parking is available or you can always catch an Uber to get to the destination. When you get there, take Instagram pictures and stores like there is no tomorrow! Ps: Please be careful on the stairs though.
This is one of my fav pool in Sydney! Clovelly pool is a great place to come for a swim, work on your tan, practice your laps and take pictures! FYI, cleanliness is 10 out of 10 but it is cold 9 out of 10, but you'll get used to the temperature. It is definitely one of the beautiful instagrammable places in Sydney and lots of parking around as well!
Ivy Pool Club is a fantastic resort-style bar in the middle of the city! It's an excellent place for a flash function, some after or lunch break, or weekend drinks and the pizza is great too! Recommend checking out the Sydney nightlife here on Saturdays. The aesthetic of this pool club definitely makes it an Instaworthy place.
And here is my another secret instagrammable places in sydney. Not the national park but this pool! I couldn't believe there was no one in the middle of the summer! This spot is also one bus ride away from the city and you could easily spend a day here or go for walk around the national park and end the day with a dip and instagram pictures.
Personally, I visit the Art Gallery of New South Wales every time I am in town. They always have an interesting art exhibition going on or for a bite in the cafe downstairs. Definitely another Instagrammable place in Sydney that is free to enter!
Located near the famous Sydney Opera house and Hyde Park, the Royal Botanic Garden is a must-see place. Usually, takes a couple of hours to see every corner of the garden. So if you want to visit take a small train tour it costs $10 and takes around 20 minutes. It will help you to visit most of the significant and historic places and also the Calyx. It is literally one of the cool aesthetic places in Sydney with air conditioning.
Jervis Bay is a wonderful place to visit with the finest white sand in the world. Hence it has made it to this Instagrammable place in Sydney list. It is a must-see location but takes 3 hrs to drive from Sydney. So, plan accordingly and get ready to be mesmerised with spectacular landscapes. I recommend going around late morning and it won't be as busy.
Bare Island is located at La Perouse Sydney. You may have seen it as a small island in "Mission: Impossible 2" with a 19th-century fort & an old wooden bridge to the mainland. Bare Island is not your usual tourist attraction, but definitely, a place that's worth visiting. It is also a popular place for wedding photographs which basically means, it is definitely an instagrammable place in Sydney!
Blackwattle Bay is one of the most instagrammable places in Sydney that I recommend to everyone! It is a beautiful bay close to Glebe (which is a 20-30mins walk from Sydney city) and again not a well-known tourist destination. It is a local hidden gem and a great place for walking, sight-seeing & home to some of the excellent restaurants nearby.
There is also quite an interesting colonial history around this area that is worth discovering. Certainly worth a visit, especially for watching sunsets and taking those Insta worthy pictures.
This spot is one of the most instagrammable cafes in Sydney! Just look at that photogenic wall of social hideout which makes it one of Sydney's most instagrammable locations. Also, glad to report coffee and food is on point too and not far from the Sydney center at all.
31. Bonus: Sea Cliff Bridge
And here is another of my favorite Sydney's most instagrammable locations. To get here read how to get to Sea Cliff Bridge lookout because if you don't know where you are going you will miss it. It is def one of the best-kept secrets of Sydney!
Hope you enjoyed these 30 most Instagrammable places in Sydney, Australia. At the end of this post, I have linked my Sydney travel guide which will help in your travel to Sydney.
Quick tips for Sydney travel:
1. Install the Uber/Didi App
First thing first, download the Uber app for going around in Sydney. Better than waiting for taxis and trains, get the reliable and fast door-to-door service. Use code k7zapn for a $10 off your first Uber ride and use code WT7BSQD2 for a $20 Didi discount which is a rivalry to Uber.
2. Accommodation
My best advice is to stay at Airbnbs especially for the first week as you get your bearings. And here's the deal- no strings attached, Open a new Airbnb account with a new email address using my Airbnb link and get up to a $90 discount on your first booking! You would be spoilt for choice on some of the best neighborhoods. That's almost $100 Enjoy!
3. Cheap Flights
No matter what you do, always find the cheapest flights through most trusted sites such as Skyscanner or Momodo.
I have detailed travel resources right here. Save money, learn what and where.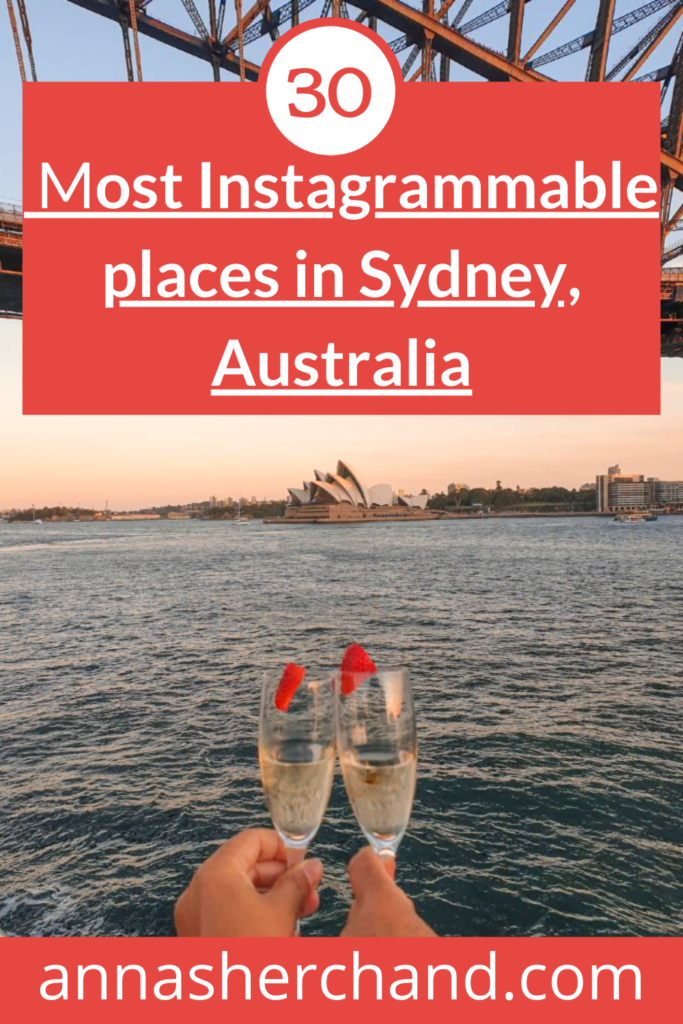 I invest a lot of my own time to research and visit these places. It would mean a lot if you leave a comment and share it with your circle. Thanks x
Let me know in the comments –
30 Most instagrammable places in Sydney