There are more than 100 beautiful beaches in Sydney. Whether you are after the calm, tranquil bays and secret coves or busy surf beaches and world-famous tourist destinations. Sydney got it all. To make things easier I have put together the top 9 best beaches that you should visit in Sydney. I have been living here for the last decade so, this information comes with the personal experience. Most of these beautiful beaches are easily accessible from Sydney's city centre. While some are surrounded with prestige mansions, others have cafes, restaurants or pubs nearby. You can easily do a range of aquatic activities like kitesurfing, windsurfing, wakeboarding, snorkelling, kayaking, canoeing, stand up paddle boarding and surfing. There is something for everyone and with that in mind,
Here are the 9 best beaches in Sydney, Australia to swim, surf or lie on the sand
Dear readers, I am challenging myself to produce a quality Daily blog posts for you all. Show your support by subscribing here.

Bondi Beach
Bondi is the most popular Australian beach which is on every visitor's list of places to see in Sydney. It was also the first beach I went to in Sydney and was impressed with the view! Especially the sunsets are great from North Bondi (you just walk up all the way to the north end of the beach) Bondi Beach is not only famous for its breathtaking view, rock pool, hot eye candies showing off their surfing skills and picture-perfect BBQ scene but interesting events happen here too. And that makes it even better! If you are in the right month of the year you can also visit the annual Sculpture by the Sea exhibition. (usually around November) along the coastal walking track to the Coogee Beach. Another fun event that happens here is, the Festival of wind where you can fly any types of kites on the beach! It is a must-see sight in Bondi Beach.
I just shared videos of the Festival of wind 2018 in my Instagram- see it here.
Tamarama Beach
If Bondi is too crowded for you, head further south along the coastal path to little Tamarama Beach. As you can see in the picture, I found it all to myself one afternoon! The best thing about Tamarama beach is, it is small, calm and cute as a button beach. The small size of the beach gives the feeling of being on a private beach too! Plus, if you arrived late it is easy to spot your friend in a small area!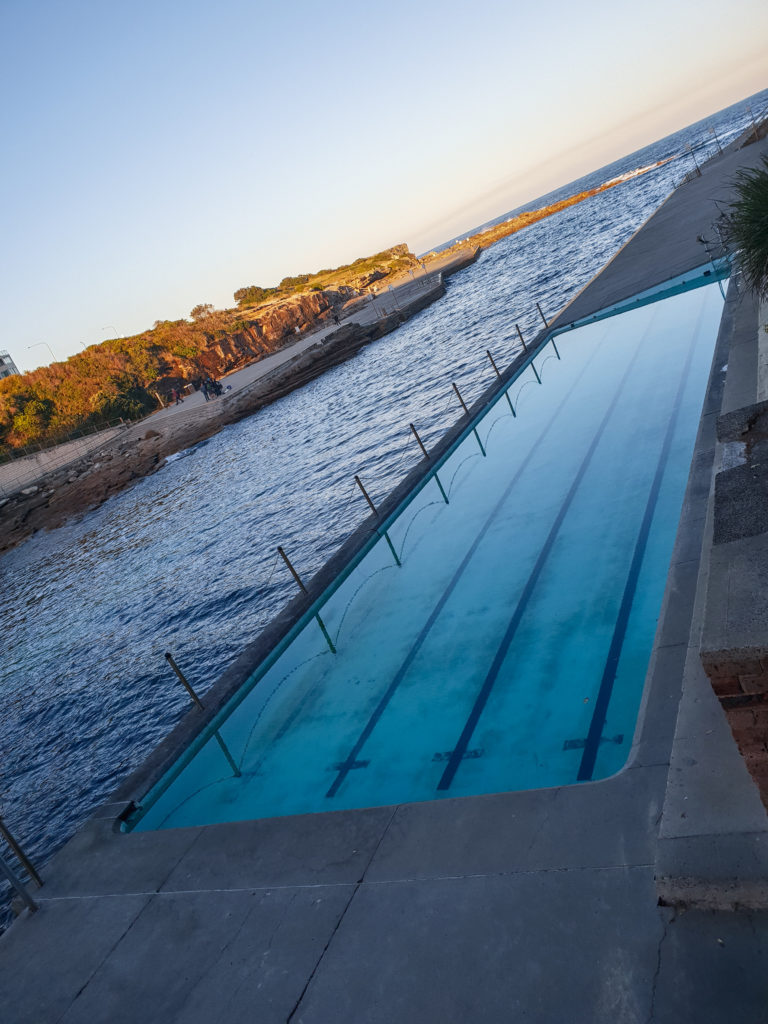 Clovelly Beach
Clovelly is one of the local's favourite beach in Sydney that comes with a pool! Although it can get overcrowded with families on the weekends or public holidays, it is a great spot for snorkelling and chilled vibes especially during the weekday sunsets. Bondi is great, but it's fun to change it up once in a while and hang out at a neighbouring beach. Just walk south along the coastal path from Bondi and you can see the above mentioned small Tamarama, and chic Clovelly beach– all within walking distance.
Wattamolla Beach
You can find the golden sand Wattamolla Beach in the Royal National Park. The best thing about this beach is, it sits with the wonderful waterfall and calm lagoon which makes it perfect for you to dive, swim and snorkel. It can get crowded during public holidays otherwise, chances are you'll have this beautiful spot all to yourselves. Pack a picnic, relax on the beach and enjoy the view like there's no tomorrow.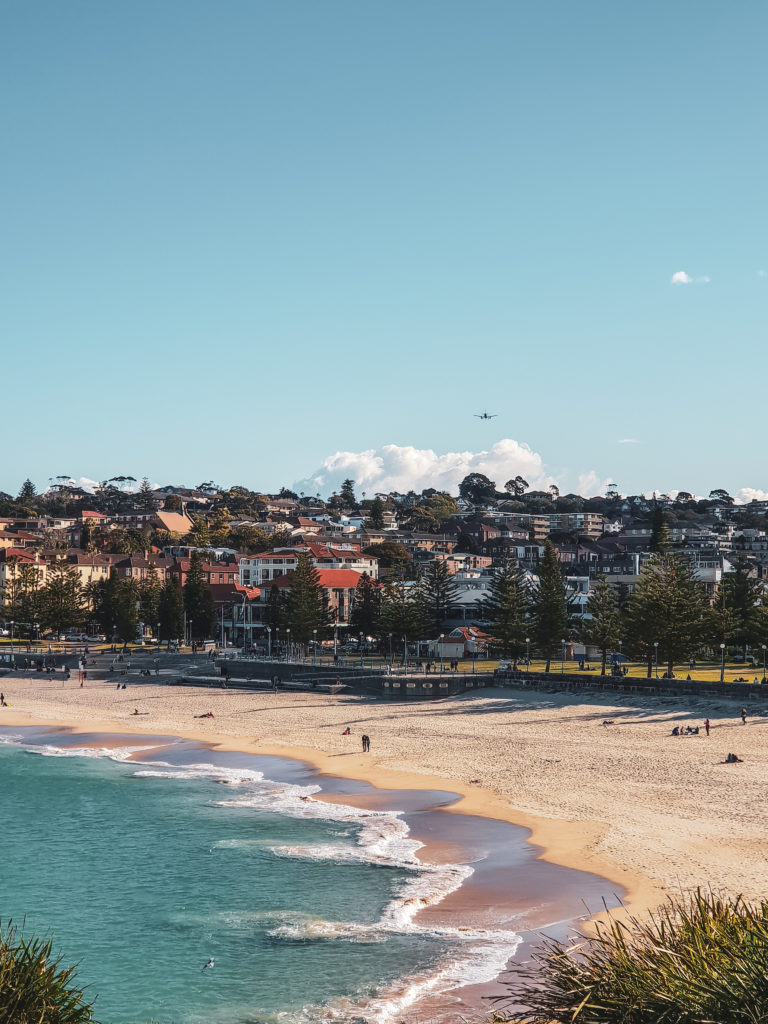 Coogee Beach
Coogee Beach is usually packed with backpackers and tourists but during the weekdays, most likely you will have it all to yourself. Kitesurfing, windsurfing and sun baking are the popular activities here. Not too far from the city and Bondi makes it easy to get to. Wander further along the south end of the beach and dip in the rock pool when there is low tide and take it all in!
Manly Beach
The best thing about Manly beach is the chilled vibes in and around the beach. Not only it boasts a good looking beach but also the buzzing Manly markets on the weekends, local live bands on the pub, good restaurants, hikes and walks around the beach. Plus, the local ferry ride from the Circular Quay to Manly is fun and scenic. Just don't forget to get the Gelato once you get off the ferry to set you in the mood! Get there early to claim your spot and enjoy it all day!
Chinaman's Beach
Chinaman's Beach is ideal for chilled-out picnics and wave-less swims. It's the better-known neighbour, Balmoral Beach, is less than a mile south with its stone bridge and pavilion. But this is a quiet one and most of the people chilling would be locals. There is also fantastic new amenities including bathroom and showers available.
Camp Cove
Camp Cove is a little bit of paradise at the end of Cliff Street in Watson's Bay. Beautiful harbour view and calm enough water to swim, snorkel, picnic and paddling options. The Cafe at the end of the beach sells icecreams, coffee, and various other items. It is so beautiful just somewhere you wouldn't expect to be in the city. A must-visit beach in Sydney!
Palm Beach
When I first saw Palm Beach on Instagram, the place that came to my mind was Thailand! So, I had to go out there and see it for myself. Happy to report that it IS as beautiful as beaches in Thailand but more peaceful in Palm Beach. Get in the late morning, enjoy the beach and also don't forget to head up to the lighthouse for a bird's eye view of the area. You can also stop at some rocks along the way and enjoy the stunning sunsets from here.
Bonus-
Collins Flat Beach
Collins Flat Beach is a great spot to enjoy the hidden beach with no crowds. You can also hire a kayak or canoe from Manly Wharf to get here. It is one of my personal hidden favourites to have a picnic, a bottle of wine and take in the peaceful surroundings moments away from civilisation. There's even a little waterfall! So set up early, enjoy a lazy afternoon on the sand and enjoy this secluded beach for all its worth!
What equipments I used to take these photos:
This has been my favourite Camera so far. I love how my pictures come out crisp and colourful. It also has a screen which is useful when vblogging. You can check out what I meant on my Instagram which is here.
Accessories For Canon GX7 Mark ||
Check it out here
This is the good old Go pro that I take with me everywhere. I recommend it because it is small, lightweight and waterproof. I have had made many memories with this trusted item and looking forward to more.
Accessories For Go Pro Hero 4
Check it out here
I have been using SanDisk since my first camera which was back in 2009. They build quality memory cards. I recommend getting at least two, just in case something happens to one of them.
Do you think it's a hassle of plugging your camera into your computer? This memory card reader will fit cards of all sizes and make an easy transfer to your computer. The reader supports all popular SD memory card formats, including SD™/SDHC™/SDXC™ memory cards, UHS-I SDHC/SDXC memory cards, and microSDHC™/microSDXC™ memory cards. It is also compatible with the latest UDMA 7-enabled CompactFlash cards.
Save this to Pinterest.
Let me know in comments if you –
have been or want to visit any of these beaches in Sydney?
want to check out the hidden beaches and bay instead, read here.
would like to go for the best walks in Sydney, I got it covered here.
I am challenging myself to produce a quality Daily blog posts. Support me by subscribing here.
If you need to book your accommodations, I have got a $50 discount with Airbnb for all my subscribers, get it here.
Alternatively, you can check prices and book it through trusted Agoda

, or

Booking.
If you don't have your flights yet, check out ways to book the cheapest fares here, or here, but if planning and booking your trip is a hassle, let me help! Contact me now.
If you like this article, follow my Adventures on Instagram, Facebook, YouTube, Twitter and Pinterest, but most importantly sign up to my E-mail list to keep up with updates and travel posts!
The 9 best beaches in Sydney, Australia