So today I am sharing a special Captain cook gold dinner cruise Sydney experience. As you watched my Instagram story my mum is here in Sydney! Guys we haven't seen each other for the last 2 years! (we kept in touch online though) So clearly I want to show her the best time. Starting with Captain Cook Gold Penfolds Dinner cruise and this is how it went.
Gold Penfolds Dinner Cruise Sydney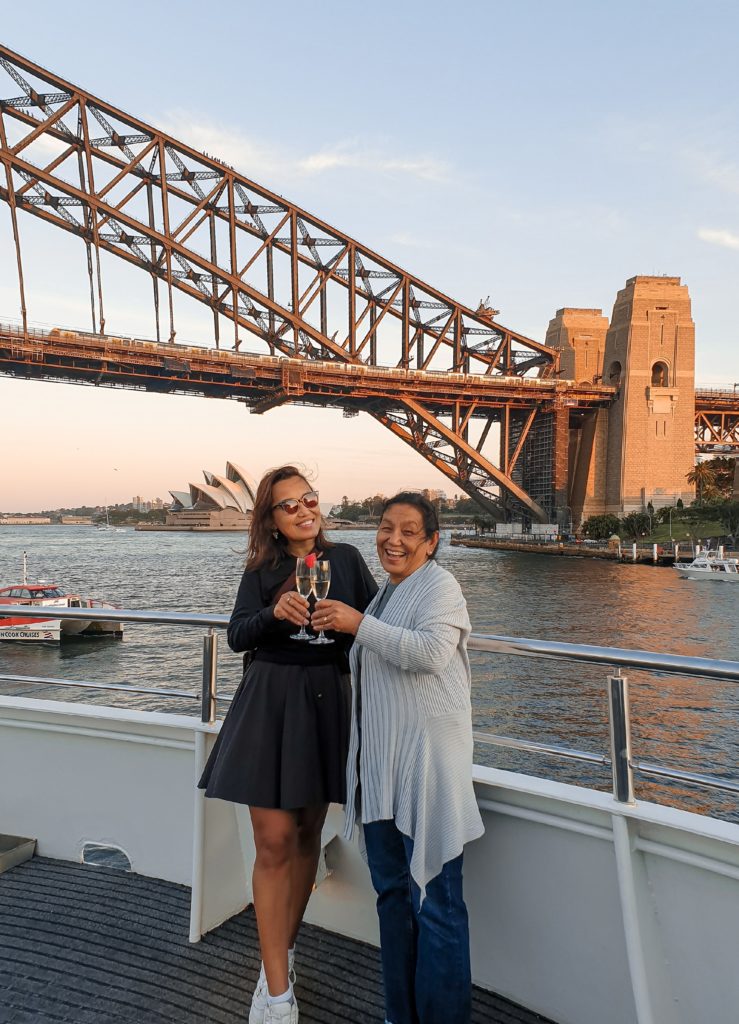 With the Gold ticket, you get the priority boarding and VIP treatment! As we step inside the MV Sydney 2000 boat, we were guided to the rooftop and welcomed with a glass of champagne each. You could see the million-dollar view of the Sydney Opera House, and the harbor bridge while sipping on the strawberry champagne and some canapes.
This was both of our first time in the Sydney dinner cruise. You can purchase the ticket for Gold Penfolds Dinner online and have a choice either to get on the boat from Wharf 6 at the Circular Quay or King Street Wharf in Darling Harbour. On saying that, bear in mind the welcome reception is only available if Circular Quay is your departure.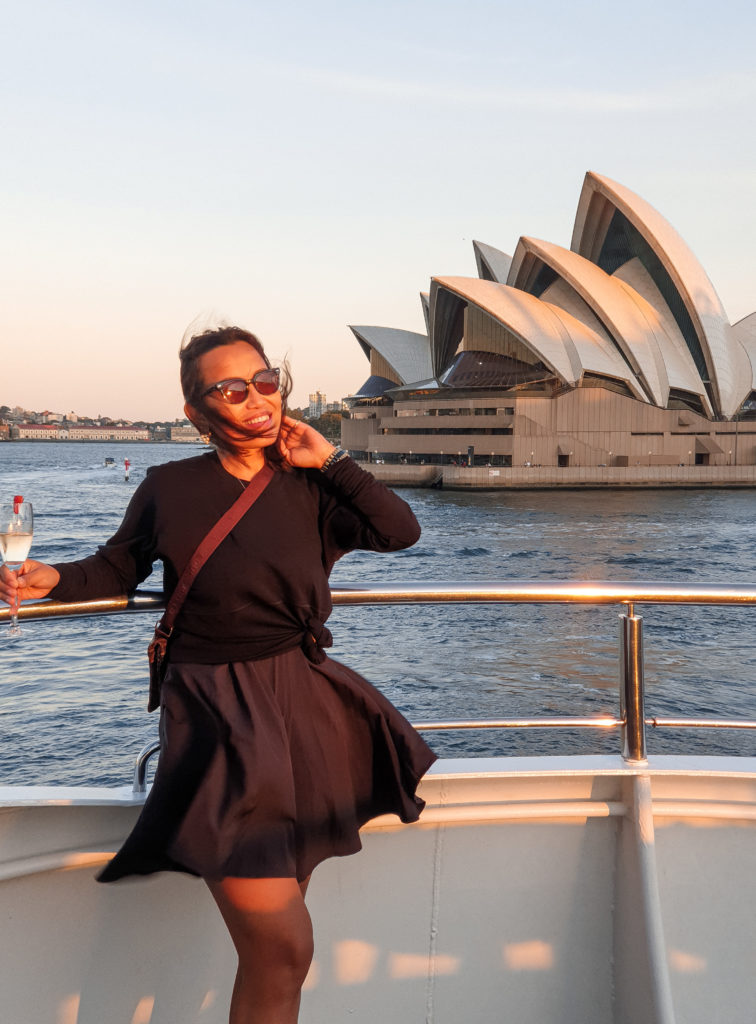 Watching the sunset at the rooftop of captain cook cruise felt like we were on a sunset dinner cruise! Then we were guided to the dining room shortly after. There we had delicious 6-course degustation dining waiting for us. Also, the gold seating meant guaranteed window view and live music on the background to compliment the dining experience.
As the name of the experience suggested there was Penfolds gold selection of bin & vintage wines. You also get the choice of house spirits, local & imported beers, liqueur coffee & soft drinks. And if you don't drink, there is a no Drinks option also available (select Gold Dinner No Drinks) when booking.
Sydney Harbour Dinner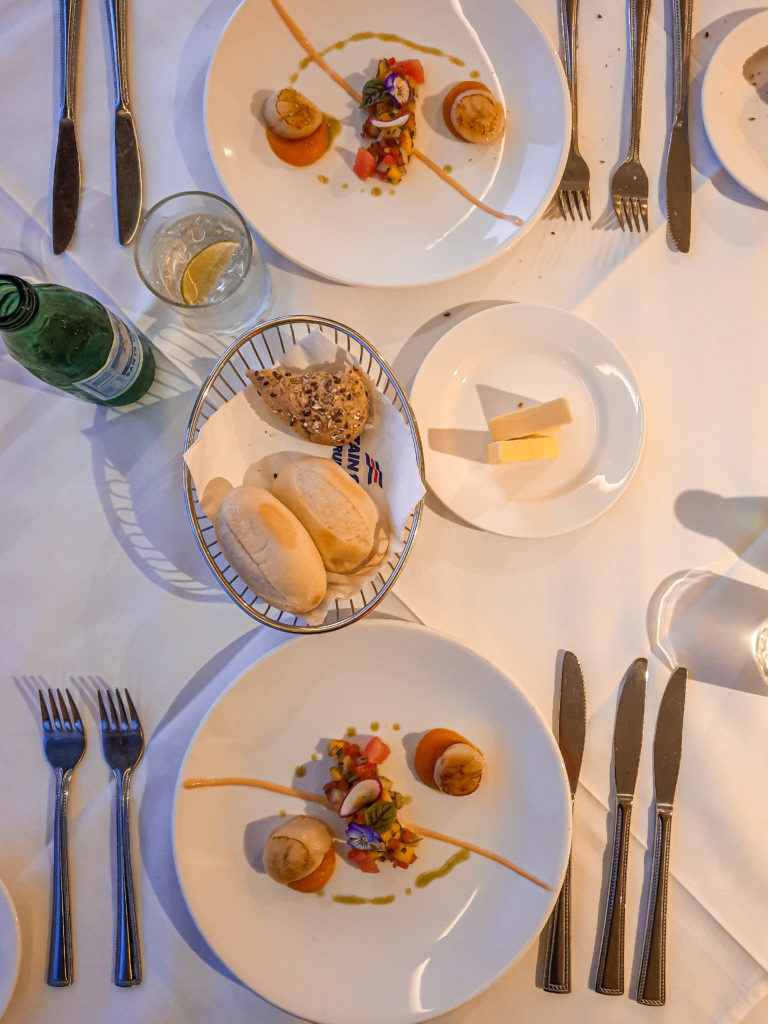 We started with some freshly baked bread and an excellent spread of butter with Darling Harbour view right outside our window. I ordered fresh sparkling water and cranberry juice for my mum.
As we were enjoying the view, our first course was served. It was seared Scallops Lime Foam which was delicious, paired with Penfolds Koonunga Hill Autumn Riesling – highly aromatic versatile wine suitable as an aperitif or with a diverse range of food.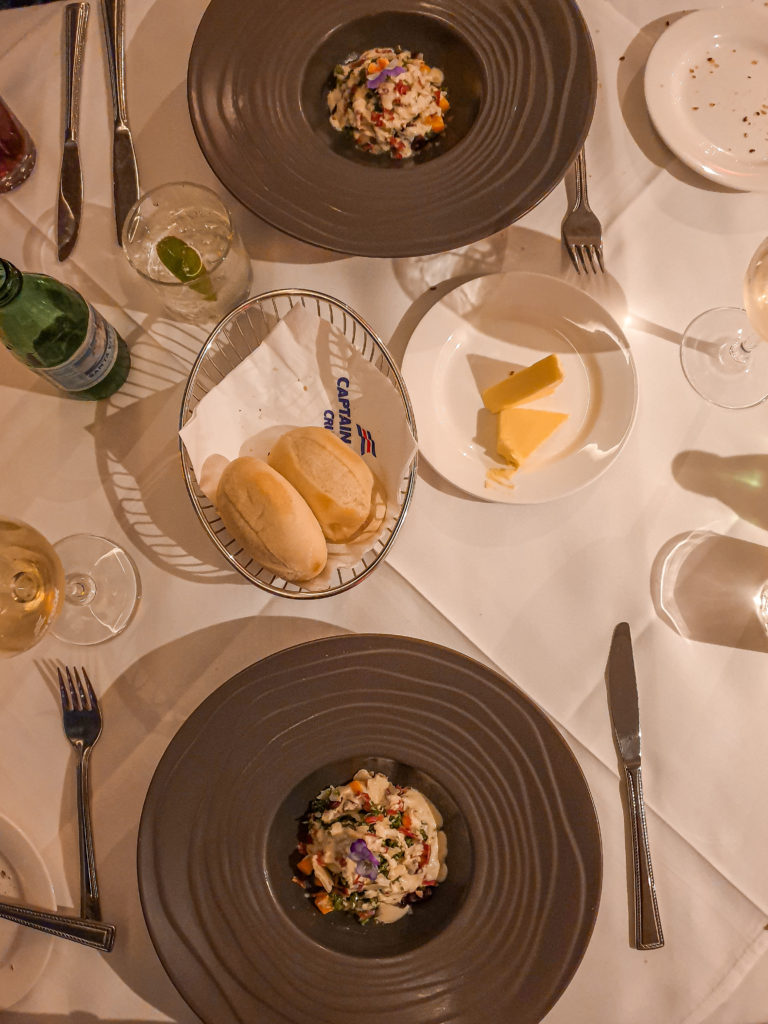 The second course was a fresh and fragrant Herb Salad matched with Penfolds Max's Chardonnay. We were a little surprised how delicious this kale salad was!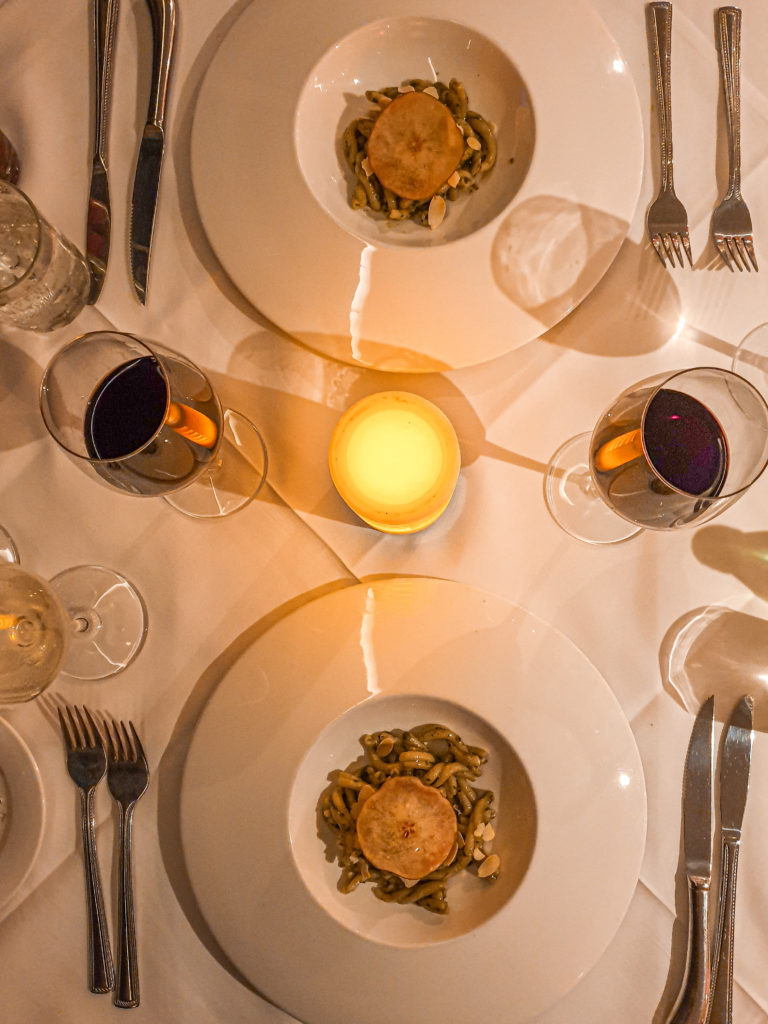 I didn't know what we had coming next! It was a tasty Casarecce Pasta with rocket pesto and aged Italian Parmesan. This dish was paired with Penfold's Max's Shiraz Cabernet – a medium-bodied balanced wine.
After this, we had a short 15 minutes break and our server informed us if we wanted to go out at the deck to enjoy the view. So we did. We had also met an English man and woman earlier at the rooftop and we met again at the deck. They were in their 70's, had been to Nepal more than 8 times and going this October too! They were amazed to see a Nepali woman (my mum) at a sophisticated harbor dinner cruise in Sydney! Overall we had a nice conversation as they knew a few words in Nepali and my mum practiced her English too!
It was amazing to share this dining experience with my mum. When we went back to our table, our final course shortly followed us. It was an Angus center-cut eye fillet served with sauteed mushrooms and a rich jus. Matched with my favorite Penfolds St. Henri Shiraz – high quality Australian red wine.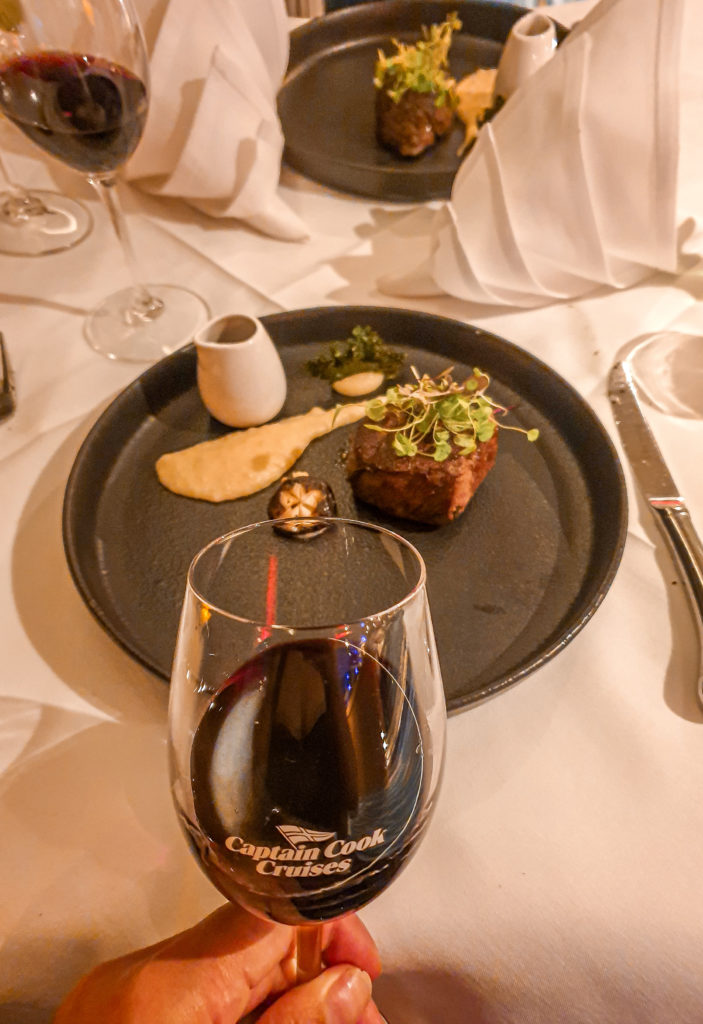 We also had a live band playing softly on the background and they surprised us! The singer sang Happy Birthday for my mum and we had a beautiful black violet cheesecake with firecrackers on top of it! It was magical and my mum was pleasantly surprised.
They had paired this sweet dessert with Penfolds Father 10 Yo Tawny Port wine. It was a fresh finish with a wonderful balance.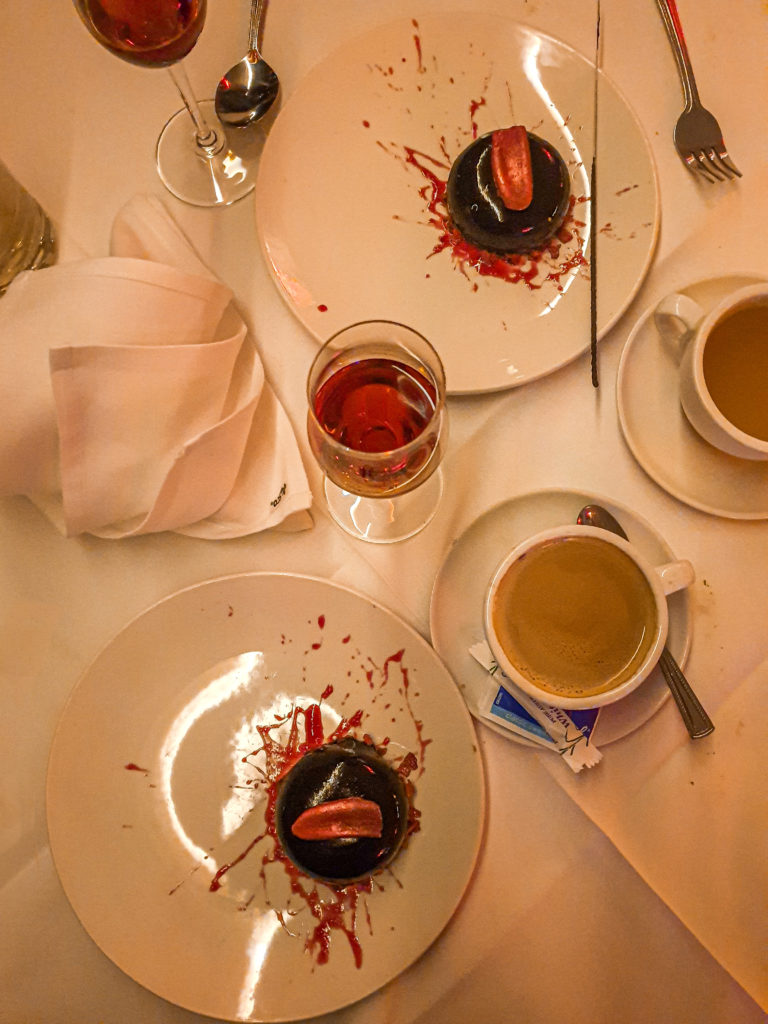 Final conclusion
Thank you, Captain Cook Cruise, for this incredible dining experience. It was a great bonding moment for us. We enjoyed all the impressive food and I definitely have more love for Penfolds wines now! You can still watch all the Instagram stories if you are active there. @annasherchand
It is a great way to invite, showcase and celebrate with your friends and family. I hope this review helps you to make up your mind.
Something worth mentioning is that Captain Cook Cruises run this Gold Penfold dinner nightly from 7.00 pm, up to 3.5 hours. You can get on it at 7:30 pm from Darling Harbour too and there is a 10% discount for groups of 6+. If you aren't sure with the dates, pay $20 extra and you can raincheck as well!
During Vivid Sydney (22May-13Jun20) Captain cook cruise departs Darling Harbour only.
Let me know in the comments if you
Captain Cook Dinner cruise Sydney (With Photos)