As spring is upon us, it is a great time to go out and explore the golden fields. Today I am sharing the best canola fields NSW has to offer to help you get started. Read till the end to find the location details for each canola trail around Sydney.
Canola fields are just the perfect aesthetic for Spring photography and also a great day out. The gently rolling fields studded with sheep, country vibes, and the happy colors of green and yellow canola trials are breathtaking and feel a world away from city life. With plenty of canola fields around the NSW state, you won't have to look too hard. That being said, a car is a must to go see these beauties or a bike if you are a rider or cyclist. Alright without further ado, here is the list.
How to arrive at the canola fields near Sydney NSW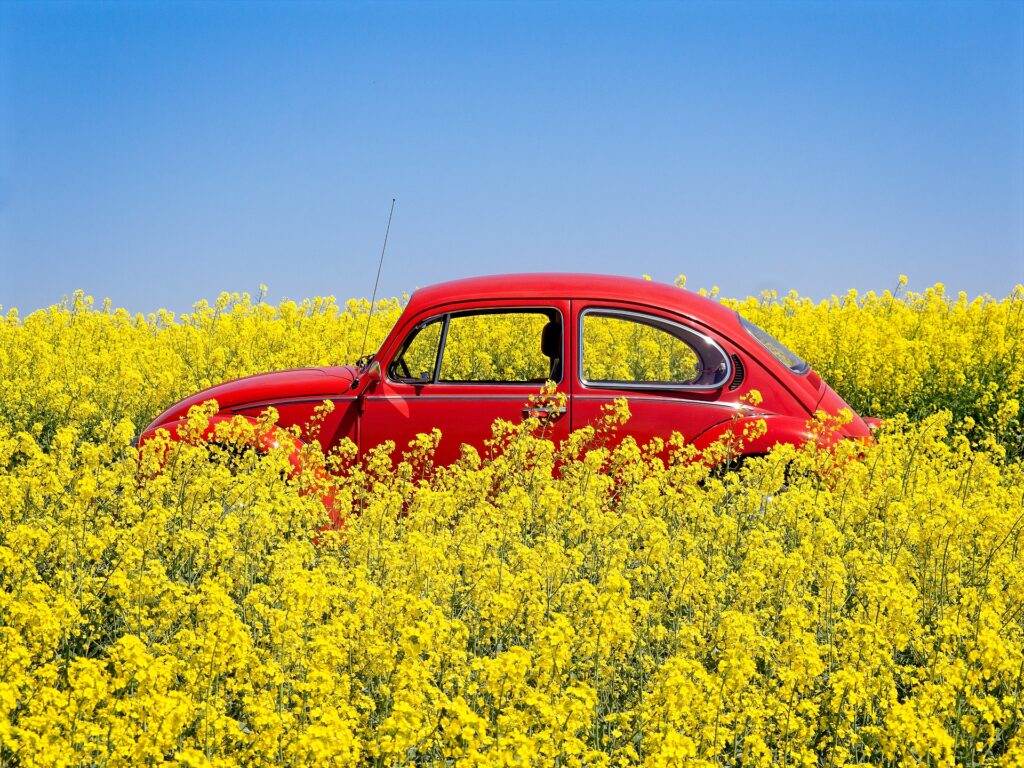 1. Cowra to Canowindra and Gooloogong
The central coast is the place to be in spring. There is a train that goes from Sydney to Cowra but takes almost 6+ hours and the canola fields are way further away from the station. Hence recommend getting the car.
Cowra has lots of cafes and organic farms as well if you want to grab a coffee for the road or snacks. There is a 100km loop you can do that guarantees the Canola fields in the Cowra region. Recommend driving on the Canowindra Road for the 34 km drive to the township of Canowindra, taking in the spectacular gold views of Canola fields along the way. Then as you arrive in Canowindra, take a break, wander around the historic main street. Some of the must-sees are the heritage buildings, art spaces, explore the Age of Fishes Museum, boutique stores, or take a stroll over the 'swinging bridge' hidden away from the main street.
If you drive further along onto Nangar Road for the 30km, you can enjoy the gorgeous drive to the village of Gooloogong. There are not many canola fields here but if you are into wineries make advance booking at Wallington Wines or end the day at the Gooloogong Hotel with some sundowner.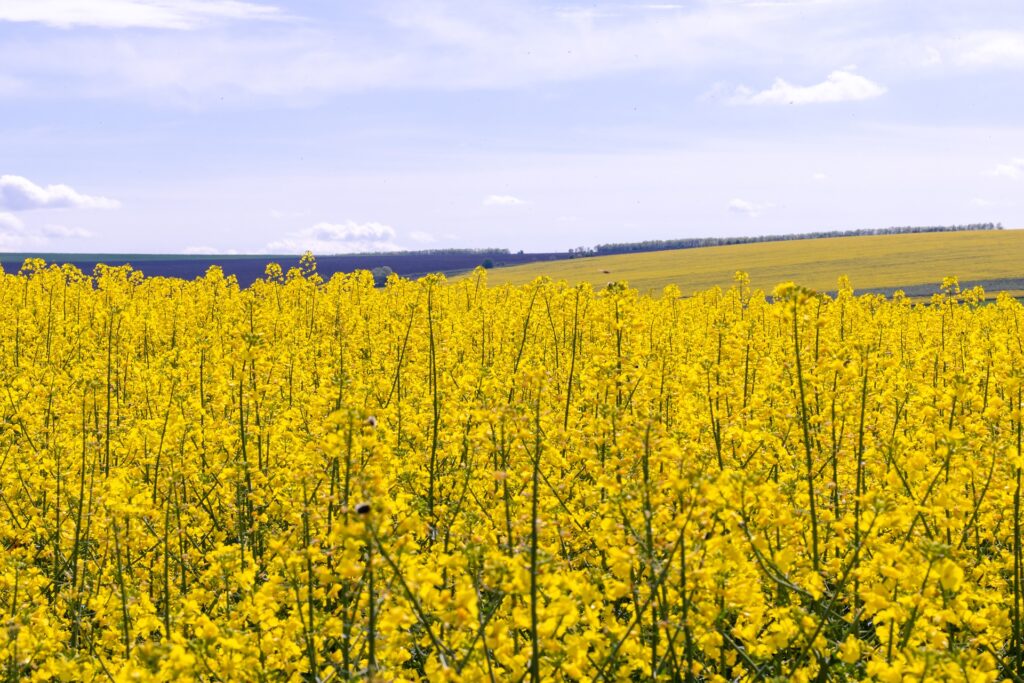 2. Cowra to Greenethorpe, Landra, and Grenfell
Another canola fields NSW has to offer starts from Cowra also. You can take the Mid-Western Highway and enjoy the beautiful 35km drive to the village of Greenethorpe from Cowra. Call Circa 1935 to book in advance so you can enjoy your morning coffee and brunch followed by the south route to Iandra Castle. This is one of the must-sees, check if you can go in if not, even from outside it is an outstanding historic castle, a iconic landmark.
So where are the canola fields? They are pretty much in between from Cowra to Greenethorpe, Landra, and Grenfell. You can't miss it while on the road. Just stop and ask for the farmer's permission. After Landra, if you head along Tyagong Hall Road, also check out the henry lawson and the painted silos at Grenfell.
3. Cowra – Woodstock- Wyangala Dam
Alright, another canola hot spot on the central coast starting from Cowra again. The recommended route is to head east from Cowra on the Mid-Western Hwy towards Bathurst, and shortly on the road, you will be greeted with a scenic and beautiful green and yellow canola fields.
About 2 KM on the Sydney side of Purcell Drive (this is the 1st turnoff to Woodstock) there is a hill that has an area where you can pull off to the side of the road. There are some large fields in the Woodstock / Holmwood (about 6 KM northeast of Cowra) areas. At Woodstock, don't forget to check out the historic buildings offering a glimpse of a time gone by. Then from there follow Reg Hailstone Way for 22 KM, then turn left onto Elliott's Lookout Road for 1 KM. You will be delighted by the breathtaking panoramic views of Wyangala Dam. When at its full capacity, the dam is 2 1/2 times the size of Sydney Harbour! Another interesting stop before you head back home or stay overnight at Holiday Park.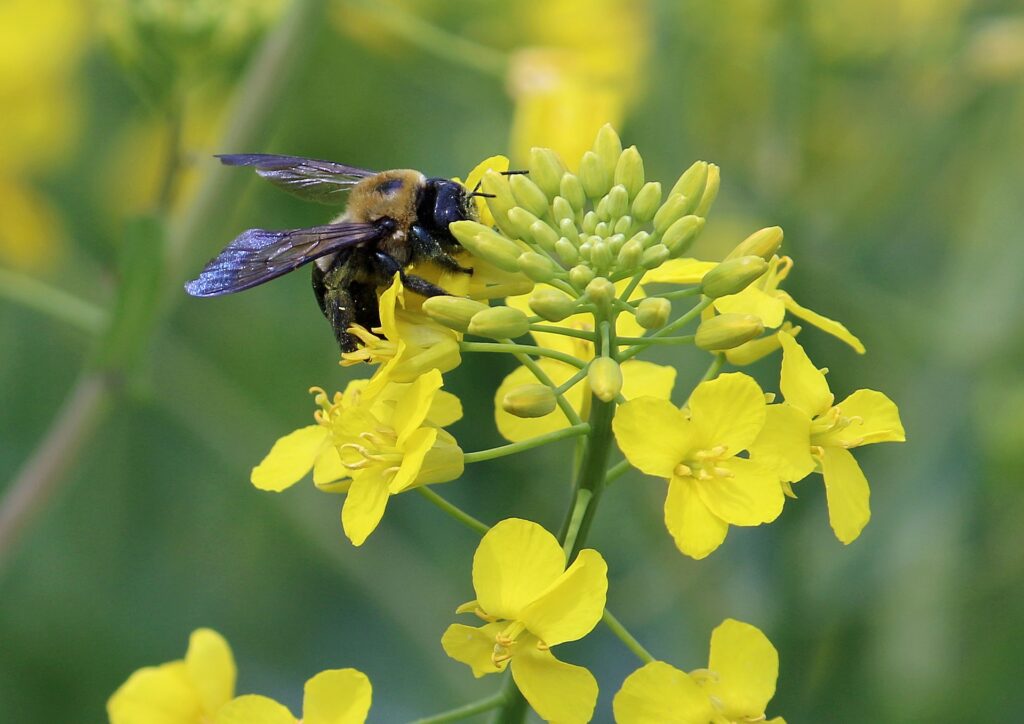 4. Cowra – Watamondara – Morongla
Okay, so you can take another detour from Cowra to check out gorgeous Canola fields. This route offers wide-open spaces and spectacular fields of not only Canola but also wheat, barley, and lucerne. All of which makes it the iconic countryside photo backdrop for any Instagram or wallpaper.
It is recommended that you head south along the Olympic Highway for 14km until you reach the village of Wattamondara. Then make your way through the picturesque countryside and turn left into Warrangong Road/Waddell Street, turn right over the old railway line, then right again, eventually turning left onto Morongla Road. Take the time to view the historic Wattamondara railway platform and silos (another great photo opportunity!) Lachlan Valley, Lachlan river and Quarry Restaurant & Cellar Door are also worth stopping by.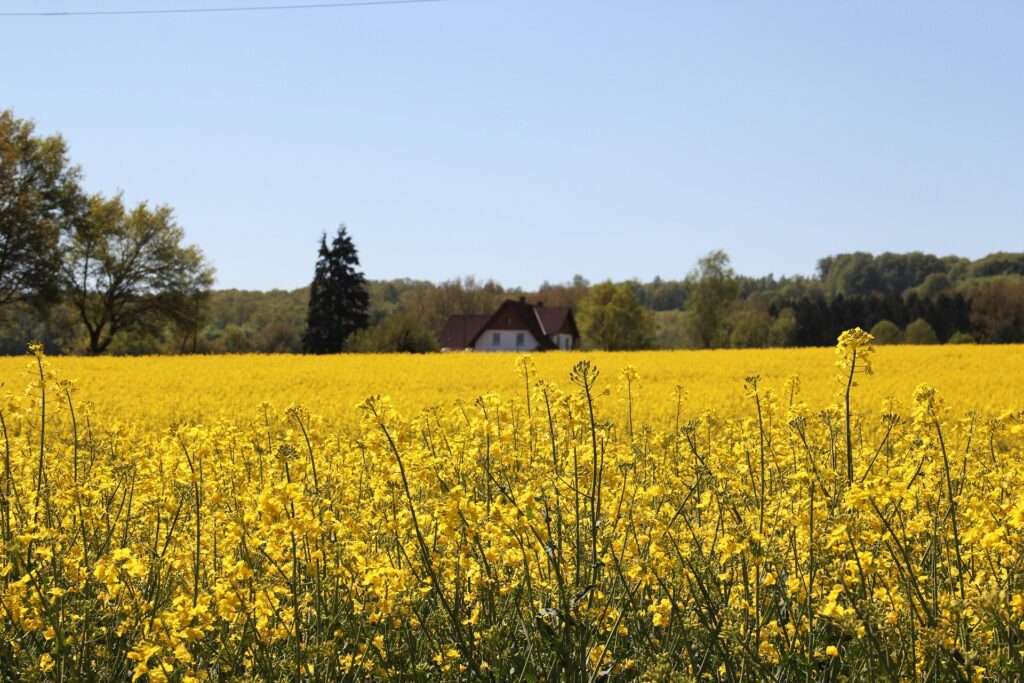 5. Boorowa, Harden, and Young
Last but not least another canola fields NSW has to offer is between Boorowa, Harden, and Young. There are no hints to tell you exactly which fields will allow access, so the advice is to drive up or walking up to the farm owner for permission. Usually, they will be busy but if you ask nicely it should work as they tend to be welcoming and enjoy visitors.
The Canola fields in Harden are the most popular and located just 30 minutes from Young and 90 minutes from Canberra. Harden and Murrumburrah are the two twin towns that are must-see along the way too. The self-drive Hilltops trails will lead you through stunning landscapes via pretty heritage towns packed with local food and wine including stone fruits, olives, and fudge.
Some other canola fields NSW has to offer are around Cootamundra canola fields, Wagga Wagga and Merriwa. There were also some smaller fields on Braidwood Road in Bloom. Think somewhere before Lake Bathurst if I remember correctly.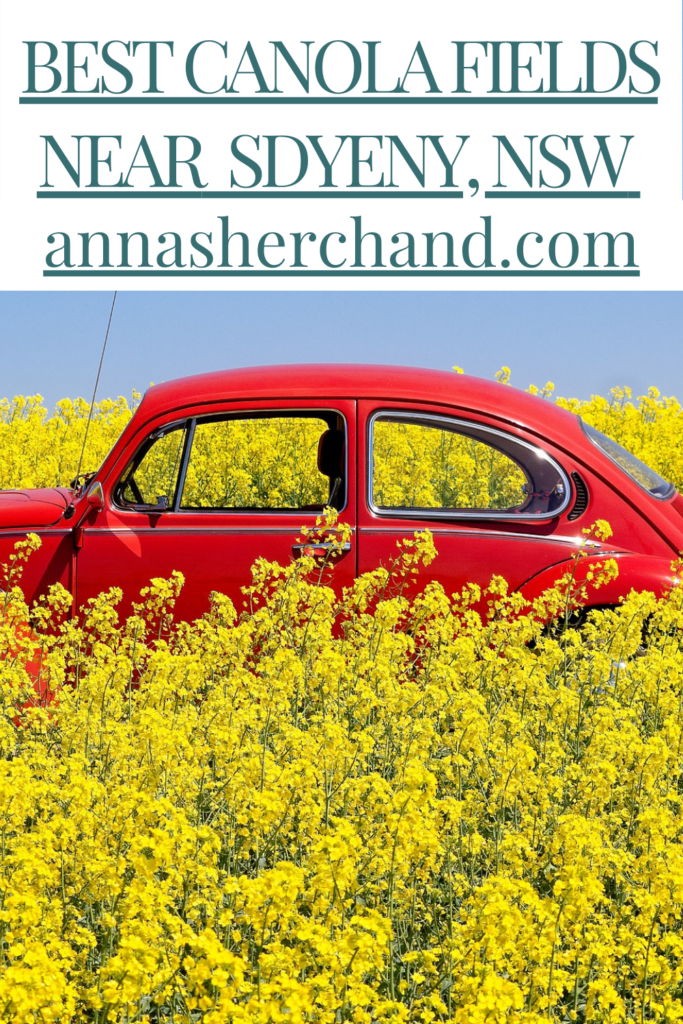 Let me know in the comments –
Best canola fields NSW has to offer