Don Det is a small river island in the middle of the Mekong River in 4000 Islands- Si Phan Don, Champasak Province, Southern Lao. It is so small, the walking around takes only about two hours. It is no surprise that the recent development of this island has sprung new hostels and hotels. Here I share my recommended Don det accomodation.
Can you imagine yourself heading to an island on a tiny wooden boat with big Mekong river as far as you can see, and a place you don't speak their language, and you are like a child trying to understand everything once again? It's beautiful if you think about it!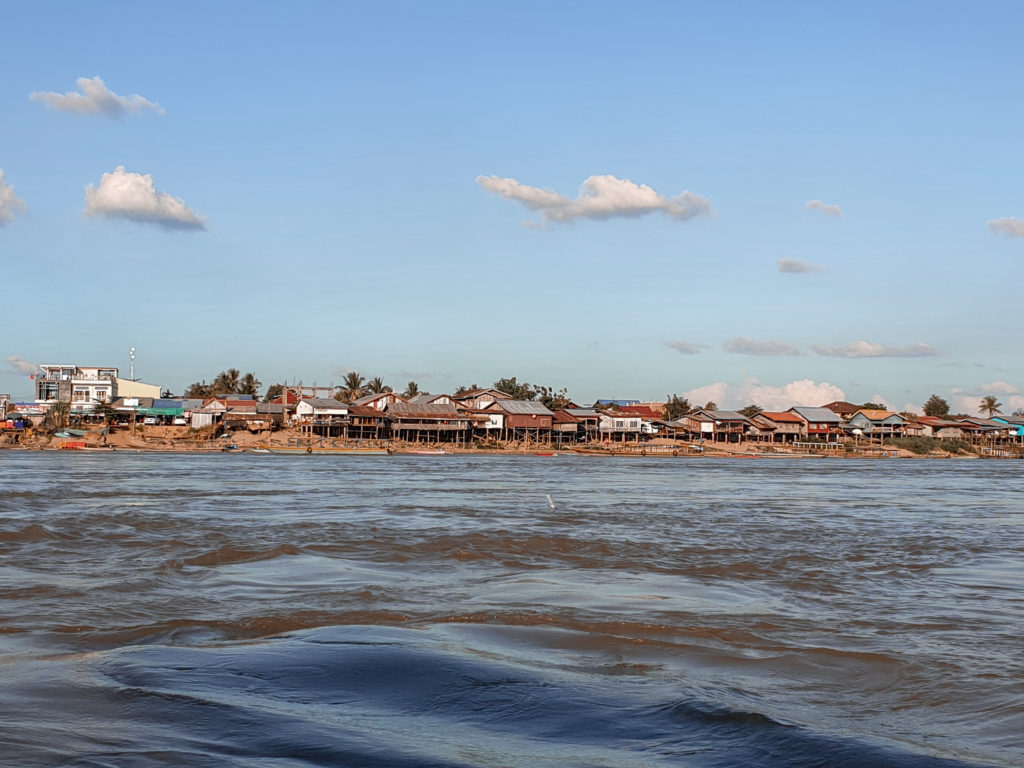 If there is one thing you can take away from this article, I hope it would be to go see Don Det, 4000 islands for yourself. Don't worry you won't be lost even if you are travelling solo because there is only one main street on the island and hotels signboards are obvious!
Don Det used to be off the beaten track a few years ago but by now, pretty much everybody knows about it. Having said that, it is never late to visit as it is a quiet tranquil place. Life seems to go by without doing much. The peacefulness of the surroundings and the easygoing vibes of the people create a relaxing atmosphere that makes you don't want to do anything but indulge in resting and relaxing. It is a perfect place to escape the chaotic life and enjoy some calmness.
Read about the pros and cons of living in Laos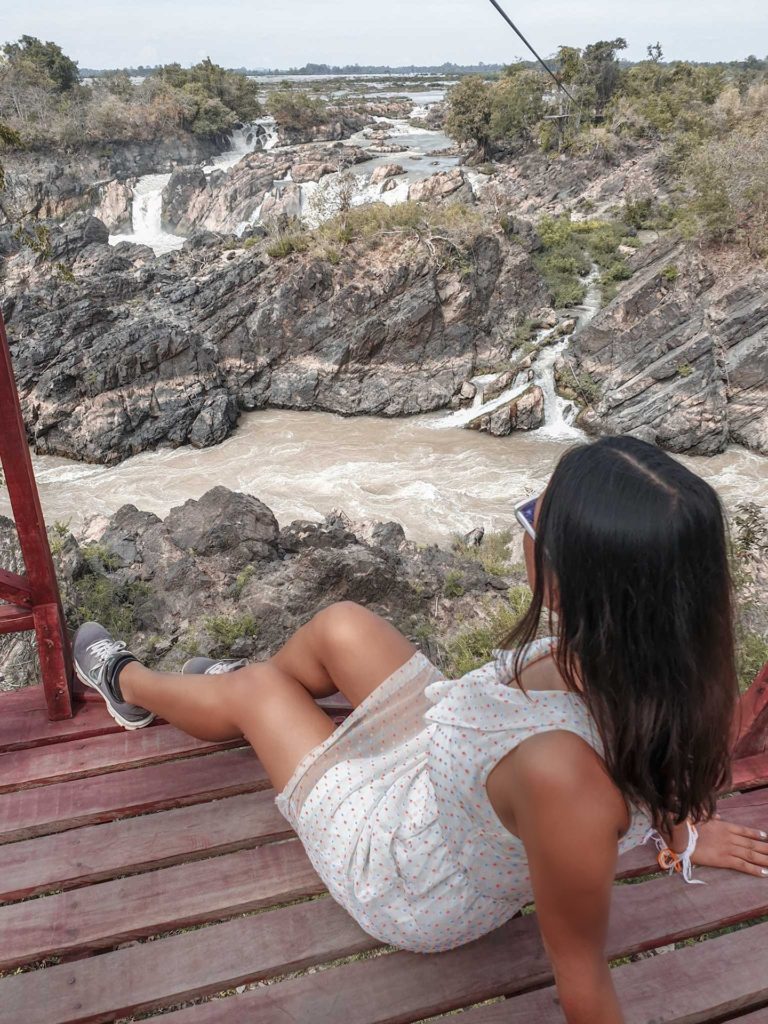 How to get to Don Det?
From Pakse – a big city in south Lao
You can book a bus from Pakse to Ban Nakasang which is mainland (takes a few hours). The minivan service runs once every morning and local transport available also which runs every full hour. When you arrive in Nakasang, head to the pier and get on a boat heading "DON DET" which will drop you off at the pier landing. Then you walk through the main street to any of the Don Det accommodation below. The boat costs 15.000 kips for a 20 min ride through the mighty Mekong River.
It can be as simple as a bus -> boat -> hammock!
From Thailand and Vietnam
There are no direct flights or boats from Thailand and Vietnam. The best thing to do is to book the cheapest flights through most trusted sites such as Skyscanner or Momodo. I use them personally too. Then get a bus to Pakse and see above from Pakse.
From Cambodia
You can get on a bus to "Don Det – 4000 ISLANDS", most likely you will arrive in late afternoon.
Travel Tips
Remember there are NO ATM's on the 4000 islands. However, if you go to one of the money changers, they will let you use your card to withdraw Kip ( local currency) with a 6% fee. So, best to bring in enough Laos Kip with you for the duration of your stay in Don Det or 4000 islands. If you really want, you can take a boat to the mainland (Ban Nakasang) as they have 3 ATMs and a bank there.
I also found there are only 3 internet cafes on the island with a price tag of $0.05 per minute! A solution to that is to use FREE WIFI at most restaurants. Better yet, get yourself a SIM card and you can avoid internet cafes completely.
So, how did I end up there?
This is part 2 of my Southern Laos trip with the Tourism Department of Lao. You can click here to read about accommodation in part 1.
On day 2 of our Laos travel, we went to beautiful Don Det in Champasak province, southern Laos. There were many choices when it came to Don Det accommodation but we stayed at a cosy family-run hotel called, Golden Hotel
Don det accomodation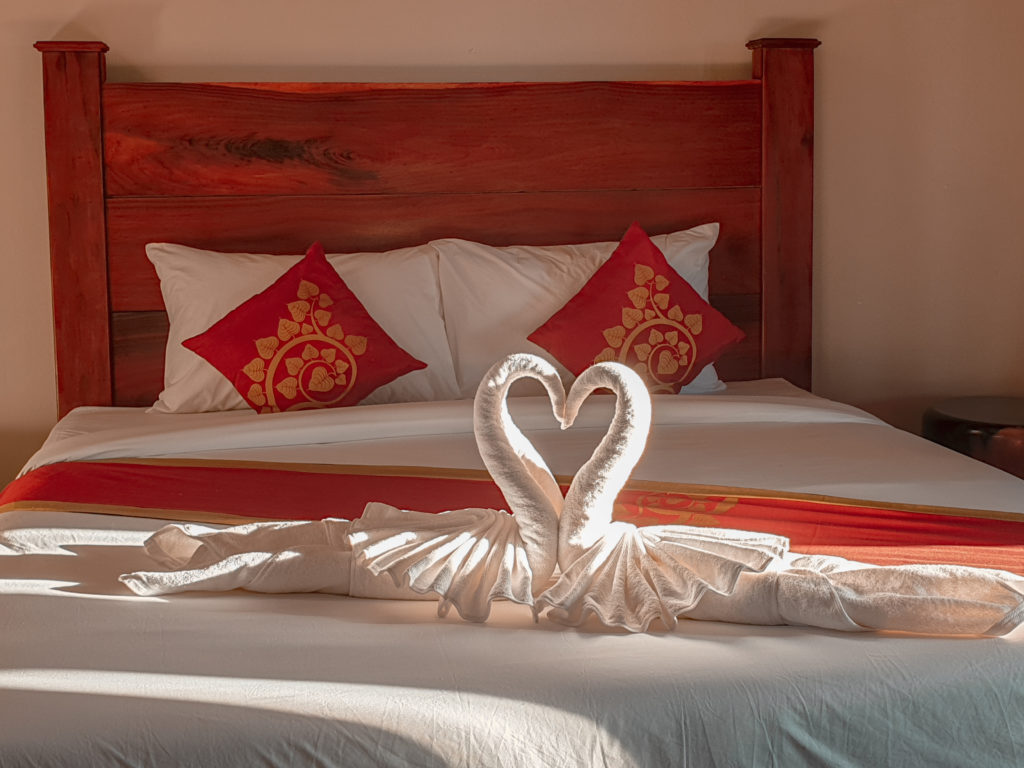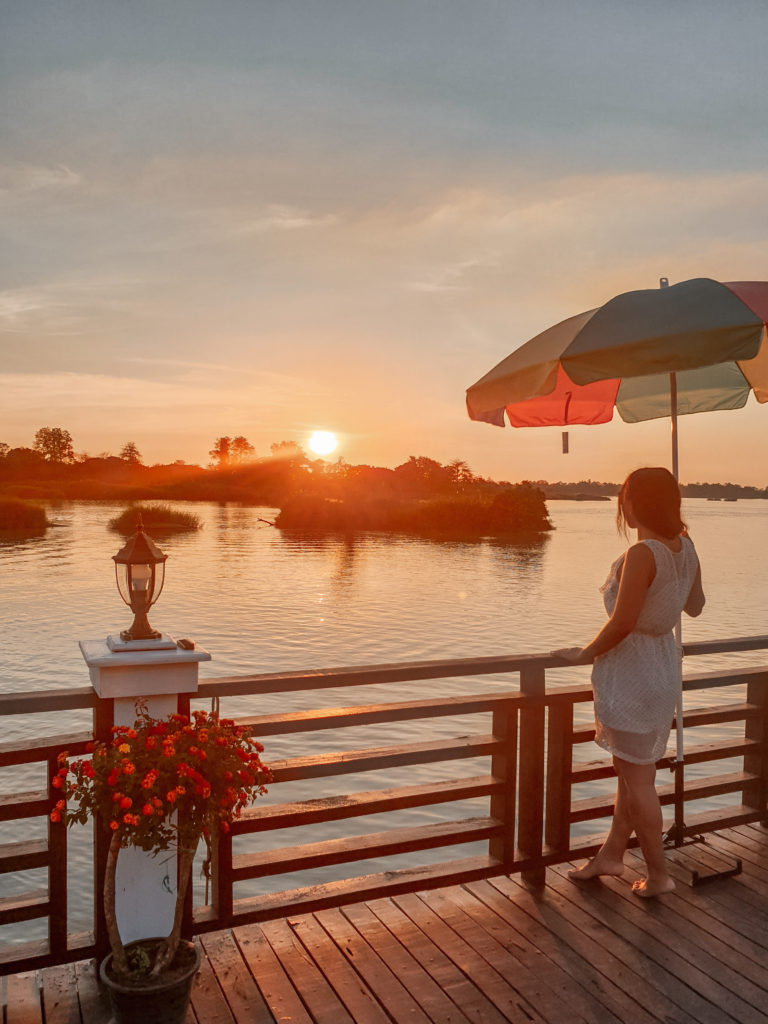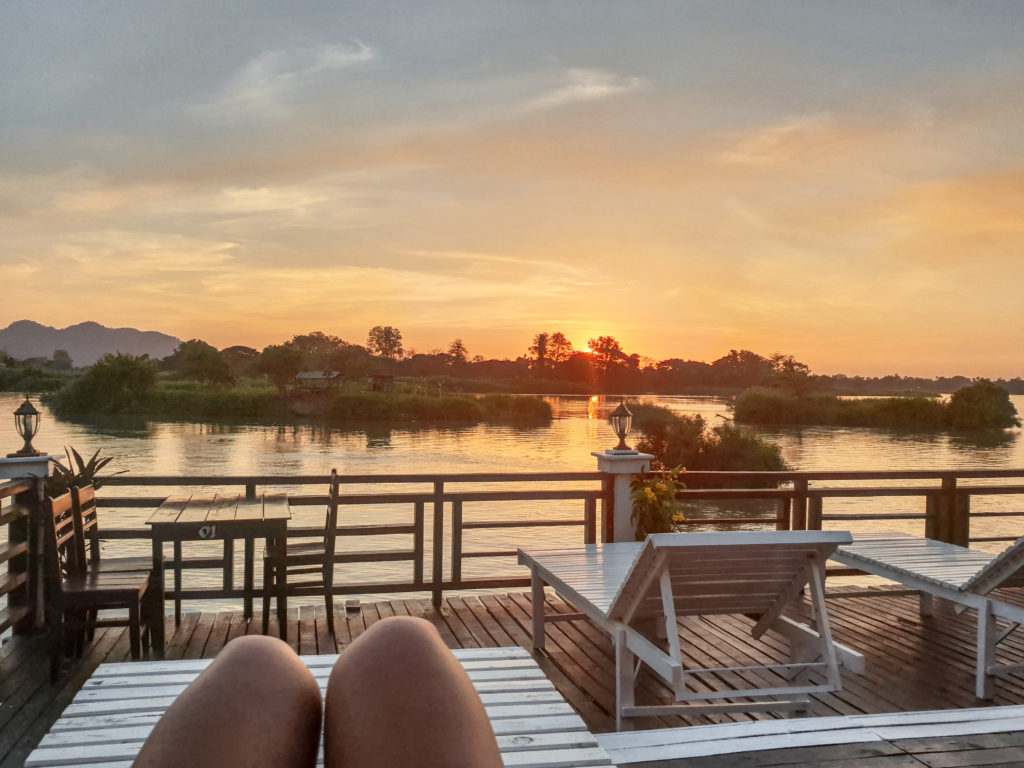 Golden Hotel, Don Det
Address: Don Det Village, Khong District, Champasak Province South Lao
If you are looking for a bungalow overlooking the Mekong river, with no noise except a couple of motorboats and birds chirping. Beautiful sunsets, good food and swimming pool. This is the place to be!
When I travelled to Don Det 2 years ago, it wasn't there. So, this is a new family hotel. From the bed to the outdoor area everything was clean and enjoyable. Staff were friendly and kind. Breakfast was traditional Lao but also with bread and egg for western cravings. I especially liked the sunsets from here and the pool was a nice touch also. If you end up staying in another place but want to jump in the pool here with the sunsets. It is as easy as buying a day pass as many travellers were doing when I was there. The price was reasonable too which makes it one of the best Don det accomodation.
Book your stay in trusted Agoda, or Booking.com
They can organise the activities like tubing, biking, hiking, and transfer service around the island as well. This Don Det accommodation has my vote including traveller ratings.
Now, the other hotel I recommend is,
Little Eden Hotel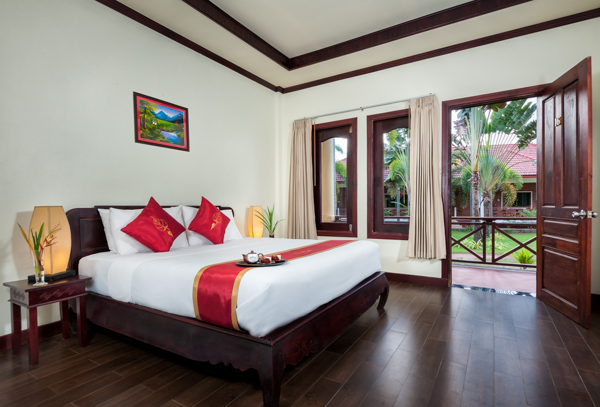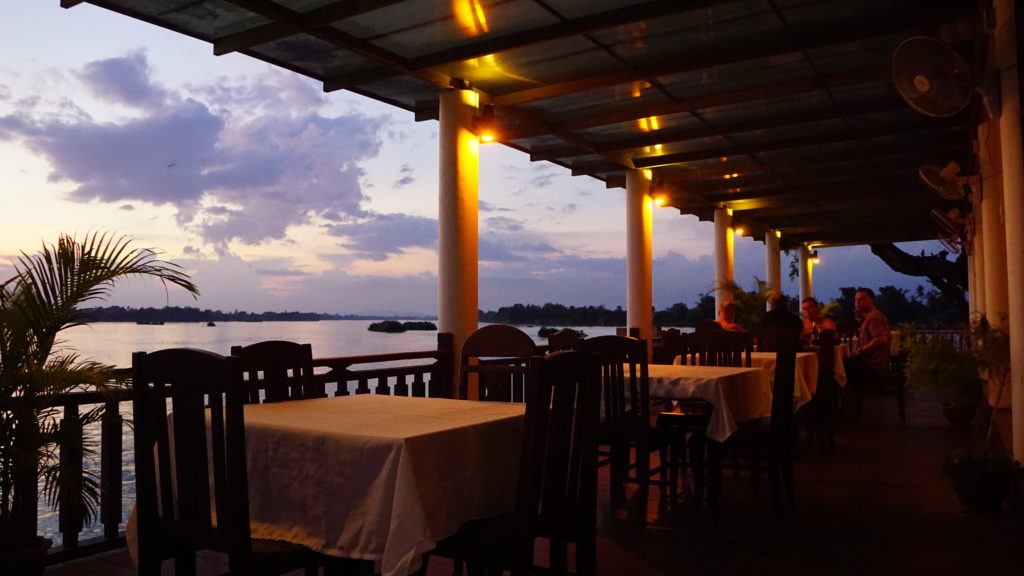 It is a 3-star property with a Mekong riverfront as well. But what sets is slightly apart from the rest is its location, as it sits only a few only steps away from the ferry landing Pier. The breakfast and dinner are served in a restaurant that overlooks the Mekong which is a great way to start and end your day! With its good location, services and amenities it is ranked highest rated hotels in Don Det, Lao. Perhaps a good idea to book the hotel in advance as the availability is limited during peak season.
Use the best hotel booking site Agoda, or Booking.com for your stay.
Third Don Det accommodation I suggest to consider is,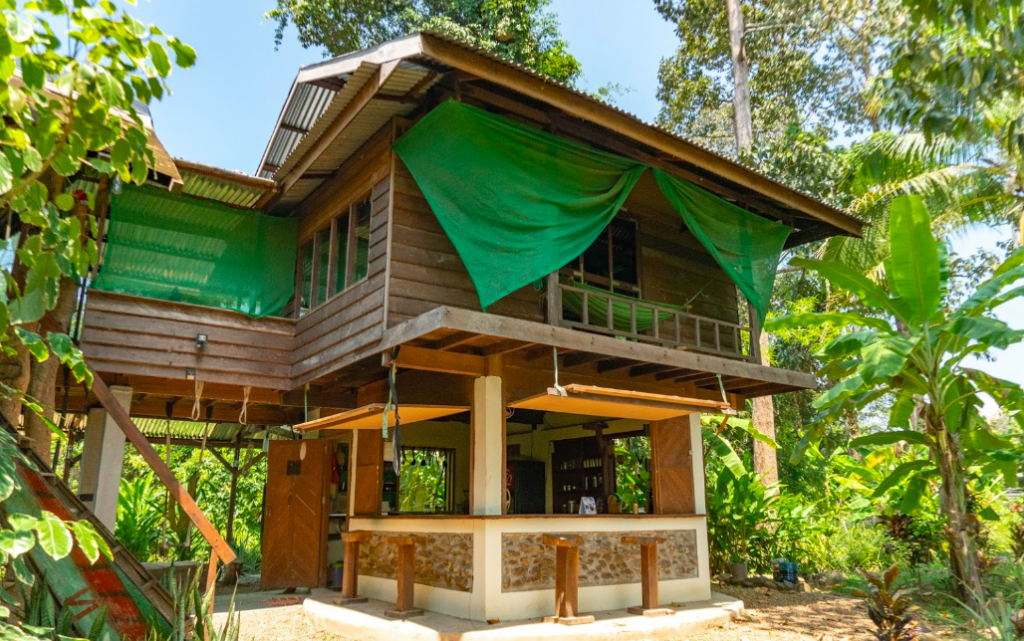 Rudi Mental Holiday Lodge.
I liked the name of the lodge and happy to report it is as cool as it sounds. There are no noisy loud bars nearby except the gentle lowing of the cows, birds chirping and water buffaloes in the field. Tranquillity is felt everywhere in this Don Det accommodation.
Rudi Mental holiday lodge is also one of the best spots for sunsets overlooking the Mekong River. You can cook your own food in the furnished kitchen or use BBQ and stone oven outside. There are a fruit and veggie patch as well as 2 balconies and a rooftop to enjoy!
When it comes to relaxing though, hammock area is my favourite. I also like the fact Rudi mental offers 2 sets of towels and complimentary WIFI.
Don't forget to play petanque field while you are there! It is a fun local Lao game.
I hope this Don det accomodation post helps you on your 4000 islands trip.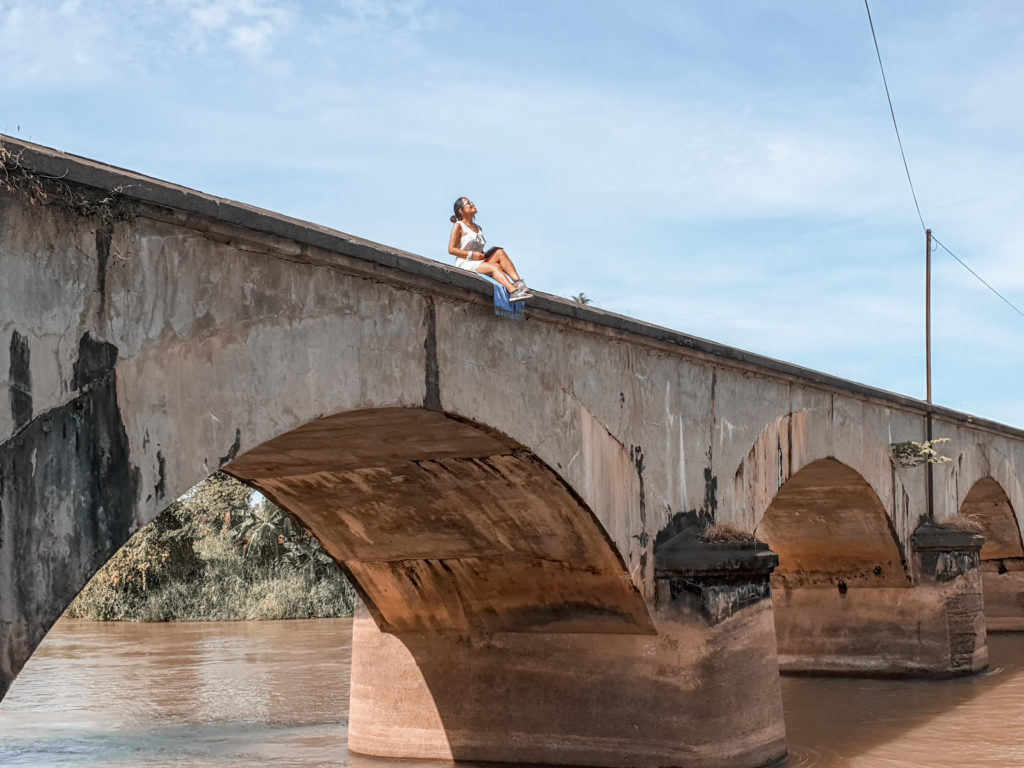 What I used to take these photos
Canon PowerShot G7 X Mark II Digital Camera
This has been my favourite Camera so far. I love how my pictures come out crisp and colourful. It also has a screen which is useful when vblogging. You can check out what I meant on my Instagram which is here.
Accessories For Canon GX7 Mark || Check it out here
This is the good old Go pro that I take with me everywhere. I recommend it because it is small, lightweight and waterproof. I have had made many memories with this trusted item and looking forward to more.
Accessories For Go Pro Hero 4 Check it out here
I have been using SanDisk since my first camera which was back in 2009. They build quality memory cards. I recommend getting at least two, just in case something happens to one of them.
Do you think it's a hassle of plugging your camera into your computer? This memory card reader will fit cards of all sizes and make an easy transfer to your computer. The reader supports all popular SD memory card formats, including SD™/SDHC™/SDXC™ memory cards, UHS-I SDHC/SDXC memory cards, and microSDHC™/microSDXC™ memory cards. It is also compatible with the latest UDMA 7-enabled CompactFlash cards.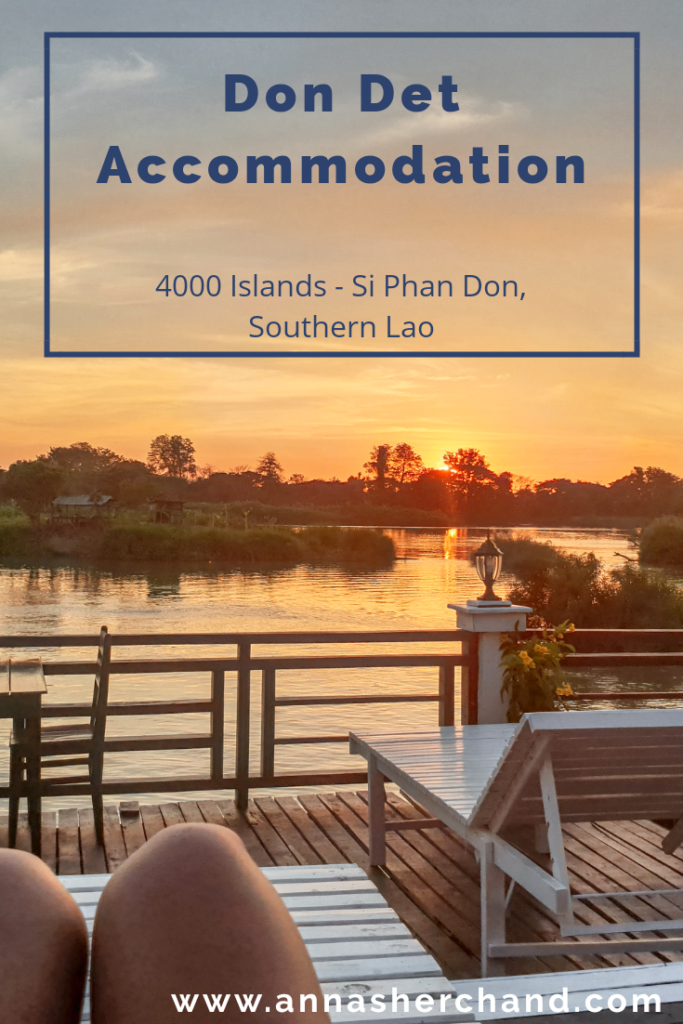 Let me know in comments –