Here is my list of hotels in Pakse, Laos. Pakse is not a large town, but the traffic passing through this city is big in numbers. It could be because of its the gateway into Thailand and also an entry point to 4000 islands. (more on that later)
Pakse accommodation ranges from hostels, mid-tier hotels to 4-star luxury hotels. Today, I am sharing with you hotels in southern Lao I got to experience during my recent Laos travel.
So just a few days ago, I was in southern Lao with Lao Ministry of tourism and fellow bloggers. It was a five-day press trip and I was excited to be part of it. If you been following my solo travel journey, you know 2 years ago at one point, I was living in Vientiane as a base. Having done tons of fast travelling, I have grown to love and appreciate slow travel now which basically means I like to travel and stay in one country for 1-X number of months. I believe this is a great way to get to know the country better. Hence, I was excited to be back in the same country I called home for 3 months. I even wrote about the Pros and Cons of living in Vientiane, Laos here. Go check it out if you like.
Back to the hotels in Pakse, Laos. Let me introduce you to our first,
Pakse accommodation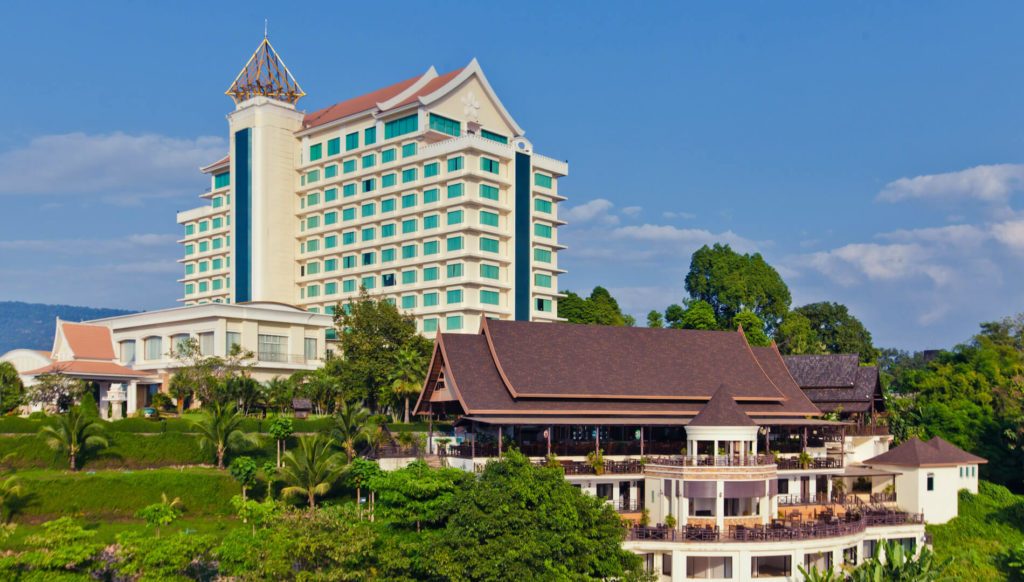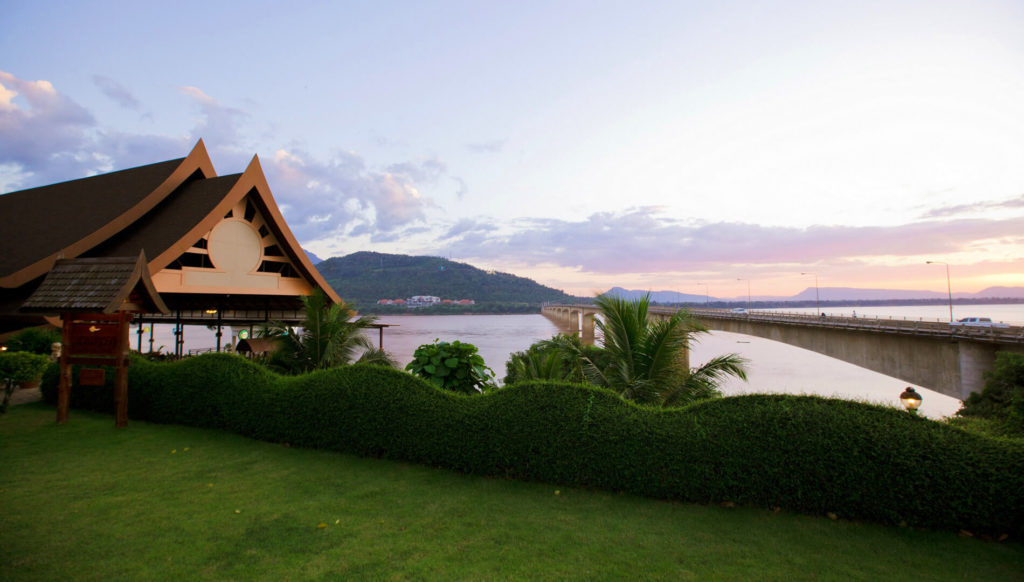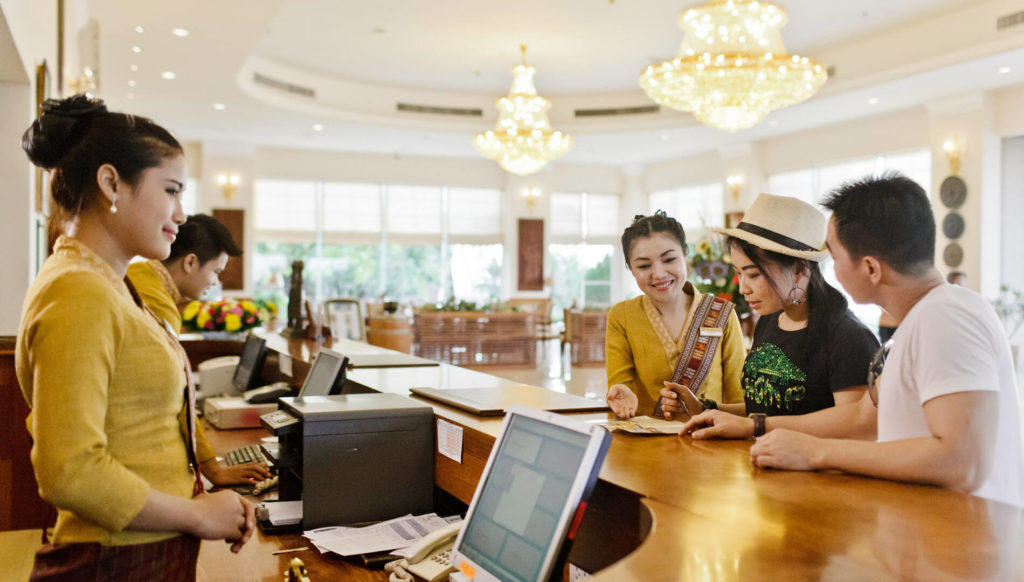 Pics from Champasak Hotel
The first night, we checked into
Champasak Grand Hotel, Pakse.
Actually, we stayed in this grand hotel for 3 nights.
Address: Lao Nippon Bridge, Mekong Riverside Road
Tel. +856 031 255111
Champasak Grand is a four-star hotel in Pakse, Lao. Happy to report it is as grand as it looks from outside and inside. I liked the fact that it has 4 restaurants, bars, gym, 1 big swimming pool to fit 100 people, modern facilities and services, Free Wi-Fi, Business Centre, and 24-hour front desk.
This beautiful hotel is just 15 minutes from Pakse International Airport( 15 mins grab taxi ride for tech-savvy), shops and local attractions are all within easy reach while a large supermarket is also nearby, and only 1.5 km from KM2 Bus Station (Sangchalern).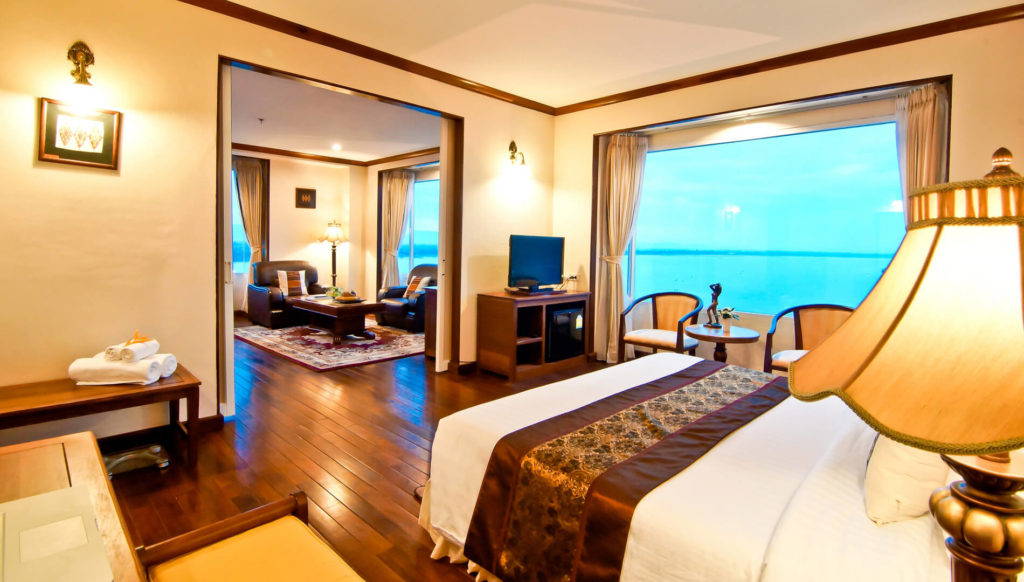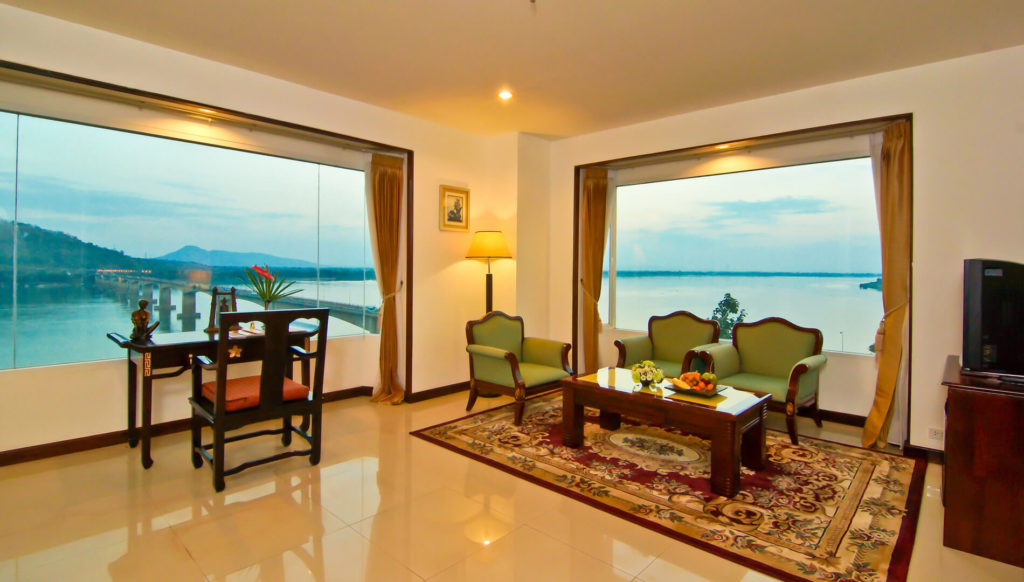 The best thing I liked about the hotel was the view from my room! Just look at the pictures above! You could see the superb Mekong river right outside your window, the iconic Lao Nippon bridge and view as far as your eye could see. 100% best place I have stayed so far in my laos travel.
Now, because of short press trip time, we only stayed in 1 hotel in Pakse.
But I understand you maybe want to have more than 1 option. So, I did some research and below are the hotels that are also highly recommended by expats, digital nomads and alike.

Pics from Arawan Riverside
Arawan Riverside Hotel
In your laos travel, if you are after Mekong river view room then Arawan riverside hotel can offer you just that. Sunsets from the hotel look pretty amazing too. It also has the capacity to hold conferences and boasts the clean swimming pool.
Check out the rates here in Agoda or Booking.com
Another Pakse accommodation that we didn't stay at but looks equally beautiful is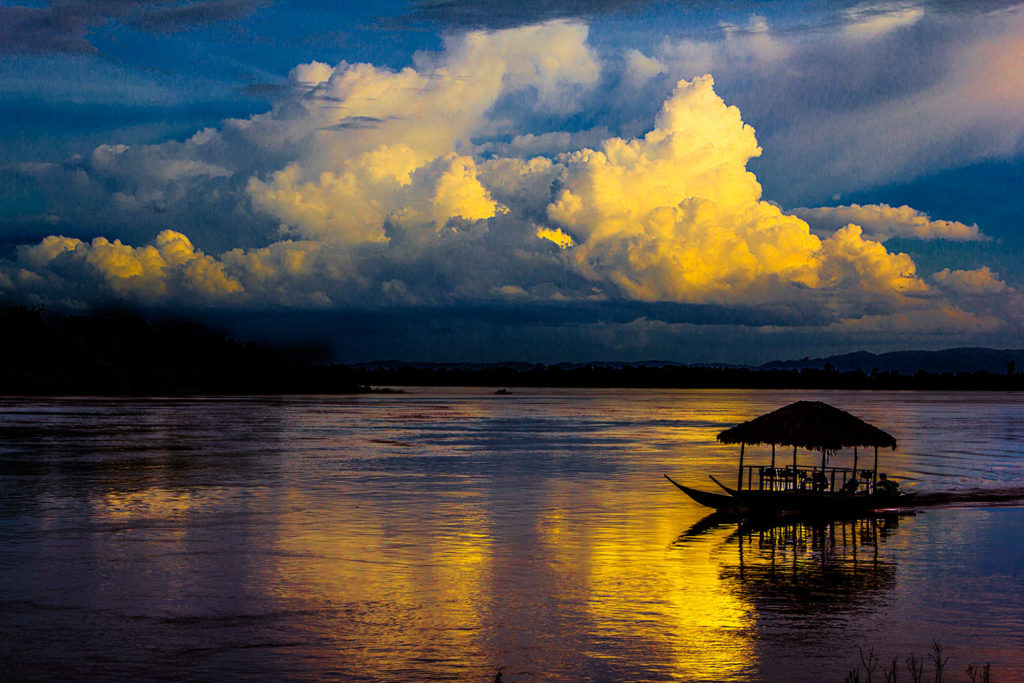 Pics from The River Resort
The River Resort, Champasak, Laos
The River Resort is the award-winning eco-friendly resort. Picture perfect location with the choice to explore or relax. The location is superb overlooking the Mekong and surrounded by unspoiled nature. I think I am going to put this under a wish list. How about you? Which hotels in Pakse would you like to stay at? Lmk in comments below.
Find the best rates for your stay in Agoda or Booking.com
Check out the "Lao" stories on Instagram.
Don Det, 4000 Islands
On the 2nd day of our lao trip, we went to Don Det, 4000 islands in Champasak province in southern Lao. It is a perfect place to go for nature, calmness and tranquillity. I have got Don Det travel tips, accommodation and more covered in this article here.
Pin for later!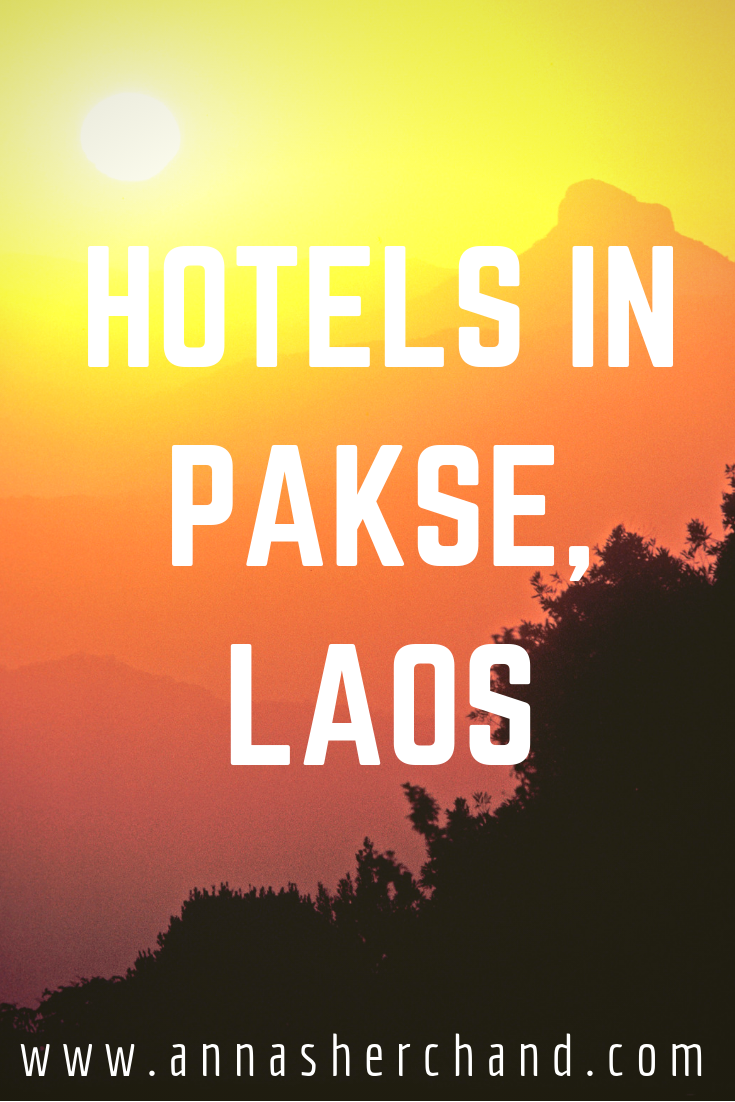 What I used to take these photos
This has been my favourite Camera so far. I love how my pictures come out crisp and colourful. It also has a screen which is useful when vblogging. You can check out what I meant on my Instagram which is here.
Accessories For Canon GX7 Mark ||
Check it out here
This is the good old Go pro that I take with me everywhere. I recommend it because it is small, lightweight and waterproof. I have had made many memories with this trusted item and looking forward to more.
Accessories For Go Pro Hero 4
Check it out here
I have been using SanDisk since my first camera which was back in 2009. They build quality memory cards. I recommend getting at least two, just in case something happens to one of them.
Do you think it's a hassle of plugging your camera into your computer? This memory card reader will fit cards of all sizes and make an easy transfer to your computer. The reader supports all popular SD memory card formats, including SD™/SDHC™/SDXC™ memory cards, UHS-I SDHC/SDXC memory cards, and microSDHC™/microSDXC™ memory cards. It is also compatible with the latest UDMA 7-enabled CompactFlash cards.
Save this to Pinterest.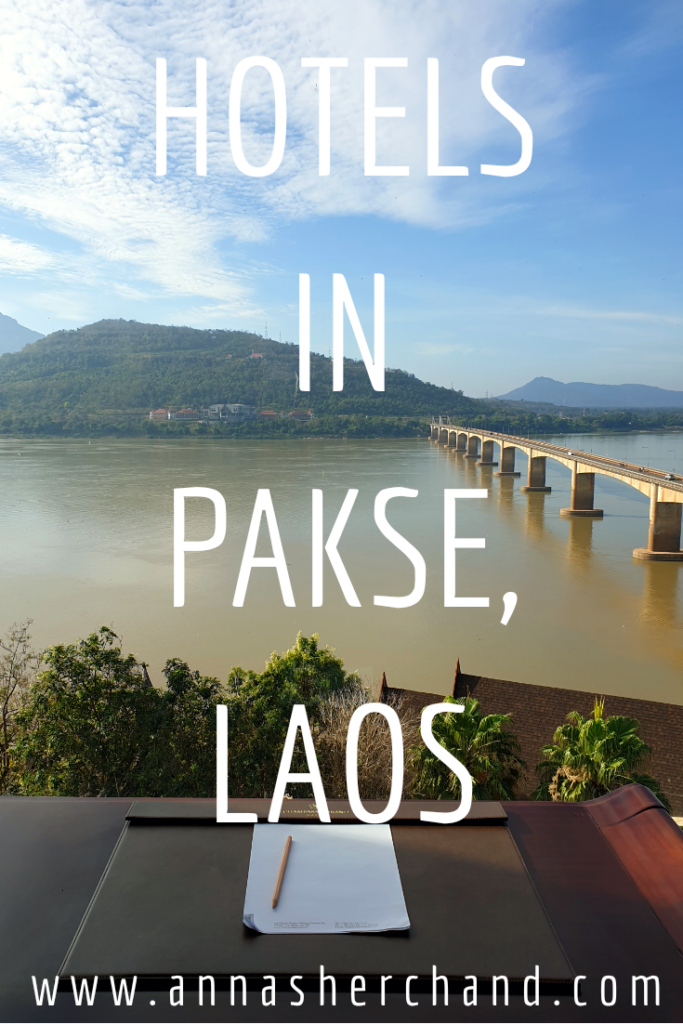 Which hotels in Pakse would you like to stay at? Lmk in comments below.
Check out the 14 must-see places in Southern Laos here.
I am challenging myself to produce a quality Daily blog posts for you all. Please show your support by subscribing here.
If you need to book accommodations for your next travels, get $55 discount with Airbnb here. It is available only for my readers.
Alternatively, you can check hotel prices and book it through trusted Agoda

, or

Booking.com
In case you are thinking about going to Sydney, Master Travel Guide to Sydney– everything from visa, wifi, food and all are covered here.
If you don't have your flights yet, check out ways to book the cheapest fares here

, or

here,

but if planning and booking your trip is a hassle, let me help!

Contact me now.
If you like this article, follow my Adventures on Instagram, Facebook, YouTube, Twitter and Pinterest, but most importantly sign up to my E-mail list to keep up with updates and travel posts!