After solo traveling for one month in Central America, I went backpacking in Ecuador for 7 days and finally wrapped this trip in Mexico. I spent 2 days in Mexico City and spent 5 days in Oaxaca (pronounced wah-HAH-kah). So on this blog, I will be covering the best places to stay in Oaxaca, highlights, and more – basically 5 days in Oaxaca itinerary.
As you probably know, Mexico is a country in North America that has a rich history and culture shaped by its indigenous heritage, Spanish colonization, and modern-day influences.
Mexico is big! so while deciding where to go, I was drawn to Oaxaca, a state located in southern Mexico because I heard nothing but rave reviews from fellow travelers about its vibrant culture, stunning landscapes, and delicious cuisine. And let me tell you, it did not disappoint! If you're considering a visit, I highly recommend it. To help you plan your trip, below is a rundown of my 5-day itinerary in Oaxaca but first, let me cover some of the most asked questions.
5 days in Oaxaca itinerary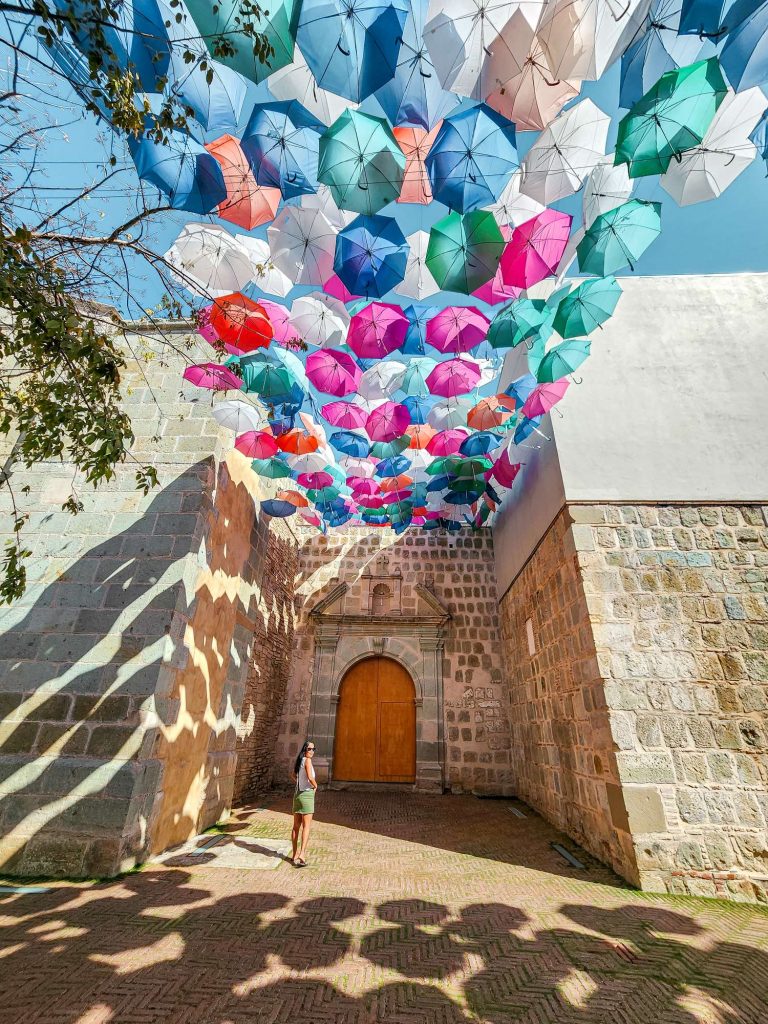 Is Oaxaca safe for solo female travellers?
First of all, congratulations on taking the leap and traveling solo! Oaxaca is generally considered a safe destination, but it's always important to exercise caution and take appropriate safety measures to ensure a fun and enjoyable trip.
One thing to keep in mind is that Mexico is a conservative country, so it's recommended that female travelers dress modestly, especially when visiting religious sites or more traditional areas. But don't worry, there are still plenty of stylish and comfortable clothing options that will keep you cool in the Oaxacan heat!
When you're out and about, be sure to stay aware of your surroundings and avoid isolated areas, especially at night. Stick to well-lit and crowded areas, and try to avoid walking alone after dark. And of course, if you ever feel uncomfortable or unsafe in any situation, trust your instincts and remove yourself from the situation asap.
Another important tip is to avoid flaunting your valuables, like expensive jewelry or cameras. This can attract unwanted attention from pickpockets or thieves. Instead, try to blend in with the locals and keep a low profile.
Finally, when it comes to transportation, it's always best to use official taxis or arrange transportation through your hotel or a reputable travel agency. Avoid taking unmarked taxis or sharing a taxi with strangers.
Overall, I hope these tips help you feel more confident and prepared for your solo adventure in Oaxaca. Enjoy the beautiful sights and sounds of this culturally rich destination, and don't forget to snap some photos to share with friends and family back home!
When is the best time to visit Oaxaca?
The best time to visit Oaxaca really depends on what you're looking for in a vacation.
If you're looking for warm and pleasant weather, then winter (December-February) is a great time to visit. This is the peak tourist season in Oaxaca, and for good reason! The temperatures are mild, with average highs in the mid-70s°F (around 24°C), and there's plenty of sunshine to enjoy. The only downside is that it can be a bit crowded, and prices for accommodation and tours may be higher than during other times of the year.
If you prefer to avoid the crowds and save some money, then consider visiting during the shoulder seasons of spring (March-May) or fall (September-November). During these months, the weather is still pleasant, with average highs in the 80s°F (around 27°C), but there are fewer tourists around. This can make it a great time to explore the region's attractions and immerse yourself in the local culture.
If you don't mind warmer temperatures and want to experience some of Oaxaca's unique festivals and celebrations, then summer (June-August) might be the best time for you. The weather during this time can be hot and humid, with average highs in the mid to high 80s°F (around 30°C), but you'll have the chance to witness events like the Guelaguetza, a traditional indigenous festival featuring music, dance, and colorful costumes.
Overall, Oaxaca is a great destination to visit year-round, and the best time for you really depends on your personal preferences and interests. I hope this information helps you plan your 5 days in Oaxaca and make the most of your time in this wonderful region!
Best places to stay in Oaxaca
Oaxaca has a wide range of accommodation options to suit every budget and travel style. I met some digital nomads staying in an Airbnb paying monthly rent but if you are travelling here are some of the best places to stay in Oaxaca, including both budget-friendly hostels and luxury 5-star hotels:
Best Hostels in Oaxaca:
Hostal de Las Américas – Located in the heart of Oaxaca's historic center, this hostel offers dorms and private rooms, a rooftop terrace, and an on-site restaurant and bar.
Hotel Casa Maguey – A smaller, more intimate hostel just a few blocks from the main square, with colorful murals and a relaxed atmosphere.
Trotamundo Oaxaca Hostel – A charming and cozy hostel with a garden courtyard and communal kitchen, located in a quiet residential area just a short walk from the city center.
Best 5-Star Hotels in Oaxaca:
Quinta Real Oaxaca – A luxurious hotel housed in a restored 16th-century convent, featuring elegant colonial-style rooms, a spa, and a stunning courtyard garden.
Hotel Sin Nombre – A boutique hotel with stylish, modern rooms and a rooftop terrace with views of the city and mountains.
Casa Hidalgo Hotel Boutique – A grand, neoclassical-style hotel located in a restored mansion, featuring spacious rooms with antique furnishings, a gourmet restaurant, and a rooftop pool and terrace.
Whether you're looking for a budget-friendly hostel or a luxurious 5-star hotel, Oaxaca has plenty of options to choose from to make your stay comfortable and enjoyable.
5 days in Oaxaca itinerary
The capital of Oaxaca is a charming colonial city that's a UNESCO World Heritage Site for its well-preserved architecture and cultural traditions. The city is also home to many indigenous groups, including the Zapotec and Mixtec peoples, who have a rich history and continue to maintain their traditions and languages.
Oaxaca is famous for its crafts, including textiles, pottery, and woodcarvings. You can explore artisan markets and workshops where they can see the traditional methods used to create these beautiful works of art.
Day 1:
Morning: Start your day by visiting the stunning Santo Domingo Church, one of the most important religious structures in Oaxaca. Next, head to the Oaxaca Regional Museum to learn about the city's history and culture. Basically, explore the Historic Center – Take a stroll around the Zocalo, the city's central square, and also visit the impressive Cathedral of Our Lady of the Assumption.
Or join a walking tour if you want to meet other travellers.
Mid-morning: For breakfast, head to Mercado de la Merced. This mercado is my favourite mercado although it is about 20 minutes walk from town, they have the best memelas. A bit smaller and less touristy than some of the others, but still has plenty of delicious food options. A must try is memelas and empanadas from the first shop on right at the back entrance. Also try the empanadas de amarillo (corn dough pockets filled with chicken in a yellow mole sauce) or the chilate (a warm, frothy drink made with chocolate and corn).
Afternoon: Stroll through the colorful markets of Oaxaca, including the Benito Juarez Market and the 20 de Noviembre Market. Here you can purchase local handicrafts, textiles, and delicious street food.
Mercado Benito Juarez – This is the largest and most popular mercado in Oaxaca, offering a wide range of food stalls selling everything from tamales to mole. For breakfast/lunch, be sure to try the delicious hot chocolate and pan de yema (a sweet, eggy bread).
Mercado 20 de Noviembre – This mercado is famous for its food stalls, where you can sample a variety of traditional Oaxacan dishes. For breakfast/lunch, try the tlayudas (crispy tortillas topped with beans, cheese, and meat) or the tasajo (thinly sliced beef).
Evening: Dine at Casa Oaxaca, known for its contemporary take on traditional Oaxacan cuisine.
Day 2:
Morning: Take a hot air balloon ride over the stunning Oaxacan countryside for a unique perspective of the area.
Afternoon: Visit the ancient ruins of Monte Alban, an important archaeological site and a UNESCO World Heritage site. 3 hours is plenty to spend here. It was an ancient Zapotec city that sits atop a hill with breathtaking views of the valley below. Afterward, stop by the nearby artisan village of Arrazola, known for its whimsical hand-carved wooden animals.
Evening: Dine at Los Danzantes, a restaurant known for its creative dishes featuring local ingredients.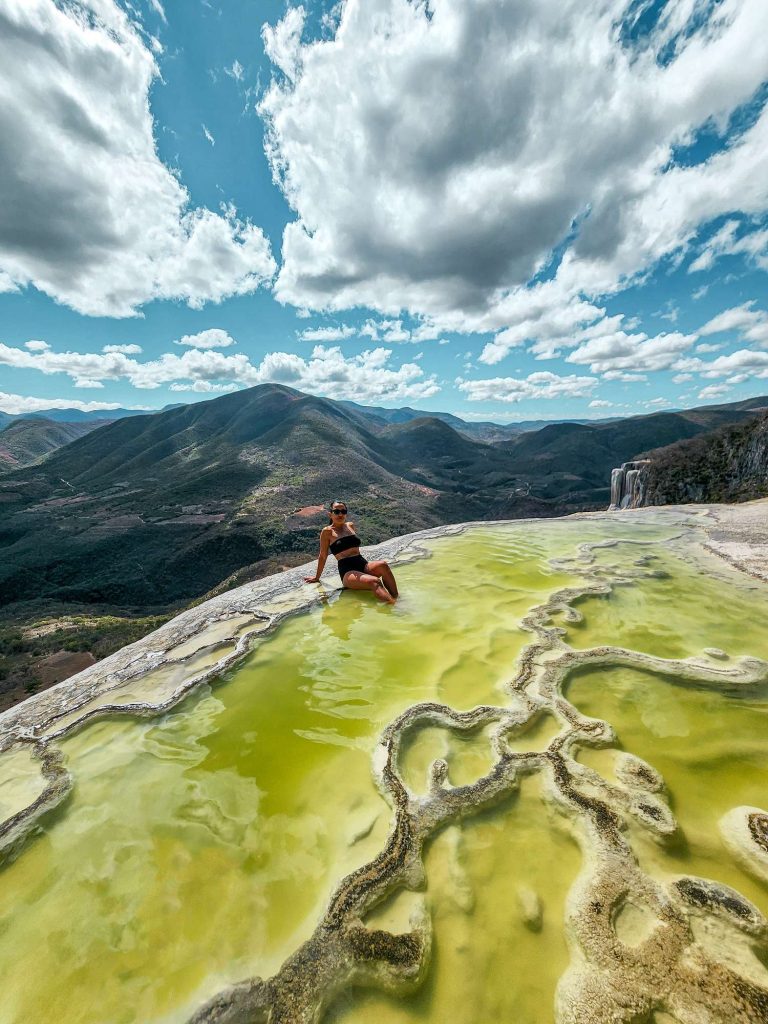 Day 3:
Morning: Visit the Hierve el Agua natural springs a natural wonder featuring petrified waterfalls and mineral pools with stunning views of the surrounding mountains. Take a dip in the refreshing pools and enjoy a picnic lunch with a view. You could also hike around the area. On the way back, stop at the archaeological site of Mitla to see the intricate stone carvings and learn about the Zapotec civilization.
Afternoon: Take a guided tour of the Mezcal distilleries in the area to learn about the production process of this famous Oaxacan liquor.
Evening: Dine at Pitiona, a restaurant known for its modern take on traditional Oaxacan cuisine.
Day 4:
One of the best things about Oaxaca is the food! Oaxacan cuisine is famous for its complex flavors and use of ingredients like mole, a rich sauce made from over 20 ingredients, and mezcal, a smoky liquor made from the agave plant.
Morning: Take a cooking class to learn how to make traditional Oaxacan dishes, including mole and tlayudas and mezcal cocktails.
Afternoon: Visit the Ethnobotanical Garden to learn about the region's plant life and its traditional uses.
Evening: Dine at El Destilado, a restaurant known for its tasting menus and unique cocktails.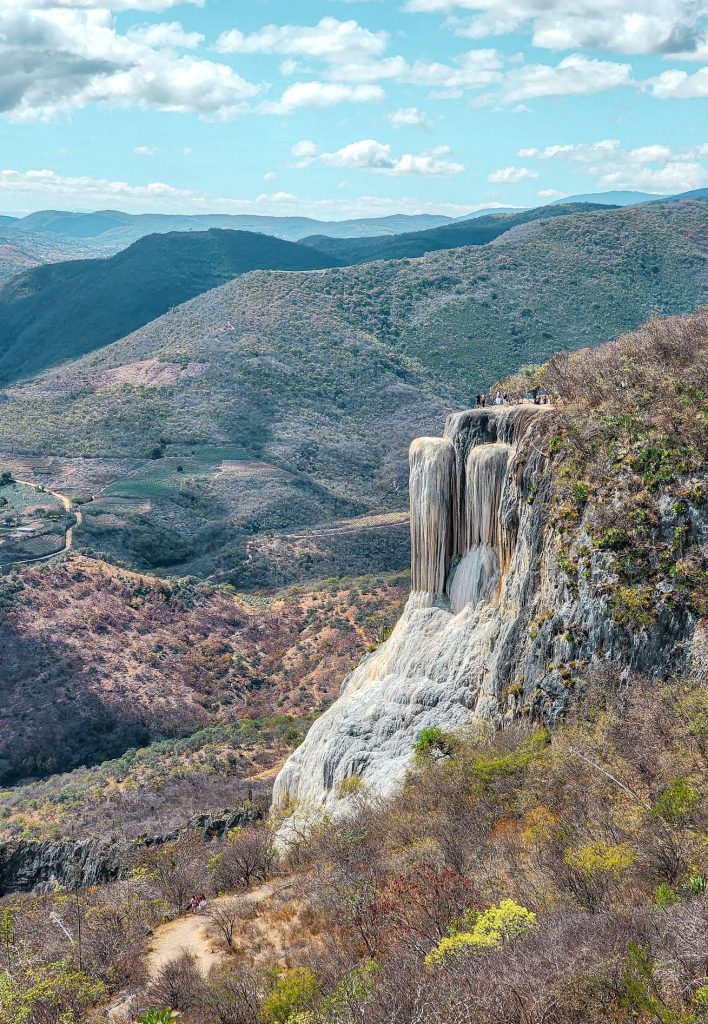 Day 5:
Morning: Take a guided hike through the Sierra Norte mountains, where you can see stunning waterfalls and local wildlife.
Afternoon: Visit the Tule Tree, one of the largest and oldest trees in the world.
Evening: Dine at Origen, a restaurant known for its farm-to-table cuisine and locally sourced ingredients.
OR
Learn about Indigenous Culture – Head to the town of Teotitlan del Valle, known for its traditional weaving techniques that have been passed down through generations of Zapotec families. Take a tour of a local workshop, where you'll see how wool is dyed using natural materials and woven into intricate patterns.
Overall, Oaxaca offers a diverse range of activities and experiences to create a memorable trip.
Best breakfast in Oaxaca
If markets are not your thing, here are some of the best places to enjoy a tasty breakfast in downtown Oaxaca city.
La Popular – This lively restaurant serves up a range of traditional Oaxacan breakfast dishes, including chilaquiles, memelas, and tlayudas, all made with fresh, locally sourced ingredients. Be sure to try their famous hot chocolate, too!
Casa Crespo – This restaurant offers a unique take on traditional Oaxacan breakfast, with dishes like chileatole (a savory soup made with fresh corn and chiles) and enfrijoladas (tortillas topped with bean sauce and cheese). The atmosphere is cozy and inviting, with colorful decor and friendly service.
Las Quince Letras – This upscale restaurant is known for its modern takes on classic Oaxacan dishes, including breakfast items like huevos divorciados (fried eggs with two different sauces) and enfrijoladas with shrimp. The atmosphere is elegant and sophisticated, with a beautiful courtyard and attentive service.
El Pochote – Located in the charming neighborhood of Jalatlaco, this cozy cafe serves up delicious coffee and a range of breakfast options, from huevos rancheros to croissant sandwiches. The outdoor seating area is a great spot to enjoy a leisurely breakfast and soak up the local atmosphere.
No matter where you go in Oaxaca, you're sure to find delicious breakfast options that will satisfy your cravings and fuel your day of exploring.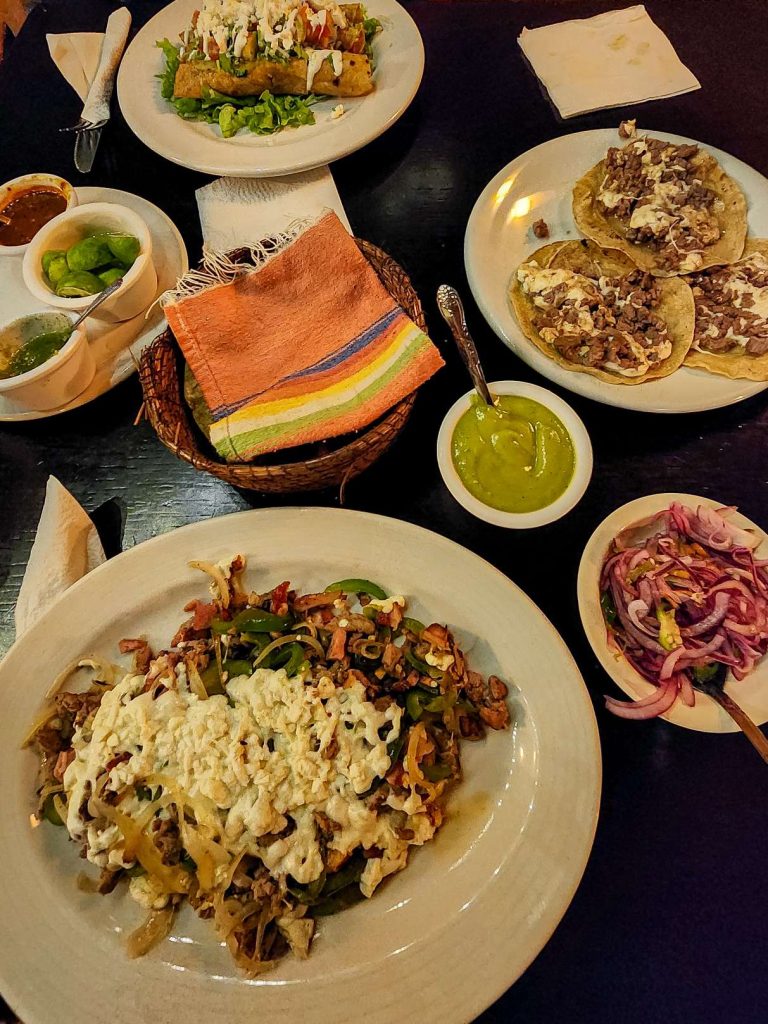 Best restaurants in Oaxaca city
Oaxaca is known for its rich culinary traditions, so there's no shortage of great restaurants to choose from in the city. Here are some of the best restaurants in Oaxaca city:
Criollo: This upscale restaurant offers modern interpretations of traditional Oaxacan cuisine, with a focus on local, seasonal ingredients. The tasting menu is a must-try.
Casa Oaxaca: This beautiful colonial-era mansion has been transformed into a restaurant, offering traditional Oaxacan dishes with a modern twist. The rooftop terrace offers beautiful views of the city.
Los Danzantes: This restaurant and mezcal bar is known for its delicious mole dishes and its wide selection of mezcals. The courtyard is a beautiful spot for a meal.
Origen: Chef Rodolfo Castellanos brings his own twist to Oaxacan cuisine, using local ingredients to create innovative dishes. The tasting menu is highly recommended.
La Biznaga: This casual restaurant offers traditional Oaxacan dishes, including tlayudas, mole, and mezcal. The outdoor seating area is a great spot for people-watching.
Itanoni: This small restaurant specializes in traditional Oaxacan dishes made with nixtamalized corn. The handmade tortillas are a must-try.
These are just a few of the many great restaurants in Oaxaca city. From upscale dining to casual street food, there's something for every taste and budget.
Best bars in Oaxaca
Don Junito: Let me just say, I ate here like 3 days straight! It is a popular restaurant in Oaxaca city, known for its delicious traditional Oaxacan dishes. Some of the most popular dishes at Don Junito include mole, tlayudas, and tasajo (thinly sliced beef). The restaurant has a casual and welcoming atmosphere, with both indoor and outdoor seating available. It's a great spot to try some of the classic flavors of Oaxaca, and the portions are generous, go come hungry! Located on Calle 5 de Mayo, near the zocalo, and is definitely worth a visit.
Los Amantes: This mezcal bar has an extensive selection of mezcals and cocktails made with the famous spirit. The atmosphere is cozy and intimate, with live music on some nights.
La Mezcaloteca: A must-visit for any mezcal lover, this bar offers a unique experience where the bartenders take you through a guided tasting of different mezcals to help you find your favorite.
Sabina Sabe: This funky bar has a great selection of craft beers, mezcal, and cocktails. The decor is eclectic, with colorful murals and vintage furniture.
Casa Crespo: This restaurant and bar is known for its traditional Oaxacan cuisine, but also has a great selection of mezcal and cocktails. The rooftop terrace offers beautiful views of the city.
These are just a few of the many great bars in Oaxaca. It's worth exploring the city to find your own favorite spots!
Best beaches in Oaxaca
Oaxaca is home to some stunning beaches along the Pacific coast. Here are some of the best beaches in Oaxaca:
Zipolite Beach: Located in the municipality of San Pedro Pochutla, Zipolite is a popular beach for its laid-back, bohemian vibe. It is also known for being a clothing-optional beach.
Puerto Escondido: This coastal town is home to several beautiful beaches, including Playa Zicatela, known for its impressive waves that attract surfers from all over the world.
Mazunte Beach: Mazunte is a small, tranquil village with a beautiful beach that's perfect for swimming and relaxing. It is also home to the National Mexican Turtle Center, where you can learn about the conservation efforts for sea turtles in the area.
Huatulco Bay: This is a series of nine bays located in the municipality of Santa María Huatulco, each with its own beautiful beach. Some popular beaches in Huatulco include La Entrega, Santa Cruz, and Tangolunda.
Playa Carrizalillo: This secluded cove is located in Puerto Escondido and is known for its crystal-clear waters and pristine white sand. It's a great spot for swimming, snorkeling, and sunbathing.
These are just a few of the many beautiful beaches in Oaxaca. Each has its own unique charm, so it's worth exploring the coast to find your own favorite spot.
Overall, Oaxaca is a truly magical destination that offers something for everyone. From the rich cultural heritage to the stunning natural landscapes and mouth-watering cuisine, it's a place that will capture your heart and leave you wanting more.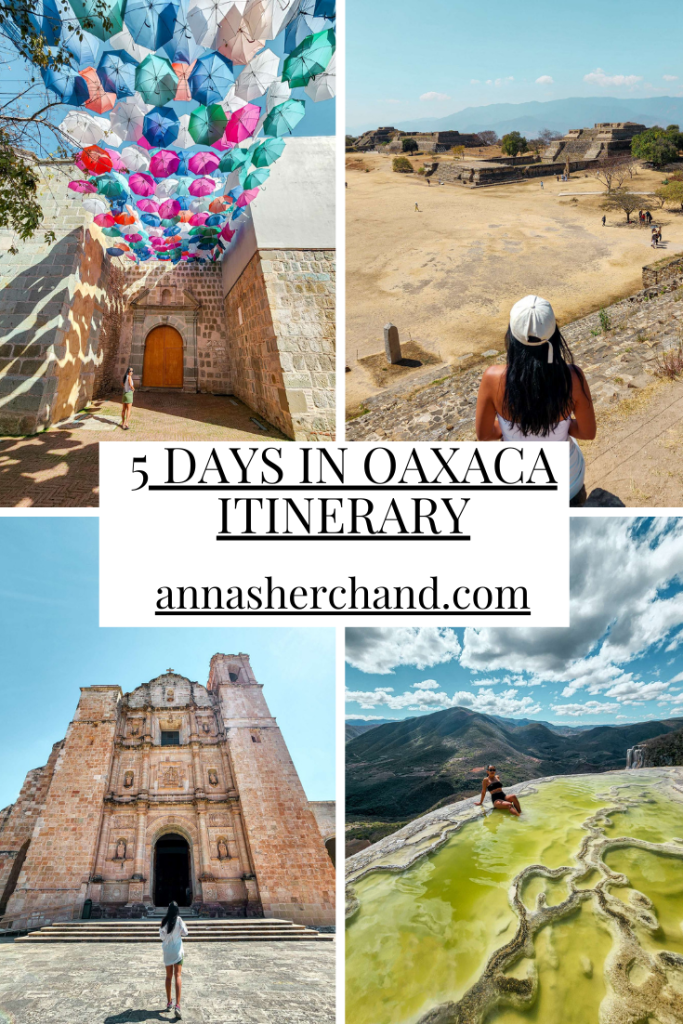 Let me know in the comments:
If you have any questions about 5 days in Oaxaca itinerary
7 days backpacking in Ecuador itinerary
Backpacking one month in central America itinerary
2 days in Mexico City itinerary
Best places to visit from Split
2 days in Split, Croatia
Solo traveling to Mostar
Solo female travel to Kotor
Solo female travel to Budva
Solo female travel Albania
Warsaw by Train covers warsaw travel tips
Check out One day in Luxembourg, western Europe
Day trip from Zurich to Liechtenstein
Travel tips to South America
Fiji solo travel guide
Australia east coast must-see
Master Sydney travel guide
Solo travel guide to Brisbane
Exploring Adelaide the best way is a must-read
Important travel tips for Uluru trip
Melbourne travel guide for first timers is here.
Melbourne day trips in winter
Day Hikes in Melbourne
Weekend getaway? Check out things to do in Ballarat
Perth solo itinerary
Top 5 must do in Darwin, Australia
How to go from Dublin to Howth
Solo female travel Romania
Read a recent day trip to Zaanse Schans from Amsterdam
How about a solo itinerary to Canberra– Australia's capital city?
Solo trip to Peru, travel tips to South America
Going to Vietnam after Australia? Check out the 7 days Hanoi travel guide.
Book accommodation through trusted Booking.com
I have detailed travel resources right here. Save money, learn what and how.
If you like this article, follow my adventures on Instagram, Facebook, YouTube, Twitter, and Pinterest, but most importantly sign up to my e-mail list to keep up with updates and travel posts!
5 days in Oaxaca itinerary