If you're planning a trip to the Southwest, consider spending 3 days in Scottsdale, Arizona. This vibrant city is known for its luxurious resorts, world-class golf courses, and stunning desert landscapes. Whether you're looking to relax and unwind, explore the outdoors, or indulge in fine dining and shopping, Scottsdale has something for everyone. In this guide, we'll provide a suggested itinerary for 3 days in Scottsdale, including some of the city's must-see attractions and activities.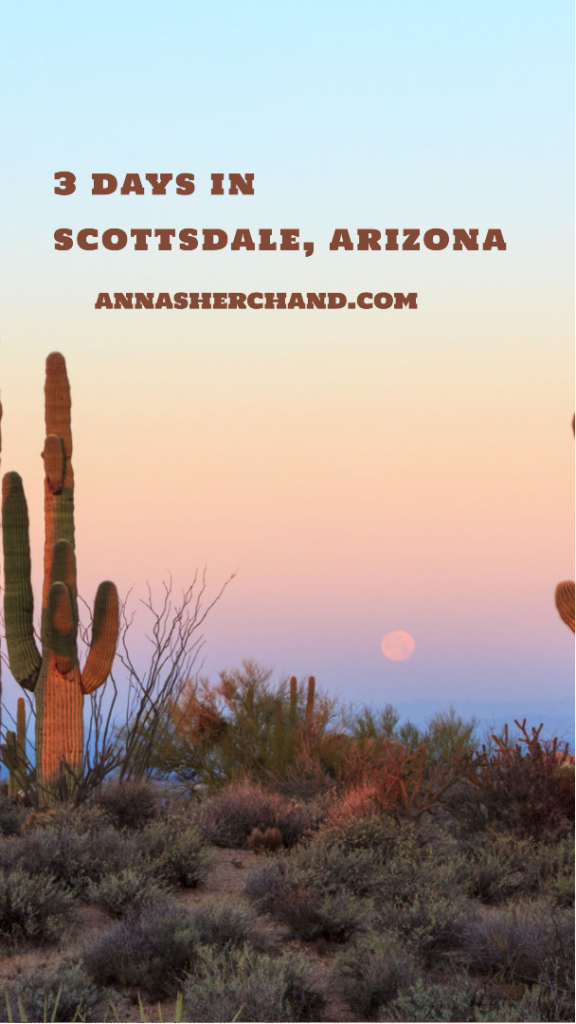 How to go around Scottsdale?
The best way to get around Scottsdale is by car, as public transportation options are limited. You can rent a car from one of the many car rental agencies in the city, or use ride-sharing services such as Uber and Lyft. If you don't want to drive, you can also use the free Scottsdale Trolley system, which has four routes that operate daily and cover many of the city's popular attractions.
Another fun way to explore Scottsdale is by bike. The city has an extensive network of bike paths and lanes, and you can rent a bike from a local shop such as Arizona Outback Adventures or The Pedal Bike Shop.
Walking is also a great way to get around Old Town Scottsdale, where many of the shops, restaurants, and art galleries are located.
3 days in Scottsdale
Looking for a place to stay,, I recommend using booking.com and sorting with price, then consider the ones with highest reviews plus within 1km of center/old town in order to be between all the actions.
For tours, I recommend using get your guide and walking tours available in most places
I. Day 1
A. Morning
Start your day with a delicious breakfast at The Breakfast Club, a popular restaurant in Old Town Scottsdale known for its mouth-watering menu and friendly atmosphere. Indulge in classic American dishes like pancakes, eggs benedict, and bacon, or try something new like their signature chilaquiles.
After breakfast, head to the nearby Desert Botanical Garden, a 140-acre garden featuring over 50,000 plants from around the world. Explore the beautiful desert landscapes and learn about the plants and animals that call the Sonoran Desert home. Don't miss the stunning butterfly exhibit or the interactive garden exhibit, which allows you to experience the beauty of the desert up close.
If you have more time in the morning, consider adding an air balloon ride over the desert to your itinerary, which provides a unique perspective of the stunning landscape. Some popular companies for air balloon rides in Scottsdale include Rainbow Ryders and Hot Air Expeditions.
B. Afternoon
For lunch, head to Diego Pops, a trendy restaurant located in Old Town Scottsdale. Known for their creative takes on Mexican cuisine, Diego Pops offers dishes like fish tacos, street corn, and guacamole made tableside. Enjoy your meal on the outdoor patio or in the stylish indoor dining room.
After lunch, explore Old Town Scottsdale, a charming area filled with art galleries, boutique shops, and historic buildings. Take a stroll down Main Street and check out the colorful murals, or stop by the Scottsdale Museum of Contemporary Art for a dose of culture.
C. Evening
For dinner, head to FnB Restaurant, a farm-to-table restaurant located in downtown Scottsdale. With a focus on local and seasonal ingredients, FnB offers a constantly changing menu of innovative dishes. Don't miss the roasted chicken or the Arizona beef tartare.
After dinner, attend a concert or show at the Scottsdale Center for the Performing Arts. With a variety of performances throughout the year, including music, theater, and dance, there's always something exciting happening at this cultural hub in the heart of downtown Scottsdale.
II. Day 2
A. Morning
Breakfast at Butters Pancakes & Café: Start your day with a hearty breakfast at Butters Pancakes & Café. This local favorite is known for their pancakes, but they also offer a variety of breakfast options such as omelets, waffles, and French toast.
Hike at Camelback Mountain: After breakfast, head over to Camelback Mountain for a challenging hike with rewarding views. This iconic landmark offers two main trails, Echo Canyon and Cholla Trail, both of which are strenuous but worth the effort.
B. Afternoon
Lunch at Pita Jungle: After your hike, enjoy a healthy and delicious lunch at Pita Jungle. This casual eatery offers a wide variety of Mediterranean-inspired dishes, including salads, wraps, and vegetarian options.
Visit the Scottsdale Museum of Contemporary Art: After lunch, head to the Scottsdale Museum of Contemporary Art, located in the heart of Old Town Scottsdale. The museum features a variety of rotating exhibits that showcase contemporary art and design.
C. Evening
Dinner at Citizen Public House: For dinner, head to Citizen Public House, a cozy and inviting gastropub that offers elevated American cuisine and craft cocktails. The menu features a variety of delicious dishes, such as bacon-wrapped dates, short rib stroganoff, and grilled salmon.
Experience Scottsdale's nightlife at Kazimierz World Wine Bar: End your evening with a visit to Kazimierz World Wine Bar, a popular spot for wine enthusiasts and music lovers. The bar offers an extensive wine list with over 2,000 selections from around the world, as well as live music and a cozy atmosphere perfect for unwinding after a long day.
No matter which area you stay , I recommend using booking.com and sorting with price, then consider the ones with highest reviews plus within 1km of center/old town in order to be between all the actions.
For tours, I recommend using get your guide and walking tours available in most places
III. Day 3
A. Morning
Soar above the Sonoran Desert with a hot air balloon ride and enjoy a delicious brunch at The Mission, known for its modern Latin cuisine.
Shop at Scottsdale Fashion Square, one of the largest malls in the Southwest with over 200 stores and restaurants.
B. Afternoon
Visit Taliesin West, Frank Lloyd Wright's former winter home and studio. Take a guided tour to learn about Wright's architectural style and design principles.
Enjoy the natural beauty of McDowell Sonoran Preserve, a protected desert wilderness area with over 200 miles of trails for hiking, biking, and horseback riding.
C. Evening
Enjoy dinner at Virtu Honest Craft, a Mediterranean-inspired restaurant with a cozy patio and creative cocktails.
Relax at the Fairmont Scottsdale Princess, a luxurious resort with multiple pools, a spa, and championship golf courses. End your night with a cocktail at the resort's rooftop bar, The Plaza Bar.
Additional activities and attractions in Scottsdale that could be incorporated into the itinerary include:
Scottsdale wine trail, a self-guided tour of local wineries and tasting rooms
Musical Instrument Museum, a unique museum featuring exhibits of instruments from around the world
The Andaz Scottsdale Resort is a stylish and modern resort with a pool and spa
Lower Salt River, where visitors can enjoy kayaking, tubing, and other water activities
Food tours, which offer a chance to sample local cuisine and learn about Scottsdale's culinary scene
This 3-day itinerary includes some of the best activities and attractions that Scottsdale has to offer, from exploring Old Town and hiking Camelback Mountain to experiencing Scottsdale's nightlife and indulging in a hot air balloon ride over the Sonoran Desert. Whether you're visiting for a weekend or an extended stay, Scottsdale has something for everyone.
is Scottsdale safe?
Scottsdale is generally considered a safe city, with low crime rates compared to other cities in the United States. However, as with any city, it is always important to take necessary precautions and be aware of your surroundings, especially at night and in tourist areas. It is also recommended to take measures such as keeping valuables out of sight, locking car doors, and not leaving personal belongings unattended in public places. Overall, Scottsdale is a popular and safe destination for travelers.
How many days do you need in Scottsdale?
The number of days needed to fully explore Scottsdale depends on your travel style and interests. However, we recommend spending at least 3-4 days in Scottsdale to experience the city's diverse attractions and activities.
If you're interested in exploring Scottsdale's vibrant downtown and experiencing the nightlife scene, plan for at least a weekend trip. A weekend getaway in Scottsdale can provide a great taste of the city's culinary scene, art galleries, and exciting nightlife.
For those looking to explore the outdoors, we recommend spending additional days in Scottsdale. The city's natural beauty is unparalleled, with numerous hiking trails, beautiful golf courses, and desert landscapes to explore. To fully appreciate the outdoor attractions in Scottsdale, consider adding an additional day or two to your trip.
Hope this Scottsdale itinerary gave you insight & helped you.
Let me know in the comments:
If you have any questions on these 3 days in Scottsdale
What to do in Tucson in December
Solo trip to Phoenix
Arizona solo travel guide
LA solo travel guide
New York solo travel guide
10 best places to take pictures in Dallas
Best day trips from Hobart, Tasmania
Day trip to Stradbroke Island, Queensland
Weekend in Brisbane
Best places to visit in autumn in Australia
Backpacking in Melbourne, Australia
Digital nomad guide to Melbourne
Sydney itinerary 5 days
Best places to see autumn leaves in Adelaide
Exploring Adelaide the best way
All Adelaide travel blogs
10 hidden beaches and bays in Sydney
99% of readers found must see on the east coast of Australia helpful.
Sydney bucketlist things
Sydney itinerary for 5 days
Secret Sydney walks
Best places to take photos in Sydney
Pros and cons of living in Australia
where to stay in Sydney
Hidden beaches and bays
most instagrammable cafes in Sydney
where to eat in Sydney
most Instagrammable places in Sydney, Australia
Auckland solo travel tips
Most beautiful places in New Zealand North Island
Check out the most beautiful places in New Zealand South Island
Going to Vietnam after Australia? Check out the 7 days Hanoi travel guide.
One month in Central America itinerary
How about Colombia? Check out how to get from Medellin to guatape
Check out where to stay in Medellin, Colombia
Check hotel prices and book it through booking.com
Read the most wanted travel resource here.
If you like this article, follow my adventures on Instagram, Facebook, YouTube, Twitter, and Pinterest, but most importantly sign up for my e-mail list to keep up with updates and travel posts!