Looking for Instagram worthy places in Singapore? I got you! Singapore is a lively city situated just off Malaysia's southern coast, with a stunning mix of Malaysian, Indian, Chinese, Arab, and English cultures – but with a Singaporean twist. The "Lion City," as it's known, is brimming with delectable culinary experiences, cutting-edge lodging, and thrilling nightlife.
Singapore, as one of the world's most well-known cities, will provide you with a unique experience that you will not find in other Asian countries. I will be sharing helpful information about traveling in Singapore at the end, so keep an eye out for that too. Now without further ado, here are 22 nice places to take pictures in Singapore.
22 Instagrammable Places in Singapore
1. Changi Jewel Vortex
The Rain Vortex is one of the most Instagrammable places in Singapore because it encapsulates the vision of the city-state: modern and green, with incredible architecture and easy access. This waterfall (40 meters or 131 feet high) is the world's largest indoor waterfall and is situated within Singapore's Jewel Changi Airport. It is also free to visit, though many of Jewel's other attractions do charge admission. Also, keep in mind that the water begins to flow at 8:00 a.m. and continues to flow steadily until after 11:30 p.m. The waterfall is illuminated by beautiful colored lights at night; plus a massively decorated Christmas tree in holiday seasons truly magnifying the picture-perfect vibes. It has a magical feel to it because of the lights and music.
Whether you are at the rooftop among the sunflowers, movie theatre, or in between the shops and the stunning indoor waterfall Changi Airport is a wonderland for Instagrammers.
2. Supertree Grove at Gardens by the Bay
This urban landscaping scheme is a collection of fake "supertrees" located along Marina Bay. The metal structures have around 200 species of orchids, ferns, and other tropical plants covering them and creating lush, vibrant skin at heights of 80-160 feet. It is free to stroll around the outdoor parks but you must purchase a Skyway ticket to walk around the treetops or head to the top of the tallest structure for dinner and drinks. Although this spot looks instagrammable at day, you must also visit at night to witness the real beauty of it all.
Cats and Dogs cafe in Singapore
3. Cloud Forest at Gardens by the Bay
Gardens by the Bay is a 250-acre park with two massive domed conservatories. One has a Mediterranean atmosphere and focuses on flower restoration, while the other, pictured, has the world's tallest instagrammable indoor waterfall and mimics the flora and ecology of a tropical cloud forest.
4. Fort Canning Park Staircase
If you are looking for Instagrammable parks in Singapore; head to Fort Canning Park. The underground crossing here is absolutely stunning! It is situated at the park's northernmost point. Having a shot there needs some patience from a logistical standpoint. For one thing, there are still people going up and down the stairs, so you have to wait for a quiet moment. Furthermore, you might be part of a long line of people waiting for a photo but it is worth it for that Instagram shot!
5. Sandcrawler Building
If you are looking for hidden Instagram-worthy places in Singapore; this could be it. It is a hidden garden you can visit if you're a Star Wars fan. A few years ago, George Lucas opened the Sandcrawler Building in Singapore as a production facility for multiple firms, including Lucasfilm, modeled after the giant mobile fortresses seen in the movies. The Yoda sculpture in the lobby garden itself makes it one of the Instagram-worthy places in Singapore.
6. Buddha Tooth Relic Temple and Museum
Chinatown is a vibrant and historically significant area of Singapore. The Buddha Tooth Relic Museum, the area's most impressive temple, opened in 2007 houses a massive golden Buddha to whom devotees offer offerings and pray. The best part of the temple is the roof. An orchid garden and the world's largest cloisonné prayer wheel can be found at the end.
7. Sri mariamman temple
I like how Singapore is so culture-friendly. You will find this unique Hindu temple right next to Chinatown.
Need to take off your shoes to enter and from memory pics are not allowed inside. But just looking at this temple from outside; it's fair to day this is some work of art that needs to be appreciated or if you want Instagrammed.
8. Haw Par Villa
Eccentric amusement park Haw Par Villa, famous for its grotesque depictions of Chinese folklore's Ten Courts of Hell, is a strange yet interesting place to visit. Carry an open mind and a sense of humor. It is free to access and photograph the park, which was built in 1937.
9. Clarke Quay and Boat Quay
The waterfront near Clarke Quay is the city's heart — and the epicenter of Singapore nightlife. It's also a nice walk from here to Boat Quay, which has an old colonial feel to it, with English pubs mixed in with restaurants serving nearly every form of Asian cuisine. If city vibe is what you are looking for or typical Singapore photography, this place is your answer.
10. Marina Bay Sands Hotel
This Instagram worthy places in Singapore list wouldn't be competing without mentioning Marina Bay Sands which is a well-known landmark in Singapore. This boat-shaped hotel has an infinity pool with amazing views of the capital but staying the night will cost you a good amount of money. The good news is that ths top Instagrammable places is absolutely free to visit, although booking is recommended as the restaurant gets booked in advance. It's in the northwestern corner of Dragonfly Lake, in Gardens by the Bay.
11. Peranakan Houses
These brightly colored houses are becoming increasingly common on Instagram, so you might see other people taking photos here when you go. However, since the street has several houses on both sides, there's a good chance you'll be able to get a picture without someone in it.
12. Tan Teng Niah
For some more colorful vibes and secret photography spots, head to Singapore's Little India. There you will find one of the historical landmarks called Tan Teng Niah. This house used to belong to Tan Teng Niah, a Chinese businessman who lived in what is now the Little India neighborhood. While some of the architecture of the building has some Chinese elements, the restoration/painting has given the building a very colorful scheme which obviously makes it to out Instagram worthy places in Singapore.
13. Arab Street
Arab Street is lively, colorful, and beautiful—all three qualities that make it one of Singapore's most Instagrammable spots! The fact that there are no cars driving down or parking along the side of the road adds to the appeal of this colorful route also known as Kampong Glam district. That means you can come here at any time of day for an Instagram worthy picture of Arab Street as long as you're okay with getting people behind you in a photo!
14. Haji Lane
Nearby Arab Street is Haji Lane which is known for its murals, hip bars, and clothing shops. it is a small alley with the most happening. So go here super early to take pictures without anyone on it. Recommend trying out the cafe that prints your pictures on the lid! So cool. And If you are time-poor, you can visit Bugis Street, Haji Lane, and Arab Quarter all in one go as they are not far from each other.
15. Old Hill Street Police Station
One of the most aesthetic places in Singapore is Old Hill Street Police Station. This eye-catching building is a former police station which is now a government office. In the day, you'll be lured by the colorful shutters and white walls. In the night, the building lights up, and the colors are accentuated by the orangey spotlights. Hence it is one of the best Instagram worthy places in Singapore day or night.
16. Rochor Center
Singapore's HDB housing is another vibrant feature of the city-state. The ones that make up Rochor Center are by far the most vibrant of them all! The majority of Singaporeans live in HDB housing, and the government has done an excellent job of ensuring that its citizens have great places to live.
17. Japanese Cemetery Park
Since there aren't many people who visit this one, it's actually very nice to stroll around and admire the pink blooms! Also, please note that this is a graveyard so you will be expected to show some respect when visiting this place.
18. Swan Lake Gazebo
This lovely gazebo looks like it belongs in a fairy tale! This gazebo is easily accessible from the southwest Tanglin Gate, which is located on the very edge of Swan Lake. Aside from the usual wildlife, this area is home to chickens and the occasional monitor lizard (up to 3 meters long!) that will walk on land and swim in this lake.
19. Masjid Sultan
This is a magnificent 1824 mosque that has been preserved for decades. With its massive golden domes and huge prayer hall, Sultan Mosque is a must-see if you're in the historic Kampong Gelam district.
20. Helix Bridge
One of the other Instagram worthy places in Singapore is Helix Bridge. Not only does it have aesthetic vibes but also practical ones. ie It provides a quick entry to Marina Bay Sands for pedestrians coming from the Esplanade and the City Hall area. At the same time, a nice walk along the bridge offers great views of the city skyline. Also, an impressive spot to take pictures at night.
21. National Orchid Garden
If you are a fan of botanical gardens, then you must visit one in Singapore. Among other lush flora and fauna, you will find the National Orchid Garden within the Singapore Botanic Gardens. As you can imagine it can be an ideal spot to get your Instagram flowers shot.
22. Artscience Museum
Last but not least, one of the most beautiful places in Singapore is Artscience Museum. Whether you look outside the museum with purple flowers or inside with interesting art installations; this place will satisfy Instagram picture needs. There is an entrance fee but it is worth it for the experience and the images.
Last but not least,
Singapore Travel Info:
Most of the population is bilingual, speaking English as well as Mandarin, Malay, or Tamil. The Singaporean dollar (SGD) is the official currency of Singapore. At the moment, one US dollar is worth $1.33 in Singapore dollars.
Bear in mind that Singapore is one of the richest countries on the planet when planning your journey. Though Malaysia and Indonesia offer some bargains, Singapore is pricey, so plan to pay as much as you will in a major American or European region. While credit cards are generally accepted, you should keep some cash on you for food stands, coffee shops, and other small transactions.
Singapore's climate has been consistent over the years. Temperatures usually range from 75 degrees Fahrenheit (24 degrees Celsius) to 89 degrees Fahrenheit on any given day (32 degrees Celsius).
The humidity is heavy, with an average of 167 days of rain per year in the region, so an umbrella may be handy.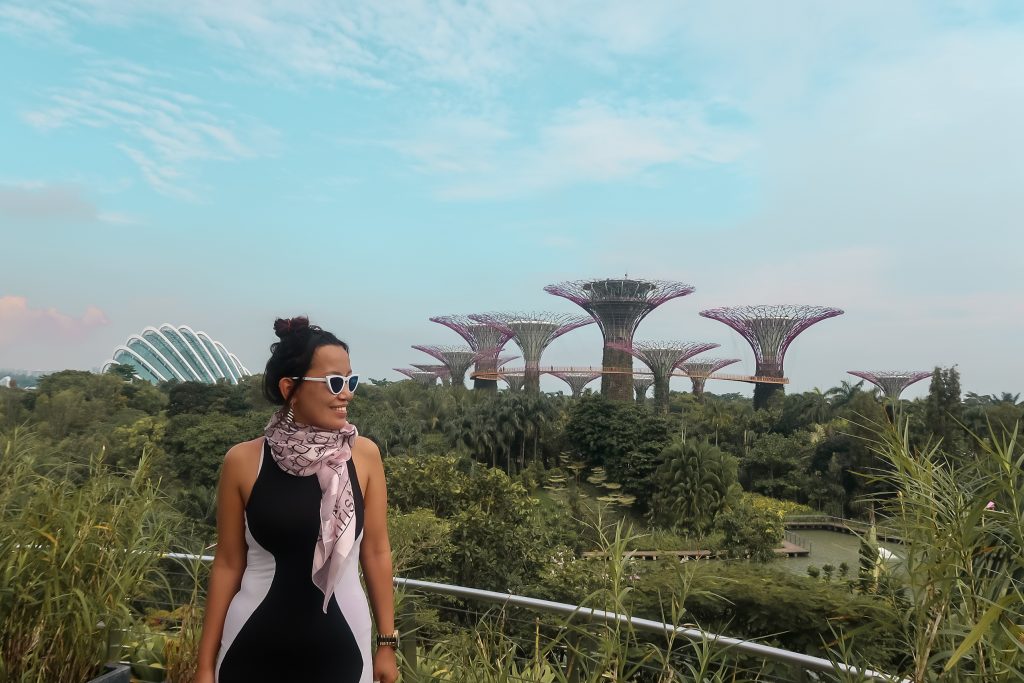 Let me know in the comments:
22 most Instagram worthy places in Singapore