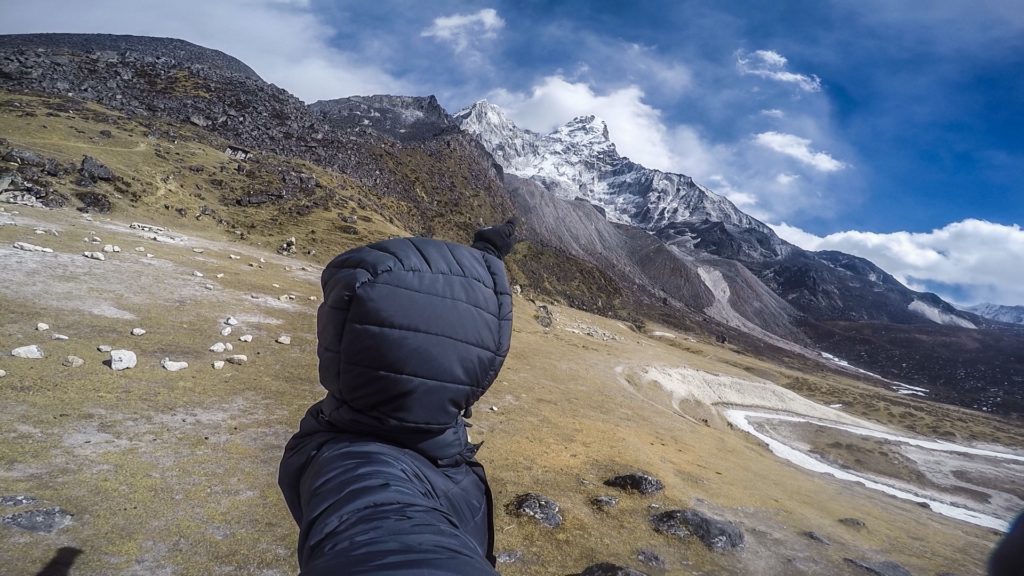 Day 3
Left Namche after breakfast and within minutes I was welcomed with stunning Himalayan range.
The plan was to reach Tengboche by 5 pm but the trek and stairs to get there nearly killed me! Super steep uphill and downhill trek for hours but happiness is that satisfying feeling of making it through the long trekking day without any accidents.
Made it just before 4 pm to Tengboche, then I visited the famous Tengboche Monastery where Monks were performing their rituals and felt good just being inside the Monastery and observing them. I lit candles for my dad and sent prayers for everyone.
Tengboche was beautiful at 3860 m but didn't stay there as I decided to stay a few meters down in Debuche for 2 reasons.
1. Lower elevation helps even if it's only a few meters down
2. Hotels were reasonably priced and not packed which meant a nice and peaceful place and no queue for shower and toilets.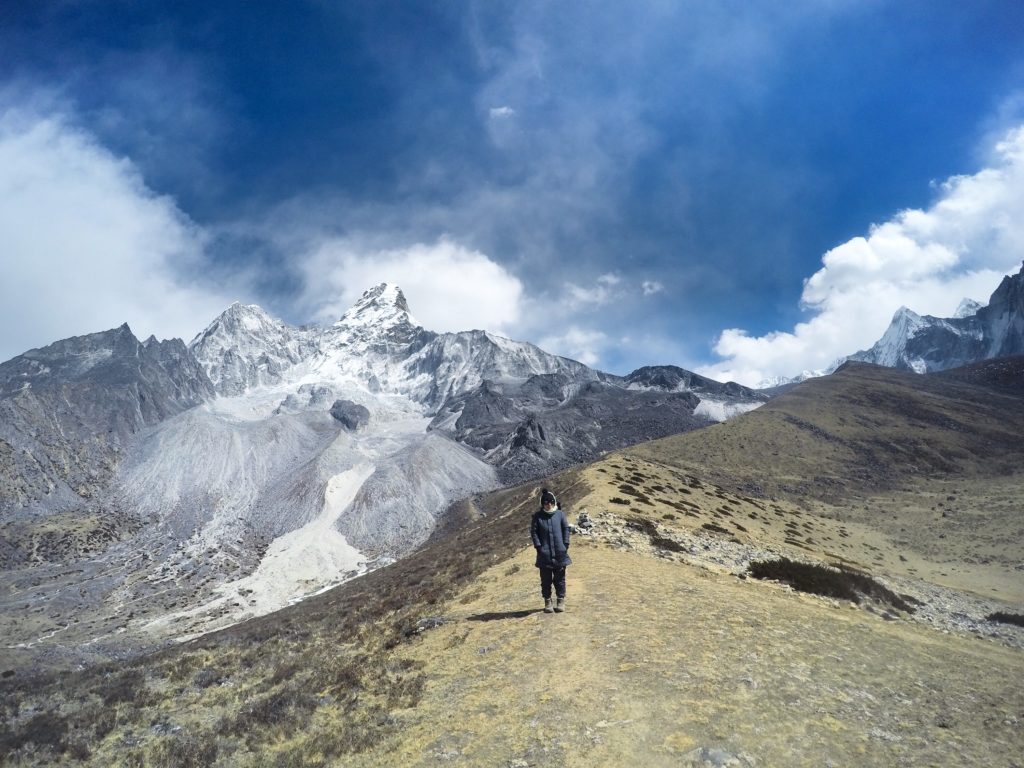 I was pleased with my window view twin bedroom and nearby bathroom. Upstairs a group of trekkers couple going down to Lukla, one to Gokyo and few to EBC, fun banter, Famous Dal Bhat, hot water and a warm fireplace. All for NPR 700
By now, I have understood early to bed and early to rise gets the most out of trekking. So was in bed by 9 pm after writing my diary and reading a book.
Day 4
Left for Pangboche around 8 am the next morning after breakfast. Little concerned about high altitude sickness now as I was reaching 3985 m & had only climatized 1 night in Namche.
Arrived Pangboche late afternoon right in time for Dal Bhat. Met fellow trekker in the lodge and we decided to hike around town for fresh air and to see where we were exactly.
We went up in Pangboche Monastery, little village and had some sunbath. Stunning view all around. This was my first time being in high altitude (over 4000 m)and it got me with a massive headache!
Couldn't sleep that night, headache didn't leave me either and my heartbeat was way faster than usual. I knew I had minor signs of high altitude sickness. And no reception on my phone. It is those weak moments when we tend to miss our comfort and our loved ones the most.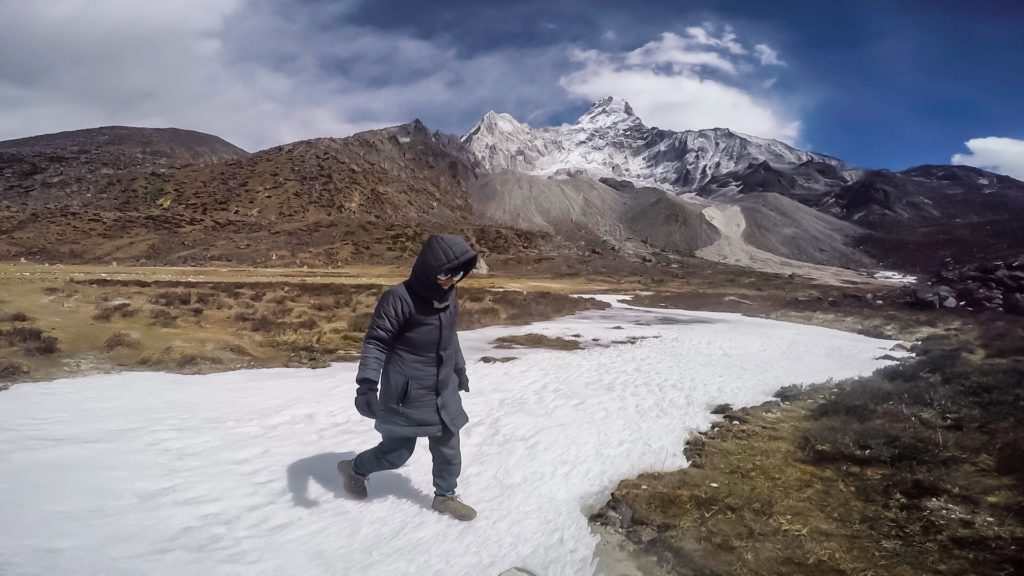 I had a big day planned for tomorrow- Mount Ama Dablam Base Camp + more 4800 m (5-7 hours return trek) I had to sleep.
So all I did to deal with high altitude was meditate, slow inhale and exhale, lots of water and keep calm. Oh, and I had garlic soup upon the recommendation of my porter. Also, don't miss your meals no matter how disgusting it tastes!
And if you are waking up 2-3 times during the night apparently it's a good sign!
Day 5
Woke up fine, Thank god!! had toast & eggs for breakfast. About 8:30 am left for Mt Ama Dablam Base Camp.
Left to the lodge, turn right then downhill, cross the bridge and climb steep uphill infected with life threating landslides, meadow, zigzag, more uphill, stony paths, downhill and sandy paths here and there, chorten, more walking not a single soul then I bumped into a Israeli trekker, his porter and the girl I met at the lodge day before. She was doing Chu la pass after this so we bid goodbyes, the other trekker disappeared and i was there enjoying all this to myself with my porter resting far behind.
At 4600 meters above sea level feeling happy and confident with Mount Ama Dablam.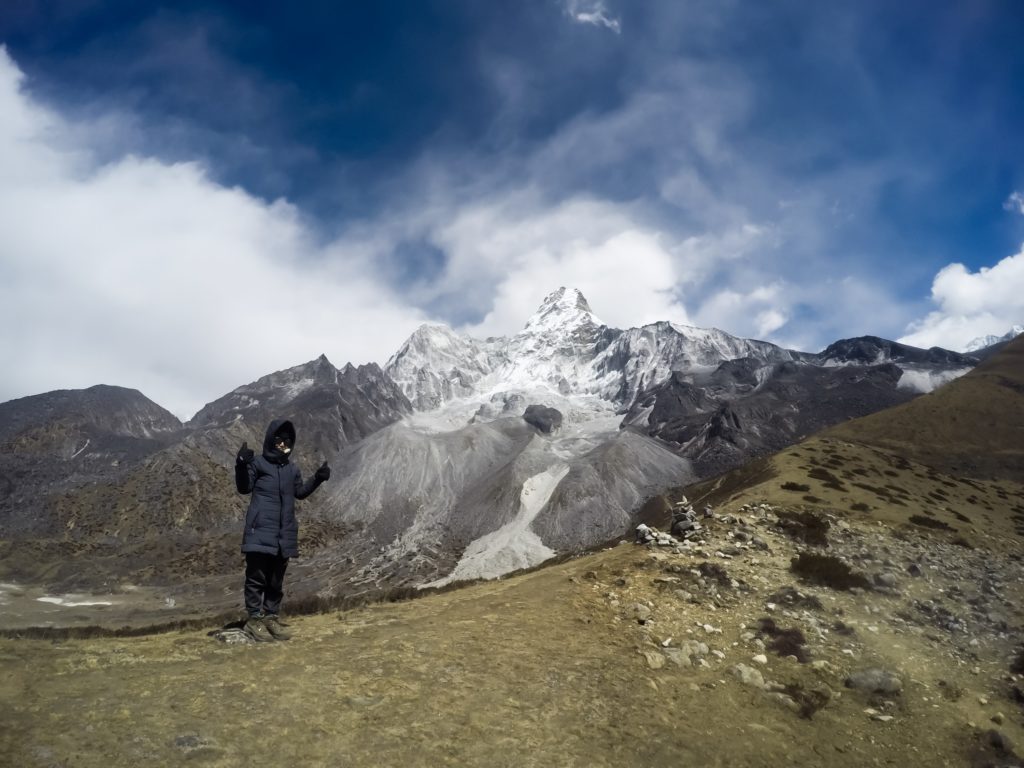 We went 400meters higher so I could be acclimatised properly. Now I was at 4800 meters. Incredible view and for a moment I felt like I could live there forever with that stunning scenery.
Mountain at the back is the famous AMA Dablam which means AMA = mother and Dablam = daughter in Sherpa language.
Back at the lodge. Dinner and in bed. No more headache but sharp knee pain. Anyway, I was the only guest in the whole lodge that night, not sure how I felt about that's but I took the opportunity to fill my journal.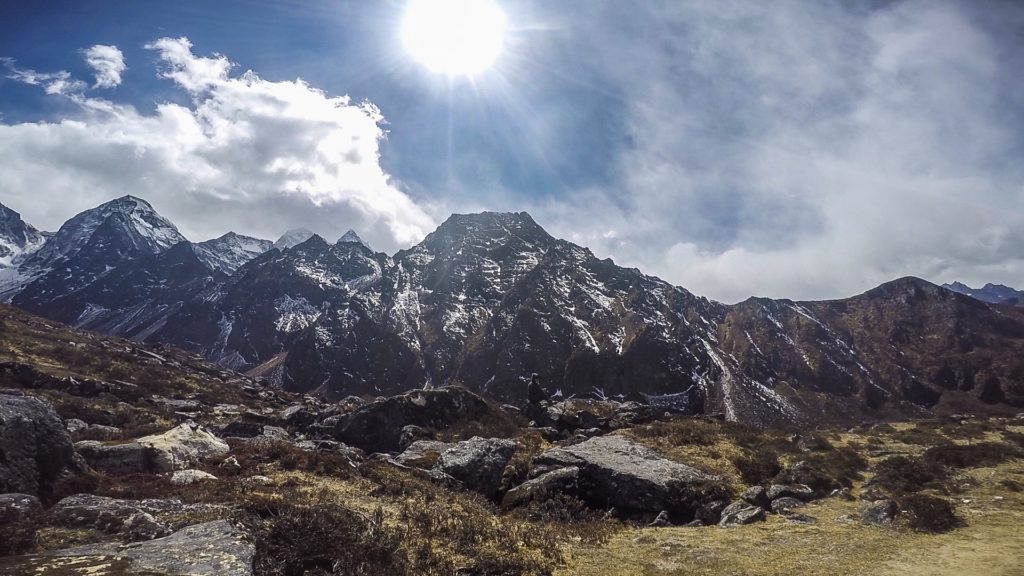 Day 6
Up at 7:30 am breakfast and left Pangboche for my next stop Dingboche. No headaches, no signs of high altitude sickness and felt good to have arrived there in half a day.
Now I was at 4430 meters above sea level drinking lots of hot water, keeping my meals going and stretching when I can. I was feeling lucky to have a mountain view bedroom again with a twin bed which meant I could use spare quilts and pillows if I wanted. I realized little things like this made me happier in the mountains!
However, one thing wasn't right. My left knee was in more pain than the day before. so I cancelled my side trip and decided to just enjoy the day, read my book and save my energy for tomorrow. 2 more nights and I was about to tick off EBC from my bucket list!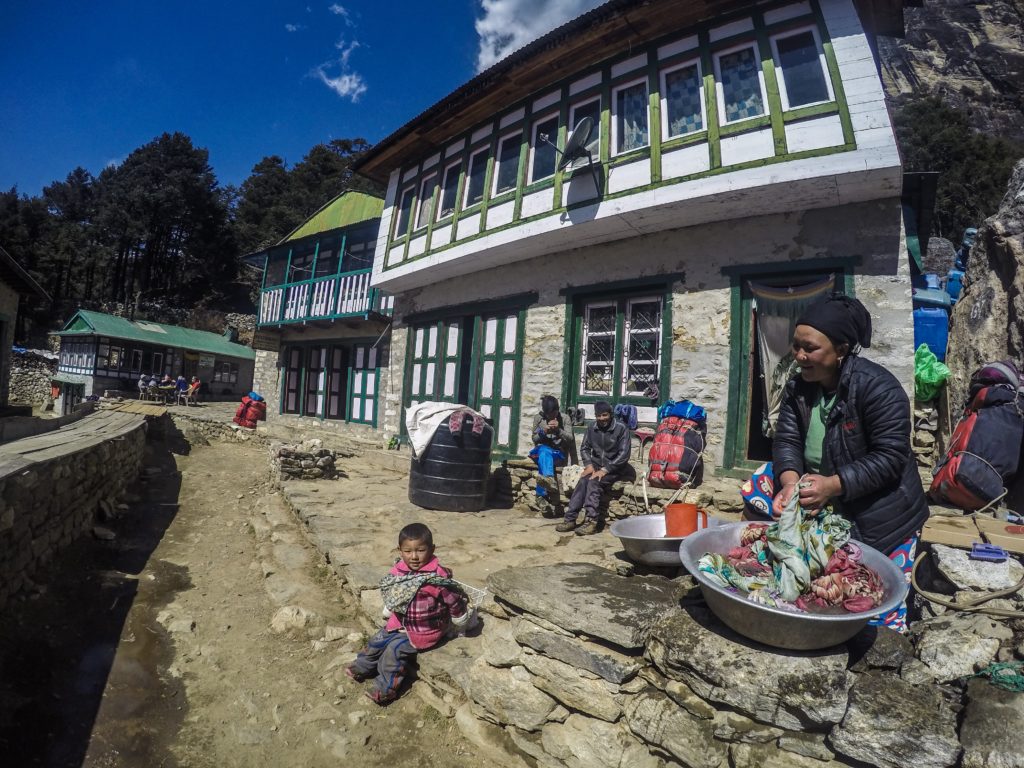 I don't remember a whole lot from trek Day no 6 as it was mostly saving myself from sunburn, trying not to slip off down hills and narrow paths but my diary says it was another awesome day in the Himalayas.
Aaaand I brought a few interesting things I found out from my porter for you my readers. If you have heard the same stories, let me know in the comments below.
– There's a history that says Sheep used to come out of Gokyo Lake.
– There's a huge festival in Dudh Kunda around Janai Purnima.
– Sherpas called Mt. Everest Chomolungma chomlo means chicken and logma means golden. Yes, you guessed it back in the era of gods, in place of Mt. Everest there used to be a golden chicken. Go figure!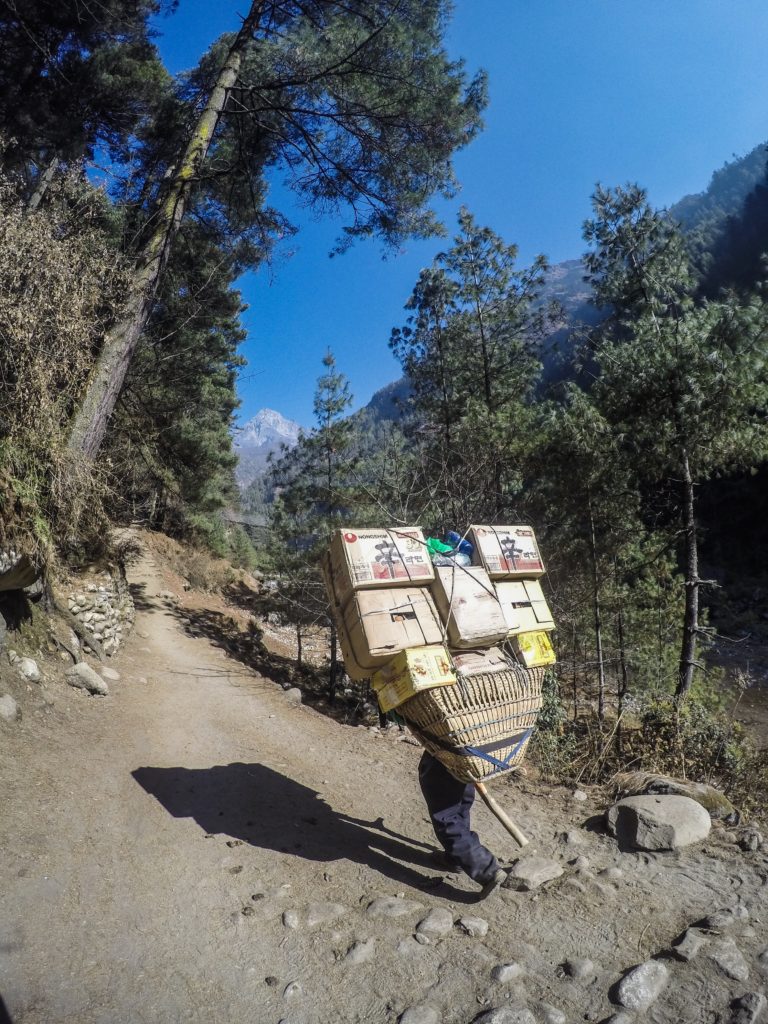 Subscribe for Day 7 & read more here.
and for more amazing pictures, check out Instagram @annasherchand
New video added 18/06
Mount Everest Base Camp – Day 3-4-5-6 and Mount Ama Dablam 4600m