Guilin is a stunning destination in China that will enthrall you with its scenic rivers, karst mountains, rice terraces, and caves. It is located in the southern part of China and is popular because of its natural wonders. If you want an authentic Chinese countryside experience, here is your perfect one week Guilin itinerary. Just a heads up once you're there, it might be difficult for you to leave though!
Guilin Travel Guide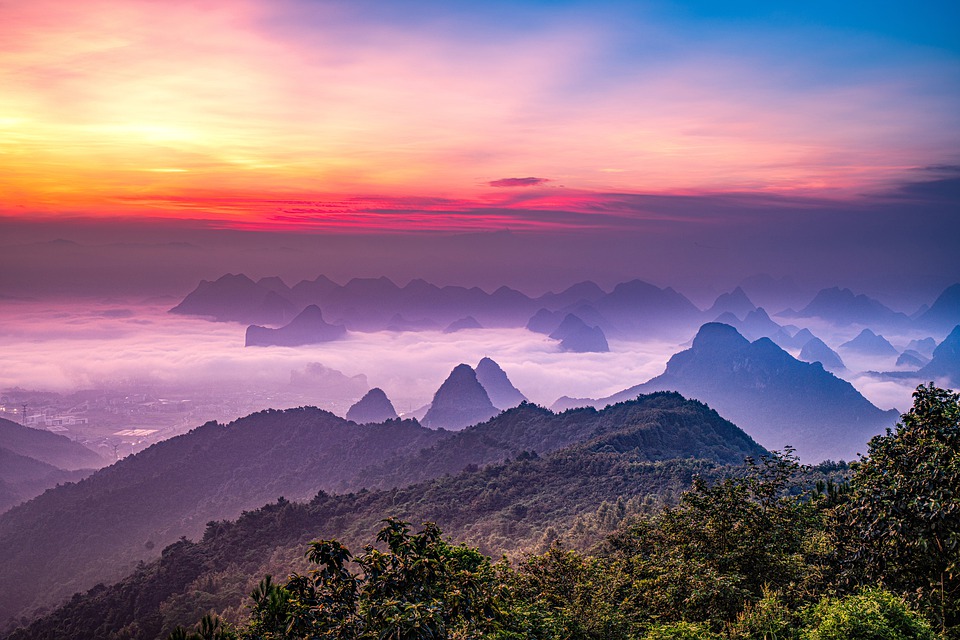 How to go to Guilin from Nanning?
From Nanning Airport, take a bus, which leaves every 30 minutes, and head to Nanning Station (Minhang Hotel). Walk for approximately 6 minutes to take the train from Nanning to Guilin. Travel time will take almost three hours.
How to get to Guilin from Yangshuo?
You can take a bus from the north bus station in Yangshuo to Guilin Airport. (The bus stop is about 10 minutes bus ride from the center of Yangshuo unless you are staying closer to the bus stop). It takes about 80 minutes to arrive and you can buy the bus tickets at the ticket office of the North bus station and cost 50 yuan per person.
Your Perfect One Week Guilin Itinerary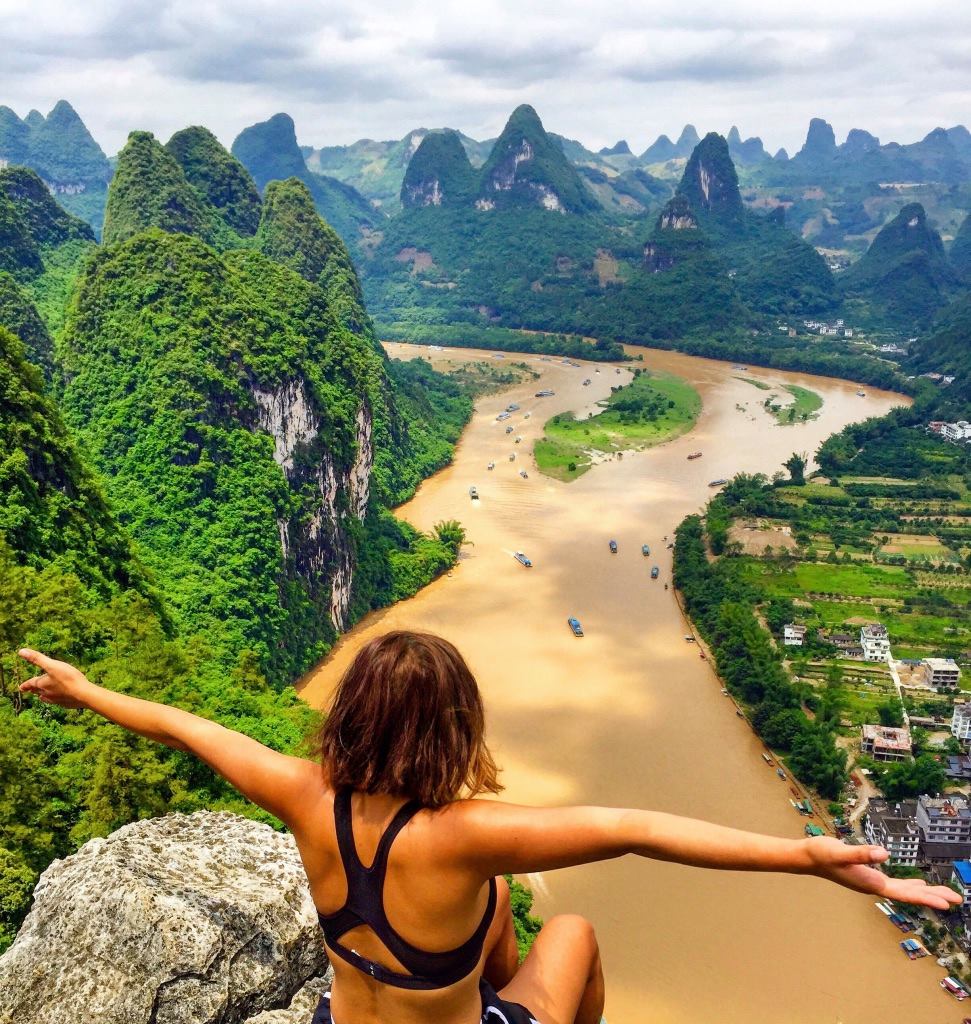 Day 1 – Seven Star Park
Explore the city starting at Seven Star Park. It is called Seven Star Park because of the seven mountain peaks which form a big dipper. Walking to this park will only take you 20 minutes. You might want to consider strolling and enjoying scenic spots or dining areas as you head to the park.
This park, located on the eastern part side of the Li River, has several attractions to offer. It is the biggest park in the city and has a cave, a zoo, a flower bridge, and the seven hills.
One attraction in this 1.5 kilometer-wide park is the Flower Bridge. This bridge is Guilin's oldest bridge and was finished in1279. People call it the Flower Bridge because of the different blooming varieties of flowers.
Four of the seven mountain peaks forming the big dipper is from the Putuo Mountain. Some of the things to discover in this mountain are the Xuanfeng Cave, Putuo Jingshe, Seven Stars Cave, the Tomb of the Three Generals, the Tombs of 800 Heroes, a stone forest and pavilions.
Another place to visit inside Seven Stars Park is Camel Hill, which resembles a squatting camel, hence the name. Plum trees, teahouses, and bonsai gardens surround this place.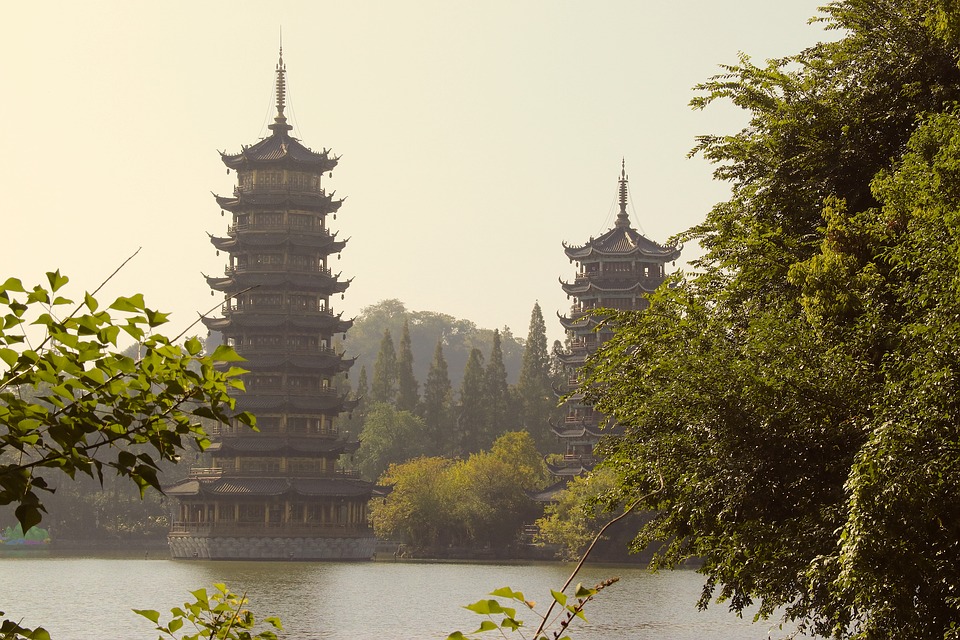 Crescent Mountain lies to the south of Putuo Mountain. As you walk along the steps going to the top of the mountain, you can view Banyue Pavilion, Crescent Rock, and Guanghan Pavilion. You can have a glimpse of Guilin City once you reached the top of the hill.
Before leaving Seven Star Park, head to the Light of China Square, where you can see a mural made up of more than 100 stone carvings. Aside from this, there is also Shi Ji Bao Ding, a four-legged Ding standing at 15 feet.
Guilin Zoo is also inside Seven Star Park and is behind Camel Hill. As you enter this 8-hectare zoo, a fantastic environment will welcome you. It is home to over 100 kinds of animals and a great place to meet giant pandas.
Aside from pandas, you can also see monkeys, tigers, lions, gibbons, kangaroos, different kinds of birds, and more. Visitors, especially kids, can also experience feeding the animals at the Wonder Garden.
Entrance Fee: $10
Ride: Bus No. 9, 10, 11, 14, 16, 18, 24, 25, 30, or 204
Sun and Star Pagoda
When darkness starts to cover the city, head to the Sun and Star Pagoda. An underwater 10-meter glass tunnel connects the twin pagodas, and it is best to visit them at night because of their beautiful colors. The Sun Pagoda, which has nine stories, is the world's highest pagoda.
At night time, the silver and gold reflection of the two are marvels to behold. The view of Guilin from the top of the pagodas is truly relaxing and peaceful.
Day 2 – Reed Flute Cave and it's surroundings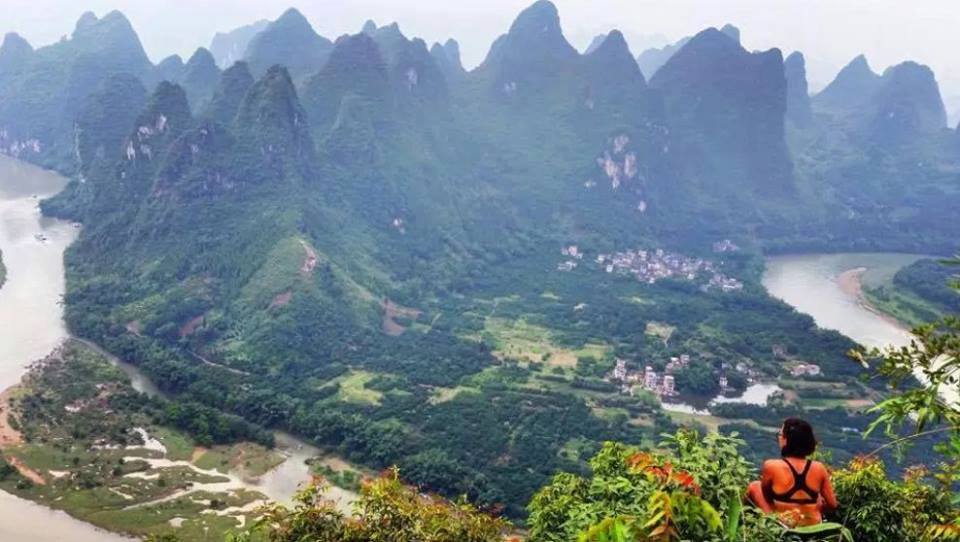 The Reed Flute Cave's name came from a type of reed that can be made into a flute, which is present everywhere outside the cave. You can find plenty of these plants outside the cave. A Japanese troop rediscovered this cave in 1940, and in 1962, it became a tourist attraction in Guilin.
A considerable number of stalactites, stalagmites, and other rock formations fill the interior of the cave.
These unique formations inside the cave have names that match their appearance like the Statue of Liberty.
One magical feature of this cave is the artificial rainbow reflection illuminating the cave's interior.
Different chambers of the cave
• Crystal Palace
This chamber is not packed with stalactites, and there's a huge "lamp" hanging on the upper left of the hall.
This almost 90 meters wide room is very flat and empty but fascinates all its visitors because of the magical colors surrounding it.
• Lion Rock and Sunrise
This part of the cave is called "Lion Rock and Sunrise" because the different stalactites look like a dense forest with gigantic tree trunks. As the sun rises, a big "lion" watches the small "lions" playing on the side of the woods.
• 70 inscriptions
It is believed that the cave is over 180 million years old, and signs of early activities inside the cave are the over 70 written inscriptions on its walls. These writings, which can be dated back as far as 790 A.D. during the Tang Dynasty, include poems and stories written by monks, scholars, and travelers.
• Sky-Scraping Twin
The rock formations in this area resemble a forest dotted with tall "pine trees" and "evergreen cypresses." There are two tall and straight columns reaching the sky; that's why people call this place "sky-scraping twin."
• Pines in the Snow
Two stalagmites in this area resemble a snowman and a sturdy pine tree covered with snow.
Outside the cave, you can see different trees and all kinds of flowers that bloom in spring and summer.
You can also have a short visit to the Phoenix Flying Bridge. This 10-5-meter long bridge is perfect to view the Peach Blossom River.
Entrance Fee: $15
Ride: Bus No. 3, 4A, or 213
Day 3 – Yao Mountain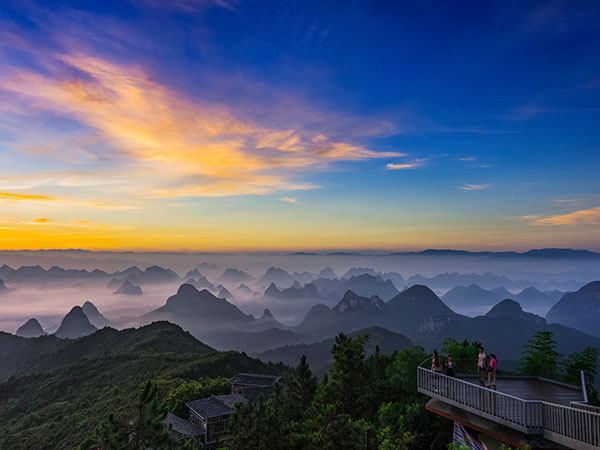 Your visit to Guilin is not complete without visiting the peak of the highest mountain in Guilin, the Yao Mountain.
Yao Mountain is 10 kilometers away from Guilin city area. Since this is the highest place in Guilin, it became the best place to have a panoramic view of Guilin's natural wonder.
Once you're on the mountain summit, your eyes will feast on the never-ending karst mountain ranges and the gentle-flowing Li River. The scenic view and the fresh air are unparalleled and precious memories you can bring back home.
You have two options when going to the peak of Yao Mountain; either you climb the stairs or ride the cable cars, which will take you to the top of the mountain in 30 minutes. If you opt to have your exercise, prepare for an hour hike to the top.
When going down, you may use the cable cars again or go down half of the mountain and use the slideway.
The Mausoleums of Jingjiang Princes is located at the foot of the Yao Mountain. This burial site is the home to more than 300 tombs of members of the Jingjiang royal family.
This area is the most massive and best-preserved mausoleum of rulers during the Ming dynasty.
At the foot of the mountain, you will find Guilin's Geological Museum, where you can see an excellent array of minerals, relics, rocks, and precious stones.
There is a tea plantation, 3.5 kilometers away from Yao Mountain, that offers visitors a personal tea-making experience from picking tea leaves, manufacturing, and tasting. The process will give you firsthand 1-1.5 hours of cultural immersion.
Cable Car Fee: $10
Entrance Fee: $1.5
Ride: Bus No.13 or 24, get off at Tombs of Prince Jingjiang stop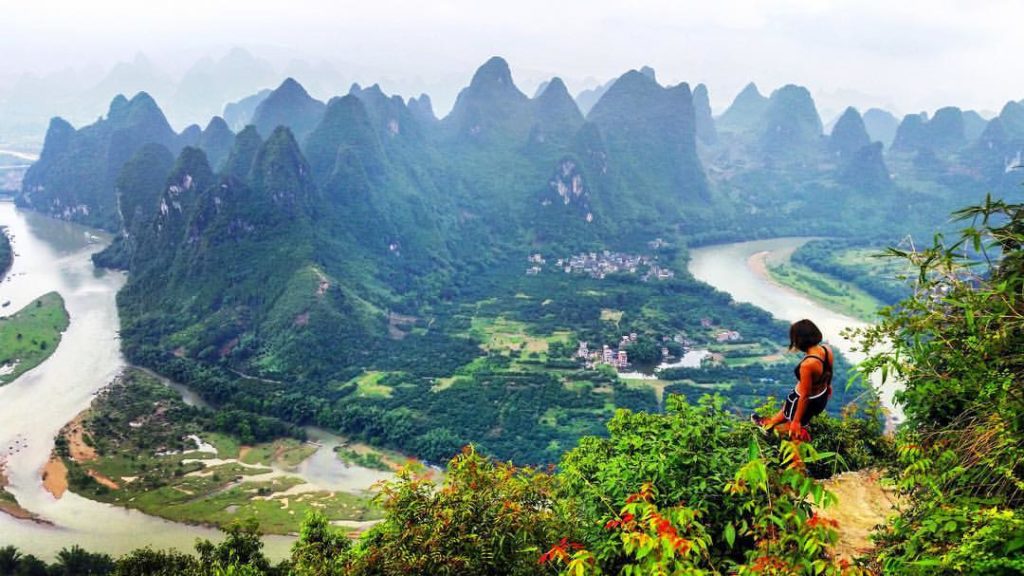 Day 4 – Jingjiang Prince City
A visit to Jingjiang Prince Palace or Jingjiang Prince City will let you travel back to olden times. This tourist attraction, located in the center of Guilin, is a one-of-a-kind tourist destination.
The palace, surrounded by natural and human-made sceneries, was the residence of Prince Jingjiang of the Ming Dynasty.
There's so much to see in this historical place, and it would be best to spend your fourth day in Guilin discovering China's history inside the walls of this city.
A 1,500-meter city wall encloses the whole area, which has four halls, four pavilions, and 40 smaller structures.
What to see in Jingjiang Prince City?
• Solitary Beauty Peak
Solitary Beauty Peak, which stands 217-feet from the ground, is a major tourist attraction since the olden times. This peak resembles a king, and when sunshine bathes this hill, it looks like it's wearing a purple gown and a golden belt.
On the eastern side of the peak, you can see Yueya (Crescent) Pond and the Sun Yat-sen Memorial Tower on its bank.
The Taiping (Peace) Rock is located on the western part, and this approximately 3 meters high cave houses various stalactites. You can find statues of Buddha and different flowering plants at the cave's mouth.
Dushu (Study) Rock is another cave located on the eastern part. This cave looks like a stone room with natural openings and beds inside, which is perfect for studying, hence the name.
The Snow Cave, located in the north-west, is famous because of its rock formations as white as snow.
If you want to have a picture of Guilin City, take the 306 steps leading to the top of the peak. On top, you can also see the Solitary Beauty Pavilion, which stands 7 meters high.
• Examination House
Don't miss the experience of taking ancient Chinese examinations inside any of the three halls of the examination house. Here, you can use a brush pen to have an authentic experience of becoming a successful candidate.
• Fortune Well
During the olden times, aspiring students taking the imperial examination believed that the well could bring them good fortune. Go, and make a wish, too!
• Chengyun Palace
Chengyun Palace served as an administration office after it was built in 1372. During the Japanese invasion, the invaders burned it down twice. That's why the palace you will see is no longer the original except for the carved balustrades and marble steps.
• Confucian Temple
The Confucian Temple is part of the examination halls. In ancient times, students would present their offerings to Confucius before taking the imperial examination. Just like the Fortune Well, the temple is also believed to bring fortune to someone.
• Couple Tree
A locust and a banyan tree intertwine resembling an embracing couple, with branches forming the shape of a tiger and a horse.
• Night Show
At night, enjoy a river night show on the banks of the Li River. You can walk for about 30 minutes or have a short tuk-tuk ride to reach the performance area. The show, which involves up to 600 performers, is about the love story of two exceptional singers in Chinese literature. Witnessing these live performances is a great way to listen to Chinese songs as they echo throughout the hills.
Ride:
• Take Bus No. 1, 2, 18, 22, 28, 89, 99, 100, 203, or 206, and get off at Lequn Crossing Station.
• Take Bus No. 2, 10, 11, 14, 18, 21, 24, 25, 28, 30, 203 or 206, and get off at Jiefang Bridge Station.
Entrance Fee: $10
Day 5 – Elephant Trunk Hill
One week Guilin itinerary wouldn't be complete without visiting the Elephant Trunk Hill. After all it is Guilin's symbol and landmark and it also looks like an elephant drinking water from the river.
What to see at Elephant Trunk Hill?
• Water Moon Cave is the semicircle formed between the elephant's legs and trunk. The Li River passes through this cave. At night, the reflection of the cave illuminates the picture of a bright moon on the waters. Visitors can see almost 50 writings on the cave's wall.
• Love Island is located in the center of the Li River, north of the hills. From this island, you can view Tunnel Hill and Pagoda Hill. Another sight to behold on this island is the "Two Moon in Li River" – the Moon Cave of Elephant Trunk Hill and a hollow cave on Tunnel Hill.
• Yunfeng Temple, one of the ancient temples of Guilin, is situated on the southwest of Elephant Trunk Hill. The second level of the temple houses relics from China's civil war. Some of the artifacts you can see are battle flags, cannonballs, and other armaments. According to history, a monk of the Tang dynasty, named Jianzhen, lived in this temple before.
• At night time, visitors are entertained by a night show that tells the "Legend of Elephant Hill." This fantastic show uses a projection screen resembling the body of the Elephant Trunk Hill. The show, using hypermedia, lasers, and light, projects Guilin's natural wonders like trees, the beautiful river, and mountains.
Entrance Fee: $8
Ride: Take Bus No. 2, 16, 23, 57 and get off at the Xiang Shan Gong Yuan
Day 6 – Yubo Shan
Climb to the top of the 700-feet tall Yubo Shan (伏波山 'Subduing Waves Hill') and savor the irresistible scenic view of any poet, artist, and visitors.
There are attractions at Yubo Shan: Returning Pearl Cave and the Thousand Buddha Crag.
Returning Pearl Cave is only accessible by boat and is connected to the Thousand Buddha Crag, which houses more than 200 Buddha statues.
According to legend, a dragon lost its pearl while sleeping inside the cave. However, the pearl was returned, hence the name.
Entrance Fee: $3.10
Ride: Bus No. 2, 203, or 206
Day 7 – Cultural Immersion with Chinese culture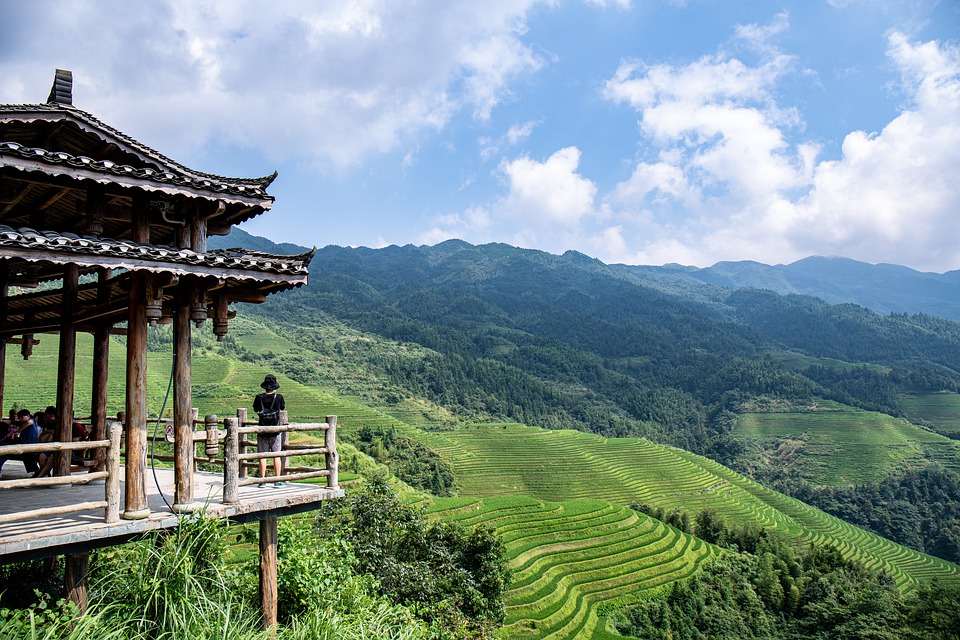 Try Guilin Rice Noodles and Zongzi
Guilin is also famous for its rice noodles. Plain rice noodles are made from rice flour and are served round or flat. They taste soft and smooth. This native delicacy from Guilin is famous throughout China, why not sample the authentic Guilin rice noodles right where it originated from?
Chongshan Rice Noodles and Youyixuan Horse Meat Rice Noodles are two of the oldest noodle houses in Guilin that you need to try. Youyixuan Horse Meat Rice Noodles, which opened in 1896, is located in Lequn Road, near Lequn Food Market, Zhongshan Middle Road. While Chongsan Rice Noodles, with many branches around Guilin, was opened in 1986.
Zongzi is a traditional Chinese meal, made of glutinous rice filled with different fillings and wrapped in bamboo or reed leaves. Guilin's traditional Chinese rice-pudding is stuffed with taro, pork, preserved pork, and chestnuts.
You can spend the rest of the day shopping or just walk around the city. That being said, you can also make a tours to see the Longji Rice Terraces which is called Longsheng Rice Terraces, a large scenic area and a must-see also.
Another must-dos on this one week Guilin itinerary are the river cruise or the bamboo raft in the Xingping river and rock climbing on those gorgeous karst mountains in Guilin.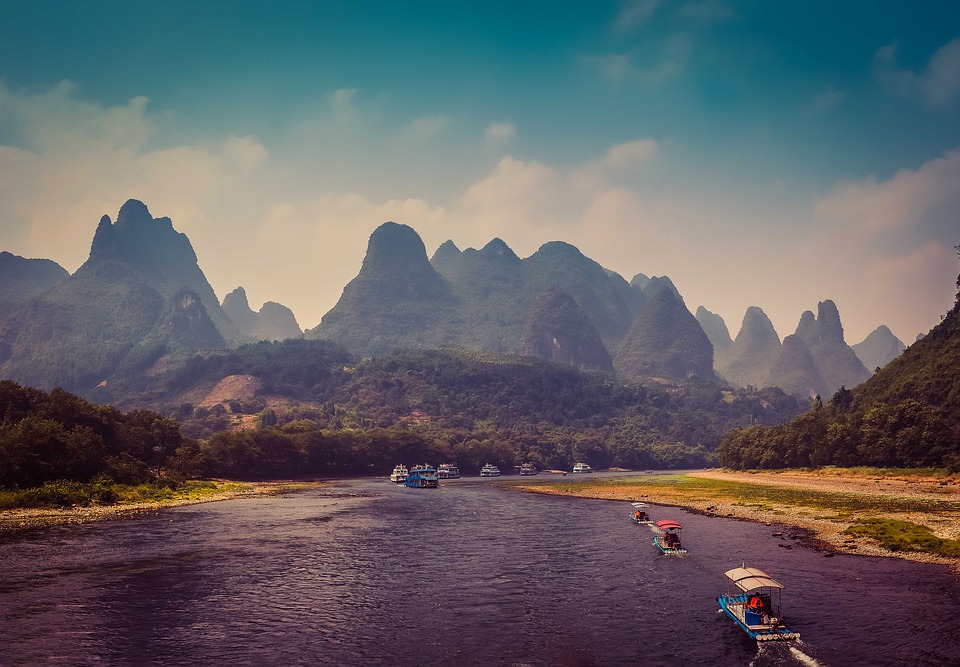 Where to Stay in Guilin?
There are good hotels in Guilin but if you're looking for an affordable place to stay, check out This Old Place Int'l Youth Hostel. The location is ideal if you're looking for a place near dining areas, bus stations, and some scenic spots like the Twin Pagodas. It is also a great spot to start your day trip in Yangshuo and Guilin tour.
I hope this one week Guilin itinerary helped you.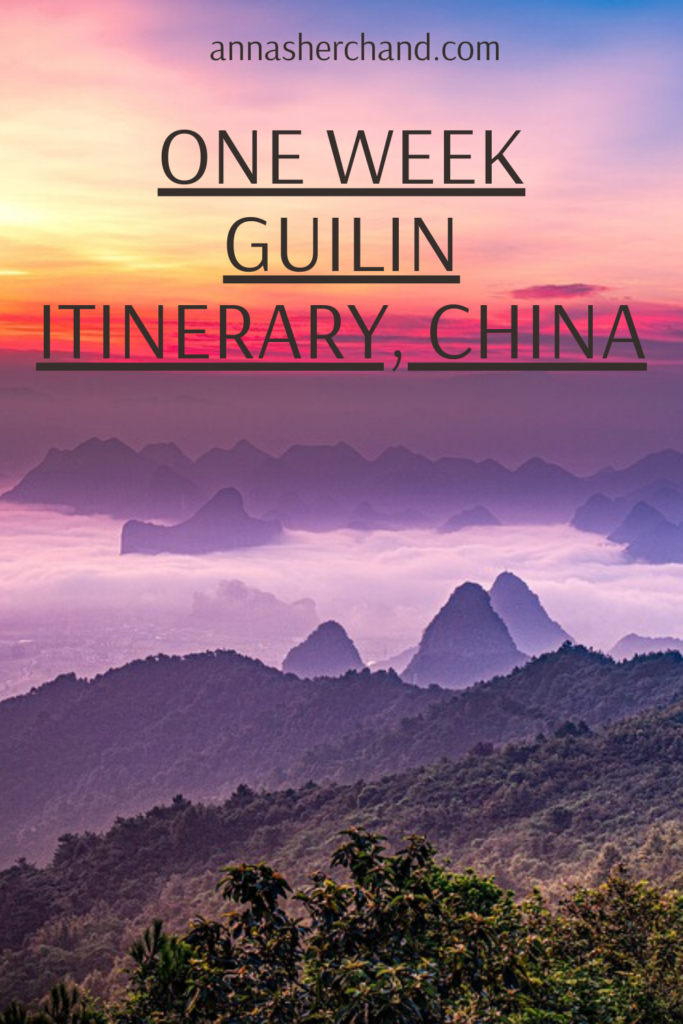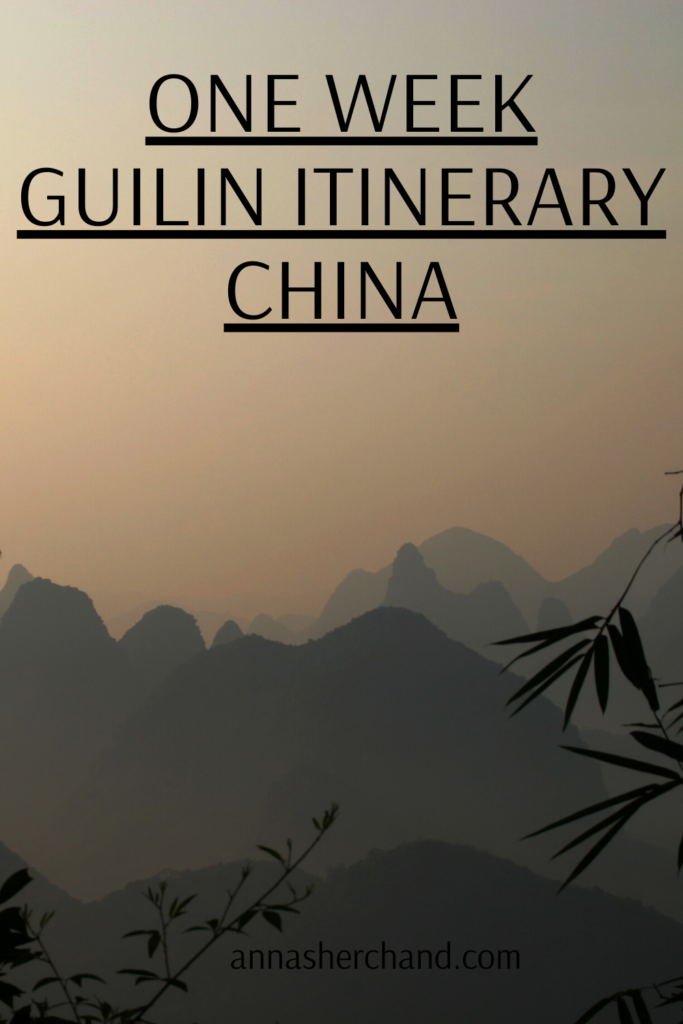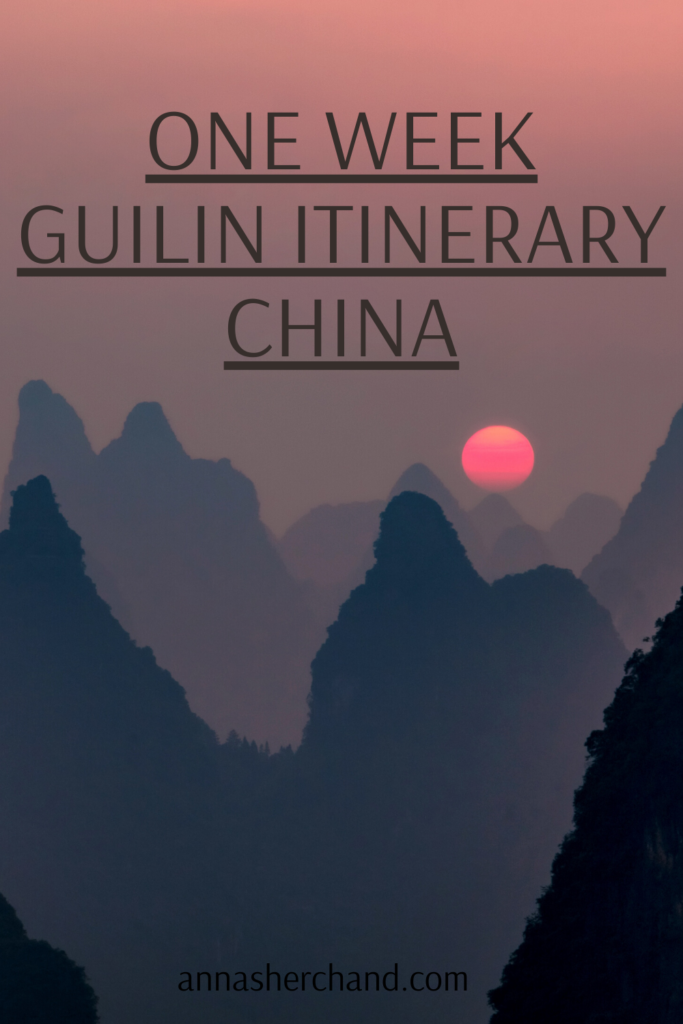 Let me know in the comments:
One week Guilin itinerary in exciting country China