After some cold but nice time exploring Poland, it was time to visit somewhere warm so I flew to Montenegro. My country number 57. It was an affordable flight from Krakow to Podgorica and I stayed for 2 days. So in this blog, I will cover how to solo female travel to Podgorica, where to stay, what to see, and eat & day trips from here.

Another reason why I flew to Podgorica is that you could take a bus across to Albania. Read more here on solo travels from Podgorica to Tirana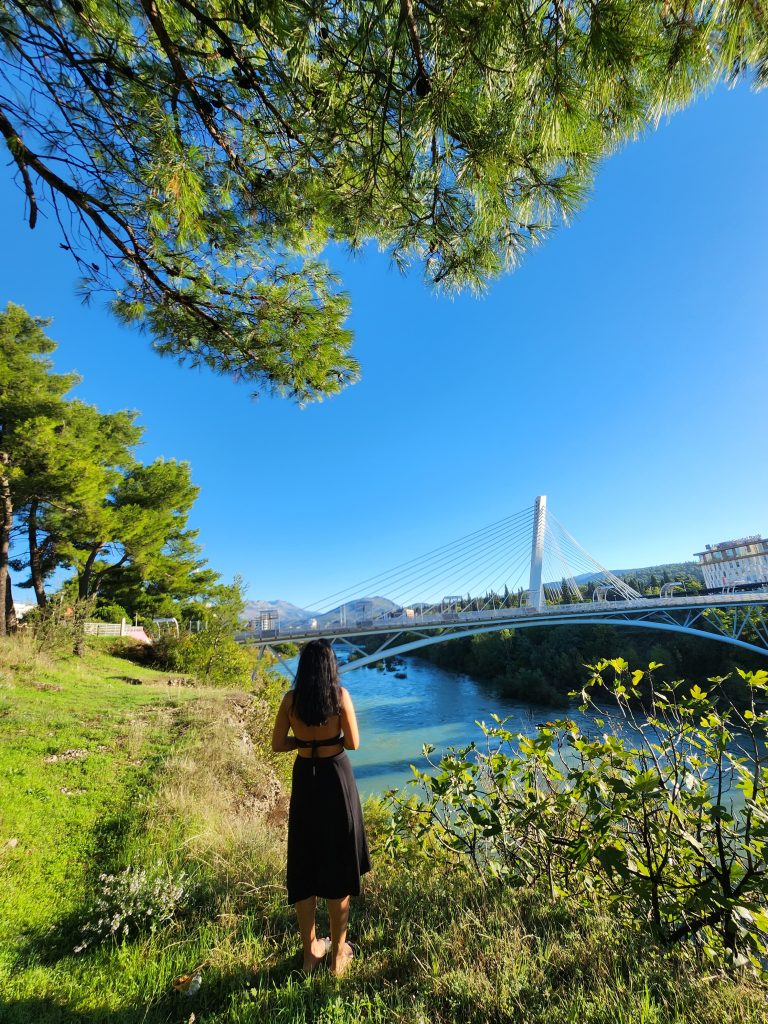 Solo travel to Podgorica
Podgorica is the capital city of Montenegro and was previously known as Titograd (1946–92) city, the administrative center of Montenegro. It is situated in Southern Montenegro near the confluence of the Ribnica and Morača rivers.
The city was largely destroyed during the bombing of Podgorica in World War II and while not much remains today, you can still get a feel for its Ottoman past.
So if you are hesitating about whether to go or not, I hope this Solo female travel to Podgorica helps you make up your mind and that you will go and experience this city.
How to get to Podgorica?
Traveling alone is quite different, as opposed to moving with a tour company. Hence if you are traveling alone, you have multiple ways to get to Podgorica via flight, bus, train, driving car, ferry, or cruise ship. It all depends on your preferred mode of traveling and budget.
That said, it is easy to get to, especially from within Europe. As an example, there are numerous short flights from London or most major cities as I flew from Krakow. The main airport is called Podgorica Airport and when I arrived at 7 pm there were plenty of taxis outside to get to the accommodation.

If traveling from the neighboring country Tirana, Albania, there is an option to go to the local bus terminal and buy the ticket there in person (only takes cash) but I discovered there is more benefit in buying it online.
1. They take credit card
2. I had more departure options because I could compare ticket prices between 3 bus websites and buy one instantly that suited me.
3. These websites were also selling some last-minute cheaper bus tickets although they get sold in minutes so, you have to be quick in that regard.

There are many online bus companies to buy tickets from but I recommend three below that I personally used and had no problem with.
1. Busticket4.me/EN
2. geybybus.com
3. Flix bus
All 3 websites offer an English language option and take debit/credit cards. No need to go to the bus station.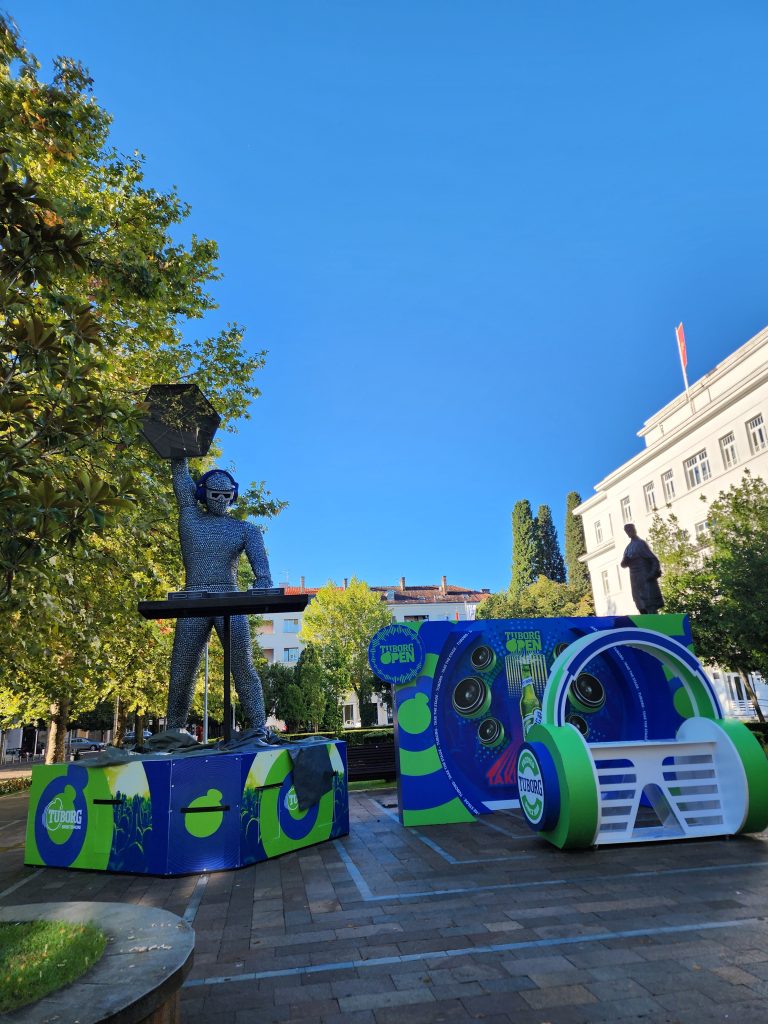 Where to stay in Podgorica?
As solo female travel to Podgorica, it may seem a little daunting where to stay because not many people visit this city but there are numerous choices when it comes to accommodation from all five stars hotels to hostels. Make sure to book with a legit website such as Booking.com Most hotels and hostels also offer free WIFI and here are some places I suggest:
To meet other travelers/backpackers
Youth Hostel
Stars Aspava Blue HOSTEL, Castelomi, Max Apartments
Mid Tier
Boscovich Boutique Hotel, Hotel Marienplatz Podgorica, Hotel Podgorica
Luxury
voco – Podgorica, an IHG Hotel, CUE Podgorica, Hilton Podgorica Crna Gora
Where to go in Podgorica?
If you are in the mood to meet other travelers then join a free walking tour that gives you a broader perspective with stories about the city. It runs on a donation basis so just book yourself and arrive on time and tip at the end.
That said though some days you may not be in the mood to be in the group so in that case, you will be pleased to know Podgorica is a walkable tourist destination, and the best way to understand the place is on foot.
I have written this Solo female travel to Podgorica travel guide exactly how I spent it. You may change it around to what suits you best. Probably a good idea is to head to the indoor museums if it is rainy or explore outside if sunny.
The top attractions to visit in Podgorica are: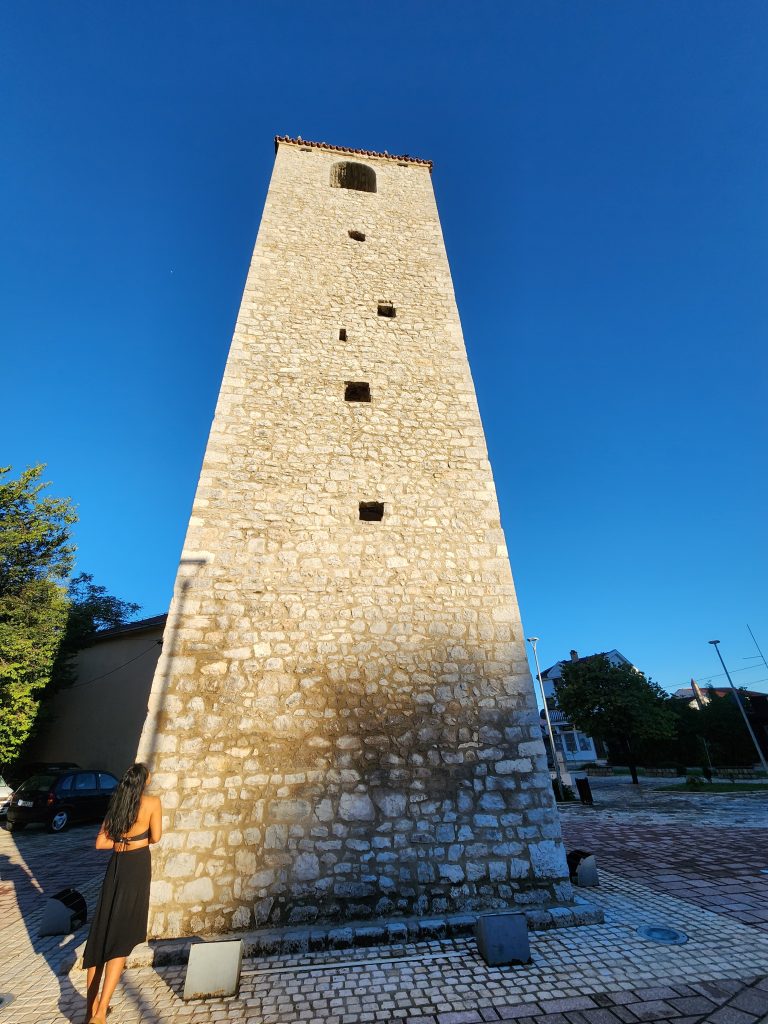 1. The Clock Tower
The centuries-old Clock Tower, built by the Turks in 1667, dominates the old town. It is a freestanding 19m tall stone but you can't go in or up.
It is an important cultural landmark of Podgorica, Montenegro, protected by law. The clock was renovated in January 2012, when a new electric mechanism was installed, as the old one is kept for historic significance only.
2. Millenium Bridge
Millennium Bridge over the Morača River is one of the symbols of modern Podgorica. This is what civil engineer art looks like and at night it lights up too. Below the bridge is a small open-air cafe which is run by some young people and from 9:00 in the evening there is music and often karaoke also. There is another bar upstairs with swings. Alternatively, a great way to start your morning is by drinking coffee under the bridge.
3. Vladimir Vysotsky Monument
This is a decent monument to honor the famous Russian poet, actor, playwright, and filmmaker Vladimir Vysotsky, who resided in Podgorica while working. With the background of the Millenium bridge, this can be one of the cool spots to check out.
4. Old Ribnica River Bridge
The Old Bridge over the Ribnica is the oldest bridge in Podgorica, Montenegro. Absolutely worth going to see this bridge and the confluence of the rivers. It's a beautiful, historical area and it's a piece of peace smack bang in the heart of Podgorica's center. Extremely photogenic and beautiful from all angles. The surrounding green area is delightful too, no wonder why this is local's favorite romantic place.
The bridge was built during the period of Roman rule and underwent a major reconstruction in the 18th century AD. The reconstruction was funded by Adži-paša Osmanagić and since then the bridge is also known as Adži-paša's bridge.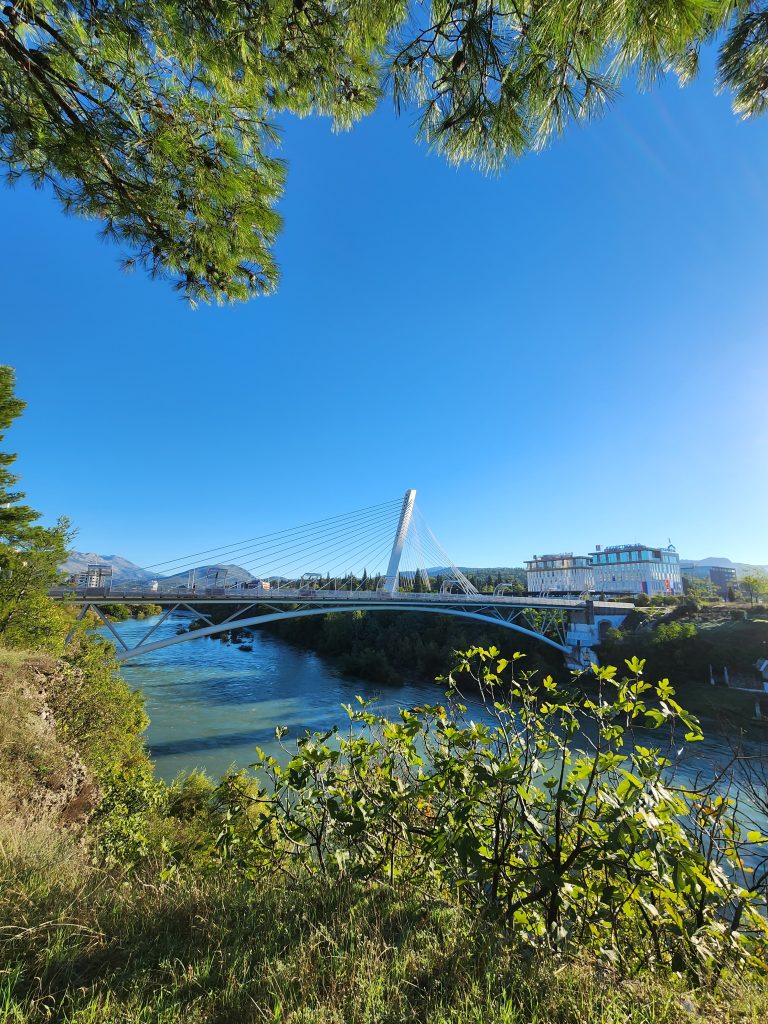 5. Cathedral of the Resurrection of Jesus Christ
This cathedral is a rare chance to admire an Orthodox church. In Montenegrin, it is called Saborni hram hristovog vaskrsenja. It is so colorful and artistic inside and the beautiful interior is breathtaking. The main chandelier is stunning and the Iconography is dominant and well-preserved. It is however 27mins walks from the clock tower or 5 mins by taxi.
6. Dajbabe Monastery
15mins car rides away from Vodopad Nijagara and you can get to Dajbabe Monastery. The monastery was founded in 1897. It is located in a cave on Dajbabe Hill (Dajbabska Gora), which raises above Zeta valley.

Once there a house among hundreds of olive trees emerges, looking quite modern and uninteresting. Inside, however, there are impressive catacombs that hide a lot of history. They also have a small gift shop as well on the premise.

You have to enter a foyer before entering a series of caves. The caves form a cross and there is a great legend about you can easily find online. It's a unique place!
7. Palace Complex Kruševac
Located about 12 mins walk from the old town is Petrović Castle which is the former winter castle of King Nikola I Petrović. It is surrounded by a beautiful park forest and during the summer months, the castle turns into an art gallery, since 1984. Since 1985, the castle has officially been part of the center of contemporary art, which houses around 1,500 works of art. The gallery is located on the second floor of this complex, while the first floor is used by the descendants of the Petrović dynasty, more precisely the heir Prince Nikola Petrović, who stays here when he visits Montenegro. The castle has the status of a cultural monument in Montenegro and as such is protected as a cultural heritage. .
The gallery is hidden in a lovely park next to the US Embassy. Located in an old mansion makes it is a wonderful place to sightsee during a visit to Podgorica. Admission is free.
8. Church of the Holy Heart of Jesus
This is a Slovenian Salesian mission church, located 25 mins' walk from the old town. The whole place has a grotesque feeling, you could call it an industrial church!
It is one of the first churches built in Yugoslavia, and the government did not allow traditional style. So the brutalistic church is a reminder of the time and regime of the past. It is amazing to see how much work has been done since the Salesians came into town.
9. Starodoganjska Mosque
Starodoganjska Mosque is located in Stara Varoš 3 minutes from the Podgorica old town. If you're traveling on a budget, you'll be pleased to hear admission is free. Once you've explored here, you can wander around Stara Varoš and see how locals live.
10. The Osmanagic Mosque
Only 5 minute walk from Starodoganjska Mosque you can arrive at the Osmanagić Mosque. It was built in the 17th century and its courtyard houses the Tomb of hajji Mehmet-Pasha Osmanagic The temple, which was built in the 17th century, was made entirely of stonework. 250 congregations can pray indoors at the same time.

It is one of the two Ottoman heritage Mosques still open for worship. The other is Iskender Sergeant Mosque.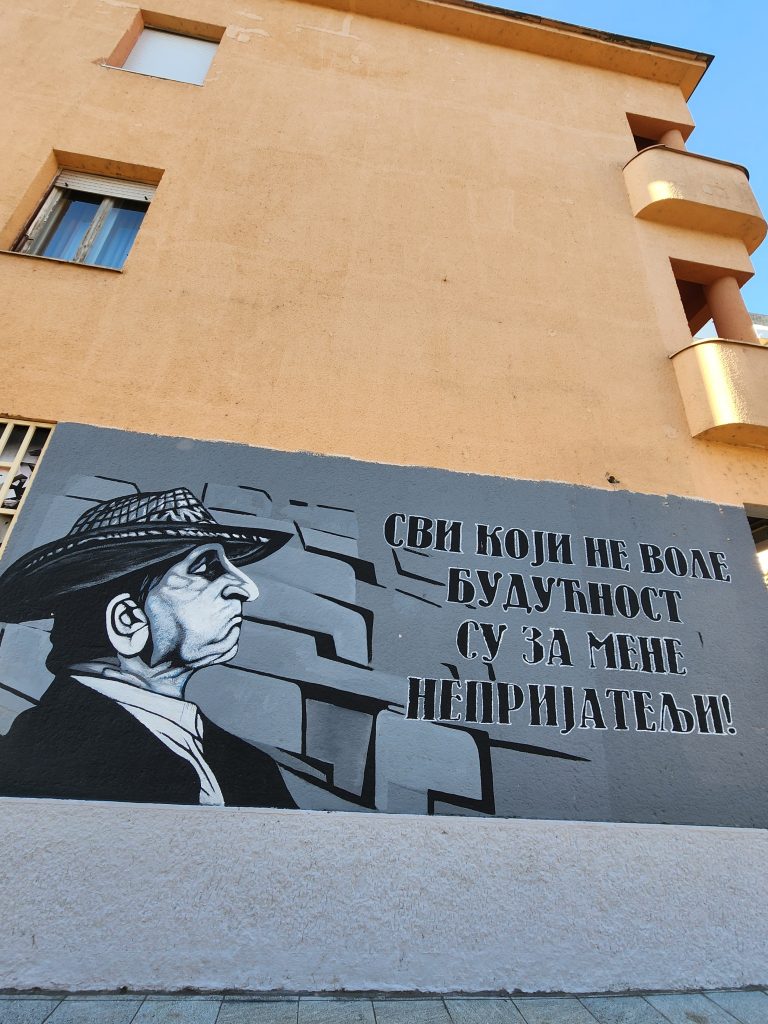 Day trips from Podgorica
Solo female travel to Podgorica doesn't have to limit to the city when you can explore beyond. For example, you can go from Podgorica to Tirana on a bus and on the way visit Lake Skadar.
In the Zeta-Skadar valley south of the city, Lake Skadar National Park is home to medieval monasteries, beaches, and birds like the Dalmatian pelican. Skadar lake is beautiful and recommends hikes or at the very least a day to explore the area.
1. Ostrog Monastery
Ostrog Monastery is about an hour's car ride from the old town. It's a 17th-century monastery and the views from the top are incredible. You see fantastic mountain ranges, filled with greenery, it is mesmerizing. Also, the architectural magnificence of this is similar to Petra, in Jordan. Built into the wall, it is insanity. And, it gives you a few stops in the day when you walk up and it's free to visit.
You can take a train from Podgorica to Ostrog, and then hike up the mountain. Not many people do it this way as many go on a tour and also note it's a 1.5 – 2 hours hike so fair enough. But if you are into fitness it is worth doing it for the views only.
Alternatively, you could also drive up, park, and walk some flights of stairs.
2. Enjoy some wine in Vineyards
Podgorica has one of the biggest vineyards in the southern part of Europe. So if you are looking to spend some time at some wineries and vineyards, here are some of the recommended places to do so. For example, Djukic Winery not only is a winery but also features accommodation with a restaurant, free WiFi, and a 24-hour front office. It is situated in Podgorica, 4.5 km from the Church of the Holy Heart of Jesus.
Alternatively, some other options are Jul-Plantaze Vineyard, Bogojevic, Vinarija Buk, Monte Grande Winery or Knežević Estate.
3. Vodopad Nijagara (Waterfall Niagara Podgorica)
From the clock tower, it takes about 12 mins on a taxi for you to arrive at Vodopad Nijagara. The waterfall is a bit intense but the river is really calm and peaceful until it reaches that point. Access is from the restaurant Niagara, and you can also park your car there for free. The food is really good there and it's so nice to sit next to the river's edge while you eat lunch.

I recommend wearing good walking shoes if you plan to walk on the rocks near the falls so you don't slip.
4. Medun
Medun was erected between the 4th and 3rd centuries BC and is also known as Meteon, this ancient town was the seat of the Illyric tribe Labeata who ruled the Skadar basin. Today only some parts of the defensive walls are visible, and the town remains mostly belongs to a medieval Turkish fortress.
The fortress remains St. Nicholas' Church, which was built in the 18th century, and this historic location is also known as the birthplace of Marko Miljanov, Montenegrin hero and writer.
When you go towards Kolasin, at the exit from Podgorica there is a signpost for Medun – Kuci area. A good paved road leads to Medun, and the city museum itself is 13 kilometers away. There is a signpost, and it cannot be missed. The museum has a large parking lot and is open every day from 8 am to 4 pm, the entrance fee is 1 euro.
The ruins are a bit underwhelming. But Medun is worth a stop on the way to Bukumirsko Jezero or just driving Panorama Route #4

Next to the museum is a fortress with a magnificent view of the entire area. You can climb the fortress in 5 minutes. The internship is very steep but secured by a good fence. The ambiance is exceptional, and the view is great.

Recommend visiting early in the morning as there is no shade on the fort. If you do not want to visit the museum, then it is even nicer to visit the fortress in the evening.
5. Bay of Kotor
Kotor is a beautiful town with a bay, plenty of restaurants/cafes, old town, and comes with a couple of places to hike. If you have a lot of time and enjoy driving or flying out of Podgorica, you could also drive down to Kotor Bay. Google maps take about 2 hours but my guess is longer due to the lengthy road.
6. Tara Canyon
Alternatively, 3 hours of driving up north is Tara Canyon. This is where the locals go for less known nature. It is a very picturesque place where you can raft on the Tara River, Zipline at the Tara Bridge, and the Durmitor National Park.
If you don't feel like exploring alone, you can join any of the private or group tours below.
Is Podgorica city safe for a solo female traveler?
First of all, let's establish the understanding of traveling is brutality! It forces you to trust strangers and to lose sight of all that familiar comfort of home and friends. You are constantly off balance. Nothing is yours except the essential things – air, sleep, dreams, the sea, the sky – all things tending towards the eternal or what we imagine of it. If we are okay with it, we will adapt, and we will survive.
That being said, I felt safe in Podgorica as well as on the bus from Podgorica to Tirana. Maybe it made a difference in my safety because I traveled on the morning bus but overall I found the city to be welcoming and friendly. The hostel owner where I stayed was helpful Turk, he even walked me and another girl to the taxi stop, found us a taxi, bargained for us, etc. That's why it is one of my recommended places to stay above.
So yeah unless there is a drastic change in the country's political situation, pandemic, or some natural disaster it is safe to travel to Podgorica. Just remember to apply a general rule of thumb i.e. Don't walk down that dark alleyway on your own, respect the culture, don't argue about religion, dress modestly, trust your instincts, and don't be afraid but be cautious.
How to get around Podgorica?
Once you are near the old town travel is easy on foot as most must-see things are in/around the city. What I found during my short solo female travel to Podgorica is that the locals were friendly and kind. I needed to print a bus ticket and at 7 am on a Sunday everything was shut. I also wasn't sure if the bus stop will have any facilities open either so while walking in the old town l noticed a pharmacy was open. So I went in asking if it is possible to print a bus ticket and the lady there printed it for me and did not accept my money for it! I am truly grateful to meet some of these kind and generous souls! And If you are taking day trips there are a few options available you can either book a taxi for a few hours, take a tour or get on a bus.
How many days in Podgorica is enough?
I would say 3 days is best for not rushing but one day in Podgorica is the minimum. You will most likely start your journey in the old town, explore major spots, then get up to the food and drinks and maybe squeeze in a day trip or two.
Do I need a visa for Podgorica?
If your passport is from Australia, you can stay up to 90 days in Podgorica, Montenegro. I highly recommend checking the official website online or with your local embassy to find out if your country requires a visa.
When is the best time to visit Podgorica?
If you have limited time, anytime is best to visit Podgorica IMHO but if you are after the best weather to enjoy this historical destination, it would be between April to October. Basically summer time but also shoulder seasons before and after summer when the weather is dry and the temperature is warm yet comfortable. Also, shoulder season would probably offer better accommodation rates.
Local currency
The official currency is the euro. You could withdraw euros from ATMs on arrival at the airport or in the city. However, remember to consider bank fees from your bank and the ATM withdrawal fee.
If you are worried about language, English is widely spoken especially in the tourism and hospitality industry.
Must-Have Travel Apps for Podgorica
Google Maps for ease of finding routes, and offline use.
Google Drive, Calendar for time management, and storing pictures.
What to eat in Podgorica?
Podgorica offers food and drinks for every budget with its various cafes, restaurants, and takeaway shops. Here are my recommendations on must-try food in Podgorica starting with the Traditional Burek (not from the cafes, try the original ones made on the fire pits – it tastes a little smokey but more cripsy), Brav u Mlijeku (Lamb in Milk), Kačamak with kajmak (Balkan porridge), Njeguski Steak, Buzara, Crni Rižot (Black Risotto), Cevapi, Palačinke (Pancakes).

And don't forget the national dish of Montenegro – Prosciutto, especially the Njegusi prosciutto, along with different types of sausages, hams and other fine chopped, smoked meat.
Recommended places to eat are Porto Montenegro, Masala Art, Nacionalni restaurant Stara kuća, Steakhouse Grill, Fish & Meat, or Restoran Bar Desetka Podgorica.
What to drink in Podgorica?
Aside from wine that Montenegro is famous for, rakija is a rather popular traditional alcoholic drink Montenegrins boast of, along with beer and mead. I tried Montenegro liquor and it is so easy to drink and one of my fav now!
Some recommended bars are Street Bar, Kokotov Rep, Libre Cocktail Bar, Mr. Cool Night Club, Beertija Pivnica & Prodavnica Piva, Montenegro Pub, Beertija, Biro or Kontra bar.
I hope this Solo female travel to Podgorica guide helped you in exploring the capital city of this beautiful country, Montenegro.
Where are you headed in the Balkans next? If you are after other Balkan countries travel guides check out some suggestions below.
Kotor Travel guide coming soon.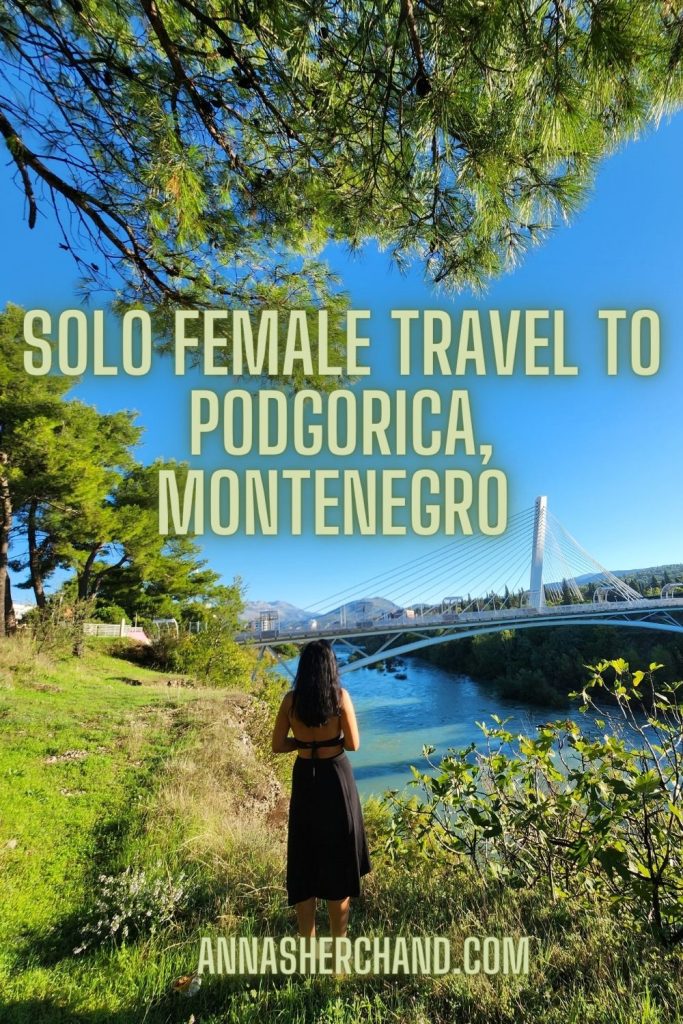 Let me know in the comments:
If you have any questions about Solo female travel to Podgorica
Solo female travel to Budva, Montenegro
Warsaw by Train covers warsaw travel tips
Check out One day in Luxembourg, western Europe
Solo travels from Podgorica to Tirana
Day trip from Zurich to Liechtenstein
Fiji solo travel guide
Australia east coast must-see
Master Sydney travel guide
Solo travel guide to Brisbane
Exploring Adelaide the best way is a must-read
Important travel tips for Uluru trip
Melbourne travel guide for first timers is here.
Melbourne day trips in winter
Day Hikes in Melbourne
Weekend getaway? Check out things to do in Ballarat
Perth solo itinerary
Top 5 must do in Darwin, Australia
How to go from Dublin to Howth
Read a recent day trip to Zaanse Schans from Amsterdam
How about a solo itinerary to Canberra– Australia's capital city?
Solo trip to Peru, travel tips to South America
Travel tips to Central America
Bucket list to Croatia travel guide coming soon
Going to Vietnam after Australia? Check out the 7 days Hanoi travel guide.
Check hotel prices and book it through trusted Agoda, or Booking.com
I have detailed travel resources right here. Save money, learn what and how.
If you like this article, follow my adventures on Instagram, Facebook, YouTube, Twitter, and Pinterest, but most importantly sign up to my e-mail list to keep up with updates and travel posts!
Solo female travel to Podgorica, Montenegro