Warsaw was 5-6 degrees and if you know me, I am not a fan of winter. So after spending a couple of days in Warsaw, I wanted to travel South – somewhere warm but not another country yet. It was then I decided to visit Krakow city. So if you are looking for how to go from warsaw to Krakow by train, continue reading as I cover that and where to stay in Krakow, what to see/do/eat, and more.
Krakow also spelled Cracow is the capital city of Małopolskie województwo (province) located in southern Poland, lying on both sides of the upper Vistula River. It has a history dating back to the 7th century and is the former capital city of Poland that has a lot to offer. It's like the jewel in the crown of Poland. One of Europe's best-kept secrets!
It borders Germany, Czechia, and Slovakia to the west, and is within easy access to at least half-a-dozen other countries to the south.
Another reason why I went to Krakow was that it offered plenty of cheap options by road, rail, and air to over 100 destinations in the EU and beyond. It may not be a popular route many follow to head to the Balkans next but it worked out for me in this instance!

Kraków is considered by many to be the cultural capital of Poland and in fact, it was named the European Capital of Culture by the European Union in 2000. The city has some of the best museums in the country and several famous theaters and is known for its well-preserved medieval core and Jewish quarter.
So if you are hesitating about whether to go or not, I hope this Warsaw to Krakow train guide helps you make up your mind and that you will go and experience this magical European city.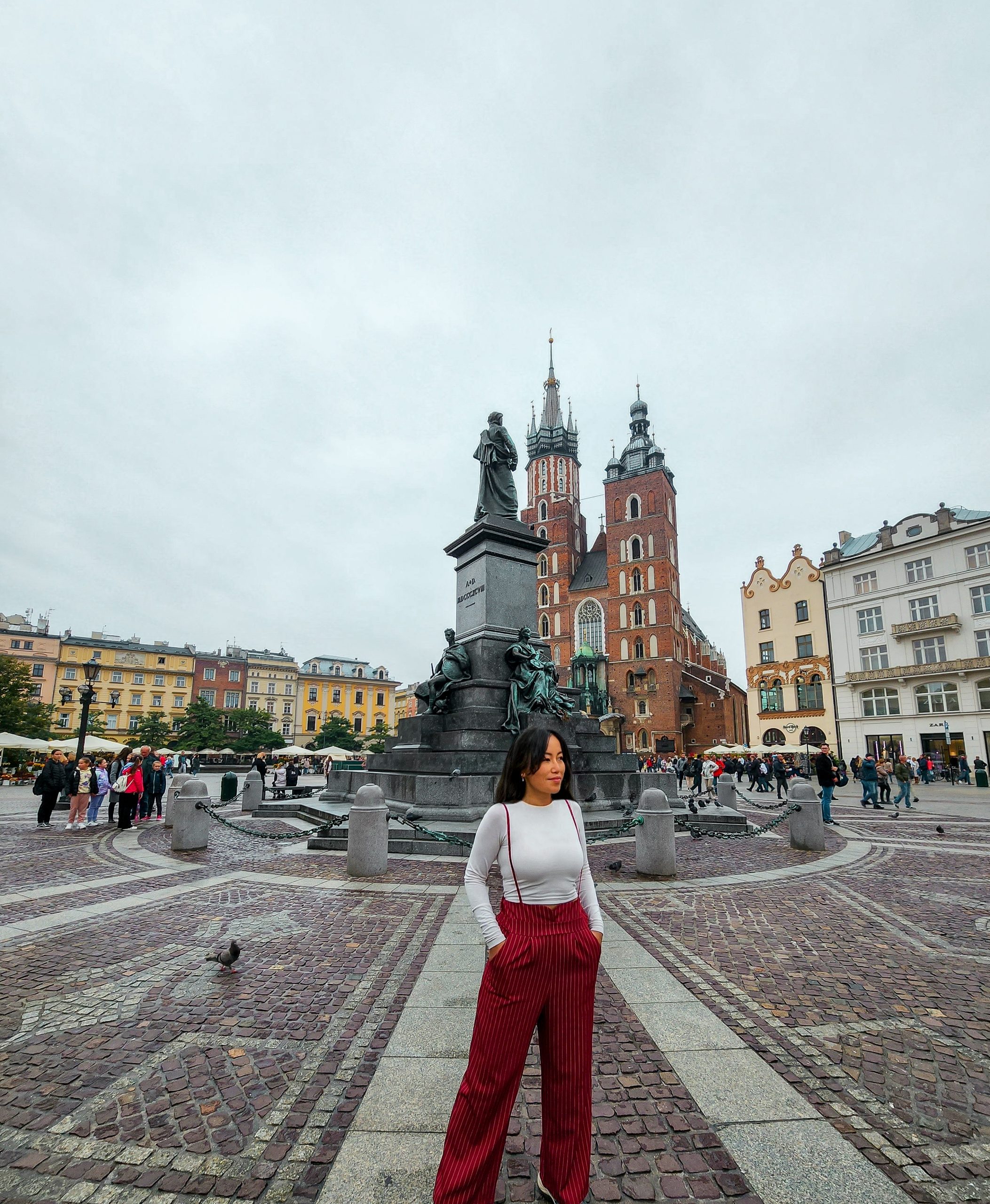 How to go from Warsaw to Krakow by train
The distance between these two cities is roughly 300km away. There are around 18 trains every 24 hours running between Warsaw and Krakow Central, which usually take 2 hours 42 minutes to complete the approx 300km journey.
The best way to find cheap train tickets from Warsaw to Krakow is to book your journey as far in advance as possible and to avoid traveling during rush hour.
One of the locals gave me a polish website to buy rail tickets online but I wasn't too sure of the time so I chose to just buy it at the station. If you are interested in buying online check out this website-
If you are heading out to the train travel first, you have to get to Warszawa Centralna train station. PKP Intercity operates a train to Krakow Glowny hourly and you can buy tickets there, while the average ticket price for this journey costs around 10 Euros for 2nd class and 18 Euros in 1st class, you can also find the cheapest train ticket for as low as 1 euro! Sometimes these are standing tickets that are cheap but you would have to stand all the way to Krakow!
If you plan to return to Warsaw make sure you purchase the return tickets, not just one way.
Trains have separate compartments and places to keep your luggage above the seats.

With that said, Warsaw is easy to get to especially from Europe. As an example there are numerous flight from London or the train from Vienna to Warsaw usually takes 9 hours 27 minutes on average.
Solo travel from Warsaw to Krakow by train
Now that we got the practical tips out of the way, let's get into where to stay in Krakow, the best places to visit in Krakow, and more travel tips.
Where to stay in Krakow?
Once you've arrived from warsaw to Krakow by train, you will temperature a bit bearable and more people outside or maybe that was just my experience. Anyway, when it comes to accommodation there are numerous choices in Krakow from all five stars hotels, mid their hotels to hostels. Make sure to book with a legit website such as Booking.com Most hotels and hostels also offer free WIFI and here are some places I suggest:
To meet other travelers/backpackers
Youth Hostel
Mid Tier
The Loft All-Inclusive Hotel Adults Only
Luxury Hotels
DoubleTree by Hilton Krakow Hotel & Convention Center
Bachleda Luxury Hotel Krakow MGallery Hotel Collection
Where to go in Krakow?
If you are in the mood to meet other travelers then join a free walking tour that gives you a broader perspective with stories about the city. It runs on a donation basis so just book yourself and arrive on time and tip at the end.
That said though some days you may not be in the mood to be in the group so in that case, you will be pleased to know Kraków's gorgeous Old Town is one of Europe's most walkable tourist destinations, and the best way to understand the place is on foot.
I have written this Solo female travel to Poland – Krakow travel guide exactly how I spent it. You may change it around to what suits you best. Probably a good idea is to head to the indoor museums if it is rainy or explore outside if sunny.
The top attractions to visit in Krakow are: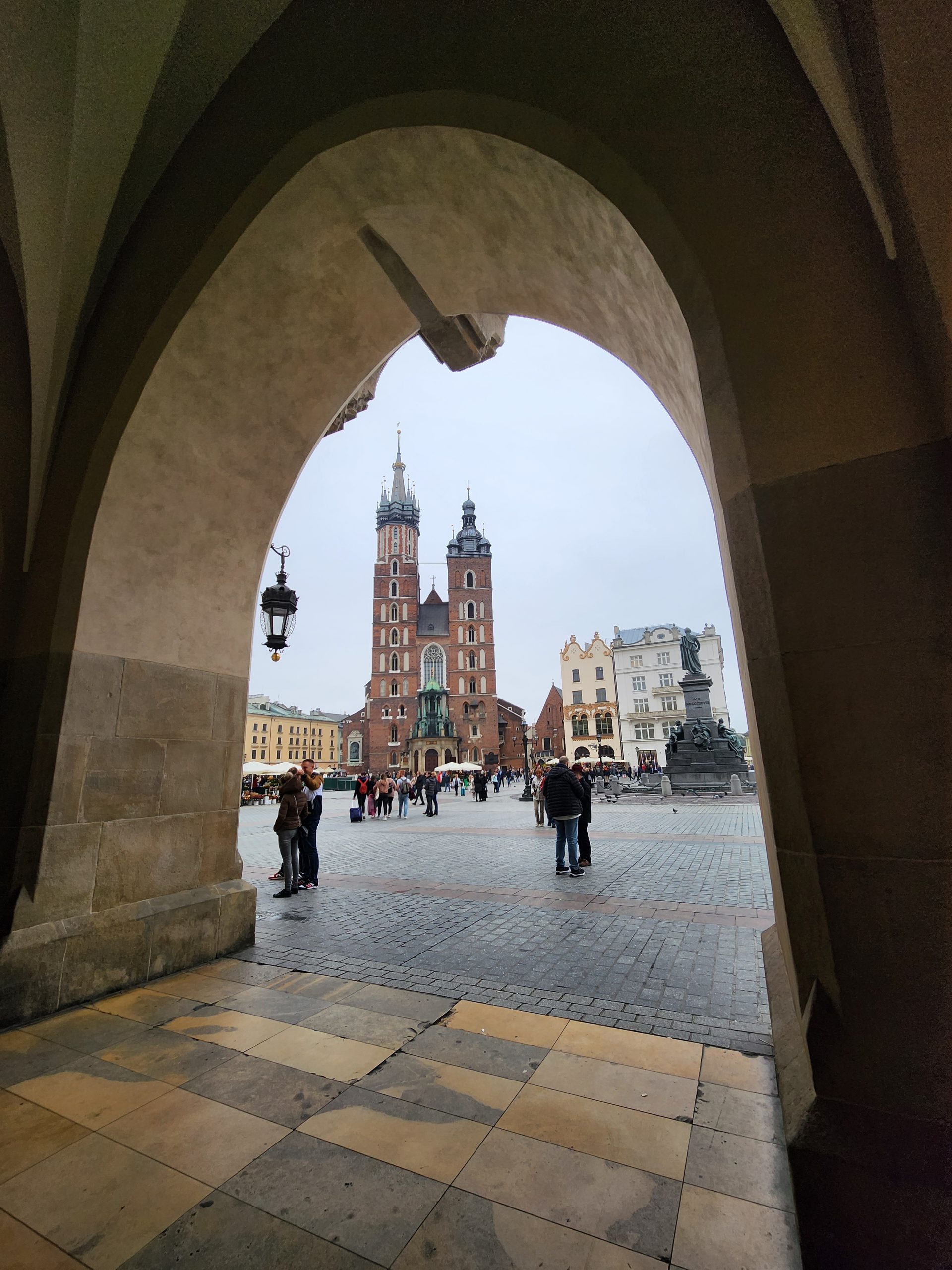 1. St Mary's Basilica
It is one of the most magnificent churches I have seen and a great example of Polish Gothic architecture. The interior is beautiful, the highlight for me being the sumptuous altarpiece created by the German Master Carver, Viet Stoss, which took 12 years to create in Linden Wood.
The reduced entry ticket cost to St Mary's was 8 złoty per person (currently €1.70). It is photogenic both on the inside, as the ceiling is dark blue and well embellished, and on the outside, as the difference in the height (there's a legend related to that) of the towers makes it of course more attractive for architecture fans.
It's worthwhile buying a separate ticket for the tower. After climbing the 271 steps to the top, you're rewarded with a great view of the main town square (Rynek Glowny) and can really appreciate its size.
2. Rynek Glowny Central Square/ Market Square
This main market square is the largest medieval market square in Europe! Its 40,000 square meters are truly astonishing, designed in 1257, is considered Kraków's city center, and has an important historical, cultural, and social significance.
It's a touristy spot for sure, but it's just so lively, I absolutely liked the vibe even though it was a cold morning! There are tons of great outdoor restaurants and it's not hard to find a table. There are also horse carriages for rent, the cloth hall for souvenirs, and little stands with trinkets!
The gigantic town square is the centerpiece of Krakow's UNESCO-listed Old Town. It is big, and beautiful, with tons of bars, and café shops and has that special feel of centuries of history to it. Definitely, a place to see and enjoy.
Don't miss the trumpet player every hour from the watch tower.
3. Stare Miasto/ Old Town
Stare Miasto, Krakow's vibrant old town is packed with traditional Polish restaurants, hotels, and antique and souvenir shops.
The 13th-century merchants' town is home to Europe's largest market square and apart from above also offers numerous historical houses, palaces, and churches. It has been a UNESCO World Heritage Site since 1978.
Some of the must-sees near Krakow Old Town (Kraków Stare Miasto) is Krakow Town Hall Tower (Wieza Ratuszowa w Krakowie), Gallery of 19th-Century Polish Art (Galeria Sztuki Polskiej XIX Wieku w Sukiennicach) and Krzysztofory Palace.
Also while there don't miss the Kraków Barbican which is a barbican – a fortified outpost once connected to the city walls. It is a historic gateway leading into the Old Town of Kraków, Poland.
4. St Florian's Gate
This gate is one of the historical entries into the old town of Krakow. It used to be a defense wall that was constructed by old Poland. St Florian's Gate named after St. Florian was once connected by a long bridge to the circular Barbican as a defense complex.
As you walk through it, you will arrive at Florianska Street which is one of the most famous and exemplary streets of Kraków, it leads straight to the heart of the city – the Main Market Square.
5. Kazimierz
Kazimierz is Krakow's former Jewish district and now it's a new town full of cool bars, and cafes, but they have kept intact the Jewish history with synagogues, and cemeteries. I would devote a half day here to check out everything and enjoy that Polish beer and some food!
Must-see spots in the Old Jewish District
Church of Corpus Christi. One of the most characteristic and awe-inspiring constructions in Krakow, which combines Romanesque, Gothic, and Baroque styles.
Plac Nowy – Local Market
Galicia Jewish Museum
Remuh Synagogue
Ghetto Heroes Square
Szeroka street
Mrs. Dresner courtyard and stairs (Schindler's List): Hidden Staircase
Alchemia Bar – Love their purple wall, they also run a live band at night if you've time
6. Wawel Royal Castle
It is situated just about 10 minutes walk from the city center and is one of the most stunning castles I've ever seen! You can spend all day long walking around looking at museums and relaxing with the view of the Wisla river. There are areas that need tickets to enter, and yet some spaces are not ticketed. The view of the Wasła river from the castle is a beauty one cannot speak enough of.

The castle, being one of the largest in Poland, represents nearly all European architectural styles of the medieval, renaissance, and baroque periods. The Dragon statue also was really cool and there was a Game of Thrones chair where you could sit and take a picture of yourself!
The admission fee is approx. 20zlt but you get a lot in return: access to the cathedral, the bell tower with nice views (a unique experience), and the different crypts.
7. Planty Park
Planty is one of the largest city parks in Kraków, Poland. It encircles the Stare Miasto, where the Medieval city walls used to stand until the early 19th century.
Despite being right in the city center you feel like you're in a totally different place. If you are on the Planty you will most likely easily find your way back to important places like the city center, train station, Galeria Krakowska, Wawel, and some key streets like Florianska and Grodzka.
8. Lost Souls Alley
If you are done with all the historical places, head to lost souls alley for some thrilling activity! This interactive experience (similar to your escape room) features themed rooms & puzzles to solve and is based on horror movies. It can get scary, especially at the beginning, although a bit predictable by the last 10 min. No issue if you're put in a group with different languages, it's a multilingual experience!

Krakow also has other fun activities like Axe throwing, escape rooms and pub crawls.
Overall, Krakow is an interesting fun city. It's not overly touristy, yet still offers up all the amenities a tourist would need. An ideal destination for first-timers to Poland.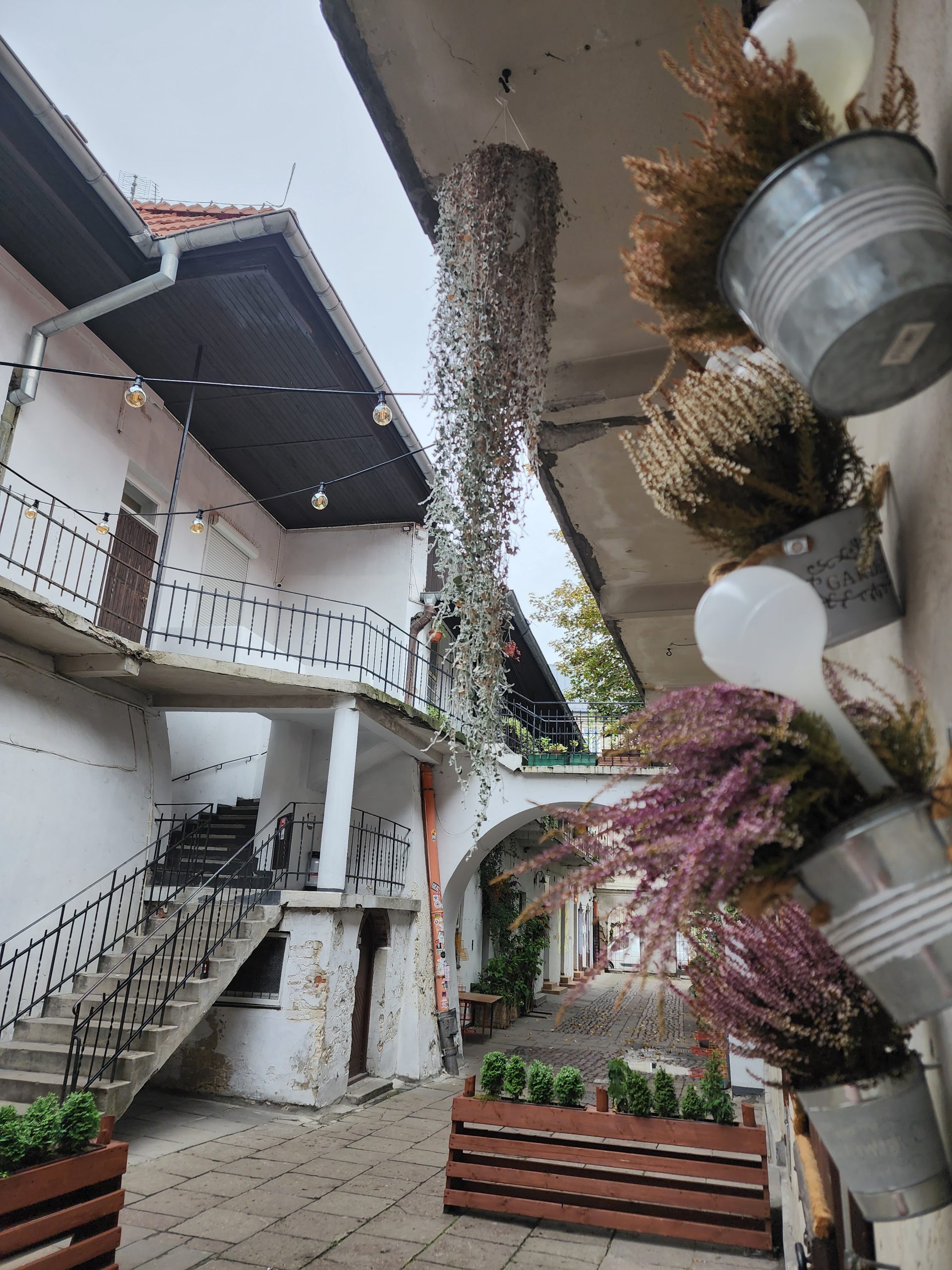 9. Where to go on day trips from Krakow
Kościuszko Mound (Kopiec Kościuszki)
It takes approx. 33 minutes bus ride to get to Kościuszko Mound from Krakow. Built by the citizens of Krakow in 1823, the entrance fee is 20 pln but 15 pln for students/discounted.
There is a mini museum about the life of Kosciuszko and at the top, there's a lookout onto Kraków with 2 binoculars that are 5 pln for a couple of minutes.
In the end, there's an optional wax museum that is historical but the figures aren't that great from what I heard. There's also a cafe to go with the nice view but is overpriced, as per tourist spot tradition.

Recommend going there during the weekdays in the early afternoon hours to minimize crowds.
Auschwitz-Birkena
The distance between Auschwitz-Birkena and Krakow is about 60 km, depending on where exactly you start your trip. There are three primary ways of reaching Auschwitz – by train, by bus, and by private car or on a tour.
That said, the bus is the best way to get to Auschwitz. There is an option to book a bus ticket directly to Auschwitz Museum from Krakow Bus Station. It is the easiest way to travel to Auschwitz Museum on your own. If you would like to travel independently by public bus, this is the solution for you.
Visiting Auschwitz-Birkenau, the largest of the Nazi concentration and death camps, is not something to be undertaken lightly. Whilst a visit to Auschwitz is informative and a sobering act of remembrance and respect, it can also be emotionally draining.
Today, it serves as a vivid reminder of the atrocities of the Holocaust and a memento of over 1.1 million people that lost their lives in the gas chambers. Admission to the Auschwitz Museum is free but every person has to reserve their entry cards on the institution's website or pick them up personally at the Museum
There's no dress policy, but visitors are expected to dress respectfully, keeping the historical significance of the place in mind.
Also, visitor can leave their bags in paid luggage storage there but the maximum size of backpacks or handbags brought into the Museum shouldn't exceed 30x20x10 cm.
If you don't feel like exploring alone, you can join any of the private or group tours below.
How many days in Krakow is enough?
I would say 3 days is best not to rush but two days in Krakow is the minimum. You will most likely start your journey in the historic city center, get an eye-opening history lesson at several museums, and sample some local food, and fun activities then go on a day trip or relax a bit.
Do I need a visa for Krakow?
If your passport is from Australia, you can stay up to 90 days in Warsaw, Poland. I highly recommend checking the official website online or with your local embassy to find out if your country requires a visa.
When is the best time to visit Krakow?
If you have limited time, anytime is best to visit Krakow IMHO but if you are after the best weather to enjoy this historical destination, it would be between April to October. Basically summer time but also shoulder seasons before and after summer when the weather is dry and the temperature is warm yet comfortable. Also, shoulder season would probably offer better hotel rates.
Is Krakow city safe for a solo female traveler?
First of all, let's establish the understanding of traveling is brutality! It forces you to trust strangers and to lose sight of all that familiar comfort of home and friends. You are constantly off balance. Nothing is yours except the essential things – air, sleep, dreams, the sea, the sky – all things tending towards the eternal or what we imagine of it. If you are okay with it, you will adapt, and you will survive.
That being said, I felt completely safe in Krakow as well as warsaw to Krakow train. Maybe it made a difference I traveled on the morning train but overall I found the city to be welcoming and friendly.
So yeah unless there is a drastic change in the country's political situation, pandemic, or some natural disaster it is safe to travel to Liechtenstein. Just remember to apply a general rule of thumb i.e. Don't walk down that dark alleyway on your own, respect the culture, don't argue about religion, dress modestly, trust your instincts, and don't be afraid but be cautious.
Local currency
The official currency is the Polish zloty (PLN) though euros are also accepted.
You could withdraw Pln from ATMs on arrival at the airport or in the city. However, remember to consider bank fees from your bank and the ATM withdrawal fee.
If you are worried about language, English is widely spoken especially in the tourism and hospitality industry.
Must-Have Travel Apps for Warsaw
Google Maps for ease of finding routes, and offline use.
Google Drive, Calendar for time management, and storing pictures.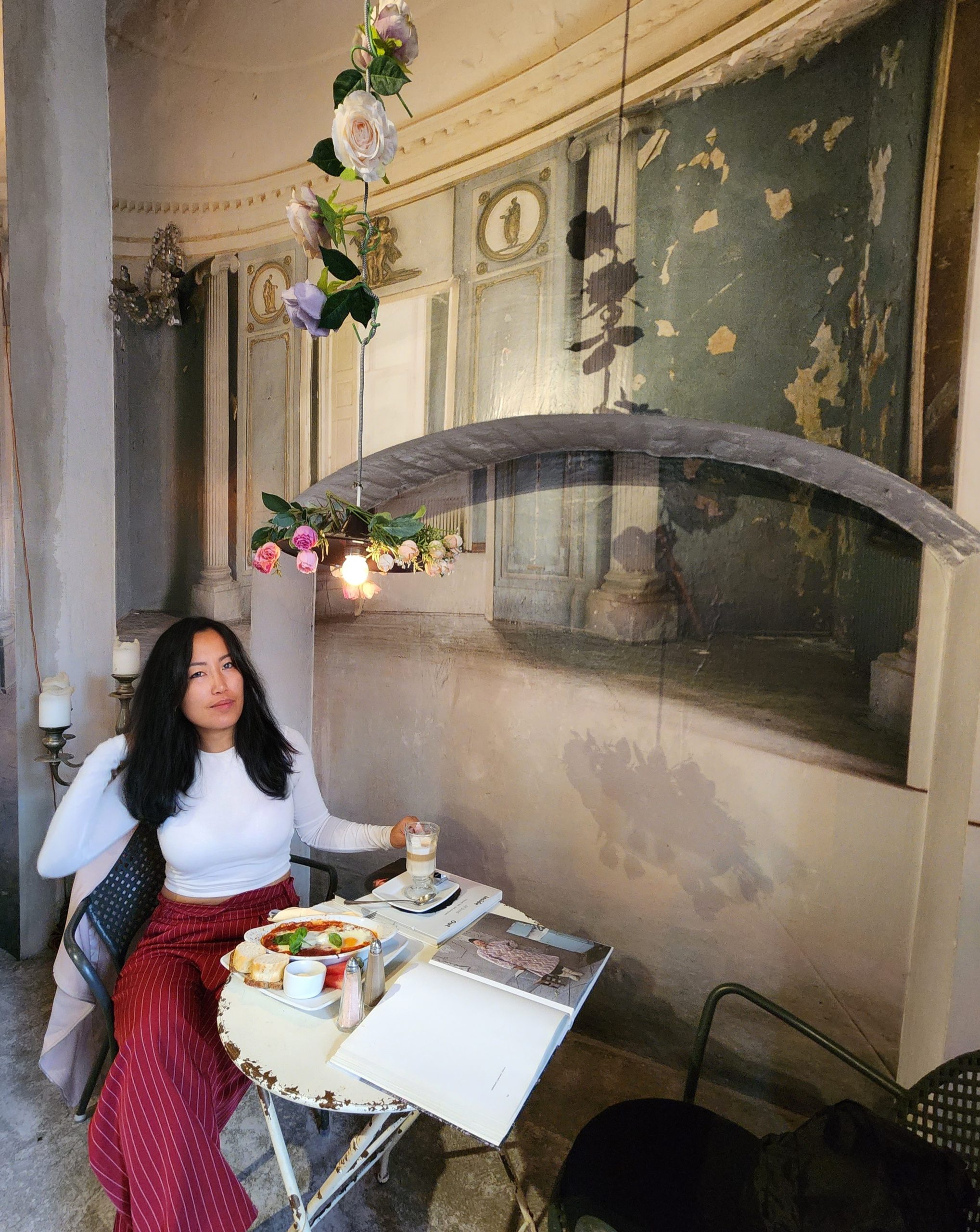 What to eat in Krakow?
Krakow offers food and drinks for every budget with its various cafes, restaurants, and takeaway shops. Here are my recommendations on must-try food in Krakow starting with the Traditional Pierogi. There are so many varieties of this traditional dish: with meat, cabbage, mushrooms, fruit, potatoes, cottage cheese, or grits. New types have also appeared: feta cheese, spinach, mozzarella, or chocolate!
Some other food to try would be Obwarzanek – traditional Cracovian bagel, Zurek – Polish soups, Kielbasa, Ziemniaczane, Paczki, Polish bigos with smoked sausage and bacon and Krowki, traditional Polish fudge
Recommended places to eat are Camelot cafe, Pierogarnia Krakowiacy, Starka, Art restaurant, Cyrano de Bergerac, and/or Garden restaurant.
What to drink in Krakow?
Krakow is known for vodka, local beers, the best wine bars, and the latest cocktail hotspots. There is also a traditional Polish drink you could try called "nalewka" (pronounced "nalevkah") infusions of herbs, berries, or fruits steeped in vodka.
The top 3 places that I went to are Eszeweria, Alchemia, and Sababa cocktail bar.
Some other recommended bars are Movida Cocktail Bar, Plaża Kraków, Finka, Wódka Cafe Bar, Absynt Cafe & Drink Bar, Four Music Club, Miejsce, Pergamin Chill Out Music Bar.
I hope you now got an idea of how to go from warsaw to Krakow train and where to stay/see/do in Krakow.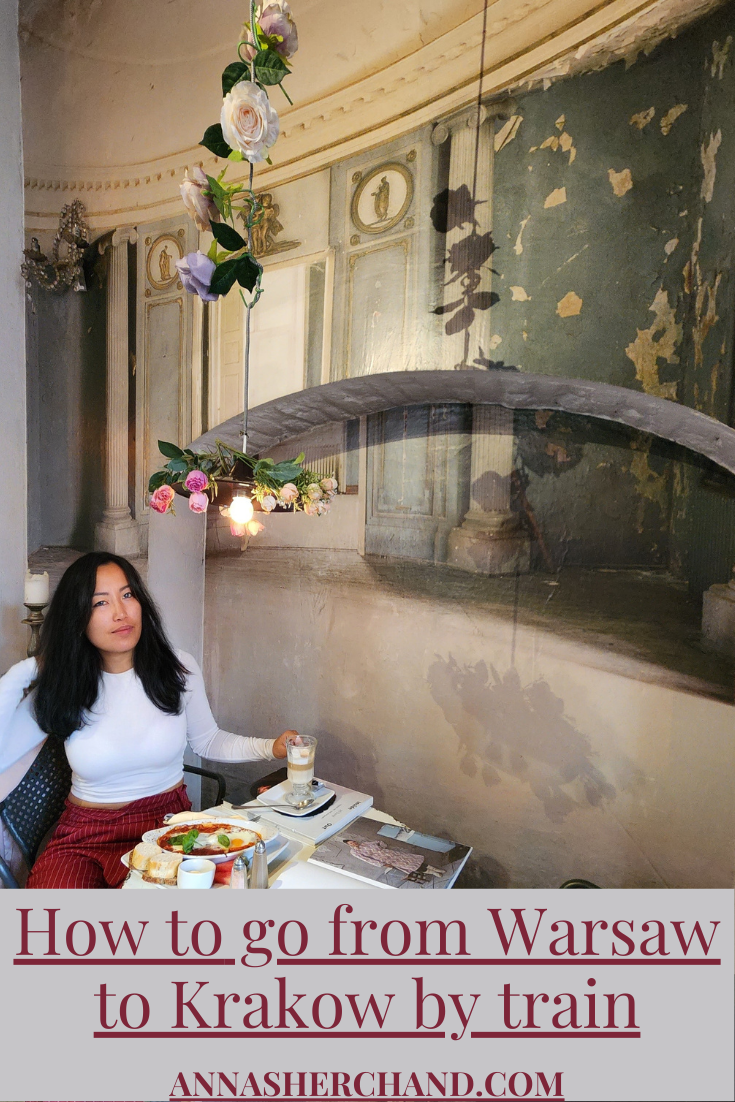 Let me know in the comments:
If you have any questions about warsaw to Krakow by train
Solo female travel to Podgorica, Montenegro
Warsaw by Train covers warsaw travel tips
Solo travels from Podgorica to Tirana
One day in Luxembourg
Day trip from Zurich to Liechtenstein
Fiji solo travel guide
Australia east coast must-see
Master Sydney travel guide
Solo travel guide to Brisbane
Exploring Adelaide the best way is a must-read
Important travel tips for Uluru trip
Melbourne travel guide for first timers is here.
Melbourne day trips in winter
Day Hikes in Melbourne
Weekend getaway? Check out things to do in Ballarat
Perth solo itinerary
Top 5 must do in Darwin, Australia
How to go from Dublin to Howth
Read a recent day trip to Zaanse Schans from Amsterdam
How about a solo itinerary to Canberra– Australia's capital city?
Going to Vietnam after Australia? Check out the 7 days Hanoi travel guide.
Check hotel prices and book it through trusted Agoda, or Booking.com
I have detailed travel resources right here. Save money, learn what and how.
If you like this article, follow my adventures on Instagram, Facebook, YouTube, Twitter, and Pinterest, but most importantly sign up to my e-mail list to keep up with updates and travel posts!
Solo travel from Warsaw to Krakow by train