If you are looking for some ideas on how to spend one day in Skopje, Northern Macedonia, I got you. This article covers how to get to Skopje from Sofia and the rest of the world, Old bazaar Skopje attractions, where to eat, and everything you need to know before you go.
Skopje is the capital and largest city of North Macedonia. It is the country's political, economical, cultural, and academic center. It is world-famous for being the birthplace of Mother Teresa, beautiful Macedonian river "Vardar", stunning architecture, and the narrow streets in the Old Bazaar which is the biggest bazaar in the Balkans today.
One day in Skopje itinerary
But first, let me answer some frequently asked questions.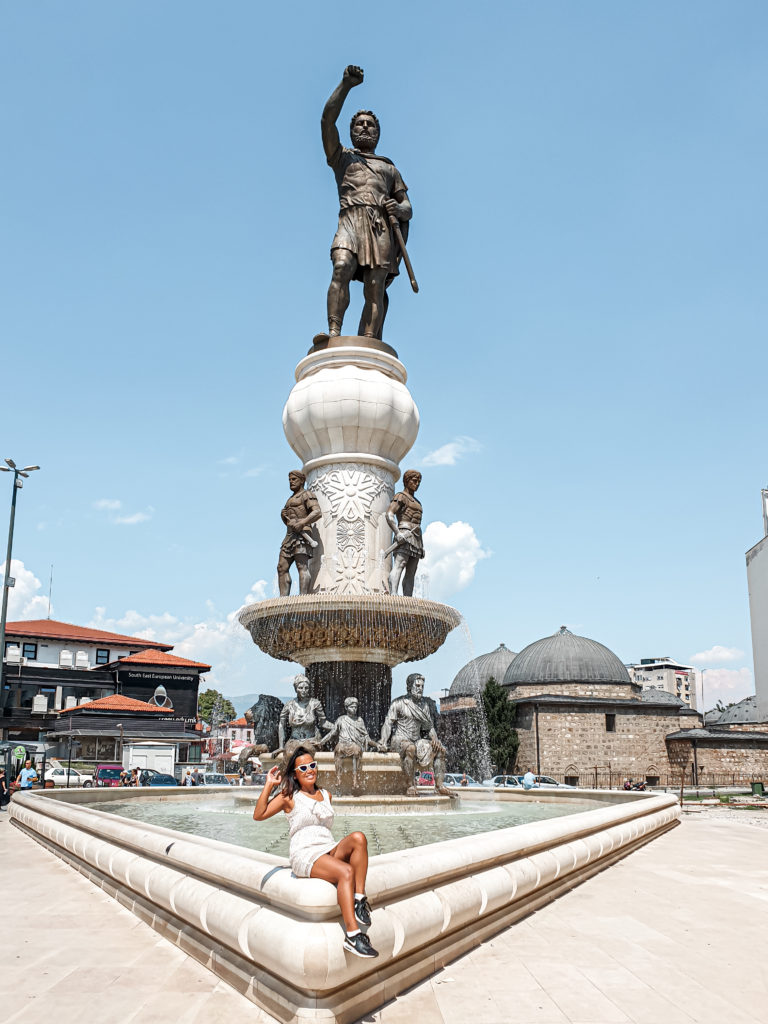 How to get to Skopje?
One way you can travel to Skopje is by taking a day trip. At the time, I was solo traveling in Sofia, Bulgaria and one day I decided to take a day trip to Skopje.
The departure was early, the driver came to pick me up around 8.00 AM because the driving time is 4 hours each way, and the border cross may take a while. It was a private trip so, I had one and one conversations throughout the day with the guide which meant personal recommendations, local narrative, and a fun day out. My guide was a Bulgarian English speaking senior person with lots of day trip experience under his belt. That being said, although it may be a day trip, don't forget your passport because you will be crossing borders!
Another way you can visit Skopje is by taking a plane from Europe or around the world that lands at the Skopje international airport. If you are arriving by plane, you can also book the Skopje Airport Shuttle to get to the city or your accommodation with ease.
And finally, you can also take direct trains that connect, Budapest, Ljubljana, Kosovo, Zagreb, Belgrade, and Thessaloniki with the capital city of Macedonia, Skopje. Daily trains connect Belgrade with Skopje and the trip is around 9 hours. If traveling around the Balkan Area, the best way is to buy a Balkan Flexi Pass.
What to see in Skopje?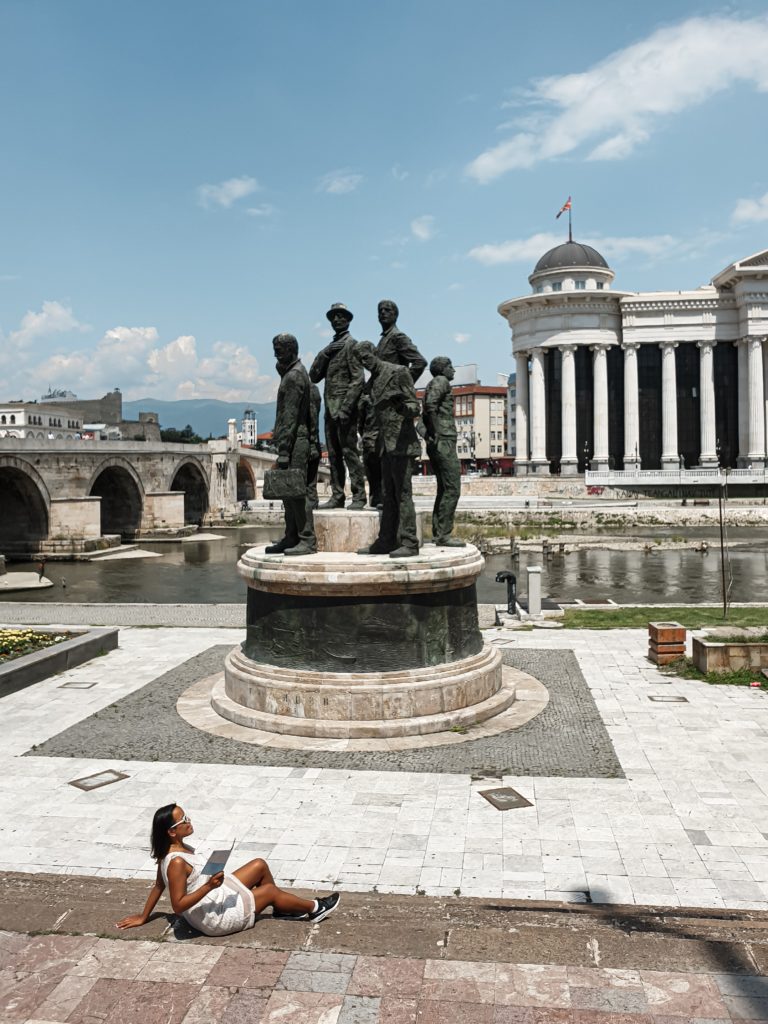 If you taking the day trip to Skopje as mentioned above, you will see the picturesque road via the Osogovo mountains, one of the most beautiful mountain ranges both in Bulgaria and Macedonia. Somewhere around 11.30 AM (10:30 AM local time), you will arrive in Skopje.
Once in Skopje, you will begin your walking tour of the city beginning at Skopje Fortress where you can admire the wonderful view of the city. The next site you will visit is the Church of the Holy Savior, home to the fantastic iconostasis. From there you will continue towards Sultan Murat Mosque, and the Old Bazaar Skopje, where you can witness the remnants of the Ottoman Period and Skopje's history as one of the main trade centers in the Balkans.
After stopping for lunch at a typical Macedonian restaurant you will continue your walking tour crossing the Vadar River from the stone bridge and start your exploration of a new part of the city. Here you will visit the new neo-classical square and continue to Mother Teresa memorial house. Her original home no longer exists as it has now become part of the road but visiting Mother Teresa's museum will open your eyes in regards to her work and her massive contribution to the world. (They have also showcased her bed and belongings too) If you would like you can watch my travel stories in Skopje Instagram highlights.
The walking part of your tour will end at the newly built triumphal arch Porta Macedonia. You will then journey back to Sofia and your tour will end once you are dropped off at your hotel or accommodations.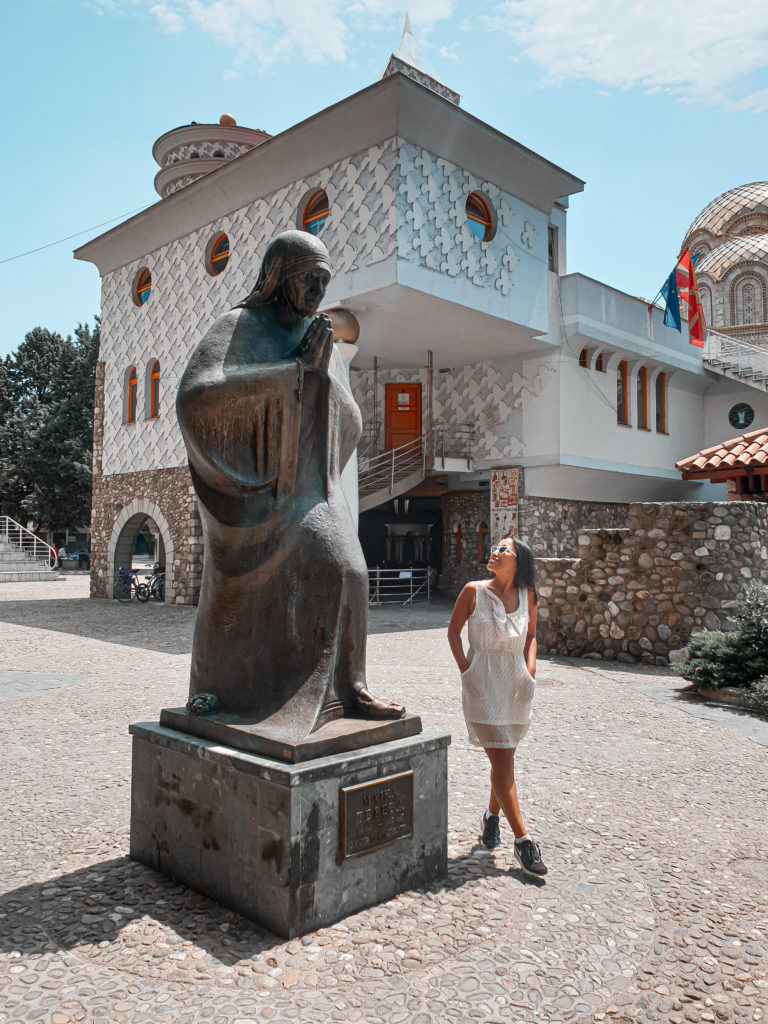 Alternatively, you can get a coffee in the morning and walk around the pedestrian zone in the center up to the Old Bazaar for a walk, followed by a traditional lunch, passing by old fashioned shoe shining people on the footpaths then possibly the top of Mount Vodno for a gondola ride and a nice view of Lake Matka.
Some of the top attractions you can visit in Skopje are Skopje Fortress, Lake Matka, Old Bazaar Skopje, Mountain of Vodno, Macedonia Square, Millennium Cross, and Stone bridge. You can explore both the Skopje old and the new parts of the city, enjoying the beauty and learning the history at the museum or on a self-guided walk that makes up the city. There is also Mustafa Pasha Mosque tours, just book it ahead of time to secure your spot. If you have time, you can also visit Matka Canyon, Park Woman Warrior, and Skopje Zoo.
Day Trips from Skopje
In case you are staying more than a day, I recommend the following day trips out of Skopje and also to Moldova.
Full-Day Tour of Lake Ohrid from Skopje
From Skopje: Private Full-Day Trip to Bitola
From Skopje: Guided Pristina Day Trip
Is it worth visiting Skopje?
I mean it's not Sydney or London, but it's a great example of where the old meets new, and with their massive statues scattered around the town, you won't want to miss being in a place that's like visiting the adult Disneyland! It is definitely worth a day trip or two.
Where to stay in Skopje?
Skopje has a wide variety of neighborhoods and hotels for solo travelers of all kinds. However, the three best places to stay in Skopje are Square Macedonia, Kapishtec part of town, near the main market Bit Pazar and the entrance of the old bazaar Skopje.
You could definitely stay in a hostel or hotel but I recommend considering Airbnb too because why stay in a hotel when you can stay in a similar place with half the cost! am I right?
If you are on the same boat, try searching for accommodations on Airbnb. You can find accommodation from $15 AUD per night to a few hundred depending on what you are looking for.
Alternatively, here's a $76 discount for your first Airbnb booking. In case you already have Airbnb, just open a new Airbnb account with a new email and you can use the discount.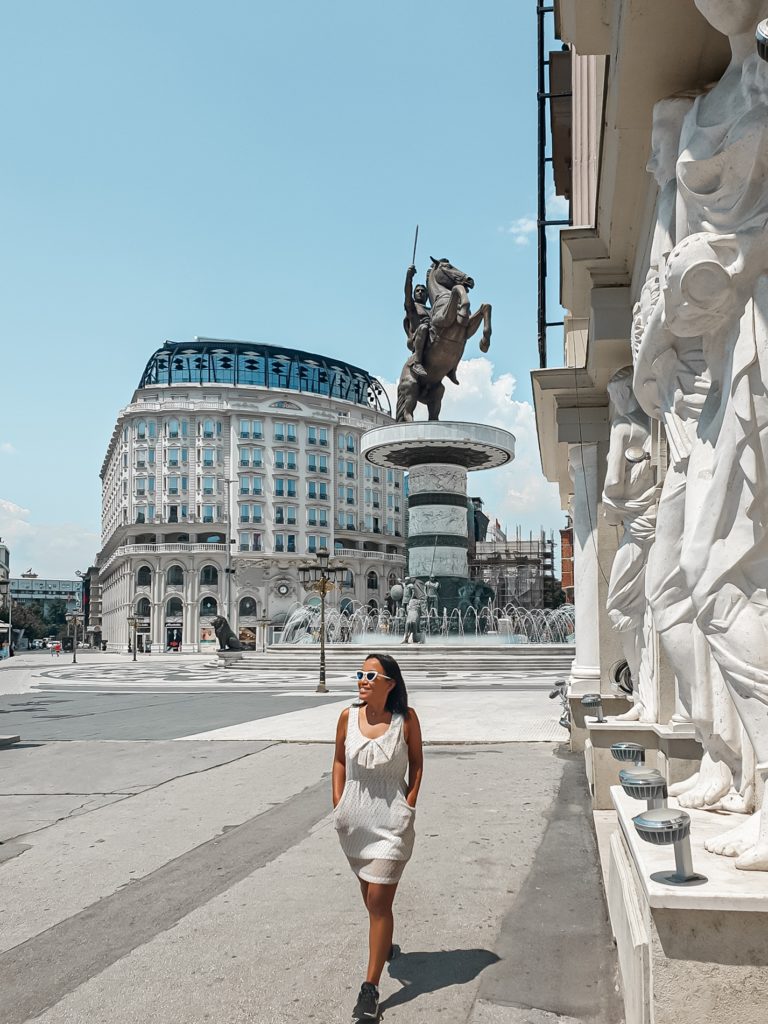 When is the best time to visit Skopje?
June – August is the busiest summer season for tourism in Skopje, so expect a higher price for lodging and other accommodations. So the best time to visit would be just before the peak season like late spring to early summer and late summer to early autumn are when lines are shorter and there are fewer tourists to get in the way of the views.
What to eat in Skopje?
Two things you must eat in Macedonia are kebabs and Tavce Gravce. Tacve Gravcev is the national dish of Macedonia and it actually mostly vegan. Good news for the vegetarians that Macedonian starters are mostly fresh salads, cheeses, or light dishes made of veggies. It is a bean stew, seasoned with garlic, onions, and other spices giving it the true taste of Macedonian cuisine.
Makalo, pindjur and roasted hot peppers are the Macedonian appetizers that are worth trying out and Rakija, the national drink of Macedonia. Delicious fresh tomatoes, roasted peppers, eggplant ajvar, and garlic paste called Ohridski makalo.
Macedonian lunch or dinner always starts with the so-called 'meze'. This is when locals order several different traditional Macedonian appetizers accompanied by the famous national drink called rakija.
Where to eat in Skopje?
The Skopje food scene has plenty to offer in the way of food and drinks from North Macedonia cuisines to international. Some of the good restaurants are Distrikt Bar and Kitchen, Gostilnica Dukat, and Amigos Restaurant, and Bar.
I hope this one day itinerary in old bazaar Skopje helped you with your planning.
Do you need a visa to visit Skopje?
I highly recommend checking if you require the visa requirements before you go because every country has different rules and regulations that we have to follow. As an Australian passport holder, I didn't need a visa to go to Skopje because basically it was on arrival visa stamp on the passport but you may need a visa depending on your passport.
Travel Hack for Skopje?
Download these apps Now
Something that I always recommend in travel itineraries is also downloading the must-have apps before you depart your country. Such as
a. Google Maps you can also pre-downloaded, either the entire map of Japan or the places that you prefer to visit and you can actually follow that map offline as well as long as you download it beforehand.
b. Google Translate the app helps with your communication in Japan because not everybody speaks English there.
There you have it – the recommended itinerary for one day in Skopje (North Macedonia) with day trip options.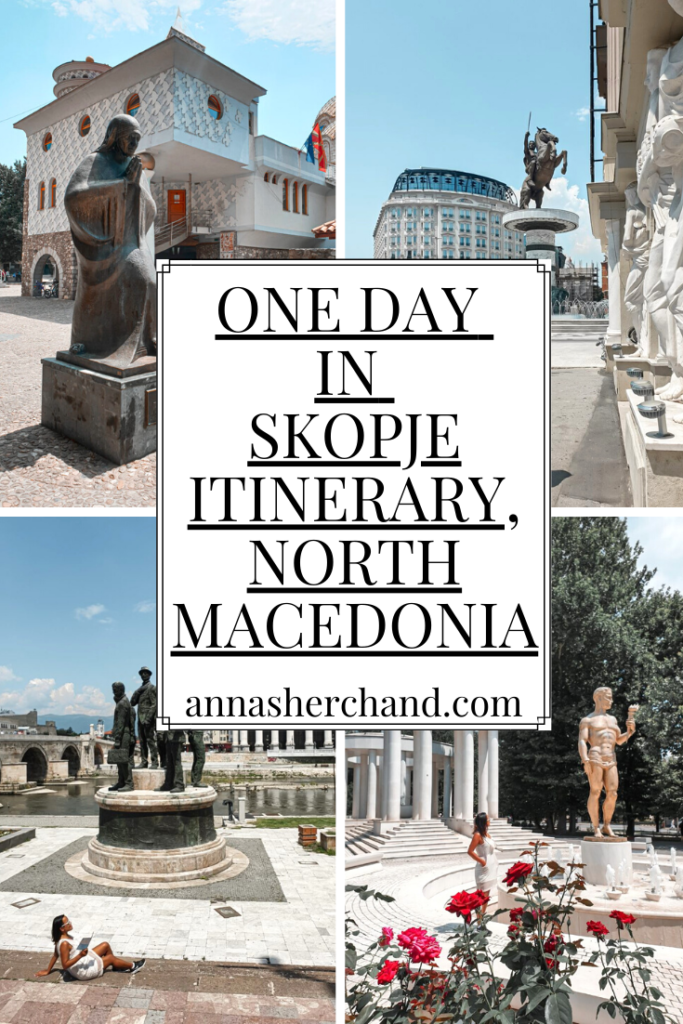 Let me know in the comments:
Skopje itinerary (Old bazaar Skopje and all the must-see places)