If you are looking for information on how to go from Podgorica to Tirana. You are in the right place. I did this trip myself a couple of weeks ago which was hassle-free. So I will share that and also cover what to do in Tirana, what to eat/drink/where to stay, and more ideas for an extended stay.
As some of you may be aware, I am on a quest to travel to all the countries in the world. So after Podgorica in Montenegro, it was time to travel to my country #58 Albania- one of the less visited countries in the Balkans.
Tirana is a busy capital city of Albania and also the main economic, social (entertainment), political and cultural center of the country. It is a town full of interesting things to see and do. It may not be as beautiful as other Eastern European capital cities, but Tirana has its hidden charm.
So if you are hesitating about whether to go or not, I hope this day trip from Podgorica to Tirana helps you make up your mind and that you will go and experience this magical Balkan country.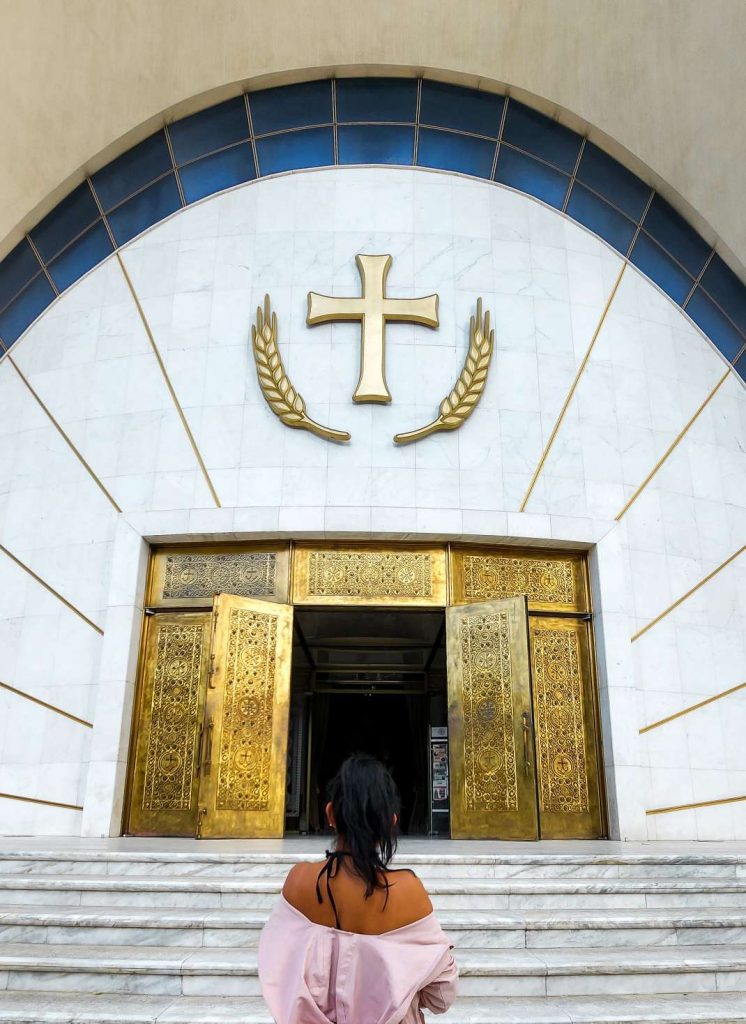 How to go from Podgorica to Tirana?
Traveling alone is quite different, as opposed to moving with a tour company. Hence if you are traveling alone, you have the choice to travel however you want via flight, bus, train, driving car, ferry or cruise ship. It all depends on your preferred mode of traveling and budget.
I researched a lot and found the best way for me to get to Tirana from Podgorica was on the bus.

There is an option to go to the local bus terminal and buy the ticket there in person (only takes cash) but I discovered there is more benefit in buying it online.
1. They take credit card
2. I had more departure options because I could compare ticket prices between 3 bus websites and buy one instantly that suited me.
3. These websites were also selling some last-minute cheaper bus tickets although they get sold in minutes so, you have to be quick in that regard.

There are many online bus companies to buy tickets from but I recommend three below that I personally used and had no problem with.
1. Busticket4.me/EN
2. geybybus.com
3. Flix bus
All 3 websites offer an English language option and take debit/credit cards. No need to go to the bus station.
Something to think about is where you want to go next after Tirana Albania.
If you plan to do a day trip from Podgorica to Tirana make sure you purchase the return tickets and not just one way.
If you want to go to Tirana but return to Budva or Kotor in Montenegro, there is a bus route for that too. Just buy a separate bus ticket for that.
If you want to stop over in Tirana but continue to Ohrid or Berat (separate bus routes) or return to Shkoder (Tirana Podgorica bus) can stop at Shokoder. The cost may be cheaper because you will be getting off before Podgorica.
The one-way bus journey from Podgorica Tirana takes approximately 3h 50m including transfers and departs once daily. But the ride may last for up to 5 hours depending on the waiting time at the border crossing. So keep that in mind when you plan your day.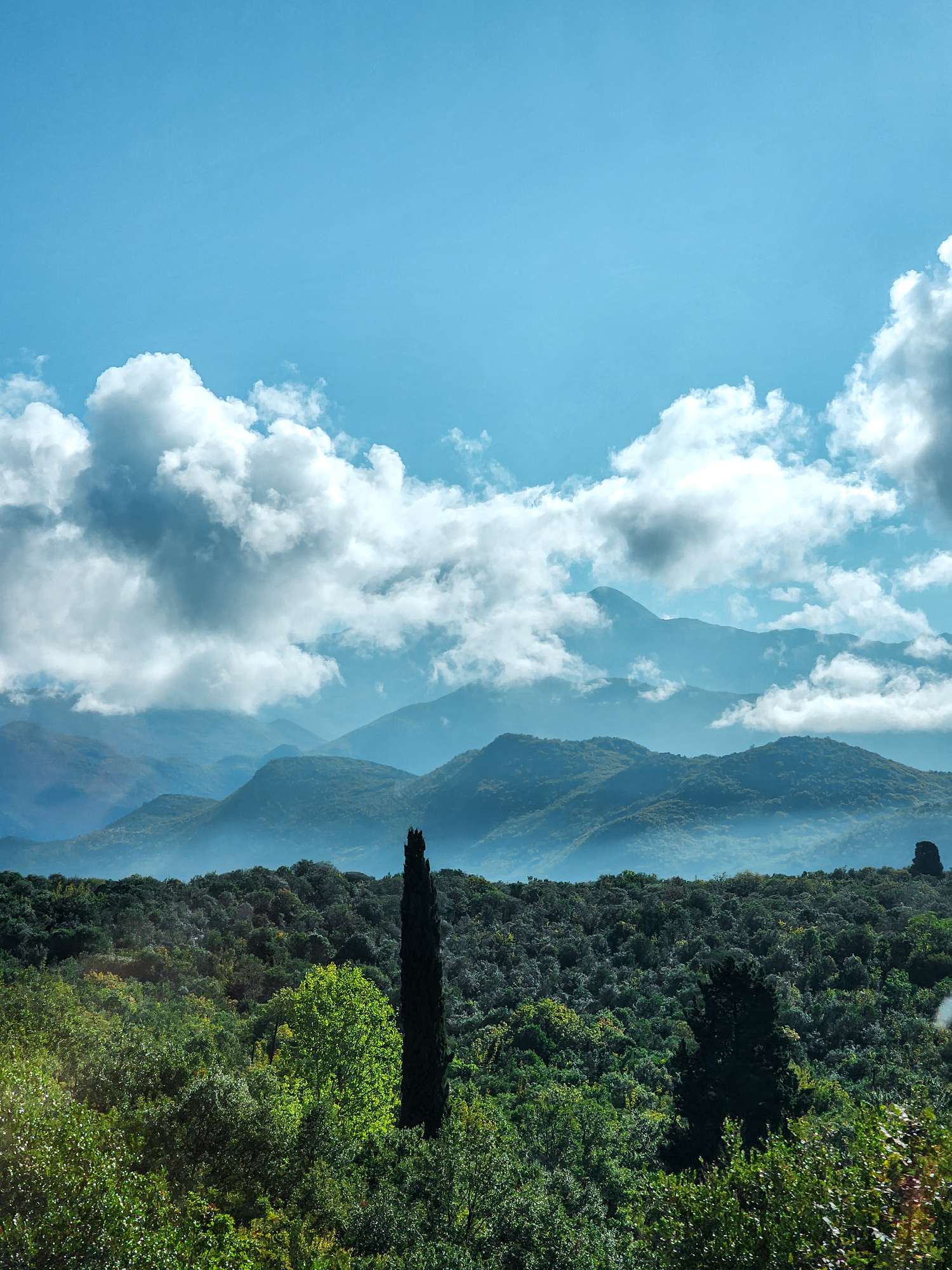 Podgorica to Tirana bus passes through and stops for a little break near Lake Shkoder. If you are not staying here, at least don't miss the views outside your window! Lake Shkoder is stunning, and also offers many hiking trails around the area!
For the loo break, our bus stopped at this nice and clean hotel called Lezha Park. The bathroom was free to use (usually you have to pay 1 or 2 euros in Balkans for toilets!) They had a nice menu for a bite to eat/drinks and ice cream too!
On the way back I was heading to Budva and the bus stopped at a bakery where I grabbed a yogurt and the famous Balkan snack – Borek or burek. Usually, this is best if it's cooked on a fire pit but this bakery one was ok too as I was Lil hungry.
Once arrived at the Tirana bus stop, my plan was to store my bag and head out for the day but it was clear they did not have any lockers at the bus stop. Yep, I don't read much about the countries I am visiting because I like to adapt to new situations. It's a fun way of traveling to an extent because you learn to deal with, resolve and grow from all the inconveniences life throws at you right at that minute!
I had made acquaintances with a couple of fellow travelers on the bus who were staying in Tirana for longer so they were fine with me dropping my bag at theirs but the problem was at the time I thought their hostel was quite far from the bus stop! But looking back the hostel was probably in the old town where I was going anyway.
Didn't know at the time, so I ended up asking the ticket agent at the bus stop. She was friendly and nice and said she was working there all day so it was okay if I left my backpack.
To be honest I was a little concerned if it was a good idea because Tirana train station looked like a Gongabhu bus stop in Kathmandu but I am trusting in nature and my intuition said it was going to be fine! So, I left my backup there and left to explore Tirana for the day! Pls, take risks on your own.
Solo travels from Podgorica to Tirana
Now that we have covered how to go from Podgorica to Tirana. Let's see what is there to see in this busy capital city.
How to get around Tirana, Albania?
After I left my backup at the ticket agent's office, I checked google maps and figured it was about an hour's walk to get to the old town! It was scorching hot so decided to take the taxi for 3 euros! And I was right amongst all the happenings in Tirana.

Once you are near the old town travel is easy on foot as most must-see things are in/around the city. By the time I was in Budva that night I had walked about 20,000 steps.
How many days in Tirana is enough?
I would say 3 days is best not to rush but one day in Tirana is the minimum. You will most likely start your journey in the old town, explore major spots, and activities then get up to the food and drinks and maybe squeeze in a day trip or two. (I will elaborate more further down)
What to see in Tirana?
If you are in the mood to meet other travelers then join a free walking tour that gives you a broader perspective and story about the city. It runs on a donation basis so just book yourself online, arrive on time, and tip at the end. (make sure it matches your arrival time in Tirana)
That being said, while on the road, some days you may not be in the mood to be in the group. So in that case, you will be pleased to know Tirana is easy to get around and sightsee on your own.
Either way, Tirana will give you a unique insight into Albania's communist history as well as its modern touch in this day and age.
I have written this one day in Tirana travel guide exactly how I spent it and added recommended spots by locals and day trips if you are staying longer. Feel free to skip some spots or change it around to what suits you best.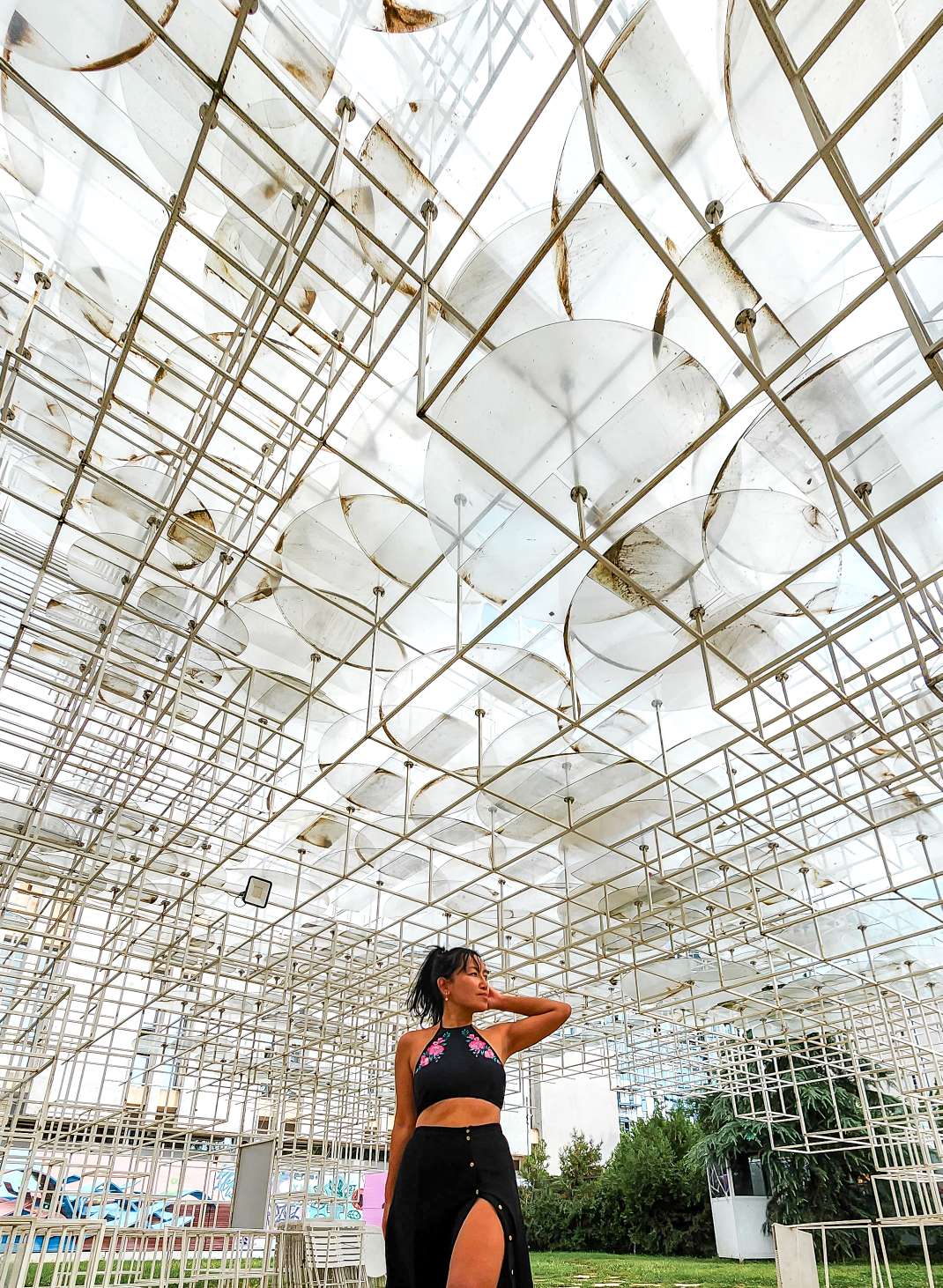 1. Reja (The Cloud)
The taxi dropped me off at the National Gallery of Arts and in front of it was an installation, a white transparent geometric form that looked like clouds. So I had to go check it out up close. Reja is a modern art installation and has rapidly become one of the symbols of Triana.
It was designed by the Japanese architect Sou Fujimoto and seems to be a meeting point and photo opportunity for locals and visitors. A local told me it's often used as an open-air cinema, especially during the summer when, every night at 8 pm, a movie is played. Not only that but they also run different movie festivals here.
2. Skanderbeg Square
Skanderbeg Square is the main plaza in the center of Tirana, Albania. It is named after the Albanian national hero Gjergj Kastrioti Skënderbe and is the largest square in the country.
There are a few main landmarks here that are worth checking out. Carousel, the National Historical Museum, the Et'Hem Bey Mosque, and, of course, Skanderbeg's statue.
If you would like a nice bird's-eye-view shot of the square, you can climb the Clock Tower, which offers great panoramic views.
3. Umbrellas in Skanderbeg Square
If you would like some Instagram photos, check out the smaller umbrella installation in the central square. This area went through a serious revamp in the last few years and is now a pedestrian-friendly art mecca.
4. Red Building in Skanderbeg Square
Another sight you would probably notice as you walk around in this area is the beautiful red building. This is actually the Ministry of Infrastructure and Energy building in the historical center of Tirana. Located right behind Bunk'Art 2, you can't miss the colorful, fun facade of this building.
5. Et'hem Bey Mosque
This is one of the very few mosques in Albania to resist the communist regime without being demolished. It has ottoman architecture but it is quite unique with its still-life paintings, something rarely seen in Islamic architecture. It's a first-category monument of culture. It is also one of the most beloved mosques for Muslims in Tirana since it is located right in the city center.
One of the oldest Mosques and it is a symbol of the survival of faith reopened as a house of worship in 1991. It's a miracle this building wasn't razed to the ground like many historic churches (such as the one in Korca) and that's part of the beauty of Et'hem Bey.
6. National Museum of History
Right across the street is the National Museum of History. At night it looks beautifully illuminated with a huge and colorful mosaic at the front. The museum is actually quite detailed, dating from prehistoric times to the Communist period. Most of the older exhibits have English explanations, however, the newer things are only in Albanian. Also, Hoxha is not really mentioned.

Unfortunately, the nice Soviet Era mosaic on the outside of the building was undergoing renovations so I couldn't it. It was a 5 euros entrance for adults and you can spend as much time as you want. Bathrooms on site.
7. Ura e Tabakëve (Tanner's Bridge)
Within a maybe 5-10 minute walk from the Tirana Promenade, you'll find another interesting spot or you might say an excellent photo spot. Tanner's Bridge is an 18th-century bridge that was once part of an ancient road. Sometime in the 1900s, the path was diverted, and the bridge is now used only by pedestrians.
This bridge is the only example of an Ottoman bridge that is still visible today in Tirana. While hidden between modern buildings and hotels, it remains in very good condition.
8. Resurrection of Christ Orthodox Cathedral
Next is the resurrection cathedral in Tirana, an Albanian Orthodox Church. It is a new church completed in 2012 and has drawings from the inside. Small for the biggest church in Albania but it's beautiful and peaceful. Worth to see and lighting a candle.
9. The Pyramid
The pyramid initially was a museum for the legacy of Enver Hoxha (apparently a North Korea-level crazy dictator!). He was a long-time leader of the communist party in Albania. Allegedly, it was also used as a filming location in 2019 for a remake of the horror movie Castle Freak.
This triangle building designed by a group of four architects including Enver Hoxha's daughter and son-in-law is one of the landmarks of the Albanian capital and a favorite hang-out spot among students and children. The massive Pyramid, which over the years served as a temporary base for NATO forces during the Kosovo War, a nightclub, Top Channel headquarters, and a space for events. While I was there, it was closed due to renovation and locals advised the plan is to transform it into a multi-functional center for culture, art, and technology.
10. The Grand Park- Tirana's Artificial Lake National Park
The grand park is the biggest park in Tirana and there are a few things worth checking out. Such as an old and abandoned amphitheater-like structure, and an artificial lake that's just perfect for relaxing and strolling after (or during) a long hot day.
The lake is the lungs of the capital city, a photo spot as well as an ideal place for walking or jogging, boat trips, biking, or reading a book near the shore of the lake.
Inside the park, you will also find Saint Procopius Church, the Presidential Palace, and Embroidered" stairs.
11. Pazari I Ri (New Bazaar)
If you want to see something lively and colorful head to the colorful Pazari i Ri, or New Bazaar. This large food market was transformed two years ago and today is a must-see for every traveler. Walk around the market's area to admire the new building façades, fruit and vegetable market, nice bars and restaurants, and the fun architecture of the neighborhood. Then, enjoy some fresh seafood in one of the many surrounding restaurants.
12. Pedonalja Street
Pedonalja is one of the rare pedestrian-only streets in Tirana. It is next to the city center and serves as the main boulevard where there are a few cute restaurants and cafes. Throughout the year the Municipality of Tirana organizes different events here.
13. Tirana's Street Art
Like many cities in the Balkans, Tirana is home to a thriving street art scene, with new pieces being added regularly. Almost everywhere in Tirana, you will see painted walls by street artists. Some of these murals were created by foreign and Albanian artists during the Street Art Festival.
14. BunkArt & BunkArt2
During the communist era, Albanians built hundreds of bunkers throughout the entire country. Out of hundreds, the two most notorious bunkers were turned into museums and quickly became some of the most visited spots in Tirana.
BunkArt is a huge underground bunker built on the outskirts of the capital, while BunkArt2 is located right in the heart of Tirana. If you have time, suggest visiting both.
Bunk'Art 1
This bunker/ museum/ open art installation is quite interesting to visit. It's not photogenic in any traditional sense but it is captivating. Located right by the Dajti Ekspres.
Bunk'Art 2
This is a newly opened bunker in Tirana and not nearly as big as the original Bunk'Art. Apart from history, you could capture a pretty solid picture here with the interior/ light and perspective. This one is located at Skanderbeg Square.
15. Kalaja e Tiranës (Tirana Castle)
Kalaja e Tiranës is the new gastronomical, cultural, and artistic hub of the capital city of Tirana. It is also called the Justinian Fortress, which was opened to the public in December 2018, and since then the number of visitors are increasing.

Around here, you can visit private art galleries, enjoy a fresh smoothie in one of the cafés, buy some local products in the boutiques or eat traditional tasty Albanian food at the restaurant Luga e Argjendtë.
This is a pedestrian street so it's a decent space to sit down, enjoy some food/drink, and people-watching.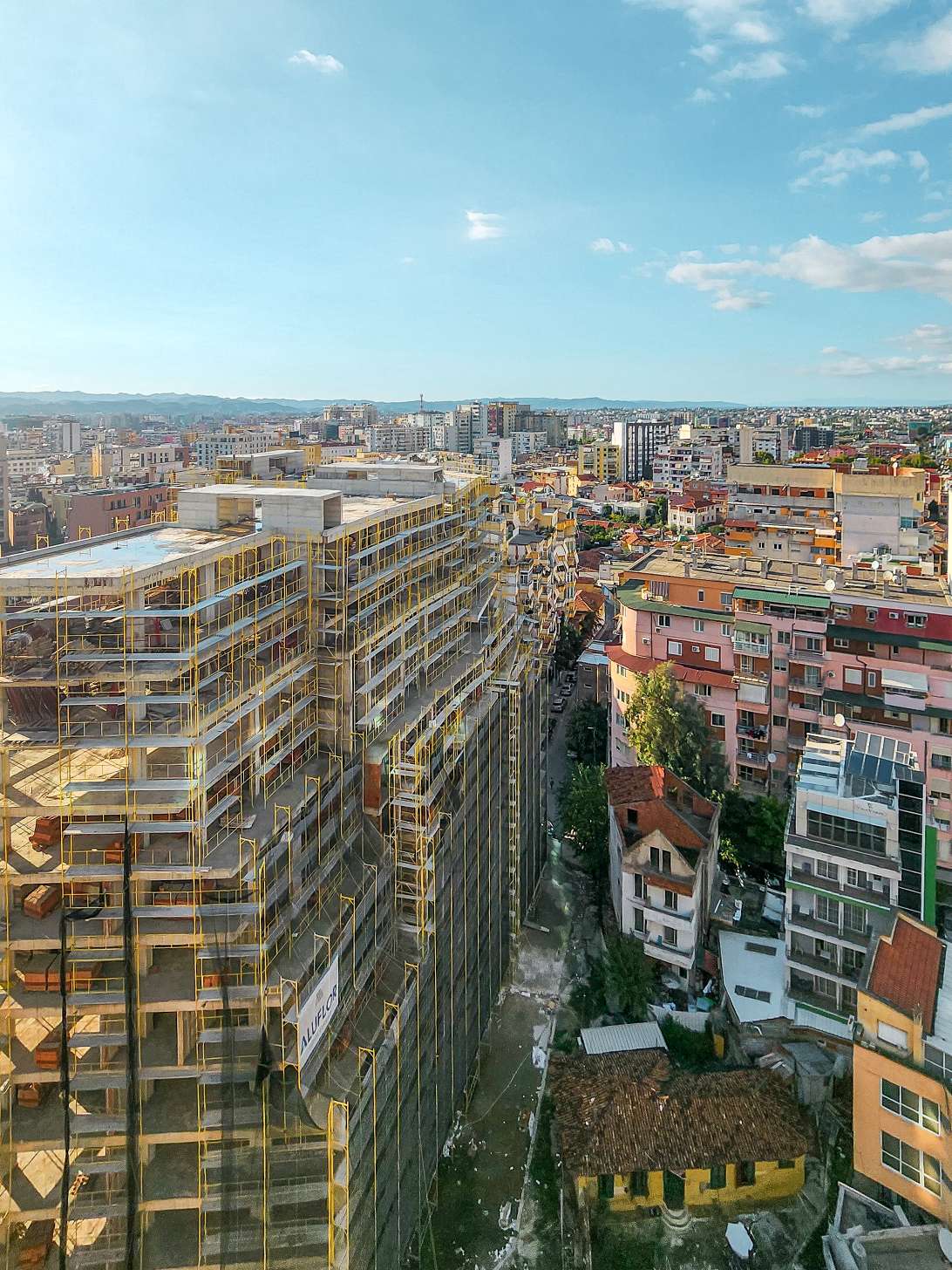 16. Observator Wine and Piano Bar
If you know me I love a good rooftop bar. So it was time to visit only one rooftop bar that was open in Tirana at the time I was there.
You take the slow elevator up to the top and then are greeted with the city view and beautiful mountain around it. I absolutely loved their iced coffee, interior, and piano! Service was friendly and good prices for the view and atmosphere. No matter where you sat indoors or outdoors, the views were spectacular for a sundowner or a refreshing coffee break.
17. Sky Panoramic Bar
This was where I wanted to go initially but was closed for renovation same as the Pyramid! But when you go to Tirana perhaps you can enjoy the rotating bar they have with lots of fantastic cocktails and watch the sun go down over Tirana.
18. Radio Bar
Another option is to head to the Radio bar which seems to be an ex-pat fav. Also known especially for its cocktails, retro lovers, good music, and nice staff.
19. Blloku
This is one of the favorite neighborhoods of locals and ex-pats. Tirana may not have the same type of beauty as some other Balkan capitals, but it definitely has its own charm with lots of street art. In fact, you can see most of the murals are in the Blloku district: so keep your eyes open while visiting this vibrant neighborhood. Lots of places to eat and drink too.
Day trips from Tirana
1. Farka Lake
Farka Lake is less populated than the Artificial Lake in Grand Park, yet it is one of the places that locals and visitors love to go.
It is reachable within 20 minutes of drive from the center and not that crowded.
This is a lovely area to spend a picnic day with family and friends and walk or bike. If you enjoy going sport fishing, this is ideal too.
2. Bovilla Lake
Bovilla lake is one of the best outdoor spaces close to Tirana. It's about a one-hour car ride from the capital city and recommend going with a big car such as a 4×4, as the road to get there is quite difficult! Alternatively, if you are a mountain biker, you can cycle until you reach the mount and then start hiking!

On top, there is a nice restaurant where you can have a nice meal with wonderful panorama views.
3. Mount Dajti
Another day trip idea from Tirana is Mount Dajti. It takes about an hour car ride from Tirana and is a quiet mountain paradise that is beloved by locals looking to get away from the hustle and bustle of downtown and right into the mountains.
There are plenty of beautiful viewpoints and hikes here, so a full day is worth it, or a nice afternoon for a beautiful sunset view.
During springtime, flowers cover the mountain, but in the fall when everything is orange and red, Mount Dajti is definitely at its most beautiful and photogenic. And summer and winter bring their own beauty!
So if you are looking for a perfect place to relax and spend a day on the outskirts of the capital among nature. Go up the cable car to the highest point in the Tirana vicinity, Mount Dajti!
Do I need a visa for Tirana, Albania?
If your passport is from Australia, you can stay up to 90 days in Albania. Longer stays require a visa and if you are from another country, I highly recommend checking the official website online or with your local embassy to find out if your country requires a visa.
When is the best time to visit Tirana?
If you have limited time, anytime is best to visit Tirana IMHO but if you are after the best weather to enjoy this interesting historical destination, it would be between April to October. Basically summer time but also shoulder seasons before and after summer when the weather is dry and the temperature is warm yet comfortable. Also, shoulder season would probably offer better hotel rates although the museum and public transport prices likely won't change.
Is Tirana city safe for a solo female traveler?
First of all, let's establish the understanding of traveling is brutality! It forces you to trust strangers and to lose sight of all that familiar comfort of home and friends. You are constantly off balance. Nothing is yours except the essential things – air, sleep, dreams, the sea, the sky – all things tending towards the eternal or what we imagine of it. If you are okay with it, you will adapt, and you will survive.
That being said, I felt completely safe in Tirana although I was aware the levels of crime are high around some areas.
Unless there is a drastic change in the country's political situation, pandemic, or some natural disaster it is safe to travel to Tirana. Just remember to apply a general rule of thumb i.e. Don't walk down that dark alleyway on your own, respect the culture, don't argue about religion, dress modestly depending on your surrounding, trust your instincts, and don't be afraid but be cautious.
Local currency
The official currency of Albania is the Lek (ALL) although euros are also accepted. Major credit and debit cards are accepted in most banks, large supermarkets, and international hotels. Smaller businesses and taxis often only accept cash. There are numerous ATMs in Tirana and the main towns, as well as currency changes where AUD, USD, and Euros are widely accepted.
You could withdraw Lek from ATMs on arrival at the airport or in the city. However, remember to consider bank fees from your bank and the ATM withdrawal fee.
People, language, and more
I had limited time to interact with the locals in Tirana but overall, I had a positive fun experience. During my short time here, I came across two locals who did not hesitate in offering to pay for my water bottle, and another time in front of a taxi, a local not only translated where I wanted to go to the taxi driver but sat at the back in the same taxi!
I was grateful for the translation but felt a little weird because I had no idea where he was going in the same taxi! People are generally nice so when asked he said he wanted to make sure I get to my destination safely. How kind are these people! Then the taxi driver mentioned in semi-English that that local was headed the same direction I was, so he jumped in the back and it's like I paid for his ride too lol which I did not mind at all. They dropped me off and I went about my day.
The official language in the Republic of Albania is Albanian which is spoken by more than 8 million people. These days English is taught in schools and is spoken in the tourism and hospitality industry the most.
Must-Have Travel Apps for Albania
I don't like using too many apps so all I use is
Google Maps for ease of finding routes, and offline use.
Google Drive, Calendar for time management, and storing pictures.
What to eat in Tirana, Albania?
Tirana offers food and drinks for every budget with its various cafes, restaurants, and takeaway shops. Here are some of my recommendations on must-try food in Triana starting with the Traditional Tava e Kosit, Tarator, Qifqi, Dolma, Byrek, Fergese, Tavë Kosi, Petulla Speca të Mbushura, Imam Bajalldi or Trilece.
There are tons of restaurants and cafes in the old town. Some recommended ones are Kripe Dhe Piper, Tymi, Sky Club Restaurant, Padam Restaurant, A La Santé, Coko Bistro & Bar, Oda Restaurant, Artigiano Villa, The Rooms Bistro & Bar, Salt Restaurant or The Crown Tirana Restaurant & Bar.
What to drink in Tirana?
Raki is the traditional Albanian drink and is also the most alcoholic drink consumed in Albania. Apart from that, try Bozë (This drink has 4 ingredients corn and wheat flour, sugar, and water) and Dhallë, this one is a salty, liquid yogurt drink. It's mainly consumed during the summer.
Raki can be produced by almost every fruit. This drink can be consumed before or after meals and sometimes even in the morning while having a coffee!

The 3 bars I recommend are above.
Where to stay in Tirana?
If you are considering staying overnight there are numerous choices when it comes to accommodation in Tirana from all five stars hotels to hostels. Make sure to book with a legit website such as Agoda, or Booking.com Most hotels and hostels offer free WIFI. Recommend reading recent reviews and looking up locations before you book just to make sure the accommodation isn't far off. Here are some places I suggest:
To meet fellow solo travelers
Mid-budget ideas
Lot Boutique Hotel by Hotels and Preference
Luxury lovers
Xheko Imperial Luxury Boutique Hotel
The Crown Boutique Hotel & SPA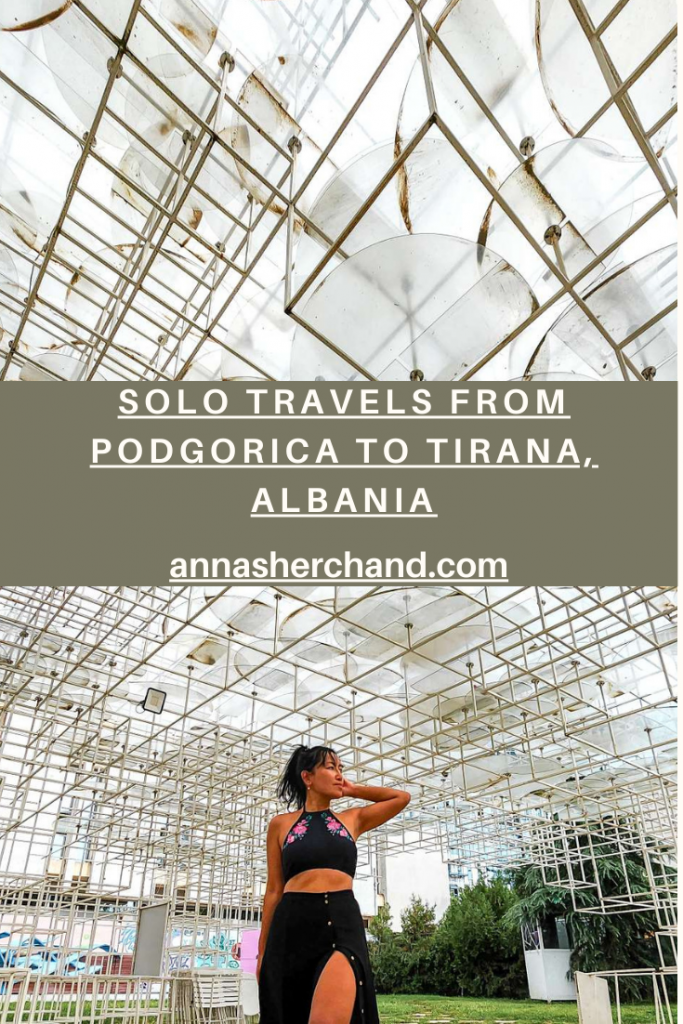 Let me know in the comments:
If you have any questions about solo travels from Podgorica to Tirana
How to go from Krakow to Warsaw by train and Warsaw travel guide
Best hiking quotes for Instagram
One day in Luxembourg
Day trip from Zurich to Liechtenstein
Fiji solo travel guide
Australia east coast must-see
Master Sydney travel guide
Solo travel guide to Brisbane
Exploring Adelaide the best way is a must-read
Important travel tips for Uluru trip
Melbourne travel guide for first timers is here.
Melbourne day trips in winter
Day Hikes in Melbourne
Weekend getaway? Check out things to do in Ballarat
Perth solo itinerary
Top 5 must do in Darwin, Australia
How to go from Dublin to Howth
Read a recent day trip to Zaanse Schans from Amsterdam
How about a solo itinerary to Canberra– Australia's capital city?
Going to Vietnam after Australia? Check out the 7 days Hanoi travel guide.
Check hotel prices and book it through trusted Agoda, or Booking.com
I have detailed travel resources right here. Save money, learn what and how.
If you like this article, follow my adventures on Instagram, Facebook, YouTube, Twitter, and Pinterest, but most importantly sign up to my e-mail list to keep up with updates and travel posts!
Solo travels from Podgorica to Tirana