London is one of the visited countries in the world. Whether you are a backpacker, flashpacker, digital nomad, or luxury traveler. There is something for everyone. Apart from sightseeing, there comes a time when you need a break. This article aims to get you to the most beautiful cafes in London.
Here you will find 14 independent instagrammable cafes, with incredible decorations and (very) good coffees, far from the clichés of Starbucks or Maccas coffee.
12 cute cafes in London open in 2021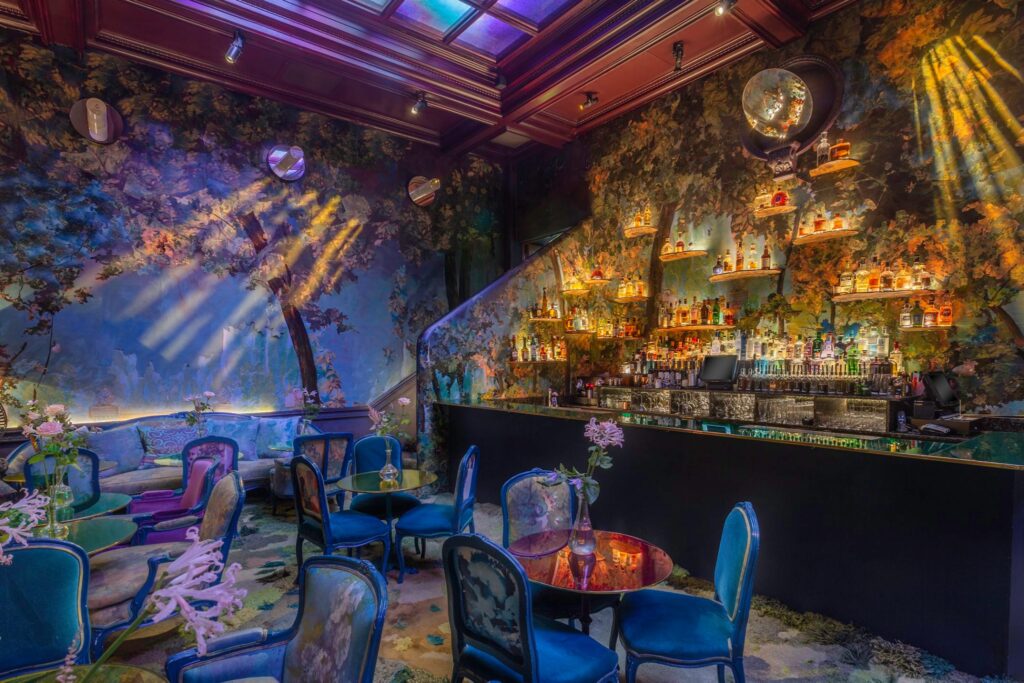 1. Sketch
You cannot leave London without visiting the most instagrammable cafe in London. Sketch offers more than one pretty room for your gorgeous picture hunger. Whether you are a fan of floral or color pink or pods or 18th-century vibes or a unique experience, the sketch is a must-visit. This cafe/restaurant is best to visit when you have a good few hours to enjoy. Although the restaurant is limited to 90 mins table booking, you can shift to another room perhaps East Bar inside Sketch for finishing up the drinks.

Address: 9 Conduit St, Mayfair, London W1S 2XG, United Kingdom
Phone: +44 20 7659 4500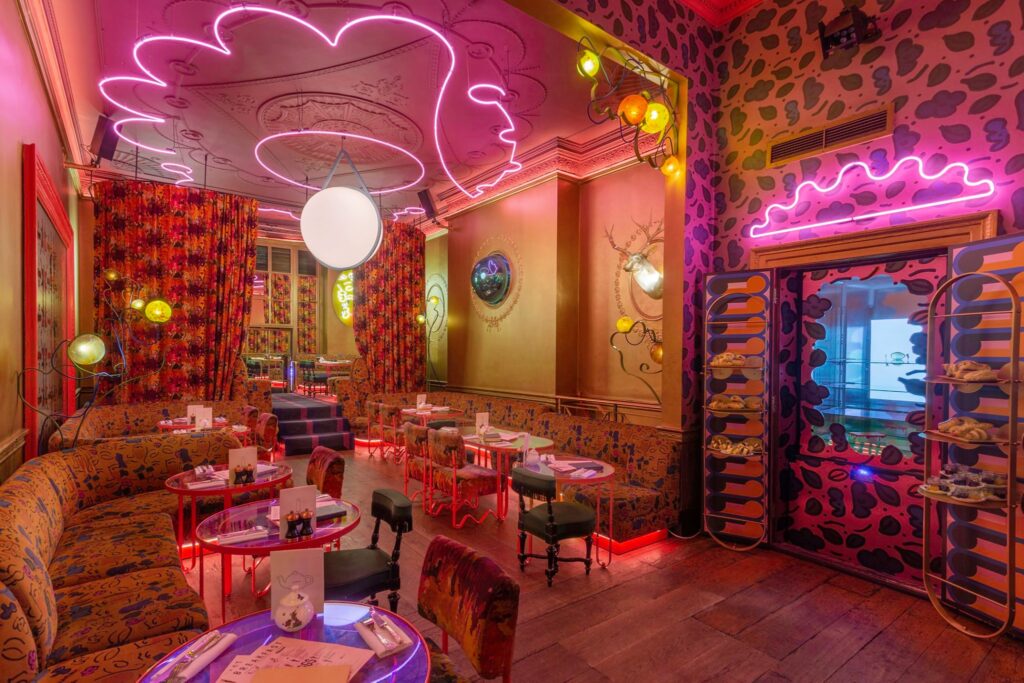 2. EL&N Cafe
Another beautiful cafes in London is the EL&N. It offers the prettiest decor and they are in various locations each one pretty as the other one. You can find them at St Pancras, Park Lane, Hans Crescent, Lowndes Street, Brompton Rd, Carnaby Street, Market Place, and Selfridges. their fam is going overseas too soon to open in Doha! This pretty pink cafe is a dream of locals and visitor's Instagram feed.
3. Saint Aymes
One of the best pretty cafes in London is Saint Aymes. The decor is gorgeous and so are their Instagram-worthy drinks and food. Great spot for that wonderful afternoon tea or enjoy yum cocktails. There is also a nail bar in case if you are in the mood for indulgent treats and some nail TLC
Address: 59 Connaught St, St George's Fields, London W2 2BB, United Kingdom
Phone: +44 7503 566556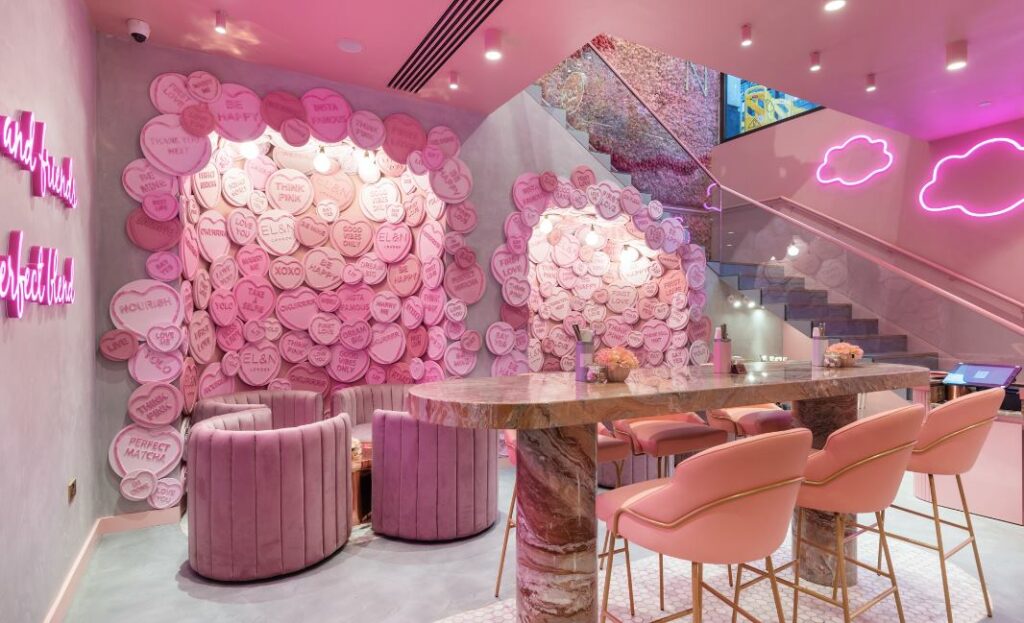 4. Peggy Porschen
You'll fall in love with this chic bakery/ coffee shop before you've even tasted their specialties. Their decoration is incredible, soft pink, with lots of little details, you won't know where to look! The atmosphere is cozy, with yummy cupcakes and other sweet treats; plus tea and champagne. Just a perfect place for that Instagram shot.
Address: 16 Clapham Common South Side, London SW4 7AB, United Kingdom
Phone: +44 20 7730 1316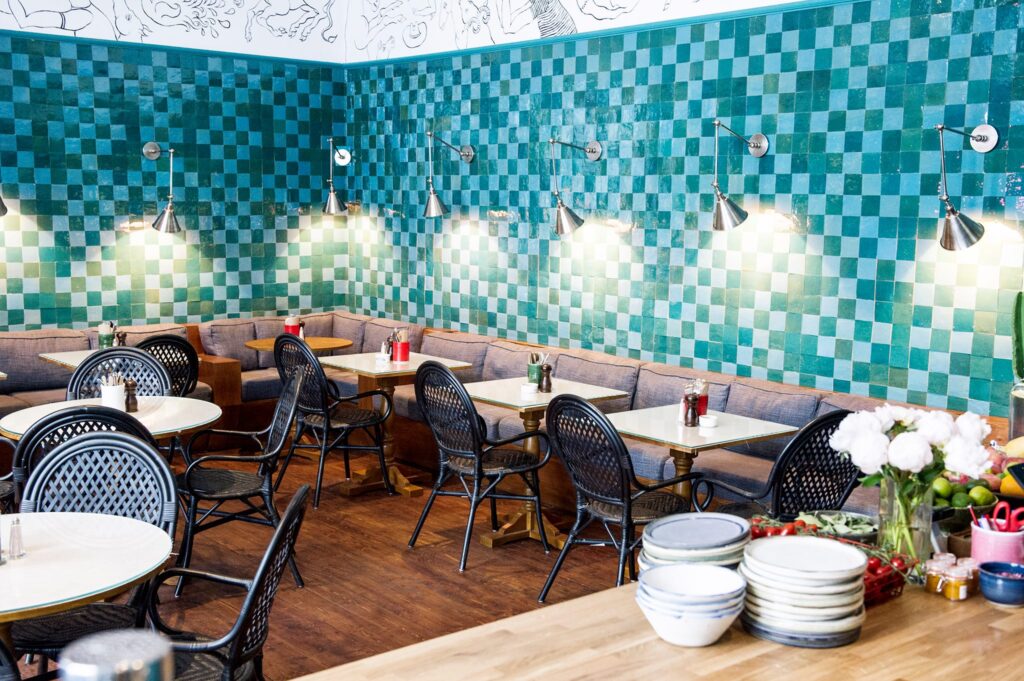 5. Farm Girl Cafe
Fram girl cafe is run by Aussies in 3 London locations now. Mixed with pretty and a bit of rustic decor; they offer healthy food, coffee, and fun fact- their good-looking food has been photographed more than Kate Moss! 3 locations are Notting Hil, Fitzrovia, Knightsbridge, and Soho.
6. Grind
One of the other beautiful cafes in London is Grind. Their aesthetic is on point and food and coffee are great too. With more than five different locations in London; you can't be too far away from one of the grind! London Bridge, Greenwich, Liverpool Street, Covent Garden, Shoreditch, Soho, and Royal Exchange.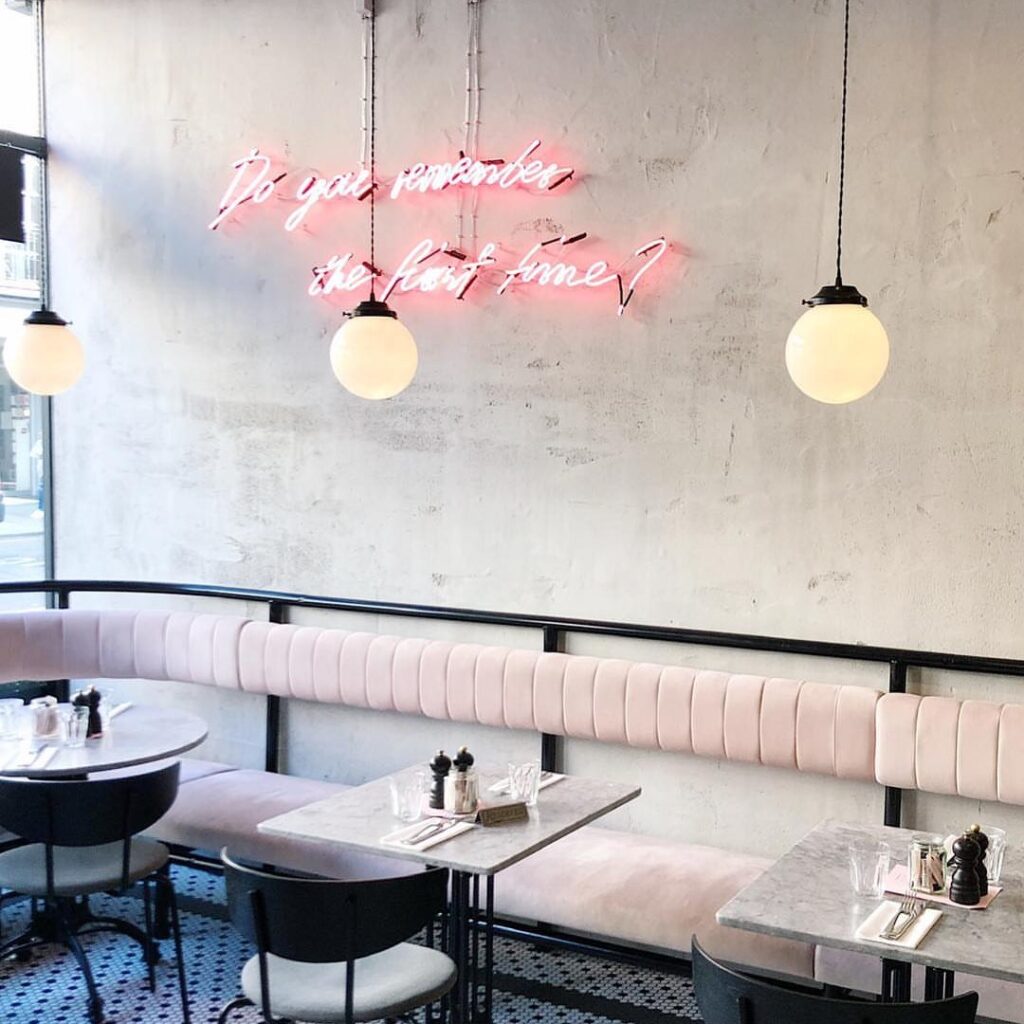 7. Drunch
Drunch is one of the local's and visitors' favorite too. This black and white and sometimes floral establishment offers lunch, brunch, and dinner too. (Shisha also if that's your jam) The moment you step through the picturesque floral entrance you will feel like you've entered a home-from-home. They have two locations; Drunch Mayfair which is a no alcohol cafe and Drunch Regent's Park is more like a Bar and restaurant.
8. Daisy Green Collection
If you are after a bit of art with cafe vibes, head to the Australian restaurant/cafe at Daisy Green Collection. They have also recently opened a new restaurant with a lamington theme.
Address: 20 Seymour Street W1H 7HX London, UK
Phone: +44 20 7723 3301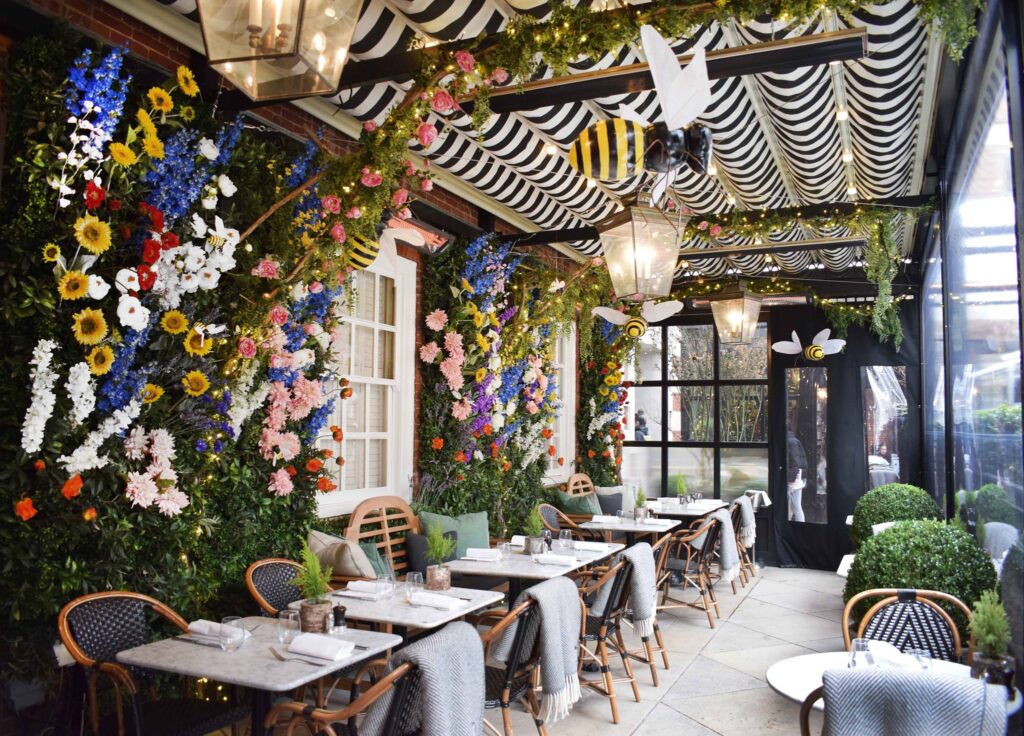 9. Dalloway Terrace
Dalloway Terrace is one of London's most popular outdoor, all-day dining restaurants. Yes it's not a cafe per se but you can def order coffee and all the other treats. Especially with their decor changing every season, it looks stunning all the time.
Address: 16-22 Great Russell Street WC1B3NN London, UK
Phone: +44 20 7347 1221
10. Tiffany Blue Box Café at Harrods
One of the pretty theme coffee shops in London is Tiffany Blue Box Cafe at Harrods. As the movie suggests you can try breakfast at Tiffany's or their amazing afternoon tea experience comes highly recommended too. Although it is temp closed, keep an eye out on their new opening dates.
Address: 87-135 Brompton Rd, London SW1X 7XL, United Kingdom
Phone: +44 20 7225 6800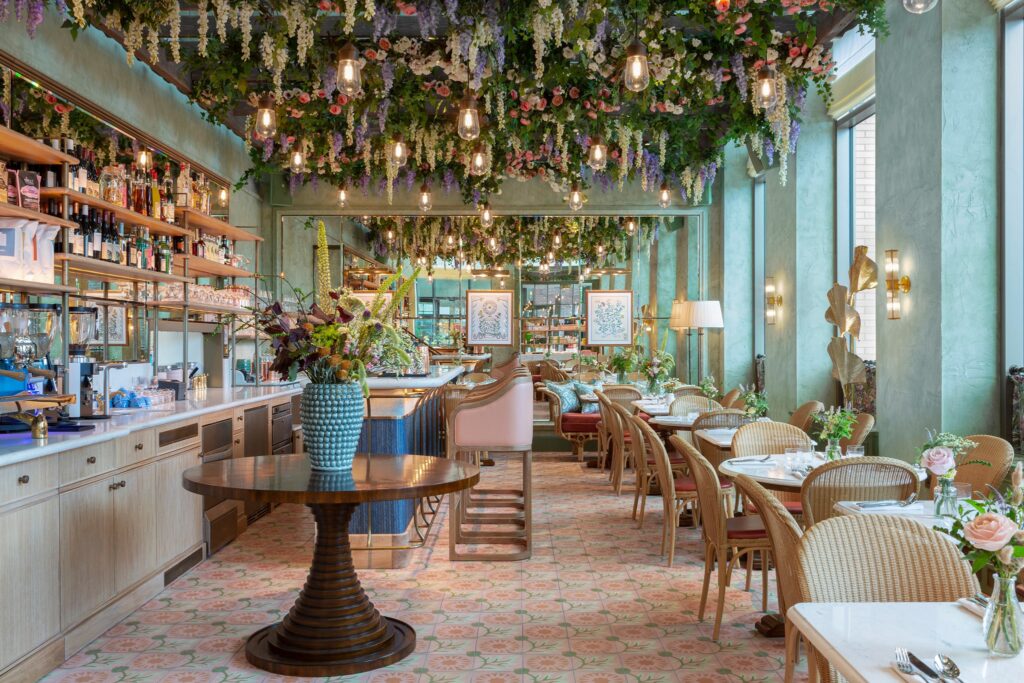 11. LINNAEAN Cafe
If you are after a bit of pampering plus cafe fix, Linnaean cafe could be your best bet. Imagine tasty brunch, balayage service, a glowing facial plus massage all under one roof that is amazingly decorated, very clean, and very professional. It's a symbol of a self-care day and the food has lots of veggie and vegan options.
Address: Embassy Gardens, 2 New Union Square, Nine Elms, London SW11 7AX, United Kingdom
Phone: +44 20 3971 0805
12. Palm Vaults
If you are into nature, you will like this beautiful cafe in London because they have hanging plant baskets all over the ceiling. It offers a light interior for simple cafe dishes and cakes. Although it is temporarily closed, keep an eye out for their opening dates.
Address: 411 Mare St, London E8 1HY, United Kingdom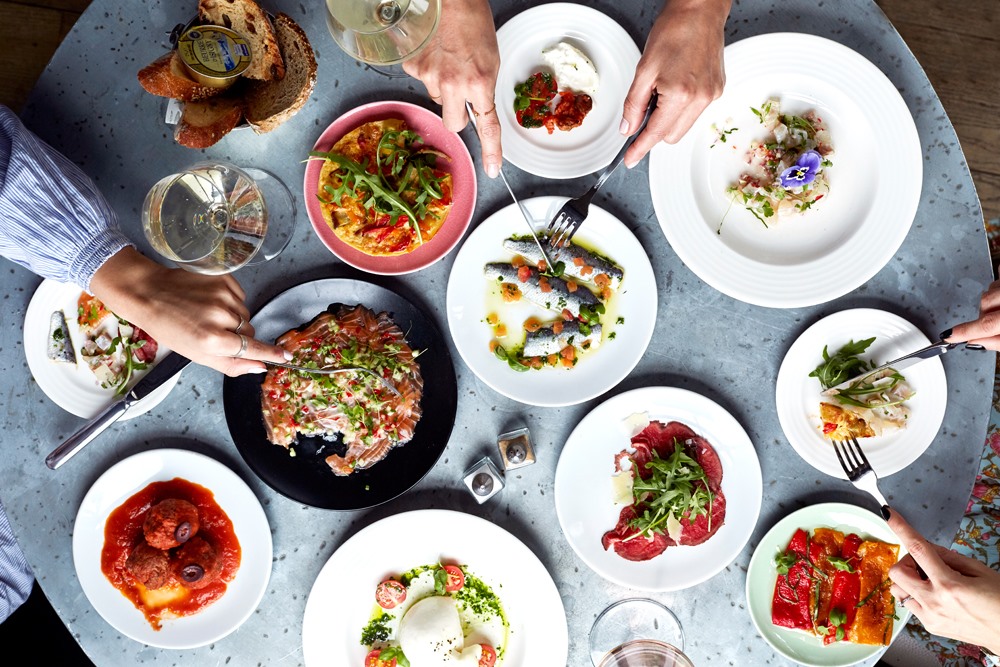 The following restaurants also come highly recommended as they offer beautiful interior and delicious food also.
24 Mayfair
The Collins Room At The Berkeley
Aubaine inside Selfridges
Lady Dinah's Cat Emporium
Winter Garden at The Landmark London
Bafarat Cafe
Greenwich Grind
Treves & Hyde
The Coral Room
Bourne and Hollingsworth Buildings
Sexy Fish, Mayfair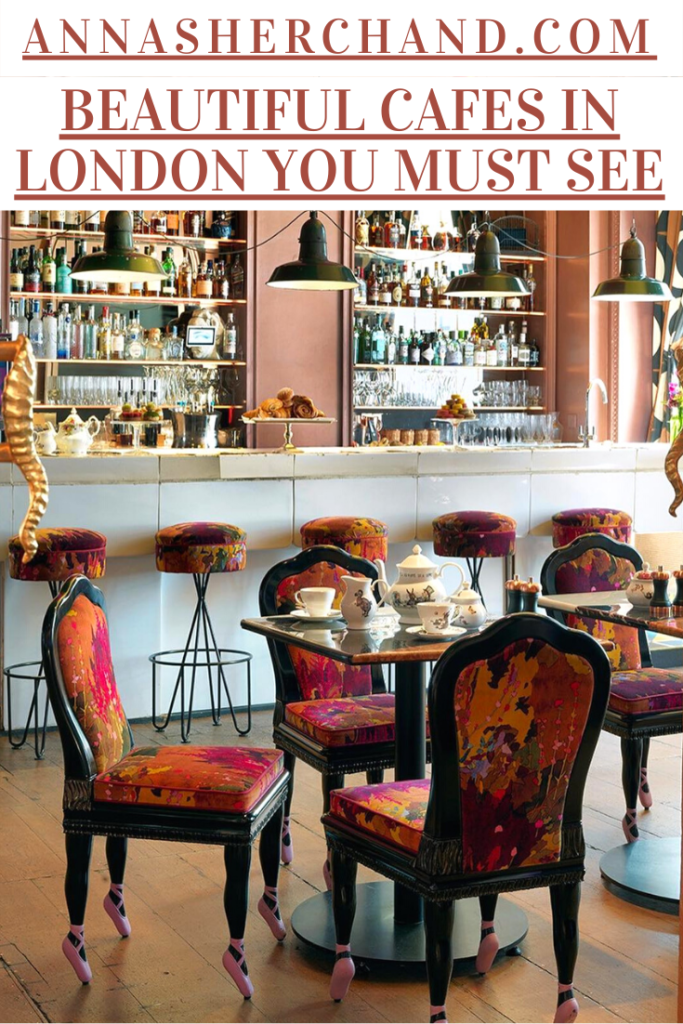 Let me know in the comments:
12 beautiful cafes in London you must see