The other day I wrote about Dublin solo travels, pretty much your go-to 3 days in Dublin itinerary which includes where to stay in Dublin, see/do/food/drinks, and short info on a day trip too. Today I am going to elaborate on it and unpack how to go from Dublin to Howth, things to do there, and more.
Before I got to Dublin, I wasn't even aware of the place but I was looking for a short-distance day trip. Not like Galway or Belfast because those places would take more than an hour one way, I wanted max 1-hour distance so I can spend more time at the destination than on the train/bus.
When researching about it, a local told me about this peaceful place called Howth. And if you know me I am an absolute fan of nature and walks/hikes. Plus it had been a month since I was mostly in the cities so I was pretty keen on a good walk in countryside Dublin.
Alright let's get started,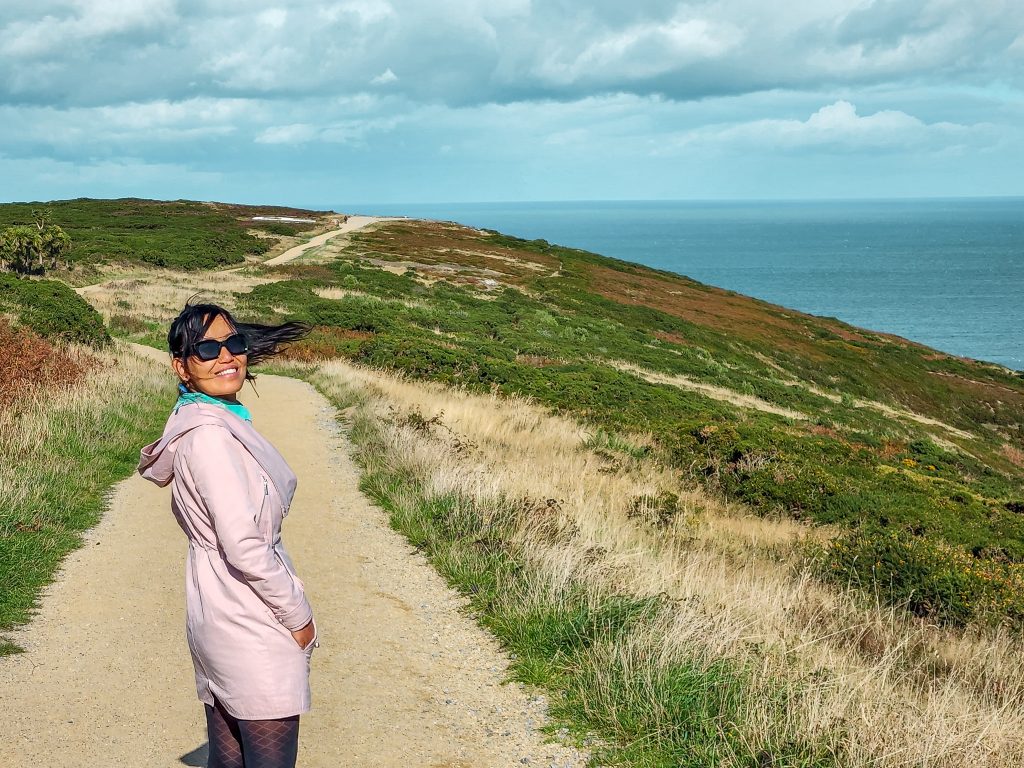 About Howth Dublin
Howth is a quaint Irish fishing village on the Howth Peninsula, east of central Dublin city center. One of the local's favorite places to go when they want to get away from all the hustle and bustle of the city. And it is still a sort of hidden gem for tourists.
They also have some excellent seafood restaurants near the train station after some wilderness.
How to go from Dublin to Howth?
Traveling alone is quite different, as opposed to moving with a tour company. Hence if you are traveling solo, you have the choice to travel however you want via bus, train, driving car, ferry, or cruise ship. It all depends on your preferred mode of travel, time, and budget.
I will start with how I went followed by other options.
Dublin to Howth Bus
For the Howth day trip, I went to Busáras in the city, Stop ID: 496, and got on to Howth Station with bus number 6. It took about 49 minutes.
From Busaras you could also get on bus number H3 and can buy the ticket inside the bus, just make sure you have cash or coins with you for it. From memory, I paid less than 5 euros for one way to Howth.
There are various drop-off points here so for ease of direction, I got off at Howth Summit, Stop ID 567. I think it is the best starting point.
If you are stopping at the same stop, you should be able to see The Summit Pub in front of you. Walk up to it and check out the Howth map on the Outside right wall. The road you are on now should be Bailey Green Road, simply walk straight up for 5 minutes.
It may look like you are in some quiet suburban neighborhood but after about 5 minutes you will arrive at the Summit Car park. There are toilets if you need them and a big information board with color-coded info regarding the walks in Howth.
Alternatively, you can also take the H3 Dublin bus from Dublin city center to Howth. The stop is Abbey Street in the city, stop 7591. This journey should be about 43 minutes and get off at Baily, Mariners Cove, Stop 571, Howth, Dublin, Ireland.
From there you can walk straight south to the summit car park for about 15 minutes. When you arrive at the Summit pub, follow the same steps as above.
How far is Howth from Dublin?
Usually, by bus, the journey takes between 35-50 minutes. With DART/train approximately 30 minutes.
Dublin to Howth DART
In Dublin, the electric rail system called the DART (Dublin Area Rapid Transit) is a quick and easy way to get around the coastline and city of Dublin, Ireland. So if you would like to use that then get to Connolly train station in the city center, and get on the Dart to Howth.
Pls, note Dublin Connolly is the busiest railway station in Dublin and Ireland and is a focal point in the Irish route network. Be mindful of your belongings with the crowd.
Another thing worth mentioning is, I took the bus when heading to Howth and when returning back I took the dart. It took about 27 minutes with 9 stops along the way.
Their schedule can be found here https://www.dublinpublictransport.ie/dart-times
Dublin to Howth DART price
Also if you have a leap card, you can use that for DART although I bought the tickets at the station. From memory for one way ticket, it was 3.30 euros and if you have a Leap card it would be 2.40 euros. And if you want to travel both ways on the train it would be 6.25 euros.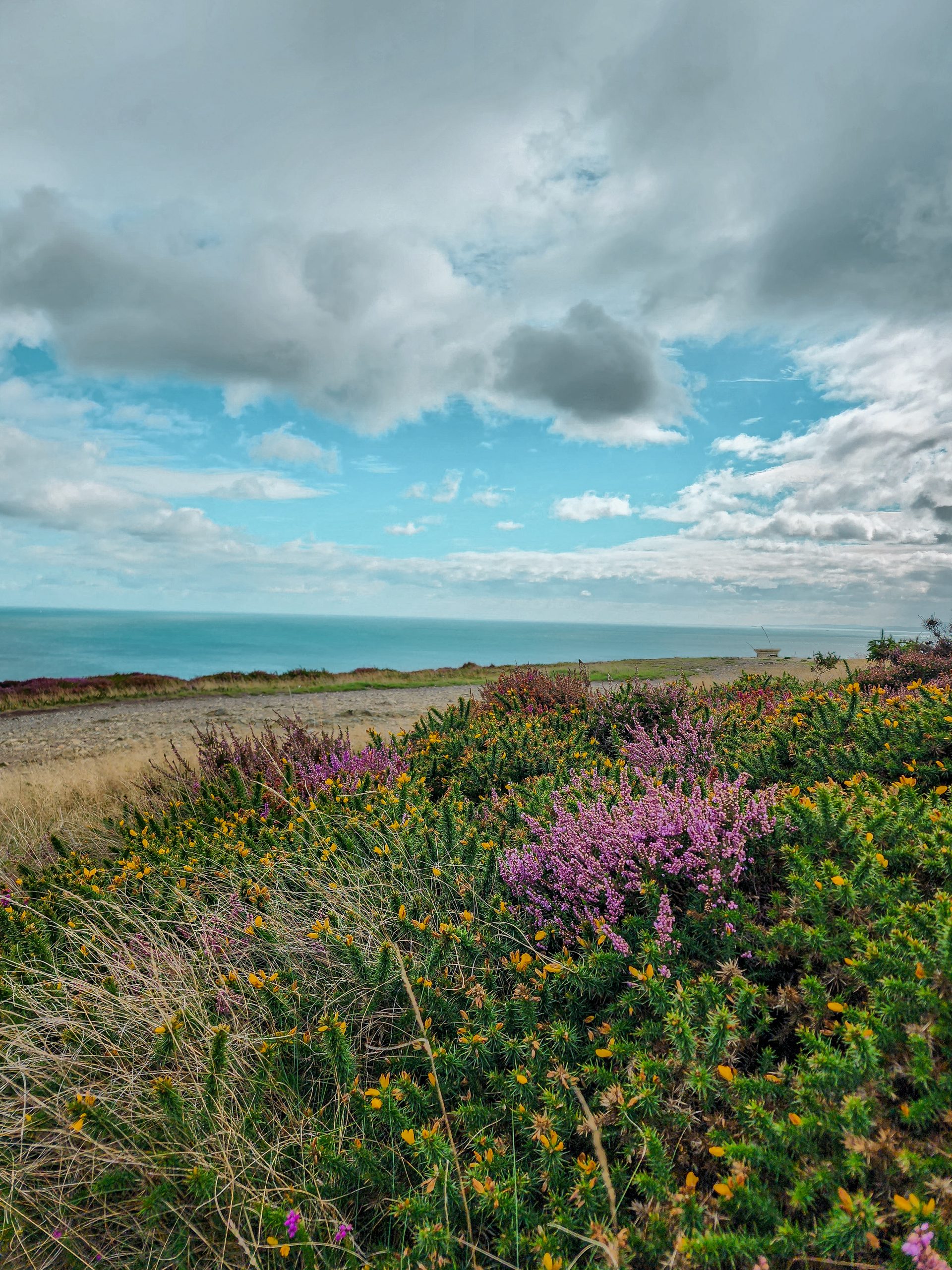 Dublin to Howth Train
There are three types of commuter rail services in Dublin, i.e. DART trains. Commuter trains. Luas trams – a light rail service.
Irish Rail operates a fast train service from Dublin Connolly station to Howth every 30 minutes. Tickets cost €6 – €8 and the journey takes 26 minutes.
Dublin to Howth train schedule can be found at their official website https://www.dublinpublictransport.ie
Dublin to Howth Ferry
Another option to consider is via ferry. It would be a perfect option if you love water, have time and enjoy cruising/sailing.
There are many tours and day tour operators offering the day trip from Dublin bay cruises Howth. For example, you would sail from south of Dublin bay to the beautiful Dun Laoghaire Harbour and from there on to the traditional fishing town of Howth.
If you have time, consider staying overnight, hiking in the day, enjoying this gem of a town, and the next day cruising from Howth to dun Laoghaire followed by Dublin Bay.
Where to stay in Howth?
Some recommended accommodation options in Howth are King Sitric, Sweet Inn – Gorgeous Howth II and Gleann Na Smol.
If you like some peace and quiet, you could even stay here a while and make a day trip out to Dublin or Ireland travel from here.
What to do in Howth?
Now that we covered how to get to Howth, let's look at what are the things to do in Howth.
Walks/Seaside stroll
Initially, I was keen on Howth purely because of hiking. But I would say even if you don't like hiking as long as you appreciate the ocean view, nature, cliff walks, and seafood you will be good.
When you arrive at the Howth car park mentioned above, remember it will be your starting point ending the walk at the station but if you took the train/dart to Howth then you will start there and end at the car park unless you have a lot of time then you can turn this into a loop and walk back to where you started from.
As mentioned above the big detailed info board tells you that the 4 color-coded hikes are marked with red, green, orange, and black.
The most talked about would be the Howth Cliff Walk which is the green-coded walk.
Before I get into each of these walks, recommend using comfy shoes and taking a bottle of water with you.
Also, the cliff walks can be exposed in certain sections and it is not recommended during stormy weather. It is a good idea to carry a waterproof and windproof jacket given the changeable nature of the Irish weather.
The shortest walk is around 2 hours and it is simply astonishing. There are longer and more defying options. Just follow the signs during the path to guide you.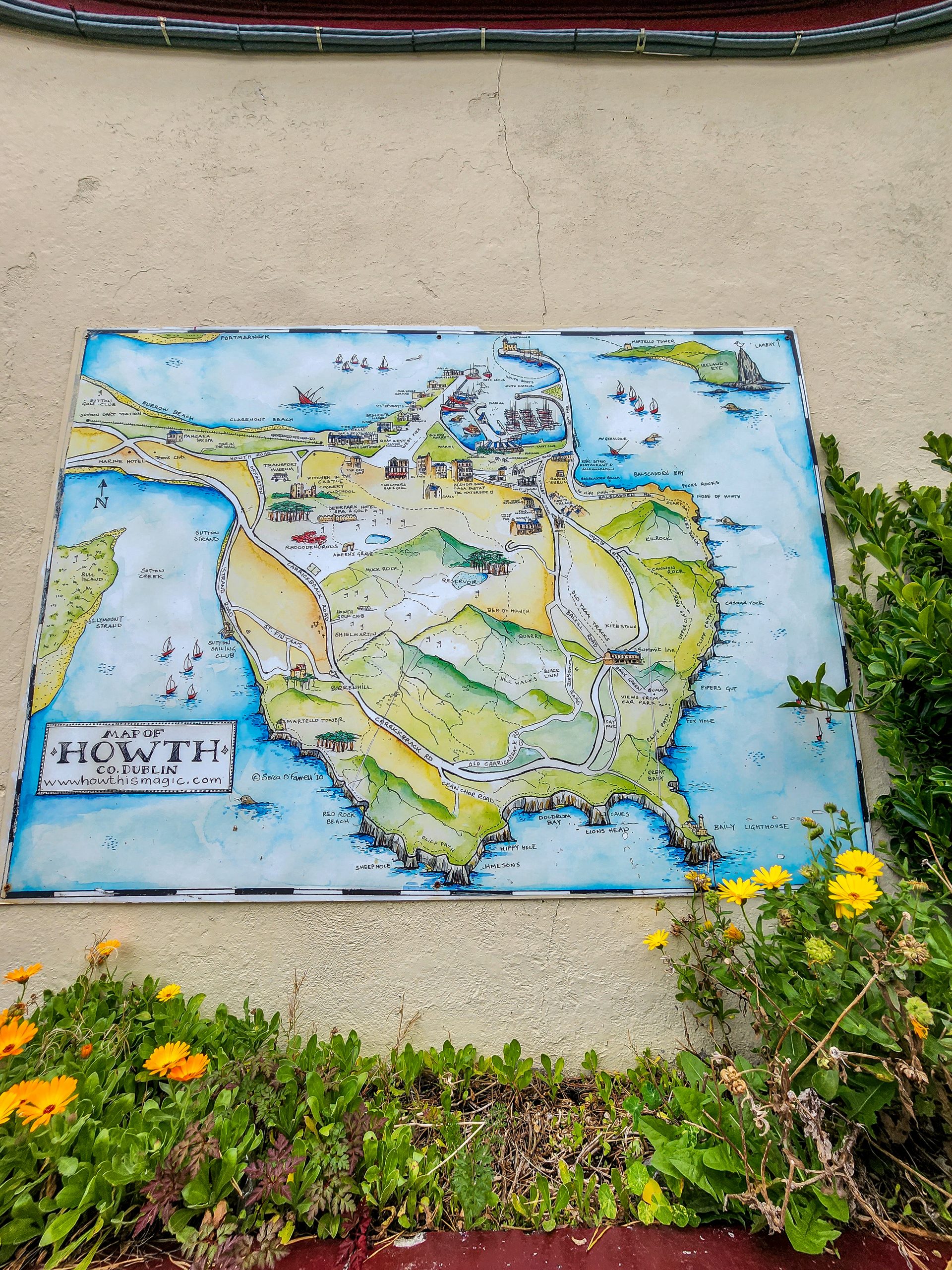 Howth Cliff Walk (green route)
This clifftop loop walk is easy 6-7km and can be done approx 2 hours. Expect Dublin's beautiful coastline, flowers, and flowers, cliffs, and sea could even do a Lil picnic if it's sunny!
As you stroll, don't miss The Baily Lighthouse, and enjoy the lovely views of Lambay Island and Ireland's Eye as well as Dublin Bay.
The weather here changes quite quickly so, don't delay taking pictures if you like because one minute you will see the sun and blue sky, next minute it will be grey and drizzling! Carry a waterproof Jacket and wear good grip shoes the most important just in case!
I would go on this walk again anytime! I was positively surprised by the straightforward walk to the dart station from the car park at the top of the hill. It was a lovely, all-straight, and direct downhill path passing through the village.
The Tramline Loop (Blue Route)
The second walk option is a 7.1-km loop trail called the tramline loop which can be completed in approx 2 hours too. This is a very popular area for birding, running, and walking, so you'll likely encounter other people while exploring. Dogs are welcome and may be off-leash in some areas.
The terrain varies from paved paths to rough tracks, with the southern section of the cliff path particularly uneven. Nevertheless, flat trail shoes with good grip should suffice.
Black Linn Loop (Red Route)
The red route is an 8km loop walk and takes about 2 and a half hours to complete.
This loop takes in beautiful views from Howth Summit and the Cliff Walk. If you started at the parking lot like me, you will continue along the clifftops, towards the nose of Howth near the village and along the marina, and to the DART station.
The walk next to the cliffs was very windy but very enjoyable, there are benches to rest on along the way.
Bog Of Frogs Loop (Purple Route)
And Finally, on your Howth day trip from Dublin, we have the Bog of Frogs Loop walk. This is a 16.9-km trail and takes an average of appro 4-5 hours to complete.
It can be muddy and windy, and a heads up, be ready for two-way traffic on narrow parts of the trail.
Overall this is a great walk very well marked out. There is a bit of everything- wonderful views all along, cliffs, forest paths, some parts even like the jungle
Expect to see dolphins, seals, blazing sunshine, lightning, thunder, and rain! If you plan well you could even go fishing, along with hiking. The trail is open year-round and is beautiful to visit anytime as long as it's not raining too much!
No matter which walks you do, when you arrive in the village, you'll find plenty of cafés, pubs, and restaurants to finish with some fish and chips and a creamy Guinness pint at the bloody stream pub.
What a great way to reward yourself after some satisfying cardio!
Swimming at the Beach
Apart from walking/hiking, you can also swim at beaches in Howth at low tide! Some recommended beaches are
A Tiny Hidden Beach
This is a secluded stone beach with rocks. Nice but be careful because it comes with a steep face, uneven ground and unpredictably wild winds, it's perhaps better to simply admire it from above.
Red Rock Beach
Red rock beach is located on the southern side of the Peninsula. If you are doing the Howth cliff walk, it is along the way, past the Martello Tower, and the rocky (and reddish!) beach will appear on the right-hand side.
Claremont Beach
Recommend visiting during low tide because if it's high tide you won't have enough beach to walk or roam around.
During low tide, there are acres of sand to play in with great views towards Ireland's Eye.
Also, at low tide, Claremont beach blends together with Sutton's Burrow Beach and becomes one. So locals call it as the Hole-In-The-Wall beach!
It's actually kind of hidden itself and to get to it you need to walk through a lane that runs beside the DART station through the industrial environs of the West Pier.
Balscadden Bay Beach
This is another nice little Stoney beach to swim but be careful the steps down to the beach are very steep and caution is advised. Wear suitable footwear!
Overall another nice beach to spend some time at before heading into town for something to eat a little later.
If staying for more than a day, perhaps a visit to Dollymount Strand (Clontarf), Ireland's Eye or Velvet Strand/Portmarnock Beach would be worthwhile.
Alternatively near Dublin, you can visit Sandycove Beach or Killiney Beach.
Eating out in Howth
Now that you have learned about beautiful hikes in Howth and beaches in Howth, it's time to find out where to eat in Howth.
I will keep this short and sweet!
Take advantage of the pretty Howth harbor's many bars and restaurants. Some of the recommended places to eat in Howth are:
The Oar House
Leo Burdock
The Bloody Stream
Angelo's
Macari's
Beshoff Bros
Soprano's
The Exchequer Gastro Bar
Howth Market
Another option to grab something to eat would be Howth market but your timing has to be right for it! They are open only on Saturday and Sunday from 9 am to 6 pm.
With a big emphasis on little – about 6/7 food stalls, one restaurant, one coffee shop, two little trinket stores, and a couple of vendors selling jewelry/honey/knitted things. Essentially It is an outdoor weekend market focusing on locally-made foods, organic produce, artisanal goods & souvenirs.
I hope this day trip to Howth from Dublin helped you in planning your day!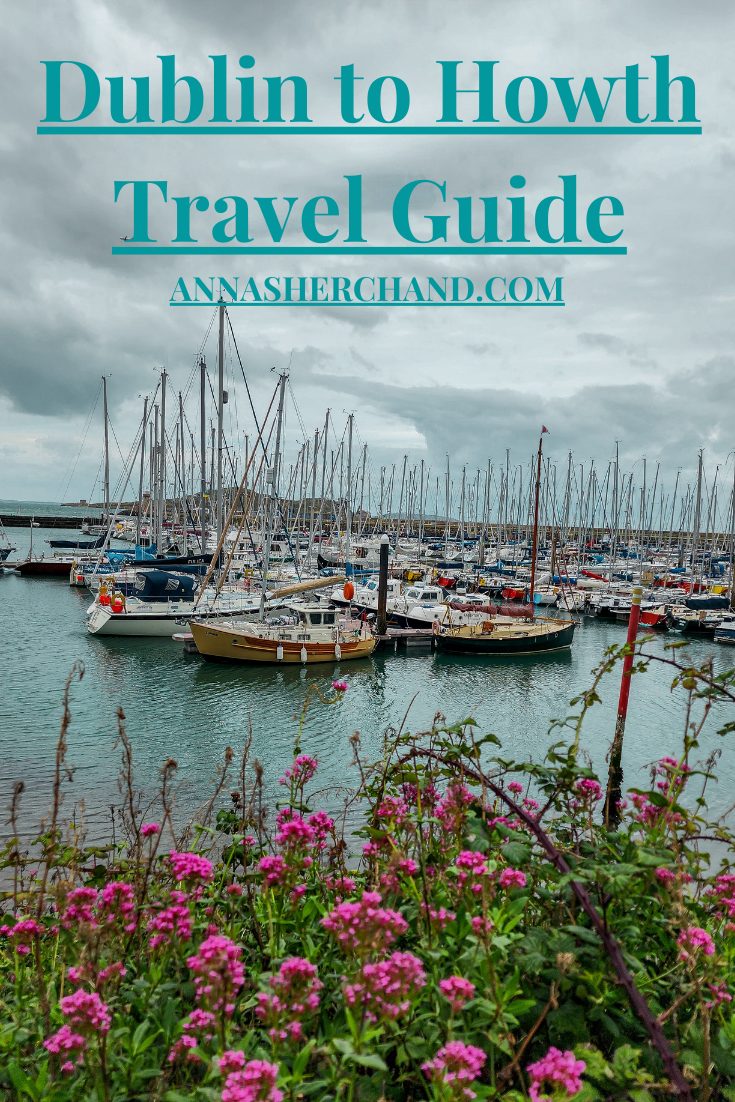 Let me know in the comments:
If you have any questions about this Dublin to Howth travel guide
One day in Luxembourg
Day trip from Zurich to Liechtenstein
Fiji solo travel guide
Australia east coast must-see
Master Sydney travel guide
Solo travel guide to Brisbane
Exploring Adelaide the best way is a must-read
Important travel tips for Uluru trip
Melbourne travel guide for first timers is here.
Melbourne day trips in winter
Day Hikes in Melbourne
Weekend getaway? Check out things to do in Ballarat
Perth solo itinerary
Top 5 must do in Darwin, Australia
Read recent day trip to Zaanse Schans from Amsterdam
How about a solo itinerary to Canberra– Australia's capital city?
Going to Vietnam after Australia? Check out the 7 days Hanoi travel guide.
Check hotel prices and book it through trusted Agoda, or Booking.com
I have detailed travel resources right here. Save money, learn what and how.
If you like this article, follow my adventures on Instagram, Facebook, YouTube, Twitter, and Pinterest, but most importantly sign up to my e-mail list to keep up with updates and travel posts!
How to go from Dublin to Howth