My first-time solo traveling to Kuala Lumpur, the capital city in Malaysia was a few years ago but thanks to quarantine I have finally got time to put this together for you solo female travelers out there! So if you are looking for a solo trip to Kuala Lumpur guide I got you! Let's get straight into it starting with some FAQs,
How to get to Kuala Lumpur city center from the airport?
When I got off the plane in KILA 2, I found travel to the city center quite straight forward. There are many options available. Such as: driving a private car, coach, commuter rail service which is being managed by Express Rail Link or KLIA Transit, which stops at the airport, and KLIA Express, a non-stop rail link to the airport as well as renting a car or booking a ride share service such as Lyft.
Instagrammable cafes in Kuala Lumpur
Read the most wanted travel resource here.

Where to stay in Kuala Lumpur?
Solo travelers like myself will tell you that booking accommodation early is always important. Hostels are a great and fun way to meet other travelers and hotels like Four Seasons Hotel Kuala Lumpur is a great luxury option too. Whatever is your choice, I recommend to check hotel prices and book it through trusted Agoda, or Booking.com
Solo trip to Kuala Lumpur
Kuala Lumpur is the most populous city in Malaysia that spreads over 200 square kilometers. It is also one of the most visited countries in Asia which means tourism is a central focus in Kuala Lumpur and because of that, there is a huge variety of attractions for visitors to choose from.
Whether you want to visit traditional museums or dine out at the modern helipad the choice is yours to make. There are also mosques and temples that show the diversity of the city, stunning futuristic towers and skyscrapers, mega shopping malls, local street food and central market, and just about anything else you can imagine.
The languages spoken are Bahasa Malaysia, Tamil, Chinese, and English. In the city center, it's relatively easy to find people who can speak English. On saying that, downloading the Google translator app for translations purposes or buying a Malay book for translations could be helpful.
On my solo trip to Kuala Lumpur, I found it to be safe when traveling around visiting attractions. However, as always I advise being cautious of your surroundings at all times. Being a female traveler is not always easy but I am here to encourage you, if I can do it, you can too!
Solo trip to Kuala Lumpur- Must see/do/eat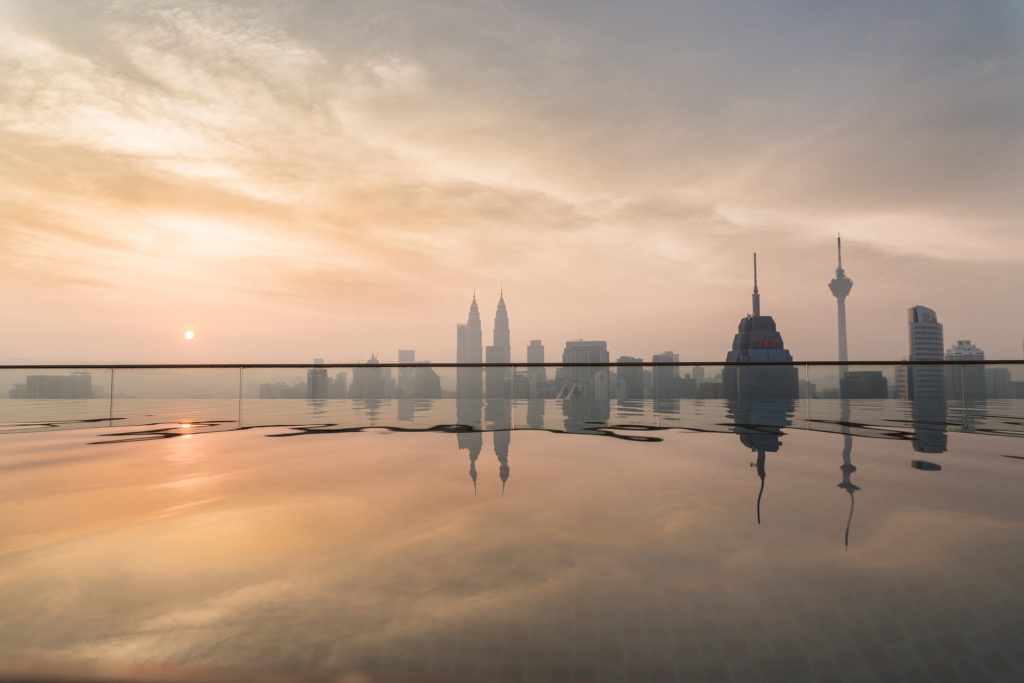 1. Check out the Petronas Twin Towers
These stunning twin towers are the tallest twin towers in the world at 451 m high. Also known as the PETRONAS Towers, or the PETRONAS Twin Towers that dominate the Kuala Lumpur skyline.
You can go here to walk over the sky bridge that connects the two towers together and admire the beautiful views of Kuala Lumpur. I recommend visiting during the sunset time so you can see the daylight view as well as night.
2. Visit the Butterfly Park
The Butterfly Park is a huge landscaped garden. It is home to over 5,000 butterflies', ferns, flowers, and plants and is very well known as one of the tourist attractions. Surprisingly, the butterfly park is also home to an insect museum with stick insects, giant beetles, etc. It is a nice relaxing place with various tables and chairs to sit and listen to the sound of fountains and mini waterfalls.
If it is too hot outside, you can find shelter inside and enjoy a nice exhibition of framed, dead butterflies and other insects. At the gift shop, you can enjoy some fair priced ice-cream.
3. Explore the Islamic Arts Museum
It exhibits over 7,000 artifacts and has an extensive library of Islamic texts and art. Inside the museum, you will find the world's largest scale model of the Masjid al-Haram in Mecca, artifacts like porcelain and 12 galleries. The models on display are meticulously prepared plus the comprehensive information reflects they care about what they are doing.
I also saw some beautiful pieces of art. The museum does a great job of showing how Islam art differs based on different regions. My favorite part was definitely the architecture center where they highlight the different styles of mosques across the world. Also, the ticket includes free tea at the restaurant which is very good!
4. Visit Sri Mahamariaman
Sri Mahamariamman Temple was completed in 1873 and is the oldest Hindu temple in all of Kuala Lumpur. It is located just at the edge of China Town and most beautifully decorated.
In addition, it holds a special place in Hindu religious life. The gates tower of the temple is adorned with depictions of Hindu Gods. Usually, the temple is visited with devotees from the Tamil community but visitors are welcome to explore and admire the craftsmanship.
5. Duck into Batu Caves
When your done climbing up 272 steps, you'll be greeted with a huge golden Murugan Statue, the entrance to the largest of the three caves: Cathedral Cave. Once you are inside you'll be surprised at its 100m high ceiling and ornate Hindu shrines. Please be cautious of people trying to sell you tickets because admission is free!
6. Eat local Malay food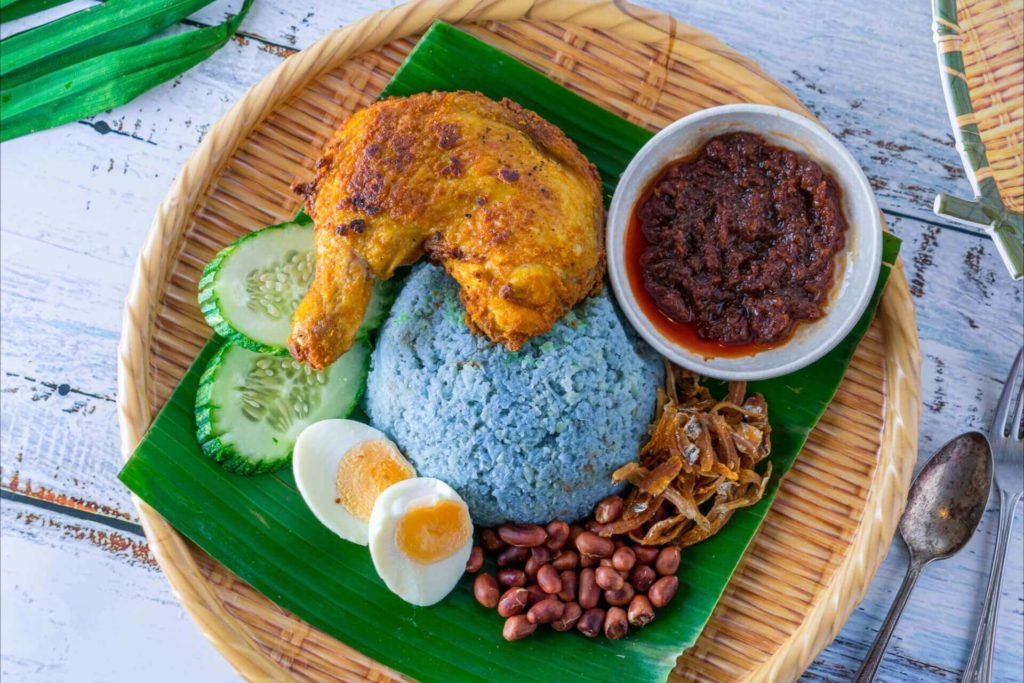 Most Malaysian foods are inspired by either Chinese or Indian cuisines. It also reflects the local communities and what they love to eat. I especially love and recommend the Nasi Lemak, Nasi Kandar, and Migoren stir fry which reminds me of my original Malaysian street food try in Penang.
While in Kuala Lumpur you can try Malay street food in the markets, and also in Jalan Alor road which the most famous road for food in Bukit Bintang. There will be loads of hawker stalls and seafood restaurants, waiting to serve you!
7. Walk or run at KL Forest Eco Park
This park used to be known as the Bukit Nanas Forest Reserve. It is the wonderful green zone in the middle of the concrete city meaning it is located in the heart of Kuala Lumpur.
There are many short trails from either Jalan Ampang or Jalan Raja Chulan (the total area of the park is over 9 hectares) and walking distance varies of course. Don't miss the canopy walk within the lush greenery while you notice the KL tower. Tickets need to be purchased from the head office near Raja Chulan or KL Tower.
The following places also come highly recommended. Such as KLCC Park, Aquaria, Perdana Botanical Garden, Kuala Lumpur Bird Park, The National Mosque of Malaysia, and Bukit Tabur.
8. Places to buy the souvenirs
Kuala Lumpur is known as the shopping of Mecca and stuff being sold is relatively inexpensive as compared to other cities in the world. Recommend the central market, or little India where you can find textile shops and jewelry stores. Malaysia does not have a Value Added Tax (VAT) but they do have government Tax depending on the type of business and sometimes charge a service fee.
9. Drink at the Helipad Bar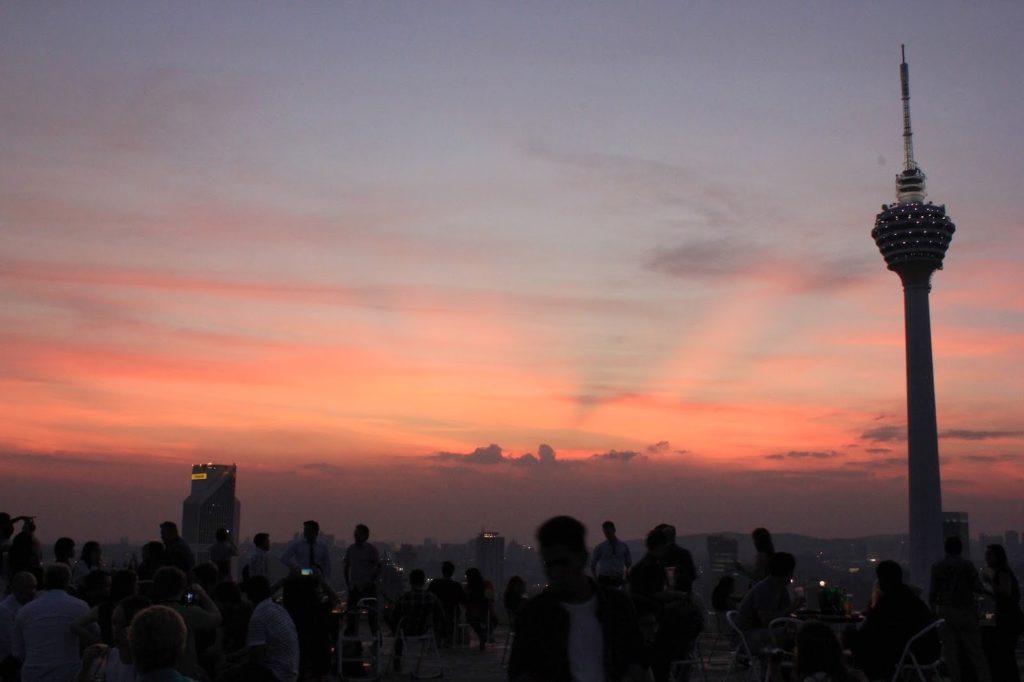 Helipad bar was one of the coolest places I ever had a drink and watched a sunset! It is a great rooftop bar with spectacular 360° views and the prices are ok too. If you get there soon like right after they open it is easier to get a nice table and there wouldn't be queues because I witnessed just before sundown there were a lot of people in line waiting. Note there is a dress code after 9 pm. 50MR to get into the place with one drink!
10. Check out Resort World Genting
Now, if you feel like getting out of the hustle and bustle of KL city, head to Genting Highlands for a day trip. It is a high-altitude hill resort in Malaysia, situated in the Titiwangsa Mountains. About an hour's drive away in a taxi and on the bus also.
If you want to go on a bus, get the Express Bus ticket from KL Sentral to Awana Station and continue your journey on the Awana Skyway Cable Car from Awana Station to the Final SkyAvenue Station at Genting Highlands.
The resort has hotels, 3 theme parks, a shopping mall, restaurants, bars, and the Casino de Genting. There is also a temple with a mountain view and lush greeneries that gives a tiny feeling of the national park. Interestingly there is a cable car Genting Skyway that connects the resort with the plateau town Gohtong Jaya as well! This resort is an area that attracts a huge number of tourists from around the world and would easily make up a boring day interesting!
I hope this solo trip to Kuala Lumpur guide helped you.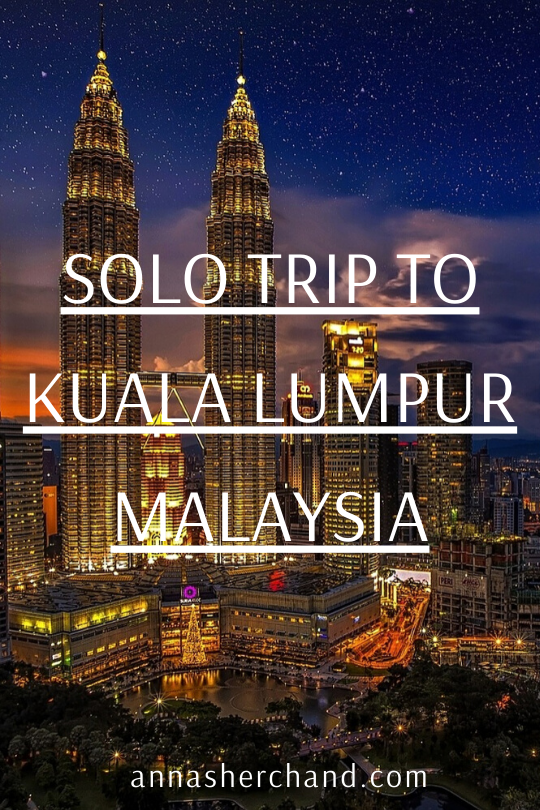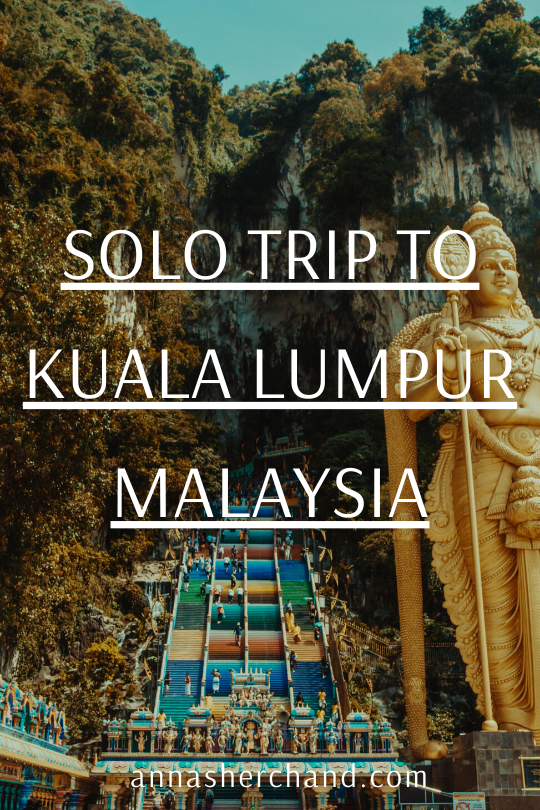 Let me know in the comments:
Solo trip to Kuala Lumpur