Australia is full of jaw-dropping landscapes, and untouched nature with mountains, beaches, waterfalls, and forests, it is a country where you will enjoy an authentic exploring experience. If you are planning a Perth to Darwin roadtrip on the west coast you will witness all of the above plus the unpopulated areas with a multitude of animals, and incredibly great underwater worlds.
The best travel time for a road trip between Perth and Darwin is not that easy to determine though, because, with a (road) distance of 4000+ km, the two cities at the ends of the route are in different climatic zones. Starting from Perth the capital city of Western Australia; it has a Mediterranean climate in the Australian summer (dec-Feb), which is longer and longer due to global warming, it gets really hot here; however, the winter (June-august) is rather cool and rainy. That being said, the road trip is doable throughout the year and is once in a lifetime experience.
Must see places between Perth to darwin roadtrip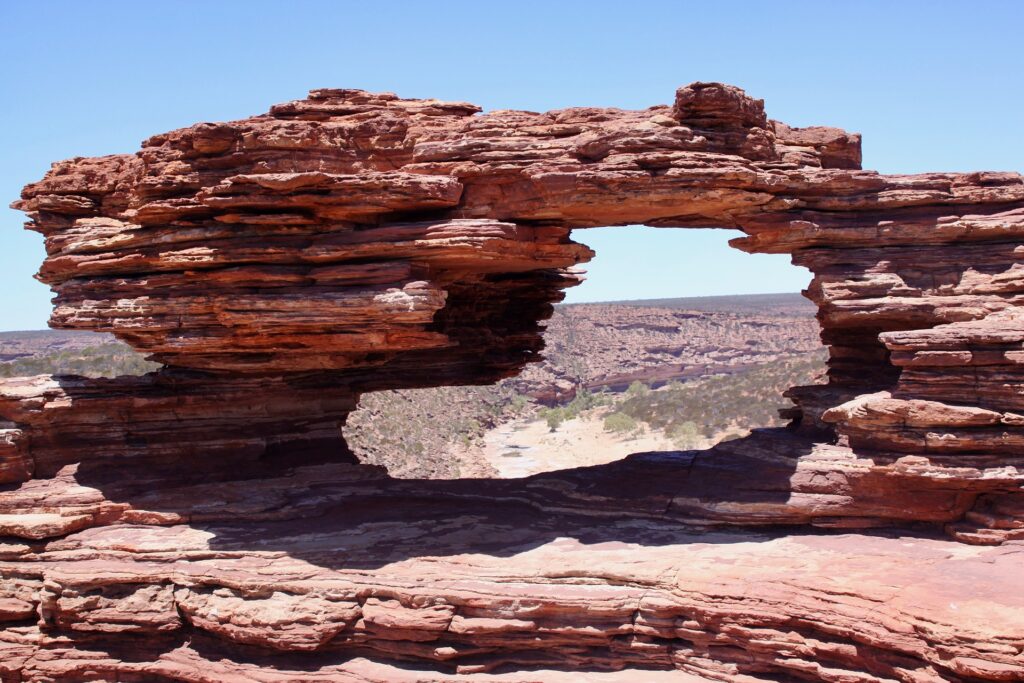 1. Perth
Start your road trip from Perth the first place you can visit during your journey on the west coast of Australia. This city has great corners and it is worth planning a few days for it. In addition to the beautiful beaches, shops, and bars, I was particularly impressed by Kings Park. From up there you have the best view of the Perth skyline and at the same time, you can get a first impression of the local nature.
The next stop on your Perth to darwin roadtrip is Kalbarri national park. In transit stopover at Nambung national park so you can break the total of 6 hours drive into halves if you wish. Nambun is famous for the adjacent pinnacles dessert that combines the ocean with outstanding rock formations. It's uniquely beautiful.
2. Kalbarri National Park
No one is indifferent to the sight of the cliffs of Kalbarri National Park as they cross the town boundary. The 2000 square kilometer National Park is made up of breathtaking gorges, cliffs overlooking the ocean with various viewpoints, and excellent bushwalking trails. The main attraction of the national park is the Nature Window and the impressive lookouts along the cliffs that stretch for 13 km. From the coast, it is possible to spot whales during their migration from June to November.
Red Bluff, Mushroom head, Natural Bridge, Z-Bend, and Nature's Window are just some of the iconic places in Kalbarri national park. Furthermore, on the beach in the center of the town, every morning it is possible to closely observe the pelicans being fed. The park is home to nearly 200 species of nesting birds, including hundreds of black swans and large sea eagles.
En route to Coral Bay, check out toolonga nature reserve and monkey mia. It is well known for dolphins and they swim almost daily to the shore to interact with humans, which attracts thousands of visitors to Australia's Shark Bay region each year.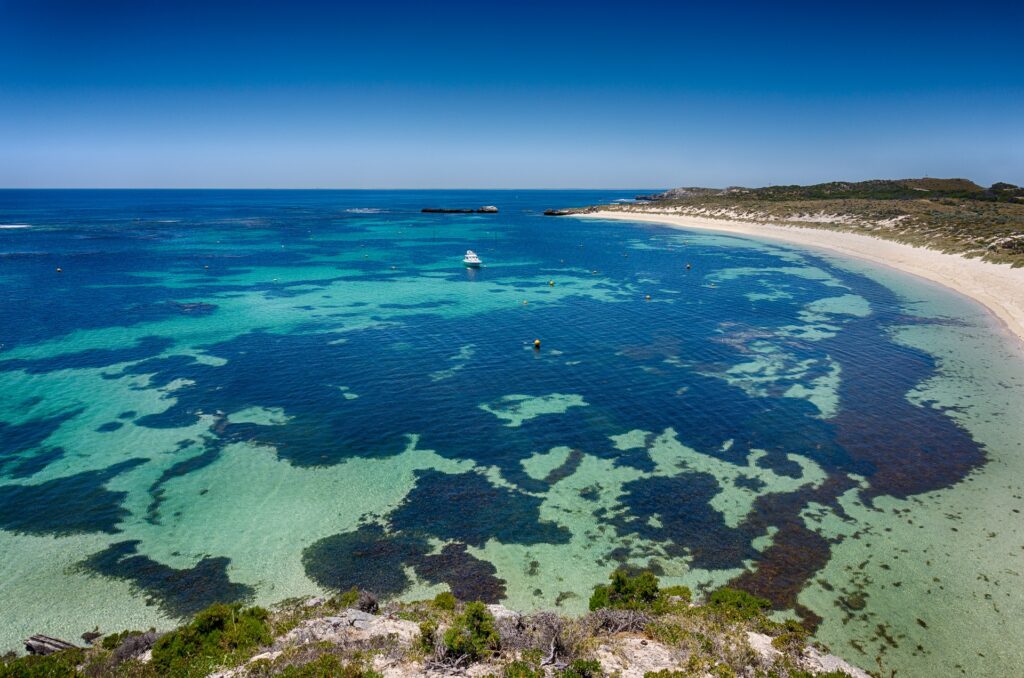 3. Coral Bay
When you arrive in the town after 673 km of semi-desert and dusty landscapes, you will feel like you are in an oasis and you will never want to leave! On the main beach, snorkeling is very easy, as the current carries you from one side to the other without having to swim! Watch where you put your feet because there may be stingrays that hide under the sand even in very shallow water.
In Coral Bay, the corals start right by the sea, so the reef and its colorful fish are accessible to everyone, including children. Coral Bay is little more than a couple of campsites, about twenty houses, a few shops, and a gas station (very expensive). In any case a lovely place, very popular with locals and holidaymakers.
4. Exmouth
One of the must-see stops on this Perth to darwin roadtrip is Exmouth. It takes approx 1:30 hours (152 km) further north and you will arrive here. The coral bay is probably just a taste of the wonders you will encounter in Exmouth's Ningaloo Reef, a 260km long coral reef. Exmouth is a small, charming, and remote village that is also the gateway to Cape Range National Park, one of the most spectacular marine parks and reserves in Australia. 50,000 acres or so of rugged limestone ranges, deep canyons, and more than 50km of wild, pristine beaches, this is the Cape Range in short.
The marine life of these waters is truly varied, including turtles, reef sharks, stingrays, and in deeper water dugongs, dolphins, manta rays, and from April to July whale sharks! An amazing variety of wildflowers can be admired in late winter while fauna abounds throughout the year; emus, echidnas, lizards, wallabies, kangaroos, dingoes, and a large variety of birds are very easily spotted especially along the road at sunset, so be careful!
In addition to all this, the Ningaloo reef makes this area a real paradise for snorkeling, with corals that start practically from the shore in some sites, Oyster Stacks and Turquoise Bay above all, perfect even for the most inexperienced as they could see the fish and corals almost from the shore!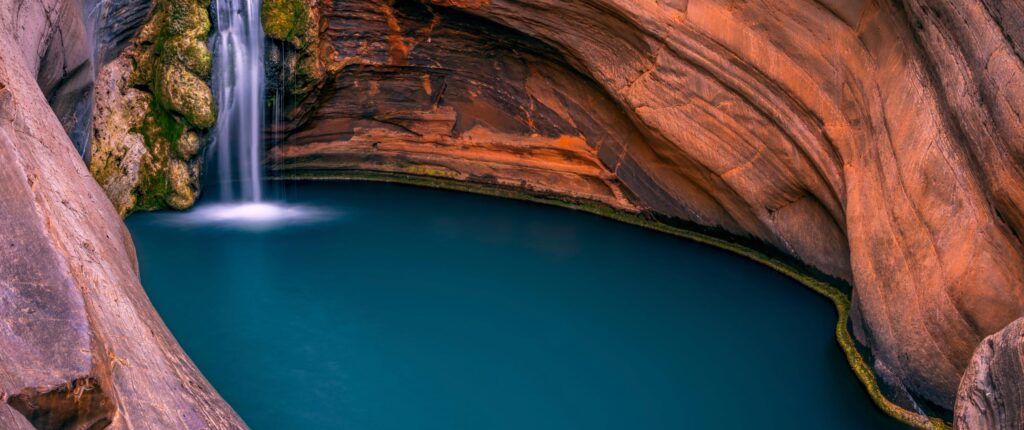 5. Karijini National Park
After visiting Exmouth and Ningaloo Reef you will have two choices: continue along the coast to Broome or take a slightly longer ride and venture into arid Pilbara to visit Western Australia's most spectacular national park and second-largest park! Karijini National Park is a playground of hundreds of meters deep gorges, waterfalls, surreal natural pools, unspoiled nature, and lots of fun!
Massive mountains and escarpments emerge from the Outback almost by magic. The plateau is dissected by breathtaking gorges and stony, tree-lined waterways that wind across the dusty plain. Erosion has slowly sculpted this landscape and its rocks which are over 2,500 million years old. It is impressive to go from the tremendous heat of the early Australian afternoon to the cold that can be felt in certain gorges.
6. Pardoo Station
When you cross the Pilbara region to reach the Pardon Station Caravan Park, alternating red gorges and fishing locations; you may want to see some of the oldest natural landscapes in the world. The Pilbara region has a lot to offes from vast, flat landscapes to hidden gorges, you are sure to find yourself having a spiritual moment at some point.
Endlessly wide beach, gentle waves, beautiful colors, and not a soul. Yes – the off-season has its advantages! Also, the town of Port Hedland in the Pilbara region is a good spot for a break.
7. Broome
From Pardoo Station it takes about 4.30 hours to get to Broome you are covering 461 km and en route take a break at the eighty-mile beach. Broome is the "gateway to the Kimberleys" and the worldwide center of the pearl industry. This 3,900-kilometer stretch of coastline will expose you to some of the best scenery and beaches Australia has to offer. Although the city itself is small and spacious she positively surprises us. Broome is kind of cozy and relaxing.
Tropical temperatures around 30 degrees, wide, miles of beaches, turquoise water, and bright red rock formations that start behind the beach. Not to forget those magical sunsets.
The biggest attraction of Broome is undoubtedly Cable beach, a beach that seems endless and that comes alive at sunset when the comings and goings of trucks and camels go up and down the beach waiting for the almost always spectacular sunset.
In the surroundings of Broome, there are also several dinosaur footprints fossilized in the rocks but it is not easy to visit them without a guide.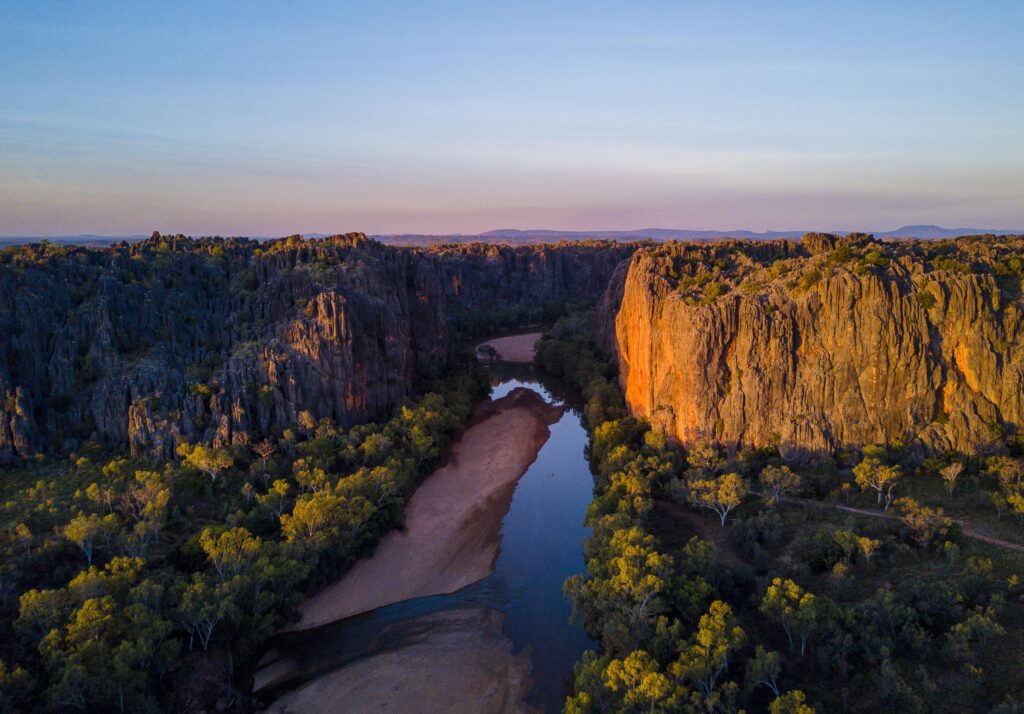 8. Windjana Gorge
From Broome, take the National Highway 1 and Derby Hwy to Derby-Gibb River Rd in Derby for 2 hr 10 min (215 km) and continue on Derby- Gibb river road for another 2 hr 5 min (141 km) and you will arrive in Windjana Gorge in Windjana National Park. If you are in the mood for more adventure you could even go further up to gorge manning gorge and back to windjana gorge.
This park is famous for seeing in large numbers and up-close enough freshwater crocodiles. Smaller than seawater and much less dangerous. They only attack humans, if they feel they are in danger. The black tips of the Windjana Gorge go perfectly with the emerald green of the Lennard River.
9. Purnululu National Park (Bungle Bungle)
The next stop on your Perth to darwin roadtrip is Purnululu National Park. 7:30 hours drive from Windjana and you will arrive here in a UNESCO World Heritage Site to witness its unique black and orange rock formations.
Also known as the Bungle Bungle range, it has existed for 350 million years and the Aborigines have looked after it for more than 40,000 years. Unbelievably, the park was not discovered by the outside world until 1983, ie. over 30 years ago! Today, the maze of orange and black-striped sandstone domes is one of the most popular attractions in Kimberley.
This National Park is open from April to November and closes in the rainy season. Admission is $ 15 per car per day and is included in the Western Australia (WA) Parks Pass.
10. El Questro
Approx 4 hours drive up from Bungle Bungle and you will land in El Questro. It is one of the essential places to visit on the route Perth to darwin roadtrip.
An area of canyons, waterfalls, and pools that will make you forget that you are in the middle of the desert. El Questro is crocodile territory though and you should only bathe in the indicated places and, as always, they warn you that you do so at your own risk.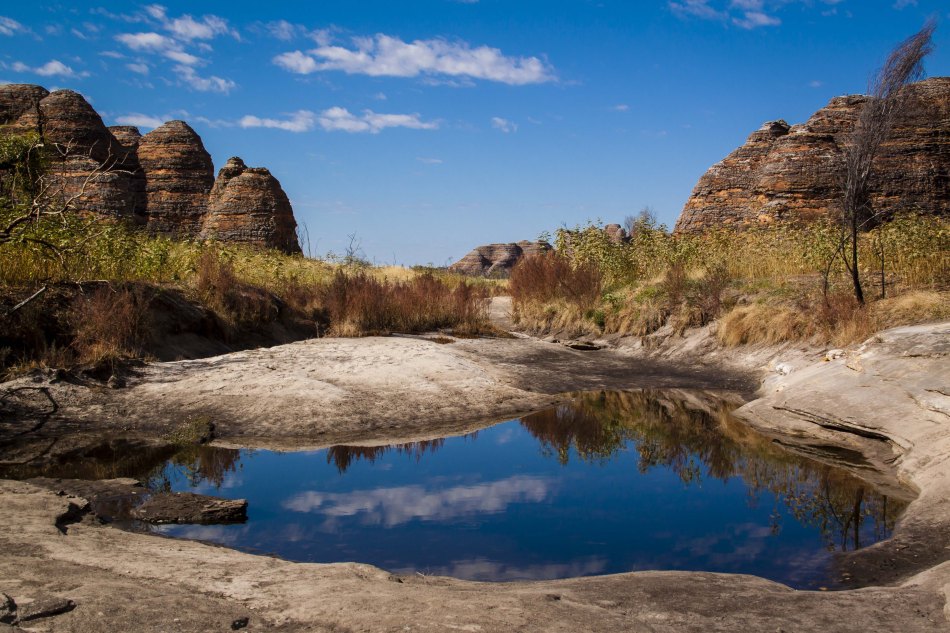 11. Kununurra
After El Questro, the next stop is Kununurra, which takes about a 1:30 hour drive. Kununurra is a modern, friendly and welcoming city that represents the administrative center for all of East Kimberley, and is one of the most populous cities in the entire region.
Kelly's Knob, the highest point in the whole city offers excellent views of Ord Valley and Lake Kununurra as well as stunning sunsets. Easily reachable and it is the ideal gateway to begin exploring the entire surrounding region.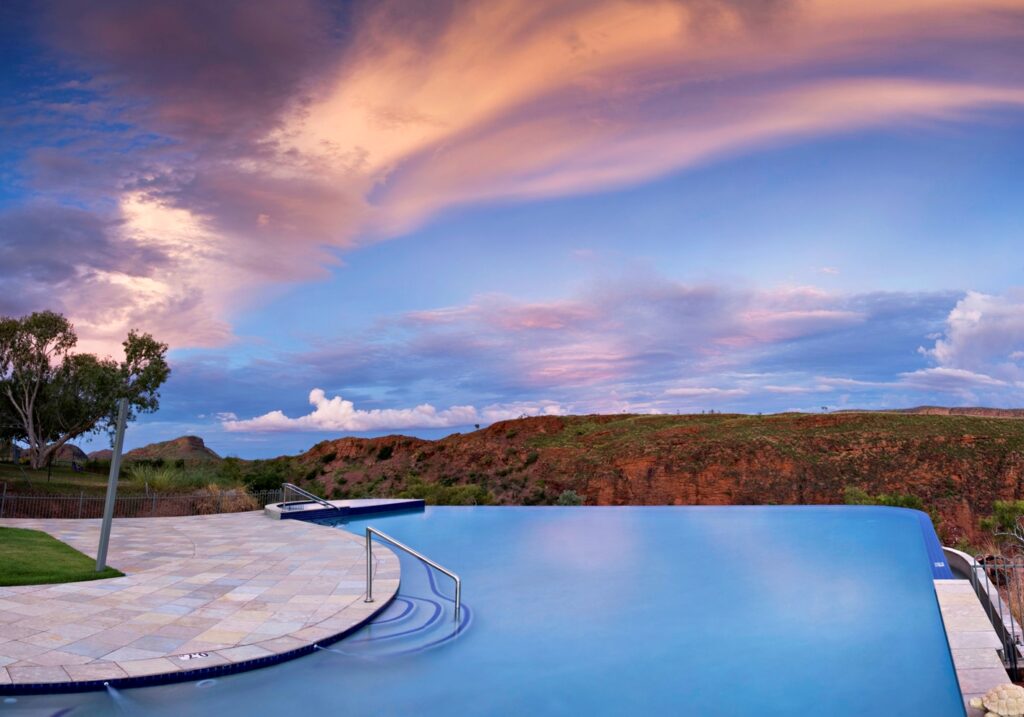 12. Lake Argyle
It takes about 50 minutes driving time to arrive here from Kununurra and the welcome cannot be better. Lake Argyle is the largest artificial lake in Western Australia and offers a multitude of activities, from hiking to some of its viewpoints, to kayaking, or simply taking a dip in its refreshing waters. The campsite swimming pool is very famous because it is an infinity pool overlooking the lake. This one is stuck between mountains depending on the angle, you have the impression of having the lake directly under the pool. So beautiful!
Lake Argyle is 70 km from North to South and 40 km from East to West. Only a wall was built to block the river to make a reservoir. The river and the rainy seasons filled it and here is the magnificent landscape obtained and almost 30,000 freshwater crocodiles live in the lake.
13. Katherine
The next stop on your Perth to darwin roadtrip is Katherine. It is a long way with approx 5+ hours on the road (513 km) but once you arrive you will find Katherine is worth it. The famous place here to visit is the Nitmiluk National Park, also known as Katherine Gorge, which is 3,000 km in size and accordingly has a lot to offer. The landscape consists of gorges that were formed over millennia and have been traditionally owned by the Aborigines ever since. The highlights in this national park are the breathtaking Edith Falls, which are wonderful for bathing under the powerful waterfall, and the hiking trail to Katherine Gorge.
Katherine Gorge is located 350km south of Darwin in Nitmiluk National Park. Onboard a boat you can cross the spectacular gorges carved by the Fitzroy River. Then, it is worth visiting the caves of Cutta Cutta, 24 km south-east of Katherine. Or, you can join the accompanied tour of the limestone caves, in the dry season.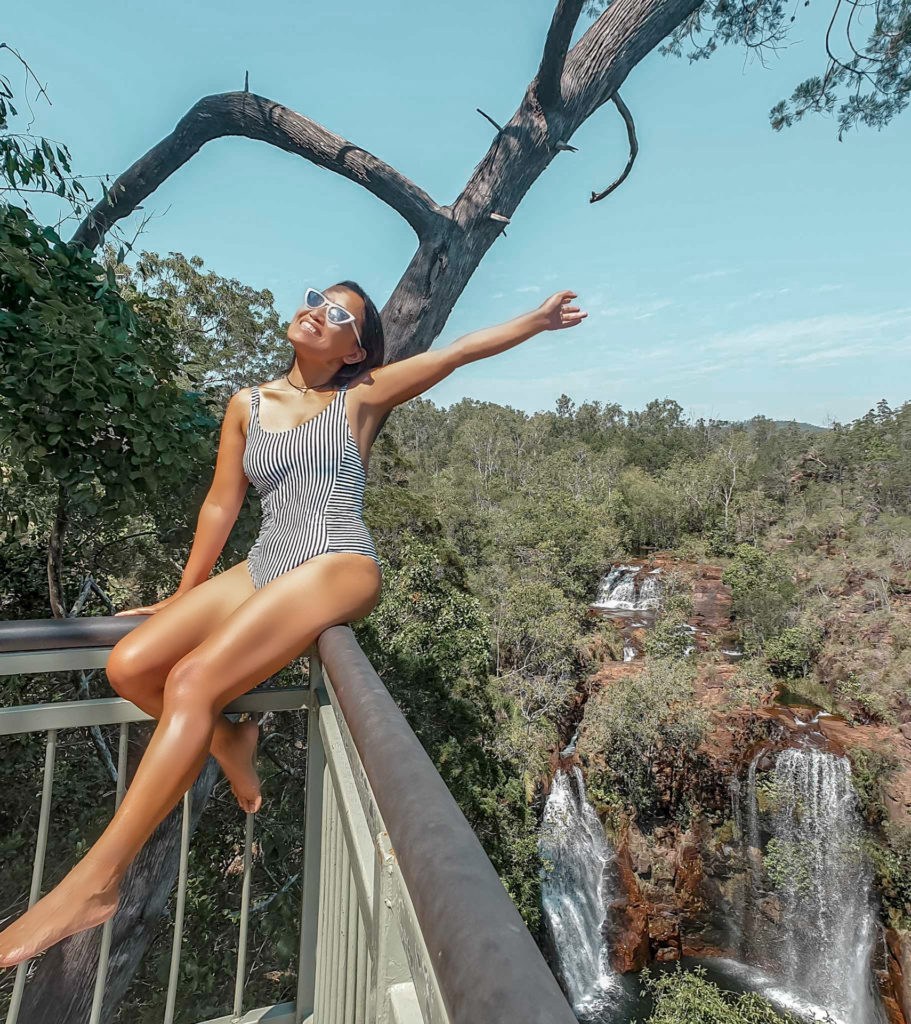 14. Darwin
You have arrived at the final stop of your Perth to darwin roadtrip but if you are still hungry for more adventure. Head to two of these national parks that are a must in this region. Litchfield national park and Kakadu national park.
Not only that, the capital city of the Northern Territory of Australia has a lot to offer to keep you going for another week or so. Visit the beaches for sunsets and eat from the food stalls near the beach market. The whole night food market near the beach plus the humidity in summer reminded me of Asia.
Stroll through the most famous monuments of this small cosmopolitan town. A few museums will catch your eyes, such as the Darwin Military Museum and the Fannie Bay Prison Museum. You may wish to continue the day outdoors, in the Botanical Gardens, the Waterfront Precinct by the sea, and Cullen Bay Marina.
Check out the top 5 must do in Darwin, Australia for more info.
Darwin is a perfect place to unwind and discover the wonders of the surrounding area then fly out to Asia. Because the distance is close to Bali, the flight was $50 one-way pre covid of course.
Either way, I hope this Perth to darwin roadtrip guide helped you and wish you safe travels.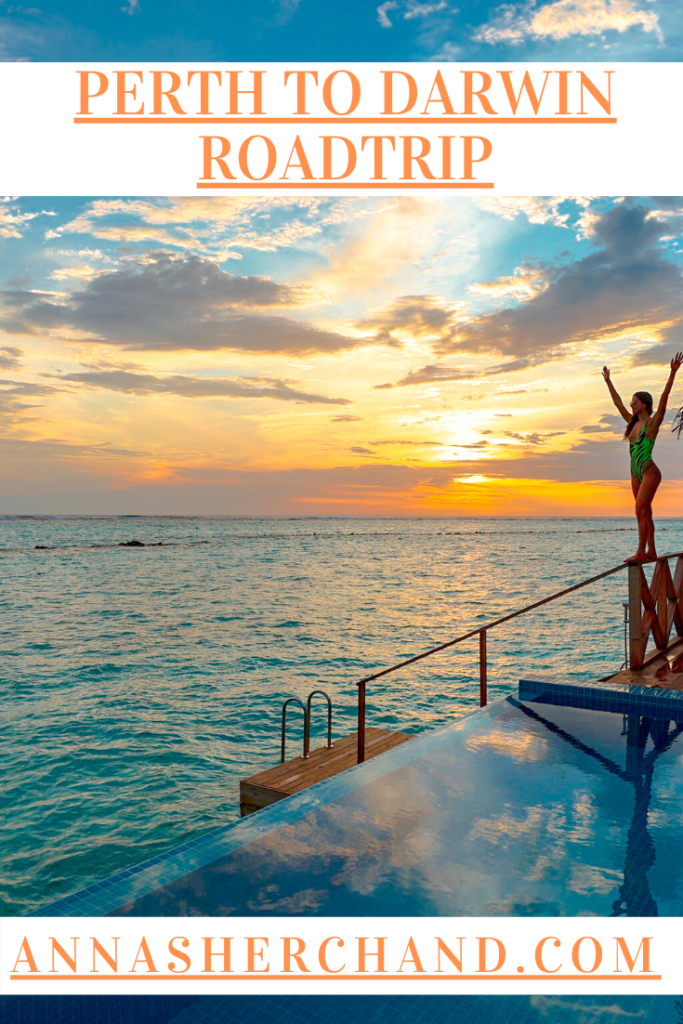 Let me know in the comments:
Perth to darwin roadtrip 2023: Must see places