Adventure travel is one of my favorite ways to travel. So when I found out about Large minority and their road trip on a tuk-tuk challenge I had to do it! Adventure in Srilanka couldn't have been better without this Lanka challenge. Continue reading for the tips and how it all went.
Not many people travel to Sri Lanka but it is one of the cheapest and beautiful island countries to visit in South Asia. Sinhala, English, and Tamil are three official languages and the population is approx 21.4 million. And the good news is as Australians, we don't need a Srilankan visa anymore (just fill up a form when landing at the Srilankan airport).
So what do Large Minority do? They provide adventure-filled holidays aka team-based competitive group travel experiences from the Tuk Tuk challenge in Srilanka and Cambodia to navigating Colombia's Amazon River in a canoe and island hopping in the Philippines. They put in all the hard work and organized everything for the participants. All you have to do is turn up, get in, drive and make memories! Check a map every now and then and make friends from all over the world! (yeah, you can be competitive and still make friends right?:)

And the best part? They also allocate ten percent of each adventure sold to flagship charity projects and tree planting campaigns. I felt great to be supporting a company that believes in giving back.
Adventure in Srilanka with a tuk-tuk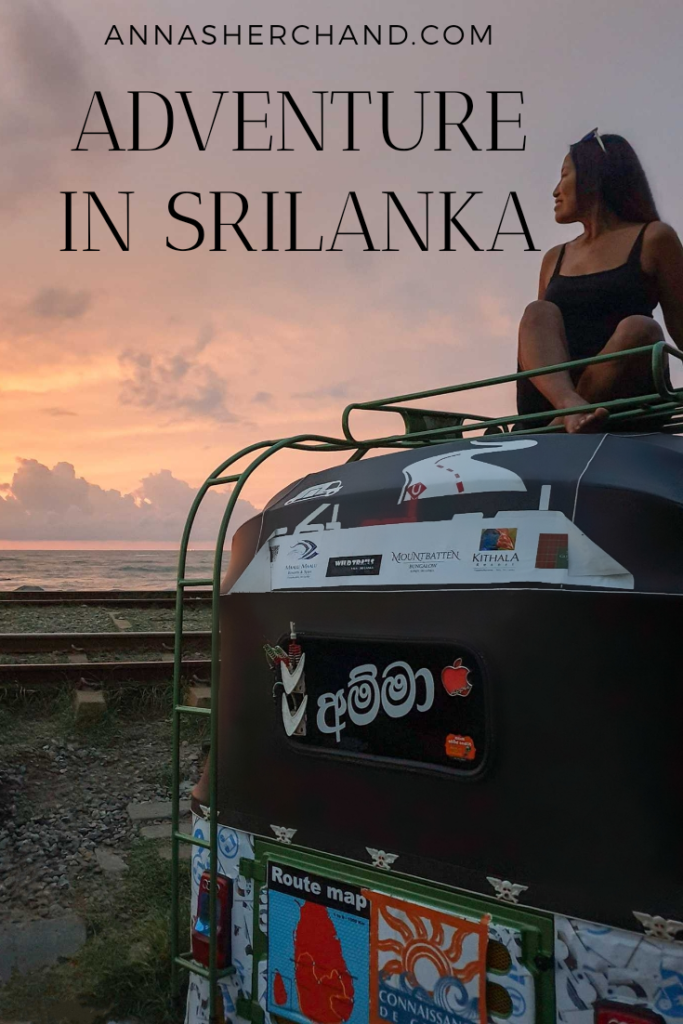 First, here are some important things to make your Srilanka travel easier and enjoyable.
1. Install the Uber App
When you land in Srilanka, it's easier to get the Uber to your hotel. So, first thing first, download the Uber app. Better than waiting for taxis and trains, get the reliable and fast door to door Uber service. For my readers, I'm giving you $10 off your first ride on the Uber app. To accept, use code 'k7zapn' to sign up. Enjoy! Details: https://www.uber.com/invite/k7zapn
2. Accommodation
If you arrive before the Lanka challenge or staying longer after it. Check hotel prices and book it through trusted Agoda, or Booking.com
3. Book Cheap Flights
And lastly, find the cheapest flights through most trusted sites such as Skyscanner or Momodo.
I have detailed travel resources right here. Save money, learn what and how.
Tips for Srilanka tuk-tuk challenge
When I participated last month in Lanka Challenge, I met fellow travelers from everywhere around the world. In total, we were 15 teams (2 or 3 people in some group) Some of the team were planning this Lanka Challenge for 2 years, some last month, and some were big family group, some coworkers, some Gf/bf and so on. It was a big group and hats off to the Large Minority team for managing everyone and everything on point!
Below are some tips I have put together hoping it may help you on your own Lanka challenge. Read it all, and you will find the tips within.
1. Understand the challenge
This is a Srilanka trip based on competition. The first thing to understand is it is not a race though or challenge to see who arrives first at the hotel.
Instead, there are daily challenges each team has to complete to gain points before they arrive at the allocated hotel each night. Plus, 1 other list of challenges that the teams are encouraged to complete before the last day.

You can surely just ride the tuk-tuk and arrive at the hotel each night. But that's not the spirit of adventure in Srilanka right?!
So if you're wondering what type of challenges they would be? I don't want to spoil it for you but you'll be tested with navigational, cultural and physical challenges. Don't worry they were all almost doable! Just make sure to allocate enough time on the road for traffic and for the challenges too.

Every morning when you are handed an envelope with the brief, take the time to sit down with your team and have a rough plan. Make sure everyone understands the challenge and have fun completing it. Note: Take a pic of the brief in case you lose the paper or the wind takes it away from your tuk-tuk!
If you want to rewatch my Srilanka stories, check out the "Srilanka" highlight on Instagram.
2. Minimize the safety concerns
Recently there has been a lot of concern about traveling to Srilanka. But I'm here to tell you, it is a great time to travel Srilanka. The weather is great, people are friendly and the food is awesome!

There will always be some issues and problems with some countries. As long as you avoid the conflict zone, you should be okay.
If you are worried about tuk-tuk breaking down in the middle of the road, no stress they have a local mobile team to sort it out for you.

Large Minority have been doing it for so long that there's no need to worry about anything. Note: Just make sure you have paid for insurance, have arranged the right visa, and flight out of the country.

They run this adventure-filled holiday twice a year. 1 The Southern route in September and 1 Northern route in April. All staff and even the hotel you will stay at everyone speaks English.

3. Plan ahead
Since it is a team-based adventure. I assume you already know who you're going to be sharing your tuk-tuk with. However, if you are a solo traveler like myself and still want to experience this challenge. There are two options. 1. Find someone. I met a lady who paid for her +1
2. Write an email to a Large Minority and explain your situation. If you are lucky perhaps they can tie you up with another solo traveler! That brings us to accommodation. If you are sharing a room or having your own let the organizers know beforehand. So, everything is arranged before you arrive.
4. Know what's near you
The benefit of knowing where you are staying beforehand is, you can quickly google what's around that area. Since you're not going to be spending a lot of time in any particular hotel and I suggest doing this when you have a rest day. Google what's around the hotel and plan your sightseeing accordingly.

Simcard in Srilanka is cheap. so, make sure you get 1 when you land!
5. Know how to read atlas map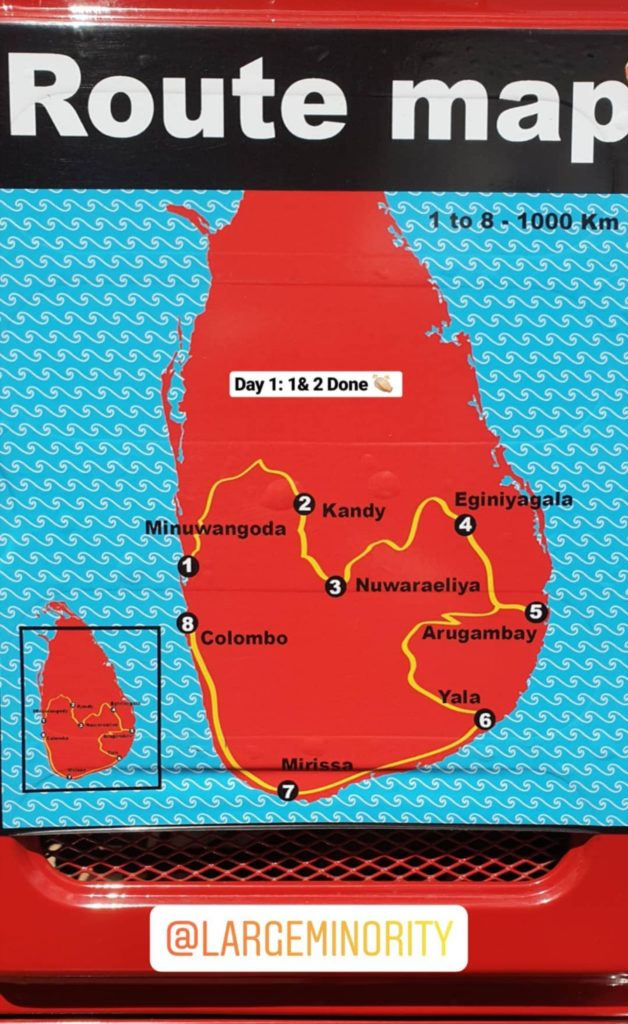 I didn't know how to read Atlas map, I learned but I still struggle with it!
So, if you have some time on your hand, learn how to read it. The reason being is, using a modern cell phone is not encouraged on Lanka's challenge. At the beginning of the challenge, along with the atlas book, you will also be handled a Nokia phone to call and message if your team needs help. Check this article for more information on the sim card in Srilanka.

And if you try to use google map or maps.me, most likely both apps will fail to point out the road you want to find! So the best option is to go with the Atlas map. Good Luck!
6. What to pack
The good news is no matter if you are doing Southern route in September or Northern route in April- Temperature remains high at around 29°C average and the beaches are hot and dry. All in all, a great period to travel.
I recommend packing breathable clothes for tuk-tuk days, some resort wears for rest days, nice dresses for dinners and drinks and definitely some good shoes for walking around. Also don't forget the essentials: water bottle, metal straw, hat sunscreen and a light jacket for nights in the mountains. Alternatively, you can check this article for an independent Srilanka itinerary.
7. Learn some local words
Few handy Sinhala words
Hello – Ayubowan
Thank you – Stutti
Please – Karunakara
Yes/No/Maybe – Ou/ nehe/samahara vitta
I'm sorry – matta kanagaatui
Ok – Hari
I'm not traveling alone – mama sancharaya karanne thaniyama
Good Bye- Newatha hamuvemu
8. Learn how to ride a bike
Tuk-tuk is an older brother of a modern-day bike or bicycle. So, if you know how to ride either of them then you should be sweet. On the registration day, there will be a test drive session as well. A local team will teach you how to ride a tuk-tuk and know-hows. So, arriving a day earlier is totally worth it.
9. Bring your camera
Whether you'll be doing a Southern route or Northen, you will cover a load of beautiful places in Srilanka. And not only adventure on the road, but you will also be staying at some of the fanciest places in Srilanka. So, make sure to bring your camera, drone and/or phone to take pictures. You won't regret it!

All the pictures on this blog post are from our lovely glamping and luxurious boutique hotel stays. So even though during the day you will be covered with sweat and heat but knowing you will be staying at some of these beautiful places just makes the challenge more fun. Large Minority seriously knows how to mix adventure and luxury.
10. Lastly, buy coconuts for that electrolytes and enjoy the ride
I couldn't have replicated this adventure in Srilanka on my own. Incredible experience meeting fellow adventurers from across the globe, completing challenges that pushed me to my limit and following the incredible routes and itineraries from scratch was exhausting but mindblowing! I also felt humbled to be part of the charity projects (10% of the entry fee goes straight to the charity projects. So you will be supporting a business that believes in giving back to the community.

It was literally an Asian version of the amazing race! If you want to take away 1 thing from this blog post- let it be this -> Do yourself a favor and sign up. Have an adventure in Srilanka!

Thank you for having me @largeminority.
PS: This was a sponsored trip but all opinions are my own.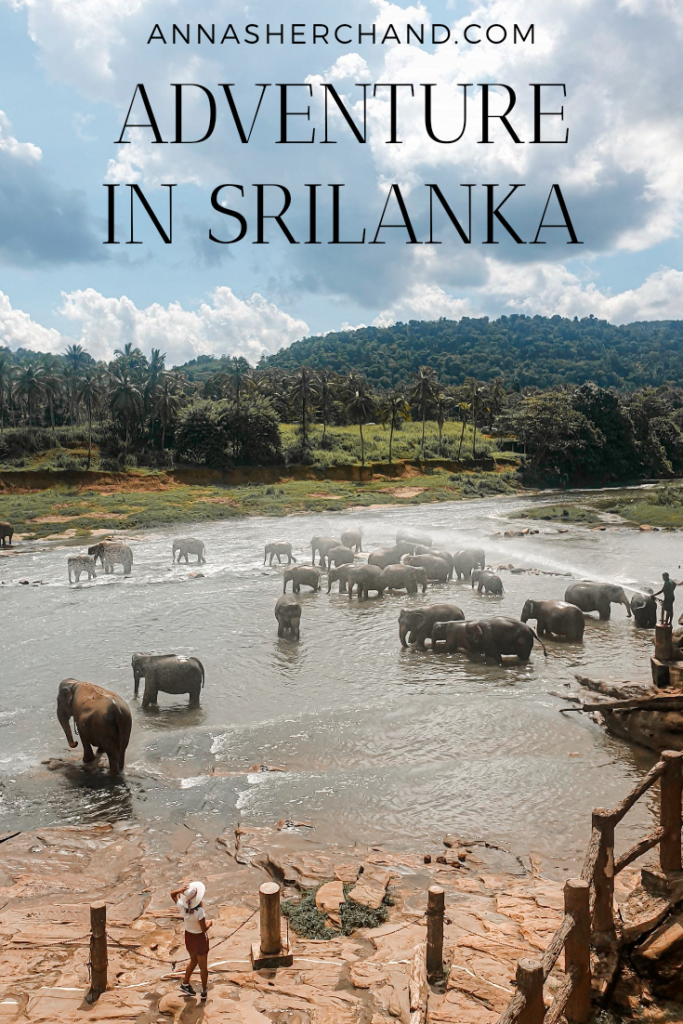 Let me know in comments-