Today I am sharing the 12 best photo spots in New Zealand North Island. When I am picking countries to travel to; I used to push away countries closer to Australia because for some reason you always tend to and want to travel further away from your own country right?! So, neighboring countries like New Zealand, Indonesia-Bali, Fiji, PNG were on the bottom of my list. Until one day my brother told me he was traveling to New Zealand for his work conference! It had been a while I had seen him and his Mrs. So, it was perfect timing for our little family trip and solo travel for me afterward.
For those of you, who don't know New Zealand (NZ) is a country next to Australia where they filmed the famous Lord of the rings and many other films. It is beautiful with a stunning landscape! Something worth mentioning is CAR is the cheapest option if you want to see most of NZ as it is made of North and South Island. Assuming you are sorted for transportation, let's begin our best instagrammable places in new Zealand. Here we go!
1. Auckland Sky Tower
I flew into Auckland all excited for my adventure but it decided to welcome me to grey sky and nonstop rain! But things like that don't bother me anymore; so I got ready, set and explore! At first, I wasn't overly impressed with the city as it looked just like other developed cities but I figured Auckland grows into you slowly as you figure things and places out. Above is the iconic Auckland sky tower, an Instagram photo I took while I walked pass Auckland University. Then while I was looking for shelter from rain; found a little Korean and dumplings eat out; good find!
2. Rangitoto Island
It was still grey sky and rain the next morning. But I decided I wanted to explore less popular Rangitoto Island instead of popular Waiheke island thinking the weather might change later on in the day. Was I right or wrong? Find out in the Instagram post-Rangitoto Lighthouse!
Rangitoto Island is a volcanic island in the Hauraki Gulf near Auckland, New Zealand. Emerging from the sea just 600 years ago, pest-free it is the youngest volcano in New Zealand! You can buy the ferry tickets in the Pier. Roundtrip ferry was $33 NZD from Auckland city.
While the view from Summit was nothing but foggy; on my way back I stumbled upon above fall beauty!
Oh, and I accidentally ended up on the wrong trail which meant 8-9 km of the coastal walk to get back to ferry wharf! O well, some exercise never hurt anybody right 🙂
3. Mount Maunganui
The third day I went from Auckland to Rotorua where I was meeting my sibling. Then we all drove around in his brand new hired car! Out of my first day there, this is my personal favourite spot! Mount Maunganui is considered one of the best new zealand instagram spots. Just look at that view! You can do many other activities here ie: surfing, hiking, trying out all the flavours of ice creams in many ice cream shops, picnic and more.
4. Redwood Memorial Grove Track
Then we went to Redwood Memorial Grove Track. I must add this is a family-friendly place as well and there are a couple of beautiful walks around here. For example Waitawa Walk or Quarry Lookout Track. There is also a Quarry Basin Picnic area 5 minutes from the redwood track. So much green and serene!
5. Blue and Green Lake
We found these gems in the middle of nowhere and glad made a stop! They are located in the same place so, definitely worth the stop! On a side note, I had never been to any place so green like NZ! I was literally in love with the colors and landscape of NZ. It was green everywhere, love how it was easy on the eyes as well!
6. Okere Waterfalls
I have seen many waterfalls around the world but these were unique on their own. With all those colourful trees and falls coming out from the middle, this place was beaming! Such a happy place. FYI, Okere Falls is a small town located 21 km from Rotorua on SH 33 between Rotorua and Tauranga on the North Island of New Zealand.
7. Hobbiton Movie Set Tour
Before we got there I was thinking, this is going to be a waste of money, this is a tourist trap. But I was pleasantly surprised by the tour and the story behind this farm and the lord of the ring film.
And here's the little confession my tribe"I rarely watch TV Series or movies! So, Thanks to my brother who told me the storyline before we got there!
I felt lucky to experience a slice of the lord of the rings here! You can laugh at funny captions on my Instagram for these pictures.
8. Glow Worms
Pictures and videos aren't allowed inside but I put it on this list because I wish for you to visit this place! I avoid tourist traps as much as I can but the Hobbiton and Glow Worms were special! As a world traveller, I can tell you it won't disappoint you. It was out of the world experience inside the cave watching those glow worms in dark and quietness.
9. Geothermal Wonders
Best geothermal wonders in the Taupo and Rotorua regions are The Wai-O-Tapu, Hell's Gate (Tikitere), Craters of the Moon, Whakarewarewa and Waimangu (Blackwater) I was impressed and amazed by Rotorua's geothermal features including spouting geysers, bubbling mud pools and colourful sinter terraces. If it's not on Instagram did you really went?
10. Huka Falls
The Huka Falls are a set of waterfalls on the Waikato River that drains Lake Taupo in New Zealand. At Huka Falls you can witness the phenomenon of natural hydropower – more than 220, 000 litres of water per second? After I read this, I had to go see for myself and check if it's Instagram worthy or not!
Reminds me Paihia that comes highly recommended as well.
11. Kerosene Creek
I was thinking to visit paid hot tub on South Island. But the universe had another plan 🙂 While driving back from Glowworms cave, my brother surprised us with this hidden gem! Natural hot springs all to ourselves! You can't see steam coming out of this stream but it was hot springs in the middle of nowhere! Great find? and yes I'll pass on that 1 hr hot pool session for this awesome nature made hot springs anyway. Happiness is simple when you find an Instagram worthy place!
12. Mount Doom
Did you know Mount Doom is a fictional volcano in Lord of the rings and its real name is Mount Ruapehu? Frodo: I wish the Ring had never come to me. I wish none of this had happened.
Gandalf: So do all who live to see such times, but that is not for them to decide. All we have to decide is what to do with the time that is given to us.
J.R.R. Tolkien, The Lord of the Ring. ?
I hope these 12 new zealand instagram spots in the North Island inspires you! Happy Travels x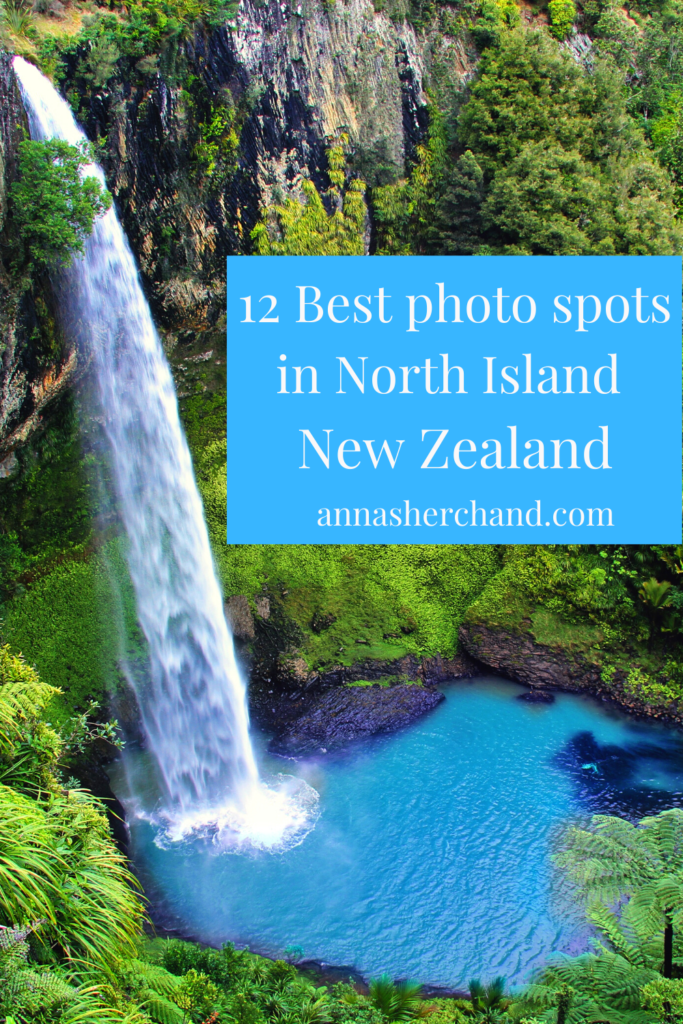 Camera 1
Check it out [amazon_textlink asin='B01BV14OXA' text='here ' template='ProductLink' store='annasherchand09-20′ marketplace='US' link_id='8b6287f9-cc36-11e7-a9d7-fd27481bd391′]
Accessories
Check it out [amazon_textlink asin='B01IC5QYHM' text='here ' template='ProductLink' store='annasherchand09-20′ marketplace='US' link_id='9242515a-cc4c-11e7-8c5a-5324565324ac']
Camera 2
Check it out [amazon_textlink asin='B00NIYJF6U' text='here' template='ProductLink' store='annasherchand09-20′ marketplace='US' link_id='57dacd1e-cc4b-11e7-8b71-e1a5a1e9ac81′]
Accessories
– Check it out [amazon_textlink asin='B00XHSKKXE' text='here ' template='ProductLink' store='annasherchand09-20′ marketplace='US' link_id='d32f5fa2-cc4b-11e7-9974-79b2af9a7013′]
Over to You:
Can you add any other places to this list of 'Best Instagram spots in North Island of New Zealand'?
Would you like to visit North Island of New Zealand?
Which places have you popped on your traveling in North Island list?
If you like to keep up to date with me or this blog, subscribe here.
If this article helped you to narrow down the best photo spots in New Zealand north island, please share this with your circle <3
12 Best photo spots in New Zealand North Island