When I am picking countries to travel to; I used to push away countries closer to Australia because for some reason you always tend to travel further away from your own country right?! So, neighboring countries like New Zealand, Indonesia, and East Timor were on the bottom of my list but now that I am serious about visiting all the countries in the world; I enjoy visiting all the new countries near and far. So today I am sharing the 15 most beautiful places in New Zealand north island. For those of you, who don't know New Zealand (NZ) is where they filmed the famous Lord of the Rings and many other films. No wonder the places to visit in north island New Zealand are the most beautiful, green, and unspoiled. I mean it when I say it is a very green and verdant country.
The north island sets you up for the experience of the rest of New Zealand and even if you stayed exploring just this one island it would be a special trip. Although you have to adapt to the 'loneliness' of the place as traffic could be light and you can travel for miles without seeing anyone.
That said, another thing worth mentioning is car is the cheapest option if you want to see most of NZ as it is made of the North and South Islands. Assuming you are sorted for transportation, let's begin with the most beautiful places on New Zealand's north island. Here we go!
Must see places in New Zealand North island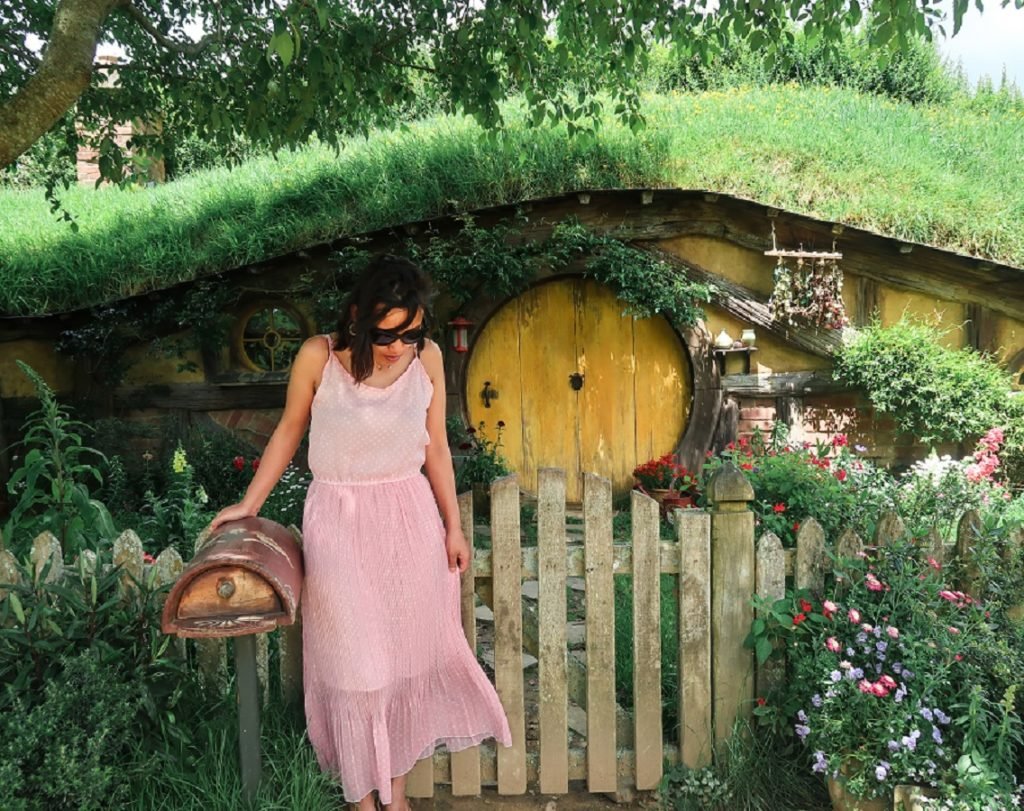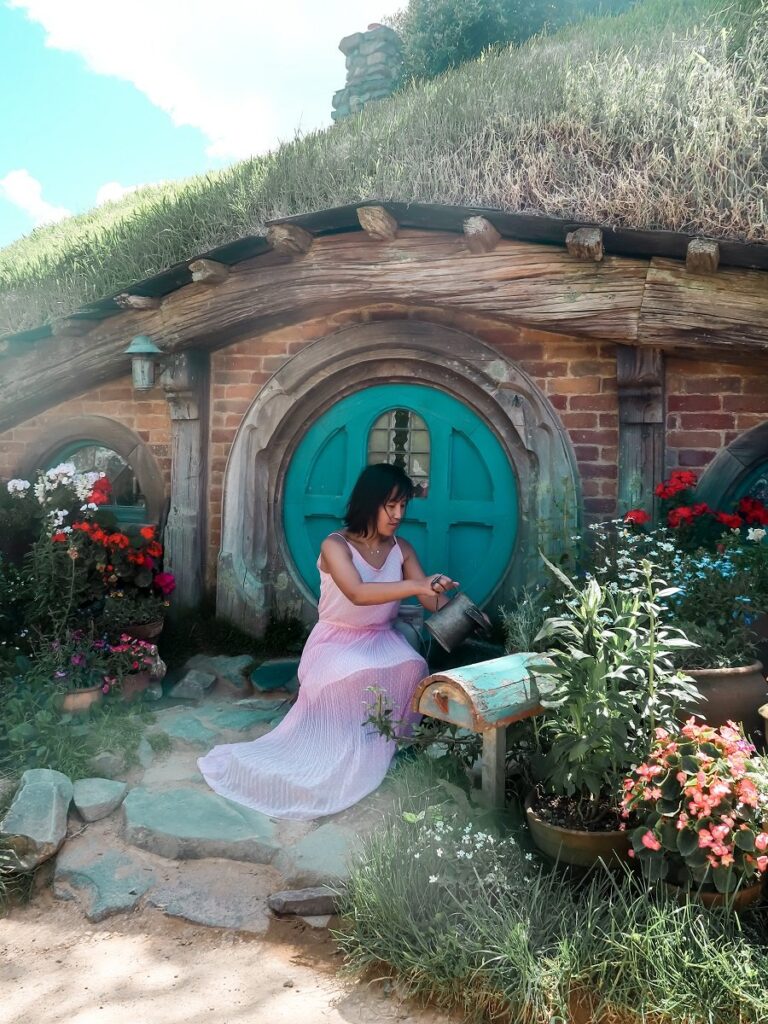 1. Hobbiton Movie Set Tour
Usually, I am not a fan of visiting movie sets so before we got there I was thinking, this is going to be a waste of time/ tourist trap. But I was pleasantly surprised by the educational tour and the story behind this farm.
If you have watched Lord of the Rings, this place is a must-see. And like me, even if you haven't seen it, this spot is one of the unique and most beautiful places in New Zealand north island because of its rolling hills, those pretty little hobbit houses, and the story behind it.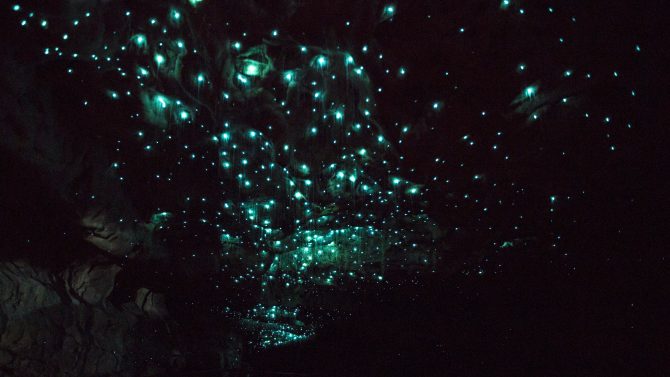 2. Waitomo Glowworm Caves
Waitomo Caves are something you don't get to see every day! It is not allowed to take pictures/videos so I had to get this from Shutterstock but look at that beauty!
I avoid tourist traps as much as I can but the Hobbiton and Waitomo Glowworm Caves are some of the must-sees in New Zealand travel. It's a cool experience to see all of these dazzling glow worms in the dark and be on the boat with water dripping background white noise. Unreal!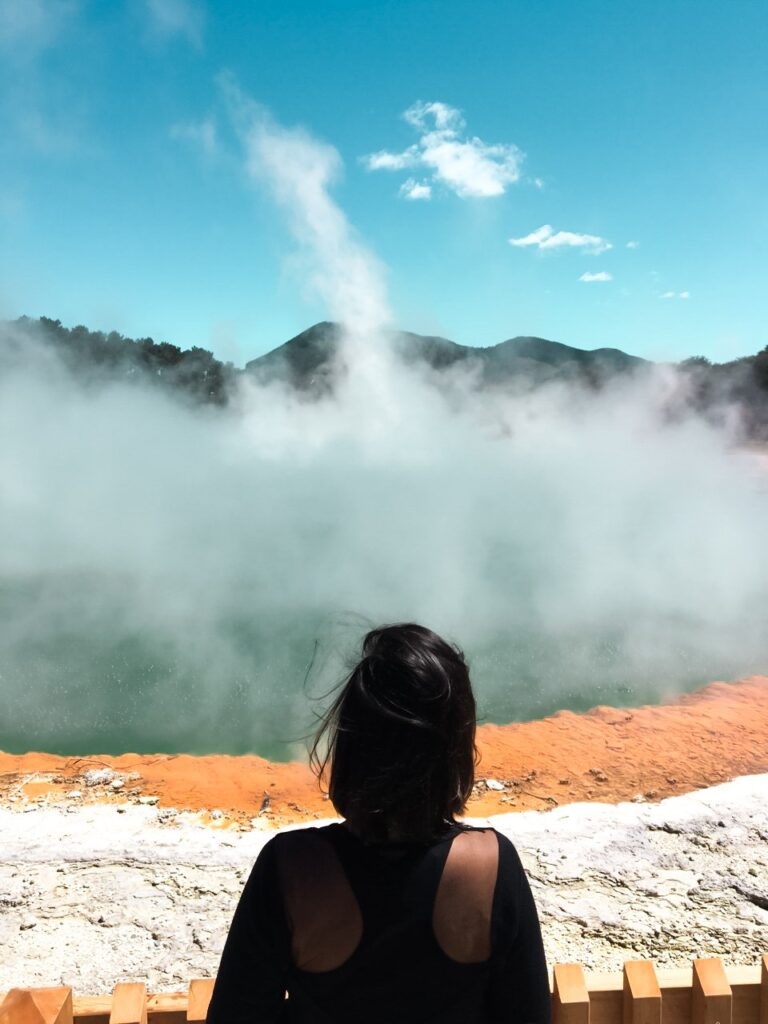 3. Geothermal Wonders
Another best place to visit in New Zealand is the geothermal wonders. Recommend heading to the Taupo and Rotorua regions and visiting the Wai-O-Tapu, Hell's Gate (Tikitere), Craters of the Moon, Whakarewarewa, and Waimangu (Blackwater). This area has that odd sulfur smell which makes it an interesting stop on any north island New Zealand road trip. Rotorua's geothermal features including spouting geysers, bubbling mud pools, and colorful sinter terraces are impressive and totally Instagram-worthy!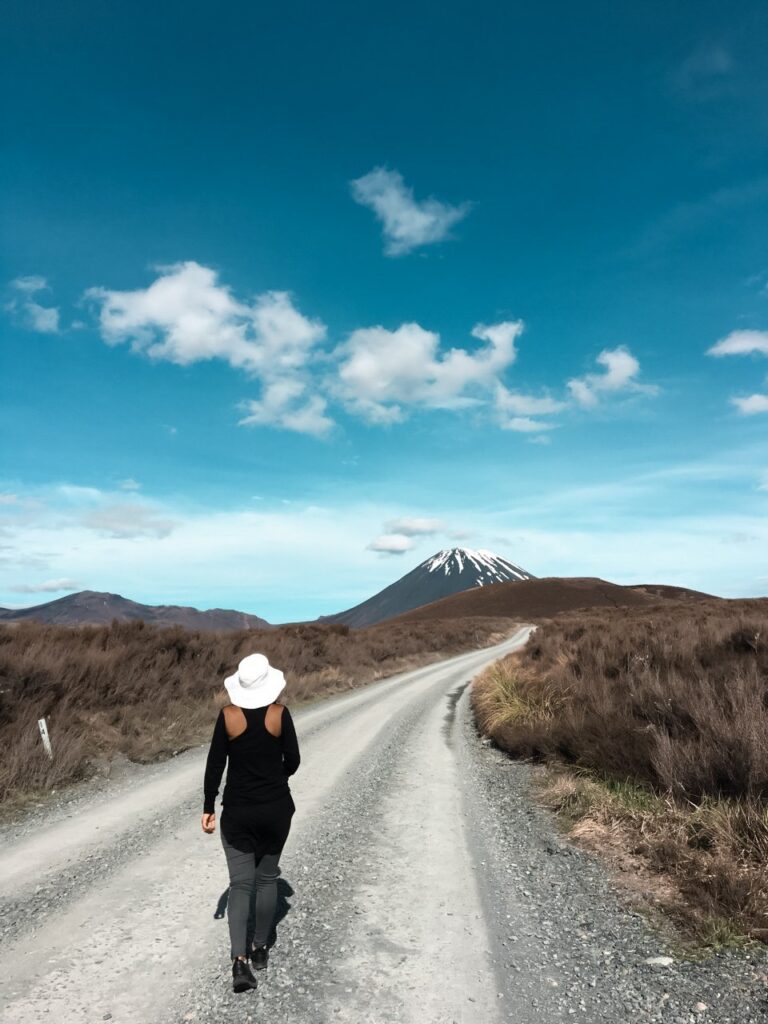 4. Tongariro National Park
The most beautiful places in New Zealand north island wouldn't be complete without mentioning the world-famous Tongariro National Park. It basically sets you up for the rest of the wonders of the country. You can easily get here by road and is only a 4-5 hour drive from either Auckland or Wellington. I am not aware of any public transport here though. The nearest towns are Taumarunui, National Park Village, Ohakune, and Tūrangi. There is even a small village called Whakapapa which is situated within the park!
While there are many beautiful places in New Zealand South island such as Fiordland National Park and Mount Cook National Park, on the north island Mount Tongariro is one of the top 5 must-sees. Many people visit here not only to see the beautiful nature but to attempt Tongariro Alpine Crossing which covers the length of Mt Tongariro and takes about 7-8 hours to complete. The walk starts at Mangatepopo (1100m), and terminates at Ketetahi (750m). The highest point on the Tongariro Alpine Crossing is Red Crater (1886m). Granted stunning views all around and if you are heading there, make sure to do the necessary prep beforehand. Such as good hiking gear, poles, appropriate clothing, and a camera of course.
Where is Mount Doom in NZ?
For Lord of the Rings fan, if you are wondering where you can see Mount Doom. It can be found right here in the Tongariro National Park on the north island, NZ. The path to climb Mount Doom; is part of the Tongariro Alpine crossing. Did you know Mount Doom is a fictional volcano in Lord of the rings and its real name is Mount Ngauruhoe?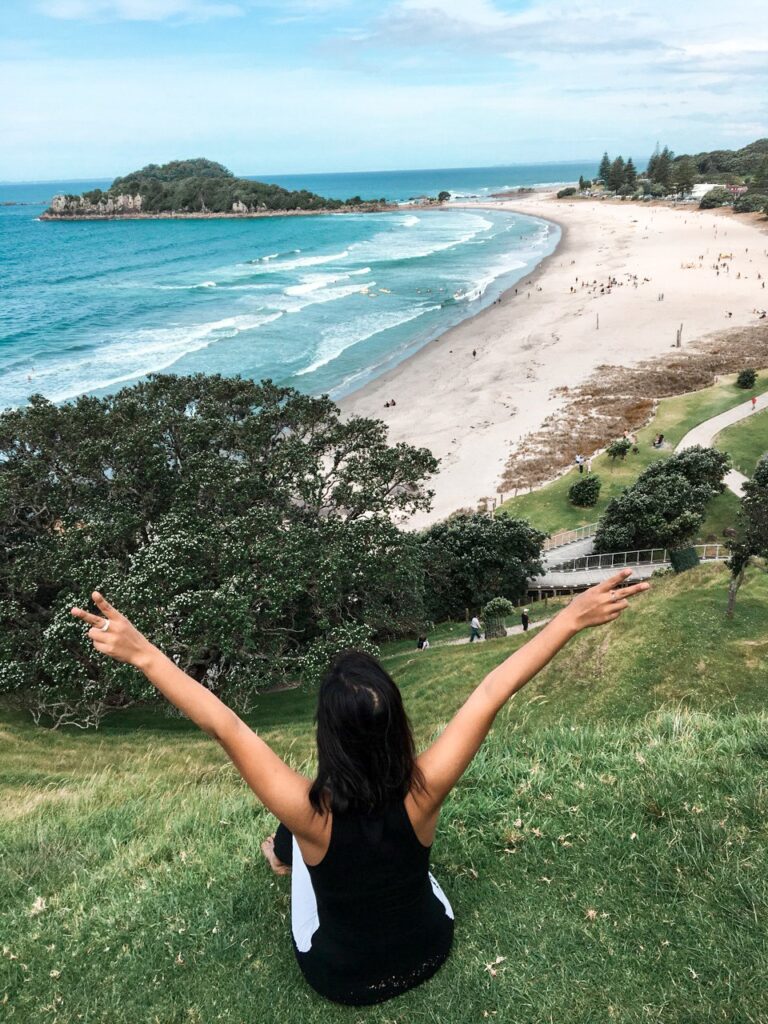 5. Mount Maunganui
Mount Maunganui is considered one of the best New Zealand Instagram spots and is known for the extinct Mount Maunganui volcano. Just look at that view! To get here though you have to follow an ocean view hiking trail which takes approx 45 minutes depending on your fitness level and once you get to the top enjoy the crashing ocean waves and views across Tauranga and Matakana Island.
At the bottom, you can enjoy the sandy Main Beach which is popular for surfing while Pilot Bay Beach is known for paddle boarding due to its calm waters. If you are having a busy day sightseeing and got no food, there are many cafes and restaurants in town for taking way as well as dining in.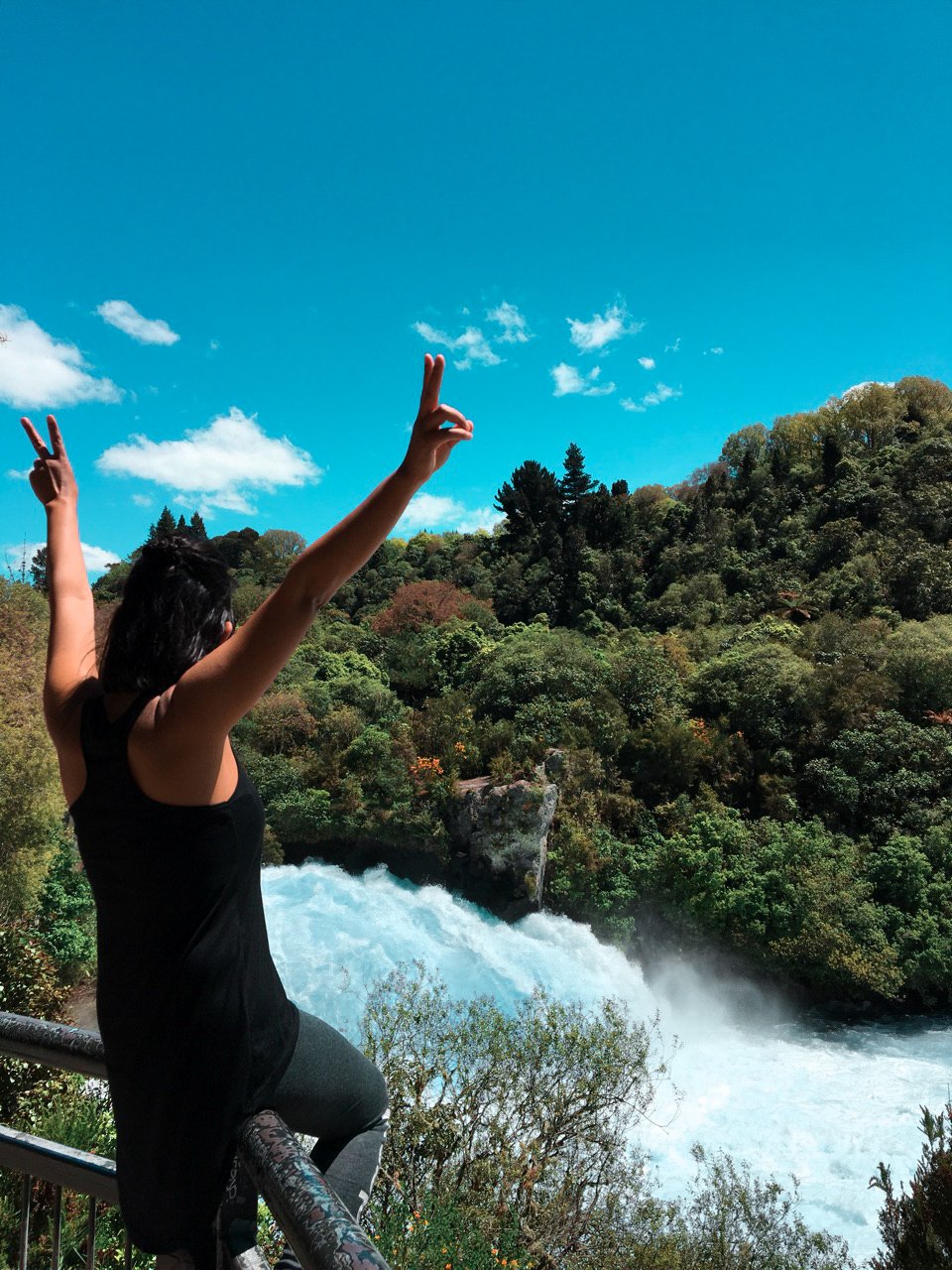 6. Huka Falls
The Huka Falls are a set of waterfalls on the Waikato River that drains Lake Taupo in New Zealand. At Huka Falls you can witness the phenomenon of natural hydro power – more than 220, 000 liters of water per second! Clearly, if it doesn't make it one of the best places in New Zealand's north island, IDK what will.
7. Kerosene Creek
Both islands in New Zealand have hot springs but Kerosene Creek is a hidden gem on the north island. You can't see boiling hot steam coming out of this stream in the picture but it was hot enough for a dip/swim. The fact that it's in the middle of nowhere makes it more secluded and serene.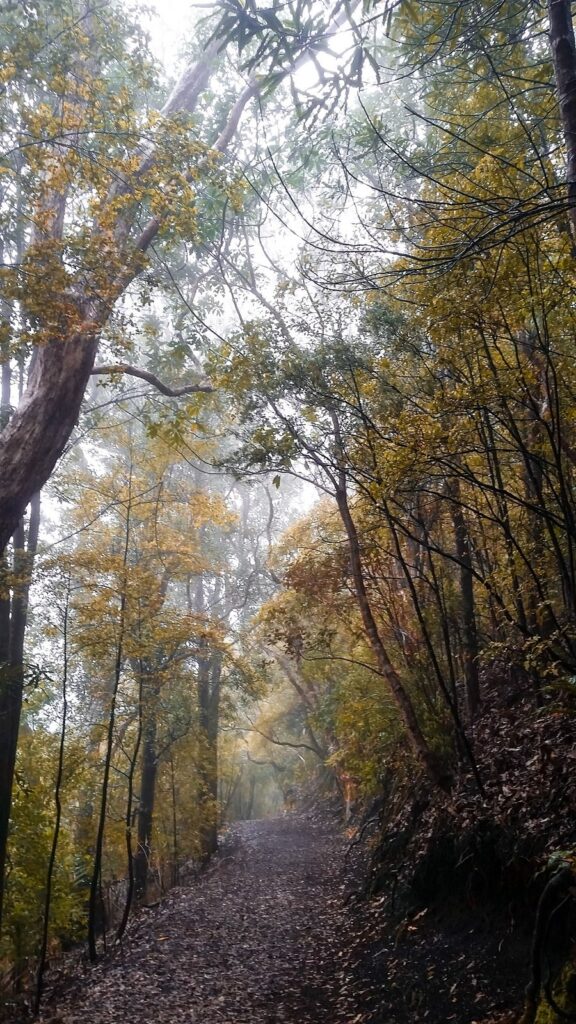 8. Rangitoto Island
Rangitoto Island is another best places to visit in New Zealand north island. It is a volcanic, pest-free, and the youngest island in the Hauraki Gulf near Auckland, New Zealand. Emerging from the sea just 600 years ago, it is easily doable as a day trip from Auckland than Waiheke island. You can buy the round-trip ferry tickets at the Pier and the cost was $33 NZD from Auckland city.
While the view from Summit was nothing but foggy; I hope you will visit on a sunny day. On my way back I stumbled upon this fall beauty and accidentally ended up on the wrong trail which meant 8-9 km of the coastal walk to get back to the ferry wharf! Nonetheless, it was a pleasant coastal walk and it is here to stay on this list of most beautiful places in New Zealand north island.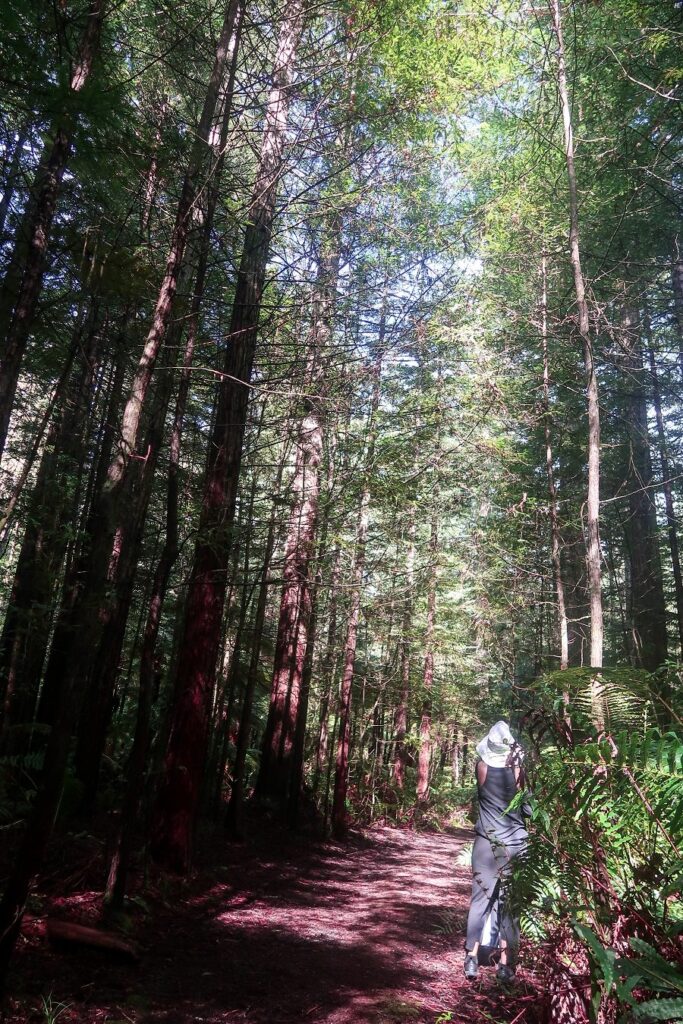 9. Redwood Memorial Grove Track
Redwood Memorial Grove Track is a family-friendly place and there are a couple of beautiful trails around here. For example Waitawa Walk or Quarry Lookout Track. There is also a Quarry Basin Picnic area 5 minutes from the redwood track. So much green and serene which makes it easy on the eyes and the best places to visit in New Zealand north island.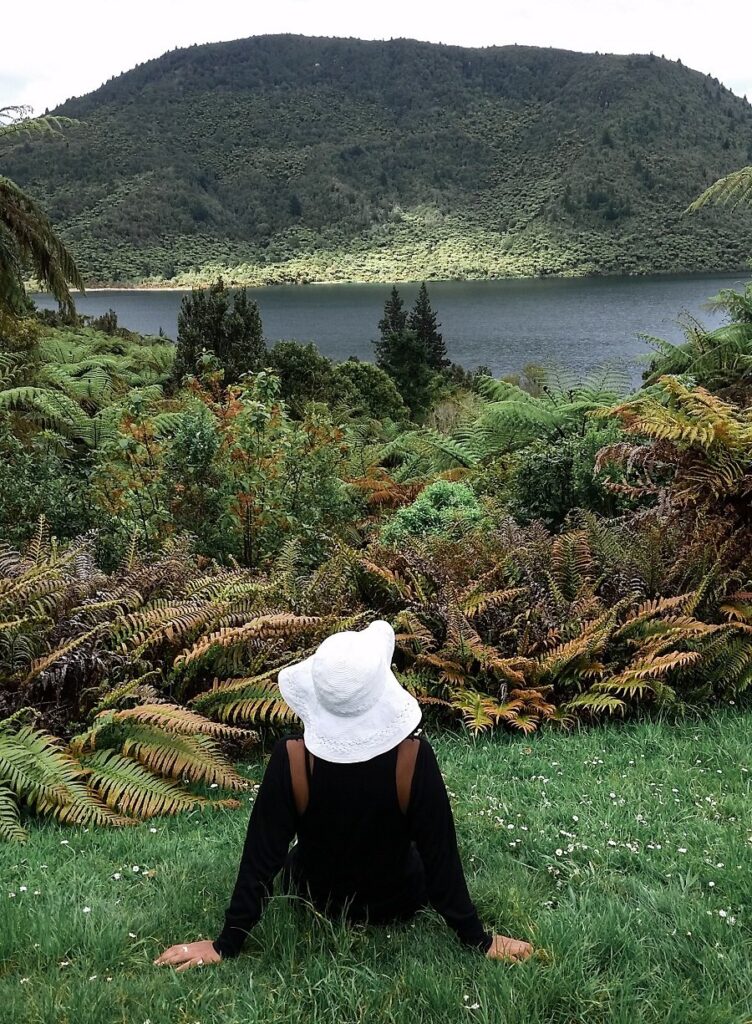 10. Blue and Green Lake
I have to admit I have never been to any place so green as New Zealand! It was lush green EVERYWHERE I looked; we are so lucky this country exists! Both of these lakes are in Rotorua, northern island NZ and their Māori names are Lake Tikitapu and Lake Rotokākahi. Both of these two pretty lakes sit side by side and yes, one is blue and the other is green. You can view them at a midway point, accessible by car and on foot.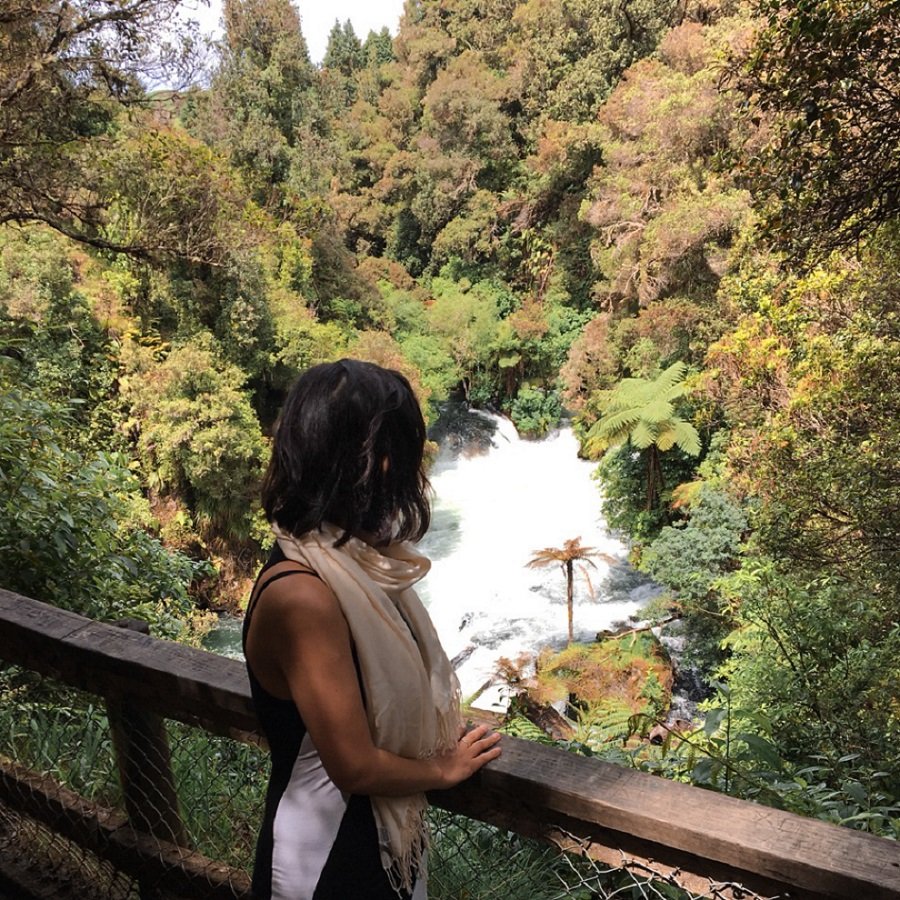 11. Okere Waterfalls
One of the things to do on the north island of New Zealand is to go see magnificent waterfalls. I have seen many waterfalls around the world but the Okere waterfalls were unique on their own. With all those colorful trees, birds chirping, and falls coming out from the middle, this place was beaming with happiness! Okere Falls is a small town located 21 km from Rotorua on SH 33 between Rotorua and Tauranga on the North Island of New Zealand.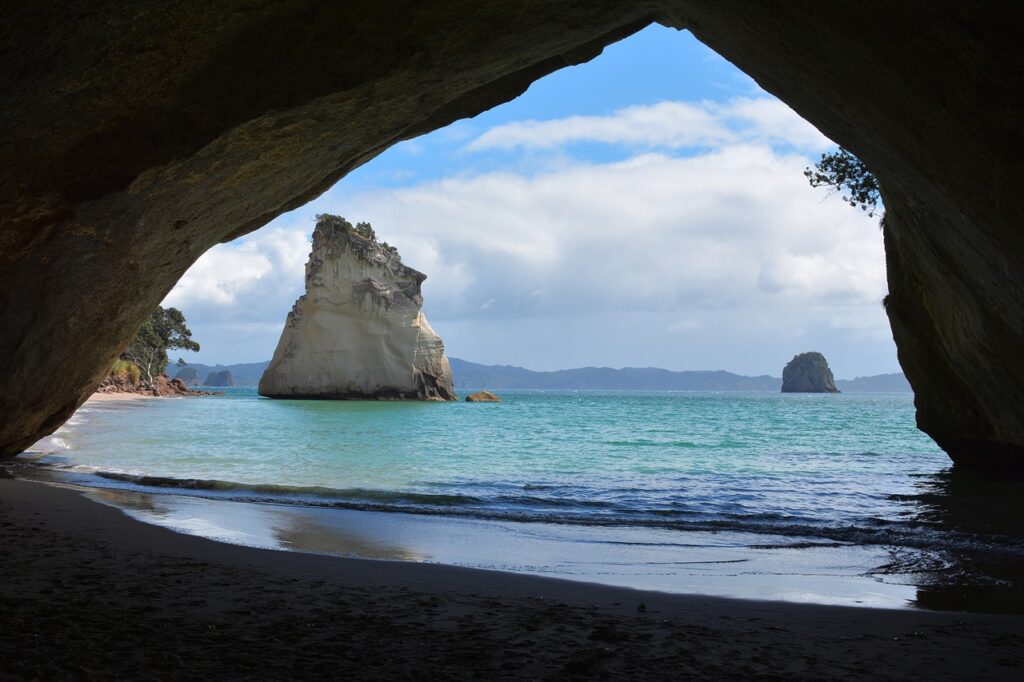 12. Coromandel Peninsula
The Coromandel Peninsula is one of the most beautiful places on New Zealand north island. A mountainous interior mixed with native rainforest and cliffs- It is everything that Auckland city isn't. Be sure to visit the Rapaura water gardens for instant peace and serenity. Also, recommend visiting the Cathedral cove for an overdose of beauty, the square Kauri to tick it off your bucket list, the geothermal hot water beach for a soak at low tide, Thames and Haehai beaches for strolling and beach time, the famous arch and satisfy your gastronomic cravings at one of many restaurants in the town.
This peninsula is arguably one of the best places to visit in north island NZ. You can even see the milky way with bare eyes on a clear night, no telescope is needed!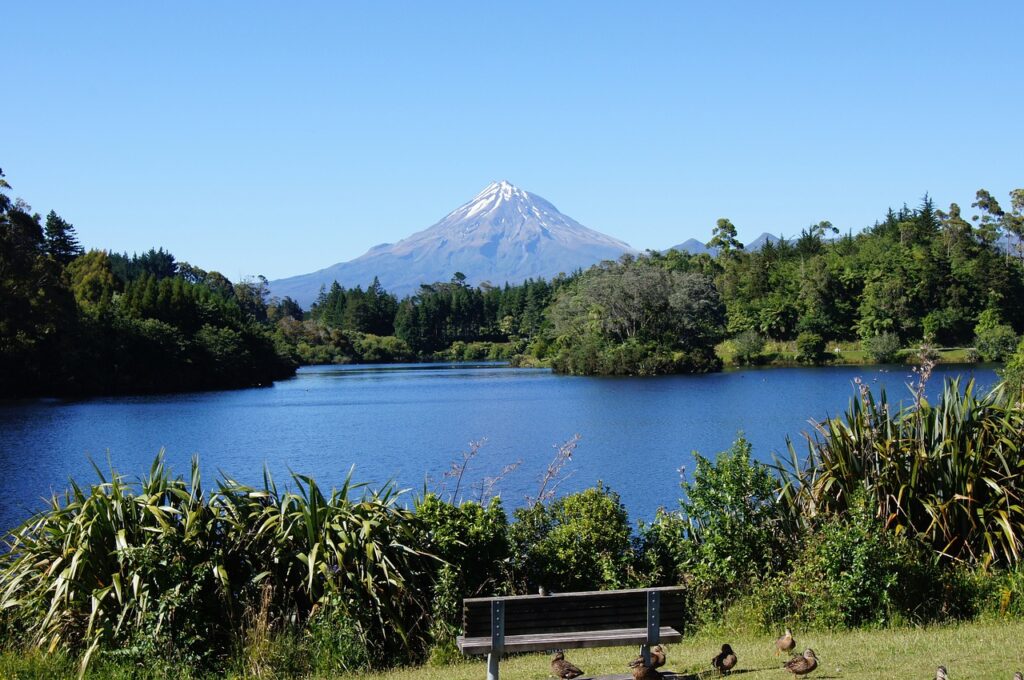 13. New Plymouth
If you are after hidden gems in the north island New Zealand, consider New Plymouth. It is a small seaside city in Taranaki, North Island, and was named one of the best regions to visit in 2017 by Lonely Planet but it is overlooked by visitors and even local Kiwis themselves. The most beautiful places that are worth checking out in New Plymouth would be New Plymouth Coastal Walkway, Pukekura Park, Pukeiti, Sugar Loaf Islands, Paritutu Rock, Tupare, Te Rewa Rewa Bridge, and Puke Ariki.
14. Blue Spring Putaruru
This is an absolutely stunning area. The walk is approximately 3 hours there and back but longer if you stop and explore and take in the beautiful scenery. There are 2 ways, one has a spot where you can swim which is right next to the carpark. There are picnic tables and I think a toilet too. The other takes you to one body of water. Wear good hiking shoes and it's an amazing hike, take the camera and water and you will love it. Do you know 70% of the NZ spring water come from these springs?!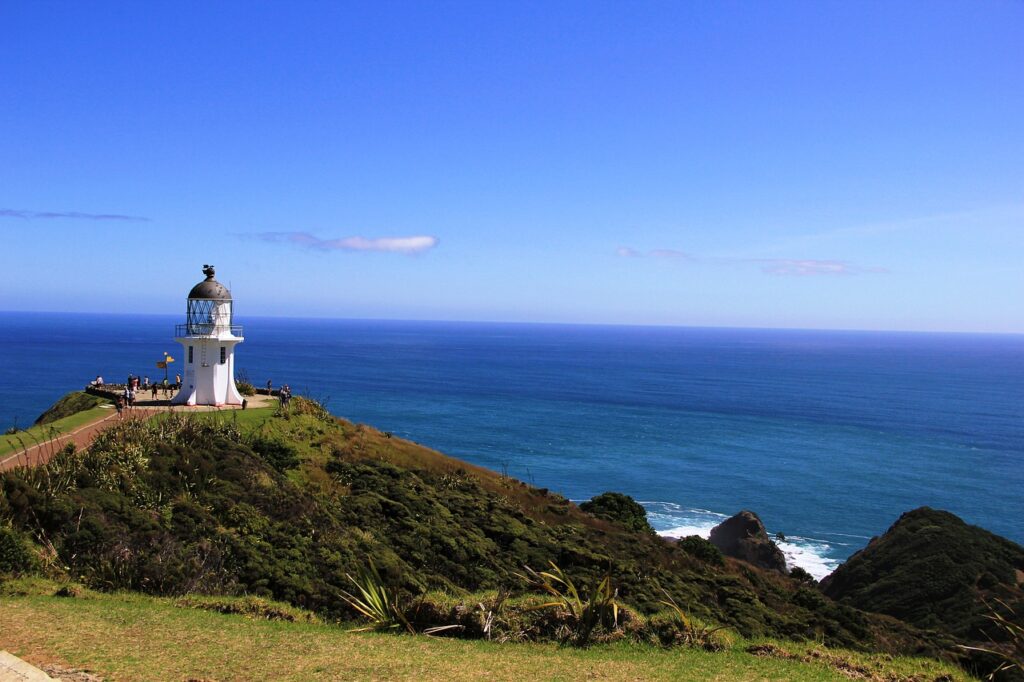 15. Cape Reinga
Cape Reinga is another best places to visit in north island NZ that many skip because of the distance. But for Māoris, this place is the most spiritually significant place in New Zealand. After death, all Māori spirits travel up the coast and over the wind-swept vista to the pohutukawa tree and a lonely lighthouse on the headland of Te Rerenga Wairua. If you can drive 6 hours one way from Auckland to Cape Reinga, you will be greeted with the most spectacular views plus there are many beautiful places worth stopping along the way. Such as the 90 miles beach, sand dunes, gum diggers park, rarawa beach, and lighthouse of course.
I hope these 14 Most beautiful places in New Zealand north island inspired you to visit NZ.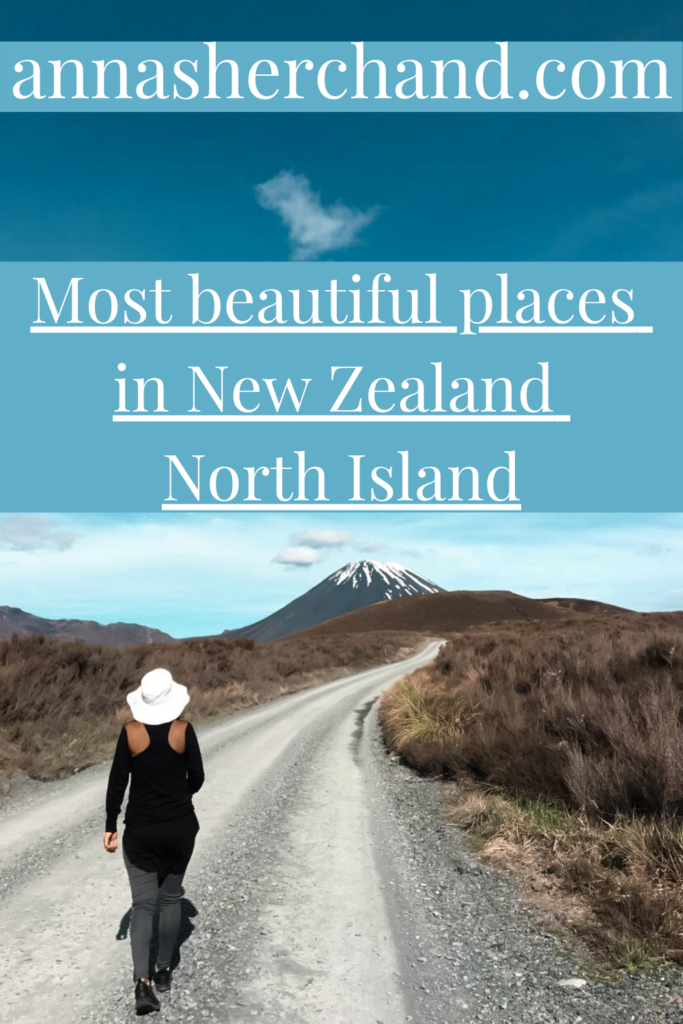 Let me know in the comments
art deco, milford sound
15 most beautiful places in New Zealand North Island