Travel is one of the most beautiful experiences in life one could have. And clearly, I'm addicted to it so to continue my quest to see the world, I solo traveled to Colombia, South America Q4 2021. After staying home in Australia during the pandemic I was ready for a new adventure on a new continent. I landed in Medellin and instead of a day tour, I went from Medellin to Guatape on public transport on my own. So if you want to do the same, keep reading.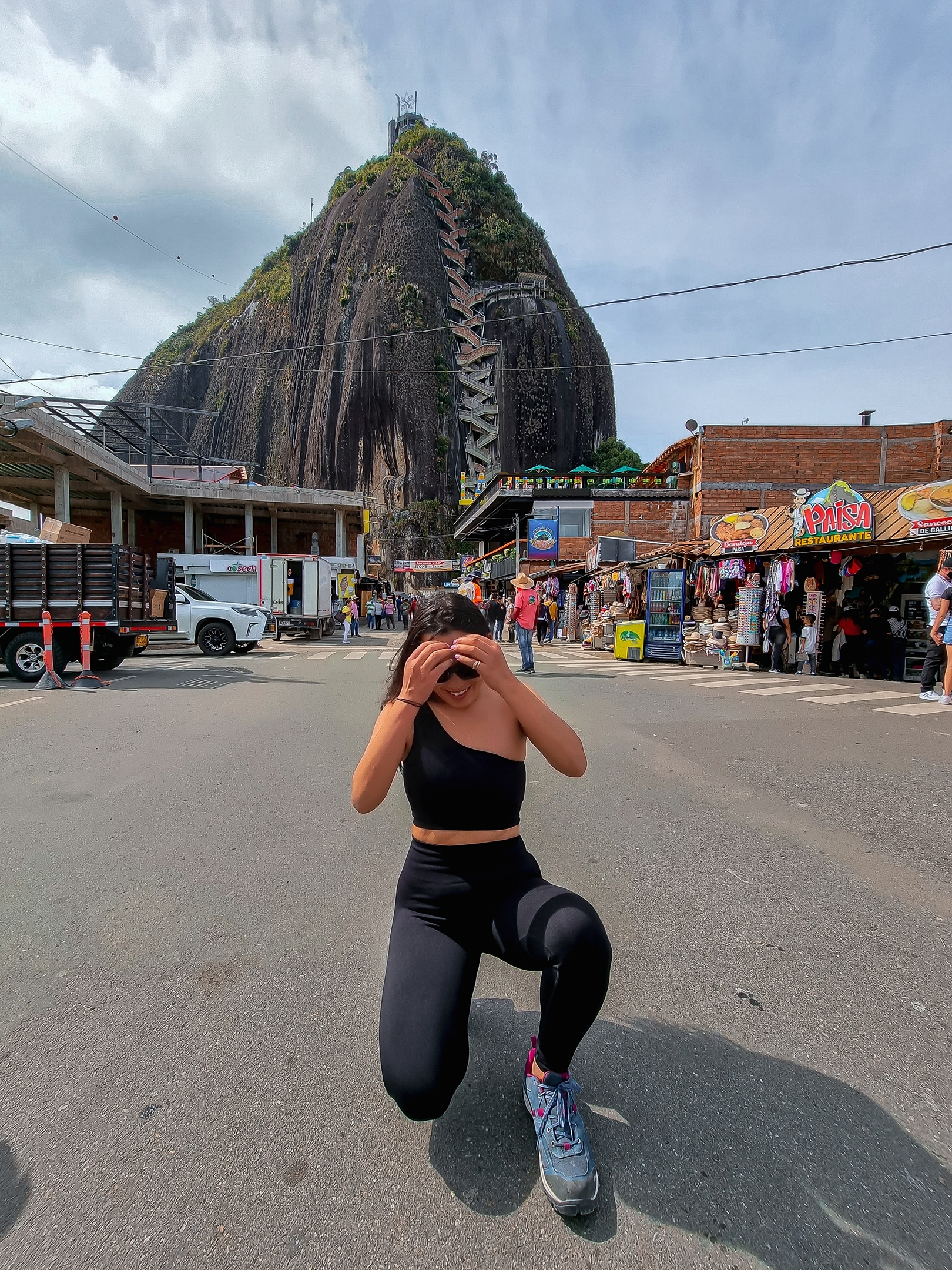 Guatape is one of the famous Colombian tourist attractions. There are many reasons why this is such a popular day trip from Medellín not only for visitors but also for locals. I will cover how to get there by bus, taxi and what you can do in Guatape below.
How to get from Medellin to Guatape?
The first step is to get to Terminal del Norte in Medellin. The bus terminal can be easily reached from Medellin city center using line A on the metro. Buy the metro card at the train station. The closest station, right in front of the bus terminal, is called Caribe station.
There are many companies that run the Medellin Guatape route. Once you arrive at Terminal Norte, head downstairs because all the ticket booths are located there. While downstairs, head to ticket booths 9,12, or 14 they all sell tickets to go Guatape. The companies that run the bus tickets from Medellin to Guatape bus are Sotrapenol, Sootransvincente, and Transporte Guatape La Piedra.
These buses run from 530 am till 6 pm and between 15 mins each. The timetables for each bus are displayed at each counter. Recommend to take an early bus 730-8 so you arrive at El Penon by 10 am.
Highly recommend buying the return ticket as you arrive in Guatape because usually the return buses are packed and it's best to know you will have a seat when heading back.
The cost of a one-way ticket to Guatape from Medellin is 15, 000 cop. No matter the bus companies you use, the tickets are the same price and the journey from Medellin bus station to Guatape takes between 90 minutes to 2 hours.
If you are taking a day trip as I did, recommend dropping off at the base of El Penol. You should see a small gas station and road up next to it. This is about 10 mins walk up the road to the big rock or you can take a tuk-tuk for 5000 COP. NOTE: There is also another gas station that comes before this one but it is much further away from the rock. So, make sure you get off at the closest gas station to El Penol.
Taxi from Medellin to Guatape
Alternatively, you can also take an Uber or taxi from Medellin to Guatape which will take about 1:30mins and cost around $40 USD.
El Penon
There are mostly two main reasons anyone would want to visit Guatape Medellin. The first to see or climb the famous Peñón de Guatapé towers which stand up to 200 meters (656 feet) above its base. The ticket booth for EL Penon is also at the base and costs 18,000 cop.
If you decide to climb the rock via a staircase with 649 steps built into one side, you will be greeted with one of the best views Colombia has to offer. I later found out you could even climb it as in rock climbing with a harness and all! Near the base of the Rock, there are food and market stalls for shopping.
Another reason is to visit the colorful town of Guatape and to admire its beautiful view.
How to go from El Penon to Guatape town
The easiest way is near the gate you can take a tuk-tuk that goes from El Penon to Guatape. The price is 5,000 cop
Alternatively, you can simply walk down the road and turn right at the main road. It's about an hour's walk
Or walk back down to the same gas station and get on the bus to Guatape. The price is 1,500 cop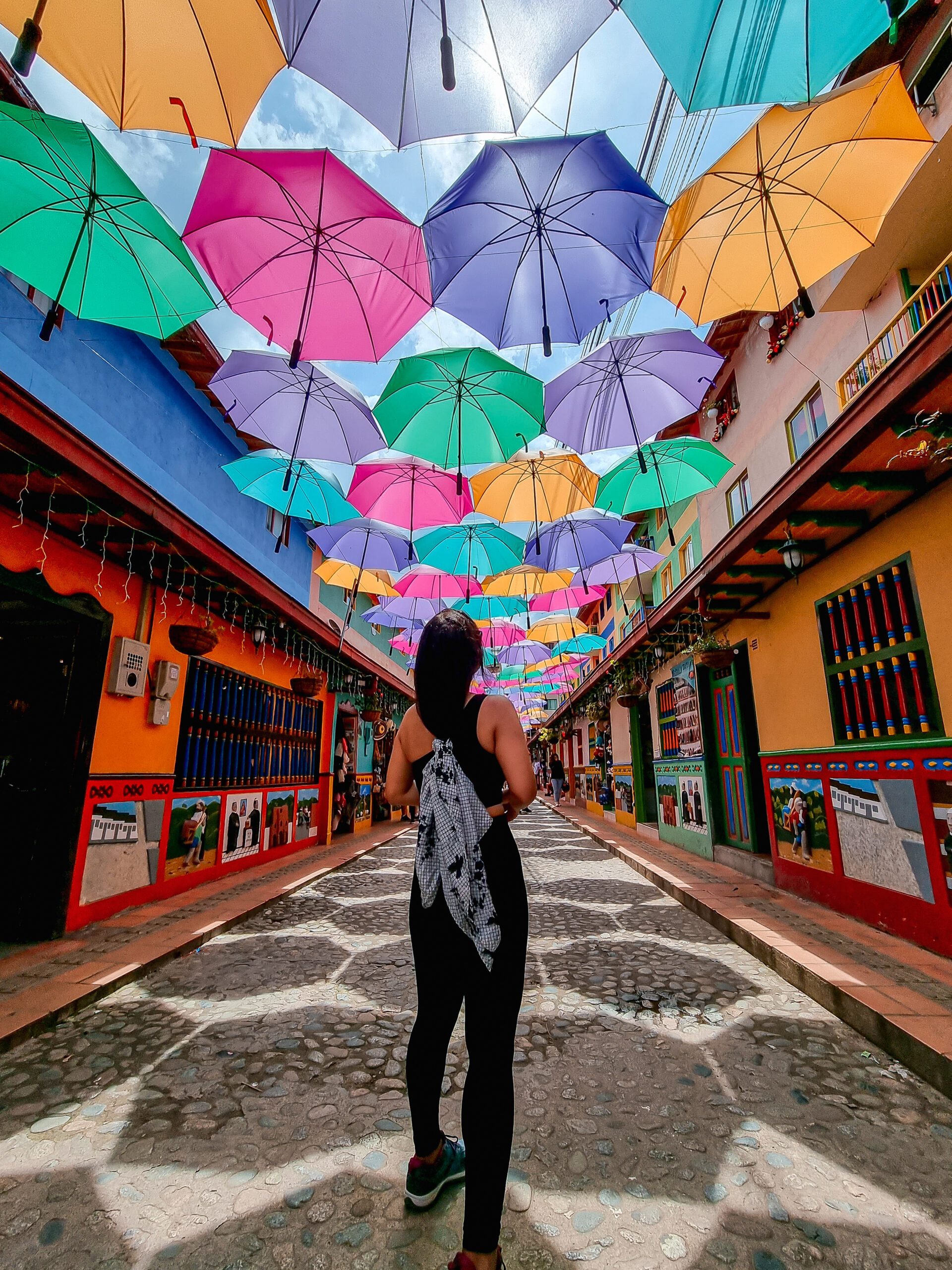 Things to do in Guatape
As mentioned above, once you arrive in Guatape, the first thing to do is to buy the return ticket back if you aim to return the same day. This is because the bus going back fills up quickly, especially in high season and you want to be sure you will have a seat. You can also pick a time to go back. like if you arrived at 10 am in El Penon spent half a day there, then get to Guatape around 1 pm, you can buy a ticket back for around 4 or 5 pm maybe.
Also if you arrive via tuk-tuk or taxi, they will drop you off at the bus station so that's easy. If not, the bus stop is at Calle 32 – right opposite the waterfront as you enter Guatape.
The reason why I didn't buy a return bus ticket from Medellin is that I was not sure how long I will be at El Penon and made more sense to purchase it at Guatape when I am closer to return time.
So now that the return ticket is sorted, and if you haven't eaten. There are many cafes, bakeries, and restaurants to choose from. I tried some empanadas and bakery items. Belly full I was then happy to start exploring this colorful Colombian pueblo.
Guatape's main square is the Parque Principal and is surrounded by eateries, church, and shops. ( I've posted more pictures on my IG @annasherchand)
As you walk around you will see most houses have painted a lower facade about 80 cm with vibrant colors and decorated patterns which tells the livelihood/cultural story of the family living there. These are called Zocalos of Guatape.
La Plazoleta de los Zocalos
This is a vibrant little square with painted steps, pastel-colored buildings, and a pretty cool place to get a coffee and people-watch.
The Umbrella way
If you are into Instagram, the street with umbrellas is a picture-perfect spot. This is right next to the painted steps above. There are plenty of souvenir shops around!
Jetski or Enjoy the lakeside
After you had enough of the bold colorful buildings, and crowds, cross the road and enjoy the lakeside. You can get on a boat to enjoy the area or if you are feeling a bit adventurous, there are jetskis on hire too.
If I had to highlight the most important parts, I would say
Get on the early bus from Medellin like 730-8 am so you can arrive around 10 am and have the whole day to spend here. Cost one way is 15000 cop
Climb the steps to the top of El Penon and enjoy the beautiful view. Cost is 18000 cop
Take 5000 cop tuk tuk to Guatape
Buy the return bus tickets as you arrive. Cost is 15000
Eat at the Parque Principal, people watching, Church, shops
Walk around see the Zocalos, a self-guided tour
Umbrella Street
Painted Steps
Lakeside boat or jetski
I hope this one-day travel guide to Guatape was helpful.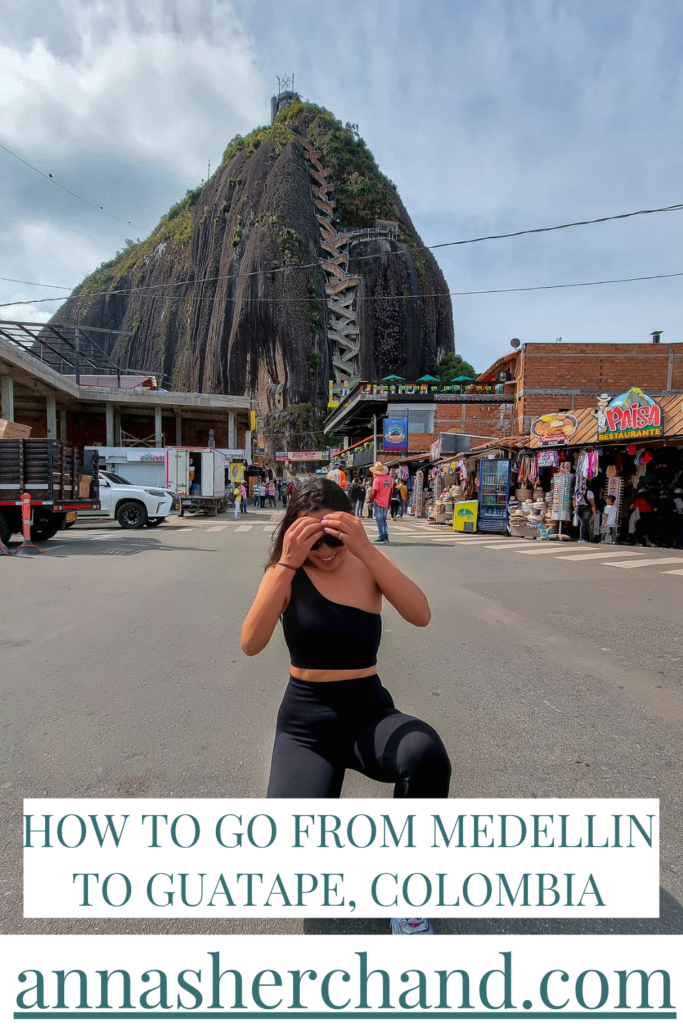 Let me know in the comments:
How to go from Medellin to Guatape