Today I am sharing With local bangkok street food tour review. Whenever someone says street food in Bangkok, the bustling Soi (small alleys ways) full of street food vendors come to mind. The smell of yummy Thai food, freshly cut fruits, and smiley locals is what makes the street food in Bangkok memorable.
While I was in Bangkok, I had been eating some street foods on a daily basis. But I wanted to dig deeper and try some new ones. I thought it would be great to have a local person guide me through the street food in Bangkok city.
Thailand 2 weeks travel guide

This 2 week Thailand itinerary covers North to South 
must-see places, you can bookmark it for future use.
There are tons of Bangkok food tours including midnight food tours, old town food tours, Thailand food tours, etc. After some research, I found With Locals info and it looked exactly like what I was looking for. You can pick the activity you want to do, choose the local guide for a private tour (just you and the guide, no hassle of following the group), pick the time and date that suits you and rest is taken care of.
After reading this post, if you decide to try With Locals. I have got a
I chose With Locals Gordon Ramsay's favorite 10 Thai tastings tour. It is marked as Euro 71.50 per person and lasts for 3 hours. I love Thai cuisine and decided to do a short 3 hours tour than a full day one. Together with my local foodie insider Kho (I picked him because his profile stated he was a photographer), I was looking forward to enjoying 10 delicious tastings, and Thai food memories to last me a lifetime!
If you aren't sure what to eat in Bangkok, where to eat in Bangkok or With locals street food tour continue reading as I share my experience.
It started at Ari BTS station where I met my guide Kho around 11 AM. We greeted hello and head off to eat our way through the back street of Ari neighborhood.
Bangkok street food tour review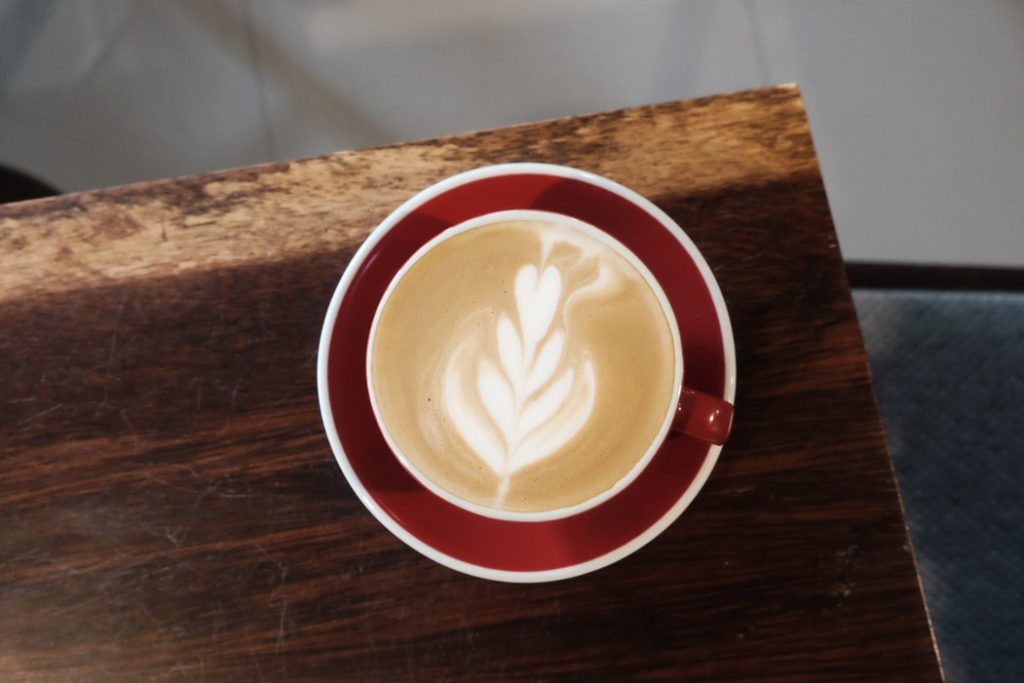 1. Thai Coffee
Believe it or not, I was lost/ shopping in the Rod Fai or commonly referred to as the 'Train Market' the night before. The joy of solo traveling! It was 1 am when I found my way back! So, I needed a coffee hit before we started walking around in the heat. We popped in one of the cafes in Ari and I ordered cafe Latte. I quickly realized it was counted as No #1 in tasting meals! If I knew it beforehand, I would have happily paid for it myself. Anyway, Coffee (กาแฟ) was okay but I was looking forward to what was coming next.
I had read about Ari being the food heaven for Thai and foreigners and it really made sense why as we walk past all the pink stalls on the street. It was a busy area, similar to the street food scene in Chiang Mai. With taxis, cars, tuk-tuk, a small group of people probably from other private tours and motorbikes.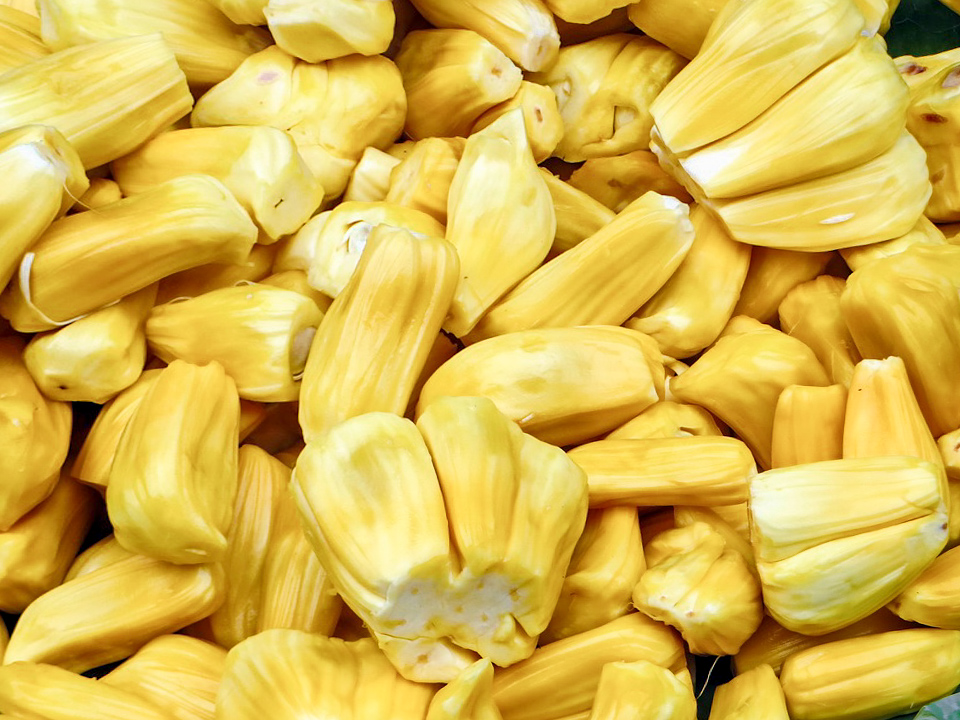 2. Yellow fruit
After coffee, the first stall we stopped was a jack fruit shop. Honestly, I never liked jack fruit (ขนุน) or the smell of it but Kho bought it and asked me to try it. I could only eat half of one jack fruit piece. It was sweet, ripe and juicy but I still didn't like the smell of it. Thai people love this and some travelers too. Something you should put on your list of things to try in Bangkok.
It was already No#2 of 10 tastings of the Thai food tour. So, I suggested to Kho if we can try what I want to try. He replied we can but there is some food that he can't skip because they are a must in the tour itinerary. I understood he was just doing this job to show me the typical street food scene and sharing his personal reviews. We then took some pictures and continue on our day tour of street food.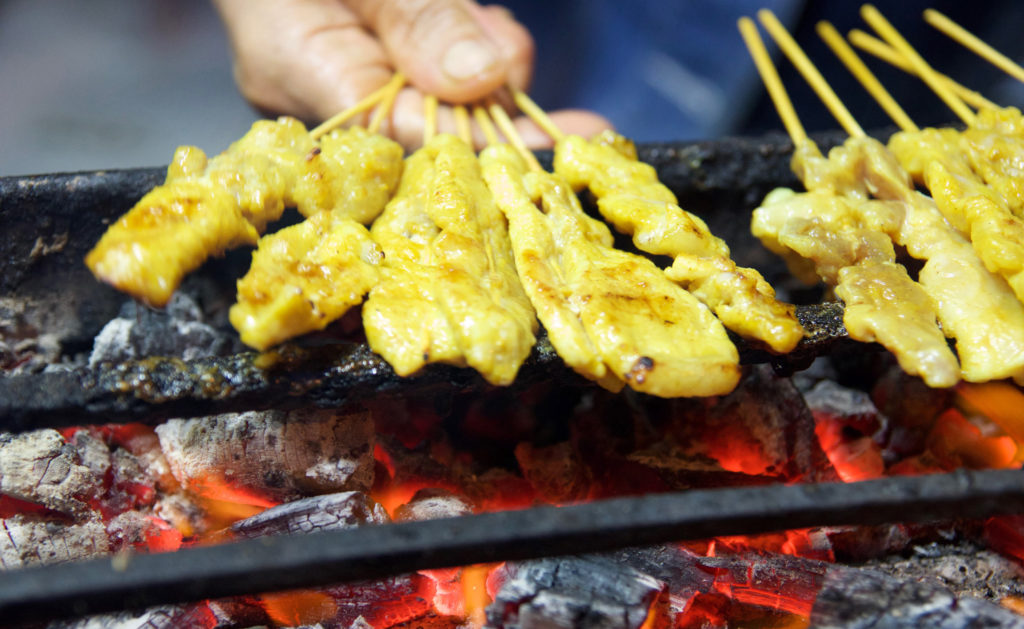 3. Grilled Meat
Next stop was the chicken satay stall (สะเต้ะ). It was grilled chicken meat sticks served with peanut sauce. The skewers were already cooked so they just reheated them. I had eaten chicken satay before but not on the street. So, it was my first and now I know where to get them. Grilled chicken skewers are one of the staple snacks in Bangkok/ Thailand.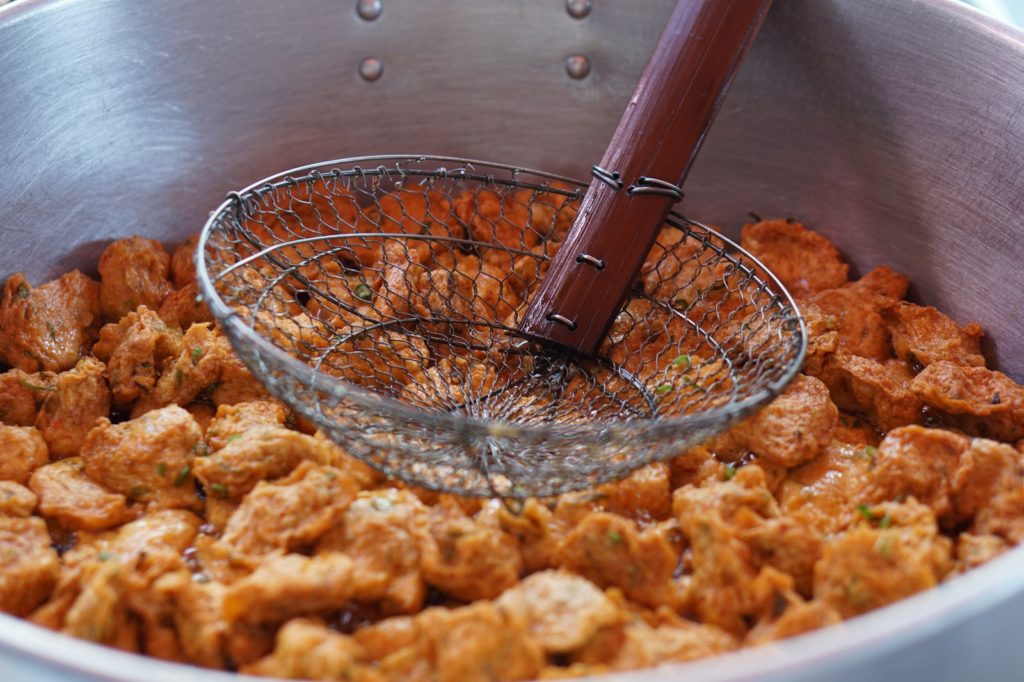 4. Fish cakes
No#4 was the stall with a lady who was making fish cakes (ทอดมันปลา) on the spot. We waited for a couple of minutes and it was ready. It came topped with Thai sweet chili sauce and some pickled cucumbers. Reminded me of deep-fried Pakodas but the softer version with fish. Thais eat fish cake all the time and are also considered Bangkok midnight food.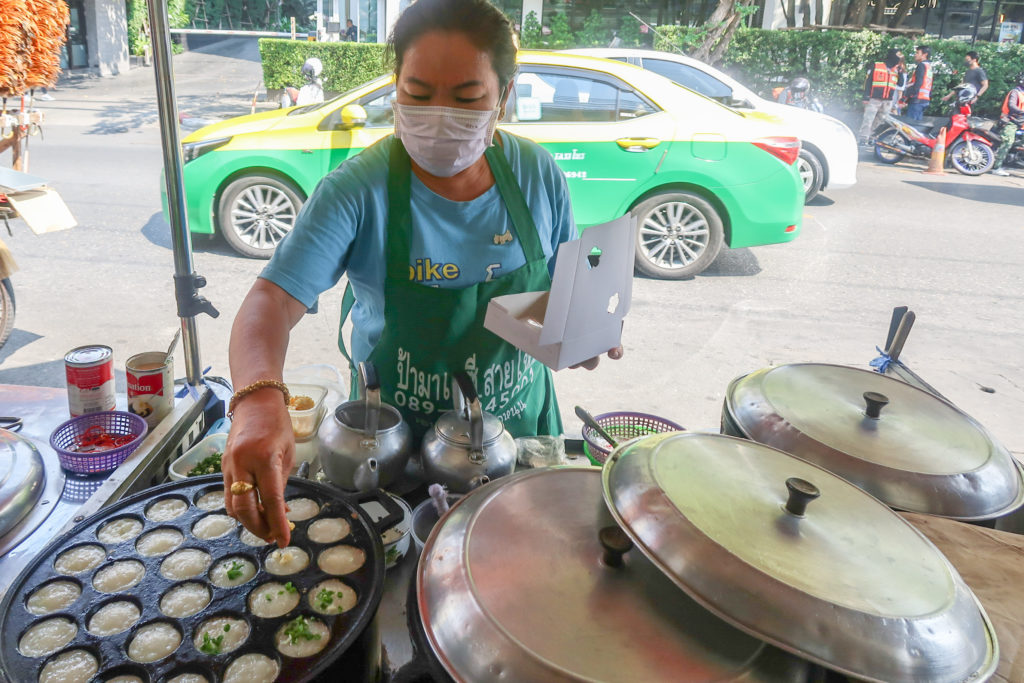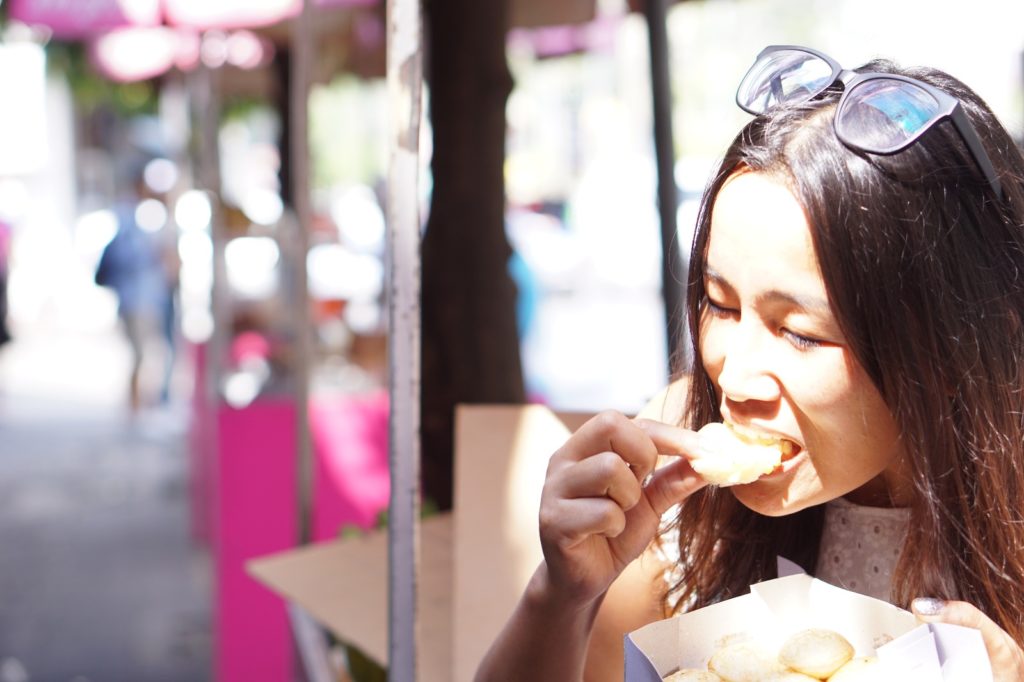 5. Coconut Rice Dumplings
To finish off the Thai snacks session, we stopped at a sweet stall. I always wondered what those little things were! Turns out they are called Pancake pudding (Khanom Krok ขนมครก) These traditional coconut and rice flour dumplings are cooked into little kettle cakes and often topped with a choice of green onions, sweet corn, taro, or just plain. Served hot, they will melt in your mouth. Too sweet for my liking but if you have sweet teeth you would love this snack.
We had our hands full of four different bags of Thai street snacks. Kho had ordered a small batch of each snack, from memory 5 pieces each. I couldn't help trying a couple of them then and there and it was super good!
Next, we needed a place to put everything together for photos and eat it all!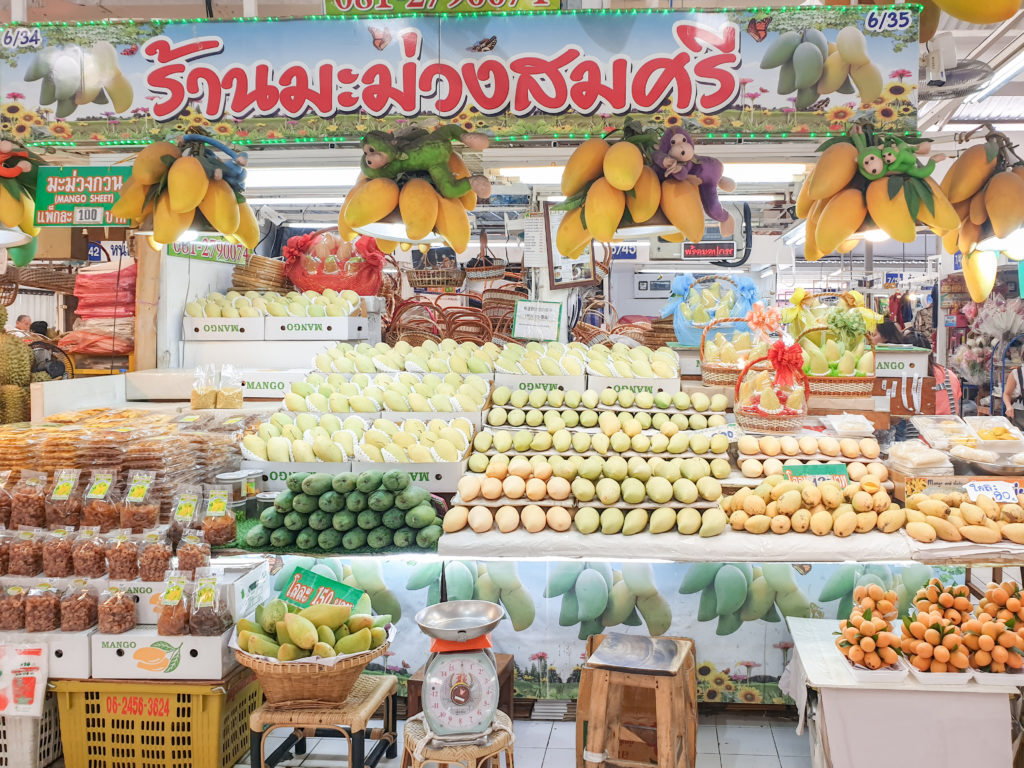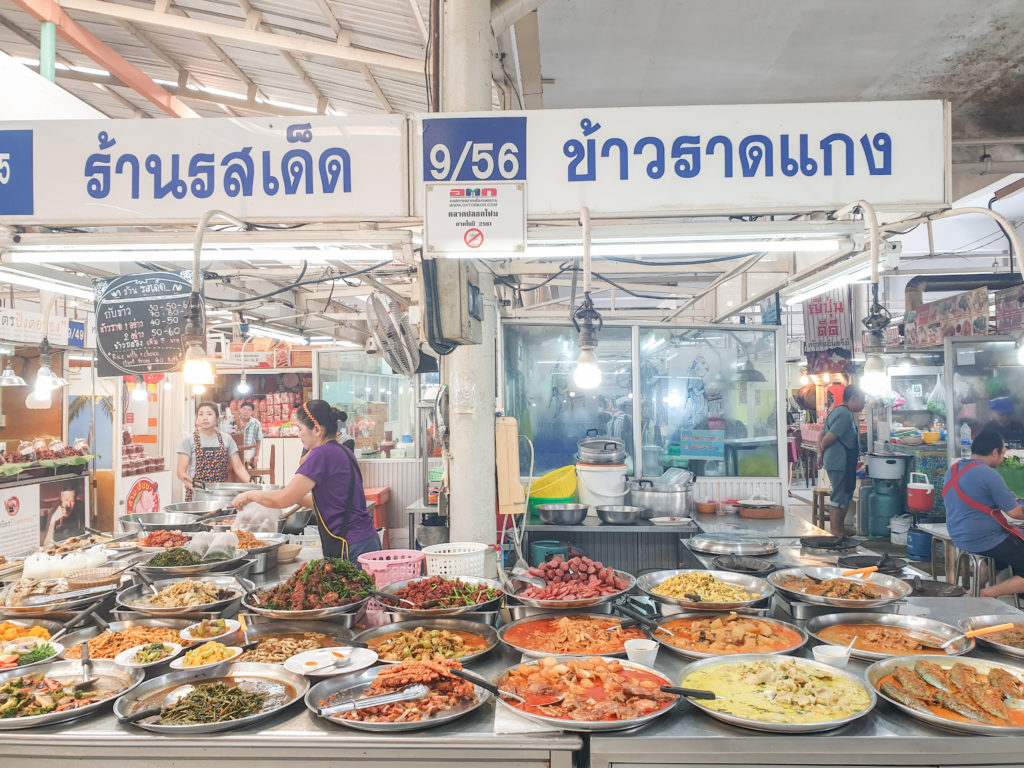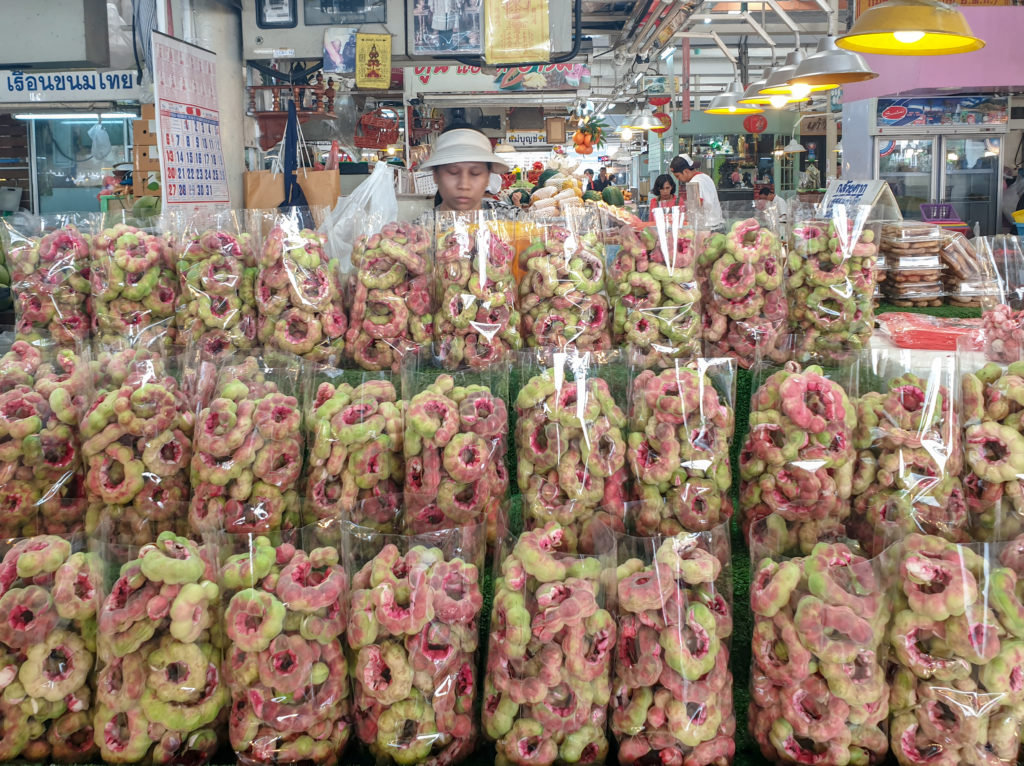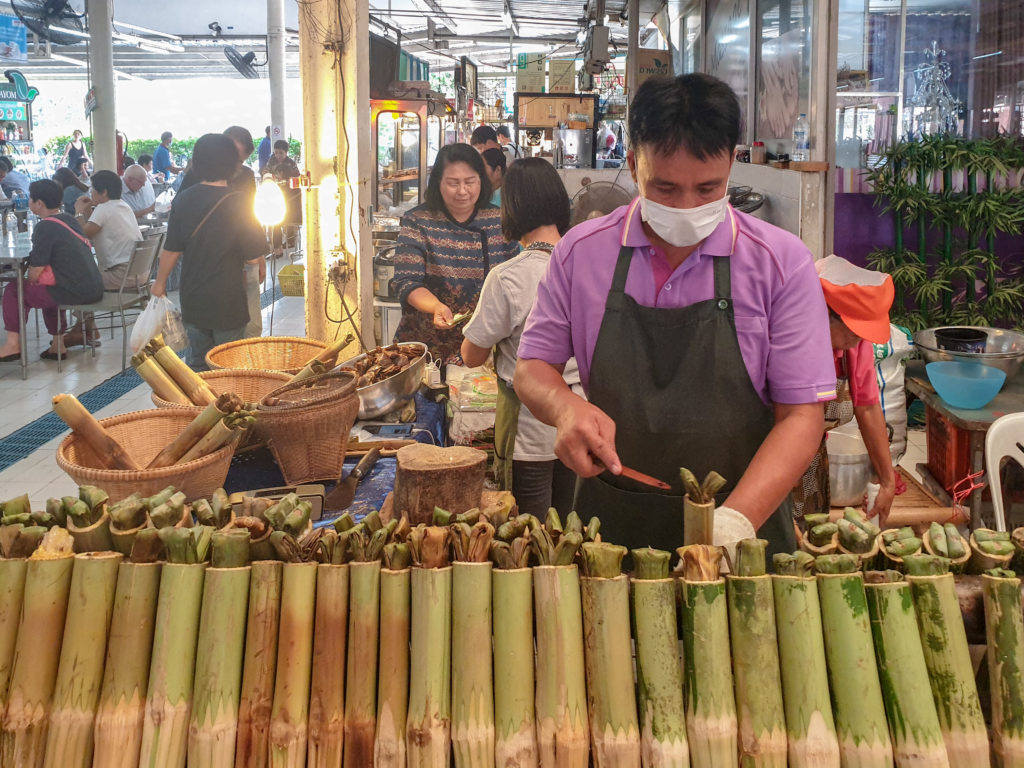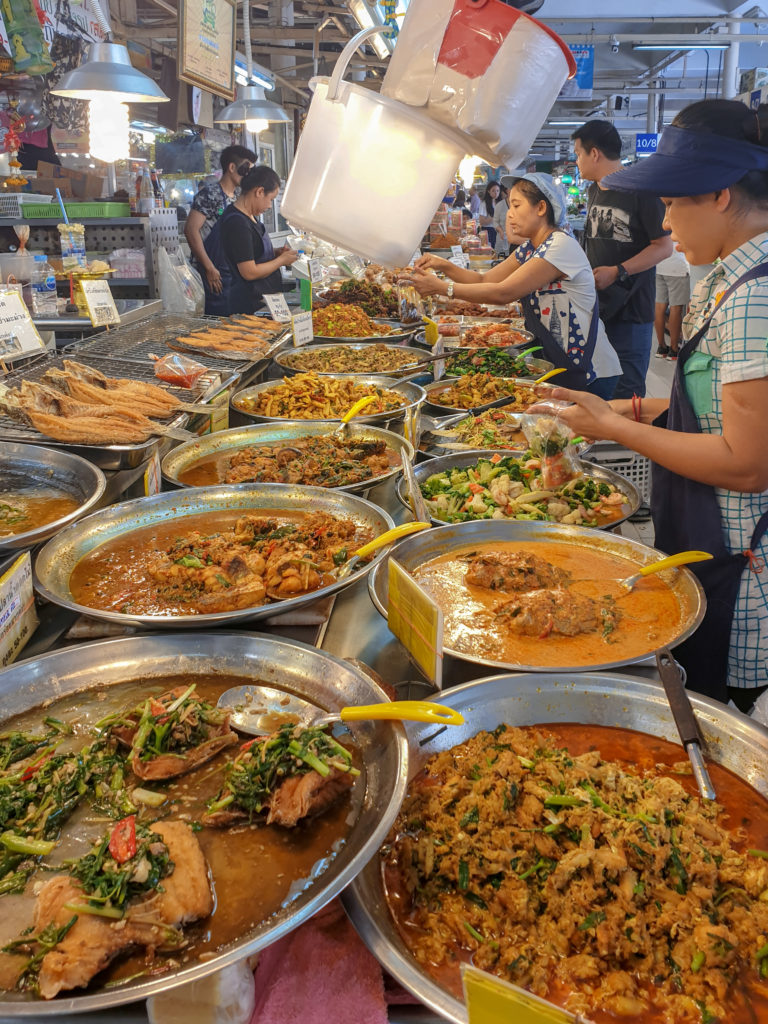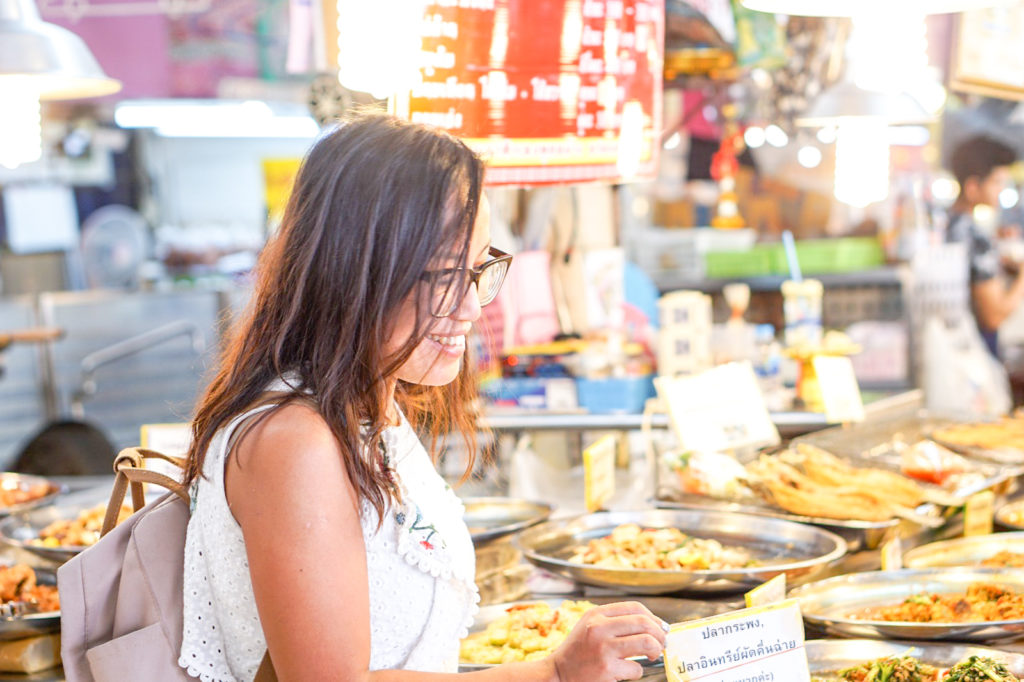 We left Ari and arrived at the Or Tor Kor Market (ตลาด อตก). I was happy to learn about a new place in Bangkok. On the way, Kho asked me what I prefer to try. I mentioned some of the meals below.
Or Tor Kor Market is a big market place to stroll around, whether you are just browsing, taking photos, or actually doing some grocery shopping. It offers fresh, fruits of all types and varieties, a wide range of vegetables, seafood, pre-cut meats, and flowers. It even has its own section for ready to eat food.
If you love to eat or are a budding Gordon Ramsey, Or Tor Kor is a must-visit place in Bangkok Bangkok. It's just next to Chatuchak Weekend Market!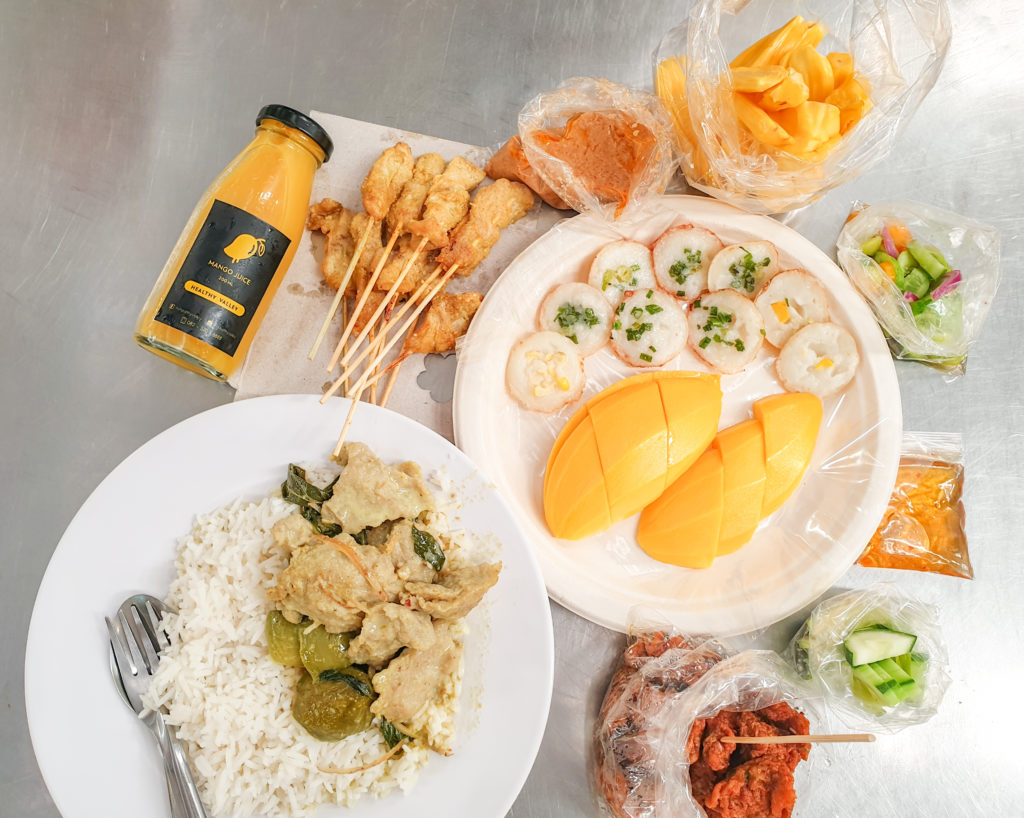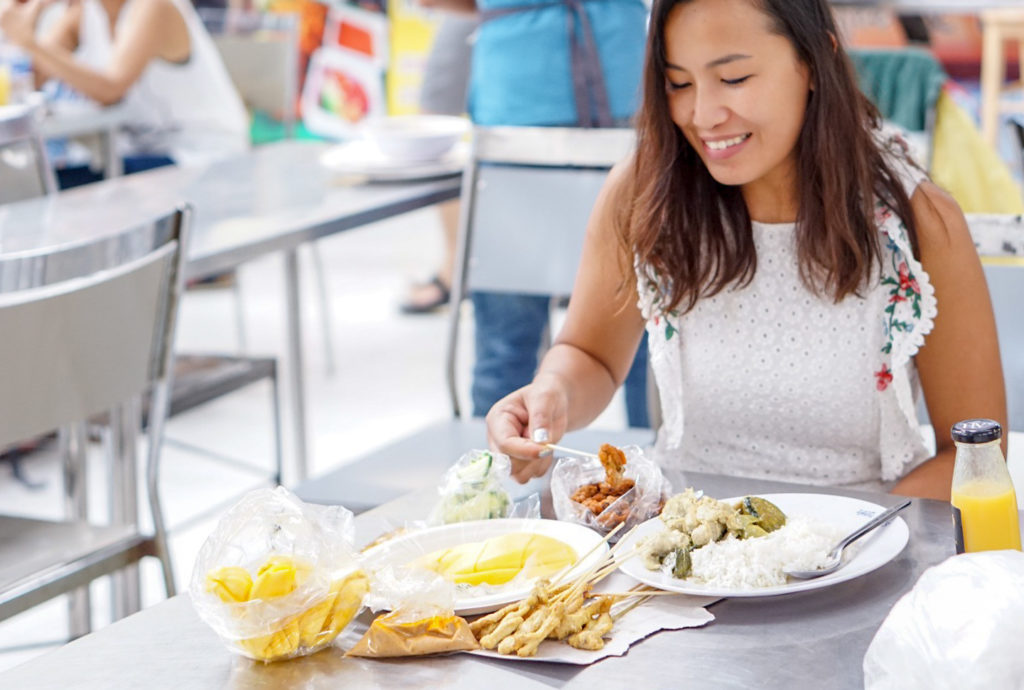 6. Traditional curry
It was time to try the flavorful Thai green curry (แกงเขียวหวาน). Kho found a table for us and went away to get green curry and mango sticky rice. I sat at the table and organized our four bags and took some pictures. When the green curry came, I was happy. I recommend including it, on your food tour. Just don't forget to tell your guide the spice level you prefer.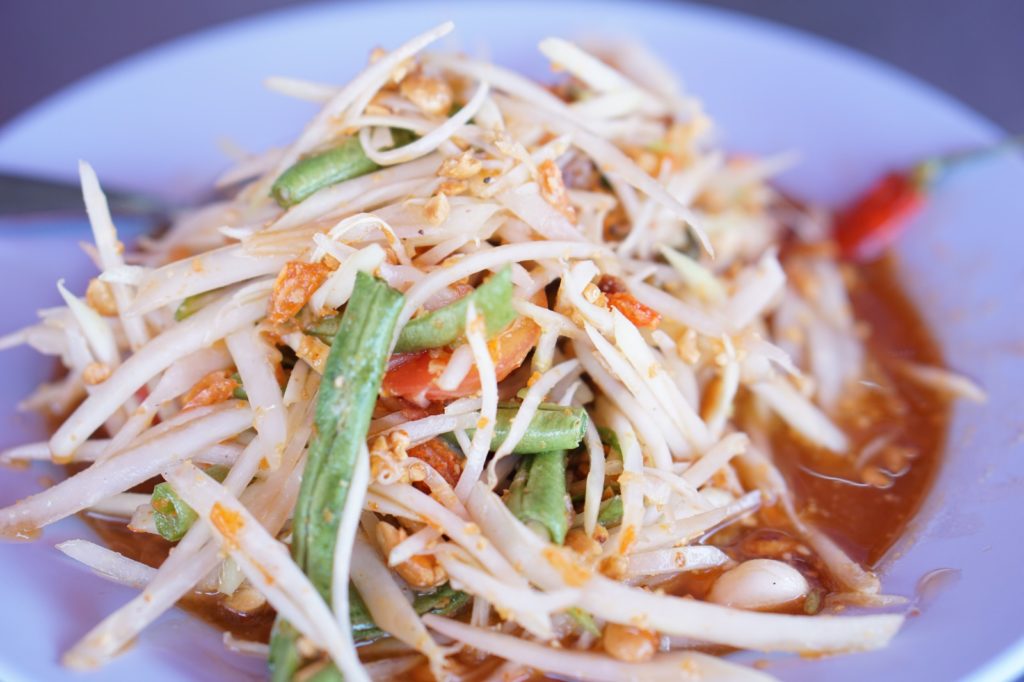 7. Authentic Salad
Another must-try food/salad in Thailand is Som Tham (ส้มตำ). In English, it is called Thai Salad/ Papaya Salad. Usually, they make it spicy so, if you can't eat spicy food. Again, don't forget to let your guide/ vendor know. And if you do not like fish sauce like me, the idea is to watch closely when they are making it. So, you can stop when they are about to drop some fish sauce. Same with small prawns. I recommend this tangy Papaya salad, can eat with sticky rice or glass noodles too. One of my personal favorite.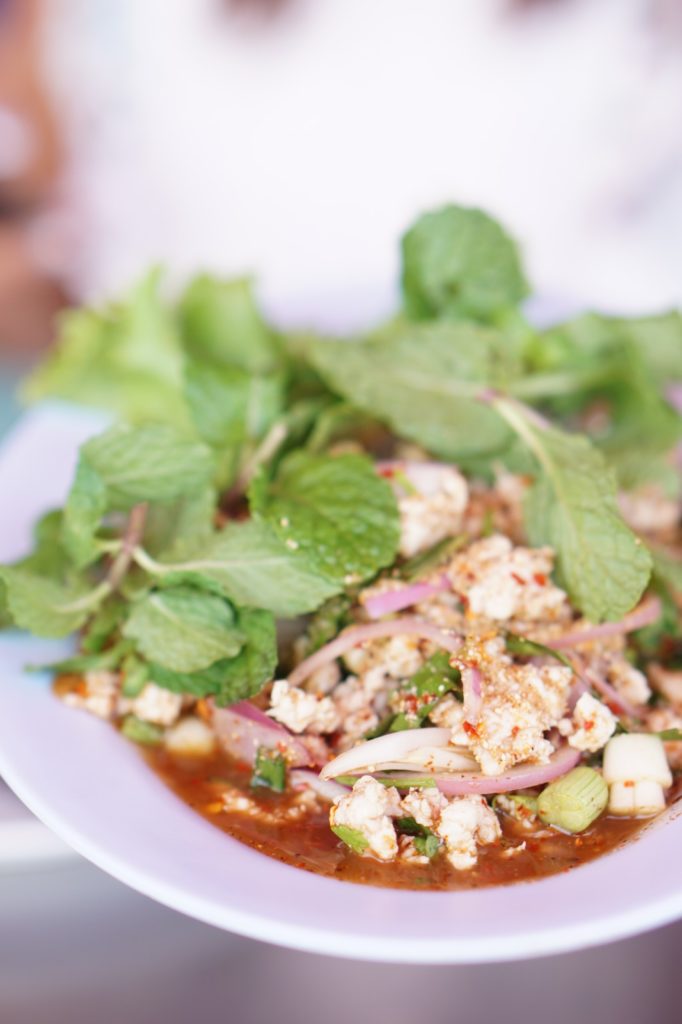 8. Another must-have Salad
I was excited to choose what food I wanted to try in this traditional Thai market place. So, I thought for a minute and spelled out Larb (ลาบ). It's a staple dish of Thai Isaan food and sort of like the meat sibling of som tam.
Best to eat with a spoon of larb followed by a ball of fresh sticky rice which is one of the great flavor combinations. Last time I had a delicious Larb was near Chao Phraya river like a year ago! So, I was happy to repeat the experience somewhere different. Kho patiently waited for me to finish eating and helped me take some pictures.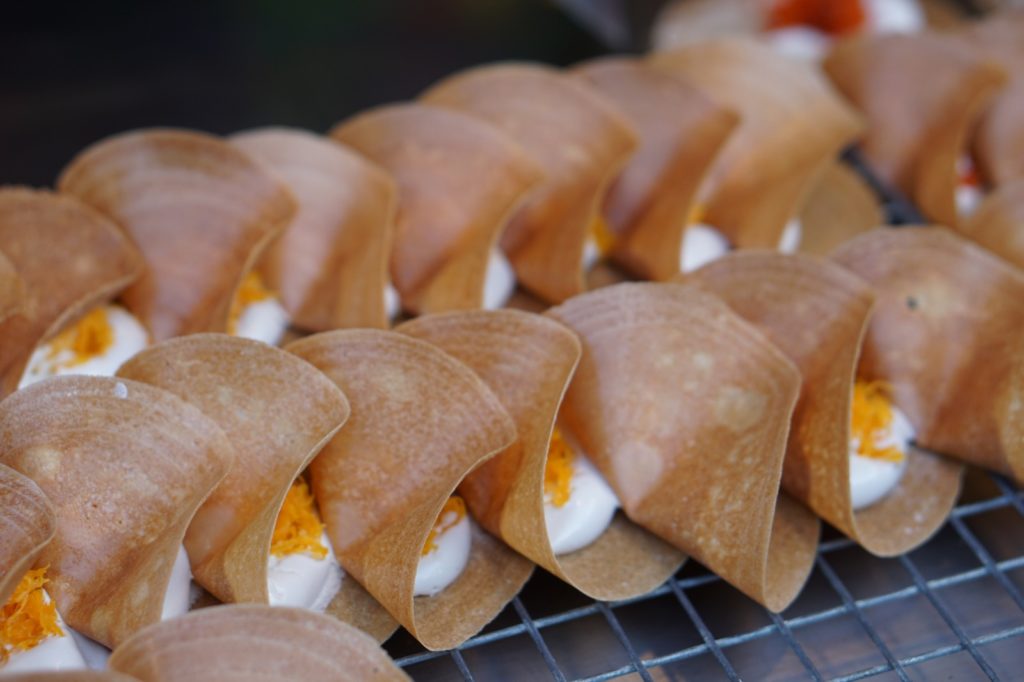 9. Dessert
I had a number of options for desserts but I ended up choosing Mango sticky rice (ข้าวเหนียวมะม่วง). I always do! This is my goto dessert. My food insider guide Kho went to order but came back with freshly cut Mango only. Unfortunately, they didn't have or sold-out sticky rice!
Alternatively, he suggested trying mini coconut crepe for dessert. You will see it in pretty much all the street food in Bangkok. With its unique look, it's hard to miss.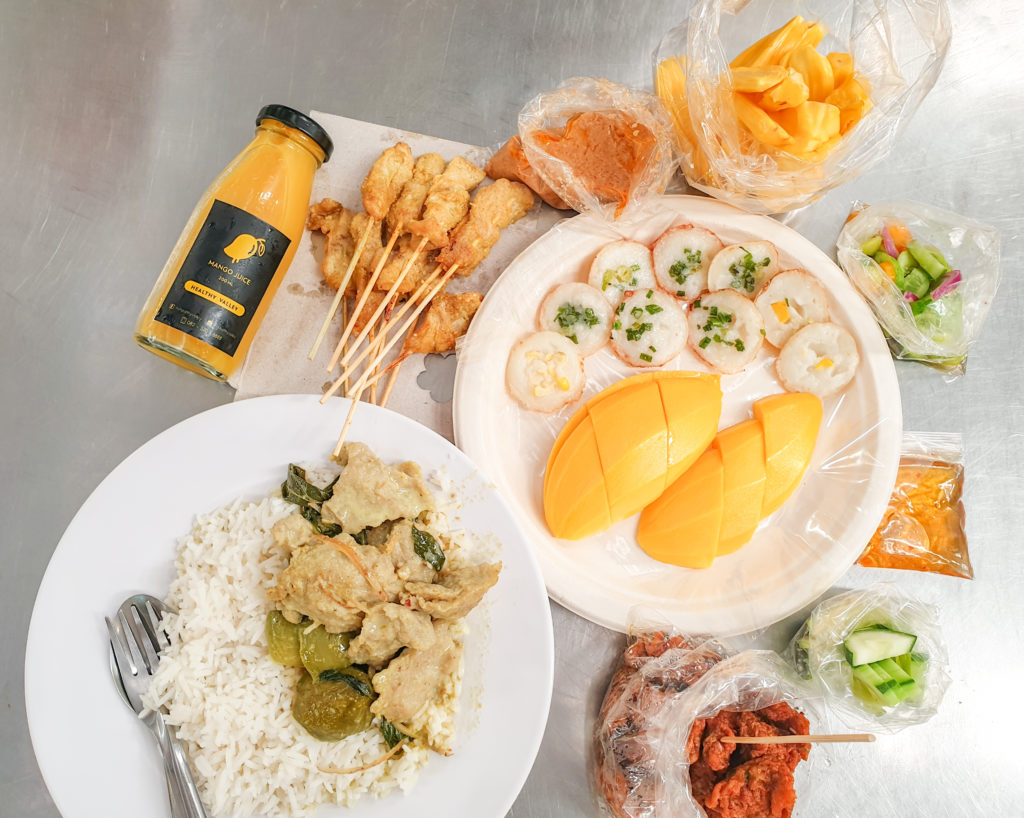 10. Juice time
All these tasty Thai snacks and delicious food calls for an exotic local juice to cleanse your palate. While we were walking into the Or Tor Kor Market earlier, we had stopped in a juice shop. Mango juice (น้ำมะม่วง) was my pick and it was the best to sip in between and end the food tour with.
I was glad I tried some traditional Thai food than just touristic pad thai. Kho who was a friendly and nice guide. He even shared some local recommendations on the way back. Thank you, Kho.
All in all, this Bangkok street food tour with With Locals was good fun. I hope this With local bangkok street food tour review helped you make up your mind. If you decide to book this or another tour with With Locals, don't forget to use the 15 Euro discount for your first booking. Click here to get it.
I would say probably one of the best Bangkok food tours available in the market. If you are new to Bangkok street food scene; it would be a perfect starting point in your food journey to Thailand.
With that said, whatever you do, don't be a traveller who eats only 7/11 toasties in Bangkok, Thailand. Just give a couple of that delicious Thai food a go. Enjoy!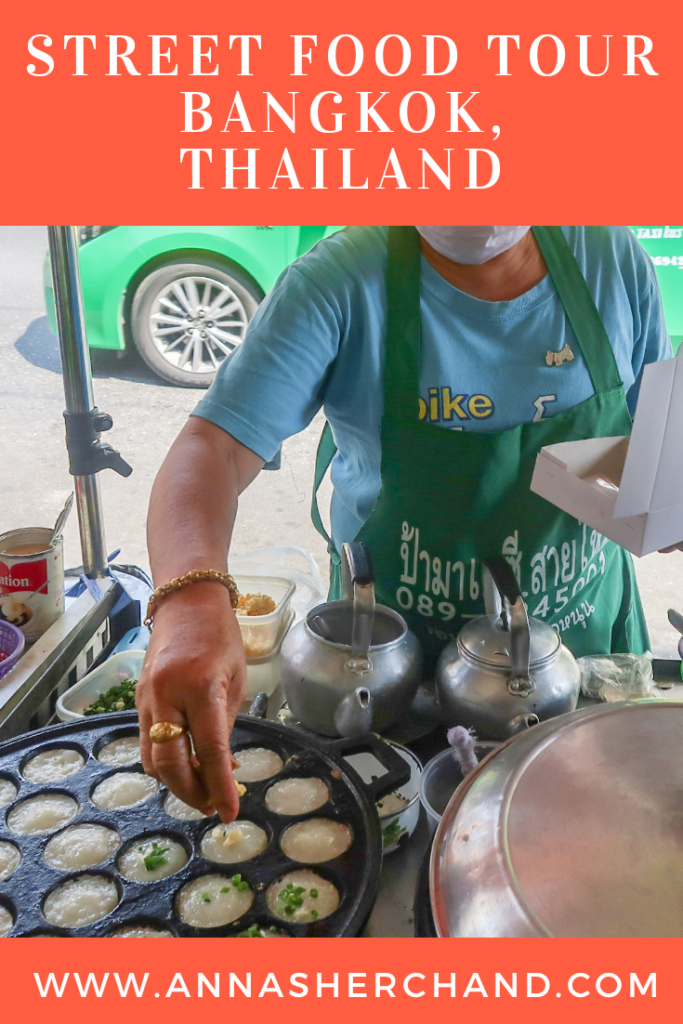 Let me know in comments–
With local bangkok street food tour review