Amsterdam is the most populous city in Holland, with a population of approximately 872,000. This city receives an annual average of 3.5 million visitors. Chances are, you are likely to encounter fellow solo travelers during your brief visit to the Netherlands as well. The country, just like most European countries, uses the Euro as its primary currency. So, remember to look for a shop offering forex exchange services before touring the city. With that said, here is 2 days in Amsterdam itinerary.
But first, let me provide some clarity on this beautiful country The Netherlands.
For starters: Holland is not a country but a part of The Netherlands. In the west of The Netherlands, there are actually two provinces with the name Holland: North Holland and South Holland.
North Holland's capital is Haarlem (or Harlem in English), the capital of South Holland is Den Haag – The Hague in English which is where the official Dutch Government is and the capital of the country The Netherlands is Amsterdam.
Amsterdam is the perfect city to visit if you only have a couple of days before you get back on the road. The Dutch capital is known for its excellent infrastructure, including evening canal cruise, café shops, beautiful houses, traditional wooden dutch shoes, Van Gogh Museum, a floating flower market, windmills, tulips gardens, cheese markets, and millions of bicycles.
Assuming all of us solo travelers are well-versed in the city's freedom and liberality. The city has so much to offer that it would be impossible to take it all in within two days. Nonetheless, the article below will help you find the perfect activities and places to visit in the world-renowned 17th-century capital of the Netherlands. But first, let's take a look at the most convenient and affordable ways of getting into the city.
2 days in Amsterdam itinerary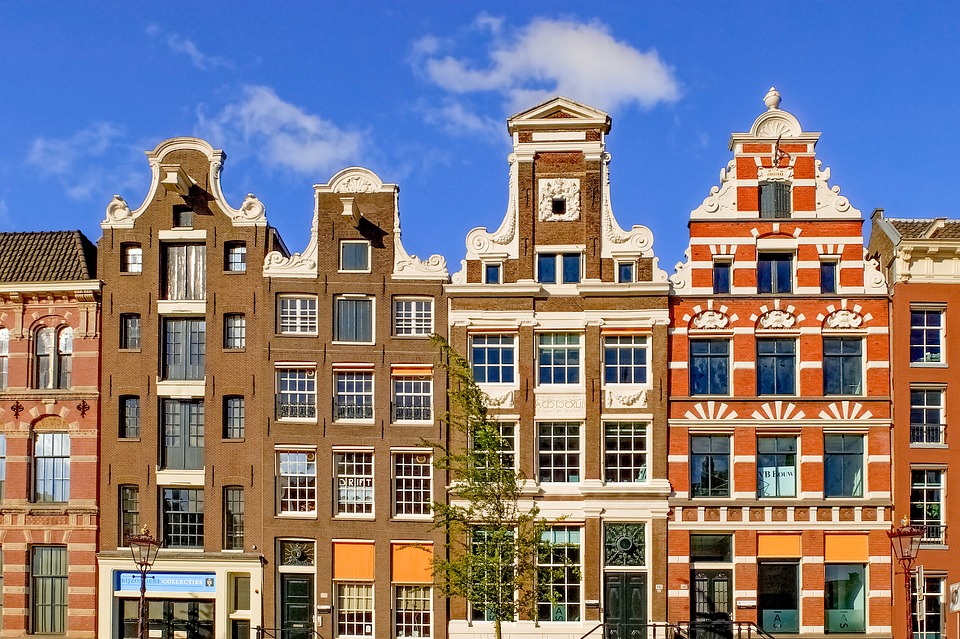 How to get to Amsterdam?
Amsterdam has one of the most advanced transportation systems in the world. The impressive transport network includes buses, trains, ferries metros, and tams. The fastest and easiest way of traveling from other European countries to Amsterdam is by air. However, the most convenient and affordable way of getting into Amsterdam is via bus (most likely flixbus). If those two options don't work for you, consider using the train which stops at the Amsterdam centraal station, as it uses the reliable above-ground tramway.
How to get around Amsterdam?
The most popular but convenient way of getting around in this city is by using bicycles. Since you are traveling alone, consider using a bike to get around, especially if you are on a budget. If you are traveling with a group of people, then hiring a car would be the best way of getting around Amsterdam.
But if you are like me and don't ride bicycles that much, I recommend getting an Amsterdam city card ( It is your all-inclusive city pass where you get free admission to museums, attractions, and free city-wide public transport. Save time, money, and stress during your visit to Amsterdam)
Alternatively, if you are using public transport, you can either buy a 1-day pass or 24 or 72 hours. ( all between 1 euro to 10 euros) The machines are right outside the train station and it takes cards or cash. You can choose English on the screen to understand what you are buying in English.
With that being said if you are staying longer then it makes sense to buy the public transport chip card (OV-chipkaart) which can be used for travel on trams, buses, and metros. Just top it up with $.
Do I need a visa to enter Amsterdam?
Australian/American citizens can enter the Netherlands without a visa for 90 days. You only need funds to secure a return airline ticket. The city has one main airport, Schipol International, which is only 11 miles from the city center. Nonetheless, it's always best to check the official government website for up-to-date visa regulations.
When to visit Amsterdam?
For sightseeing, consider visiting the Dutch capital during late autumn going into the winter months. However, if you want to see the beautiful tulips and landscape of Amsterdam, then visit the city during Late March, April, and mid-May. Either way, Amsterdam is still enjoyable regardless of the season you opt to visit.
Just understand there will be crowds in peak season. So be wary of the tourist season and ticket prices of buses, trains, and airplanes.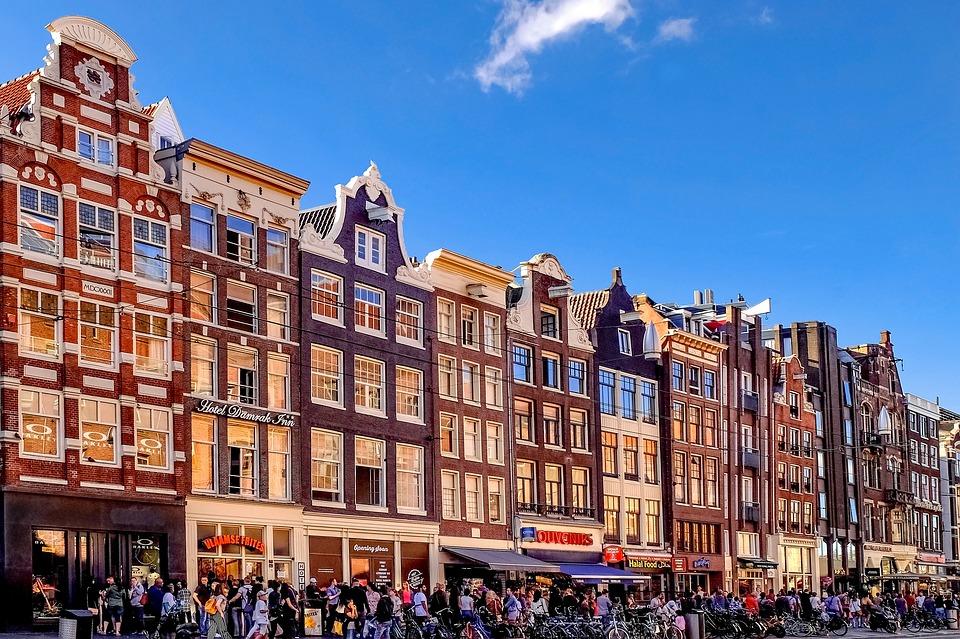 Where to stay in Amsterdam?
There are loads of luxurious and stunning hotels in Amsterdam and not many hostels but I have provided some options for all below.
Van der Valk Hotel Amsterdam – Amstel is a four-star hotel that is only 10 mins metro from the AMS central station. I stayed here and can recommend it if you don't mind taking the metro or Uber it to the city. They offer FREE wifi as the hotels below and buffet breakfast and lunch also. The hotel has 2 bars and a restaurant, a rooftop pool, and a spa.
If you like to be in the center of everything though, I recommend DoubleTree by Hilton Amsterdam Centraal Station or Hilton Hotel. Don't forget to check out the Sky Lounge at the Double Tree for a nice view of AMS and some Bartender Skulls!

If you are on a budget, check out VIA Amsterdam which has an onsite bar/cafe and from the train station Diemen Zuid it is only 10 mins walk. Also if you eat local, you can walk about 7 mins from VIA, and eat some Asian or African food at a food court called World of food Amsterdam.
No matter if you book a hostel or a hotel, definitely read recent reviews and the distance from the city considering you will be sightseeing and most things are in /around the central.
Alternatively, staying in Airbnb in some of the best neighborhoods is also a great option. Some of the recommended areas are Amsterdam City Centre, Weesperzijde -Oost, De Pijp, Oud-Zuid, Oud-West, Westerpark, and De Jordaan.
2 day Amsterdam itinerary
Day One Tour of Amsterdam
9 AM: The Dam Square
With your Amsterdam card or a bicycle, you will be able to fully experience Amsterdam. If it's your first time, I suggest you start your trip with one of the top tourist attractions in Amsterdam called Dam Square. Considering you won't be here for long, you need to see it at least once and take pictures if you like. Once you are here, it will be impossible to miss the Royal Palace of Amsterdam and the National Monument, which are almost placed side by side. The people and the culture here will blow your mind away. Recommend joining a Walking tour of Amsterdam for a broader view & it's one of the fun ways to meet fellow solo travelers too.
11 AM: Rijksmuseum
After you are done, make your way to the Rijksmuseum. The museum is enormous and has over 8000 objects on display. You will quickly kill two to three hours here learning about Dutch history and art. This national attraction is not free, so remember to carry some cash with you.
2 PM: Have Dutch Herring at Frens Haringhandel
What better way to break for lunch than enjoying Herring at Frens Haringhandel? This raw delicacy is served by the roadside. The fresh meat might put you off, but I assure you it is tasty. It has been well-marinated and soaked in vinegar.
2:30 PM: Take a Walk in the Bloemenmarkt
As you wash down your meal with your favorite beverage, take a walk at another attractive area in Amsterdam, the Bloemenmarkt. There are a ton of different flowers in the market that combine to form a beautiful panorama. Additionally, the market also features other exciting items that you could go back home with.
3:30 PM: Vondelpark
By now, you must be feeling tired. Consider taking a stroll through Amsterdam's green space, the Vondelpark. Locals come here to relax and unwind after a long day. If you are visiting Amsterdam during the warm months, you'll definitely be in for a treat.
5 PM: Visit Amsterdam's Coffee Shops
Amsterdam is known for its vibrant and uplifting 420/710 coffee shops. There are so many to choose from. You can sit in one of them as you take more pictures of the city as you indulge in the people's culture.
The difference between that is, 420 friendly means that smoking cannabis is acceptable, but 710 friendly can be interpreted as both cannabis-friendly and smoke-free.
Cultural ganja tour of Amsterdam
6 PM: Red lights District
Amsterdam is known for its freedom and liberality. To tap into the city's sense of all that, enjoy Amsterdam's Red Light District. You can even visit a sex museum here.
8 PM: Have Dinner at a secret garden
Amsterdam Centum is the historical capital of Holland. The borough contains most of the city's landmarks. What better way to end the day than dine in the heart of the town! There are plenty of places to choose from of course but if I were you I would recommend going slightly outside of the city and heading to the secret garden. It is newly opened but the interior is gorgeous and so is the food! Book in advance as they do get booked out. Check out the deets on my IG.
Day 2 of 2 days in Amsterdam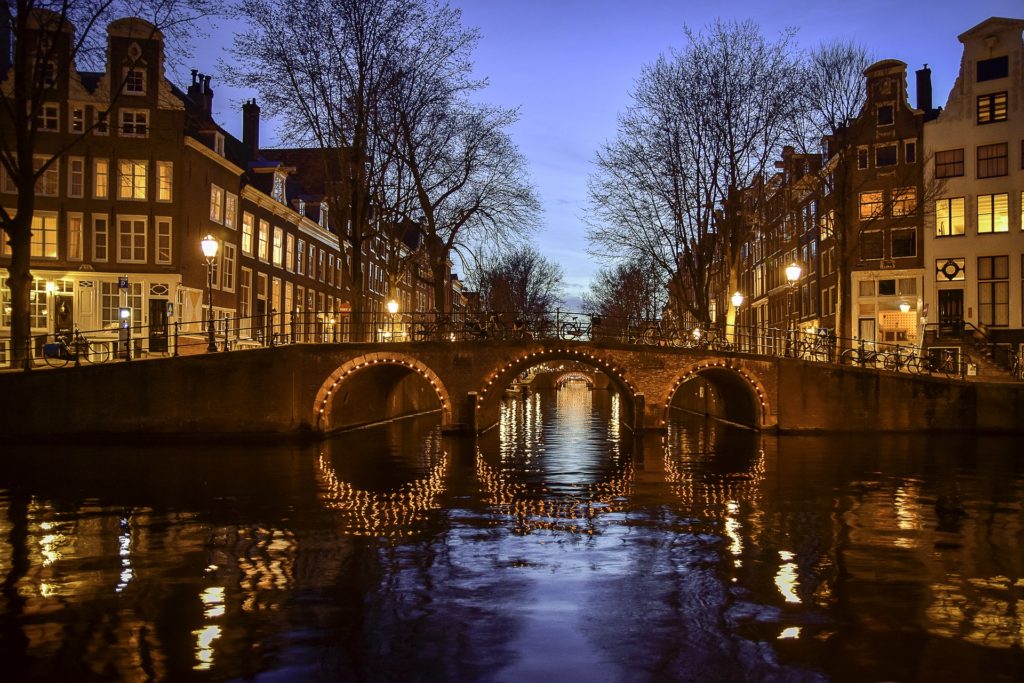 9 AM: Visit the Anne Frank House/ Museum
On the second day itinerary, at 9 am visit Anne Frank's museum. Get there early because the line gets way too long especially as the day goes by. I think it is an essential piece of Dutch history that traces back to the World War 2 era and is a must-see. Your Amsterdam tour would be incomplete without paying a visit to this national monument.
11 AM: Visit the 'I AM AMSTERDAM' sign
Impossible to miss is the I AM AMSTERDAM sign that is outside t he Rijksmuseum. The place usually flocks with many people taking pictures.
12 PM: Explore Jordaan as you walk along the Canals and Over the Bridges
A canal cruise is sort of a must-do activity in Amsterdam. You can stroll through the beautiful Jordaan area before finally taking a canal cruise. Consider breaking for lunch while you're at it. Alternatively, visit the famous Van Gogh museum or other museums.
4 PM: Keukenhof
Amsterdam is famous for its beautiful tulips, daffodils, and hyacinths that bloom during April and May.
6 PM: Walk around the Amsterdam City Center
Before you leave, take one last walk in the city center or just stroll along on the canals for memories to keep forever, or head to De Pijp to check out neighborhood bars such as cafe lust or go for some cocktails at Amsterdam's Ice Bar!
Day trips
If you have more time and would like to extend 2 days in Amsterdam to get see more of The Netherlands, I recommend taking the day trips out to Zaanse Schans, Haarlem, Madurodam, Keukenhof, Rotterdam, Marken & Volendam, Giethoorn, Bourtange, Delft and even to Bruges in Belgium!
I hope this 2 days in Amsterdam itinerary helps in planning and preparing for your AMS trip.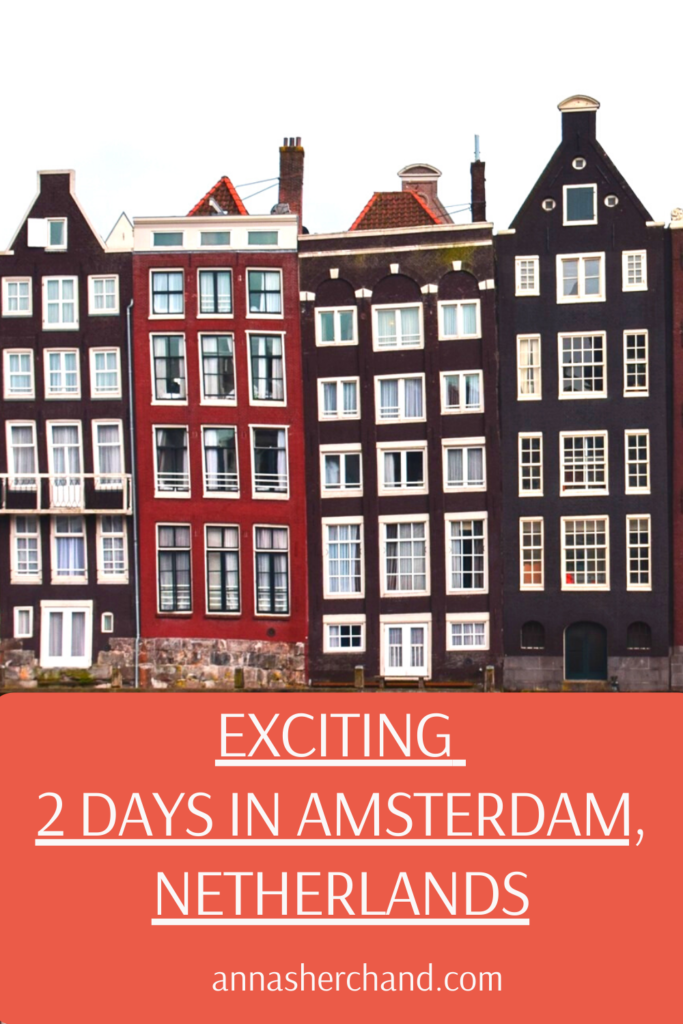 Let me know in the comments:
2 days in Amsterdam itinerary (+9 day trips)