If you are looking for the best backpacking China Itinerary for First-Timers, you have found it! I solo traveled to China for a month and absolutely loved it! In this article, I will cover what route I took and my suggested must-see places for you.
As the second-largest country in Asia, China has a lot to offer for each wandering soul. It is a country rich in biodiversity and cultural preservation. This country of approximately 1.438 billion people provides a tempting array of tourist destinations – mountains, rivers, rice terraces, historical sites, food hubs, floras and faunas, natural wonders, and man-made scenic spots.
If you are dreaming of spending your travel days in this giant country of the East, Here is your one-month backpacking China travel guide to the home of the red dragon!
Backpacking China itinerary for First-Timers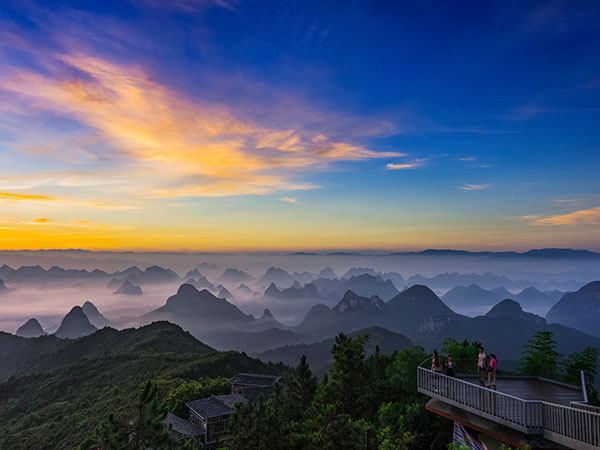 But first FAQs,
Do I need a visa for travelling to China?
As an Australian passport holder, I needed a visa to enter China. I found the application process was straight forward- what I did was I went to the Chinese embassy, asked for the tourist visa form, came back home, filled it requesting for 1-month Chinese visa then went back the next morning with 1 passport size and visa money. They took my passport and said will notify me when it is ready to be picked up with the visa stamp on it. Please bear in mind, I applied for a Chinese visa when I was in Hanoi, Vietnam.
That being said, most nationalities need a visa to visit China. In fact, it is the first step, the application process is straightforward, just follow the requirements and you will get that done in no time. Also, the visa fee differs depending on the length of the visa you are applying for.
Is it safe to travel to China as a solo female traveler?
In my opinion and experience of traveling around China alone, I found it to be safe. I've never been shown anything but friendliness and curiosity by local Chinese people. Something worth adding here is, no matter where you travel in the world the same traveling rules still apply. ie: don't walk alone at midnight or poorly lit area, don't get too drunk, avoid talking about politics, or religion and just be respectful to people.
One month backpacking china itinerary
I am going to start with one of the stunning places I have ever seen. Guilin. The reason being is, I took the night train from Hanoi, Vietnam to Nanning followed by a bus to Guilin. It was a peaceful and budget trip. I stayed in hostels, and spend less than $5 per day eating street food and traditional Chinese food. Let me elaborate!
Week 1 – Guilin, China
Guilin is a destination in China that will enthrall you with its scenic rivers, mountains, karsts, terraces, and caves. It is located in southern China and is popular because of its natural wonders.
How to go to Guilin from Nanning
I took a night train from Hanoi, Vietnam to Nanning, China. Then from Nanning a local bus to Guilin. Alternatively, you can fly to Nanning Airport, take a bus, which leaves every 30 minutes, and head to Nanning Station (Minhang Hotel). Walk for approximately 6 minutes to take the train from Nanning to Guilin. Travel time will take almost three hours.
What to see in Guilin?
Explore the city starting at Seven Star Park. It is called Seven Star Park because of the seven mountain peaks which form a big dipper. Walking to this park will only take you 20 minutes. You might want to consider strolling and enjoying scenic spots or dining areas as you head to the park.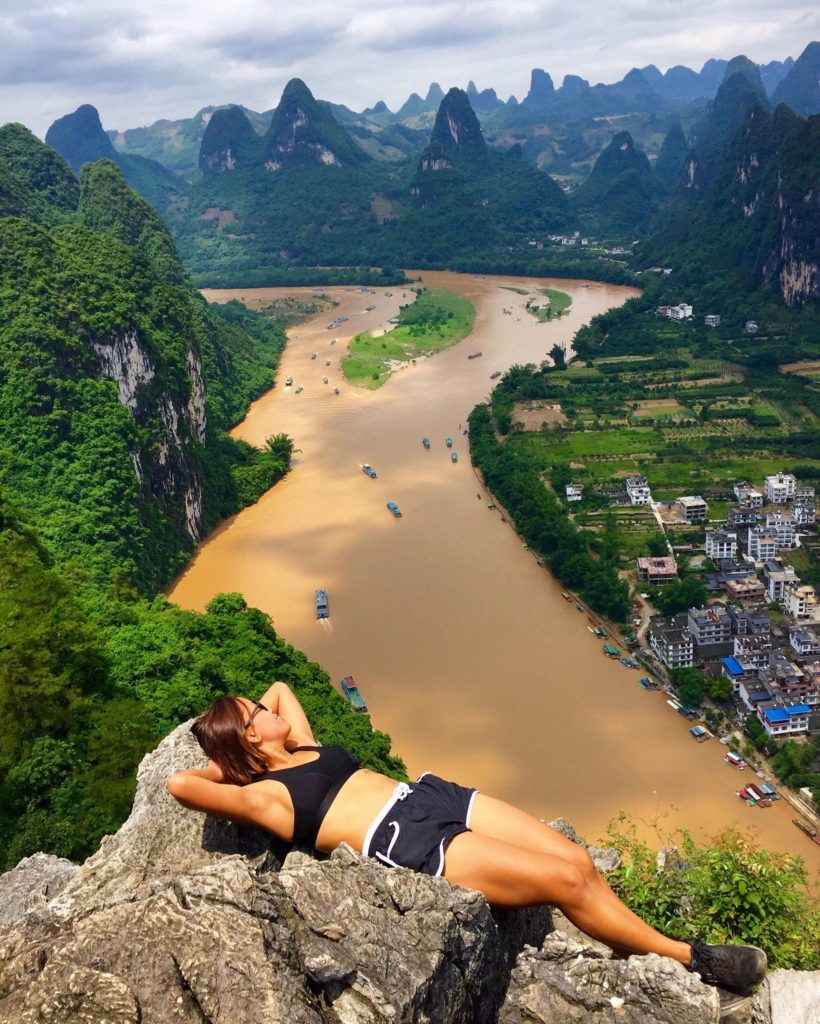 • Seven Star Park
This park, located on the eastern part side of the Li River, has several attractions to offer. It is the biggest park in the city and has a cave, a zoo, a flower bridge, and the seven hills.
• Reed Flute Cave
The Reed Flute Cave's name came from a type of reed that can be made into a flute, which is present everywhere outside the cave. You can find plenty of these plants outside the cave. A Japanese troop rediscovered this cave in 1940, and in 1962, it became a tourist attraction in Guilin.
A considerable number of stalactites, stalagmites, and other rock formations fill the interior of the cave. One magical feature of this cave is the artificial rainbow reflection illuminating the cave's interior.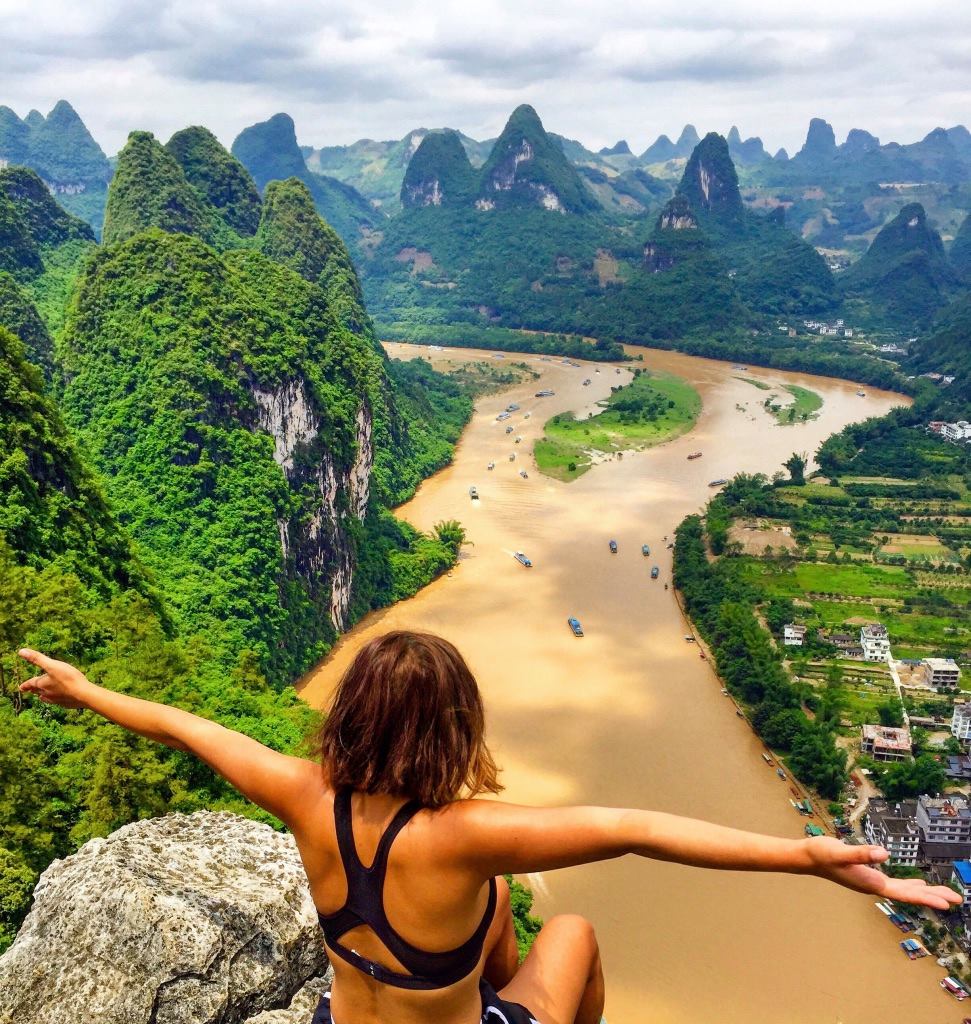 • Yao Mountain
Your visit to Guilin is not complete without visiting the peak of the highest mountain in Guilin, the Yao Mountain.
Once you're on the mountain summit, your eyes will feast on the never-ending karst mountain ranges and the gentle-flowing Li River. The scenic view and the fresh air are unparalleled and precious memories you can bring back home.
• Sun and Star Pagoda
An underwater 10-meter glass tunnel connects the twin pagodas, and it is best to visit them at night because of their beautiful colors. The Sun Pagoda, which has nine stories, is the world's highest pagoda.
At night time, the silver and gold reflection of the two are marvels to behold. The view of Guilin from the top of the pagodas is genuinely relaxing and peaceful.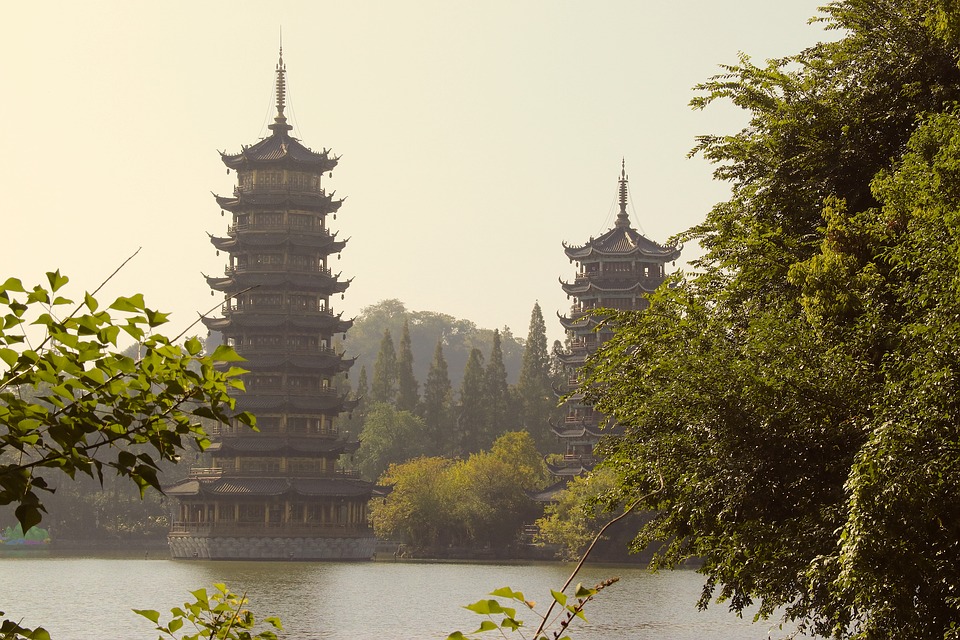 • Jingjiang Prince City
A visit to Jingjiang Prince Palace or Jingjiang Prince City will let you travel back to olden times. This tourist attraction, located in the center of Guilin, is a one-of-a-kind tourist destination.

The palace, surrounded by natural and human-made sceneries, was the residence of Prince Jingjiang of the Ming Dynasty.
• Elephant Trunk Hill
Elephant Trunk Hill is Guilin's symbol and landmark. The hill seems like an elephant drinking water from the river.
• Yubo Shan
Climb to the top of the 700-feet tall Yubo Shan (伏波山 'Subduing Waves Hill') and savor the irresistible scenic view of any poet, artist, and visitors.
There are two attractions at Yubo Shan: Returning Pearl Cave and the Thousand Buddha Crag.
Week 2 – Longji, Xingping, and Yangshou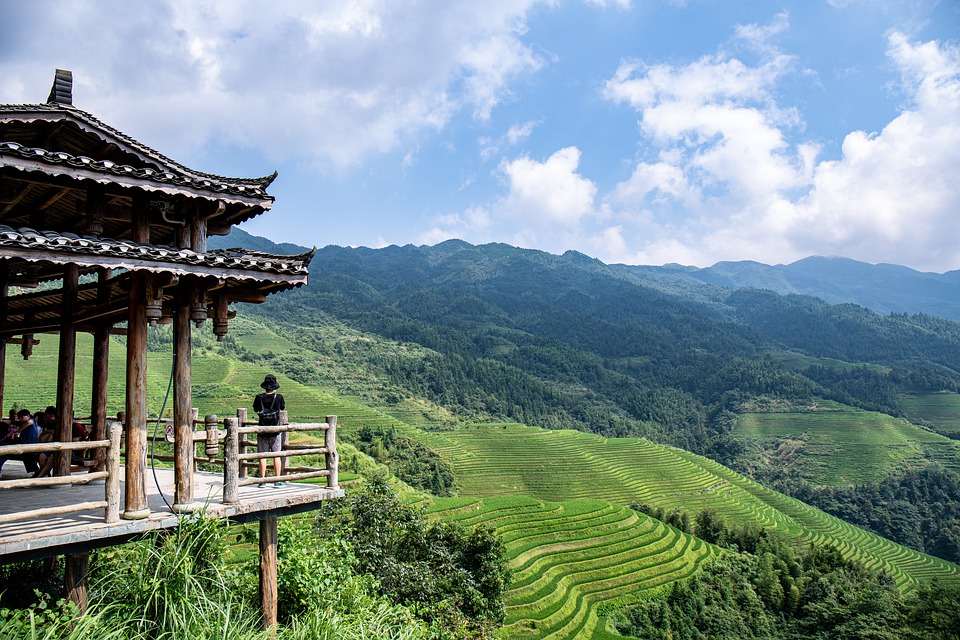 • Longji Rice Terraces
It takes more than two hours to reach Longji Rice Terraces at Longsheng from Guilin. You may coordinate with your hotel to reserve bus tickets for you the day before to avoid hassles.
There are two villages you can visit in Longsheng – the Ping' an and Dazhai. You can start your cultural immersion and exploration at Dahzai, where you can stay overnight before heading to Ping'an the following day.
• Li River Cruise from Guilin to Xingping
National Geographic dubs Li River or Li Jiang as one the "Ten Water Wonders of the World." One traditional way to enjoy the view of Li River is to take a 2-hour bamboo raft ride from Yangdi pier.
The two-hour river cruise will give you the best view of the towering mountain karsts under the blue sky. Likewise, the verdant mountains surrounding the river never fail to capture every soul passing by the river.
• Xingpin Ancient Street
Walking on the pavements of Xingping Ancient Street is like a travel back to ancient times. The locals have preserved their residences well, and this rustic view captivates their visitors' hearts.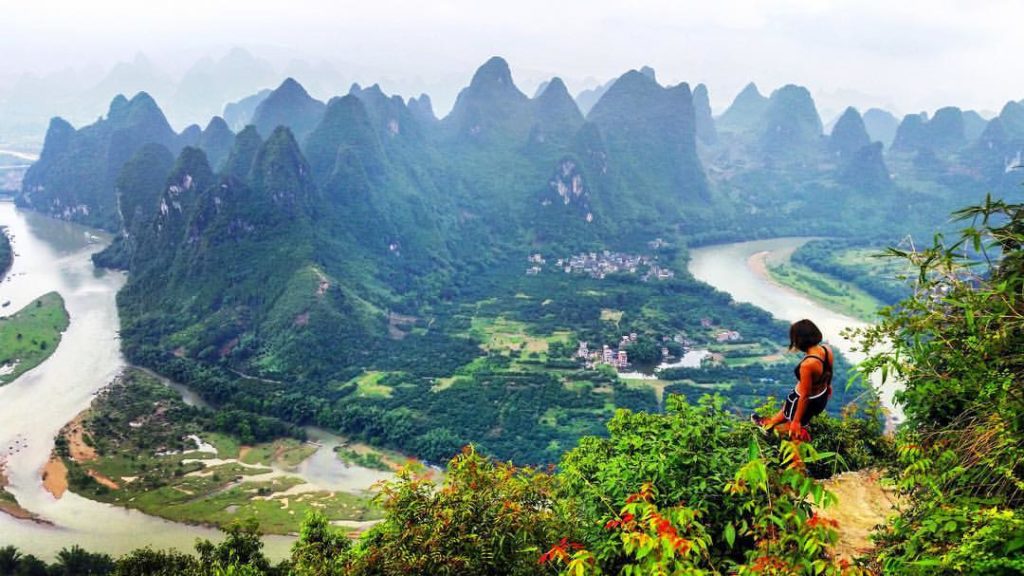 • Yellow Cloth Shoal
The best place to take your picture of the panoramic view found in the 20 RMB banknote is to head to Yellow Cloth Shoal. This breath-taking reflection of the karst hill on the waters of Li River is worth more than 20 RMB.
• West Street
West Street, located at the Yangshuo center, is another place to visit in the Yangshuo district. This street that stretches more than 500 meters is at the center of Yangshuo County. It is paved with marbles, and foreigners admire this rustic, country setting.
• Yangshou Park
Walk for about 11 minutes from West Street and reach Yangshou Park. Yangshuo Park covers an area of approximately 230,000 sq m. Here, you can stroll under osmanthus trees and bamboos or rest for a while and watch locals exercising or playing chess.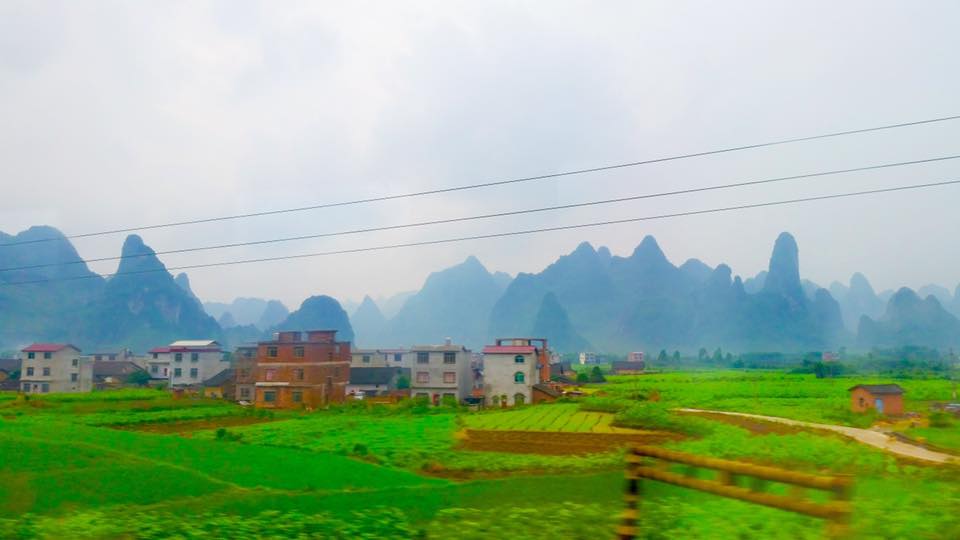 • Moon Hill
Moon Hill is one of the favorite destinations of mountain climbers since Yangshou is the venue of the Yangshuo Climbing Festival, attracting adventurers from all over the world. Also, the old town in Yanhshou is worth exploring and great for strolling and stopping for a drink surrounding with a great karst mountain view.
• Butterfly Spring Park
There is a huge Monarch Butterfly model positioned on a cliff beside the gate to the Butterfly Spring Park. The 280 square meters model looks so real.
The major attraction in the park is the Butterfly Garden, where you can enjoy millions of colorful butterflies playing around the bushes.
• Ten-Mile Gallery
The best way to enjoy the scenic views of the Ten-Mile Gallery is to riding a bike. Ten-Mile Gallery offers a long stretch of rolling hills, river views, and fields. You can see locals working in the fields, hear birds singing, and breathe fresh air.
Week 3 – Hunan/Yunnan or Xian
On week 3 I decided to give you 3 options. So you can decide what you want to see the most.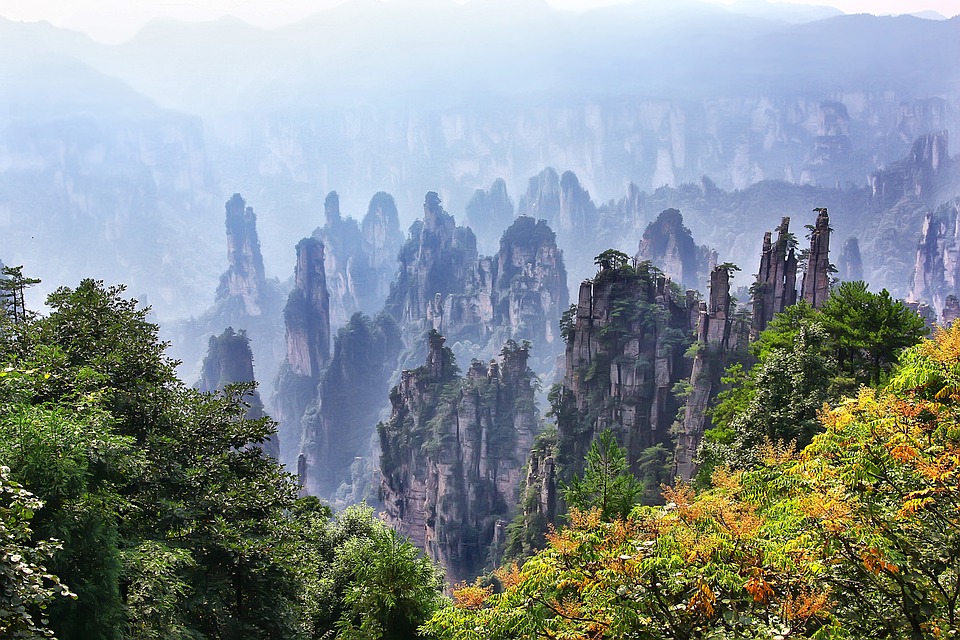 Option a. There are 8 ways to get from Guilin to Hunan by train, bus, taxi, car, or plane. The cheapest way is to train via Hengyang which costs $35 – $80 and takes 8h 24m. The quickest way is to taxi which costs $200 – $250 and takes 4h 48m. So within 5 hours, you could be exploring a completely different place! Such as Tianzi Mountain Clouds, the famous Avatar Zhangjiajie National Park, Tianmen National Park, Fenghuang Ancient City, Fenghuang, The Southern Great Wall, Fenghuang, Changsa.
Option b. There are 3 ways to get from Guilin to Xi'an by subway, plane, train, or car. The cheapest way is via train which costs $130 – $190 and takes 11h 36m. The quickest way is to line 2 subway and fly which costs $140 – $460 and takes 4h 39m. Must see in Xian is the giant panda breeding, emperor Qinshihuang's Mausoleum Site Museum (The Terracotta Warriors), Giant Wild Goose Pagoda, Bell Tower of Xi'an, Fortifications of Xi'an, Shaanxi History Museum, Great Mosque of Xi'an and Huaqing Pool, Cuihua Mountain, and Mount Li for outdoors.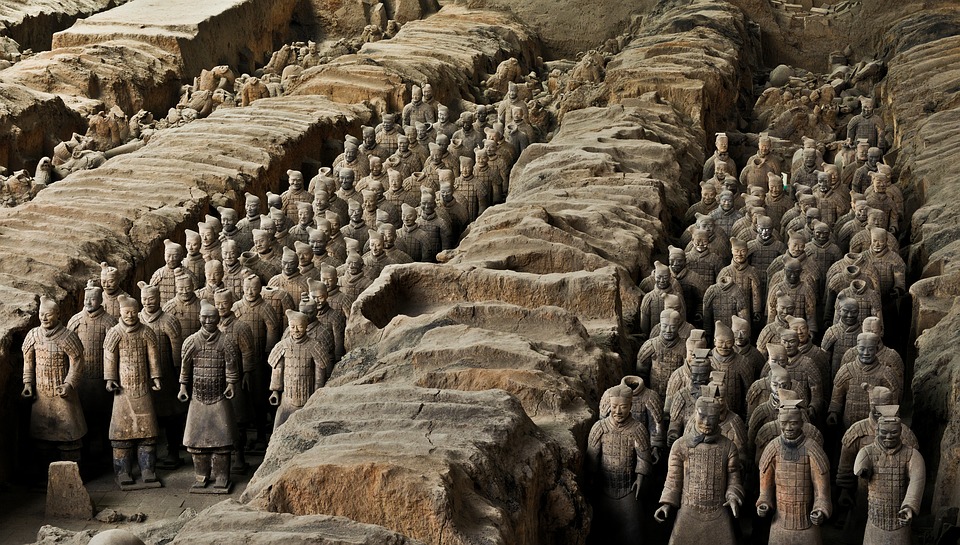 Option c. There are 4 ways to get from Guilin to Yunnan by train, car, plane, or taxi. The cheapest way is to get on the train which costs $45 – $90 and takes 22h 2m. The quickest way is to fly and train and taxi which costs $180 – $420 and takes 5h 7m. The highlights in Yunnan include Yuanyang Rice Terraces, tiger leaping gorge (Hutiao Xia), jade dragon snow mountain, Yulong Snow Mountain, and Glacier Park, Yunnan Shaxi Ancient Town, Lijiang Romance Park, Blue Moon Valley, Telugu lake and more.
Week 4 – Beijing
You have two options on how to reach the capital city of China, Beijing from Guilin – via train for 11 hours, or via plane for 3 hours.
What are the must-see in Beijing?
• Forbidden City
Forbidden City or Palace Museum is the world's largest palace complex. It is located at the center of Beijing, covers 74 hectares, and has 8,700 rooms. It was named Forbidden City in ancient times because nobody was allowed to enter without the emperor's permission.
Since it is no longer a forbidden thing to explore to the palace, you can go around and be amazed by the architectural designs and royal treasures in every room.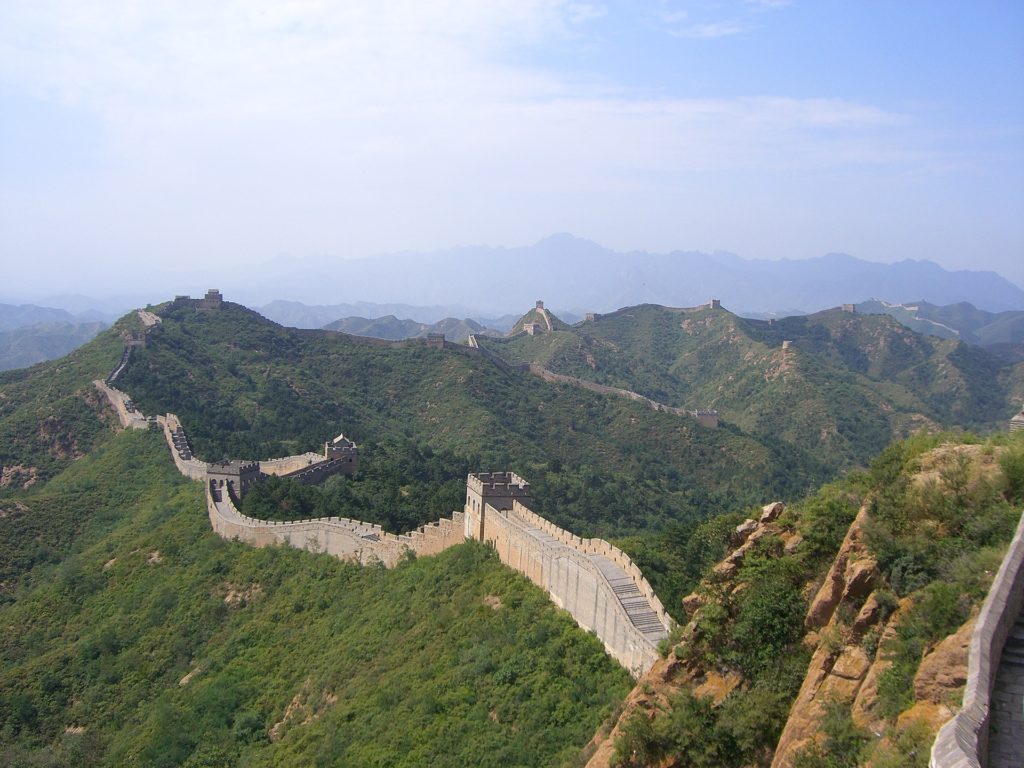 • Great Wall of China
The Great Wall of China is one of the wonders of the ancient world and is the longest wall in the world. The Chinese built the wall as protection from invaders. Now, this 21,196-kilometer wall is one of the main attractions in the country.
• Prince Gong's Mansion
Like any ancient royal residences, Prince Gong's Mansion boasts of Chinese architectural designs, royal emblems, and furniture. There are artificial hills, with stunning landscapes, outside the palace that will offer you a peaceful visit.
• Wuta Temple
Five temples offered to Buddha consist of the Wuta Temple or Five Pagoda Temple in Bejing. Each of these temples fused Indian patterns with Chinese architectural designs.
The base of the temple has six stories. On top of this square foundation are the five temples. The four temples in each corner have 11 levels, while the middle one is higher by two.
• Tiananmen Tower
Tiananmen Tower is famous for its five arches. The biggest archway at the center was explicitly for emperors, while the four smaller ones on the sides were for ministers. There are two columns carved with lion designs on both sides of the main entrance.
In front of the tower, you can see a bridge made of white marbles and delicate carvings.
• National Museum of China
Near Tiananmen Tower is the National Museum of China, which houses relics, memorabilia, historical artifacts, and other exhibits.
The oldest display in the museum is the teeth of Yuanmou Man, which was from 1.7 million years ago!
I hope this one-month backpacking china itinerary helps you in your preparation to travel China.

China is not only an economic tiger but a perfect tourist destination. Clear your one-month schedule and head to this giant and yet gentle dragon in the East!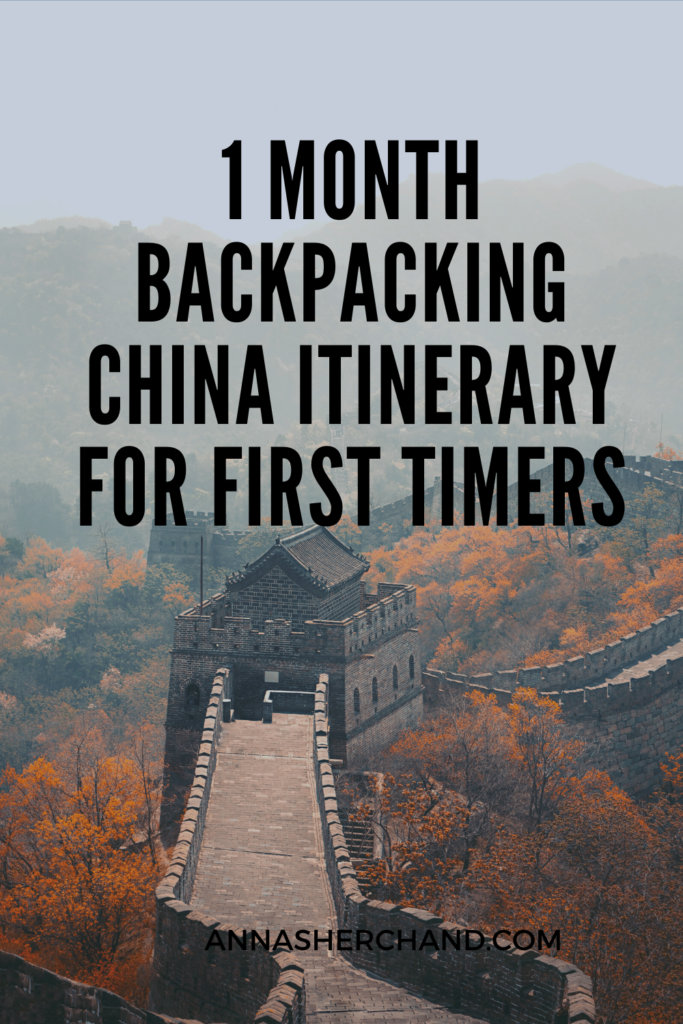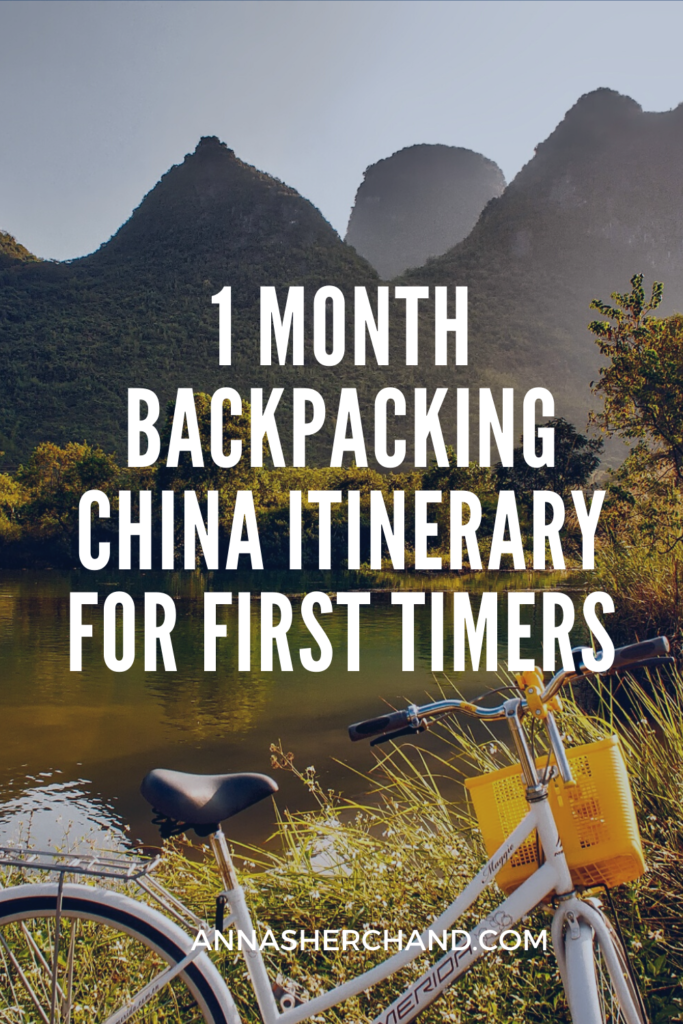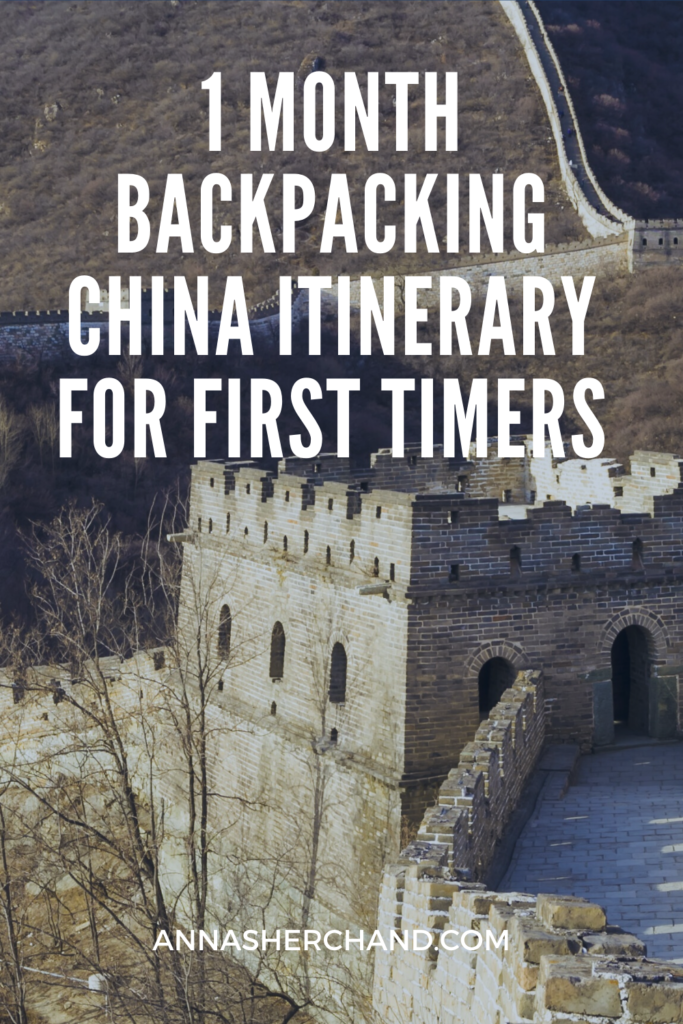 Let me know in the comments:
Backpacking China itinerary for 1 month