Today I am sharing Tune hotel klia2 review aka Terminal 2 in Kuala Lumper.
Luckily with smart travel planning, I never had an overnight transit (solo traveled over 30 countries) until recently when I flew to Myanmar. I went from Sydney to Kuala Lumpur and the next day was the flight to Myanmar and the same process back to Sydney. My layover was 21 hours when going to Myanmar and coming back it was 17 hours. I didn't want to go out to the city in KL and wanted to stay within walking approximately to the airport for ease and convenience.
When researching hotels near KLIA2, I came across tune hotels frequently and wonder if it was worth staying here. If you have the same question in mind, continue reading as I share my experience!
Tune hotel klia2 review
Location
It took me only 5 minutes walk from Gateway Mall/KLIA2 Terminal to the hotel. As you walk out from the arrival, turn left following the bus/taxi signs and walk straight look for an elevator sign, should be on your left then take car park B lift to Level 3. Then turn left (can't go wrong here there is a wall on your right haha) and keep walking, take the lift on your left again and press 0 you should be on the private walk path to the hotel.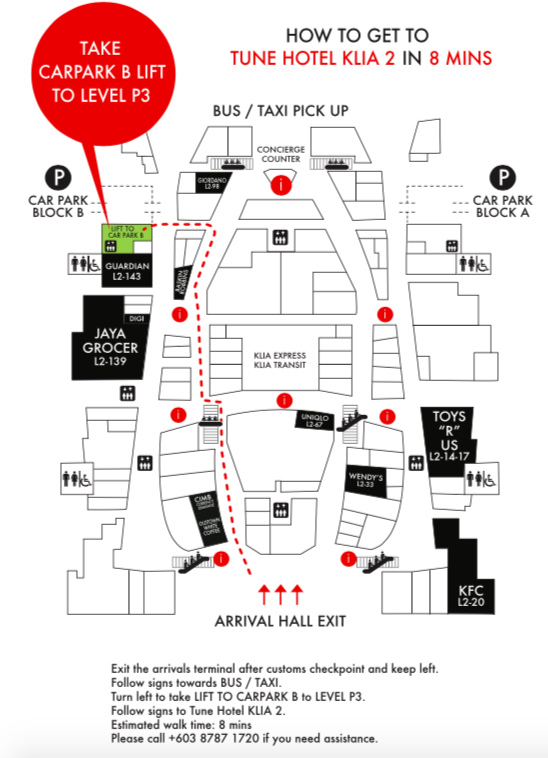 Bear in mind, if you are arriving or departing from KLIA1, take the KLIA transit express train (2 RM) and you are in KLIA2 in no time. Then follow the direction above.
Lobby
The first thing you notice when you walk in is the check-in desk of course and beautiful library on your right! I could get lost in books for hours but this time I was a bit tired so, was just happy to know it was there if I wanted to read.
There was a fast lane check-in available on the right and it was smooth and fast as its name. Staffs were polite and helpful.
From the check-in desk, you could only see a side of the giant wall on the left. So, I had to go and admire it for myself which meant woke up early to take a photo without guests 🙂
I got the key card for my room but I decided to take a long way there and don't regret it. I heard really good music playing on the other side of the hotel and was telling myself they got a pretty good taste in music.
As I walk away from the check-in desk, I notice it wasn't music playing, there was a live band playing! It was so good I had to sit down and admire the talents. Lucky me, Tune hotels have happy hour 5-7 pm every day!
If you would like to catch the live stories from Tune Hotel, I invite you to watch the Malaysia highlight on Instagram
Bar
On the other side of the bar, was a big pool table. I always love playing Pool but not much fun playing by myself. I thought about playing with other guests but I was starving. That's typical of me! So, I just took the photo for you guys and went to have dinner.
Even before I made it to the restaurant, the outdoor courtyard caught my attention. When you look around, you would notice a couple of big sculptures lit up with blue hues, surrounded by white walls of tune hotels, comfy furniture, a live band playing great tunes on the background and genuinely good vibes all around. In the daylight, it came out refreshed and more interesting. That's when I found out those installations were from the repurposed plane parts!
Food
I ordered staple Malay Nasi Lemak for my dinner. Good portion size, food tasted authentic and fresh. It was fabulous.
Finally, a belly full of food and a happy mood. I head to my room tired all day flying and wishing for the comfy bed.
Instagrammable cafes in Kuala Lumpur
Private Room
I opened the door and wallah, neat bed with towel flowers greeted me. 2 bottles of water, clean bathroom, shower, TV and more than enough wardrobe space. I checked it all and most of all, I liked how compact and clean the room was. The shower was hot, and the WiFi was free & reliable. And they had air-conditioned something appreciating once stepping out of the airport into the VERY humid night air.
It didn't feel like I was in an airport hotel, the whole experience from check-in to my bed was a happy journey, every minute I was discovering something new. like the Netflix show about the amazing interior! After watching a couple of series, I fell asleep like a baby in the comfort of the tune hotel.
Breakfast
The next morning, I was excited about breakfast but didn't know what to expect. As I walk inside the restaurant, I was impressed with the interior. For a moment, I felt like I was inside the amazing interior show from last night! Ha,
Every piece of pieces of furniture was unique and especially the main installation as shown above. It is a site-specific sculpture constructed from used airplane turbine parts by Marvin Chan. I also loved the hanging lightbulbs and the collection of indoor plants that gave the fresh feeling and happy vibes.
In the Malay language, MAKAN means to eat. It was great to see they had varieties of western breakfast available along with Malay. But first, Coffee tasted great and for my breakfast, I went to the egg station and ordered a sunny side up. Grabbed some toast and sausages. It was filling and I was ready to start my next leg of the journey to Myanmar.
Tune hotel features
Not forgetting the comfy bed and pillows, clean room and 24 hours open grab & go.
Thank you Tune hotels for a super convenient stay. All opinions are my own.
What I used to take these photos:
Canon PowerShot G7 X Mark II Digital Camera
This has been my favorite Camera so far. I love how my pictures come out crisp and colorful. It also has a screen which is useful when vblogging. You can check out what I meant on my Instagram which is here.
Accessories For Canon GX7 Mark || Check it out here
This is the good old Go pro that I take with me everywhere. I recommend it because it is small, lightweight and waterproof. I have had made many memories with this trusted item and looking forward to more.
Accessories For Go Pro Hero 4 Check it out here
I have been using SanDisk since my first camera which was back in 2009. They build quality memory cards. I recommend getting at least two, just in case something happens to one of them.
Do you think it's a hassle of plugging your camera into your computer? This memory card reader will fit cards of all sizes and make an easy transfer to your computer. The reader supports all popular SD memory card formats, including SD™/SDHC™/SDXC™ memory cards, UHS-I SDHC/SDXC memory cards, and microSDHC™/microSDXC™ memory cards. It is also compatible with the latest UDMA 7-enabled CompactFlash cards.
I hope this tune hotel klia2 review gave you an idea of what it's like to stay at the Tune Hotel. If you want to check their price, you can look it up here, here and here.
Let me know in comments if you –
Tune Hotel Klia2 Review, Malaysia