Best of Bagan, Myanmar – 3 full days itinerary – Day 1, click here.
It has all the information you need to plan your Bagan Day 1 trip. Now let's begin Day 2 but first, quite handy to remember the following. There is old Bagan and new Bagan! Old Bagan is mostly the Bagan Archaeological Zone that requires a valid entrance ticket. New Bagan doesn't and the distance between two would be about 10 mins on an e-bike.
Bagan – It is an ancient city in central Myanmar (formerly Burma), southwest of Mandalay
Currency – Kyat
Language – Burmese, hardly anyone spoke English except the hotel staffs
Hello – Mingalabar
Thanks- Kyay Zuu Tin Par Tal (formal), Kyay Zuu Par (informal)
Bye- Tata
Hope you saw the videos on Instagram. If you want to rewatch the whole thing, click here -> check out the "Myanmar" stories on Instagram.

Getting around– I recommend discovering Bagan by hiring a bicycle (3000 Kyat p/d +), e-bike (5000 Kyat p/d +) or a private car from your hotel, or shops around town
Accommodation – I stayed in Kumudara hotel in Bagan which is in old Bagan. Decent wooden decor but beautiful window view. I am not sponsored by them but I genuinely liked the area and the hotel. However, food wasn't that great but there are numbers of restaurants nearby. The best thing about this hotel was – you could see temples from the balcony, pool and even from the dining area! And the cherry on top was they maintain one of the nearby temple and guests can come and go for sunrise and sunsets without a crowd! How good is that! Check their prices and book them here, or here.
If you don't have your flights yet, check out ways to book the cheapest fares here or here. but if planning and booking your trip is a hassle, let me help! Contact me now.
Best of Bagan, Myanmar – 3 full days itinerary – Day 2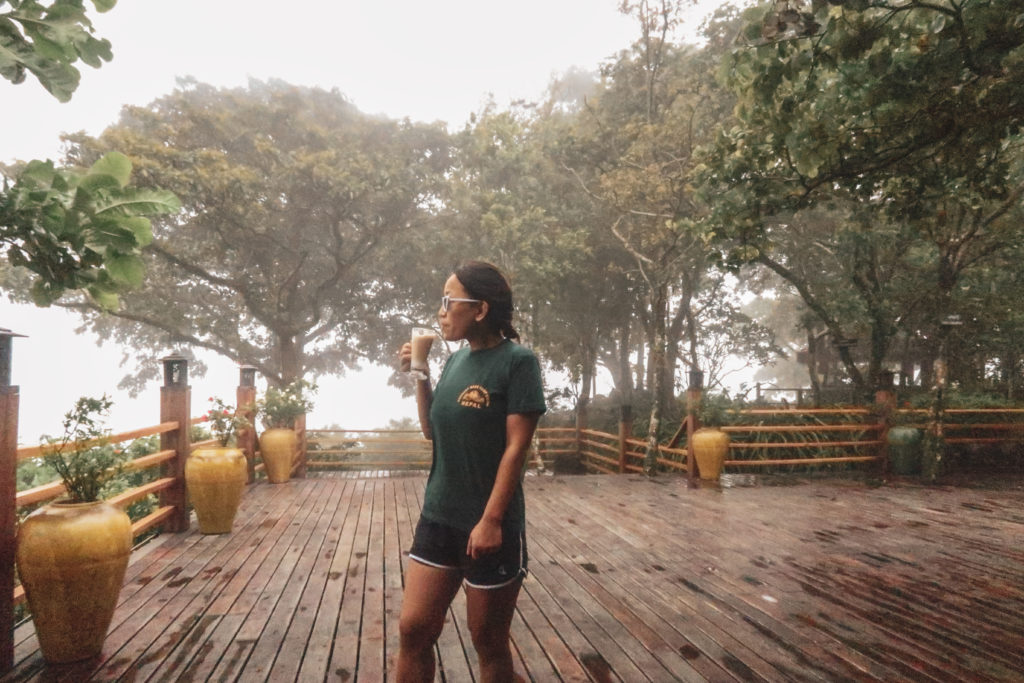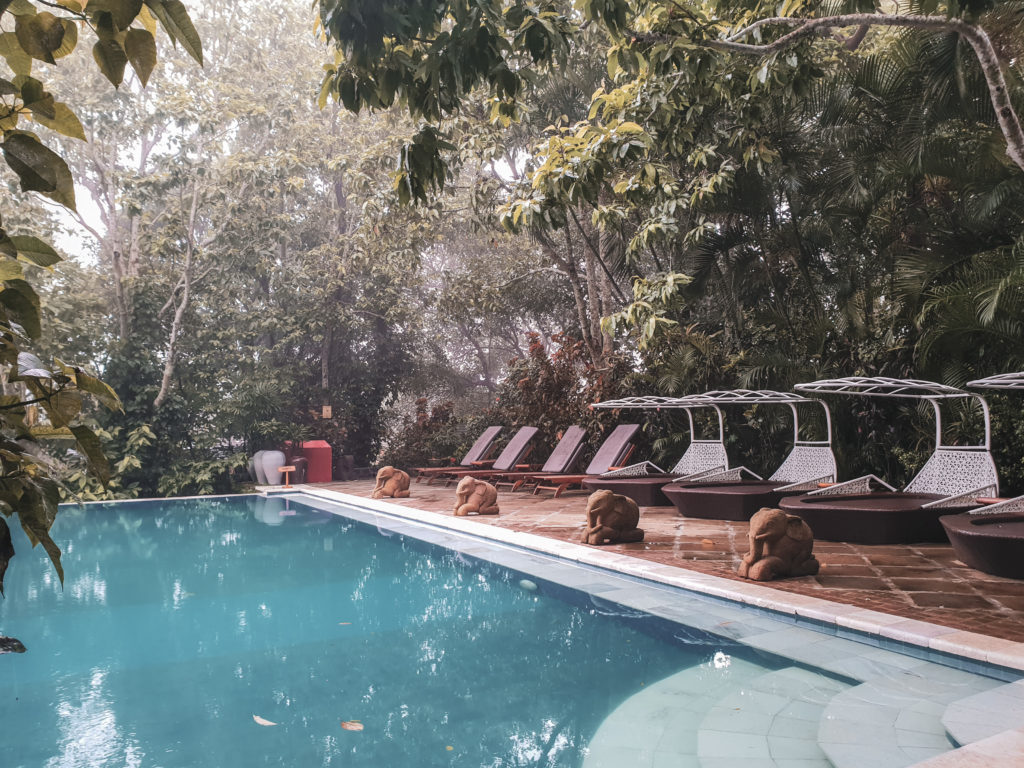 Mount Popa Resort is about an hour away from Old Bagan. For this trip, I recommend hiring a private car that comes with your private driver. He will pick you up, wait for you and drop you off where you need to go. Don't forget to carry rain or windproof jacket as it could get foggy, rainy and windy up there. You can make it a day here if the weather is nice, with the pool and the Monastery view on top of the hill. If you look closely, you can even see the stairs of the Monastery!
An alternate and more exciting way is to drop by and check out the view from the deck, grab a tea or something then hike to the top of Mount Popa and back. However, I don't recommend coffee here, I'm holding a latte and it was out of a sachet and tasted horrible! Good thing though – the view from the terrace is worth $3 they ask at the entrance which is refundable when you exist. Just remember to keep the receipt.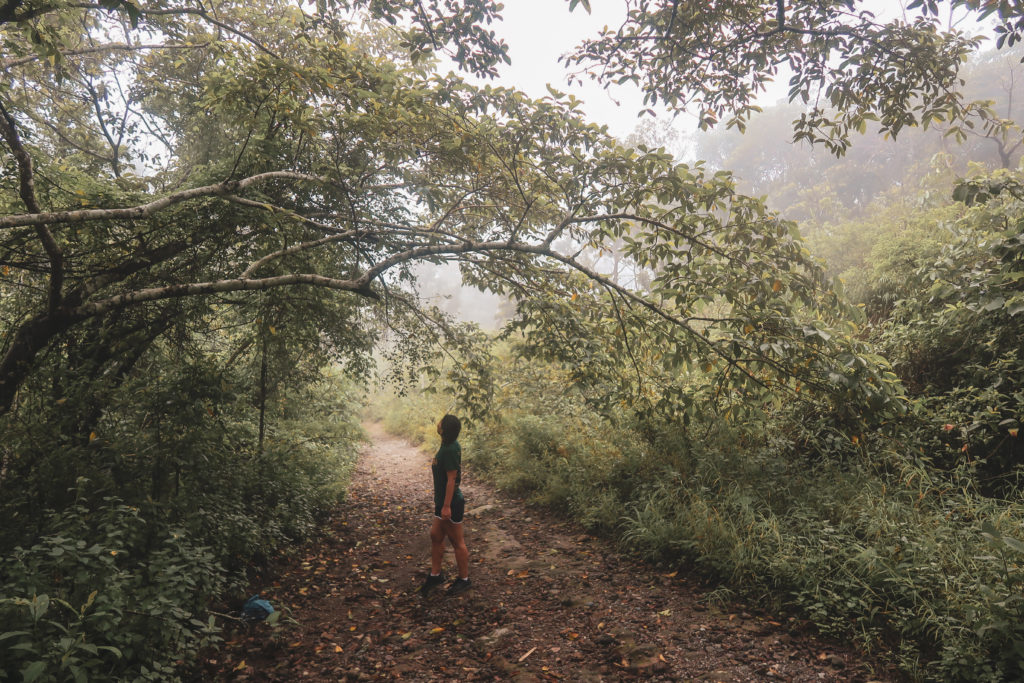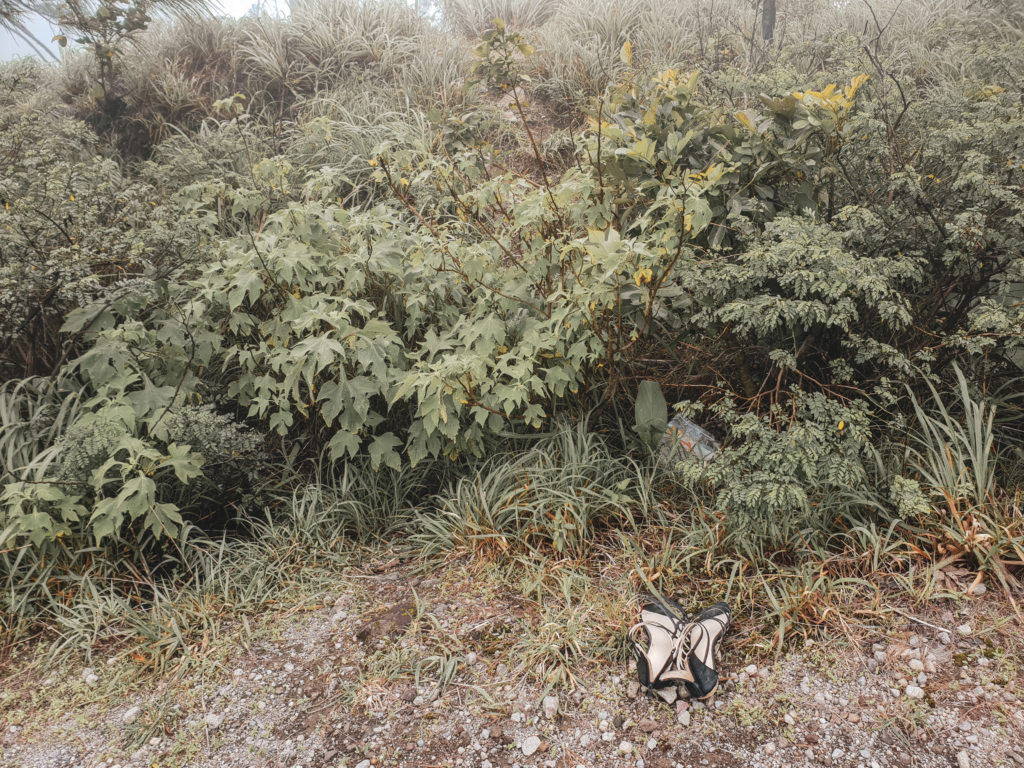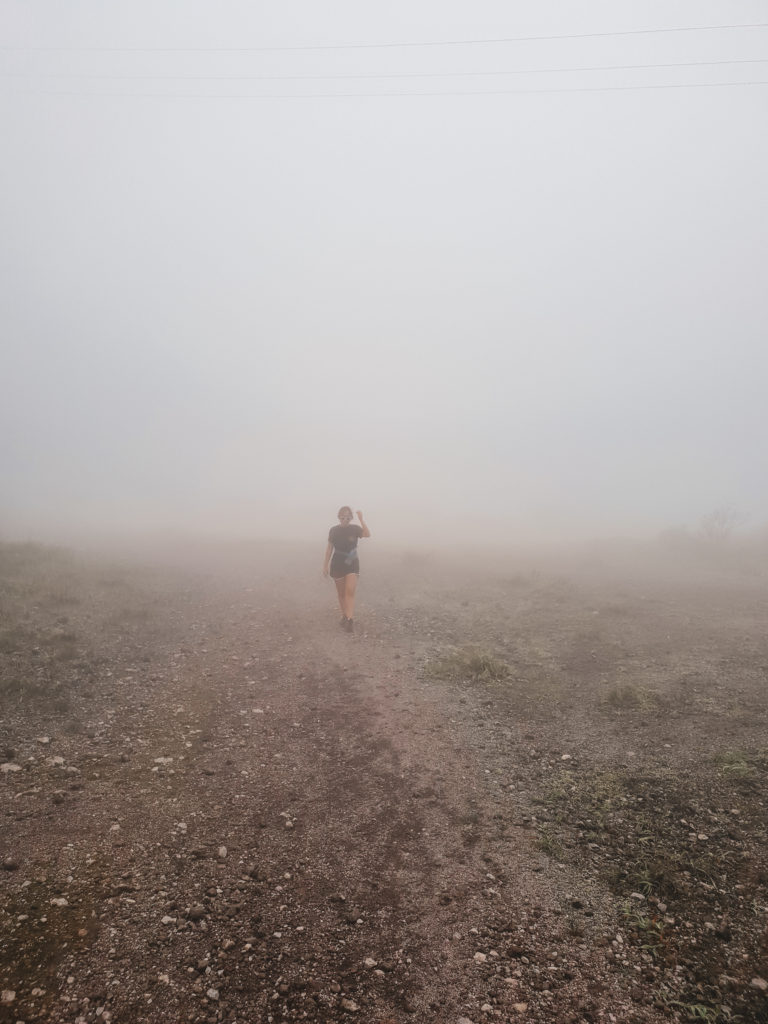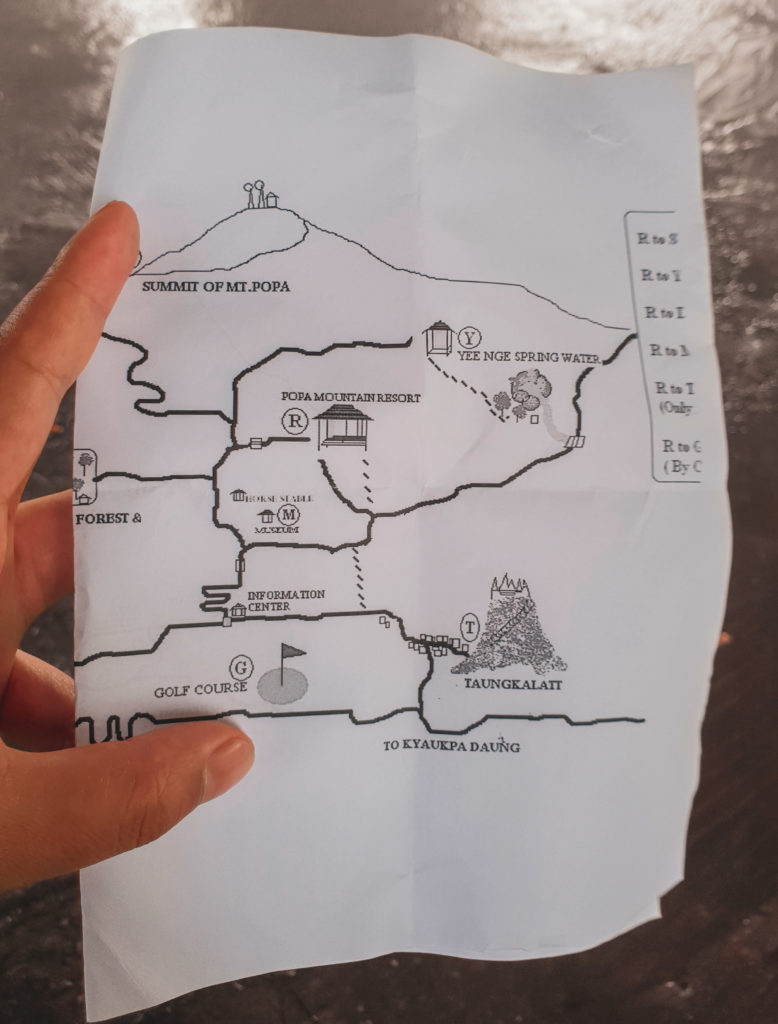 It's an interesting fact Mount Popa is actually a volcano 1518 metres(4,980 ft) above sea level. Google advised 4 hours hike from Mount Popa resort to the top of the Mount Popa and back. Make no mistake, it is exactly 4 hours and more if you are a slow hiker or take a lot of breaks. It wasn't physically demanding but the weather reminded me of the time when I trekked Mount Everest Base Camp.
It is recommended to carry a bottle of water and other essentials like snacks and mosquito sprays. The hike started out okay but as you can see in the picture, it got way too foggy quickly! At times, I couldn't tell if I was on the right track but it was an adventure on its own. It might seem never-ending after almost 2 hours hike but if you are on the right track and hiking in a good phase you should see the green coloured house on your right. From there, it is another 25 minutes to the top. Keep going and when you return your driver will be waiting for you at the base. Lunch is available at the resort or you can ask the driver to take you to the town.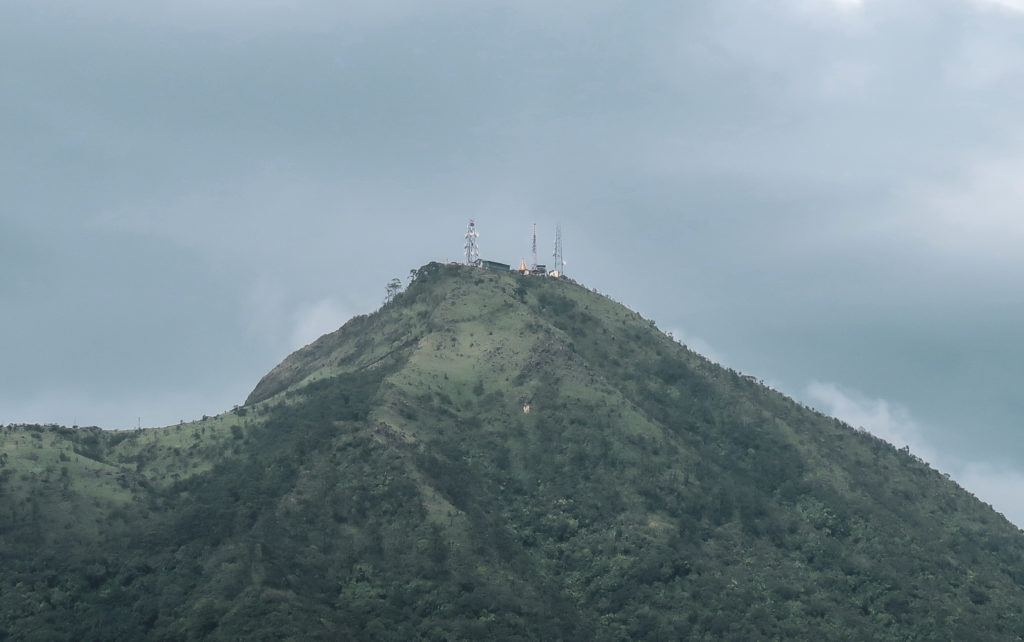 You can see the greenhouse and the temple at the summit.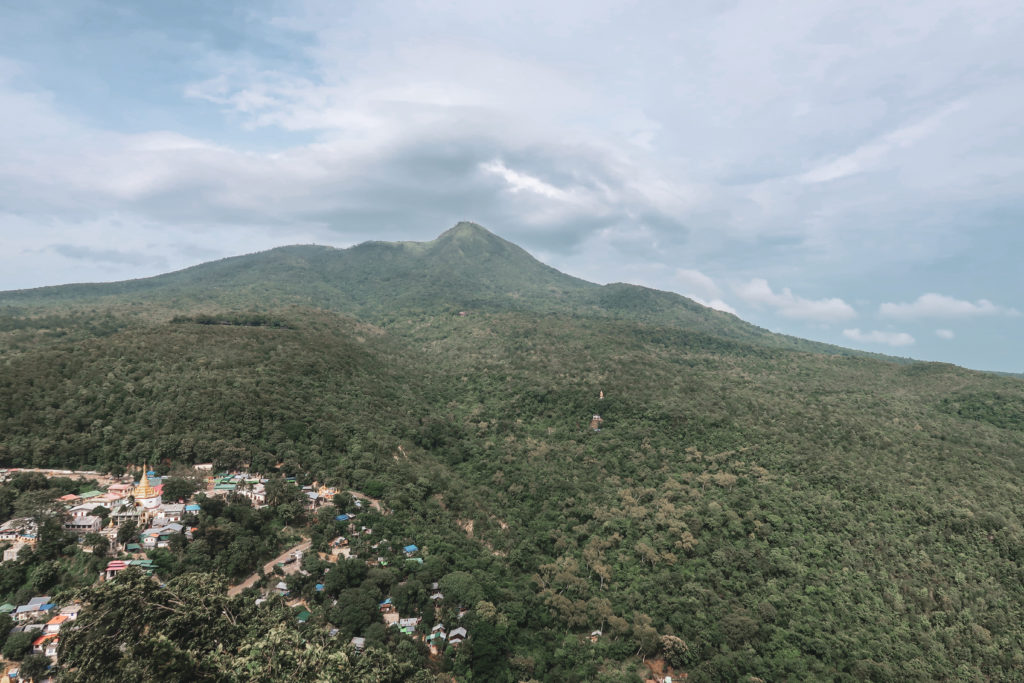 This is the view of Mount Popa from Mount Popa Monastery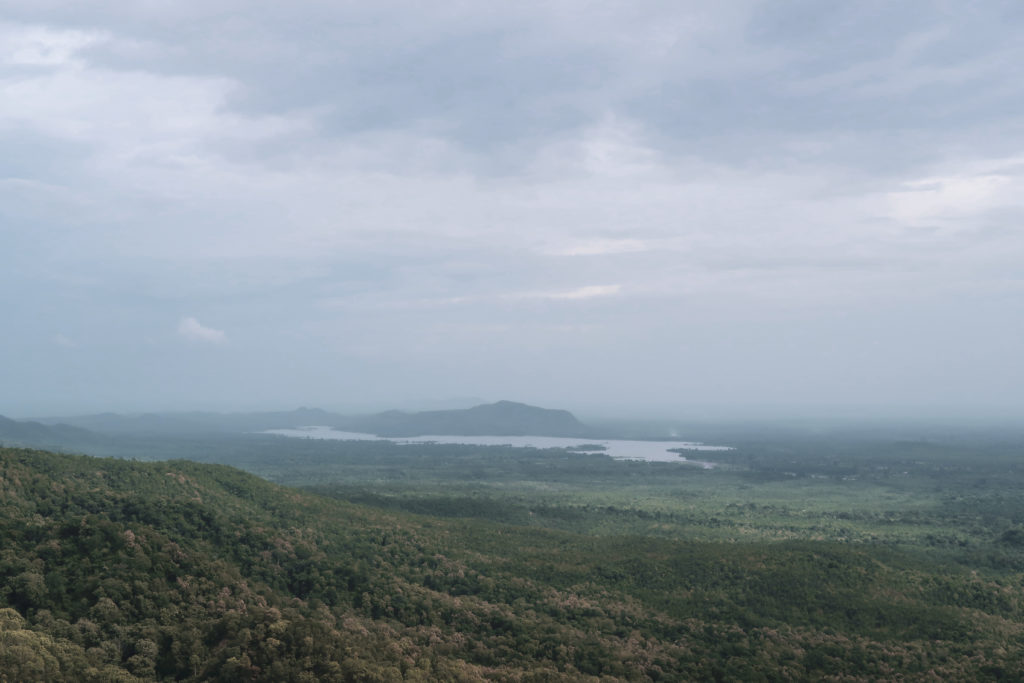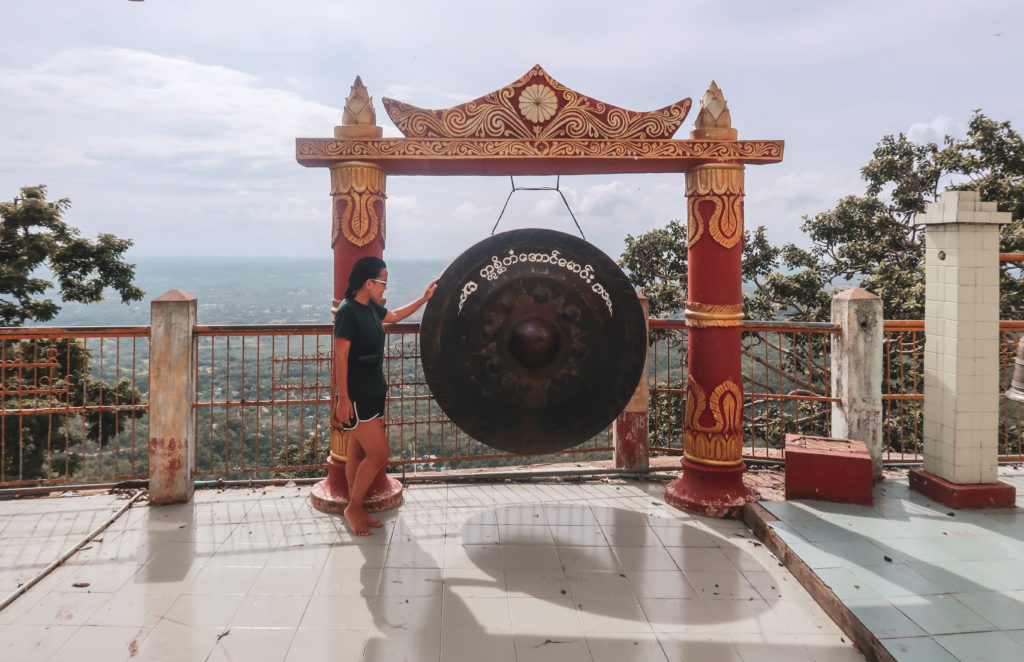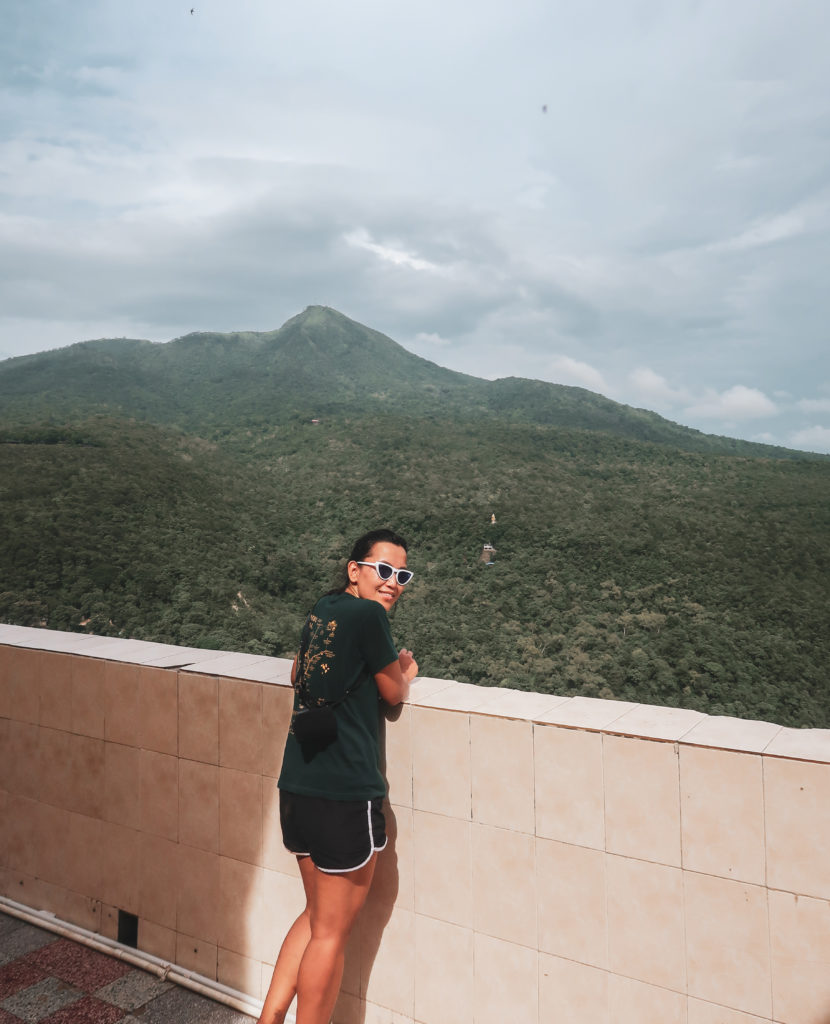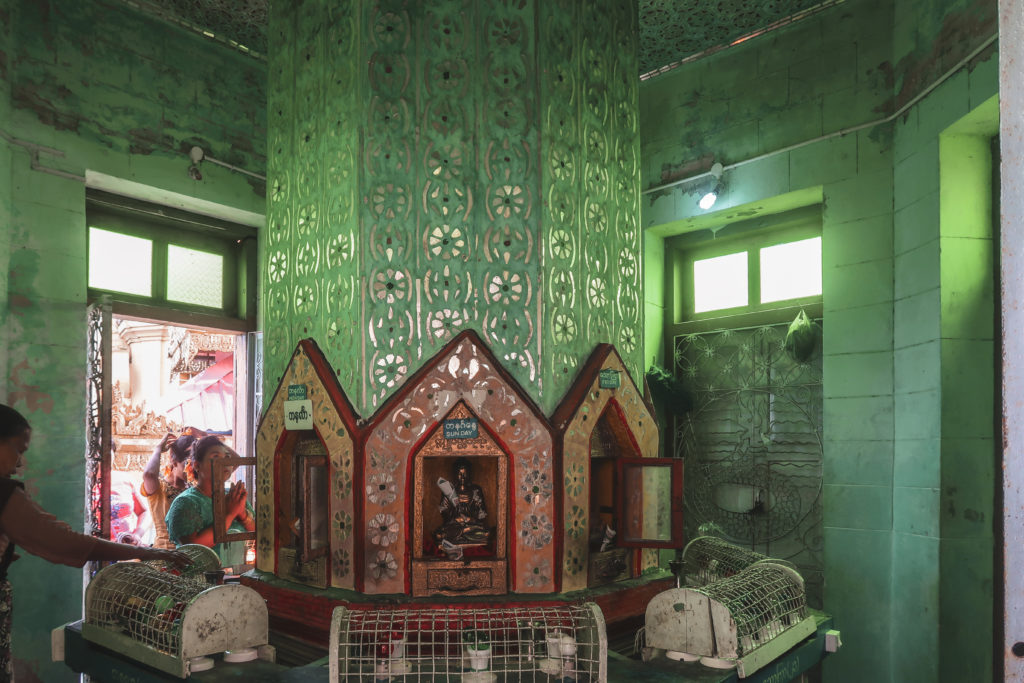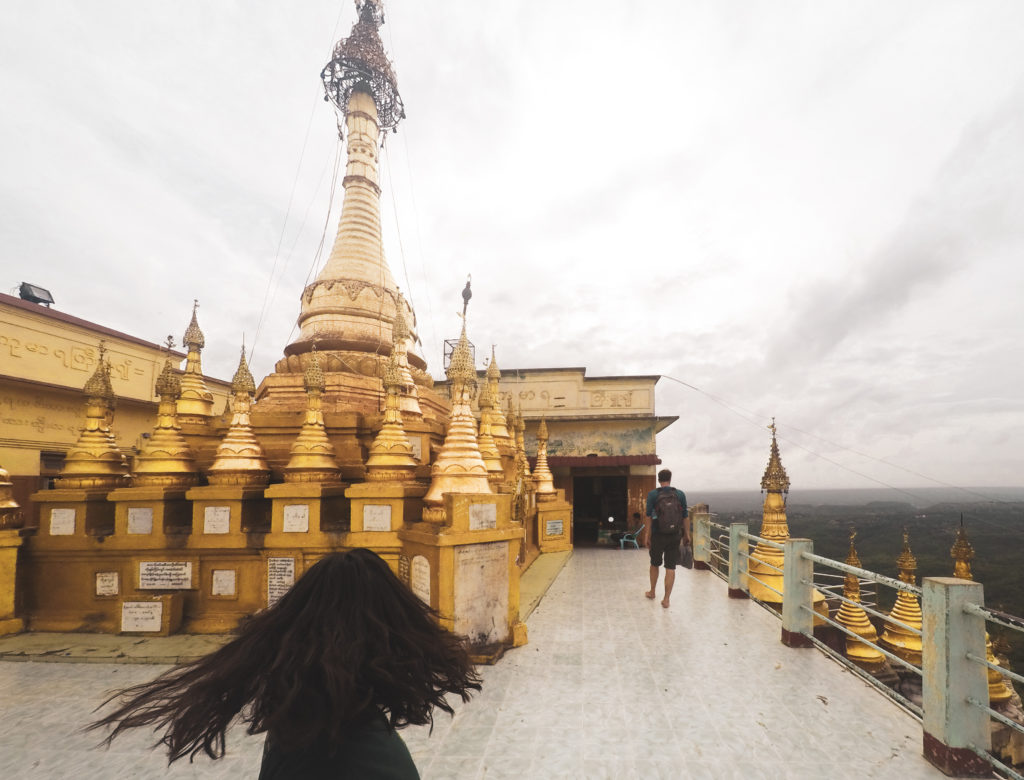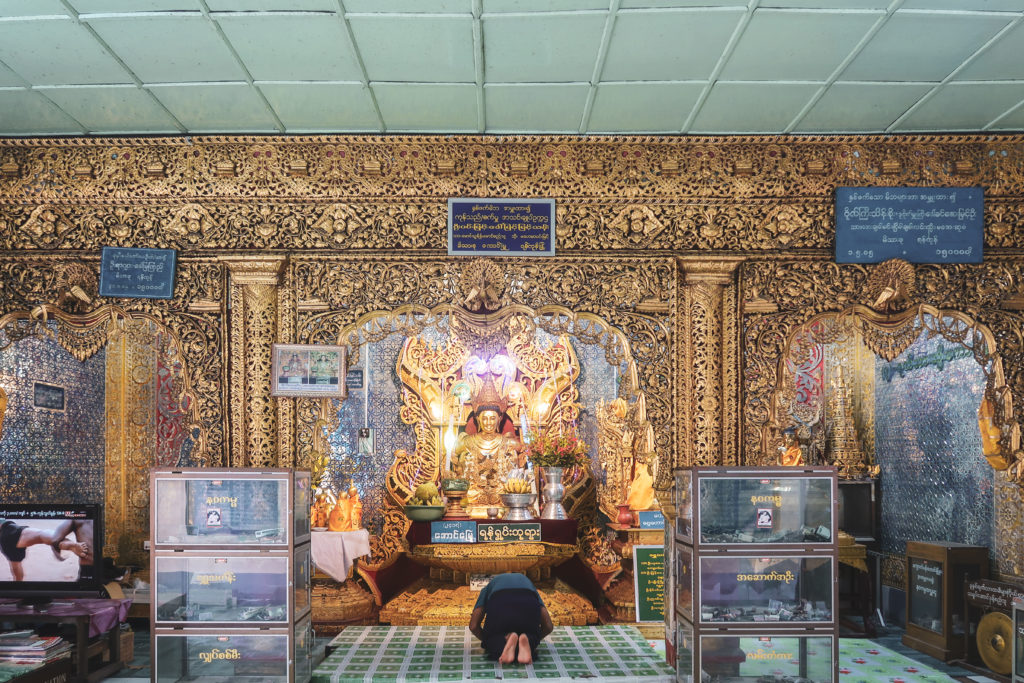 Mount Popa Monastery, Taung Kalat
Before you get confused, Mount Popa Resort, Mount Popa and now Mount Popa Monastery are all located in the same area, about an hour's drive away from the flat landscape of Bagan. I did all this in a single day because I didn't want to spend 2 hours each day in a car. I had lunch at the base of the Mount Popa Monastery and had good laugh watching monkeys being dramatic.
If you missed it, watch the quick videos, here -> check out the "Myanmar" stories in Instagram.

After the 4 hours long hike, if you are up for the next challenge. Here it is! From the base to the top where the Mt Popa Monastery lies, there are precisely 777 steps to climb, lots of monkeys and a steep walk. You have to take your shoes off at some point, there are cabinets to keep them or if you have a bag, you can also carry it yourself. If you can brave it all, then the climb to the top is a bit of a thrilling experience!
Throughout the walk, you will meet people asking for a donation to keep the place clean. If you have extra kyats, the donation is good but the cleaning part is questionable. There were many shops on both side of the stairs and more and more monkeys as you go up. I've heard about monkey attacks in the past and was bit worried. The trick that worked for me was to not look at them straight in the eye and go steady with my steps. The climb near the top was dangerous with just iron stairs but once you make it through all of this, a nice view of Mount Popa welcomes you. A holy and historical place with 360 views of the surroundings.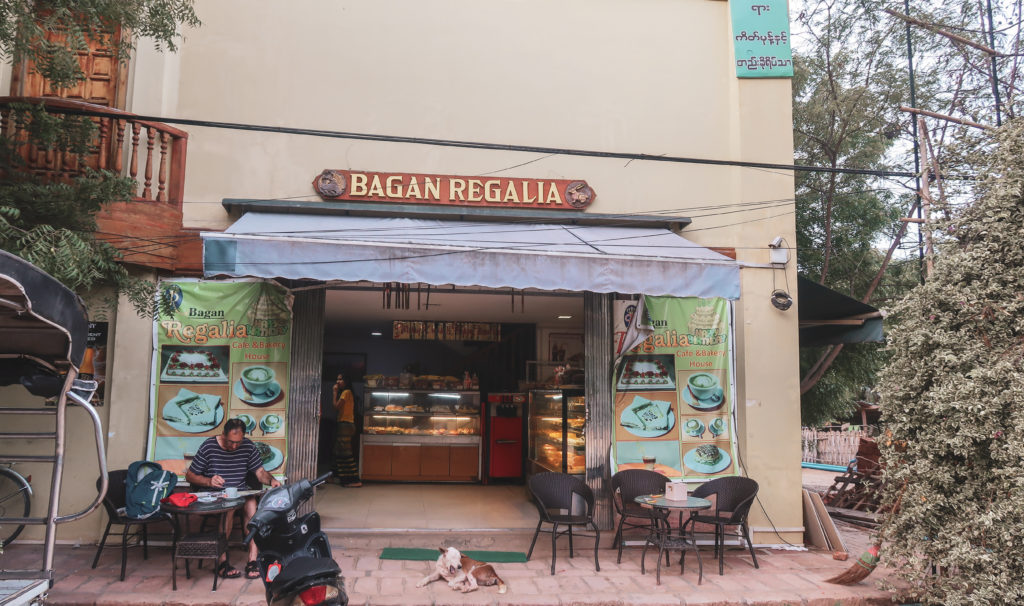 After an action-packed day, you may want to ask the driver to drop you off in Nyaung-U to explore before the day ends. Nyaung-U has more choice when it comes to coffee shop, bars and restaurants. I recommend Bagan Regalia if you are after a boost of coffee energy. It is the local's and travellers favourite coffee shop in town. They also offer freshly baked cakes, cookies and more.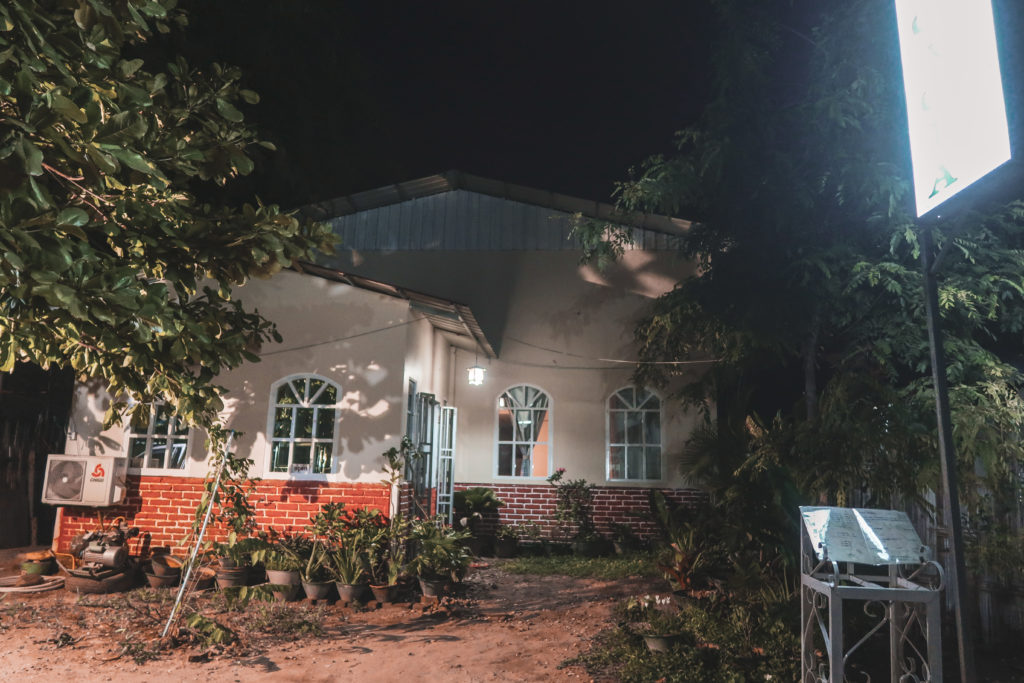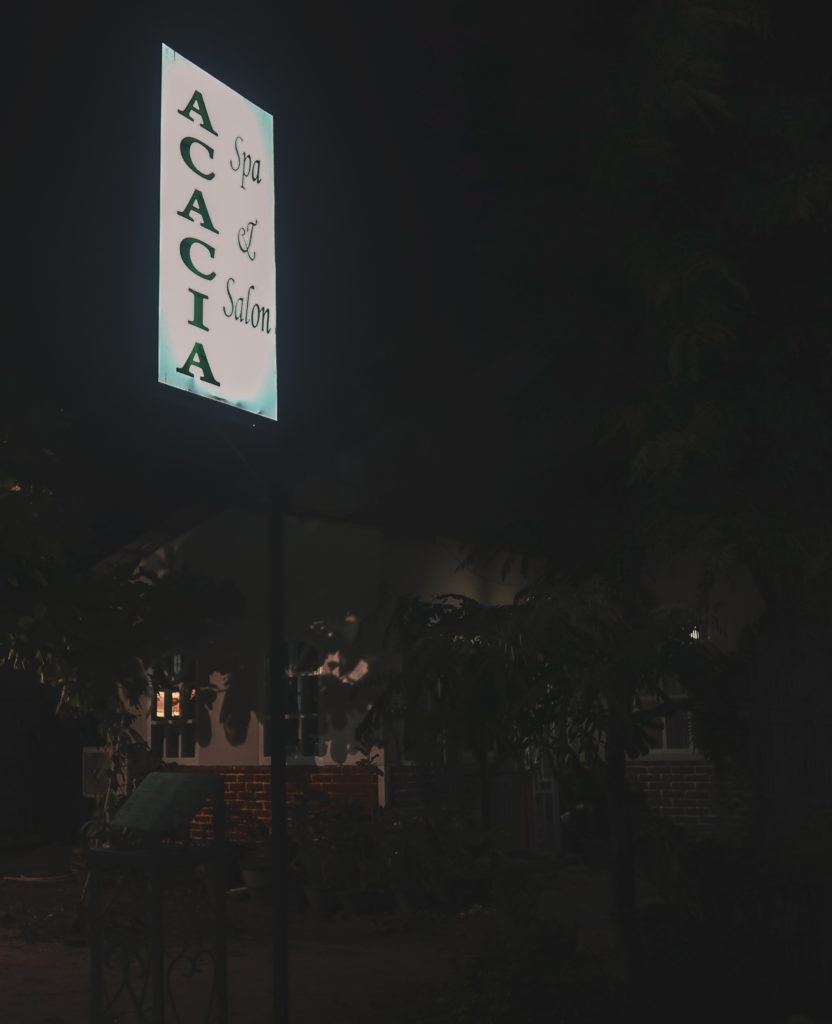 ACACIA Spa and Salon, Nyaung-U
You deserve a good massage after hiking all day! There are not many options in old Bagan but I found a good one in Nyaung-U called ACACIA Spa and Salon. It was only $10 for 1.5 hours of Swedish massage! Plus the place was peaceful and nice. I felt relaxed and was ready for dinner after this. They also offer shower and towels if you prefer a shower before or after your massage.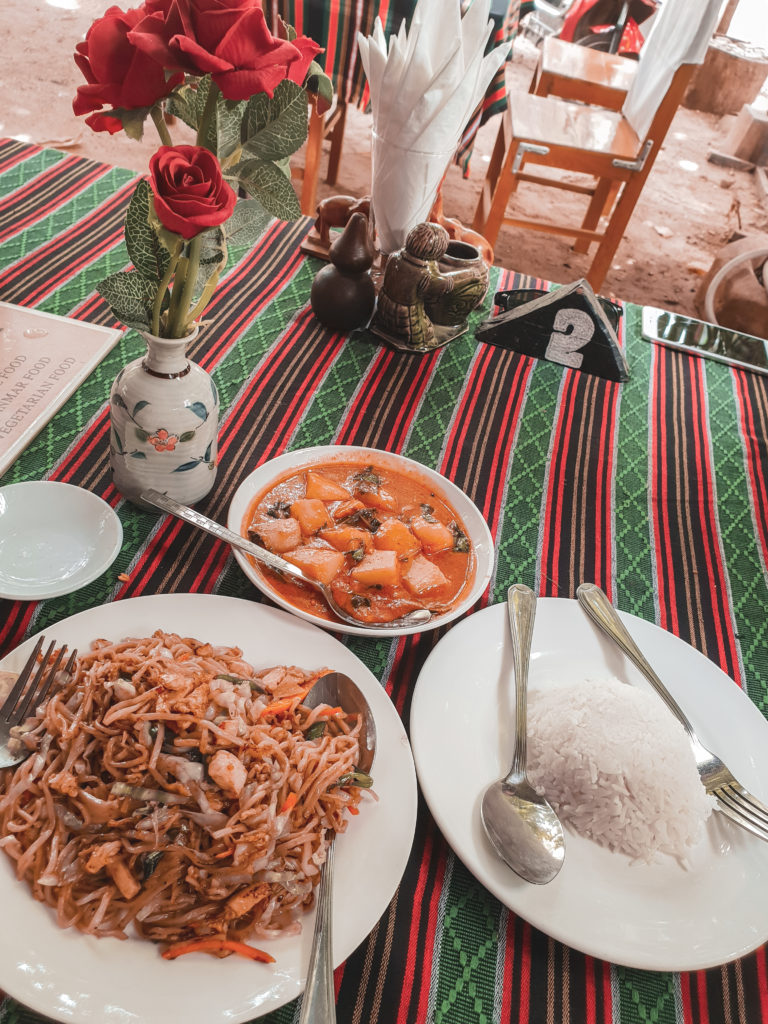 What better way to end a busy day than with another local's favourite spot. During dinner time, Black rose restaurant in old Bagan was crowded with travellers and locals. Decent food, friendly staff and they have a big map of Bagan on their wall. So, pretty handy if you want to plan your temple hopping while you eat! Or you can just read about the Bagan temples that offer the best view here. Free WIFI is available in the restaurant.
Best of Bagan, Myanmar – 3 full days itinerary – Day 1 is here and Day 3 is here.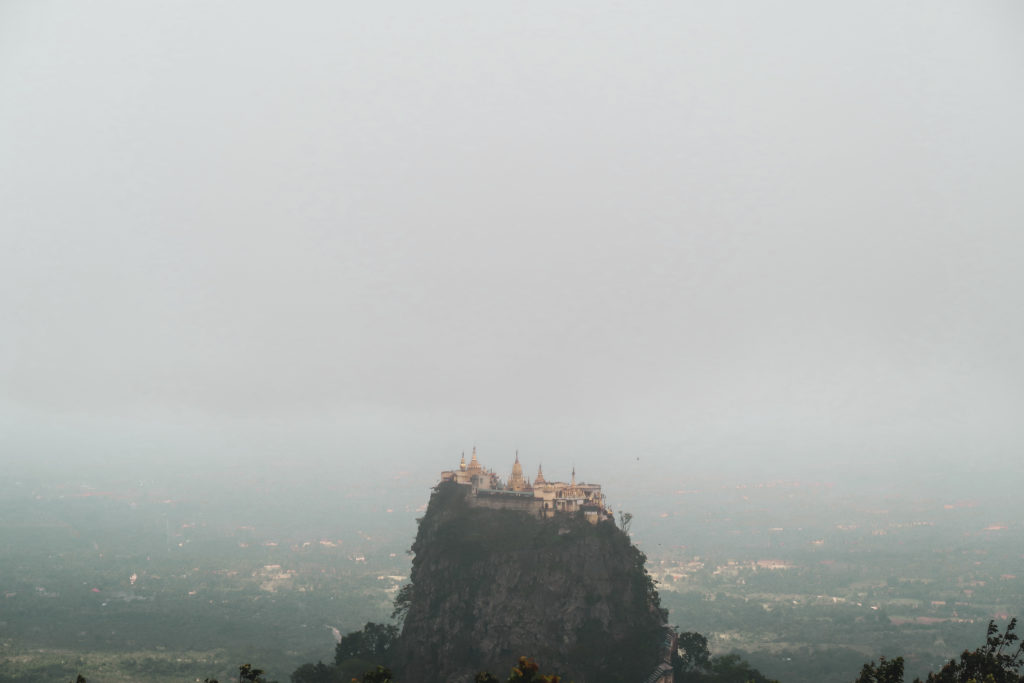 What I used to take these photos:
This has been my favourite Camera so far. I love how my pictures come out crisp and colourful. It also has a screen which is useful when vblogging. You can check out what I meant on my Instagram which is here.
Accessories For Canon GX7 Mark ||
Check it out here
This is the good old Go pro that I take with me everywhere. I recommend it because it is small, lightweight and waterproof. I have had made many memories with this trusted item and looking forward to more.
Accessories For Go Pro Hero 4
Check it out here
I have been using SanDisk since my first camera which was back in 2009. They build quality memory cards. I recommend getting at least two, just in case something happens to one of them.
Do you think it's a hassle of plugging your camera into your computer? This memory card reader will fit cards of all sizes and make an easy transfer to your computer. The reader supports all popular SD memory card formats, including SD™/SDHC™/SDXC™ memory cards, UHS-I SDHC/SDXC memory cards, and microSDHC™/microSDXC™ memory cards. It is also compatible with the latest UDMA 7-enabled CompactFlash cards.
Save this to Pinterest


Let me know in comments if you –
want to go Bagan, Myanmar or have been before?
Is there anything you would have added to the Day 2?
For Best of Bagan, Myanmar – 3 full days Itinerary Day 1 click here
Day 3 coming tomorrow subscribe here.
If you need to book your accommodations, I have got a $55 discount with Airbnb for all my subscribers, get it here.
Alternatively, you can check prices and book it through trusted Agoda

, or

Booking
If you don't have your flights yet, check out ways to book the cheapest fares here

, or

here,

but if planning and booking your trip is a hassle, let me help!

Contact me now.

If you like this article, follow my Adventures on Instagram, Facebook, YouTube, Twitter and Pinterest, but most importantly sign up to my E-mail list to
keep up with updates and travel posts!
Best of Bagan, Myanmar – 3 full days itinerary – Day 2