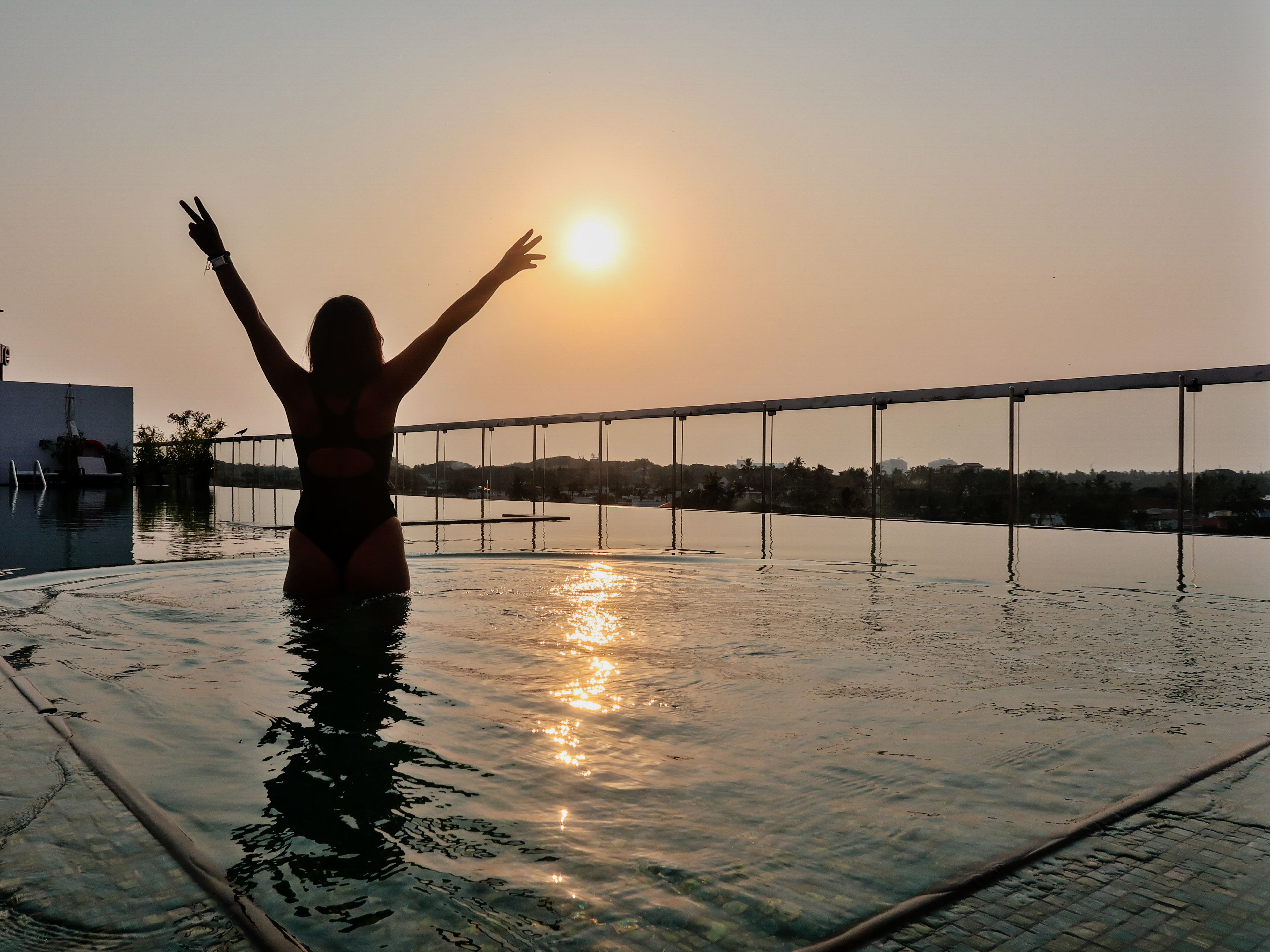 Gone are the days, as a digital nomad I would sleep on a $2 bed per night in youth hostels in Asia. Just kidding! I still do that at times but I love to mix it by staying in the luxury hotels now and then. Here are the luxury hotels I stayed in Kerala, India while travelling with Kerala Tourism for Kerala Blog Express Season 5.
These luxury hotels in Kerala, India are not in any particular order and rated between 4-5 stars. This post gives you an idea in regards to the type of luxury hotels and resorts you can enjoy in Kerala. If you want to check their price, you can look it up here, here and here.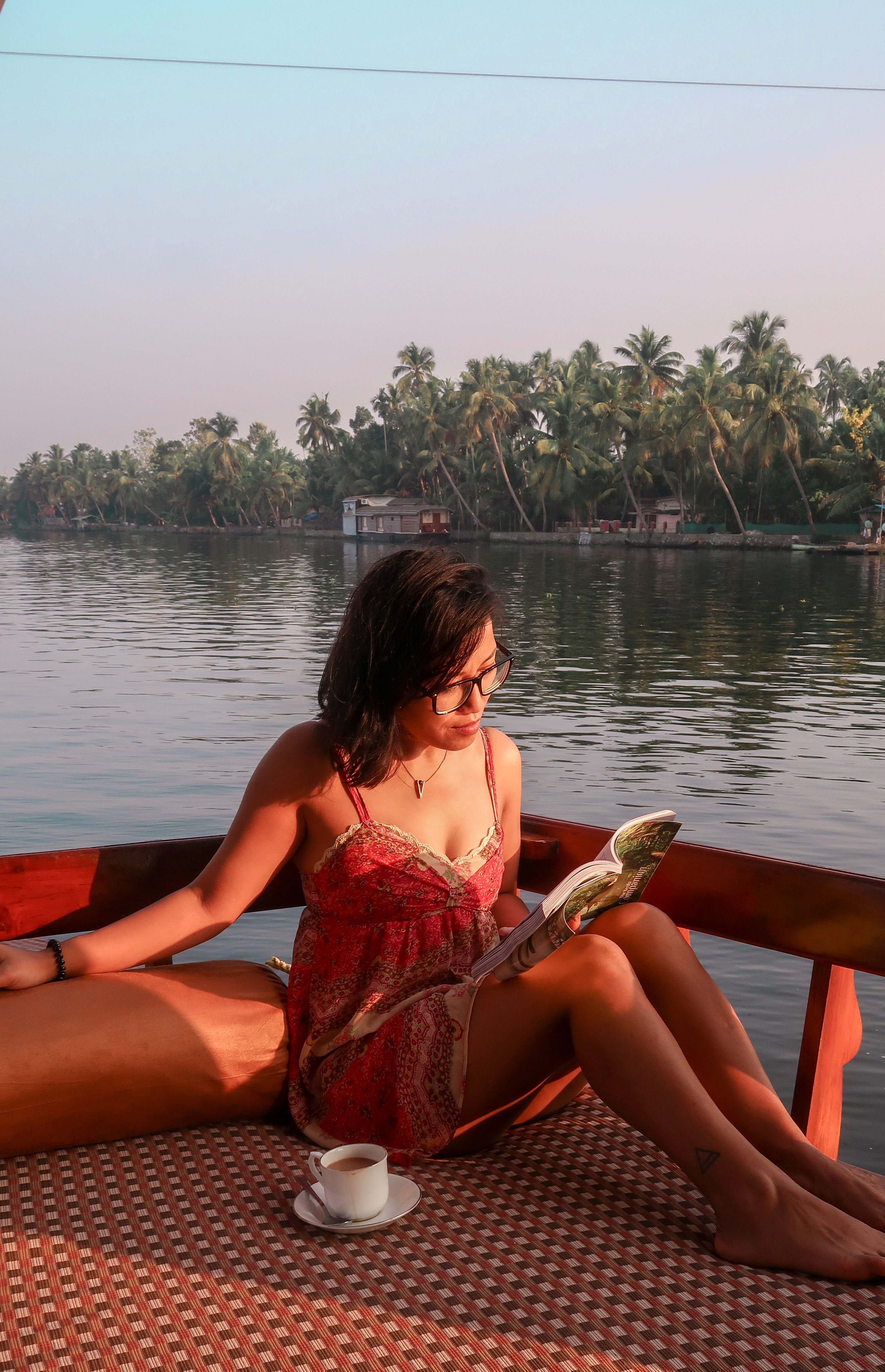 1.

Lakes and Lagoon
There is no better way to imbibe the charm of the backwaters than from the deck of a houseboat in Kerala. Did you know backwaters of Kerala are a chain of Brackish Lagoons and lakes lying parallel to Arabian Sea coast (Malabar Coast)? The network includes five large lakes linked by canals (both manmade and natural) and fed by 38 rivers. Backwaters extend virtually half the length of Kerala State.
As you can see, this is not your typical hotel but a luxury boat accommodation. Clean bed, hot shower, modern toilets, service and personal chef added the touch of luxury to it. Exploring the backwaters is one of the famous activity to do in Kerala. I had just flown for hours, jet-lagged and was sceptical to get on an overnight boat as I do get seasick at times. But I can tell you now, it was the perfect activity for jet-lagged Anna. All you can eat, snooze, chill and watch sunsets overlooking the evergreen palm trees on the backwaters of Kerala. That on a luxury boat = once in a lifetime experience.


2. Coconut Lagoon Resort
This beautiful Resort is under an umbrella of CGH Earth Experience Hotels. They are the pioneers of Responsible Tourism with over 60 years of being sensitive to the environment, native communities and local ethos. I loved the quietness, surrounded by palm trees, rivers and greenery. I noticed there was a dedicated canal passage to get here and you can't enter without booking. Then when I entered the loft, I felt like I was in my friend's loft back in Australia. Warm homely decor and outdoor shower that went nicely with the wooden scene. In the kitchen front, there were so many tasty varieties of entrees, mains and all the food from the world! (Watch my India highlight in Instagram to check it out) I feel live band playing at the dining hall added an extra lively vibe to the atmosphere as well. In the morning, we did the tour of this beautiful resort and watch fishermen catching fish. There is also an outdoor swimming pool if you fancy a dip like I did.
You can check out their price on booking. com

3. Kochi Marriott
Firstly I wasn't expecting a flash mob (again you have to watch my India highlight in Instagram to check it out), then coconut with my name carved on it, welcome sweets with my blog name, and special dinner! Marriott went above and beyond for that personal touch. I felt like my own family threw a "welcome home" party after not seeing me for years! It was lovely to be welcomed in such a pleasant manner. I could have easily stayed here longer with that window view, yoga on the rooftop and delicious food.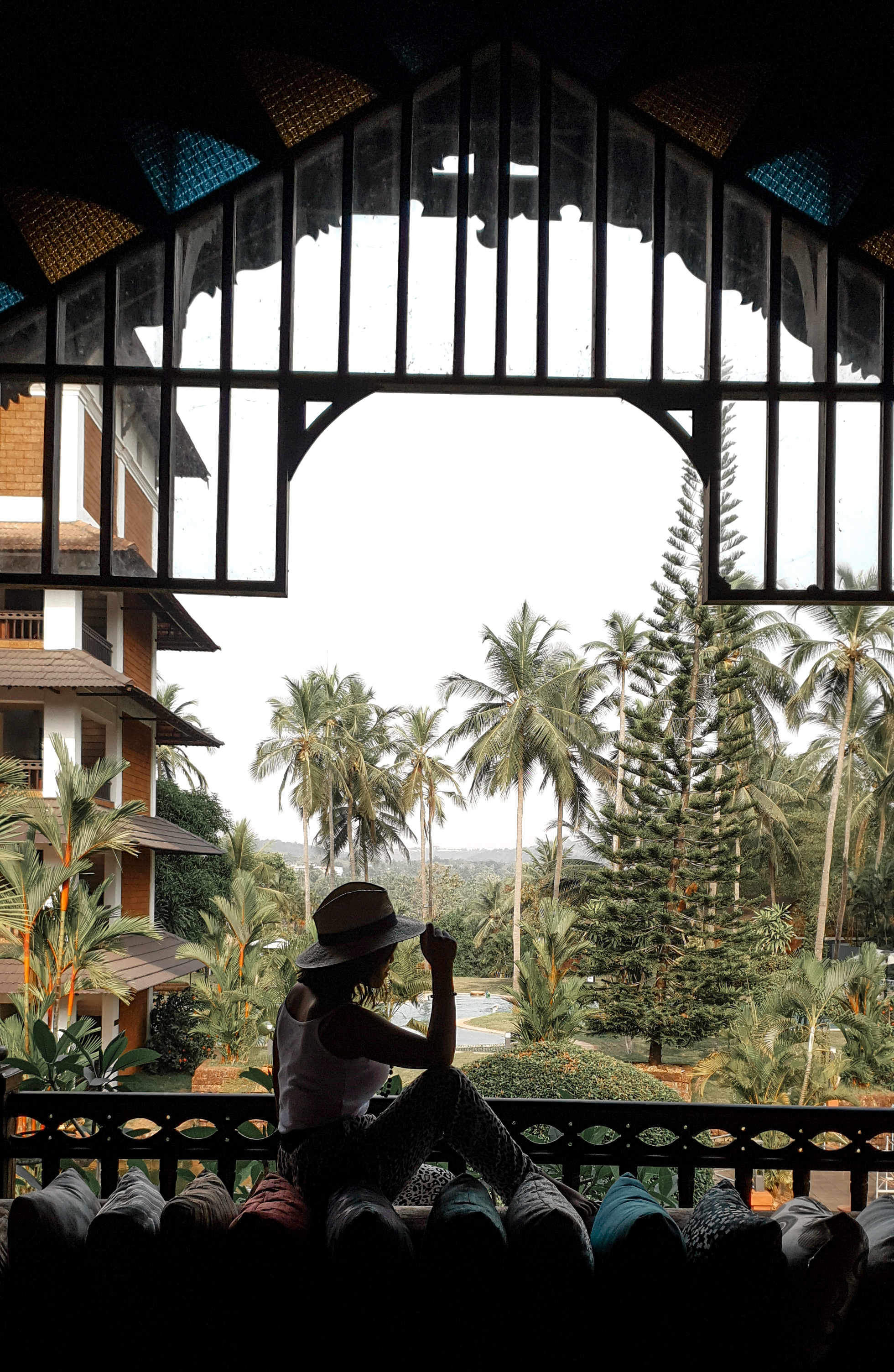 4. The Fog
My back pain was killing me by the time we arrived at the Fog. But the in-house Ayurveda massage and spa put me in Zen. They also offered the beautiful mountain view from the pool and the dining area. I absolutely loved the
"sand-art" show in the evening by the pool and food was tasty too.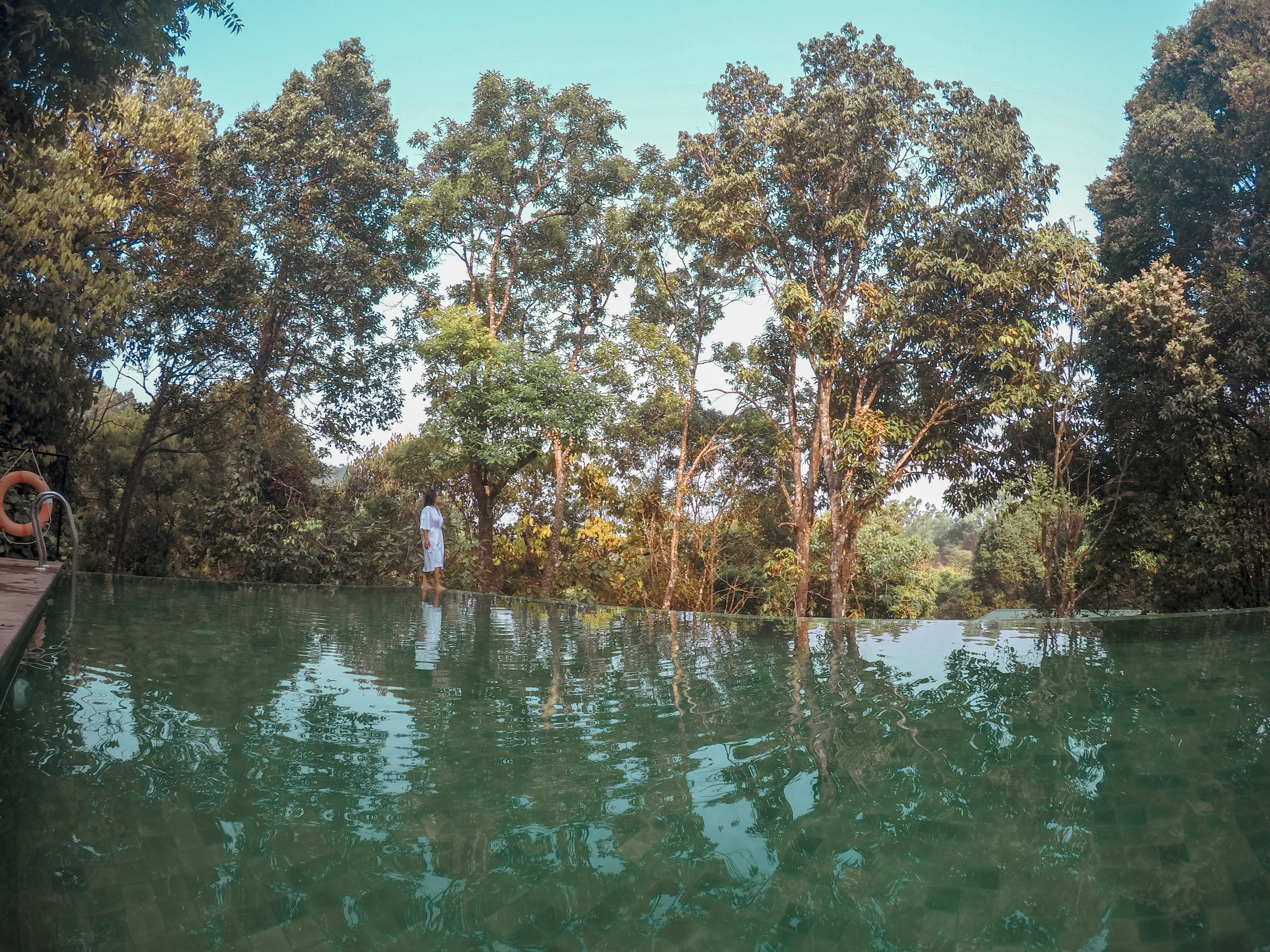 5. CGH Wayanad
Now this one took a while to reach from the city because CGH Wayanad is situated in the middle of a forest, with the chirping of pretty little birds and cheeky monkeys! Food was fresh and pool view was zen in itself. CGH Wayanad also offers a lot of different activities. I could have easily stayed here longer with the beautiful nature around me.
Compare some of these hotels price here in Agoda.

6. Seashell Resort
What a welcome! The whole village was there to welcome us with drums, songs and dance! They also had a cultural show on which was interesting because I knew nothing about Indian dance before that! So, that was also fun. You can walk down the beautiful beach from the resort in 2 seconds or work from the resort. Staff were friendly and I spent a day working from here overlooking the dreamy palm trees and ocean underneath. If you are a digital nomad and looking for your next workstation and/or staycation, check them out.
7. Nileshwar Resort
I thought I had seen it all and then I was at Nileshwar Resort! Beautiful beautiful breakfast and dinner ( yes I said it twice, it was that amazing!) I also liked their impressive decor inside the cottage and outdoor shower was super chic too. Not forgetting their showstopper swimming pool! Want to stay here? Check out their rate here.

8. Hotel Ramada Kochi
I seriously thought that should be it. Then after an overnight bus, we arrived in Hotel Ramada in Kochi. I was mind blown! OMG! I mean have you see their pool? Such a delight to have that view right below the balcony! I loved the architecture there and not forgetting their finger licking good food. They also organised a puppet show for us and that was a highlight of my stay as well.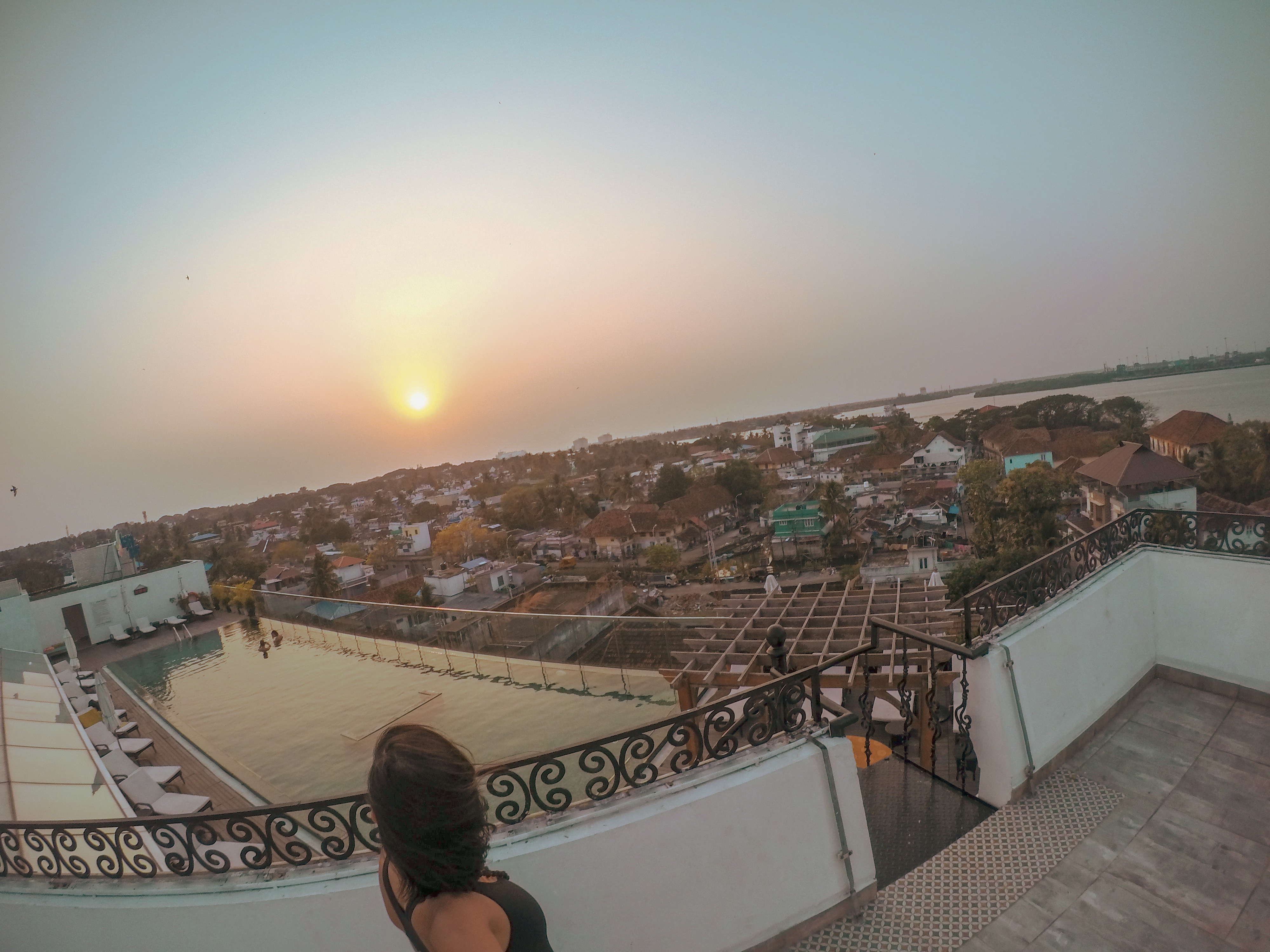 9.Fragrant Nature, Kochi
After a hot day exploring Kochi, all I wanted was a pool to relax, watch sunsets, get a massage and eat good food. I am happy to report Fragrance Nature delivered everything I wanted and more. Stunning colours inside and outside. I loved their decor and colour combinations on bedsheets, pillow, dining area, pretty much everywhere. Clearly, they have put a lot of thought into it and there was nothing not to like. Plus, they are walking distance from the Chinese fishing net and all the other central point of interests.

10. Xandari Pearl
If you are looking for a perfect spot for sunbaking beach days. Look no further than Xandari Pearl. I was amazed to be on a private looking beach with gorgeous palm trees all to just a few of us. They also offered the best Indian/Kerala lunch I had in a while and have a stunning accommodation on offer.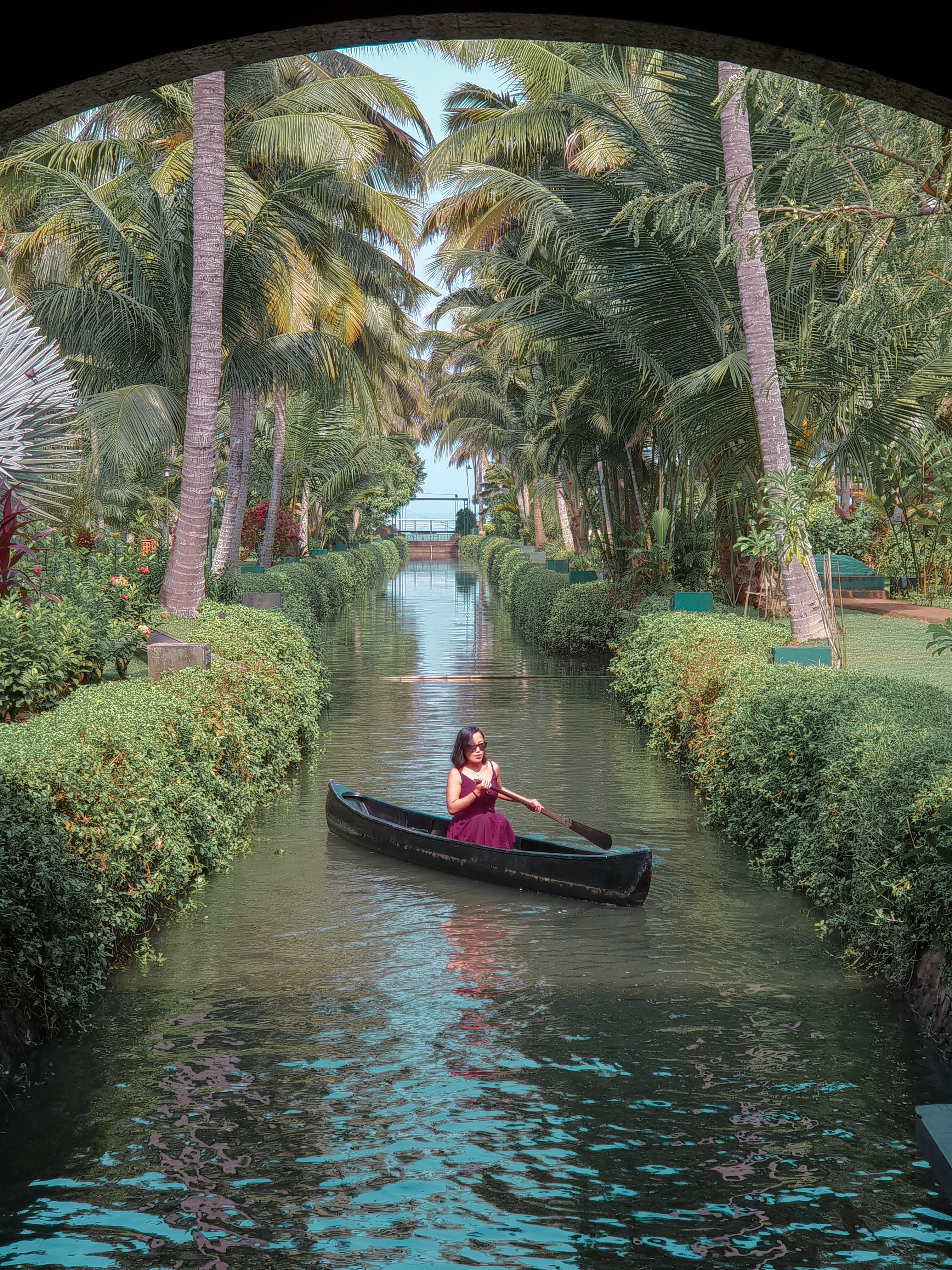 11. Lake Song
I'm not sure about others but if your hotel comes with a boat and a canal, I am all in! Actually, I was surprised to see canals in Kochi! Reminded me of canals in Europe different but still, lovely. Did you know there are 18 canals flowing through Kochi and that's what differentiates it from other cities in Kerala?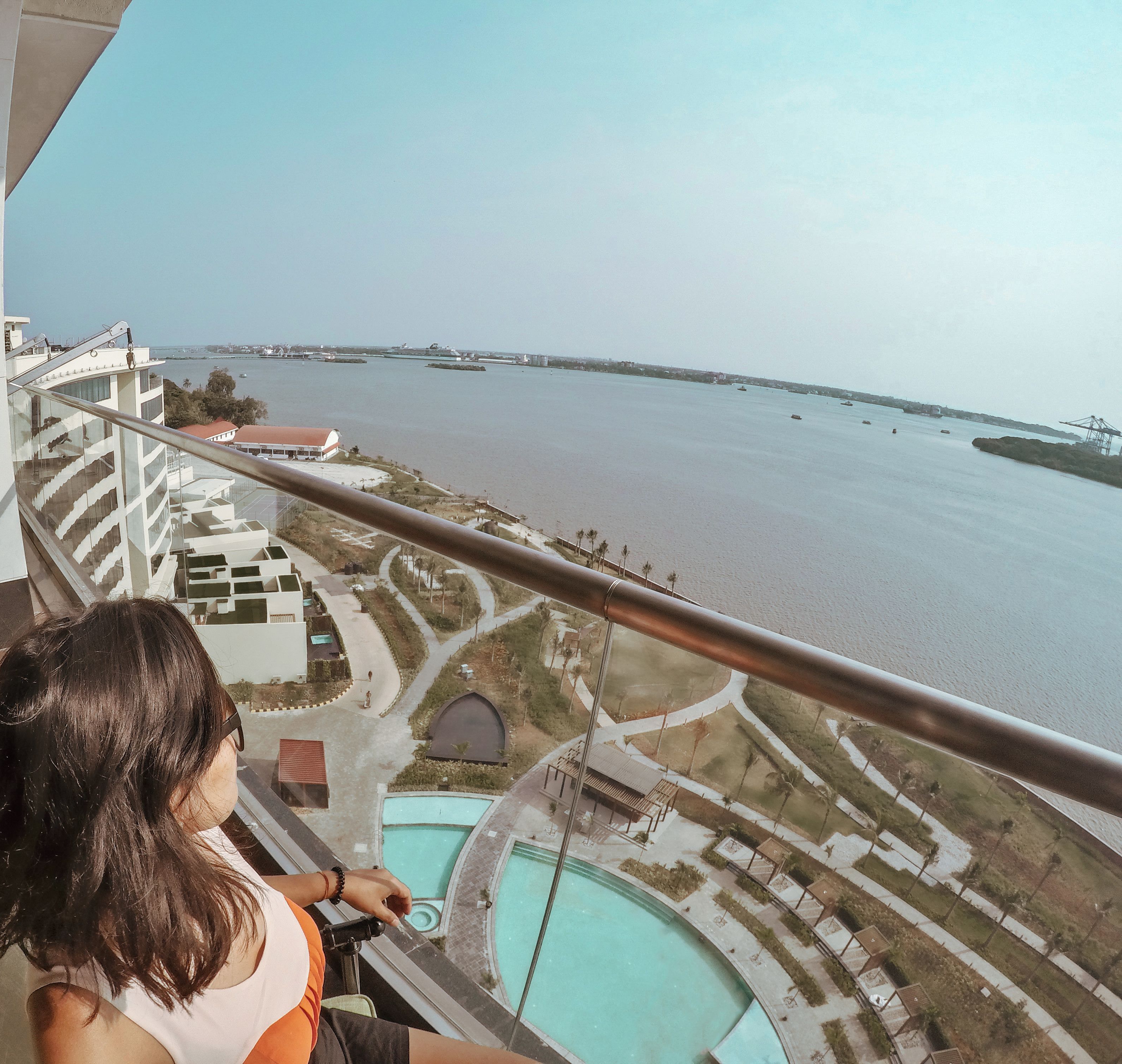 12. Grand Hyatt
I was thinking it will be hard to beat the amazing hotels and resorts we have stayed so far but Hyatt came head to head with the rest. Although they weren't open officially, they were kind to invite us for the soft opening with the warm welcome and delicious Thai lunch. We were greeted by the popular Kathakali performers in this brand new hotel. So, we wanted to see what else they had to offer and did the property tour. Most interesting was the grand in-house Conference rooms that can fit up to 5,000 people at once! Grand Hyatt definitely lives up to its name with that. But what I personally liked the most was this view from their top floor balcony and also the lunch. Delicious!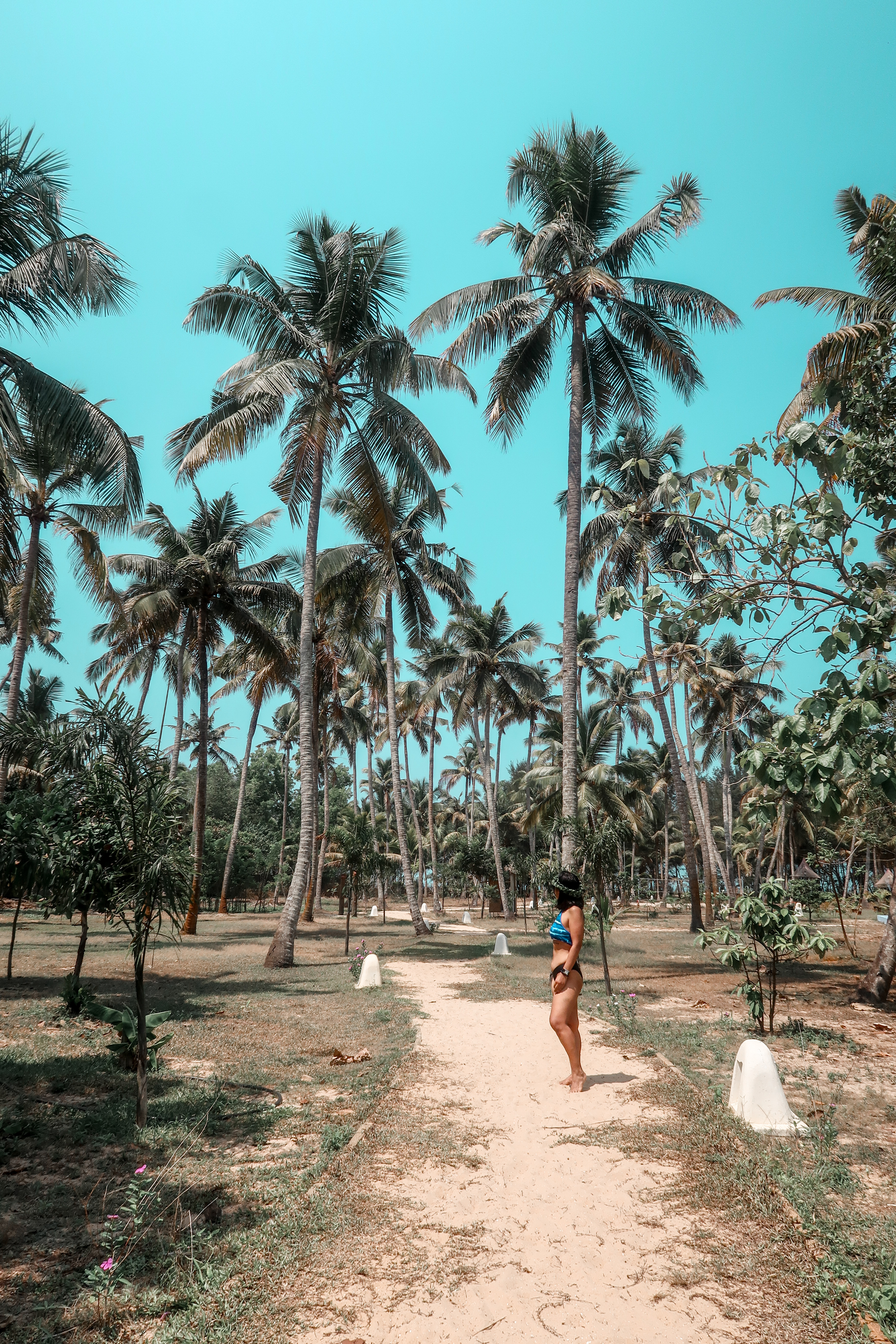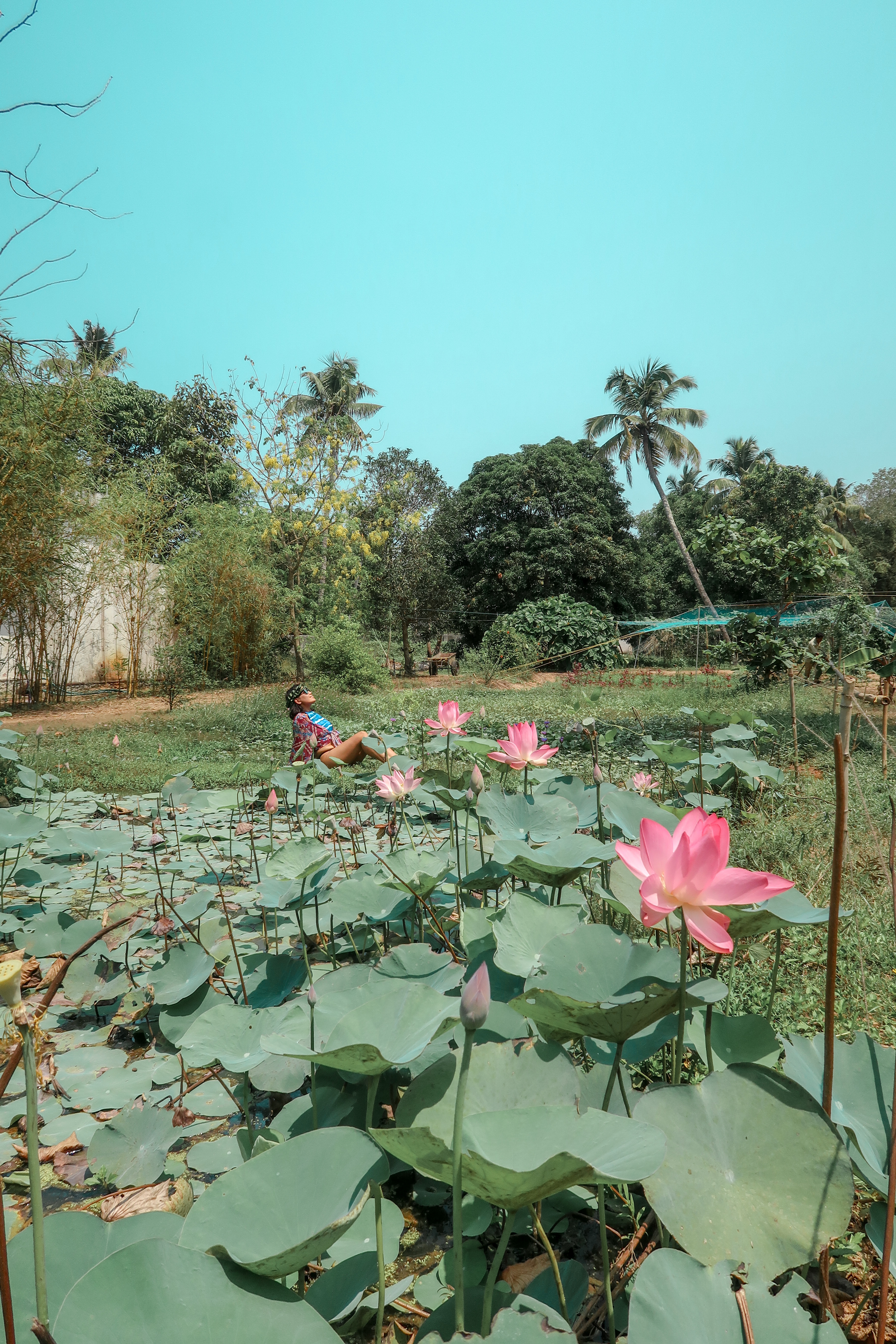 What I used to take these photos:
This has been my favourite Camera so far. I love how my pictures come out crisp and colourful. It also has a screen which is useful when vblogging. You can check out what I meant on my Instagram which is here.
Accessories For Canon GX7 Mark ||
Check it out here
This is the good old Go pro that I take with me everywhere. I recommend it because it is small, lightweight and waterproof. I have had made many memories with this trusted item and looking forward to more.
Accessories For Go Pro Hero 4
Check it out here
I have been using SanDisk since my first camera which was back in 2009. They build quality memory cards. I recommend getting at least two, just in case something happens to one of them.
Do you think it's a hassle of plugging your camera into your computer? This memory card reader will fit cards of all sizes and make an easy transfer to your computer. The reader supports all popular SD memory card formats, including SD™/SDHC™/SDXC™ memory cards, UHS-I SDHC/SDXC memory cards, and microSDHC™/microSDXC™ memory cards. It is also compatible with the latest UDMA 7-enabled CompactFlash cards.
My friends, I hope this blog post gave you an idea about the type of luxury hotels and resorts you can enjoy in Kerala. If you want to check their price, you can look it up here, here and here.
Let me know in comments if you –
I would've not been able to do this trip without your kind support. So, Thank you for your votes, Kerala Tourism and all the partners including hotels, resorts and airlines for making it an amazing experience.
If you like this article, follow my Adventures on Facebook, YouTube, Twitter, Instagram all social media @annasherchand, but most importantly sign up to my E-mail list to keep up with updates and travel posts!
Luxury Hotels in Kerala, India